Lifefactory Has Products for the Whole Family
Lifefactory makes adult water bottles, baby bottles, coffee travel mugs, food storage containers, and more. When traveling with the entire family – infant to adult – Lifefactory is the brand to check out for one-stop shopping. The whole family can drink in safety and style with Lifefactory products. Plus, these reusable bottles are made of glass, so your beverage will keep its pure taste. Say goodbye to leaching from plastic and metal water bottles when you invest in a Lifefactory water bottle.
A Little About Lifefactory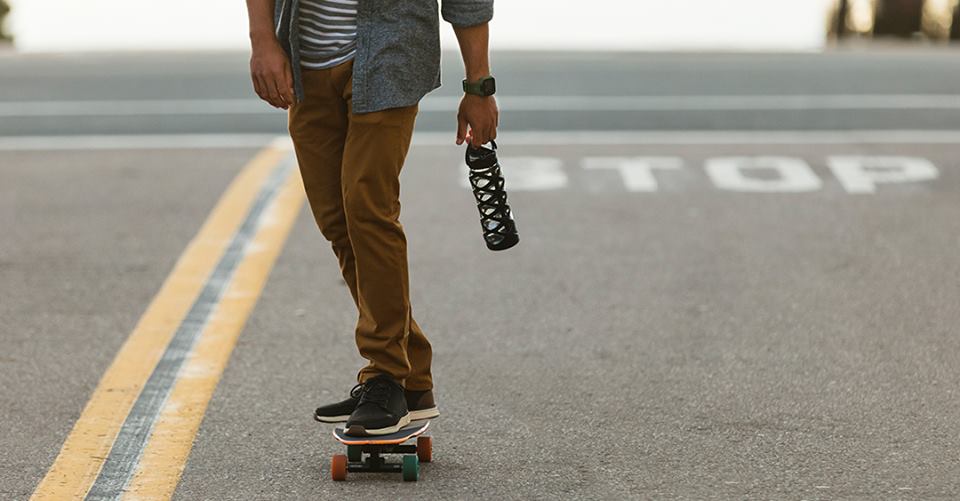 Credit: Facebook
Lifefactory products are made of glass that is BPA-free and dishwasher safe. Best of all, there is no leftover plastic or metal taste when you drink out of these water bottles. Lifefactory glass bottles and containers come wrapped in a protective silicone sleeve. The sleeves provide a non-slip grip and prevent the bottle from breaking. However, it is importable to note that these bottles can break. Travelers must handle them with caution.
This company stands out for the variety of products it sells. While there are numerous baby bottle companies and numerous adult water bottle companies out there, few companies sell both baby bottles and adult reusable bottles. From infants to toddlers to adults, Lifefactory has products designed for each life stage. Lifefactory likes the think of the entire family when creating their products. These bottles also have many other features worth noting. Let's start talking about what these features and benefits are.
Lifefactory Features & Benefits
Glass Bottle Design & Use
Credit: Facebook
As we mentioned, all Lifefactory bottles are made of glass and have a protective silicone sleeve. The bottle, sleeve, and cap are all dishwasher safe which is a great bonus. Though the silicone sleeve is for protection, it does not guarantee against breakage. These bottles must be looked after carefully. Also, extreme temperature differences between the glass and liquid can cause the bottle to break. That said, before you pour steaming hot coffee into your water bottle, it will be best to consider purchasing a Lifefactory Coffee Travel Mug. Lifefactory bottles should also not be frozen.
Color Options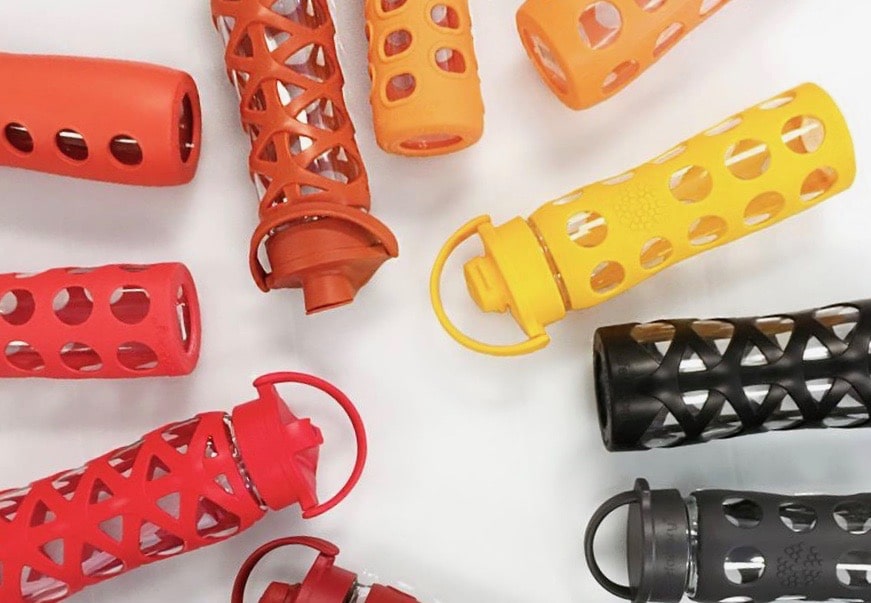 Credit: Facebook
The protective silicone sleeves of Lifefactory products come in a number of colors. Some of those color options include orange, coral, cobalt, ocean blue, hot pink, kale green, persimmon, lilac, white, and black. With so many colors to choose from, you shouldn't have trouble picking the best one to fit your travel style. The sleeves are also available in different designs. Sleeves can come in a circle, oval, or triangle pattern.
Standard Glass Bottles
Credit: Facebook
Lifefactory standard adult water bottles come in various sizes. Travelers can choose from 9 oz., 16 oz., and 22 oz., glass bottles. With each size, travelers can also choose what type of cap they prefer. There are Active Flap Caps and Straw Caps for those on-the-go, as well as Classic Caps for those who want a wide mouth. A nice feature about all of these caps is that they are leakproof. You won't have to worry about your drink splashing onto your belongings when it is inside a Lifefactory water bottle.
9 oz. glass bottles are also available. These 9 oz. Flat Cap bottles are ideal for toddlers and school-age kids. Whether your children are traveling on vacation with you or traveling to school, these 9 oz. Flap Cap bottles will be the best size to store into mom's purse or backpacks.
Other Lifefactory Bottles
Baby Bottles
Credit: Facebook
Lifefactory baby bottles come in 4 oz. and 9 oz. The silicone sleeves on these baby bottles also come in an array of rainbow colors that will delight both you and your child. These bottles are created with thermal shock resistant glass. This allows for the bottles to be transported from freezer to boiling water with ease. Tiny hands will also be able to easily grab hold of the bottle because of the non-slip silicone sleeve.
These baby bottles are adaptable to different caps too. As your child grows, you can exchange the cap for a sippy or flat cap. The versatility of these bottles is worth noting. Unlike other baby bottles that only have one purpose, these bottles have many. When your children no longer need the bottle, you can reuse the bottle as a storage container or a jar for pencils, markers, makeup, etc.
Coffee Travel Mugs
Credit: Facebook
For any hot beverage you wish you enjoy while traveling, at the office, or wherever else you go, consider purchasing a Lifefactory glass mug. These glass mugs are available in 12 oz. and 16 oz. and keep beverages warm for up to one hour. To enjoy your coffee or tea on the go, these travel mugs are the way to go. Made of thermal shock resistant glass, these travel mugs are designed to handle temperature changes. Though the glass itself will get hot when hot contents are poured inside, the silicone sleeve allows the glass mug to be safely handled. Plus, the one-hand open/close cap allows for travelers to enjoy their beverage while driving or running to catch their plane.
Beverage Glasses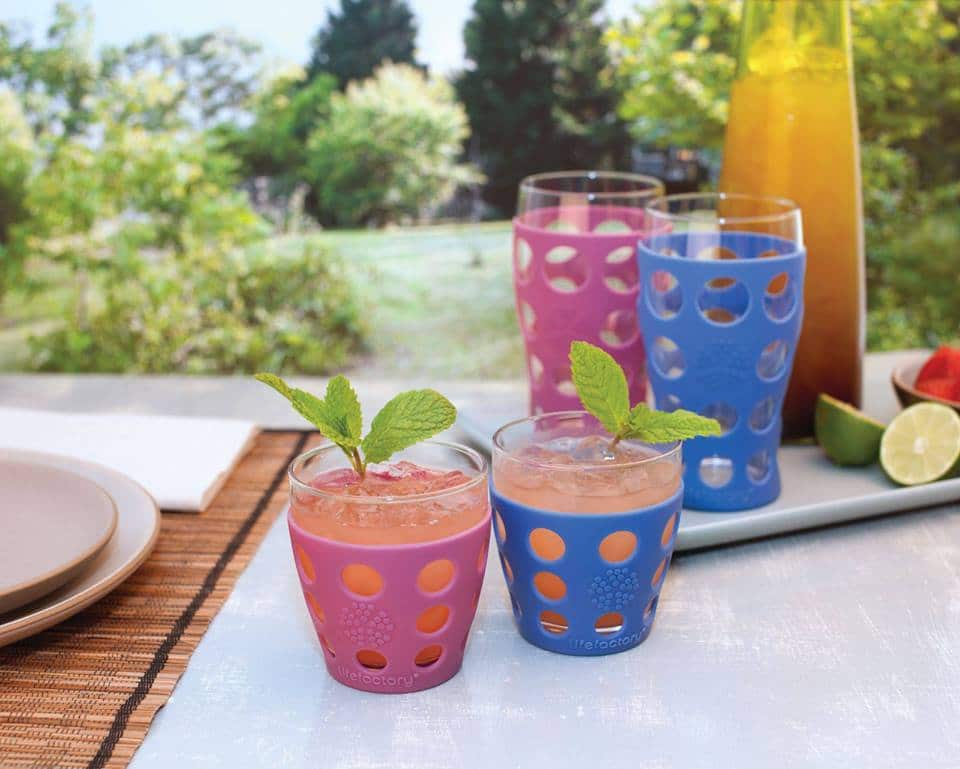 Credit: Facebook
Lifefactory beverage glasses are sold in sets of 2 or 4. They also come in 10 oz. or 20 oz. sizes. These glasses can be used in the home or out on the back patio. They are particularly useful when entertaining guests. Who says you need to use plastic cups? Go for glass instead. These beverage glasses are reusable and dishwasher safe. Plus, the colorful silicone sleeves will allow guests to identify whose glass is whose.
Wine Glasses
Credit: Facebook
And for the times when you are entertaining guests who enjoy wine, wine not use Lifefactory wine glasses? These 11 oz glasses are sold in 2 packs and 4 packs, similar to the beverage glasses. Plus, while they may be called wine glasses, you can pour any drink you would like into these glasses. From water to juice to wine, these Lifefactory glasses are great for everyday use.
Food Storage Containers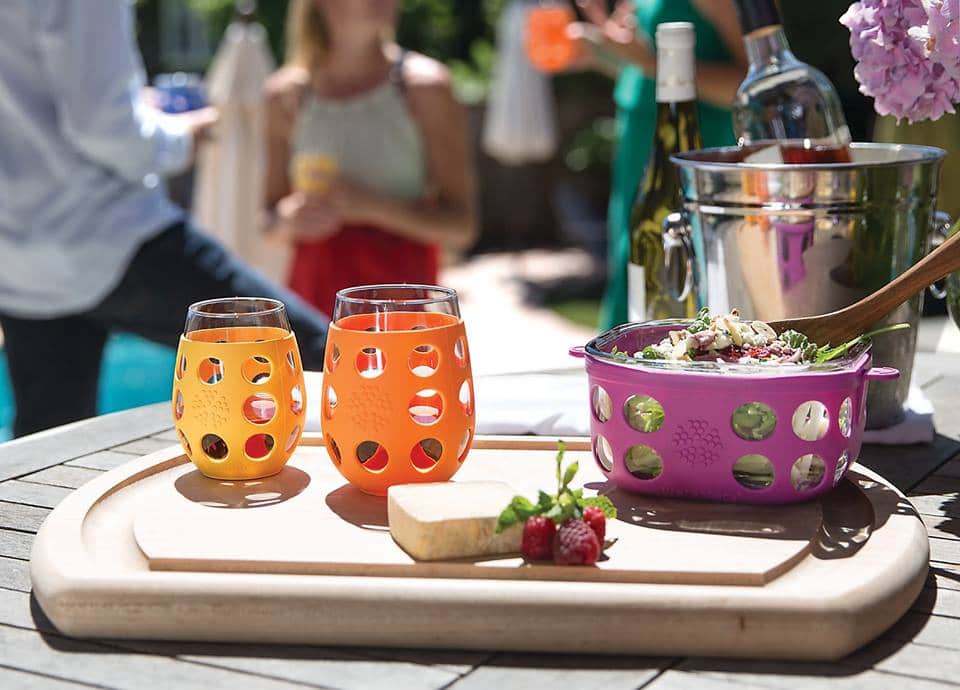 Credit: Facebook
While the beverage and wine glasses aren't ideal for traveling, Lifefactory glass food storage containers are. Whether you are on a road trip or catching a flight, bringing your own food can save you time and money. Lifefactory makes food storage containers that come in a 1-cup, 2-cup, and 4-cup carrying capacity. Another stand-out feature of these containers is that both the container and sleeve are oven, microwave, freezer, and dishwasher safe (note: lids are not oven or microwave safe).
What Travelers Are Saying About Lifefactory Water Bottles
There are pros and cons to having glass water bottles. Glass is a safe and healthy material to store beverages in, but on the downside, glass is easily breakable. The breakability of Lifefactory bottles is by far the greatest concern and complaint from travelers. These bottles need to be handled with care. When taken care of, they work wonderfully. Overall, travelers appreciate how sturdy and functional Lifefactory products are. They also enjoy the array of products they can choose from – baby bottles, toddler bottles, and standard water bottles. If you are known to drop your water bottle frequently, Lifefactory bottles aren't for you. However, if you are known to be cautious, then Lifefactory bottles are worth considering.
Alternative Water Bottles
Grayl Ultralight Purifier Water Bottle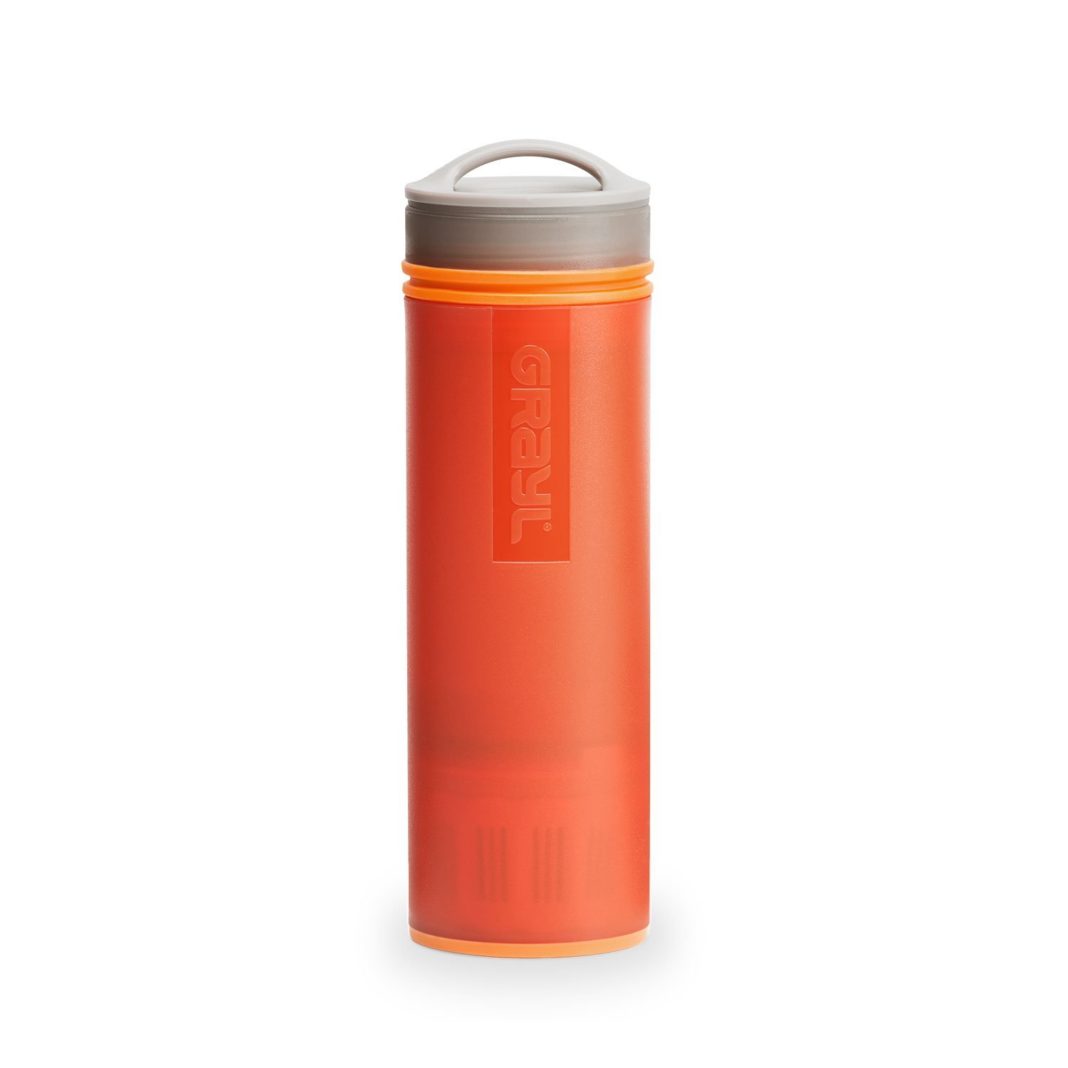 Do you need a water bottle that can purify and filter water? Lifefactory water bottles cannot do this, but the Grayl Ultralight can. The Ultralight can filter and purify any fresh water source. From creeks and rivers and lakes to sketchy sinks, the Grayl Ultralight makes water clean and safe to drink. You may be wondering, how long does it take to purify and filter the water? Only 15 seconds. In 15 seconds you can have access to clean and safe drinking water. If owning a water bottle with a built-in purification and filtration system is a priority for you, the Grayl Ultralight is your best alternative.
Hydro Flask
Hydro Flask water bottles are made of stainless steel and keep cold drinks cold and hot drinks hot for an extended period of time. Similar to Lifefactory, Hydro Flask makes a range of products in addition to water bottles. There are kids bottles, standard mouth bottles, wide mouth bottles, tumblers, coffee to-go mugs, and food storage containers. The stainless steel interior is a major perk of Hyrdo Flask products. If looking for an alternative to Lifefactory bottles, then Hydro Flask is a company to consider.
Is Lifefactory the Water Bottle Brand for You?
Lifefactory water bottles are functional and sustainable. Investing in a durable water bottle is necessary for any traveler. Water bottles are cost-effective and ensure that travelers always have access to a beverage that can quench their thirst. Being made of glass, these products provide a pure taste that is free of leaching from plastics and metals. Moreover, the silicone sleeve protects the glass from bumps and bruises. Though these bottles have a protective sleeve, they are not unbreakable. If you are particularly klutzy, this brand of water bottles may not be the best option for you.
What are your thoughts on this water bottle? We would love to hear from you. Share your thoughts in the comments section below!
Related Article: ​8 Cool Water Bottles For Your Next Adventure​​​