A Puerto Rico All-Inclusive Resort is Waiting for You
Puerto Rico itself has a unique style, art, cuisine, and coffee. The nightlife is lively, and the architecture is exquisite. Those who love the outdoors will enjoy this hot destination spot as well; there is much to see and explore in Puerto Rico. Are you planning your next vacation to the PR? Maybe a honeymoon trip to Puerto Rico? You ask yourself, "where can I find info for an all-inclusive resort in Puerto Rico?" and "are there ANY hotels in Puerto Rico that are all inclusive?"
One can surely check into one of the all-inclusive resorts and hotels on the island. Puerto Rico isn't home to a multitude of all-inclusive resorts, but the ones that are there are lovely. Guests want something more than merely a smooth check-in check-out and usual amenities when searching for something all-inclusive. We highly recommend these vacation spots for solo travelers, couples, and families. Here are the top 10 Puerto Rico all-inclusive resorts and hotels. Come to these resorts and hotels to sit back, relax, and enjoy every part of your Caribbean vacation that feature sweet all-inclusive deals.

1. Las Casitas Village: A Waldorf-Astoria Resort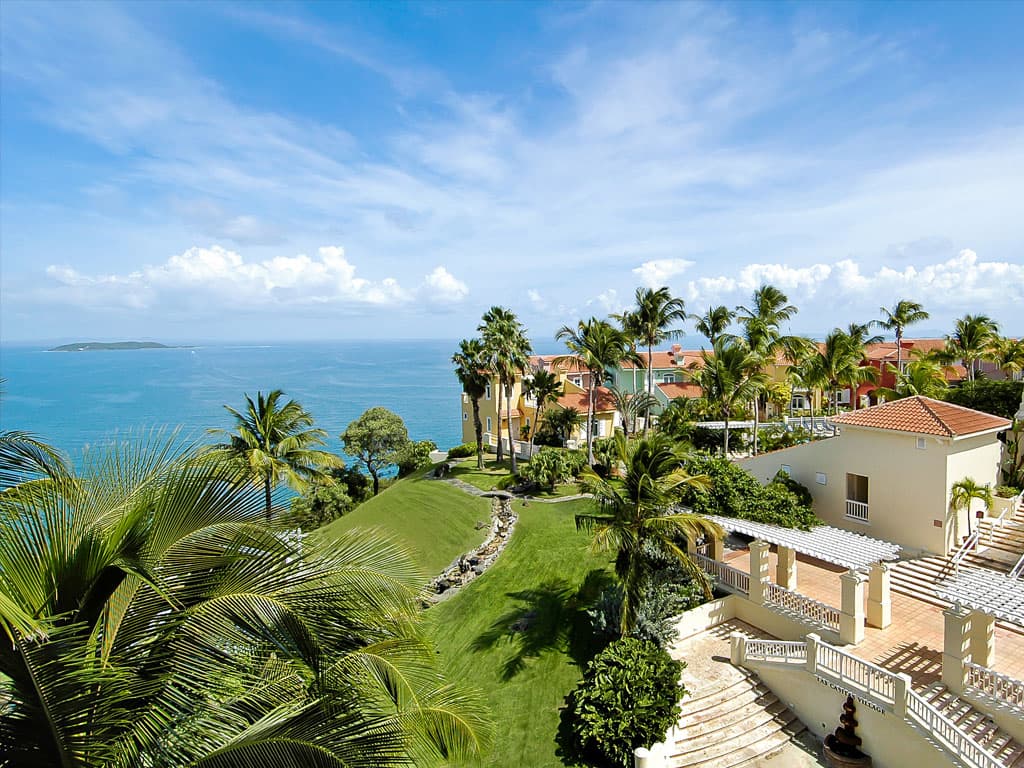 Credit: Las Casitas
Las Casitas Village is a stunning location for travelers to take in the natural beauty of Puerto Rico. 157 stunning villas spread throughout the property. The resort offers a variety of activities, including water sports and horseback riding. The grounds of the resorts are breathtaking, and the accommodations are comfortable and furnished with tropical décor. If you are looking into having a destination wedding, look no further than this Waldorf-Astoria Resort. The indoor and outdoor venues are unique, accommodating, and unforgettable. You can even choose to say "I do" on the resort's private island of Palomino Island, which provides space for 1,400 (should you have 1,400 friends invited to your wedding).
2. El Conquistador Resort: A Waldorf-Astoria Resort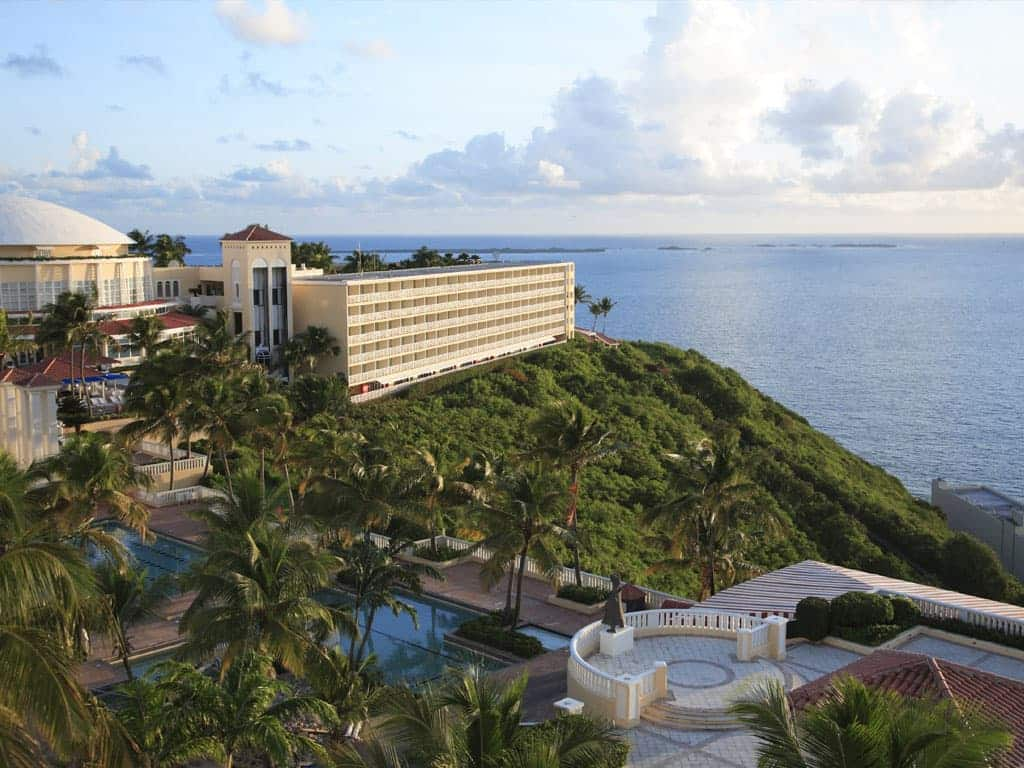 Credit: Waldorf Astoria Resorts
El Conquistador Resort is a luxurious resort correlated to Las Casitas Village. Come here to lounge on the white sand beneath palm trees. There are loads of activities to take advantage of at El Conquistador Resort. The all-inclusive package includes three meals a day plus drinks, accommodations in one of their beautiful rooms, and access to Coqui Water Park. Waldorf Astoria Resort guests will also receive complimentary access to the Spa and Spa Fitness Center (with 20% off Spa Services).
Golfers will love the complimentary golf green fees. Kids and adults will be happy to attend campfire activities, dive-in movies, a walk through the gardens, and ferry access to the resort's private island (where guests will find mini golf and more). This resort also sits close to the magical bioluminescent bay where waters illuminate a bright blue. Their all-inclusive vacation packages give a little bit of everything for all interests.
3. Copamarina Beach Resort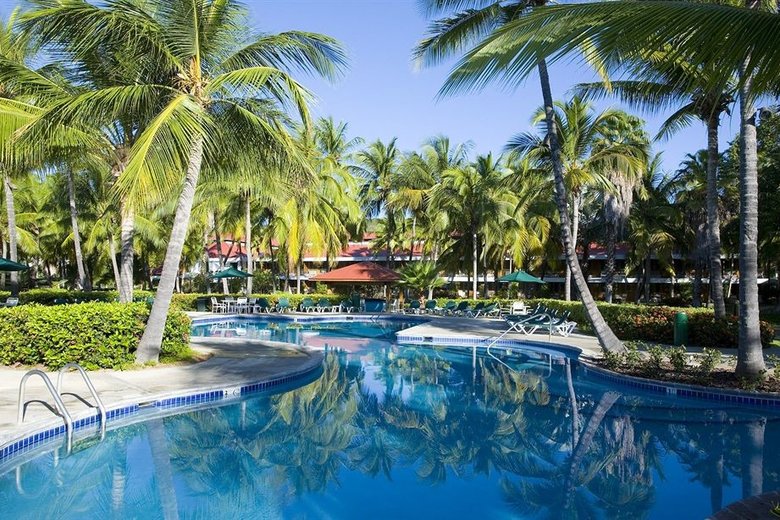 Credit: Jetsetter
Located on the southwestern coast of Puerto Rico is the Copamarina Beach Resort. It sits secluded and away, making it an ideal place for rest. While tranquility and relaxation are the central themes, outdoor adventure lies ahead. Kayaking, snorkeling, and diving are among the non-motorized water sports offered at the resort. Whether you decide to relax at the spa, read a book on the beach, or hit the tennis courts, all travelers are sure to enjoy their stay at Copamarina Beach Resort. There are several all-inclusive package deals to choose from when you book your stay at Copamarina Beach Resort. They range from the standard bed and breakfast options to the inclusion of all meals and drinks.
4. Párador Guanica 1929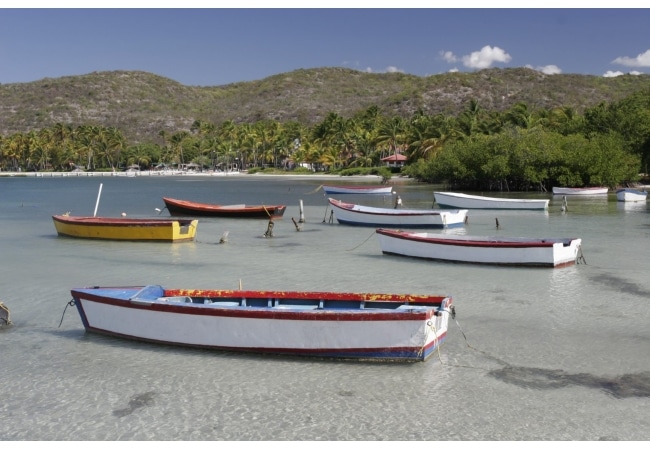 Credit: Tropical Inns Puerto Rico
Are you traveling with a family? Párador Guanica is family-friendly in every way. Though small in size at only 27 rooms, the property provides the ideal space for family vacations. The unique and fun 20th-century ambiance will make guests feel as though they have stepped back in time. The restaurant on the property proudly serves local Puerto Rican favorites and scrumptious seafood dishes. Concerning the all-inclusive package, guests can have all of their meals covered, in addition to having access to the fitness center, swimming pools, and basketball court. Overall, Párador Guanica is a cozy, small, and charming getaway spot for travelers. Among the best Puerto Rico all-inclusive resorts, Párador Guanica ranks most family-friendly.

5. Wyndham Grand Rio Mar Resort & Spa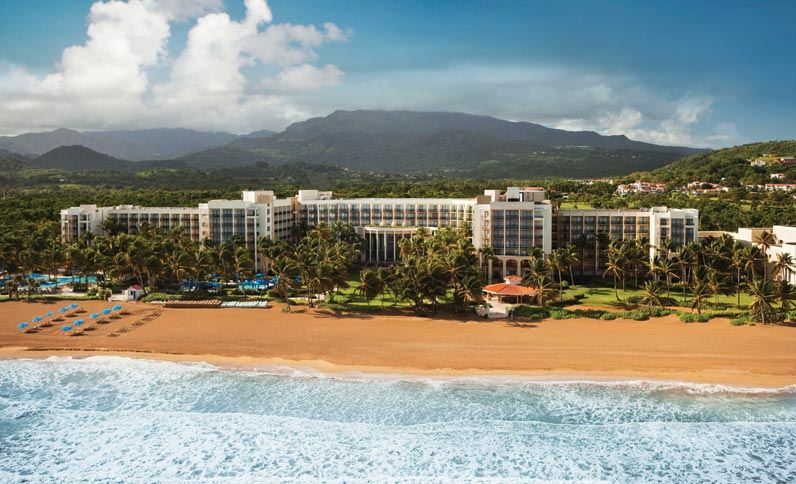 Credit: Wyndham Rio Mar
Among the list of Puerto Rico all-inclusive resorts, we love the Wyndham Grand Rio Mar because of the year-round all-inclusive options. Golfers will delight in this location because of the two championship golf courses guests can play on. The Rio Mar Casino on the property is another attraction for many travelers. Spa lovers, tennis players, hikers, jet skiers, snorkelers, and volleyball players will all find something they love to do at Wyndham Grand Rio Mar Resort & Spa.
Sit on the shore and marvel over the crystal waters, dine in world-class restaurants, and participate in the many activities available during your stay at this resort. On the property, guests will thoroughly enjoy the views of both the sea and the rainforest. Off the property, guests can explore El Yunque- the only tropical rainforest in the United States National Forest System. The layering landscape paints a magical backdrop for weddings and special events in Puerto Rico.
6. Villa Montaña Beach Resort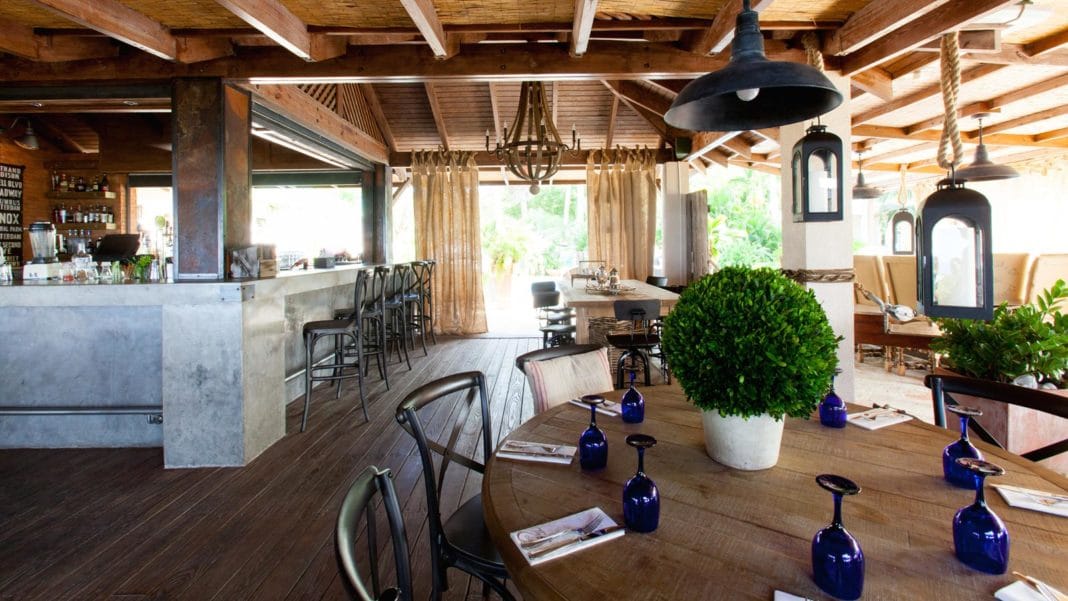 Credit: Villa Montaña Beach Resort
3 miles of secluded, all-inclusive beach are waiting for your arrival at Villa Montana Beach Resort. Come and walk along the shore or participate in one of the many outdoor activities. There is surfing, fishing, scuba diving, snorkeling, swimming, biking, horseback riding, kite surfing, and more! Villa Montana has no shortage of things to do. From the peaceful atmosphere to the attentive service, Villa Montana Beach Resort will treat you very well. Around the property, one will see the tropical landscape that provides an authentic Caribbean ambiance. Enjoy the views as you enjoy the first-class dining at Villa Montana.
7. Hilton Ponce Golf & Casino Resort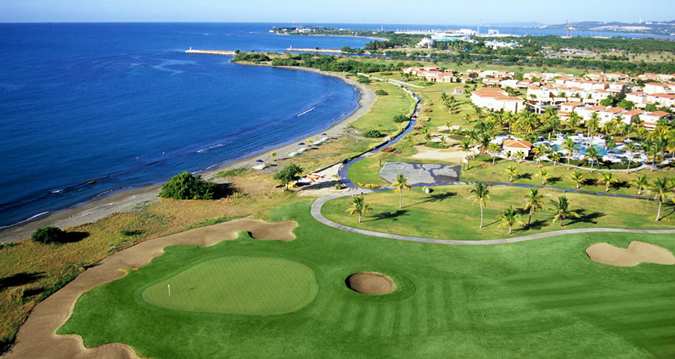 Credit: Hilton
Guests will be impressed by the beauty of this resort. The grounds aren't congested or loud, which is a blessing to travelers seeking quiet rest and refuge on their vacation. At Hilton Ponce Golf & Casino Resort, guests will hear the sound of tropical birds and feel completely immersed in the Caribbean. In the evening, adults can head to the casino and play on the slot machines or play a round of blackjack or roulette. There is fine dining, elegant rooms, and suites, as well as recreation activities available at Hilton Ponce Golf & Casino Resort.
One of the major draws to this resort, in addition to the casino, is the golf course. Golfers can play a scenic round of golf on the Championship Costa Caribe Golf Course. Adults will love this resort, but so will kids! They can dip their toes into the ocean, play games on the beach, jump into the swimming pool, and more. All around, we love the vast amount of activities available at Hilton Ponce Golf & Casino Resort. Travelers of all ages will enjoy this all-inclusive resort.
8. Meliá Coco Beach Puerto Rico
Credit: Meliá Coco Beach Puerto Rico
Located on Puerto Rico's northeastern coast, Melia Coco Beach is a luxurious all-inclusive package and spot for travelers to visit. Only 25 minutes away from San Juan International airport, Melia Coco Beach is among the closest Puerto Rico all-inclusive resorts to the airport. The hospitality found at Melia Coco Beach is incomparable. The natural splendor of the area is another aspect to take note and remember. A stay at Melia Coco Beach will press into guest's travel memories, especially for golfers.
On the property, guests will find Italian dining, an Asian bistro, and multiple bars (including a swim-up bar in the pool). Daytime and evening activities are plentiful at Melia Coco Beach. Overall, this waterfront resort will have your needs met to enjoy vacationing in Puerto Rico.
9. San Juan Marriott Resort & Stellaris Casino
Credit: Marriott
The San Juan Marriott Resort offers the perfect blend of the Marriott company and Puerto Rican vibes. Located near popular attractions like Old San Juan, Isla Verde, and Condado Beach, guests are sure to get the classic tourist experience here. Guests don't have to go off-site to enjoy themselves. At the Stellaris Casino, gamblers can play on more than 400 slots and gaming machines. Even the hotel's Red Coral Lounge is a recommended spot for their dragon berry mojito and live entertainment. No matter if you head to Condado for the shopping or stay to enjoy the water slide, there is something for everyone when you stay at the San Juan Marriott Resort.
10. Dorado Beach, A Ritz-Carlton Reserve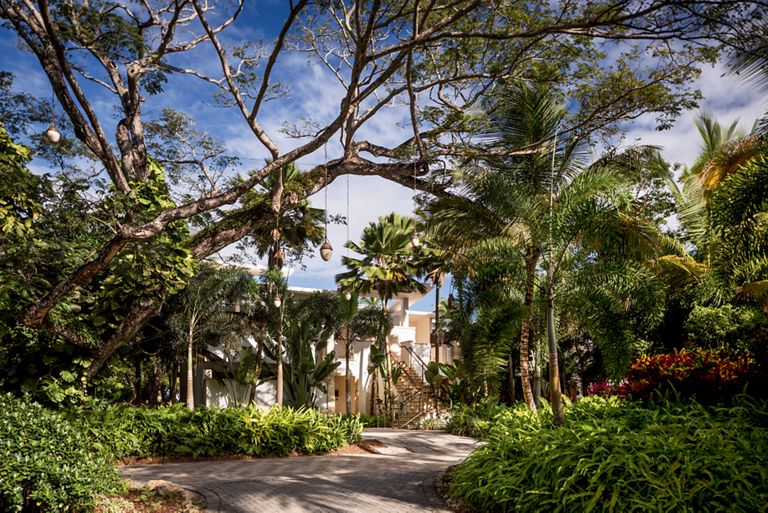 Credit: Ritz-Carlton Reserve
The Ritz- Carlton hotel already receives praise upon praise for their ability to work in the hotel industry well. It is no surprise that they do all-inclusive vacations! In fact, Dorado Beach is an AAA Five Diamond Hotel. It continues to proudly set the example as Caribbeans' only 2017 Forbes Five-Star Hotel and Spa award winner. We can see why this resort spa holds the title! A luxury beachfront and two oceanview pools sit on the property.
Guests also have access to free WiFi, a state of the art Fitness & Wellness Center, and three golf courses. On-site, guests will find Spa Botanico; this is a five-acre natural space (that includes two open-air treehouse treatment platforms) geared towards tranquility and good health. For a deeper nature experience, guests can walk through the historic 'grounds to ocean' Rockefeller Nature Trail. We can see why it is one of the best all-inclusive resorts. You'll be sure to get your dosage of restoration and luxury at the Dorado Beach, Ritz-Carlton.

Are You Excited to Plan Your Vacation to a Puerto Rico All Inclusive Resort?
Compared to other Caribbean destinations, Puerto Rico doesn't have as many all-inclusive resorts. However, they do have a great selection, and the ones that are available are wonderful. From an all-inclusive hotel that is small and peaceful to resorts that are large and have lots to do; the range of Puerto Rico all inclusive vacations to choose from are lovely. Whichever all-inclusive resort meets your needs, we know you will have a grand time soaking up all the wonder and fun that Puerto Rico has to offer. Solo travelers, couples, and families will all enjoy their vacation packages to this tropical location. Also, Puerto Rico is becoming a well-known spot for destination weddings, should you decide to get married within this Caribbean oasis.
Have you ever visited Puerto Rico on vacation? What were your favorite things to do? Share in the comments below!
Related Article: 5 Best Turks and Caicos All-Inclusive Resorts That You Need to Visit