Learn about the top Florida Keys hotels before planning your next vacation.
The Florida Keys remain a popular vacation site for all kinds of travelers. This destination feels like an oasis in comparison to other locations within Florida. With gorgeous warm weather and tropical environments, this island chain lets travelers forget their worries underneath the sun. When you decide to stay here, you might not know where to book a room. The region has many different islands and hotels to choose from, so picking just one can be a challenge. That's why we've created a list of the ten best Florida Keys hotels to assist you in your travel planning. From luxury resorts and more casual accommodations, you'll definitely find an amazing place to stay in the Florida Keys.
1. Amara Cay Resort
Located on stunning Islamorada, Amara Cay Resort provides a carefree accommodation for vacationers hoping to relax. Here, you can read a book and lay out in the sun while leaving your worries behind. Once you're warm, take a dip in an oceanfront pool and enjoy views of the sea. Anywhere you walk, you'll find hammocks hanging from palm trees that provide the perfect place to rest. Casual travelers will love this resort, one of the best Florida Keys hotels.
Those with more adventurous spirits can go wreck diving and search for lost treasure in the sea. Or, you could snorkel through the nearby reefs, looking at colorful underwater life. Afterwards, sit out on your private balcony and enjoy sips of a refreshing cocktail, like a margarita. Guests may appreciate the views of the sunset as they relax in comfy chairs and take in the landscape.
2. Kona Kai Resort
Kona Kai Resort represents a secret hideaway in the middle of Key Largo. The resort remains very exclusive, with only 13 guest rooms and suites available for booking. This means that travelers looking for intimate Florida Keys resorts will want to consider Kona Kai as their ideal accommodation. Staff members will cater to your every need, and you'll get to enjoy the beautiful tropical landscape in seclusion. The Kona Kai allows guests to plan their own perfect vacation.
While staying at this resort, travelers can spend leisurely mornings on the beach, sipping on coffee and fresh juices. For a more exciting activity, start a game of tennis or ping pong with family and friends. At the resort's tropical botanic garden, guests may take tours and learn all about the unique plants. The resort also remains an adults-only accommodation, so travelers with young kids will want to look elsewhere for a hotel.
3. The Moorings Village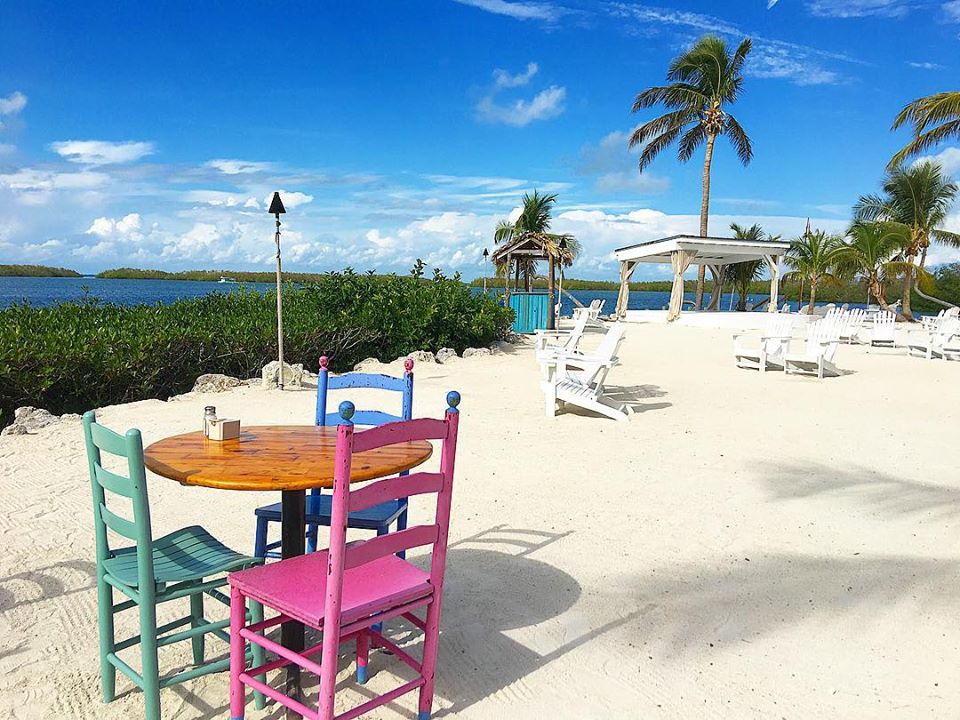 Credit: Facebook / Moorings Village
Found on the island of Islamorada, The Moorings Village feels like an enchanting escape from the rest of the world. This beautiful island resort in between Key West and Miami represents an amazing getaway destination for stressed-out travelers. While here, you'll be able to explore 18 acres of property, complete with 800 coconut palms and 18 villas. When you step out on the resort property, you'll have access to over 1,000 feet of stunning white sands.
The resort, located on what was once a coconut plantation, contains a number of beautiful one to three-bedroom villas. Inside each villa, you'll have a full kitchen, washer and dryer, as well as the typical hotel room amenities. Outside of the villas, guests can explore the resort property and go swimming in the crystal-clear water. You'll love waking up in the mornings and watching the sun rise as you float in the warm ocean. Consider this resort when deciding between the top Florida Keys hotels.
4. Casa Marina Resort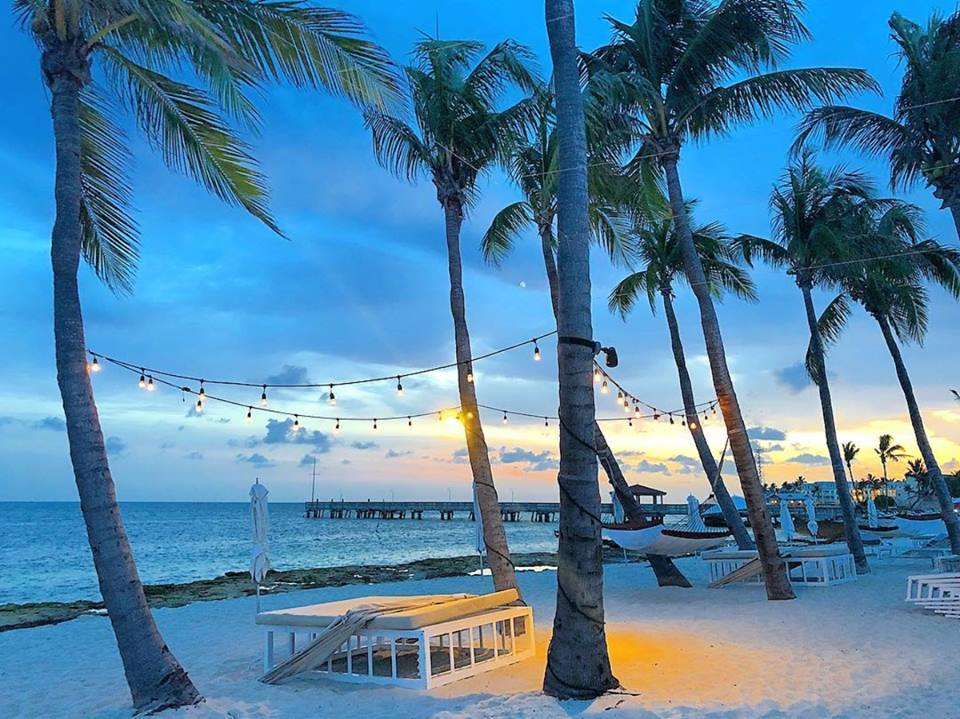 Credit: Facebook / Casa Marina
Casa Marina Resort has a long history of serving all kinds of travelers. The resort, founded in 1920, maintains an old-world charm that appeals to vacationers who enjoy feeling surrounded by the past. Located near Old Key West, guests will be able to experience the beautiful, historic area while they stay here. As you wander through the streets and see the quaint shops and restaurants, you'll love the city's charming atmosphere.
At the Casa Marina, a Waldof Astoria Resort, guests can enjoy their own private breach with pristine white sand. Take a dip in the swimming pools, and request snacks and beverages from the pool concierge. When you're finished swimming, explore the famous Duval Street that's within walking distance to the resort. The renowned street has countless shops and entertainment venues to explore while you're there. You could even walk a little farther and visit Ernest Hemingway's House or the Key West Aquarium. Those interested in charming and tranquil Florida Keys hotels should stop their searching and book a room here.
5. Hawks Cay Resort
Credit: Facebook / Hawks Cay Resort
If you're searching for Florida Keys hotels that cater to families, look no further. Hawks Cay Resort has many services and amenities that fit the needs of travelers vacationing with children and teens. When you stay here, you'll have access to a variety of activities for adults and kids alike. Water sports, like snorkeling, paddleboarding, and fishing, remain top activities to do with families. You could even go on a guided scuba expedition, searching for colorful fish in the deep ocean.
Travelers may book multiple kinds of rooms at this resort, from basic suites to rental villas. The villas and rental homes come equipped with kitchens, so you can cook homemade meals while on vacation. After waking up early, kids will love running downstairs to play in one of the five pools. One pool even has a pirate ship built into it, so children can have fun playing pretend for hours.
6. Playa Largo Resort & Spa
Credit: Facebook / Playa Largo Resort & Spa
Found in gorgeous Key Largo, Playa Largo Resort & Spa feels like paradise in the middle of Florida Bay. This resort contains almost 15 acres of beachfront properties that remain secluded and intimate. Luxury abounds here, as you'll find in the gorgeously decorated rooms and various glamorous amenities. If you want real seclusion, you can book a room at one of the resort's many private villas. Travelers who appreciate luxury will definitely like Playa Largo, one of the best Florida Keys hotels.
Playa Largo provides guests with the chance to feel secluded and pampered. Sit around private cabanas by the pool, then adventure to the ocean and ride on paddle boards. The resort has many on-site bars and restaurants serving gourmet dishes, so you'll get to try lots of tasty food. At the Ocean Spa, you'll be treated to numerous rejuvenating services from the resort's talented professionals.
7. Cheeca Lodge & Spa
Credit: Facebook / Cheeca Lodge & Spa
Cheeca Lodge & Spa remains one of the largest Florida Keys resorts. At this accommodation, travelers can enjoy a spread of activities, dining options, and beachy sites. You won't suffer from a lack of things to do while staying at this resort. Travelers who like the finer things in life will also appreciate this luxury accommodation, as it offers only top-notch services. If you like to remain active during your vacations, the Cheeca additionally provides many exercise opportunities for its guests.
Those travelers who enjoy fishing will definitely want to book a room at the Cheeca Lodge & Spa. This site remains part of the Sportfishing Capital of the World, so you'll find many fish to catch. You could also go snorkeling, kayaking, scuba diving, and bicycling through the property. Delicious meals can also be easily found here, as the resort contains multiple on-site, first-class restaurants. You'll have an abundance of things to do in the Florida Keys when you stay here.
8. Skipjack Resort & Marina
Credit: Facebook / Skipjack Resort & Marina
If you're searching for a more laid-back vacation experience, book a room at the Skipjack Resort & Marina. As one of the best Florida Keys hotels, this resort offers guests with numerous amenities and amazing services. Since it's located in Marathon Florida Keys, the Skipjack Resort has plenty of opportunities for boating. The resort's personal marina allows guests to rent boats and go out on adventures in the water. Vacationers hoping to be relaxed and casual will want to visit this accommodation, one of the top Florida Keys hotels.
Travelers who enjoy all kinds of watersports will love spending a getaway here. You could go fishing in the marina, or have a quiet afternoon sailing on the water. If you want to stay on land, test your skills golfing on one of the resort's lush courses. Once you've finished your day, you can return to your room and relax on a cozy king-sized bed.
9. Sunset Key Cottages
Credit: Facebook / Sunset Key Cottages
On the island of Sunset Key, you'll find the luxurious and cozy Sunset Key Cottages. These cottages remain a short boat ride away from Key West. When you come to this island accommodation, you'll feel truly surrounded by sophistication and luxury. As one of the best Florida Keys hotels, Sunset Key Cottages offers guests a variety of deluxe amenities and services. While staying at this accommodation, you'll feel pampered and ready to relax all day long.
Private verandas remain secluded and beautifully furnished, while also offering panoramic views of the island and sea. You could wake up in the morning, grab a coffee, and watch the sun rise from your deck. Guests will even be treated to a regular breakfast basket, so you can grab a pastry and go. After spending a few hours at the pool, head to the spa and enjoy a rejuvenating treatment.
10. Little Palm Island Resort & Spa
Credit: Facebook / Little Palm Island
If you're looking for ultimate privacy, head to Little Palm Island Resort & Spa. This location, one of the top Florida Keys hotels, can be found on its own private island. Guests can only get here by a private boat or seaplane, which takes them directly to the resort. With only 30 suites found here, you'll be part of a very intimate and secluded environment. The bungalows, or rooms, have quaint thatched roofs that make the location feel like a tropical Caribbean destination.
While staying at this accommodation, guests remain at peace amidst nature and the ocean breezes. This resort doesn't have televisions or other communication technologies, as they want the resort to feel secluded and quiet. Instead of staying in your room and watching TV, you'll be encouraged to explore your surroundings. Travelers searching for an escape from work and the stresses of modern life should definitely book a room here. Make sure to walk along the paths around the resort and appreciate the palm trees and sea views.
Book a room at one of the top Florida Keys hotels this summer.
No matter where you travel, choosing your ideal accommodation can be difficult. In places like the Florida Keys, you'll find a huge number of amazing hotels and resorts to pick from. Luxurious resorts, which include amenities like pools and spa services, will satisfy the sophisticated and relaxation-focused traveler. Other locations provide access to beautiful beaches and on-site restaurants to take your vacation experience up a few notches. Whatever your tastes, the Florida Keys has the perfect hotel for you. We hope our list of the top Florida Keys hotels has inspired you to plan an incredible island vacation.
Related Article: The 10 Best Hotels in Miami