The Osprey Waypoint 80L Trekking Pack is going to change how you view backpacking.
Gone are the days of cumbersome, useless travel backpacks. Osprey's Waypoint 80L Trekking Pack addresses the chief considerations of hikers on the go. From a lack of organization to a lack of security, typical travel backpacks no longer stand a chance. Osprey's expertise in travel luggage truly radiates throughout its product. For this reason, you won't want to miss out on ordering your Osprey Waypoint pack before you set out on your next adventure. We promise you won't be disappointed!
A Little About the Osprey Brand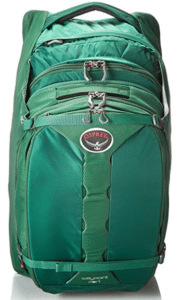 Mike Pfotenhauer founded the Osprey brand in 1974. Today, the company is headquartered in Cortez, Colorado, but has also expanded overseas to source the demand of textiles. With over forty years in the business, Osprey successfully appeals to trekkers and backpackers alike with their practical, functional, and quality products.
One such product is the brand's Waypoint 80L Trekking Pack. Hikers enjoy this pack's immense capacity and utilitarian layout. In order to fully appreciate all that the Osprey Waypoint pack has to offer, you will first need to forget everything you thought you knew about trekking packs. Read our review to find out how Osprey has cornered the market with the exceptional Waypoint 80L Trekking Pack!
Features and Benefits
On to the good stuff! In all actuality, the Osprey Waypoint is better than just "good." The brand's many seemingly small details combine to create the greater picture. With a penchant for quality, Osprey has outdone itself in terms of amenities. Above all, the specifics that generally fall to the wayside by other manufacturers stand front and center in this product. We promise we won't tell your old trekking pack how much you love the Osprey Waypoint!
1. A thoughtful design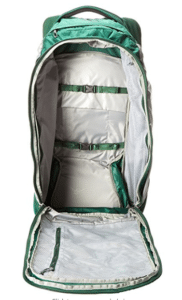 If we're being completely honest here, most travel backpacks are lacking in thought. Nonetheless, Osprey challenges the status quo by serving up a thoughtfully designed product with the consumer in mind. Many of your qualms about other packs are non-existent in the Osprey Waypoint. In fact, the brand overhauled the traditional to make a spectacular stride in the world of travel backpacks. Here are just a few of our favorite design aspects:
Layout
Welcome to Osprey Waypoint's humble abode. A large main compartment, smaller sleeping bag compartment, and many pockets compose the contents. Of course, the main compartment houses most of your belongings. However, the Osprey Waypoint allows trekkers to separate items like shoes or a sleeping bag in the small compartment located at the bottom of the pack. This independent section of the bag is easily accessible via a zipper on the front.
In addition to the major compartments, the Osprey Waypoint also features many pockets. For instance, a large side pocket parallels the main compartment. Additionally, the lid contains two mesh pockets, which are perfect for storing things like socks or a bikini. Finally, a small pocket on the top of the pack gives quick and easy access to frequently used items (think sunscreen and bug repellent).
The layout of the Osprey Waypoint is not only streamlined and functional, but also allows for a greater level or organization than most other trekking packs. More on that to come!
Total Opening Front Lid
Veteran travelers know that organization is key. For this reason, this is one area that truly sets the Osprey Waypoint 80L Trekking Pack apart from competitors. Whereas most packs open only at the top of the bag, the Waypoint comes complete with a lid that opens completely. One big zipper contains your belongings, and springs free to reveal the Mecca of travel pack organization.
Because the entire front lid can open, the Osprey Waypoint works as more than just a travel pack. The bag can easily be laid down like a suitcase and packed in sections. Seasoned trekkers know that this is golden for being able to quickly retrieve any necessary items. Moreover, when you don't have time to take the pack off and lay it down to open it, two zippered entrances on the side make it possible to grab and go.
Sturdy Sides
One of the most frustrating aspects of backpacking are the packs themselves. The average run-of-the-mill travel backpack folds over and in as soon as you begin to open it and rearrange items. However, this is not a problem with the Osprey Waypoint. To elaborate, the sides of the pack are padded with foam and feature straight jacket compression. Thus, your belongings stay in place. Even still, the most advantageous facet of having sturdy sides is that you aren't forced to unpack to be able to see what you've brought along.
Convertibility
At first glance, you probably would never guess that the Osprey Waypoint is a convertible. No, the top doesn't come off (although the entire front lid opens). However, the pack converts to a suitcase/duffel bag in a matter of seconds. If you have a flight to catch to your backpacking destination, the Osprey Waypoint quickly changes to meet your needs.
An extra lid tucked away in a small pocket at the bottom of the pack holds the straps should you decide you no longer want to carry the pack on your back. At this point, travelers carry the bag similar to a regular suitcase. When you reach your destination, remove the straps from the pocket and throw the bag on your back again.
Reviewers note that this feature is perfect for check-in at airports, on boats, and even the train or bus station. Most notably though, the convertible nature of the Osprey Waypoint minimizes wear and tear on the pack's straps.
Anatomy Conscious Customization
For the purpose of comfort, Osprey designed the Waypoint specifically by gender. While perusing Amazon, keep in mind that the pack comes in separate versions for males and females. This is due to a conscious effort to accommodate differences in anatomical design
Men and women assert that the gender modifications assist in making the pack contour to the body and evenly distribute weight. The major difference is the placement of the hip belt and harness. Additionally, backpackers choose between a small or medium torso length on both the male and female models. Osprey's carefully crafted design keeps everyone comfortable.
2. Detachable Day Pack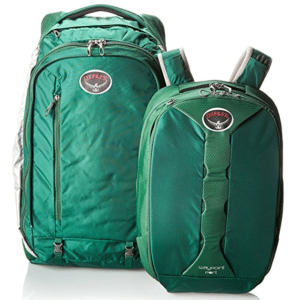 A major advantage of choosing the Osprey Waypoint is the detachable day pack. Now is probably the time we should clarify the 80L capacity. In reality, the larger, main bag has a 65 L capacity. The other 15 liters are accounted for in the form of a detachable day pack. Despite being a bit misleading, this setup actually plays to the pack's strength.
Travelers delight in the detachable day pack for several reasons. The smaller pack can be attached (or detached) from the larger bag using a zipper. Because of its smaller, more compact size, the day pack is the perfect solution for smaller hikes and sightseeing trips. Similarly, if you plan to wander the crowded streets of your destination, the day pack offers some relief for your back.
The detachable day pack is nearly as impressive as its larger counterpart. Upon peeking inside, you will notice that one main compartment comprises most of the bag. Towards the back, a smaller, padded laptop compartment allows techies to stay connected while traveling. Numerous pockets also exist, including one small pocket with zippers on each side of the bag, as well as a pocket on top. These are ideal for holding water bottles and small travel size items like tissues, respectively.
If you read on, we've included some of the day pack's other amenities in sections to come.
3. Peace of Mind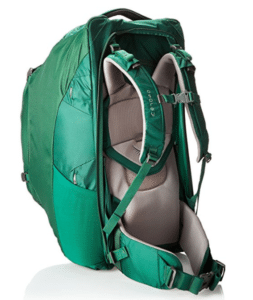 When traveling, the last think you want to worry about is safety and security. Unfortunately, it is an important and necessary consideration. While you are responsible for managing the safety of your person, Osprey looked out for travelers by incorporating some security measures into the Waypoint.
Lockable Zippers
Each of the Osprey Waypoint's zippers can be secured with various locking mechanisms. A small TSA-approved lock will do the trick though. The locking zippers allow travelers to focus on having the experience of a lifetime, rather than what could possibly go wrong or get stolen. Of course, we always advocate for wearing your neighborhood watch cap.
Hidden Doors
In conjunction with locking zippers, hidden compartments take the Osprey Waypoint to the next level. As noted above, we weren't finished telling you about the day pack's many qualities. One of the more clever is that the smaller pack can only be opened by accessing the door that sits against the wearer's back. Again, this makes the day pack suitable for excursions into urban areas that may be frequented by pick-pocketers. Osprey has touched upon common concerns of travelers, thereby nearly eliminating the fear that can often be associated with venturing into new territory. The Osprey Waypoint sends you on your way, protected and secure.
What Travelers are Saying about the Osprey Waypoint 80L Trekking Pack:
Truth be told, you will be hard-pressed to find more than a few minor drawbacks of Osprey's Waypoint 80L Trekking Pack. Nonetheless, we've read the reviews to find what travelers came to a consensus on.
Pros
plus

The straps are supportive and adjustable.

plus

​Hidden compartments and locking zippers provide a sense of security.

plus

Tuck-away straps quickly convert the bag into a "suitcase" and minimize wear and tear.

plus

​The fully opening front lid allows this pack to function more like a typical suitcase.

plus

​Gendered customization gives comfort.

plus

Detachable day pack is great for smaller excursions.

plus

​Several zippered pockets promote organization.
Cons
close

​The pack does not come with a rain cover. These can be purchased separately from Osprey or any other retailer.

​Although better than other travel backpacks, organization can still be difficult. Packing cubes are highly recommended.

close

​The bag is too big to be carried on.

close

Not compatible with hydration systems.
Although not perfect, no trekking pack is. Osprey comes pretty close though with its excellent product. Reviewers noted overwhelmingly positive features of the Waypoint, even though there are a few drawbacks. Even still, the disadvantages of this bag are not restricted to this brand only. Therefore, we think the pros far outweigh the cons. The Osprey Waypoint will not disappoint!
Alternative Travel Backpacks
If you want to do side by side comparisons to find your next trek pack, we've included some comparable options. Check out these bags to find the best fit for you.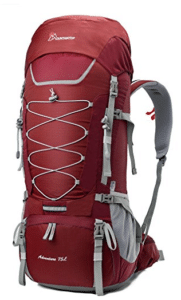 Mountaintop has crafted hiking, camping, and travel products for more than 30 years. Their Mountaintop 75L-80L Internal Frame Hiking Backpack with Rain Cover has many great features. Zippered front access allows travelers to easily access belongings. A system of daisy chains makes it possible for carabiners to tote around anything from an ice axe to a tripod. Several compression straps allow for sleeping bags, tents, and other gear to be hung from the main pack. This durable nylon travel pack is also hydration system compatible.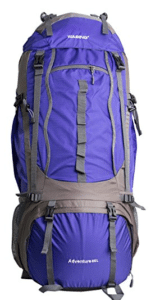 Wasing's 85L/80L Internal Frame Backpack is perfect for climbers and mountaineers. Several compartments and zippered dividers provide the organization that trekkers want and need. Rip-stop polyester maintains the bag in good working order while also ensuring the pack is water-resistant. The back panel is molded to allow for airflow, keeping you cool and dry. Wasing's product is a tough competitor.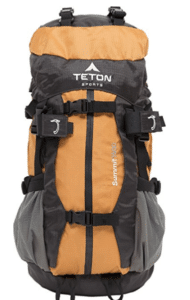 Teton's Sports Summit 1500 Backpack is plentiful in amenities where others are not. This pack is suitable for men, women, and even youth. 420D 2MM double line rip-stop fabric withstands the most treacherous of hikes. The low-profile design minimizes movement, providing climbers with stability. Extra padding lines the back and hip areas, contouring to the body and creating airflow. In addition, this choice is hydration system compatible and comes complete with a rain cover.
Backpacking will never be the same with the Osprey Waypoint 80L Trekking Pack.
Upgrade your backpacking adventures with the Osprey Waypoint travel backpack. With its multiple compartments, detachable day pack, and built-in security mechanisms, the Waypoint is way cool. Osprey designed this product with trekkers in mind, paying careful attention to ergonomics and anatomy. This quality product is perfect for you and your back!
Let us know what you think of the Osprey Waypoint 80L Trekking Pack in the comments!
Related Article: ​10 Best Travel Backpacks of 2018 for Your Next Adventure​​​