We Have Found the Perfect Turks and Caicos All-Inclusive Resort for You
The Turks and Caicos Islands is a tropical nation located south of the Bahamas. This lavish paradise is lined with luxurious hotels and resorts that attract travelers from all over the world. Families, couples, and solo travelers all flock to the pristine white sand and crystal ocean. Did we mention that these islands are a scuba divers dream? Beginners and professionals are welcome to dive in and take a front row seat to the thriving and exotic underwater world. If you are looking to go to the best beaches in the world, then you've come to the right place. The best Turks and Caicos all-inclusive resorts are found here.
All year-round the climate remains sunny and warm on the islands, so travelers can come at any time of the year to find the beach waiting expectantly for their arrival. With tons of hotels and resorts to choose from, we are stacking up the 5 best Turks and Caicos all-inclusive resorts. We chose all-inclusive because we know that is what you wanted too. So, without further ado, here are the greatest, grandest Turks and Caicos all-inclusive resorts and why you'll love them.

For Those Wanting Unique Boutique Charm
Beach House Turks and Caicos
Credit: Beach House Turks and Caicos
A stay at the Beach House Turks and Caicos will spoil you. Turquoise waters and soft white sand that sounds, looks, and feels too good to be true. This intimate and lovely resort will have you overflowing with awe from the moment you step onto the property. On the calm seas, guests are invited to go paddle boarding, sailing, snorkeling, kite boarding, and kayaking. They are also invited to relax on the shore and do nothing at all. The choice is theirs. Only 10 minutes away from the resort is Provo Golf Club, one of the best golf courses in the Caribbean. The Beach House Turks and Caicos is one of the few resorts that offer a discount at Provo Golf Club. Go all you golfers, bring your clubs.
The Beach House Turks and Caicos is only all-inclusive is you remember to purchase the all-inclusive package. Guests can decide for themselves what rate fits their wants and needs. For those who choose the all-inclusive package, know that the rate covers more all of your meals, drinks, accommodations, and resort activities. What's more is that the Beach House Turks and Caicos all-inclusive rate includes access to their 2 sister resorts: Blue Haven Resort and Alexandra Resort. Blue Haven Resort has a private beach and is overall a fun atmosphere for the whole family. Alexandra Resort is… the resort we are talking about next. Complimentary shuttle rides between all 3 resorts are offered to guests so they can experience the most out of their stay in the Turks and Caicos Islands.
For the Best Value
Alexandra Resort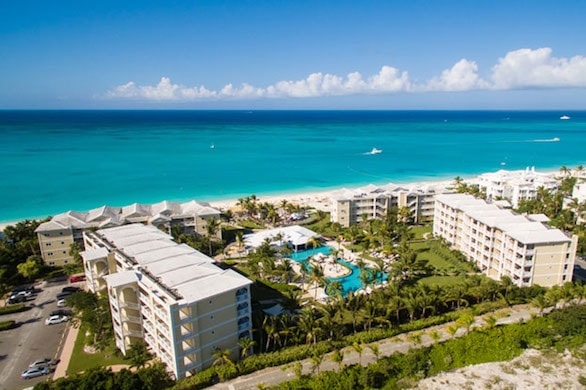 Credit: Alexandra Resort
For the service you receive, the spacious beachfront accommodations you will get, and the memories you will make, Alexandra Resort will give you the most bang for your buck. Purchasing the all-inclusive package will provide you with attentive service like you have never experienced before. The food is also something to write home about. The chef that oversees all the restaurant whips of extravagantly delicious meals for guests. You will feel treasured and special during your stay at Alexandra Resort.
As is the case with Beach House Turks and Caicos, an all-inclusive rate with Alexandra Resort will give you access to the 2 sister resorts as well. Shuttle back and forth to experience different environments, activities, and a change of scenery. Alexandra Resort is an affordable location for travelers to do as much exploring, or as little, as they wish. With water activities, restaurants, pools, beaches, and spas there is never a shortage of things to do. As far as the best Turks and Caicos all-inclusive resorts go, Alexandra Resort will leave you longing to return.
For a Romantic Getaway
East Bay Resort
Credit: East Bay Resort
East Bay Resort sits on a two-mile-long stretch of beach and offers an intimate and romantic setting for honeymooners, couples celebrating their anniversary, or couples just wanting to get away and visit a Turks and Caicos all-inclusive resort in their spare time (because that's what we all do in our spare time?). During your stay, snorkel and observe the rich coral and marine life that lies beneath the picturesque waters. Guests can also go deep sea fishing in this prime location. East Bay Resort is located in South Caicos which is known as the Fishing Capital of Turks and Caicos.
The room accommodations at East Bay are simplistic and modern, as well as spacious and comfortable. With beachfront views, guests will awaken to stunning surroundings every morning. It is even a popular venue for destination weddings, should you choose to get married alongside the glistening shores of the Turks and Caicos Islands.

For Families with Little Ones
Beaches Turks & Caicos Resort Villages & Spa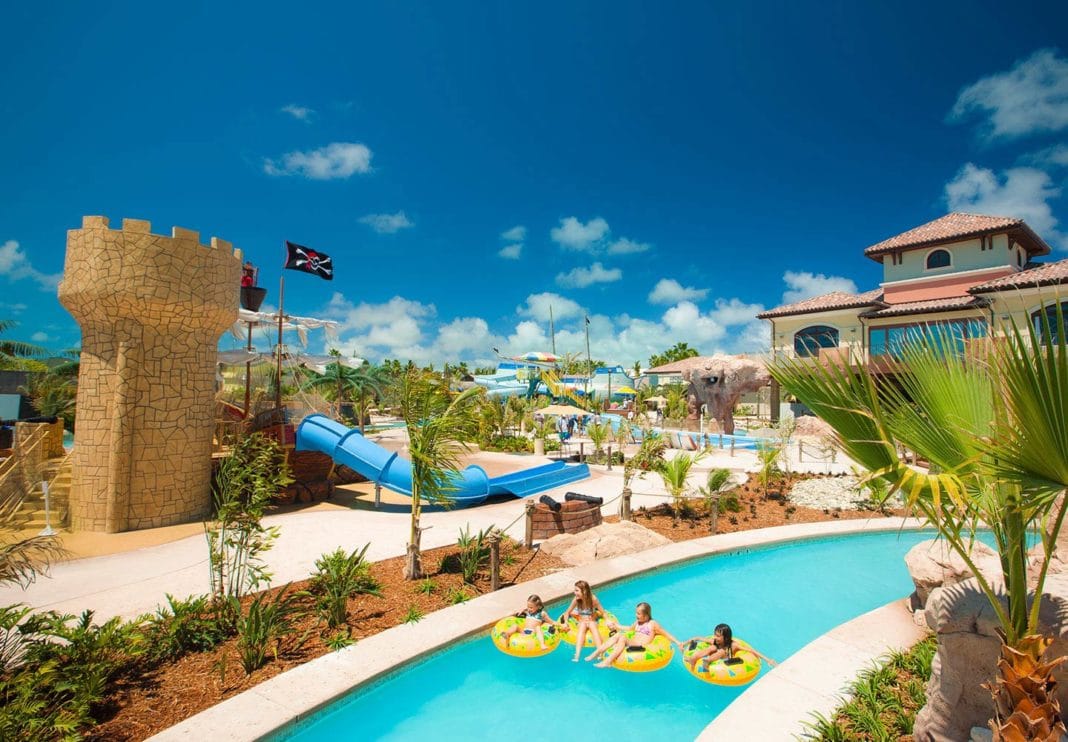 Credit: Beaches Turks and Caicos
Beaches Turks and Caicos is a dream come reality for the entire family. If you are looking for a vacation destination in the Caribbean for the whole family, then look no further. There is a 45,000 square foot waterpark, an Xbox Play Lounge, various teen-only activities including dance parties, and miles upon miles of beach land to explore. The property itself is huge. The waterpark alone at Beaches Turks and Caicos Resort is the largest waterpark in the Caribbean.
Plenty of Activities
At the Beaches Turks and Caicos all-inclusive resort, there are ten pools, a spa, a shopping complex, and more restaurants than guests know what to do with. Unless you plan on staying for multiple weeks at this all-inclusive resort, you will have to return just to try them all. There are also five swim up bars on the property. They are just as they sound. They are bars in the water that you can quite literally swim up to and order a drink. As far as water sports, there is kayaking, windsurfing, paddle boarding, scuba diving, hydrobiking, and more. On land, check out the beach volleyball, basketball, and tennis courts. Soccer, croquet, shuffleboard, and pool tables are also available at the resort. Can you see all of the options and enticing things to do at this all-inclusive resort?
Within the Beaches Turks and Caicos Resort, there are 4 villages: Caribbean, Italian, Key West, and French. Each village displays architecture, aesthetics, and cuisine fitting to that location. Guests can choose to stay in any village they desire. If you are traveling to Turks and Caicos with a family or adventurous little ones, or you yourself get excited thinking about non-stop activities and fun, then Beaches is the right pick for you. If you are desiring at least a moment of quiet each day or are looking for a romantic setting, then go with one of the other best all-inclusive resorts on this list. With so many activities on the property, there is hardly any downtime, quiet, or romantic feels. However, if you're traveling with young kiddos, then they are going to be in their dream world at Beaches.
For Adults-Only
Club Med Turkoise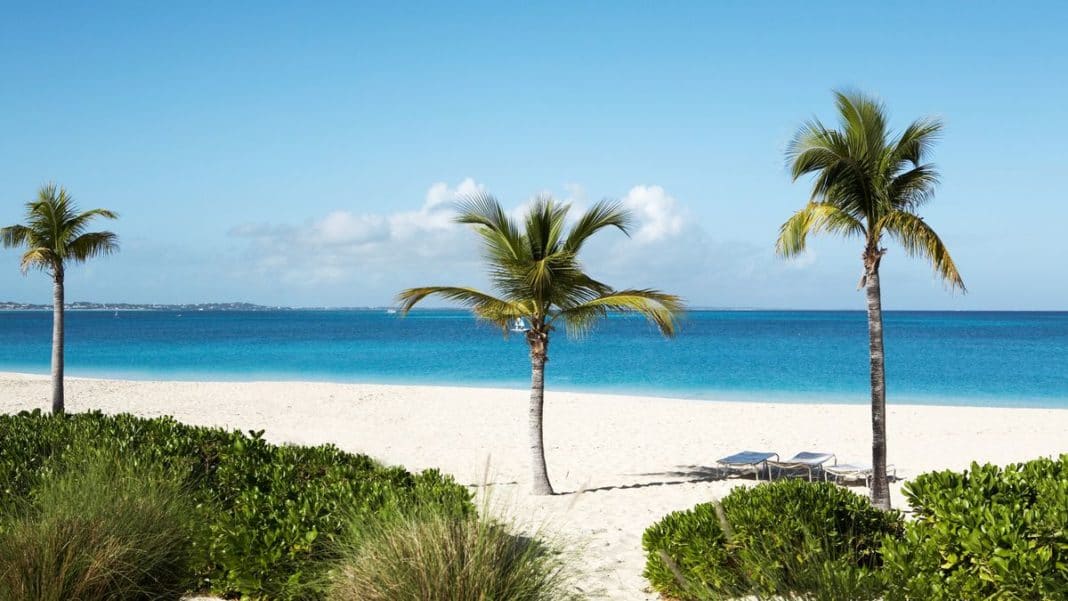 Credit: Club Med Turkoise
Located in Grace Bay of Providenciales island, this Turks and Caicos all-inclusive resort is adults-only. Though secluded, it is impossible to be lonely at Club Med Turkoise. Fellow guests are friendly and all of the staff is friendly as well. In addition to a welcoming atmosphere, this resort offers a beautiful and secluded 12-mile beach. At Club Med Turkoise, guests will be surrounded by wildly colorful bungalows and a plethora of activities to choose from. There is live music and dancing under the night sky. Guests can learn how to windsurf, sail, or swing on a flying trapeze. There is also water polo, beach volleyball, or soccer to be played. Though there are no kids allowed at Club Med Turkoise, your inner child is allowed to be set free.
Finally, the greatest news is that Club Med Turkoise is all inclusive. Even the sports schools and training offered by professionals is included free of charge. These sports school professionals are eager to help guests of all skill levels learn for to windsurf, sail, or swing on a flying trapeze. In addition to these activities, Club Med Turkoise's all-inclusive rates cover the themed dinners, drinks, and live entertainment.
For the Best Beaches
The Sands at Grace Bay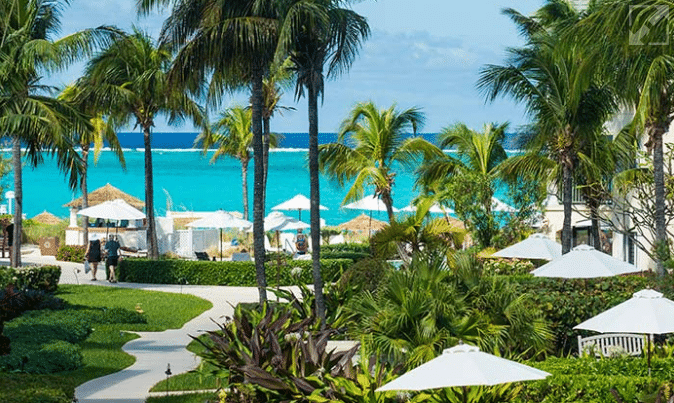 Credit: The Sands at Grace Bay
Located on Providenciales, also known as Provo, is an island in the archipelago that is Turks and Caicos. This area spans 38 square miles, and offers turquoise waters, and white, soft sand beaches. Our vote for one of the best all-inclusive resorts in Providenciales is The Sands at Grace Bay. Their service is exceptional and personal, and the hotel property is beautiful, with palm trees and lovely landscaping around the outdoor pool. There's great snorkeling and diving in the waters here in Providenciales, and even a turquoise lagoon at Chalk Sound National Park, about twenty minutes away.
At the all-inclusive Sands at Grace Bay Turks and Caicos resort, one of the best hotels on the island, you'll be settled right on Grace Bay. This brushes the northern part of the island, and the hotel offers beautiful vistas into the Crystal waters. Additionally, The Sands at Grace Bay offer plenty of fun excursions on the water: kayak, snorkel, charter a boat, or fish. A bit further up to the east is Parrot Cay. The Sands at Grace Bay offers additional vacation packages, for weddings or romantic getaways. As one of the best Turks and Caicos hotels, we suggest booking a guest room and heading over to Providenciales!
It's Hard to Turn Away Those Turquoise Waters; Book Your All-Inclusive Hotel in Turks and Caicos Now!
And there you have it, the 5 best Turks and Caicos all-inclusive resorts. All of these resorts are unique and one-of-a-kind. Therefore, you won't have trouble finding the perfect fit for you. Depending on the things you want to do there, there is an all-inclusive resort just for you on the Turks and Caicos islands. If this Caribbean escape is calling your name, then check out one of these lavish resorts for an unforgettable stay on the crystal clear, turquoise water of Turks and Caicos.

Leave us a comment below as to which all-inclusive resort sounded most appealing to you!