The Citizen Silhouette Crystal Women's Watch is a style that transcends time.
Travelers seeking an elegant, durable timepiece, you have found your perfect fit. Stainless steel, mineral crystal, and sapphire crystal come together to create a truly one of a kind piece. You'll soon find that this two-tone silver and gold watch goes with just about anything. Round crystals at the bezel and silver sunray dial add a beautiful touch. Genuine Swarovski crystals are used to frame the face.
From the design to the materials used, it's apparent that Citizen pours passion and innovation into each and every one of their creations. When you purchase the Citizen Silhouette Crystal Women's Watch, you know you will have a durable accessory for years to come. It's made with quality and that's what counts. Let's take a closer look at its features and benefits to see if it is the right watch for you.
About the Brand
What do we love most about Citizen? As one of the best watch brands for women, their watch styles are powered by light – any light. That's right. They never need a battery. They've been around for 100 years and developed quite the name in watchmaking and innovative technology, excellence, and creativity within their craft.
Their motto is "better starts now" and we've got to say they've kept up with it.We particularly love that Citizen aligns their values with scholarship associations, contributes to charities, and carries the mentality of a global citizen. For over forty years now, their eco-driven technology has been at the forefront of environmental stability in the fashion world. Their concept is simple yet revolutionary. Eco-Drive technology utilizes the power of light (natural or artificial) and converts it to energy.
Think about how useful this is when you're traveling on the go. When your phone battery is dead, you can use your watch to make sure you're on time to that flight. Better yet, by using a renewable natural resource, it reduces the amount of junk that ends up in discarded landfills (e.g. batteries).Their name even appeals to the modern traveler, invoking a multicultural mindset. The idea? Their timepieces should be enjoyed by citizens all over the planet.
This year, the company has reached even further, solidifying a partnership with Disney. As Citizen will be the official timepiece of both Disney World and Disneyland, you will find branded clocks in both theme parks.Citizen shares our concern for our impact on the environment. That's a big part of why they are sponsoring Eric Larsen, a polar adventurer with expeditions to the North and South Poles this year.
Larsen is also an expedition guide and educator. He's spent the past twenty years traveling in some of the most extreme conditions on the planet. On his upcoming adventures, he plans on using Citizen watches to keep his adventures on track and on time. As you can see, this brand is a worldwide leader in technology.
They've designed the world's slimmest LCD watch, the first ever professional dive watch with an electronic depth sensor, and a voice recognition watch. The technology is truly astounding. It's all with the goal of making the experience progressively better for each customer. It's easy to see why Citizen is one of the best watch brands for women.
The Citizen Silhouette Crystal Women's Watch Features & Benefits
Powered by Light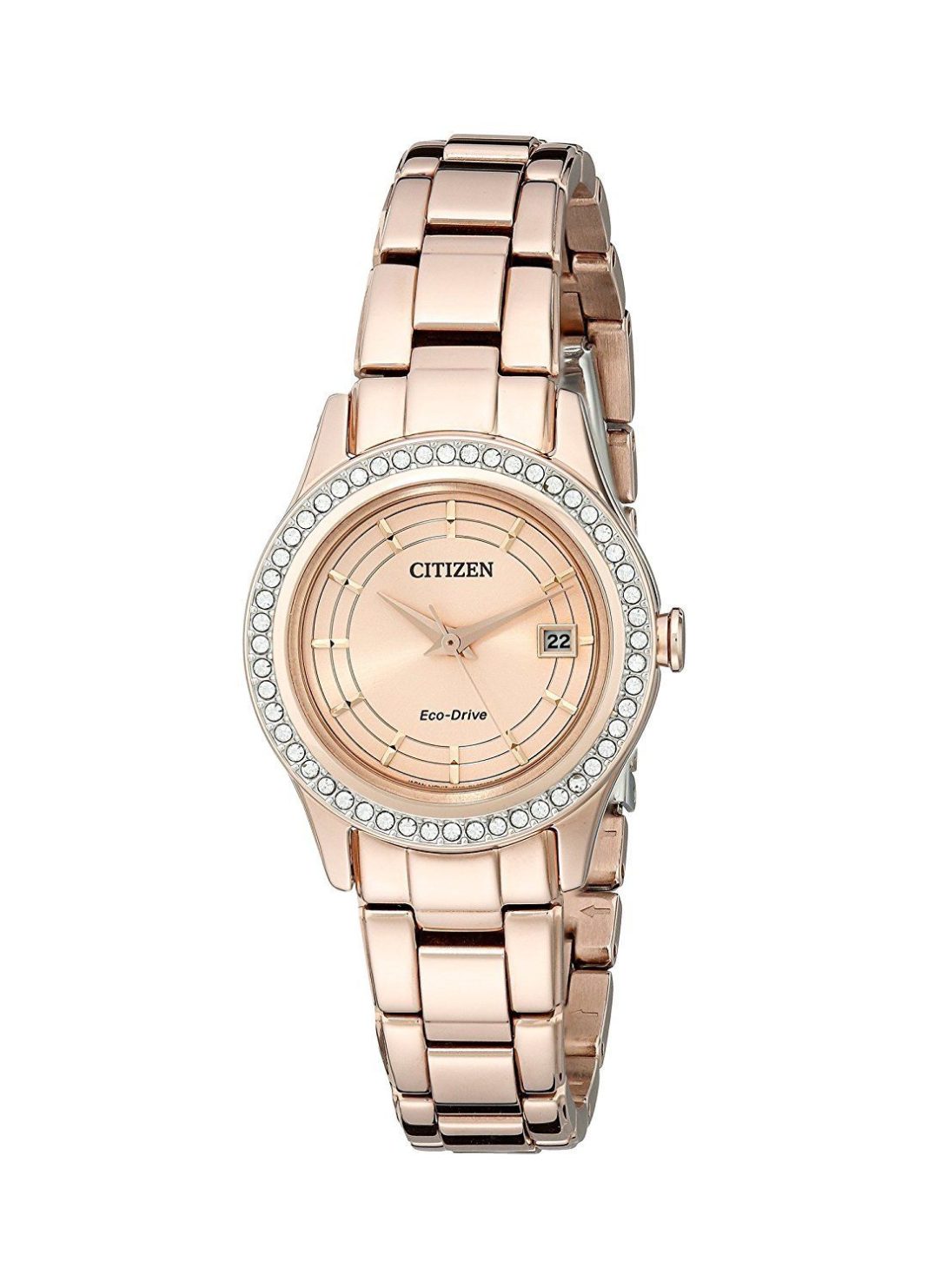 Credit: Amazon
Want to know our favorite feature of the Citizen Silhouette Crystal Women's Watch? It's an easy pick. The watch is powered by light. Thanks to the lithium-ion cell battery, it can convert both natural and artificial light into energy. You won't have to fuss with battery replacement, charging, or winding.
Water Resistance
Our second favorite feature though has to be the water resistance. You wouldn't expect a dressy-looking women's watch like this to be able to withstand exposure to the elements but it can. This Eco-Drive style is water resistant up to 100 meters (330 feet) and is suitable for swimming and snorkeling.
Genuine Swarovski Crystals
For a simple yet elegant touch, the face of the Citizen Silhouette is framed by genuine Swarovski crystals. Only those of the highest quality are chosen. The result is a lovely yet understated design that makes for easy pairing on a night out.
Runs in the Dark
Did we mention it can also run in the dark? The Citizen Women's Eco-Drive comes with a low energy warning and power save mode. Get this. When your watch is fully charged, it can run for up to seven years in the dark. Yes, you read that right. But that's not all. There are also manicure friendly claps.
Eco-Friendly
We love that this brand is kind to the planet. Eco-Drive watches never need a battery. Batteries can leak chemical pollutants into landfills. Since the Citizen Silhouette Crystal Women's Watch is powered by light, you won't have to worry about that. Since 1976, Citizen has kept an estimated 75 million batteries out of landfill sites.
Tech Specs:
Swarovski crystals

Stainless steel

No battery needed

Lithium-ion cell converts natural and artificial light into energy

Water resistant up to 330 feet

Japanese quartz movement and analog display

Manicure friendly clasps
What Travelers Are Saying About the Citizen Silhouette Crystal Women's Watch
With a rating of 4.5 out of 5 stars, the Citizen Silhouette Crystal Women's Watch speaks for itself. Travelers seeking a classic timepiece could not say enough about this beautiful watch. Wear it in a casual or formal occasion, it transfers seamlessly. The stainless steel complements the gold accents well and the crystals on the bezels are exceptional. The face of the watch is just the right size too; it's not too large or small.
Women on the go will appreciate features like the battery-less design and that it runs at night. Remember, it's also water resistant up to 330 meters. So, you don't have to worry about it getting wet if you're caught in the showers.
Alternative Travel-Worthy Watches You May Like
Michael Kors Access Women's Smartwatch
Are you sporty, glamorous, or somewhere in between? Embrace every element of your style with the Michael Kors Access Women's Smartwatch. This watch has all of the features you need to stay organized and enjoy smooth sailing on your travels. First, we've got to recognize the 24/7 access feature. Since the display is always on, you can customize your notifications to see text messages, emails, get reminders, and more. Never miss a call again.As you can see, this Access smartwatch from Michael Kors offers functional fashion.
Go beyond just keeping track of time. Did you know that you can use voice commands to help keep yourself on schedule? You can search the web, check the forecast for rain, and set alerts for emails, calendar notifications, and more. Furthermore, the style has many faces. There are plenty of ways that you can personalize your watch face and change the dial with your mood. Interchangeable bands mean you can make it entirely yours.
Tech Specs:
Get your smartphone notifications and touchscreen functionality

Stainless steel

Voice activated with Google

Activity and custom goal tracking

Interchangeable bands
Timex Weekender Chronograph
This is the only watch you will ever need. Enjoy the freedom to choose what you want with the interchangeable quick-release straps. Choose what color and fabric you want from a wide selection of options.The Weekender Chronograph collection from Timex is all about versatility. Easily switch it up with interchangeable slip-thru and quick-release straps. From leather to fabric and with a wide selection of colors to choose from, you've got options. It's easy to see that Timex knows the importance of a quality product.
All of the watches from this line are made using durable materials. What makes them the best watches for women who are constantly traveling?The face of the watch is composed of scratch-resistant mineral glass, they come in all metal cases, and they are water resistant up to 30 meters. But that is not all. The revolutionary indigo backlight provides an easy way to tell time in the dark, the stopwatch function measures time up to 1/20 of a second, and the battery life can last up to 10 years.
Tech Specs:
Indigo Backlight

Up to ten-year battery life

Scratch resistant mineral glass

Waterproof up to 30 meters

Interchangeable straps

Comes in a metal case
Invest in the Citizen Silhouette Crystal Women's Watch for Your Travels
We hope you enjoyed reading our article on the Citizen Silhouette Crystal Women's Watch. As you can see, there are so many high-quality brands and styles on the market to choose between. This style from Citizen presents a simple yet elegant choice with durable design elements. The type of watch you need as a traveler depends on where you want to go and what activities you are pursuing your getaway. The brands and watch styles we included all offer style and function. Sleek minimal looks meet practical design with waterproof elements and a durable design you can take just about anywhere.
Related Article: Best Watches For Women Who Are Constantly Traveling