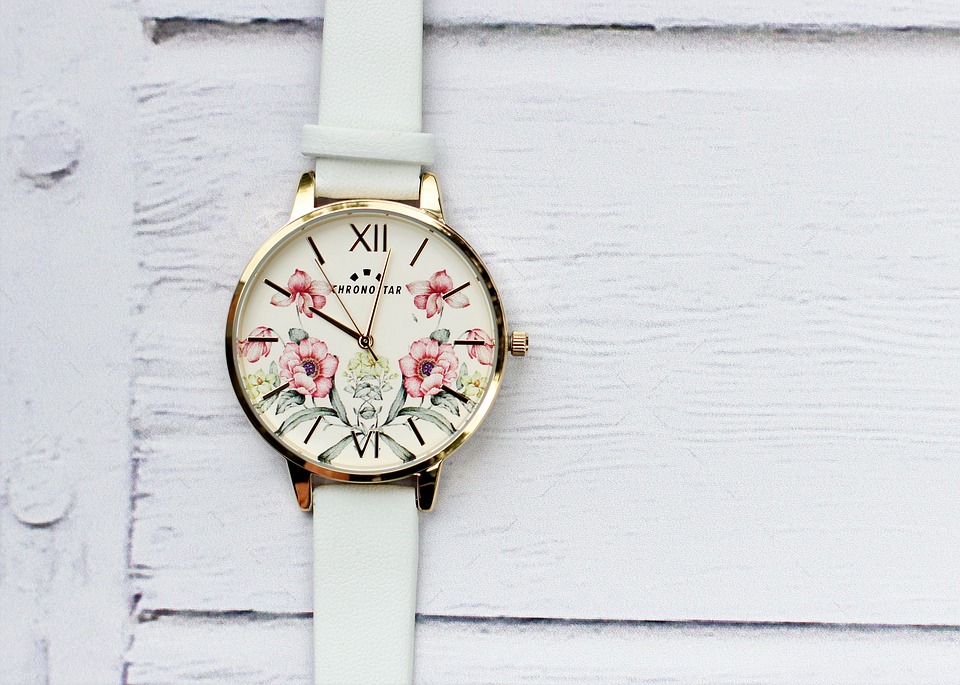 Are you looking for the best watches for women? We've gathered a list of our favorite picks for those frequent travelers in your life. There are so many options out there on the market that it can be hard to narrow them down. Frequent travelers need a watch that is not only multi-functional but also stylish and durable. When it comes to choosing the best watches for women, it all depends on your personal style. Or maybe you are shopping for that perfect Christmas gift for the traveler in your life. Know you can never go wrong with a sleek, minimalist pairing.
| Image | Product | Rating | Prices |
| --- | --- | --- | --- |
| | | 4.5 out of 5 | |
| | | 4 out of 5 | |
| | | 4 out of 5 | |
| | | 4 out of 5 | |
| | | 4 out of 5 | |
QUICK NAVIGATION
What Features Make a Watch Good for Travel?
So what goes into making a good travel watch? The answer all depends on the style you are looking for. Some travelers seek out sleek styles while others opt for smart features and durability. Scratch resistant, stainless steel, and water resistance are all helpful features to have on the go. If you're seeking a watch for organizational purposes, consider one that can sync to your phone and give you reminders for texts, emails, and fitness plans.
How to Choose the Best Watch to Meet Your Travel Needs
When you're thinking about what kind of watch to get, consider your personal style in addition to your budget. We're always a fan of sleek, minimalist wear for easy pairing. The kind of tech and features you need all depends on what your intent of purchase is. Are you looking for something like a classic wristwatch for when you travel? Or are you seeking out some higher tech smartwatches to stay fit and organized on the go? Whatever you're in the market for, these brands will have what you need.
There are so many men's watches on the market today. We understand how easy it is for indecision to strike when trying to choose one of the best watches for women. That's why we want to help ease the process. Having the right watch on your travels can make all the difference. With tech ranging from a compass, barometer, fitness apps, and a personal assistant, the options are nearly endless. Since you can't always whip your laptop out and sometimes your phone runs out of juice, these watches offer a convenient way to stay organized and stylish on the go.
Questions to Ask Yourself Before Beginning Your Search
If you need a starting place, then it will help you to begin by considering a couple of questions. When looking for the best men's watches, here are some questions to ask yourself. They will point you in the right direction.
How much do you want to spend?
Knowing your budget will be key to finding the right one among the best watches for women. Whether you are looking for a small style or something a little more in the luxury department, knowing your budget will help narrow down your options. We suggest approaching this guide with a price limit in mind. There are a lot of brands out there with affordable styles.
That way, you will be able to knock off all the items that are out of your price range much faster and, subsequently, locate your perfect watch that much faster. Believe it or not, you'll find some of the best watches for women at a very affordable price range.
What Do You Already Own?
There is no sense in purchasing items that are similar to what you already own. Make sure what you're investing in really serves its purpose well.
Here Are Our Picks for the Best Watches for Women​
Citizen Women's Eco-Drive Silhouette Crystal Watch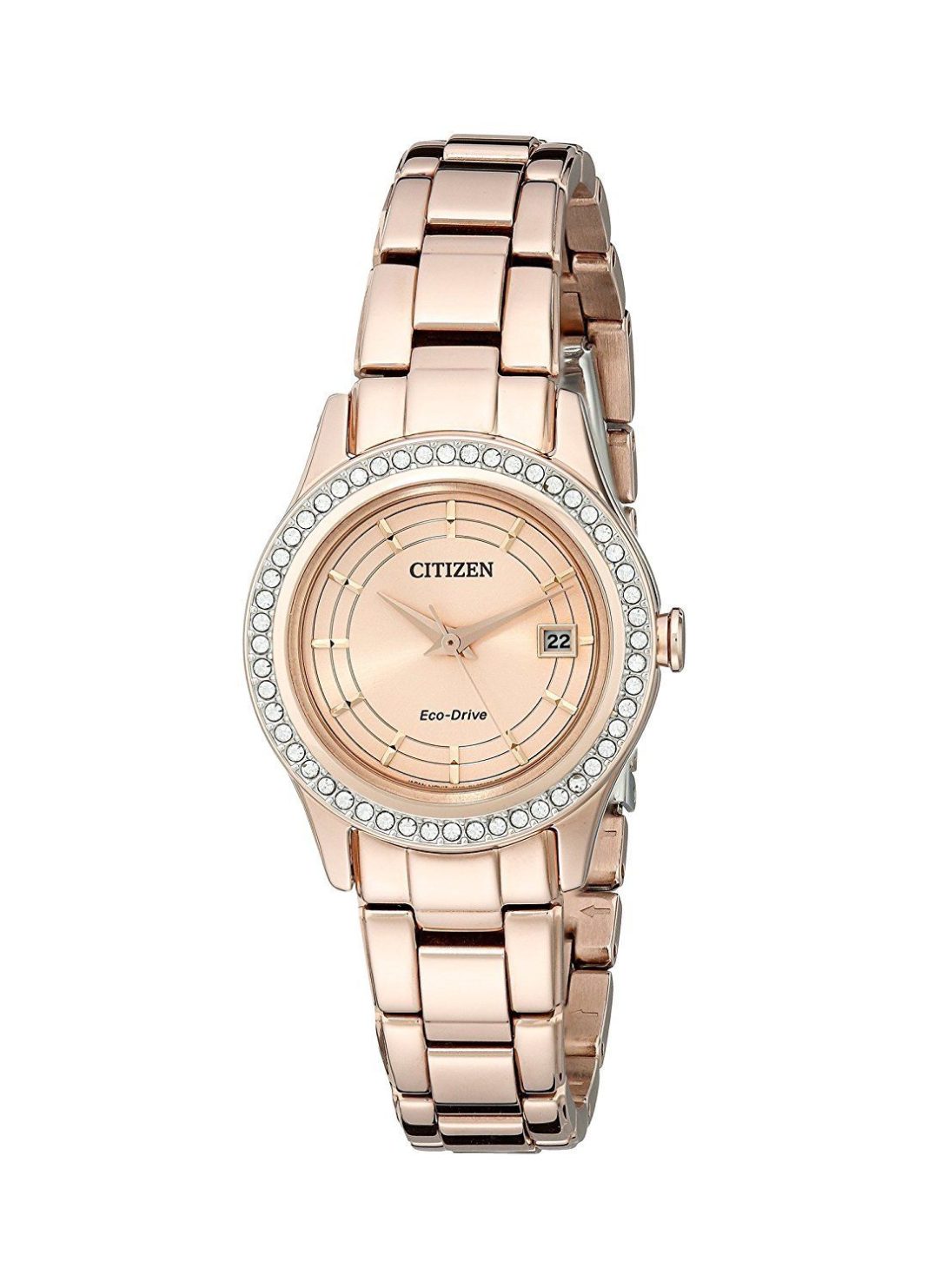 Say hello to one of the best watches for women. Now, this is a style that transcends time. We can't say enough good things about the Citizen Women's Eco-Drive Silhouette Crystal Watch. Stainless steel, mineral crystal, and sapphire crystal come together in the most elegant way. This two-tone silver and gold watch goes with just about anything. Round crystals at the bezel and silver sunray dial add a beautiful touch. Genuine Swarovski crystals are used to frame the face.
It's easy to see that Citizen pours time, energy, and love into every one of their creations. When you purchase a Citizen watch, you know you will have a durable timepiece for years to come. It's built with quality. And that's what counts. If you're looking for special features, this style has more than just looks in the department of bells and whistles.
First off, you won't need a battery. This watch is powered by light, designed to convert both natural and artificial light into energy. This means that you won't have to fuss with battery replacement, charging, or winding. In addition, it can also run in the dark. The lithium-ion cell stores energy from converted light. The Citizen Women's Eco-Drive comes with a low energy warning and power save mode. Get this. When your watch is fully charged, it can run for up to seven years in the dark. Yes, you read that right. But that's not all. There are also manicure friendly claps.
Last but certainly not least, our favorite feature though has to be the water resistance. You wouldn't expect a dressy-looking women's watch like this to be able to withstand exposure to the elements but it can. This Eco-Drive style is water resistant up to 100 meters (330 feet) and is suitable for swimming and snorkeling.
Tech Specs:
Swarovski crystals

check

Stainless steel

check

No battery needed

check

Lithium-ion cell converts natural and artificial light into energy

check

Water resistant up to 330 feet

check

Japanese quartz movement and analog display

Manicure friendly clasps
Pros
plus

No battery needed

plus

Lithium-ion cell

plus

Water resistant

plus

Manicure friendly clasps
Cons
close

Have a plastic look
Michael Kors Access Women's Smartwatch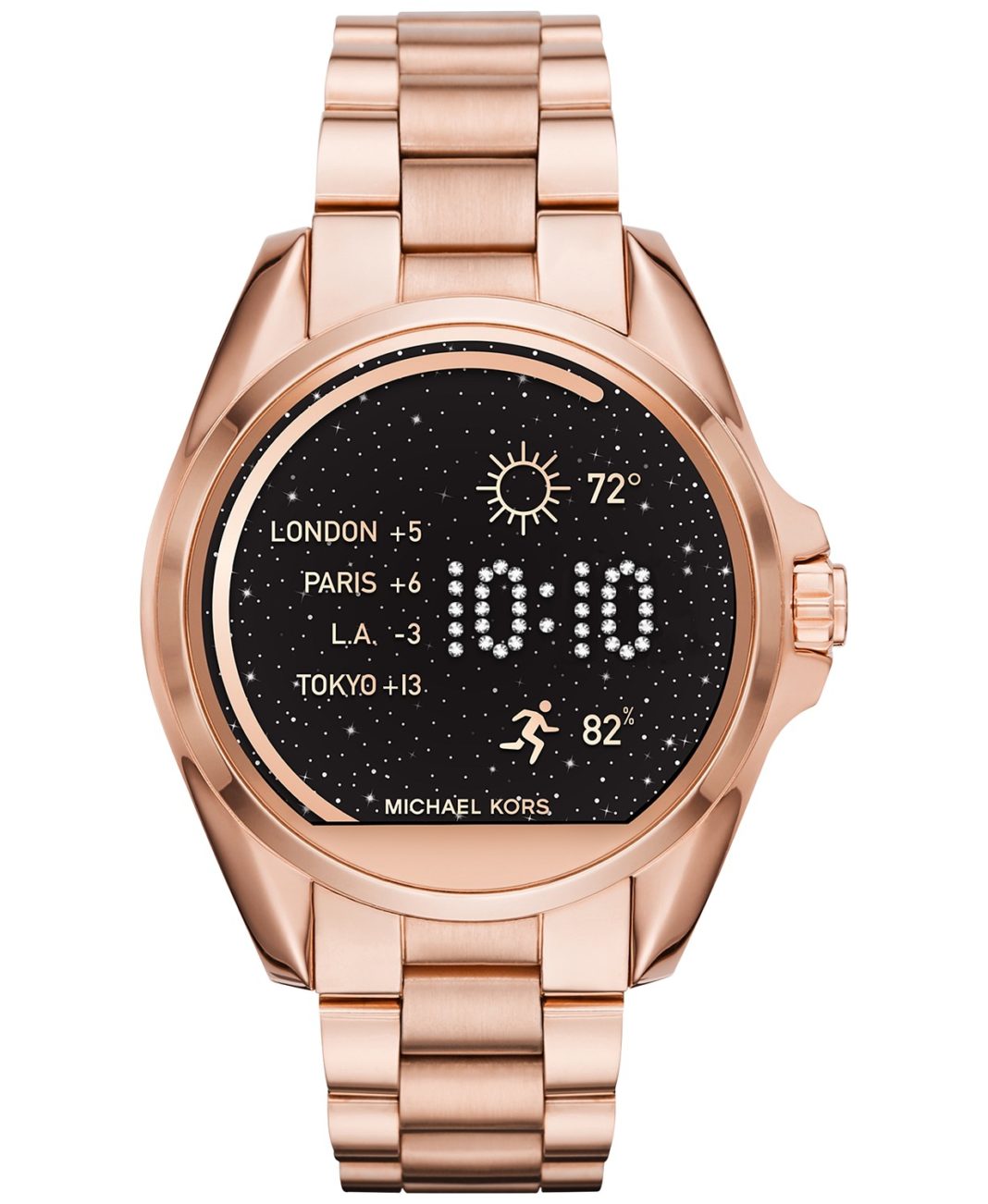 Are you sporty, glamorous, or somewhere in between? Embrace every element of your style with the Michael Kors Access Women's Smartwatch. This watch has all of the features you need to stay organized and enjoy smooth sailing on your travels. First, we've got to recognize the 24/7 access feature. Since the display is always on, you can customize your notifications to see text messages, emails, get reminders, and more. Never miss a call again.
As you can see, this Access smartwatch from Michael Kors offers functional fashion. Go beyond just keeping track of time. Did you know that you can use voice commands to help keep yourself on schedule? You can search the web, check the forecast for rain, and set alerts for emails, calendar notifications, and more. Furthermore, the style has many faces. There are plenty of ways that you can personalize your watch face and change the dial with your mood. Interchangeable bands mean you can make it entirely yours.
Tech Specs:
Get your smartphone notifications and touchscreen functionality

Stainless steel

Voice activated with Google

check

Activity and custom goal tracking

check

Interchangeable bands
Pros
plus

Get smartphone notifications

plus

Voice activated with Google

plus

Activity and custom goal tracking

plus

Water resistant
Cons
close

Do not wear if you have an implanted medical device
Timex Weekender Chronograph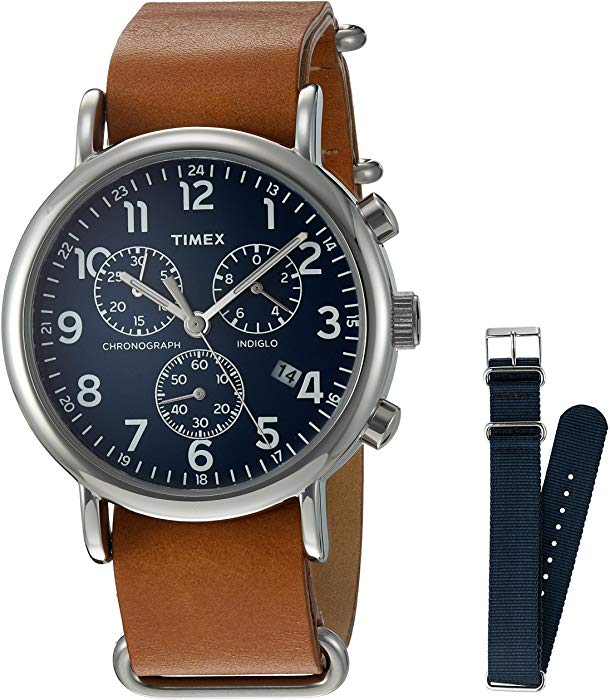 This is the only watch you will ever need. Enjoy the freedom to choose what you want with the interchangeable quick-release straps. Choose what color and fabric you want from a wide selection of options.
The Weekender collection from Timex is all about versatility. Easily switch it up with interchangeable slip-thru and quick-release straps. From leather to fabric and with a wide selection of colors to choose from, you've got options. It's easy to see that Timex knows the importance of a quality product. All of the watches from this line are made using durable materials. What makes them the best watches for women who are constantly traveling?
The face of the watch is composed of scratch-resistant mineral glass, they come in all metal cases, and they are water resistant up to 30 meters. But that is not all. The revolutionary indigo backlight provides an easy way to tell time in the dark, the stopwatch function measures time up to 1/20 of a second, and the battery life can last up to 10 years.
Tech Specs:
Indigo Backlight

Up to ten year battery life

Scratch resistant mineral glass

check

Waterproof up to 30 meters

check

Interchangeable straps

check

Comes in a metal case
Pros
plus

Indigo backlight

plus

Long battery life

plus

Water resistant

plus

Durable exterior

plus

Stylish design
Cons
Ticwatch S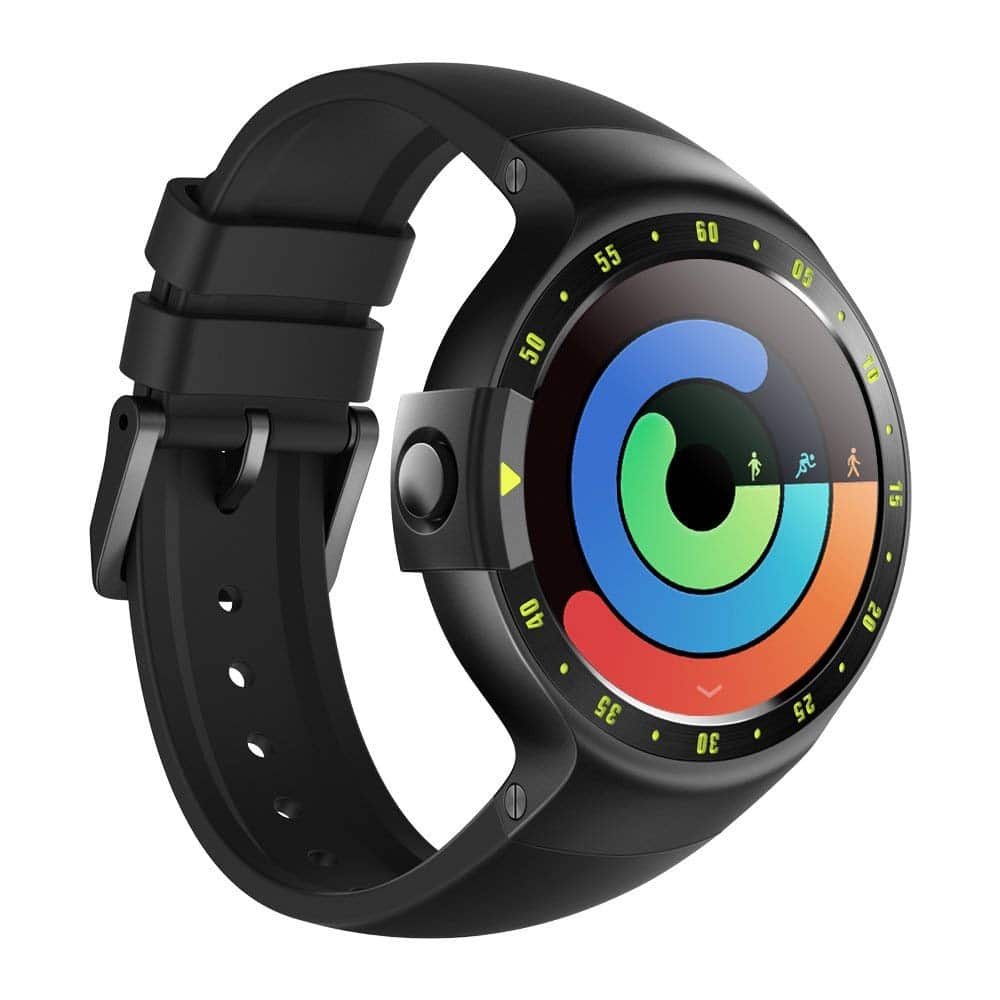 If you're on the market for smartwear technology, we can't think of a better value than the Ticwatch S. Did you know it won the Google design award? This style comes equipped with a 1.2Ghz dual core processor from MTK. In addition, it also has a bright 1.4″ OLED display with 400×400 pixels (that's 287 dpi) in resolution. While the entry model is priced at $159.99, you do get a lot of features for your money. Among them include a heart rate monitor, a proximity sensor, an accelerometer, a gyroscope, wifi, and onboard GPS. It's also IP67 rated which allows you to go underwater up to 3 feet for up to 30 min. I wouldn't go for a swim, but you technically don't have to take off the watch when you take a shower or wash your dishes.
You might be wondering what the advantage is of Android wear over One of the great advantages of Android Wear over Apple Watch OS. We'll tell you. One of them is the unlimited amount of watch faces. While the Apple Watch only has a couple that comes preinstalled, on Android you have literally hundreds of options to choose from. Many of these feature complications like the calendar app, weather, step count, or your heart rate. All in all, it's the perfect travel and workout companion.
You'll never have to worry about sweating it out. While it's not suitable for complete submersion, you can get it a little wet or go swimming without having to worry about it. We love that this watch is IP67 water and dust resistant.
Map out your jogs with the Glonass and GPS Sensor. Thanks to the Ticwatch S, you'll enjoy independent navigation whether you're walking, running, or cycling. Accurately track your performance with statistics like steps, speed, distance, calories burned, and more.
Tech Specs:
Android Wear 2.0.

Thousands of Android apps at your disposal

.Personalize your watch face

check

Check calls, texts, and emails right from your watch.

Track workouts data from Google Fit and your favorite apps

30-Day Money-Back Guarantee for Any Reason

12-Month Warranty for Quality-Related Issues

Get notifications for your next appointment, your fitness stats, and more
Pros
plus

Android compatible

plus

Check phone notifications from your watch

plus

Use workout plan with Google fit

plus

Money back guarantee and warranty
Cons
Apple Watch Series 3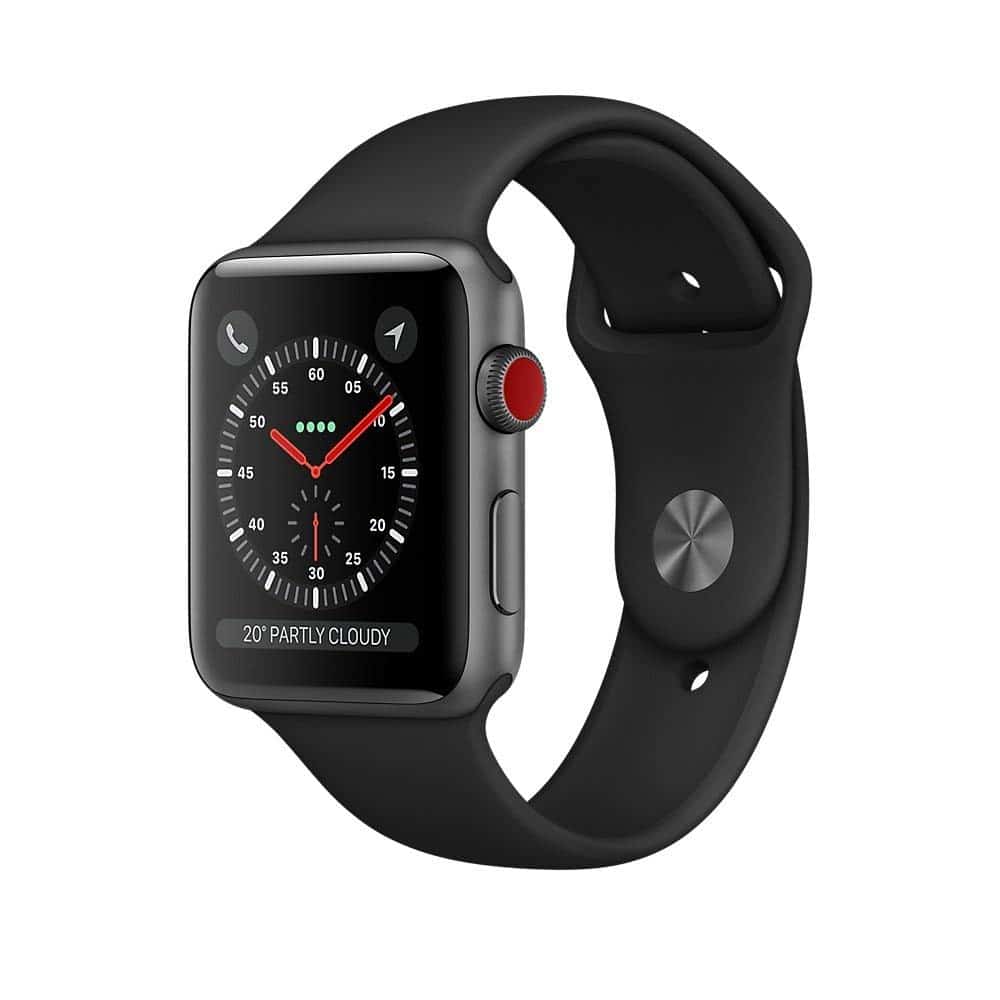 Go hands-free with one of the best smartwatches on the market. If you prefer IOS to Android styles, the Apple Watch Series 3 is a solid option. Plus, it's come way down in price.
There's a reason the Apple Watch Series 3 is known on the market as the ultimate sports watch. With high-speed cellular connectivity, the Apple Watch allows you to forget your phone while you hit the gym. Still, you'll never miss a text or call. You can receive all these notifications conveniently from your wrist. For motivation, download and listen to a customizable workout playlist.
This is one of the coolest features of the Apple Watch Series 3. Tap into ultimate connectivity when you pair your watch with compatible gym equipment. Keep track of the metrics that matter most. Monitor your heart rate, speed, and how many calories you've burned. You can rest easy knowing that these results are completely accurate.
wonder anymore. The Apple Watch Series 3 tracks all of your daily movement – from biking to work to hitting the gym. So sit less, move more, and find a way to fit some exercise into your daily schedule. When you need a nudge, the watch is your gym buddy. Like a personal trainer, it gives you all the motivation you need. Wake up to personalized progress charts and suggestions in the evening for how to complete your progress rings. Each month, you'll receive new challenges based on your prior performance and workout history.
Return your missed calls. Get directions to that new dinner place downtown you and your friend have been wanting to try. With the Apple Watch Series 3, you can access all the important information you need whenever you need it. No hassle, no phone needed.
One of the best updates for the Series 3 is Siri's capabilities. She's faster, smarter, and more capable than ever. Ask her to DJ when you're bored and stuck in traffic, give you news updates, or just ask her anything. Customize your Apple Watch Series 3 interface with any picture you want. Launch apps with a simple tap or swipe. Thanks, Apple.
Furthermore, it will help keep you organized and more connected than ever. A powerful dual-core processor launches all of your apps twice as fast as before. When you store your favorite apps in the main Dock, they will automatically update when needed. It is important to note that while the Apple Watch Series 3 has impressive uses, it is not yet usable for international travel. Users who want to travel with it should stick to domestic destinations (in the watch's country of purchase) where they will have access to full data coverage. Before you take it on your next trip, make sure you're traveling within its data network.
Tech Specs:
Up to 18 hours of battery life

Water resistant up to 164 feet

Displays your text, email, and call notifications

check

Heart rate sensor

check

Requires an iPhone 6 model or later with an iOS 11 or later

check

Personal training app notifications and personalized progress charts

check

Built-in GPS
Pros
plus

Stylish

plus

Durable construction

plus

Water resistant
Cons
Invest in a Product from the Best Watches for Women
We hope you enjoyed reading our article on the best watches for women. As you can see, there are so many high-quality brands and styles on the market to choose between. The type of watch you need as a traveler depends on where you want to go and what activities you are pursuing on your getaway. The brands and watch styles we included all offer style and function. Sleek minimal looks meet practical design with waterproof elements and a durable design you can take just about anywhere.
Common Questions
Check out these other travel products and tips for travel:
Related Article: The 5 Best Men's Watches Of 2018: Stylish, Affordable Options
Danielle Dougall
Danielle Dougall is a photographer, avid writer, and traveler. Hailing from the rainy city of Seattle, WA she now lives in southern California where she enjoys longboarding, hiking, coffee shop hopping, and dreaming up destinations for her next international trip.