Ladies and gentlemen, check out these 10 best watches under $100.
Watches are a simple way to complete an outfit. As a perfect and practical accessory in any setting, a watch says a lot about your personal taste. They are also the perfect item to bring along when traveling, because of their compact size. Of course, fashion accessories can often include a hefty price tag. Most people would rather not hand over hundreds of dollars to add to their accessory collection. Fortunately, you don't have to. There are numerous renowned fashion brands out there that produce excellent watches at an affordable cost to you. If you do your research, you might be surprised by how little you can pay for high quality accessories.
Naturally, we did the research for you this time. We have narrowed down the five best watches for men and women under $100. These watches are perfect for any setting, from weekend casual, to a night exploring a new city, to that weekend travel business presentation. With the wide assortment of colors and styles, you are sure to find one that fits your personality just right. Check out our top ten suggestions for watches for that special someone in your life, or to spice up your personal accessory collection. You won't want to leave home without one of these 10 best watches under $100.
Best Watches for Gentlemen's Fashion
1. Skagen Men's Holst Quartz Stainless Steel and Leather Casual Watch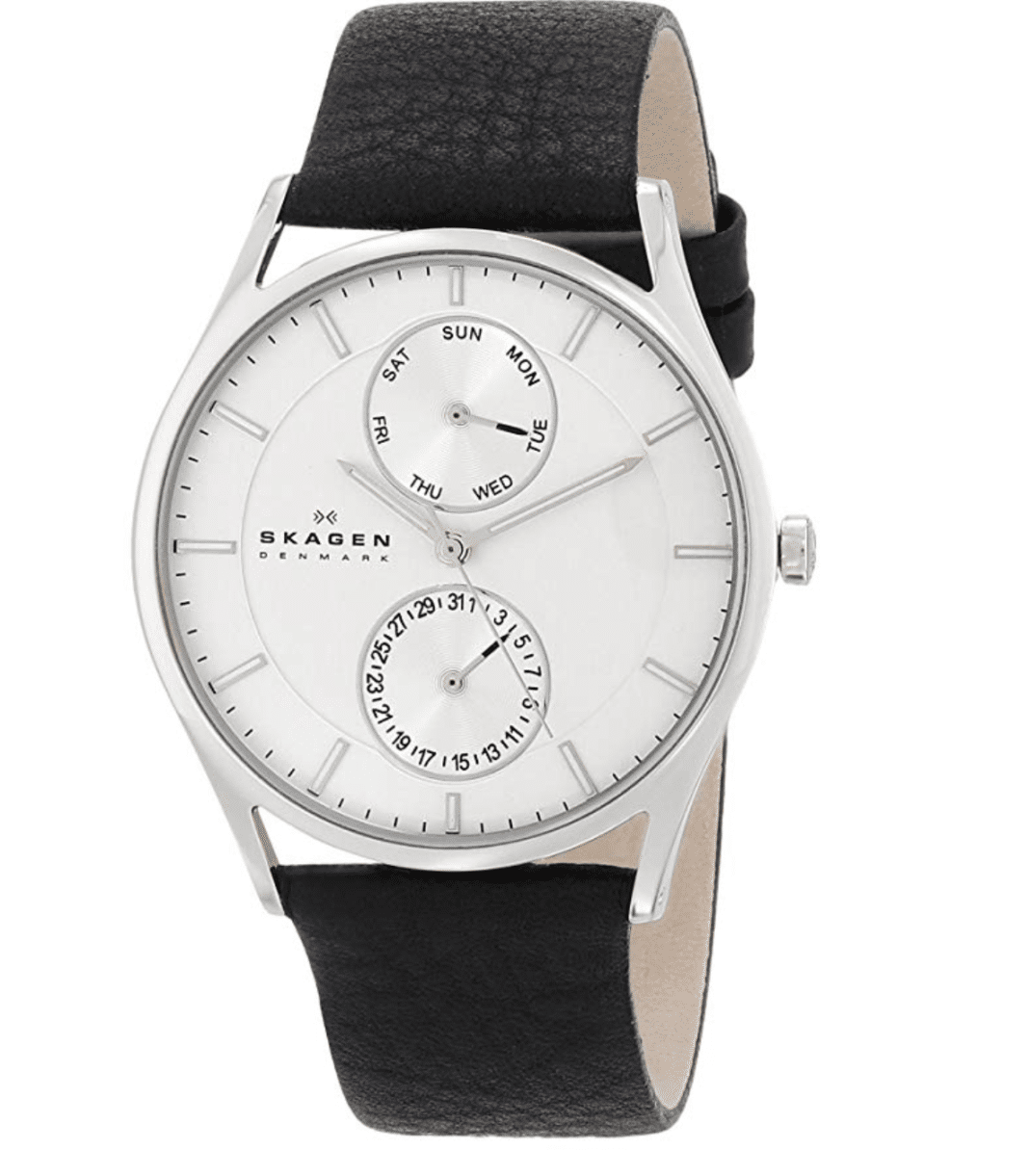 This Danish delight is a sleek and fashionable watch for a variety of settings. The genuinely textured black leather band is simplistic and professional. Naturally black is one of the most versatile colors, but keep in mind that you can also choose from an assortment of other options. Rock that modernized look with ease when you pair the Skagen Men's Holst Quartz Stainless Steel and Leather Casual Watch with your professional ensemble. You can of course wear this with your best suit on a business trip as the perfect accessory.
2. Seiko Men's SNK809 Seiko 5 Automatic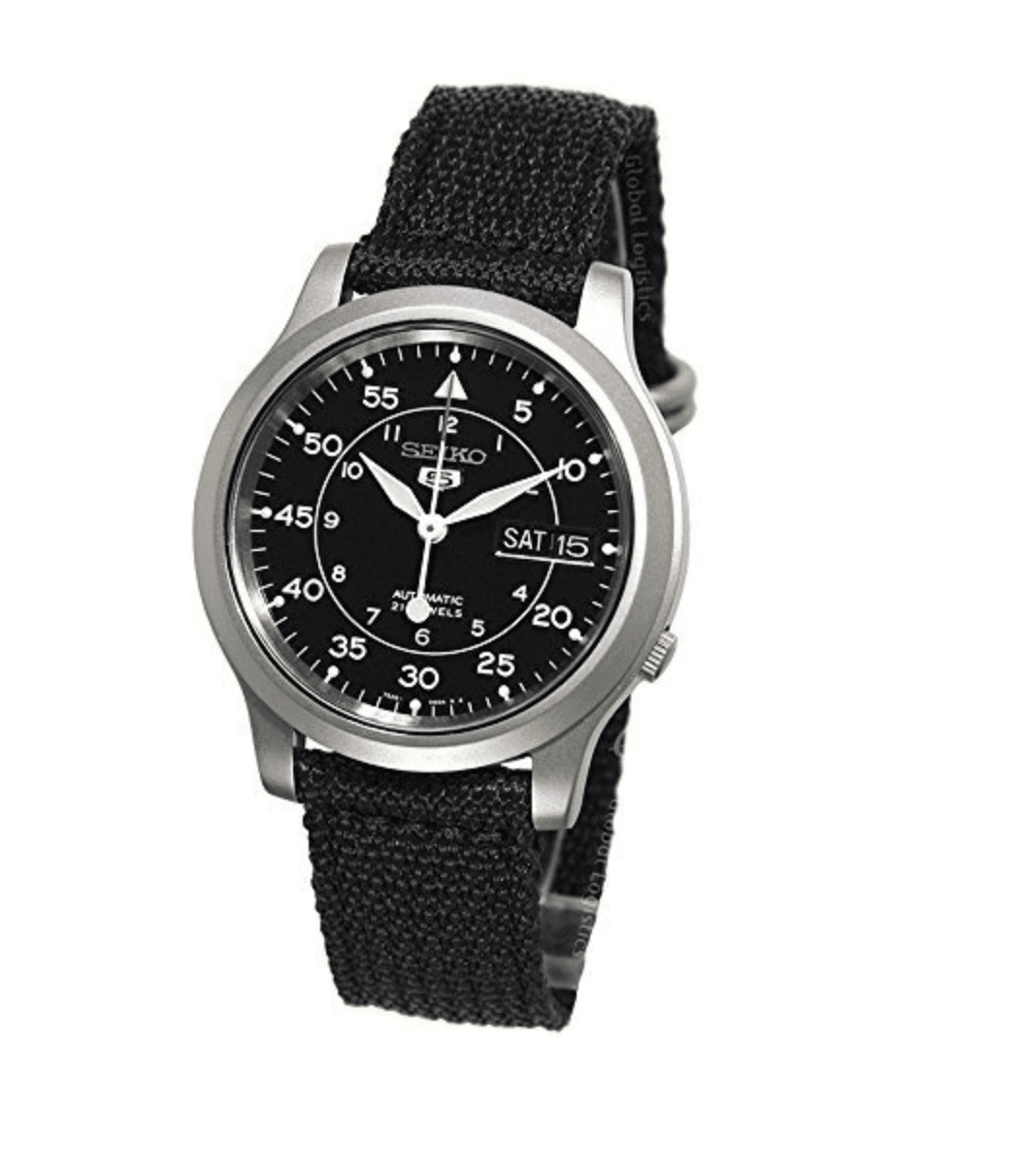 As the perfect action watch, the Seiko Men's SNK809 Seiko 5 Automatic stands up to all of life's activities. Its Japanese automatic movement is reliable and ensures that you never have to change the watch battery. This is certainly one of the best watches under $100. It also tracks the day and the date on the watch, so you can keep all of your itinerary straight when on the go. Its black canvas bracelet is a comfortable material, and ideal for an active lifestyle. The casual and sporty look of the Seiko Men's SNK809 Seiko 5 Automatic make this watch a good accessory to pair with your golf ensemble.
3. Active Chronograph Men's Watch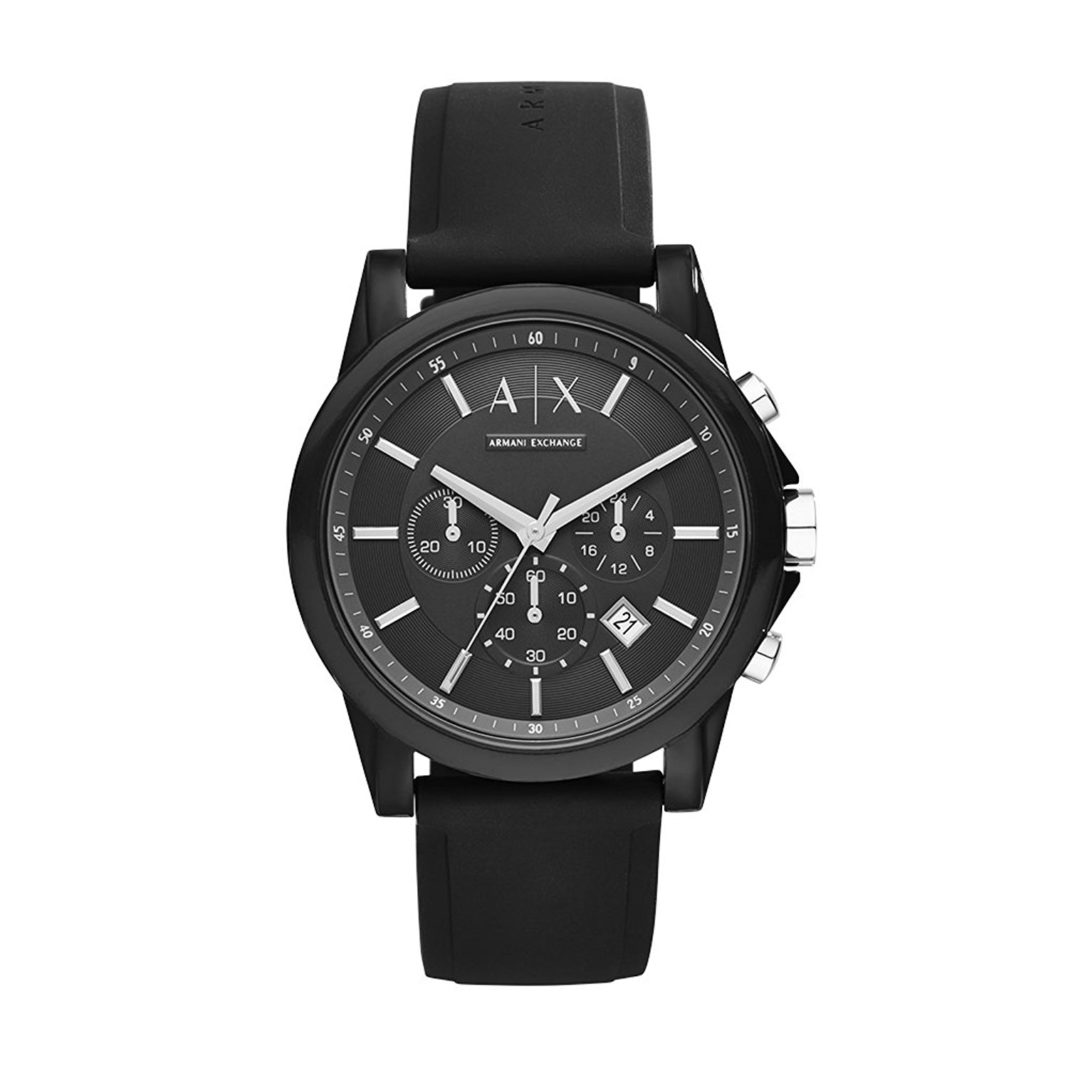 If you have Gucci taste but a department store budget, the Armani Exchange watch brand is just what you need. Combining excellent fashion taste with affordable accessories, this particular watch makes looking good easy. Not to mention affordable. The Active Chronograph Men's Watch by Armani Exchange also combines fashion with your busy lifestyle. Its black resin case and black rubber strap make it a comfortable addition to your wardrobe. You can wear this watch to the gym or to the office, as it adapts to any fashion environment. The Active Chronograph Men's Watch is also waterproof, so you can even wear it during that swim sesh on that tropical vacation.
4. Boyd Wooden Watch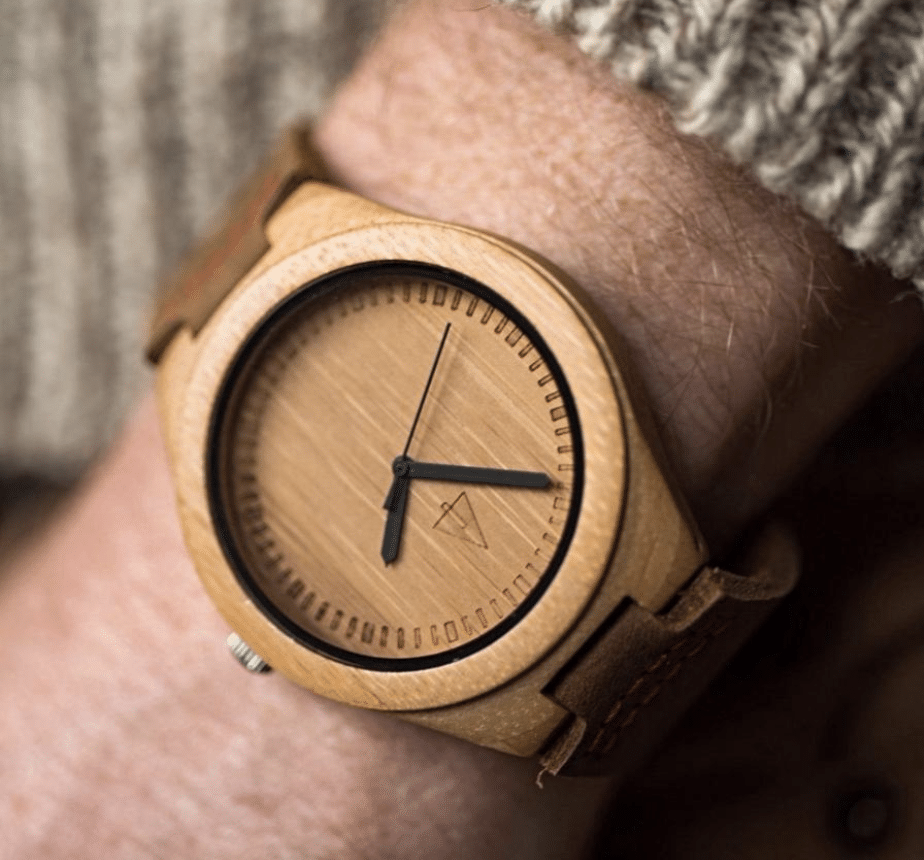 Credit: The Tree Hutt
Perhaps the most unique watch design on this list, the Boyd Wooden Watch is worth adding to your wrist candy assortment. The Boyd watch and watch band are made from real wood, and the strap is genuine leather. The Boyd certainly qualifies as one of the most unique and best watches under $100. The wooden design gives you that rough and rugged look, like you just finished hiking in the woods. Enjoy the simplistic design that stands out in a crowd when you strap on the Boyd Wooden Watch. Pair this watch with that plaid shirt of yours for the ultimate lumberjack look. If you are gifting this watch to someone, you can even get it engraved on the back.
5. Grant Chronograph Brown Leather Men's Watch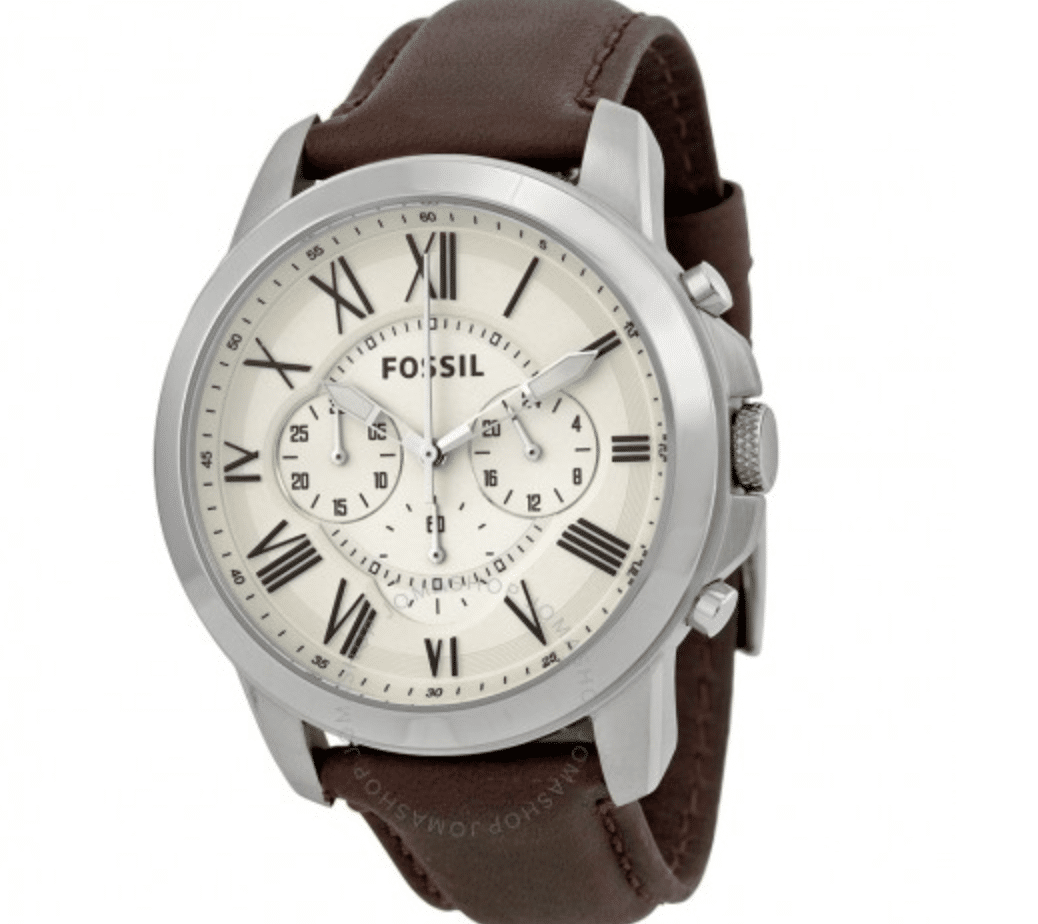 Credit: Fossil
The stainless steel case and brown leather strap make the Grant Chronograph Brown Leather Men's Watch a sturdy piece to add to your collection. Its versatility and durability make it a worth addition to the best watches under $100 list. The eggshell watch dial and luminescent hands encapsulate the timeless Roman Numeral numbering. The Grant Chronograph Brown Leather Men's Watch is a dress watch design, making it the perfect watch for a special occation.
For The Ladies
1. Jacqueline Mother of Pearl Dial Ladies Watch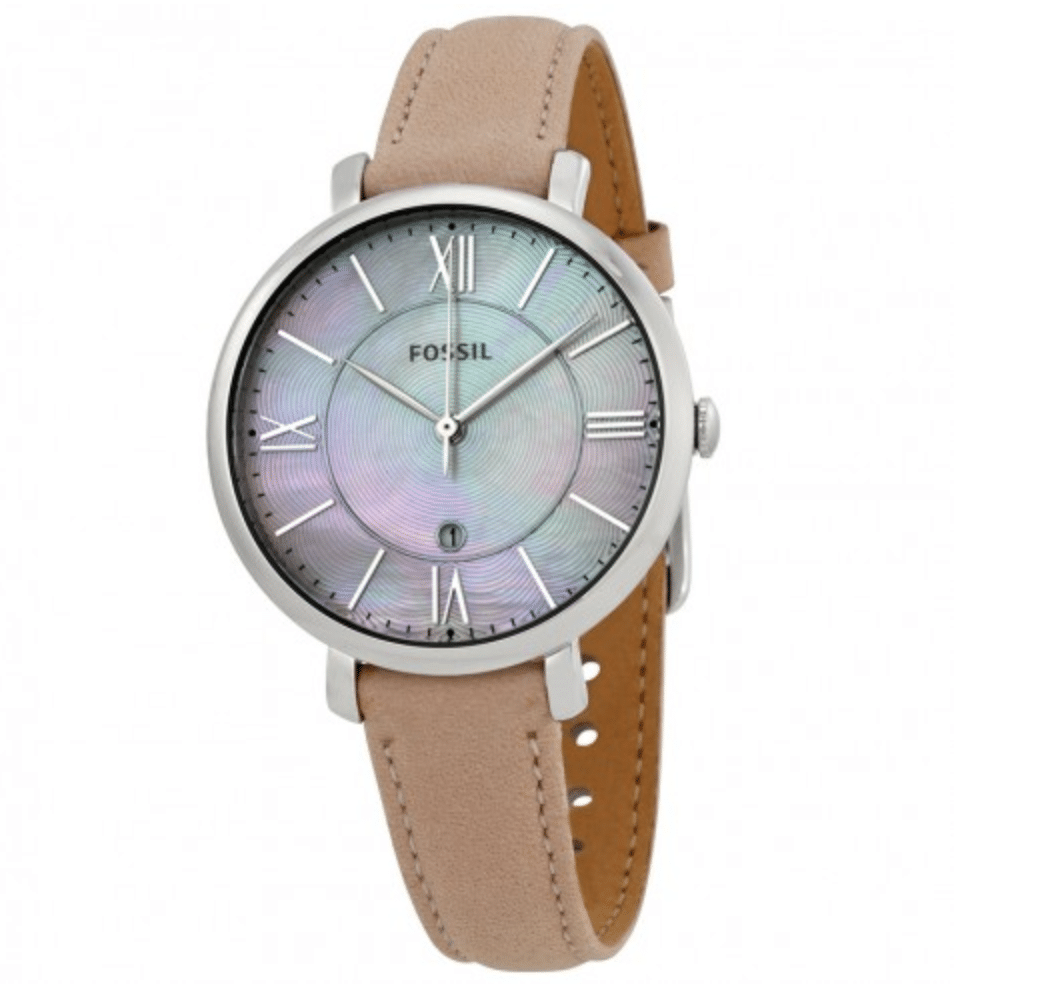 Credit: Fossil
This watch is unique because of its unusual coloring. Step outside of the traditional women's watch styles with this Jacqueline Mother of Pearl Dial Ladies Watch. This fun stylistic watch theme makes you feel like a mermaid, with the fun assortment of colors. Look fashionable with one of the best watches under $100. The leather watch strap is a light pink tone, and the watch dial boasts an array of teal, purple, and rose colors. Pair Jacqueline Mother of Pearl Dial Ladies Watch with a fun, neutral colored outfit to really make it pop.
2. La Boheme Rose Gold White/Grey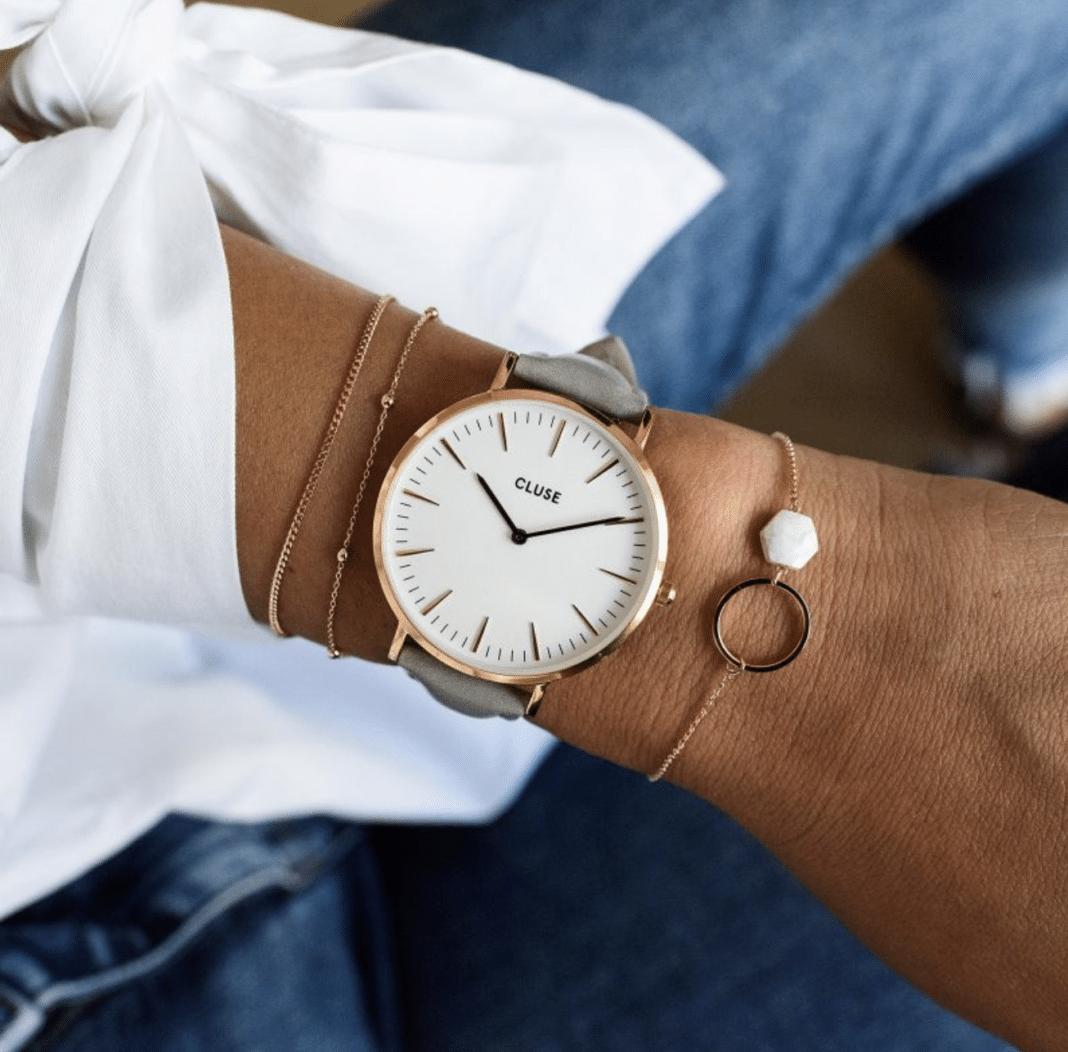 Credit: CLUSE
This delicate gem of a watch is very chic and modern. The simplistic watch dial design and rose gold accents make it extremely visually appealing. La Boheme's grey leather strap is an excellent style choice, as it blends with a variety of colors and styles. The versatility makes this watch the perfect accessory to bring on your trip, as it pairs with any outfit. Its larger than usual watch dial stands out on your wrist, and is quite eye catching. Pair this watch with a bold white top or sundress for a fashionable summer style.
3. Michael Kors Slim Runway Watch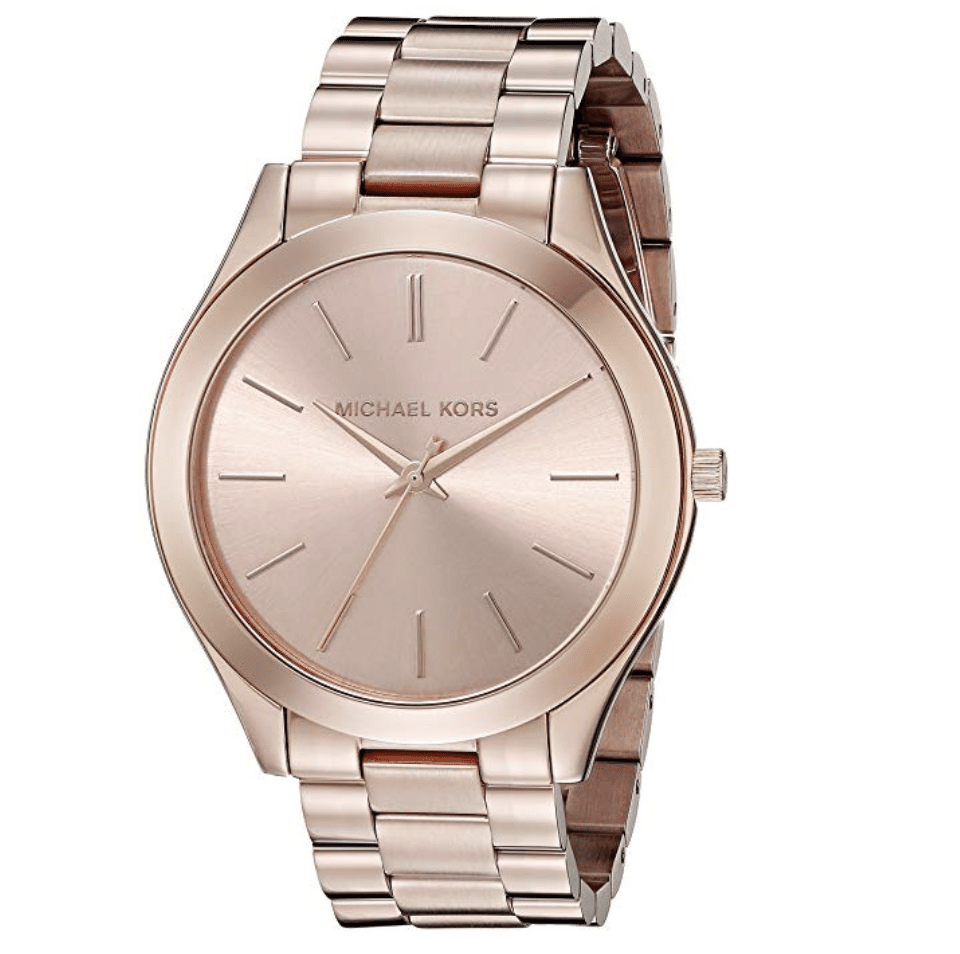 A classic watch look, the Michael Kors Slim Runway Watch is unlikely to disappoint. The rose gold stainless steel watch is quite versatile and pairs well in many settings. Its hundreds of positive reviews validate the fact that you cannot go wrong with this type of watch style The Michael Kors Slim Runway Watch is also water resistant, even during swimming. So you don't have to worry about losing it by taking it off at the beach. Wear this watch with your power suit to that important meeting, or with your jeans on casual Friday.
4. Komono Estelle Deco in Off White
Credit: Estelle Deco
This Japanese Quartz watch takes modern design to a whole other level. Its off white leather wristband is a daring accessory to pair with any number of colors. The shade makes for a unique look you do not see very often. The watch dial on the Komono Estelle Deco Watch looks a fingerprint design. Its curvy lines add to the unique and eye catching appeal. This type of watch is fun to pair with a casual, modern outfit for that needed pop of accessory.
5. Kate Spade Watches Holland Watch
Kate Spade's timeless designs and distinguishable character make her brand a certain fashion icon. Of course, the affordably priced accessories also make the brand accessible for many types of people and lifestyles. The Kate Spade Holland Watch is no exception to this expectation. Its durable mineral crystal keeps up with your active lifestyle, by protecting the watch face from scratches. The sleek navy blue leather strap creates a classy contrast to the watch's gold features. Wear this watch with a casual outfit or for a business meeting, as the versatility makes for a favorable choice.
Turn heads with your latest fashion statement when you wear one of these watches.
Fashion conscious ladies and gentlemen both benefit from affordable watch brands. Kate Spade, Michael Kors, and Seiko are all excellent options to choose from. Any of these top ten watch options are a great choice to wear within a variety of settings and can complete any outfit when traveling light. From your chic and casual outfit to that business professional attire, there is certainly the perfect watch out there for you. Expand your accessory collection by purchasing one of the 10 best watches under $100.
Related Article: Best Watches For Fashion Minded Travelers