Wondering where to find the best sushi in Tokyo? We've scoped out the best spots in the city.
With over 3,000 sushi restaurants ranging in price and style, it can be hard to take your pick. Whether you are looking for ritzy Michelin-star restaurants or casual hole in the wall places to take a bite, we have got you covered. There is something on this list for every type of taste and budget. To make things a little easier for you, we have included a price guide. Choose from conveyor belt sushi, standing bars, all you can eat locations, mid-range prices, and high-end delicacies. Come along with us as we show you the best sushi in Tokyo.
Here Are Our Picks for Where to Eat the Best Sushi in Tokyo
Alright, let's get to the good stuff. Here, you will find out picks for where to eat the best sushi in Tokyo along with a general price guide. When most people think of sushi, they think of inexpensive menu options and those conveyor belt restaurants. The good news is that you don't have to go to either extreme of super cheap or break your wallet expensive. Most of the best sushi in Tokyo falls under the mid-range price category.
What differentiates mid-price sushi from high-end places? You might think it is the freshness of the quality of fish. But actually, it is mostly up to the skills of the sushi chef. Higher end restaurants spearheaded by chefs have reached star status in the country and to some extent, around the world. With this said, the chefs at a mid-range sushi joint are good too. In order to become a sushi chef in Japan, you have to undergo some pretty extensive training. Without further ado, here are the picks across the price spectrum. It's time to visit Tokyo.
Affordable to Mid-Range Sushi Prices
1. Sushi Dai (Tsukiji)
Credit: Flickr
This little eatery is home to some of the best sushi in Tokyo. You'll find Sushi Dai located inside of the fish market, about a five-minute walk away from the Tsukijishijo Station. How do you spot the shop? It's easy. Just keep your eyes open for the long line winding its way around the front banner. Since reservations are not accepted, you can expect to wait up to two to three hours here on a crowded day. If you want our advice, try to show up when they first open so you'll snag a decent spot in line.
With a wait like this, you might be wondering why you should even bother. Let us tell you, Sushi Dai is well worth the wait. You can enjoy traditional high-end sushi for only ¥3000. Due to its location, the chef chooses the best fresh daily catches in the morning to make his sushi. So how early do you have to show up to beat the crowds? Try lining up at 5 am. No, we're not kidding. You really do have to be an early bird to catch this worm.
2. Tunao
Here's another great sushi spot inside the Tsukiji fish market. If you're looking for high-quality food but want to avoid the long lines at Sushi Dai, this could be your best bet. This eatery uses a traditional red rice vinegar to give their grain a sharp, flavorful taste. Since this restaurant specializes in tuna.
We recommend ordering the tuna nigiri platter of 20 pieces for ¥4,980 (around $45 USD). This assortment comes in three varied styles of sashimi toppings: lean, medium, and fatty tuna. The richer the piece, the higher the price. Negitoro (shredded tuna with leak) is also very delicious. If you're not sure what to order, just ask. This restaurant is very tourist friendly and the staff is happy to give you recommendations on what you'd like according to your preferences. When in doubt, opt for one of their donburi (sashimi topped bowls). Every ingredient is carefully selected from the Tsukiji fish market.
3. Mantenzushi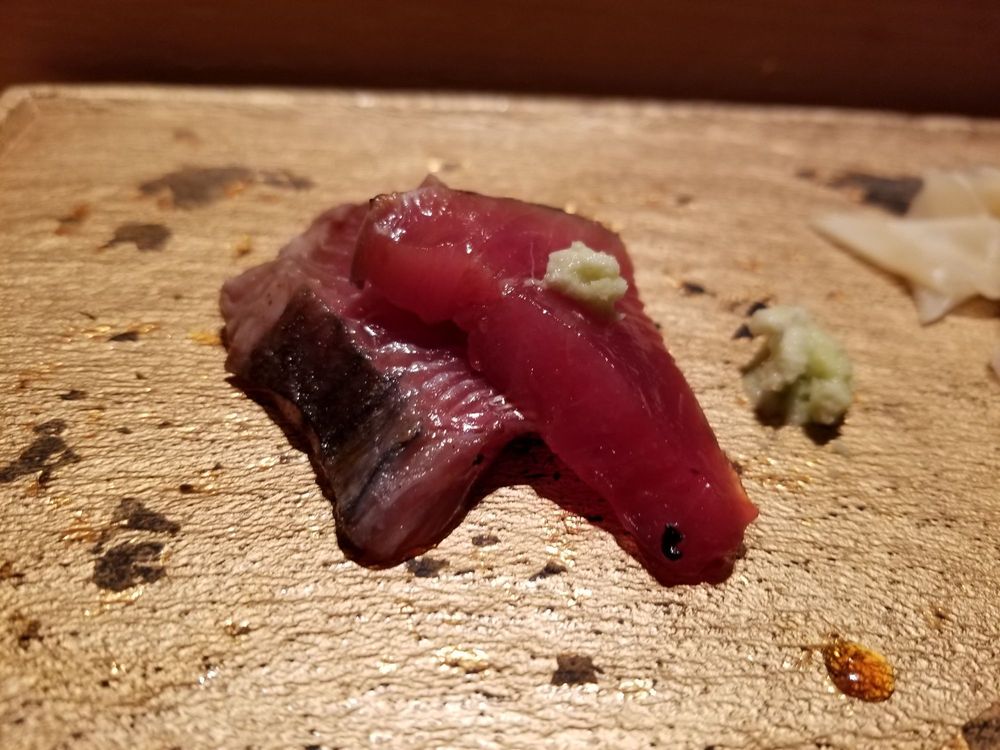 If you're looking for the best sushi in Tokyo, you will find it just five minutes from the South Exit of the JR Tokyo Station. Sit down and enjoy a warm, inviting atmosphere. Grab a corner table and watch the chef making the sushi. This price here is impossible to beat; you can get a great, filling lunch for only ¥3,000. If you are going all out, it can cost you up to ¥6,000. One of our favorite things on the menu is their ice-cold sake and frothy beer. If you're looking to come for lunch, you might be able to squeeze in. But for dinner, we highly recommend making reservations.
High-End Sushi Prices​
Are you willing to spend more to enjoy the best sushi in Tokyo? If so, these are the places to go. These higher-end restaurants offer creations whipped up by world class chefs. Most of the time, these are small places with limited seating, so make sure you make reservations in advance of your visit. Sitting at the counter, you will get the best seats in the house to watch the chefs at work.
Sushi is handed to you piece by piece right over the counter. More often than not, you will also find omakase course meals. This means that the chef decides which course items you will be served. For those of you who are a little more adventurous, this is a fun way to dive right into the city's culinary scene and experience authentic culture.
4. Sukiyabashi Jiro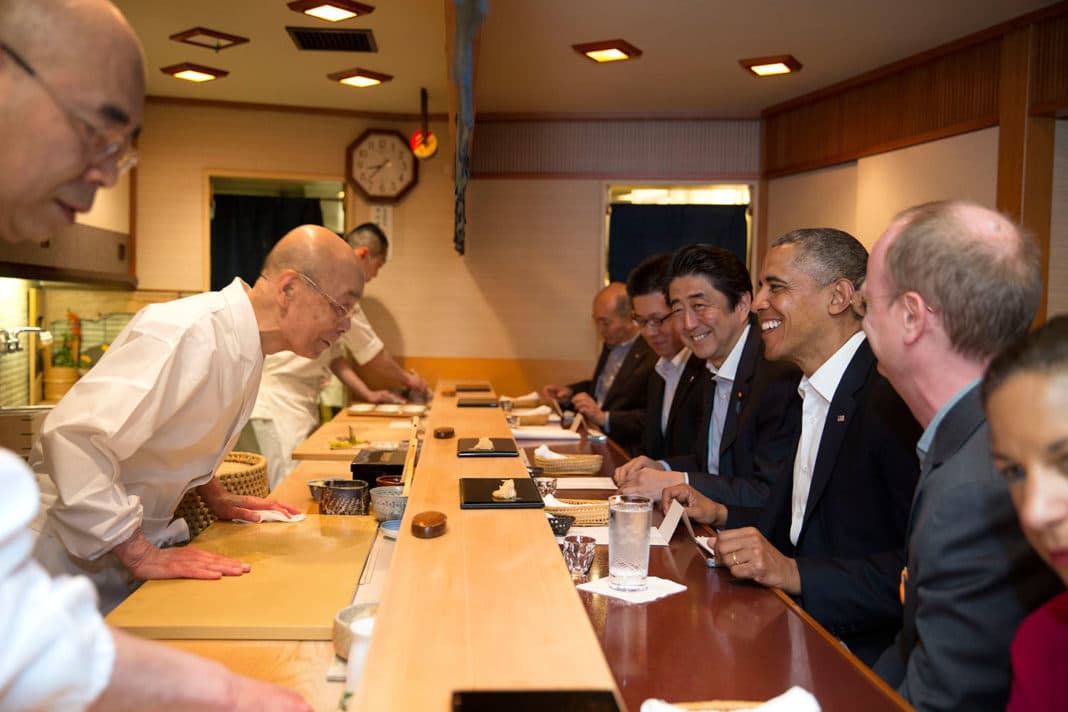 Credit: Wikimedia Commons
Did you know that sushi originated as food sold at stalls during the Edo era? Chefs would hand brush soy sauce onto their creations and hand them to their customers. If you're not familiar with the Jiro name, you will soon learn how important he is to the local community. A ninety-three-year-old chef, Jiro Ono runs this three Michelin-star establishment. In Tokyo, he is lauded by his contemporaries as one of the world's best sushi chefs and crafts his foods in a creative, modern method.
Here, you can only order the omakase method of twenty pieces. So bring your friends and make sure you come hungry. You won't need any dipping sauces since each piece is hand brushed with just the right amount of sauce before it is served. Before going to this restaurant, there is one thing you need to know. Make sure to focus on the flavors and eat quickly in the tradition of Edo-style sushi. Sukiyabashi Jiro recommends having green tea with your meal instead of saki and we've got to say we are fans. Expect to pay up to ¥25,000 ($230 USD) so it's great to split it with friends and family.
Conveyor Belt Sushi
Also known as sushi train restaurants, conveyor belt locations have sushi that comes around to you on the counter. Take a table seat or one by the counter and get ready to have some fun. Some of the restaurants have customers shout out their order to the chefs or you can just wait and grab a plate that looks good as it passes you. The great thing about these types of restaurants is that they are really cheap. For those of you who are traveling on a budget, this is a great way to make the most of your money. On average, these restaurants will be under ¥3,000 ($27 USD) in price for a meal.
It is also easy to keep track of how much you are ordering since the color of the plates indicate the price of each item. After you are finished eating, a staff member counts up the number of small plates you have used to get your total bill. Kaiten sushi locations are generally pretty spacious, so you don't have to worry too much about what seating will look like.
5. Nemuro Hanamaru (Tokyo Station)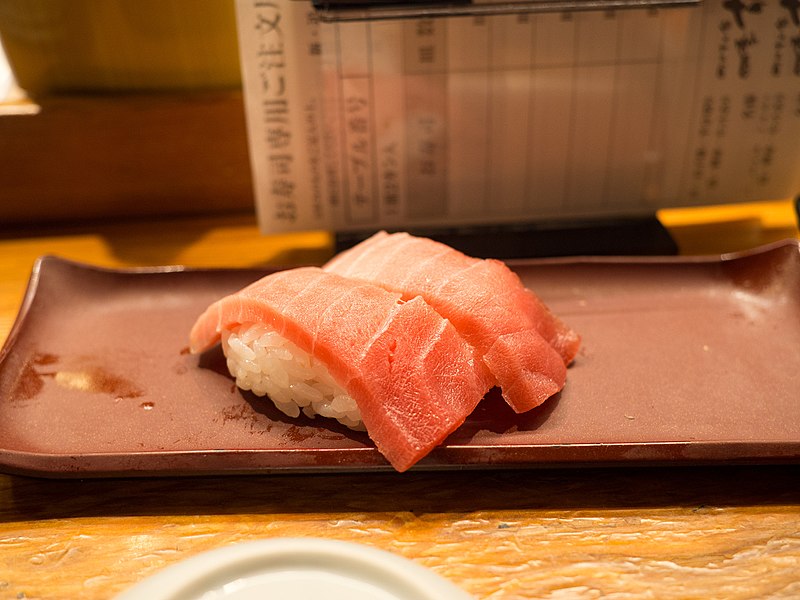 Credit: Wikimedia Commons
Walk three minutes from the Tokyo Station and you will find Nemuro Hanamaru on the 5th floor of the Marunouchi building. Ask the locals and you'll hear the same thing. This place serves up the best sushi in Tokyo. And for these prices, you will just have to keep coming back. There are so many delicacies that you can order here – all for under $30. You won't believe the steals you will find. For travelers on a budget, this conveyor belt sushi restaurant is one for the books. Since there are plenty of options on the menu, we recommend branching out and trying something you haven't before. One of the things you absolutely have to try out is the yellowtail sushi (Kuro shio buri). Another option is rich creamy, raw egg yolks. Trust us. It is much better than it sounds.
6. Mori Ichi (Kita-Ku, Tabata Station)
Located near Tabata, this little sushi joint has to be one of our favorites. You'll find it in the Nippori area. So after you explore one of old Tokyo's most beautiful neighborhoods and worked up an appetite, this is the place to be. Most of the plates cost only around ¥150 ($1.37 USD) and you get great quality food for that price. You'll have to take a double check at the menu to believe the value you are getting. Prices like this in Tokyo are far and few between. Because the food is so good and the prices are so cheap, this restaurant is often packed with locals and tourists alike. The ambiance is so fun too. We love how much Mori Ichi reflects the character of the old Tokyo neighborhood. A strong Edo character pervades throughout the scene.
Book Your Trip and Venture Out to Try the Best Sushi in Tokyo
We hope you enjoyed reading our article on the best sushi in Tokyo. As you can see, there are so many amazing day trips you can take all within close proximity to the city. That's just one of the reasons why Tokyo is such a desirable place to live – besides having the best bars, restaurants, and an all-around amazing vibe, there are so many adventures to take in the surrounding area too.
Japanese food is incredibly diverse. With so many tasty dishes and drinks to choose from, it was hard to narrow down the list to the top picks. While you're there, make sure to sample as many dishes as you can. Seek out authentic places to try the dishes. Ask for the local's recommendations. Or when you're feeling creative, put your culinary abilities to the test and try to make some sushi on your own. If you're looking for more places to visit, check out our picks for the best places to travel.
We hope you enjoyed reading our article of the best Japanese food to try. Now, it's time for a taste test. While you can certainly try your hand at these recipes at home, we recommend the real deal. Even from this simple list, it's easy to see that cuisine is incredibly diverse. This food is incredibly diverse. Make sure to read up before your trip and travel smart.
Now that we've given you a head start, it's time to start planning your epic trip to see sushi in Tokyo. There is simply no way to travel this country without being in constant awe by the diversity of culture, history, natural beauty, and culinary scenes. This unimaginable wealth of attractions offers so much. For the adventurous traveler, Japan offers so much to explore. Brush up on your Japanese phrases and get ready to travel. We've got information on the best time to visit for every type of trip.
From coastal beach cities to artsy urban escapes and ski resorts, there is no shortage of places to choose from. We would love to know – which of the places for the best sushi in Tokyo on our list stood out to you the most? Let us know in the comment section below.
Related Article: 7 Best Day Trips from Tokyo, Japan