Traveling to the City of a Hundred Spires? Check out these best restaurants in Prague.
Just a few decades ago, fine dining in Prague was limited to just the city center. Now, the culinary scene has broadened into one of Europe's finest, offering not only authentic local eats but vast international options all while retaining its unique spirit. While a few of the locales in the city have earned Michelin Stars, most remain humble holes in the wall that you'll fall in love with as soon as you step through the doors. Sure you might come for something fancy on the first night but the hidden gems are what make you want to stay. Follow along with us as we take you on a tour of the best restaurants in Prague. It's time to tempt your taste buds and treat yourself. 
Here Are Our Picks for the Best Restaurants in Prague
Any foodie knows that the ambiance goes into making a restaurant special. From classy dining scenes to hole in the wall and dinner shows, we have gathered up the best restaurants in Prague. Visiting a new city can be both exciting and overwhelming. You want to make sure you don't miss out on the top places to go. How can you know what to see and what you should skip out on?
While some places look authentic, they are total tourist traps. You don't want to waste your time dining at the duds. How do you get past the mediocre spots and find the gems to remember? That's where we come in. We have explored the city, done some taste testing (hard work, we know), and taken the guesswork out of it for you. All you have to do is kick up your feet and read on to find out. 
1. Terasa U Zlaté studně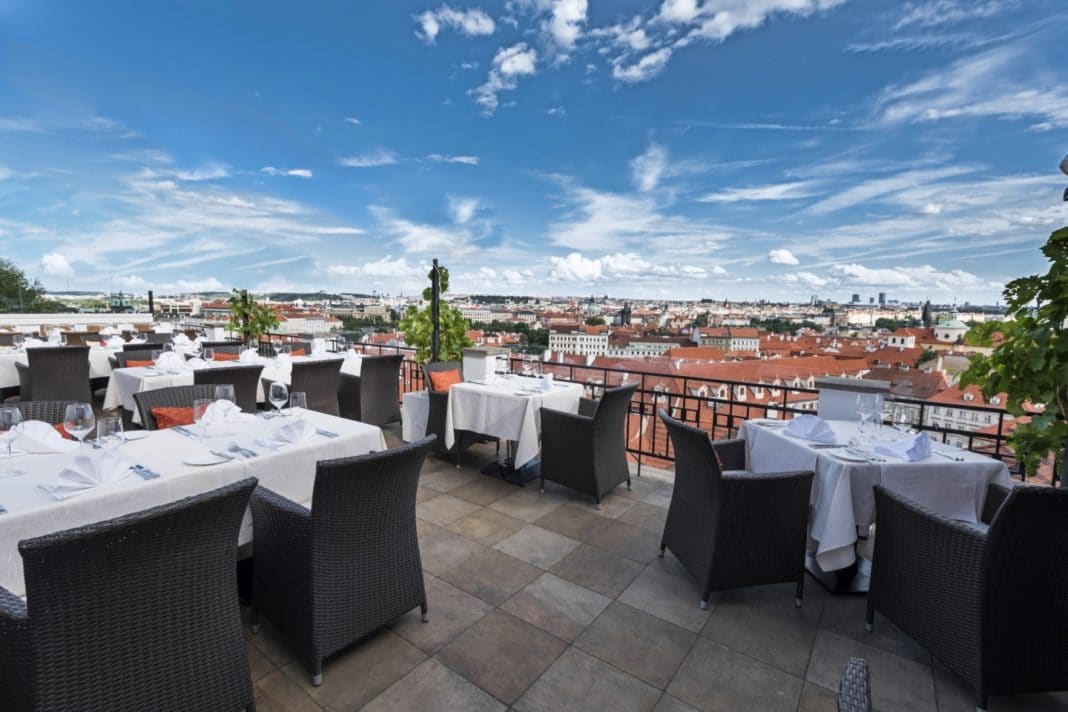 Credit: Terasa U Zlaté studně
Check out Prague's hidden gem. Housed in a 16th-century building, Terasa U Zlaté studně boasts city rooftop views and a lovely fine dining menu. For those seeking the full sensory experience, you can't beat it. This small yet elegant space under the castle serves creative twists on classic Czech and European dishes. On a warm evening, order a bottle of wine and enjoy a seat on the outdoor patio with your special someone. As one of the best restaurants in Prague, Terasa U Zlaté studně has been leaving locals full and happy since 1901.
2. Stredoveka Krcma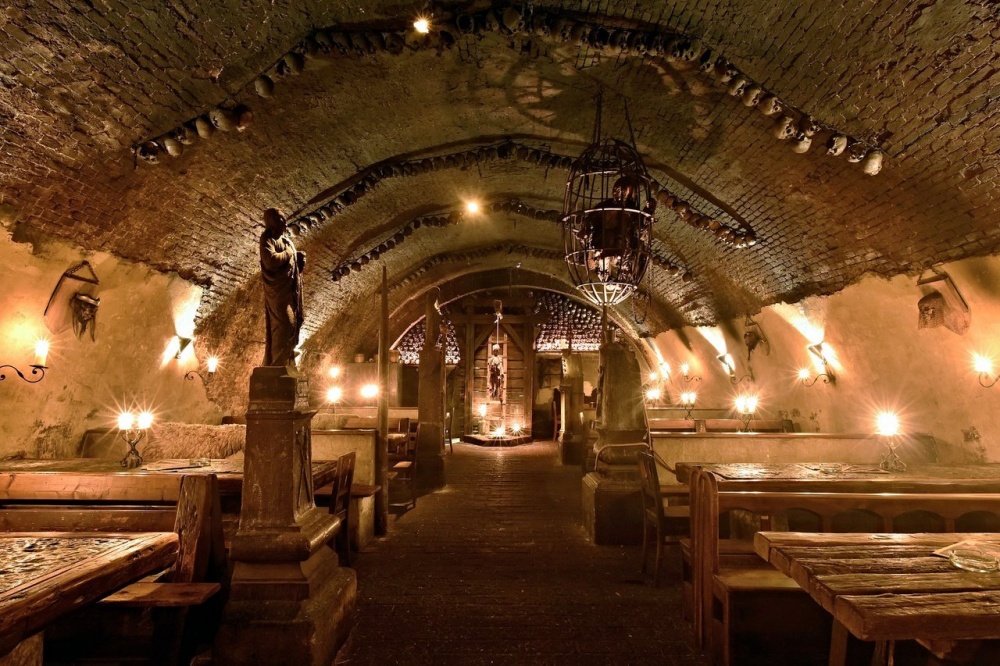 Credit: Stredoveka Krcma
Looking for dinner and a show? The food is good and the entertainment is wild at Stredoveka Krcma. But be forewarned – the show is not for the faint of heart. Sword swallowing, knife juggling, and fire swallowing are a large part of it and the performers have no qualms about pulling audience members and diners into the show to participate. If this sounds like your type of scene, then read on.
Take just one step into this tavern and you'll be transported into the Middle Ages. Literally. This tavern was constructed in the 13th century. You will immediately feel the energy radiating from these stone walls. The city has done a great job of up-keeping this tavern and now travelers in the know can enjoy an immersive, themed dinner. Don't be fooled though. This isn't one of those cheesy Medieval Times dinners you take the kids to. It's quite the contrary.
Sit down on a wooden bench at a stone table and forget the outside world. Order some local specialty meat roasted over an open fire and other dishes hard to find anywhere else. While you're enjoying your meal all of a sudden, a group of bellydancers breaks into the room. The air is filled with the rhythm of clashing cymbals, banging drums, and the furious strum of an acoustic guitar. Amidst the dancing, swordsmen emerge juggling very real, sharp blades.
Just keep your glass raised and protect your eyes. You should be fine. Unless you happen to be that guy who's pulled from the audience and made to swallow fire. Yes, this actually happened. Come join in on an epic journey in the Middle Ages! This is one of the best restaurants in Prague.
3. The Labyrinth Bar, Vinarna U Sudu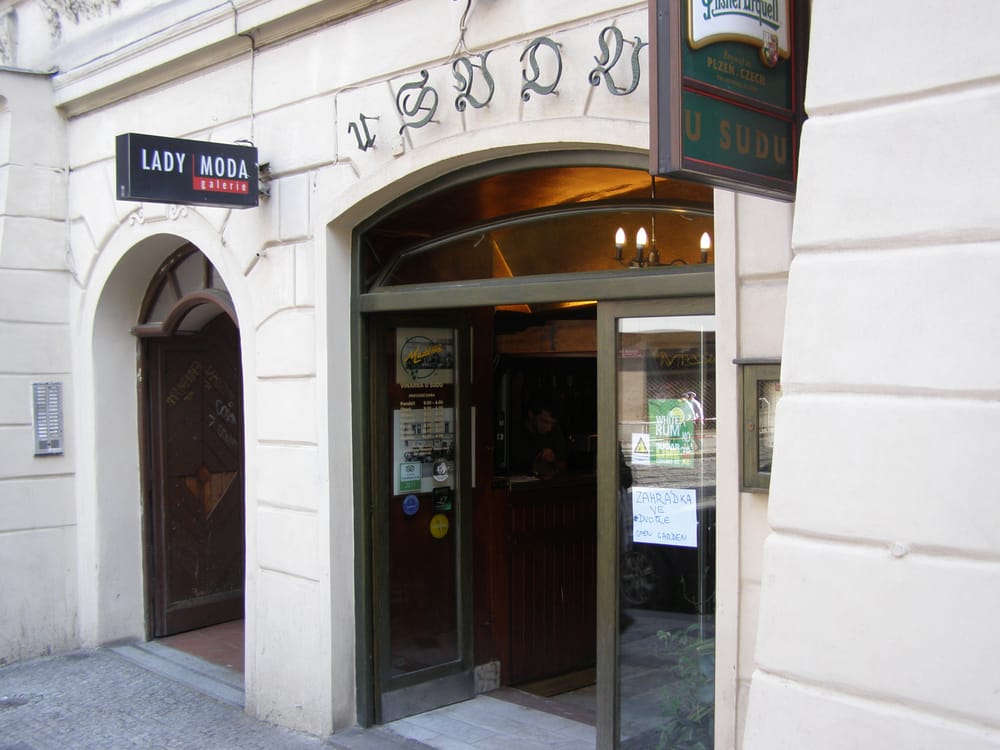 Credit: The Labyrinth Bar, Vinarna U Sudu
While this is much more of a drink than dinner scene, we still had to include it on our list of the best restaurants in Prague. Why? Sure it's mostly about wine and craft beer but the small plates are absolutely delicious too. While there are plenty of beer places and basement restaurants in Prague, the U Sudu wine bar is uniquely one of a kind. The underground space is called 'hell' and consists of four stone-walled interconnected basements. One hosts foosball tables for competitive games, another a space to dance the night away.
Equally important, is the wine bar. Here, you'll find an amazing selection of drinks from the barrel as well as high-quality pinot grigio and merlot. All bars offer draught Pilsner. In the summer, the beer garden opens up to an eager public in the historic galleried inner courtyard of the house.
4. La Degustation Bohême Bourgeoise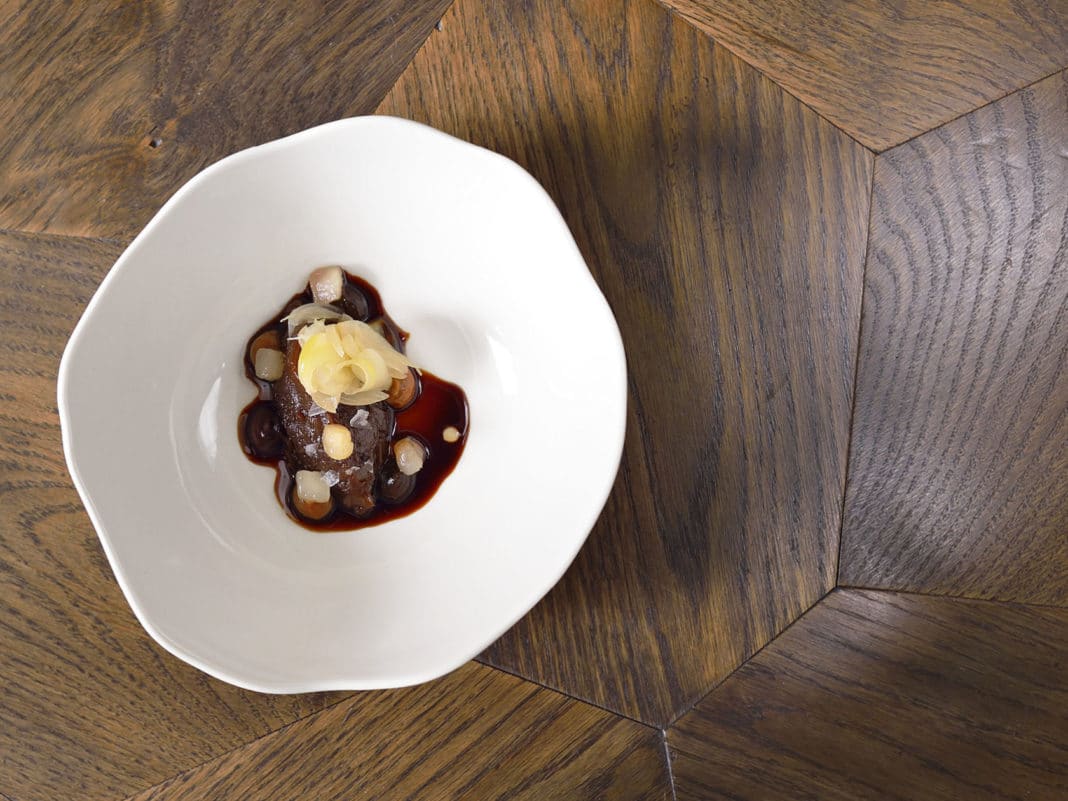 Credit: La Degustation Bohême Bourgeoise
We had to include at least one Michelin star restaurant on our list. La Degustation Bohême Bourgeoise offers delightful recipes based off a 19th-century Czech cookbook. Here, the menu changes daily and the offerings supersede what you would expect from any fine dining establishment. Savor your way through a delightful menu of unconventional offerings whipped up by none other than chef Oldřich Sahajdák. No wonder locals call this one of the best restaurants in Prague.
Each of the menu items offers carefully-selected ingredients in minimalist presentations. With each course, you will get small samples of beer, wine, and fruit juice, complementing the flavors. Make sure to book your reservation early, as the seats go quickly. After your meal, take a walk along the river on the nearby Charles Bridge and explore the Old Town under the floodlights of the Prague Castle at night.
5. U Modré kachničky
Indulge in traditional Czech cuisine here at U Modré kachničky. At first glance, it's easy to look at the medieval armor, maroon velvet, and dark wood interiors and think the place is a tourist trap. But you'd be wrong. This is one of the best restaurants in Prague, offering delicious and authentic cuisine. And we happen to love the interior.
A multi-room layout divides the space into comfortable, intimate rooms where you can enjoy a quiet night of dining with the people you care about. Come with your friends or the whole family and splurge on a five to seven-course tasting menu. After all, what's a better way to sample a little bit of everything? Try some of the local wines and enjoy yourself.
Just try your best to save some room for their decadent, mouth-watering desserts. Chocolate cake and some Grand Marnier-soaked pancakes are a welcome treat. While a la carte options are certainly available, you will get the most for your money (and the best experience) by going all out. You have to live large at least once, right?
​

6. Marthy's Kitchen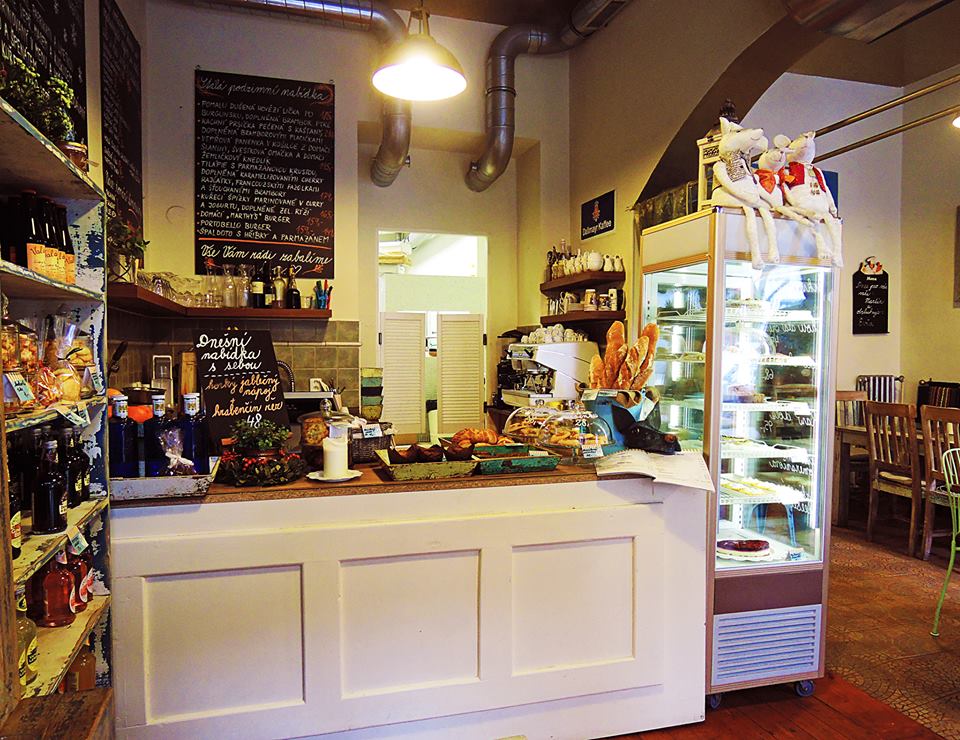 Credit: Marthy's Kitchen
We've got to say – we're big fans of the brunch scene in Prague. Marthy's Kitchen is at the top of our list when it comes to a Sunday afternoon (or really any day for that matter) pick me up. Here, you'll find all of your favorite breakfast foods and a few new ones along the way. Traditional menu items like fluffy omelets, homemade waffles, fresh fruit, and eggs benedict make an appearance. While the menu is simple, Marthy's is still one of the best restaurants in Prague in our book.
Personally, we're hooked on the croque monsieurs. This cozy spot looks like something plucked straight from your Pinterest mood board. Make sure to get here when they open. You can't make a reservation but if you're lucky, you'll beat the local rush. But if you can't pull yourself out of bed early enough and roll by with messy hair, it's still worth the wait.
7. Restaurant Zvonice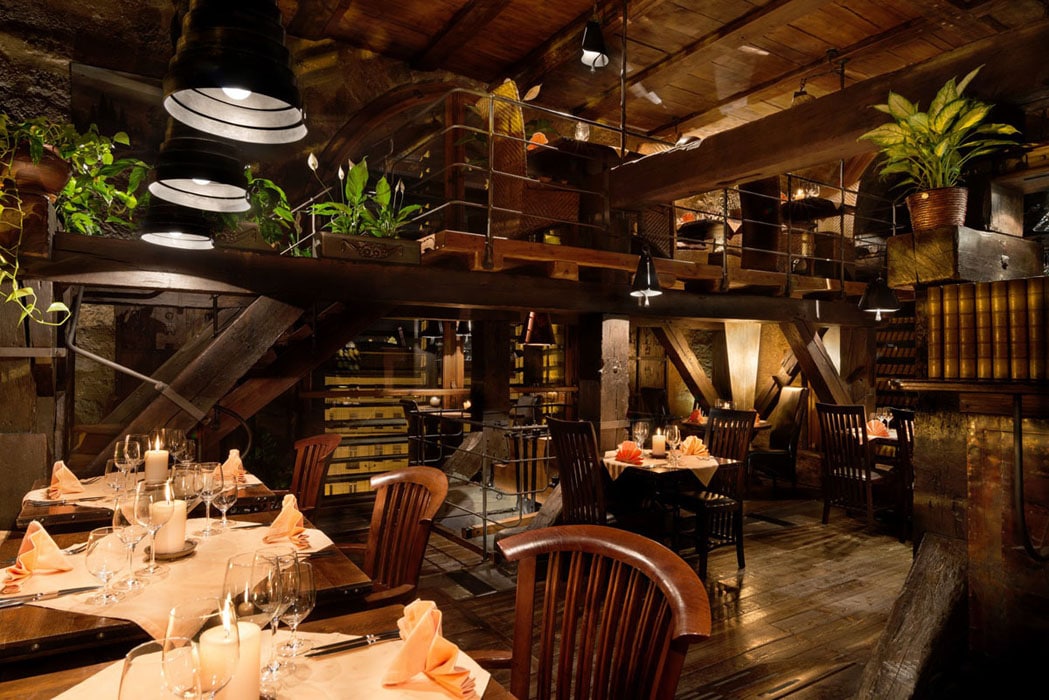 Credit: Restaurant Zvonice
Dine with a view at Restaurant Zvonice. Walking down the street, you would never guess that one of the best restaurants in Prague is housed in a Gothic monument. But inside the old structure under a 16th-century bell, happy guests treat themselves to a traditional Czech meal. From soups and starters to Old Bohemian recipes, you will have your pick of filling meats and treats to try out. One of the things we always tell travelers is to be game to try out new flavors. After all, that's a big part of what the travel experience is all about. You can't go wrong with anything on the menu here.
After you've eaten your fill, make your way up to the seventh and eighth floors. You'll find a fascinating display of photos documenting the history of the tower, a collection of bells, and a small museum. If dinner is a little too pricey for you, take a look at their lunch menu. It offers just as many options for travelers who are on a tighter budget but still want to share in the experience.
8. Cafefin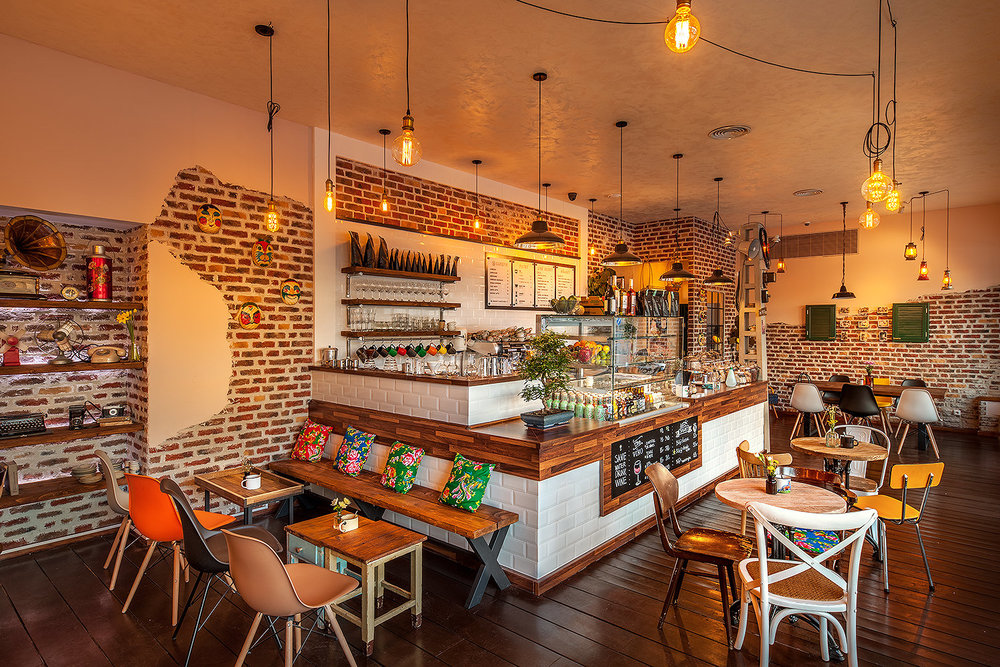 Credit: Cafefin
Let's be honest. We're all guilty of looking up the cutest places to eat on Instagram when we travel. More so now than ever, the ambiance plays into our decision factor for where to eat. Travel influencers and bloggers want to take enviable snaps of their adventures and we all want to put our best foot forward on social media. Besides checking the box for adorable scenery, Cafefin offers everything you could want in savory, delicious food and drinks. And yes, it's all highly Instagrammable. The presentation is perfect.
Pastel walls and even more colorful meals are photo ops just waiting to happen. Exposed brick walls, hanging lights, and cozy spaces make this a great stop for coffee and conversation. Just make sure to call ahead before you go there. It can get crowded and they do not take reservations.
So what's good here? In a word, everything. Step on into this shabby chic space and grab a menu. Avocado toast and banh mi sandwiches are always good options. After your food coma kicks in, it's the perfect time to wake up with an afternoon coffee fix. Not a caffeine person? Try out their refreshing passion fruit lemonade. After your meal, the nearby Jiřího z Poděbrad square and Riegrovy Sady are fun places to spread a blanket, kick back, and people watch as the city life rolls by.
Check Off the Best Restaurants In Prague Off Your Foodie Bucket List
Take time to enjoy the best restaurants in Prague. Beyond the cobblestone streets and main tourist attractions lies a diverse vibrant, and culturally rich city to be explored. See it all – hip bars, buzzing markets, and a flourishing art scene. While it may be tempting to hit up all of the hot spots at the top of Google search results, go a little off the grid.
While we recommend visiting at least one Michelin star restaurant for the experience, our favorite locations are the understated locals' favorites. If you really want to get a good feel for the culture, check out charming small cafes and quirky artist's bars. Diving into the heart of Prague will make your trip memorable and who knows, maybe you will make a few new friends along the way too.
You'll find the best places and make the best memories when you don't have a plan. Try not to travel with too much of a sense of anticipation. Let the city guide you. Be excited by the unexpected. Make friends with strangers. Try something new. Push your limits. More often than not, you'll be pleasantly surprised at what you find. If you're interested in exploring more of Europe, check out our top picks for off the grid locales.
Do you have any Prague travel tips for us? Or maybe you just have some questions. We'd be happy to answer them as best as we can or just have a chat. Leave a message for us in the comment section below and we'll be sure to get back to you.
Related Article: Things to Do in Prague For the Adventurous Traveler