Let's Walk Through the Best Italian Restaurants in DC
When searching for the best Italian restaurants in DC, there is no shortage in all the amazing opinions you will come across. Affordable, high-end, uncommon, traditional, there is something for everyone when it comes to the best Italian restaurants in DC. I want to walk you through a list of the best and most interesting restaurants in DC.
1. Rose's Luxury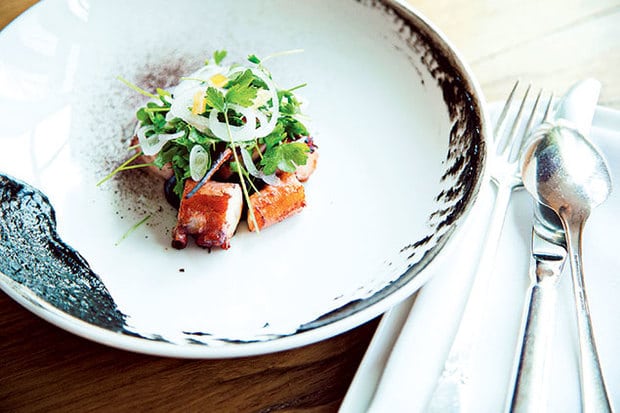 Rose's Luxury
Right on Capitol Hill, dinner is served along with drinks at Rose's Luxury. This happens every night from 5pm-10pm on every day except Sunday. It is a good idea to make same-day reservations on their site. But if you do decide to just show up as is, you will be seated on a first come first serve basis. Upon arrival, you will be able to provide your number and receive a text message when your table is ready. If you understand the perils of having to stay in the general vicinity of the restaurant while you would rather explore your area as you wait, you will appreciate this accommodation.
This restaurant has a tasteful menu of small plates, pastas, and family style meals. End out your meal with a dessert and your pick of a coffee brew. A nice personalized touch is found in the bios of all the staff at Rose's. On their website you will find their "about me" paired with their childhood photos and hidden talent. This shows you a strong team with a passion for the meals you are eating and the overall experience you will have here. Also noteworthy, Rose's gives back by giving 25 cents for every meal eaten here to an organization who helps feed hungry children around the world. Rose's has a well-loved roof garden which you can book in advance. The schedule for this releases on every Monday morning through their website.
2. &pizza
If you are looking to eat Italian type food in a casual way without much hassle or strain on your wallet, this is your spot. Located just outside the metro station, you won't be able to miss this restaurant. The pizza options at &pizza are out of this world. You will find things like hot honey, short rib, and mac and cheese on pizzas. Of course, there is the option to create your own for those who prefer to go the more traditional route. This is a great eatery for those who are in groups or are trying to enjoy fast food service with high quality ingredients.
3. Tortino Restaurant
Chef Noé Canales dreamed of opening up this restaurant after his rich experiences both in Italy as well as in top-tier Italian restaurants in the states. Tortino Restaurant is open for lunch Monday through Friday from 11:30am-2:30p. They host dinner all week long, beginning at 5pm until 10pm and they stay open until 11pm on Friday and Saturday. This is an affordable option compared to many of the other Italian restaurants you'll find in DC. Many will attest to the fact that because of its hole-in-the-wall tendencies, it can get overlooked by passerby's. But you will not want to miss out on eating here. The service is award-winning in itself and it is clear that Tortino values quality. Also noteworthy, Tortino is happy to be the venue that hosts your event. This is a great option because it is a beautiful restaurant on the inside and the outside, as well as on the plate.
4. Fiola
Fiola takes culinary innovation to the next level. They take the traditions found in Italian food from the homeland and use them to create food for the current cultural setting. As they create they invite you into the depths of adventure toward good Italian food for today. Embracing tradition while also being innovative is a hard balance to find, but Fiola has done just that. This is probably why the restaurant has received a Michelin Star.
Their location near the National Archives makes it a place where politicians frequent. Fiola offers special meals for holidays, such as the "Feast of Seven Fishes" on Christmas Eve and a "Celebratory Grand Tasting Menu" on New Years. They also have a "Sunday Family Dinner". If you have any Italian roots or know anything of Italian roots, you will know that Sunday dinners with family are important. These dinners are a four-course meal, preplanned so that you can simply enjoy with those you love.
5. The Red Hen
This restaurant was started by two passionate friends, so you can imagine that their excitement and passion is in what they have created together. The rest of the team is small and elegant, made up of many talented and well-versed individuals. This restaurant accepts walk-ins, though parties over six are encouraged to call in beforehand. If you come in and the wait times are long, the bar is open for first come first serve and they offer the full dinner menu.
Though they are an upscale restaurant, they actually encourage casual dress. This is further proof that The Red Hen is a laid back environment who welcomes real people looking to have a good meal. They are very accommodating of dietary restrictions and have gluten-free pasta options, which is a dream for those who stay away from gluten but love Italian food! Those who experience this restaurant will tell you it is an intimate setting, perfect for having a meal with the person you love. It also serves as a great place to have a nonplanned, spontaneous dinner!
6. Carmine's Italian restaurant
It can be hard to find an upscale restaurant that caters to family environments, but Carmie's has found their niche in catering to those who desire a large family atmosphere. Carmine's is also huge on hosting and catering parties and events! With locations in five different cities, they have experience showing the best hospitality for those looking to give their guests a good time or have a nice family meal. Here they serve huge portions of family-style Italian for groups at Carmie's. They have a ton of different options to choose from, giving everyone the chance to find something they like.
At Carmine's, you will find fairly reasonable prices and huge portions, which is a desirable experience in the heart of DC, especially if you are spending the day walking up and down trying to take in all this city has to offer. If you find yourself eating at Carmie's you will most likely end up joining the chorus of lovers who are in awe of their mouth-watering bread. Absolutely everything here is meant to be shared, making it the perfect place for families and parties of all kinds.
7. Urbana
Inspired by 1920's New York, Urbana is committed to giving their guests the best experience possible, beginning with their beautiful aesthetics. Urbana respects the beauty of traditional Italian flavors by recreating them with local ingredients, even to go so far as to use their own herbs and vegetables from the rooftop garden! Their Monday through Friday happy hour is something special and it is even considered one of the best in Dupont Circle.
A fun event to gather your friends or family together for is their Brunch Pizza Party. This party is for groups twelve and up, allowing you to set up a party for whatever event you are planning, or just as a casual hangout! Urbana also offers a chef tasting menu event where Chef Ethan Mckee prepares eight-courses of small snacks and plates, following the tradition commonly found in Italy. This is where you will have the opportunity to watch a great chef showcase his creativity since there is no set menu and only surprises to be enjoyed.
8. Tosca
"Refined and soulful", this is the best way to describe Executive Chef Riccardo Rinaldi's food. It is clear from the plates at Tosca that he prides himself of taking tradition and creativity and pairing them together. Tosca has a tremendous amount of accolades, both officially with their reviews from a list of different publications, to reviews by guests. Most recently, Tosca was named "Best 100 Restaurants in the US for 2018" by OpenTable. Tosa serves lunch and dinner and requires that you dress business casual when dining here.
They have a private dining area for small groups to experience a quiet and intimate meal. When you plan to bring your group here you will receive a large range of options for amenities. These include a pre-set menu that can be tailored to guests with the option of personalized logos printed on them such as corporate logos. There is only a small cost for valet parking. And there is the the option to have a floral arrangement ordered which can leave the restaurant with you at the end of the event.
A one of a kind experience is offered at the Chef's table that you cannot find anywhere else in the city. Watch Chef Riccardo and his team make an eight-course meal and experience the intimacy with this top chef that allows you to converse and ask questions. A special treat that Tosca offers is a White Truffle Menu while they are in season during fall. They have imported these truffles from Italy for a one of a kind experience.
9. Acqua Al 2
Acqua Al 2 originated in Florence, Italy in 1978. Gejdenson Ari brought it to DC after being part of the original. He decided he wanted to delight the states with the restaurant and stays true to the original by using the original menu. This restaurant serves lunch and dinner as well as brunch on Saturday and Sunday.
There are five rooms where private dining takes place. Each one has a quaint rustic feel and is beautifully decorated. They offer to tailored a menu to the specific needs of you and your guests if you are dining with them privately. Acqua Al 2 loves wine just as much as they love food. They have a full wine menu and have just added new wine options to it. These can be found in full detail on their website.
10. Floriana
Anyone who has been here will tell you that the setting at Floriana will make you feel like you have just gone over to the home of a friend who has mastered the art of hospitality and attentiveness. As an independently-owned restaurant, the staff and ownership here are able to personalize the atmosphere and they take advantage of that opportunity. This is the perfect intimate atmosphere for a romantic evening, a small family gathering, or a fun time with your closest group of comrades. Just as proof of the intimacy of this restaurant, you will be interested to hear that Floriana was on the list of the Top 10 Most Romantic Restaurants in DC.
Since they update their menu every season, there is always something new and delicious to try. At Floriana, they serve Sunday brunch, lunch, dinner, and bottles of wine. Like all the best chefs and restaurants do, they make their dishes with locally grown and in season food. Floriana also celebrates the holidays with you. They currently offer a five-course menu to help you celebrate New Year's Eve with amazing food. As a place known for having incredible service with a knowledgeable staff and a homey feel, eating a meal here will feel as if you stepped into nana's house in Italy.
11. Obelisk
Obelisk Menu – Credit: Daniel C.
Since opening up in the summer of 1987, Obelisk has been surprising and delighting their guests with their handwritten menu that changes daily. Their ever-changing, thoughtful menu is truly the thing that sets them apart from their competition, and there is plenty of it in Dupont Circle where they are located. There will always be something new to try, so come prepared for something special! Another perk is their slack dress code. There is no dress code to follow here so you can just show up comfortable.
At Obelisk, they serve a five-course meal with choices in each course. Though it is their pleasure to accommodate those with food restrictions, they do give a disclaimer that it is hard for them to accommodate strict vegans. The resounding opinion of Obelisk is that it is a hidden gem in DC's Italian cuisine scene. You can eat at Obelisk from Tuesday through Saturday starting at 6pm. As a restaurant of only 11 tables, they ask that you call in to make a reservation if you are a party over 5. Experience this must try!
DC Knows Good Italian
There is something for everyone when it comes to eating good Italian. DC has some of the finest and well as some of the simplest (doesn't get easier than pizza!) Italian food. Italian food may have a complicated history, but finding good Italian dining does not have to be complicated. Do your research on the best Italian restaurants and then dig into all the Nation's Capital has to offer in Italian cuisine and diverse dining experiences.
​​Related Art​icle: 10 Best Coffee Shops In DC For Millenn​ials