Our nation's capital finally caught up to Millennial's coffee-craze. Get your caffeine fix at one of the best coffee shops in DC!
Washington D.C. finally realized that it couldn't run a coffee scene based on the Starbucks franchise for too long. How could they? With a population that is made up by 35 percent of Millennials (and let's face it, we Millennials LOVE our coffee) it was time to introduce the quirky and hip coffee shops that us youngsters love so much. Be wary, though: not all of them are top-notch. Luckily for you, we came up with a list of the best coffee shops in DC for you to get your caffeine buzz on!
You'll find no Starbucks, Carbiou, or Peet's here. We curated only the hippest, only the funkiest, only the best coffee shops in DC on this list that are hand-poured exactly to your liking.
1. The Wydown Coffee Bar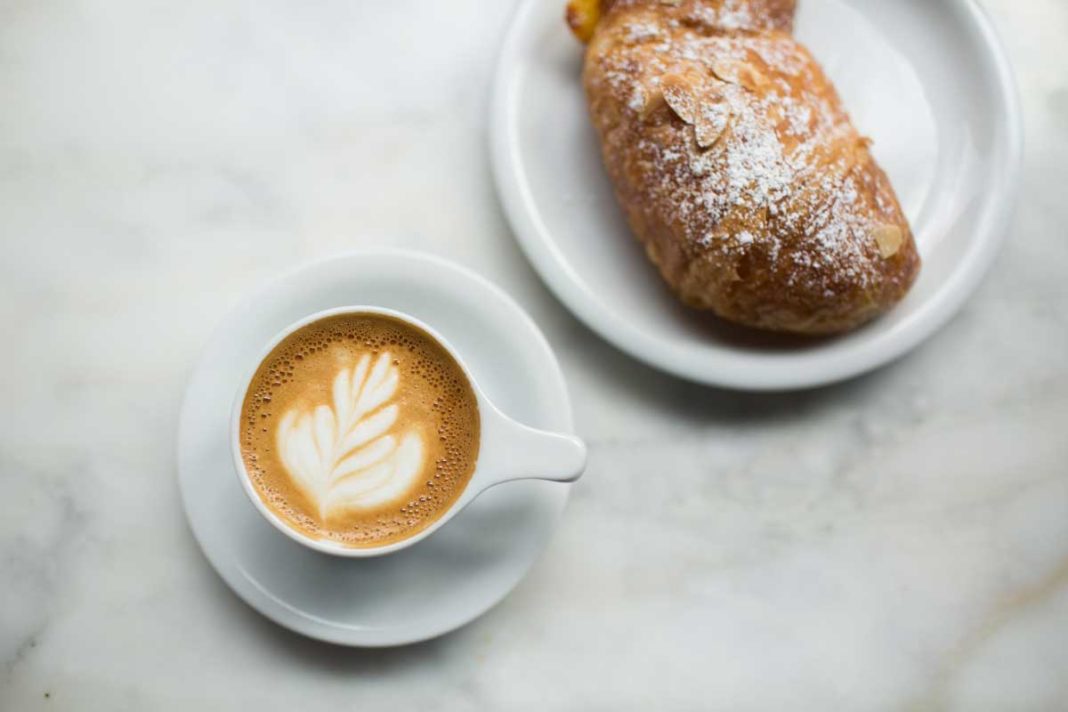 Credit: The Wydown Coffee Bar
Head on down to The Wydown Coffee Bar to experience one of the best coffee shops in DC! Wydown easily serves some of the best coffee in the District. There isn't much you won't love about this place: the staff is friendly, the quality of the coffee is excellent, and the baked goods are delicious (seriously, you have to try the Blackbery Lavender Scone or the Almond Croissant!)
The downside is that the space is small, so staying in to drink your cup o' joe may feel a little congested. Therefore if you're a freelancer and are frequently in need of a coffee shop to work out of, Wydown may not be one of the best coffee shops in DC for you. However if you're simply looking for a great cup of coffee to take to-go, we highly recommend making Wydown a part of your morning commute!
The shop's main location is at 14th and U Streets. Another location has been set up on H Street in the Apollo apartment building. Visit their website to learn more.
2. Grace Street Coffee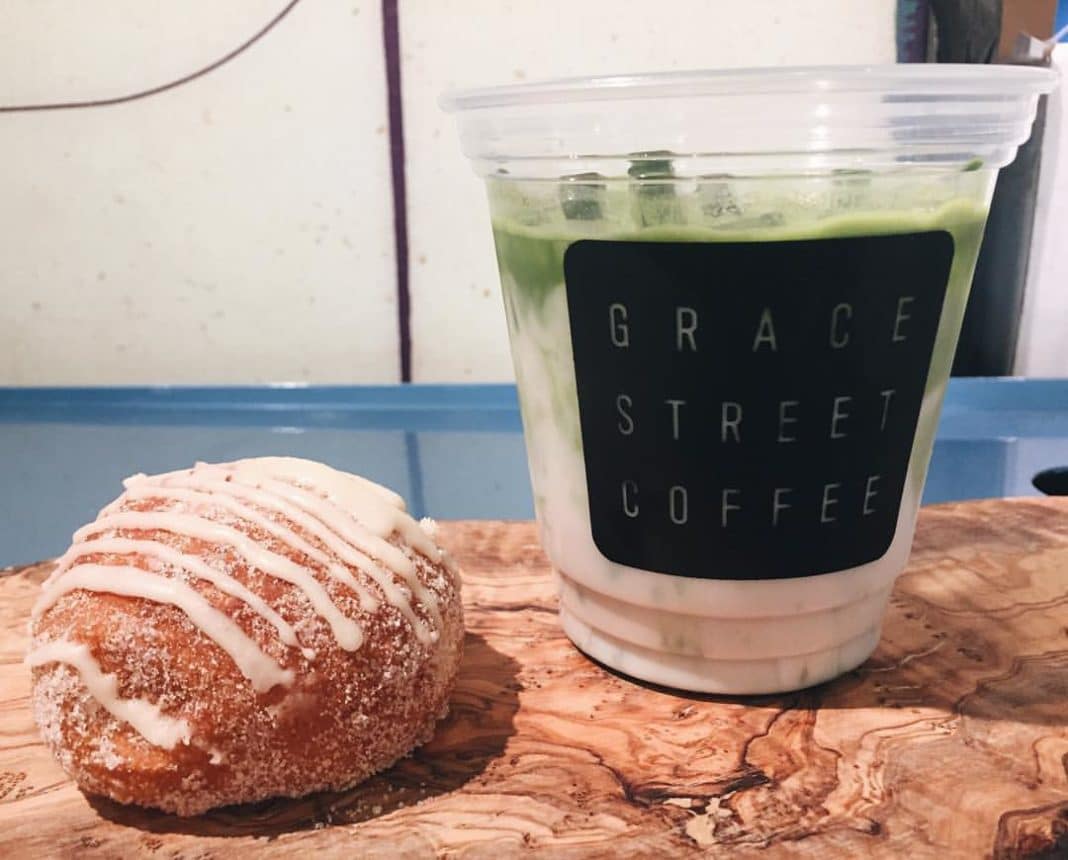 Credit: Grace Street Coffee / Facebook
Grace Street Coffee is one of Georgetown's best kept secrets. One major reason we consider it one of the best coffee shops in DC is that Grace Street rotates its roasts often to ensure their customers will never get bored. What's even better is that their baristas are extremely knowledgable and attentive and are happy to answer any questions you have about your brew. The next time you order a Vietnam roast with notes of bourbon, cacao, and vanilla… Ask them what that all means so you can be a coffee-snob to all your friends.
Grace Street is also courteous to those non-coffee drinkers out there and comes up with fun seasonal drinks, like hot apple cider for these cool fall months. Overall, Grace Street is one of the best coffee shops in DC for people looking for a place to meet up with a friend or just grab something to go. Insider's tip: the University of Georgetown students have found out about this gem, so Grace Street can be pretty crowded on a Sunday afternoon!
The shop's location is at 3210 Grace Street NW, and talks of another location is in the air! Visit their website to learn more.
3. Little Pearl
[tcb-script async="" src="//www.instagram.com/embed.js"][/tcb-script]
If there's one thing Millennials love more than their coffee, it's their wine. If you find yourself to be an equal lover of café and vino, then Little Pearl is one of the best coffee shops in DC for you. On Tuesdays through Sundays from 8 a.m. to 2:30 p.m., Little Pearl is open as a coffee shop and cafe with a diverse menu to choose from. They of course serve the traditional espresso, latte and mocha, but if you go consider trying a "specialty" drink. These include and Iced Banana Latte, Vietnamese Iced Coffee, and Chamomile Lemonade. Their unique brews are yet another reason we think Little Pearl is one of the best coffee shops in DC.
At night, however, things start to change. From 5:30 to 10 p.m., Little Pearl opens its doors as a boutique wine bar. They carry the classic Cabernet Sauvignon and Merlot as well as their own specialty cocktails. We recommend the delicious Summer Fling or a Hibiscus Margarita. They're so good you'll find yourself getting seconds and struggling to fight off ordering a third.
The shop's location is at 921 Pennsylvania Ave. NE. Visit their website to learn more.
4. Royal
Credit: Royal / Facebook
Royal serves top-notch coffee and a good story to go with it. This DC coffee shop got its name from the "Royal Liquor Store," the business that previously owned the building before founder Paul Carlson joined forces with his family to open Royal (the coffee shop) in 2015. Royal became one of the best coffee shops in DC thanks to Carlson's "international background." This owner has been around the block once or twice and has brought everything he's learned about coffee, food, and drinks to his own personal shop.
Royal covers all of the basics for a stellar coffee shop. The service is great, the customers it attracts are friendly, and the food is out of this world. Royal's house soup (Strawberry-Tomato Gazpacho) is a unique blend of flavors you didn't know you needed in your life until now. The Pan Seared Redfish is impressive and filling. As for Royal's coffee, we suggest ordering one of their speciality drinks, like Open Sesame Latte or the Honey Bourbon Latte. But if straight-up black coffee is your thing, you can't go wrong at Royal.
Freelancer's tip: Royal is one of the best coffee shops in DC to work out of. Not only is it friendly and cozy, but Royal also offers bottomless drip coffee for $7. Enticing, no?
The shop's location is at 501 Florida Ave. NW. Visit their website to learn more.
5. Baked & Wired
Credit: Baked & Wired / Facebook
To introduce you to #5 on our list of the best coffee shops in DC, we're going to have to head back to Georgetown. Baked & Wired is a shop for coffee lovers and cupcake fanatics alike. In fact, Baked & Wired is so loved for their cupcakes that they may be giving Georgetown Cupcakes a run for its money! Fan-favorite cupcake flavors include Almond Orangesicle, Dirty Chai, and for chocolate lovers, The Chocolate Cupcake of Doom.
Delicious cupcakes and great coffee to go with it? Yup, we'd consider that signs of being one of the best coffee shops in DC in our book! Another thing we love about Baked & Wired is all the options is has for customers. Maybe you're not a cupcake fan. Maybe instead you want to try a homemade biscotti, and ice cream sammie, or a buttermilk pancake. Whatever sweet treat suits your fancy, Baked & Wired can likely serve it up for you!
Overall, Baked & Wired is a one of the best coffee shops in DC for friends, families, and couples spending a Sunday moseying around Georgetown and are in need of a caffeinated pick-me-up and dessert to go with it.
The shop is located at 1052 Thomas Jefferson St. NW. Visit their website to learn more.
6. Sospeso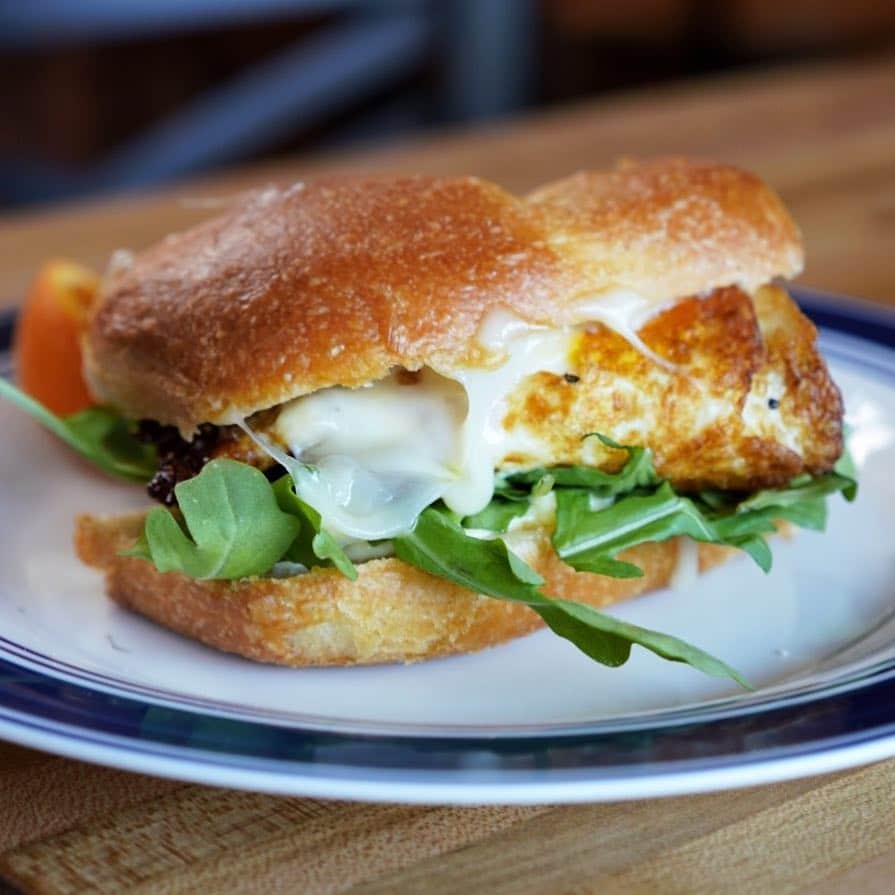 Credit: Sospeso / Facebook
Sospeso is another Jekyll and Hyde styled shop that switches up its menu depending on the time of day. Named after a Neapolitan practice that loosely translates to "suspended coffees," Sospeso's inception was inspired by the owner's passion for Southern Europe, the Eastern Mediterranean, and North Africa. All of the food and drinks are influenced by one or the other. In the morning, guests can stop by for craft coffee and homemade pastries on their way to work. In the afternoon, diners may treat themselves to a Porchetta or the Falalfel Flatbread.
At night, however, is when Sospeso comes alive. The quaint and comfortable coffee shop transforms into a luxury Mediterranean restaurant. Offerings include Pumpkin Tagine and Red Snapper Chraimeh. The long birch tables and large, open windows gives Sospeso a welcoming feel in the morning and an intimate vibe at night. It's this versatility that makes Sospeso one of the best coffee shops in DC.
The shop is located at 1344 H St. NE. Visit their website to learn more.
7. Maketto
Credit: Maketto / Facebook
What qualifications do you need to be one of the best coffee shops in DC? Excellent service, delicious and unique coffee blends, and being open for business seven days a week. Guess what? Maketto hits all those marks. This coffee shop, cafe, and bakery has a unique, Taiwanese-themed atmosphere that creates the perfect distraction from the hustle and bustle of the Washington, DC streets. Maketto's coffee will never let you down on having packed flavored punches and quality ingredients.
What's more, Maketto also has a 60 seat restaurant and a full dinner menu. We love Maketto's food not only for its flavor but also for its design. The entrees are placed beautifully and the plates always come out super hot – so you know your order is freshly made and right off the oven!
Maketto is one of the best coffee shops in DC for young professionals looking for a good place to have a lunch meeting. It's also a great spot for Washington, DC couples to stop in for a date! The coffee is great, the food is delicious, and the trendy vibe is intoxicating.
The shop is located at 1351 H St. NE. Visit their website to learn more.
8. Pitango
Credit: Pitango Gelato / Facebook
Not only is Pitango one of the best coffee shops in DC, it's also one of the best gelato shops in town. The founder, Noah Dan, grew up in Trieste, Italy and founded the first Pitango in 2007 to "recreate the pure and wholesome gelato of his youth." But true Italian cuisine is nothing without hot coffee to go with it. Truly, you haven't lived until you've paired Bacio gelato with a sizzling espresso. Or coconut gelato with a fresh chai latte. or the Vanilla Chocolate Chip gelato with… Just about anything.
Pitango stands out from the rest because of its dedication to sources only the finest and freshest ingredients – particularly its dairy. In fact, Dan was so committed to serving only the best products that he set up his own dairy on Pennsylvania's Spring Wood Organic Farm. The gelato and sorbet is prepared and flavors are blended on site. Pitango always churns every batch of their gelato and sorbet to "ensure peak freshness" to its customers at all of its locations.
The shops are located in Fells Point, Reston Town Center, Capitol Hill, Penn Quarter, and Adams Morgan. Visit their website for more information.
9. Emissary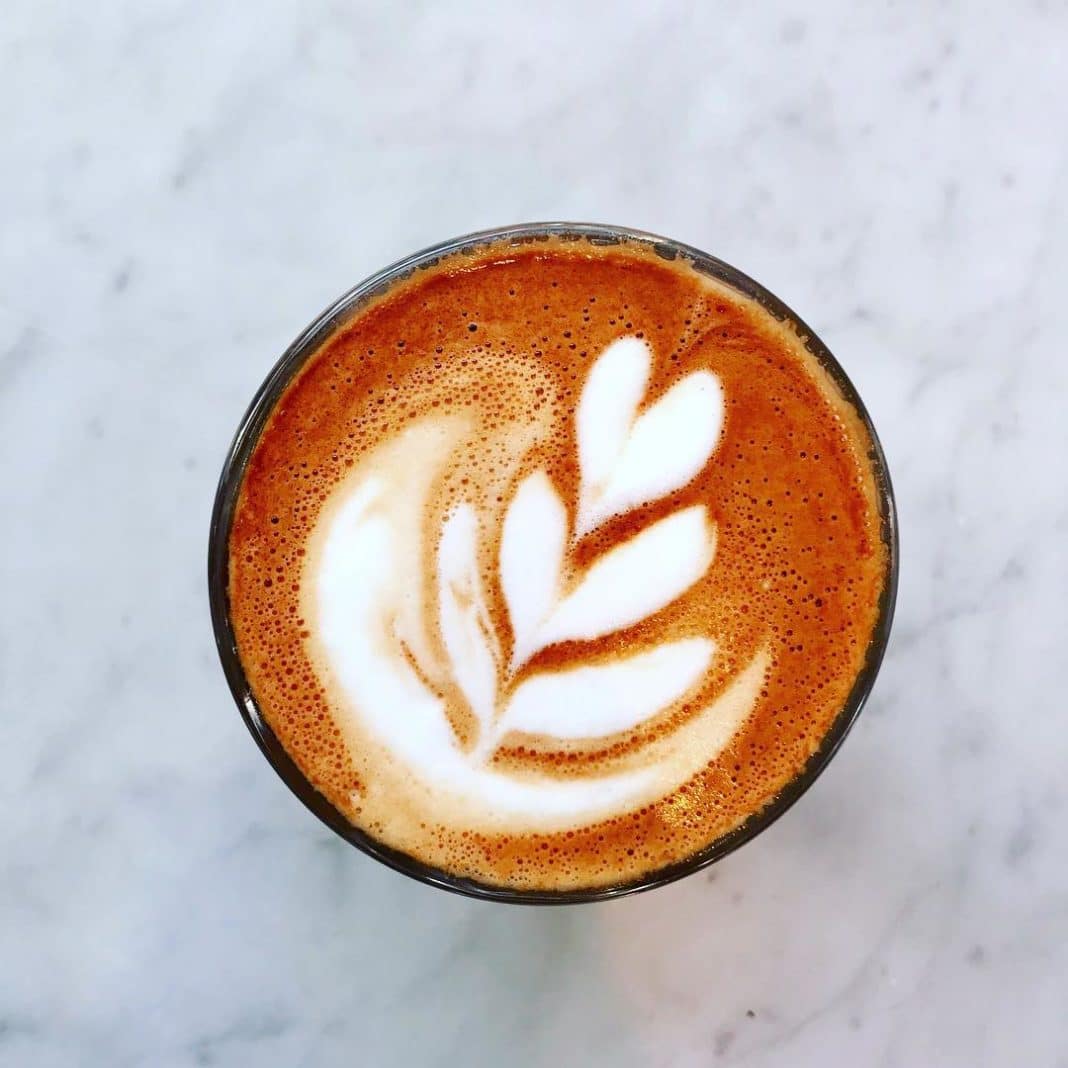 Credit: Emissary / Facebook
If you searched "hip DC coffee shop for Millennials," Emissary would be one of the first places to pop up. The shop's exposed brick, cozy couches, and corner seating areas creates an alluring ambience that brings in herds of customers daily. But just because the place is popular doesn't mean it's overwhelmingly busy. Emissary lives by the "fika" vibe, or the Swedish notion of "taking a moment to have coffee, slow down, and contemplate on your own or to gather with friends, and savor the moment." Its relaxing ambience is what got it on our list of the best coffee shops in DC, hands down.
The menu was inspired by Californian, Australian, and the Mediterranean influences. Counter Culture coffee is always readily available as is a selection of local craft beer, wine, and craft cocktails. Another reason Emissary makes for one of the best coffee shops in DC is that it caters to all kinds of diets, including vegetarian and vegan diets.
If you're an early riser, keep in mind that kitchen didn't open until 8:30 AM. Therefore you may have to plan on getting your breakfast pastry elsewhere. Overall, Emissary is one of the best coffee shops in DC for folks looking to hunker down with a good book, chat with some of their best friends, or to write the next great American novel.
The shop is located at 2032 P St. NW. Visit their website to learn more.
10. Compass Coffee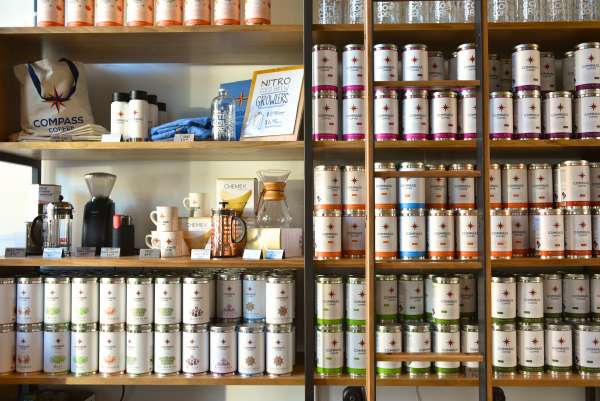 Credit: Compass Coffee
Compass Coffee has become such a favorite amongst DC locals that they had to open up multiple locations so they could spread their java love. To put it simply, Compass is dedicated to "making real good coffee." You won't have to fight your way through the frills and fancy titles that other independent coffee shops will try to throw your way. The shop got its name because they feel a coffee and a compass have two big similarities: "it helps you get your bearings and point you in the right direction." I think we can all agree we're useless human beings before we get in our coffee fix everyday. This straight-forward, genuine approach is why we consider Compass Coffee to be on of the best coffee shops in DC.
The food menu is equally as simple and delicious. They cover the basics including croissants and yogurt and granola. Their coffee, though, is really what makes Compass Coffee stand out. It never has that watered down taste and will always leave you wanting more. It's also affordable. You won't find a better cup of nitro cold brew on a hot DC summer day than the ones they serve at Compass Coffee (and for only $4, too.)
The shop has multiple locations throughout Washington, DC. Visit their website to learn more.
All in all, DC's coffee scene is better than you'd think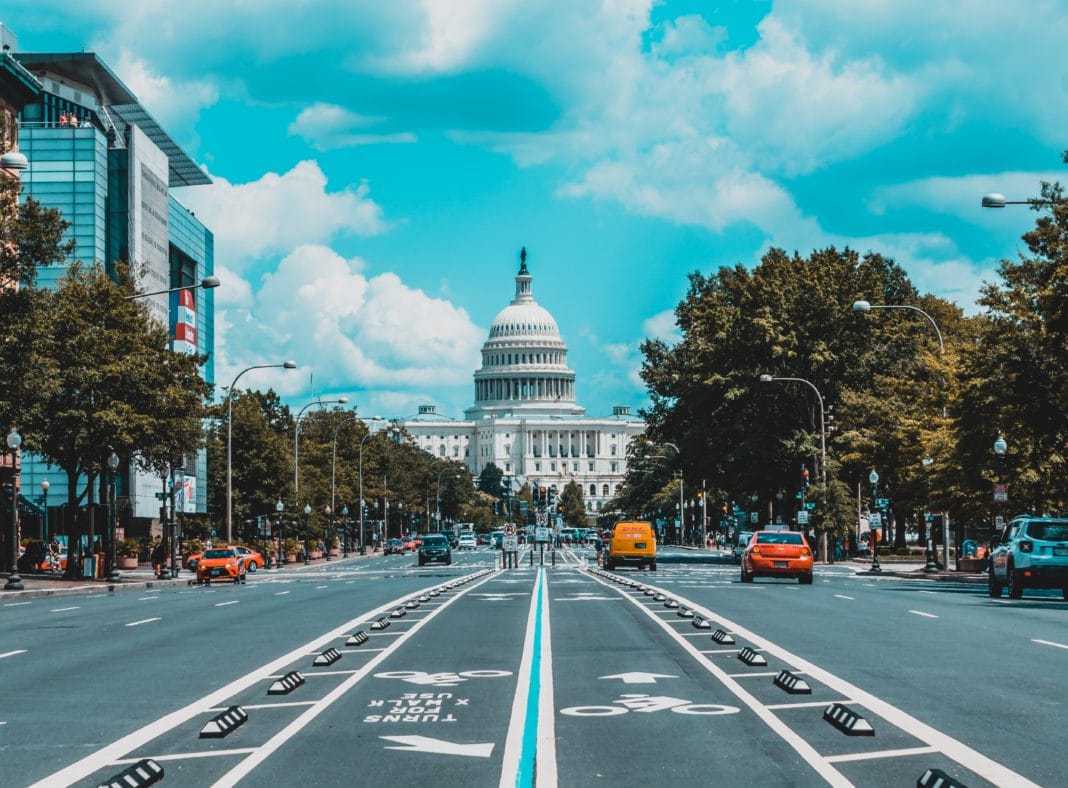 It may never beat the brews in New York or Seattle, but Washington DC's coffee scene has enough variety that you're bound to find a shop you'll love. And if for some reason you'd rather visit a Starbucks or Dunkin Donuts for your morning brew than a delicious independent coffee house… Don't you worry. Washington, DC has plenty of those too.
Before you jump in to a full day of sightseeing, museum hopping, and monument touring with the family, drop of at one of the best coffee shops in DC to get a great start to your day!
Related Article: The 10 Best Coffee Shops in Chicago: Get Your Caffeine Fix