Ah, the city of love. If anything, Paris is iconic. Boulevards are lined with instantly recognizable monuments, trendy boutiques, and waves of art galleries. Around each turn, enticing eateries beckon you with mouth-watering smells and the promise of hot coffee. For newcomers, finding your way around in a city this size is wonderfully overwhelming. But take it from someone who's been – the best restaurants in Paris aren't a dime a dozen.
Paris' reputation for being a culinary wonder precedes it. Whether you're seeking out a cozy neighborhood bistro or an elegant dinner scene, you'll find that every establishment carries its own exquisite presentation and quality. Patisseries, boulangeries, and cheese shops line crowded market streets. Swing by and grab some goods. While you'll have your time at the best restaurants in Paris, a quick picnic in the park never hurts.
Dining in Paris is much more than fries, baguettes, and cheese though. That's only just the beginning. In this international food mecca, you can expect to find a kaleidoscope of quality eats at all ends of the spectrum. From classic must-see spots to up and coming gourmet dining places, we've got you covered. Let's go explore the best restaurants in Paris.
Now's the Time to Travel
May is a great time to travel to Paris. There are some pretty good travel deals you can score. Spring and early summer are the best times for sunny days and balmy breezes in the city of love. City parks are teeming wildflowers and cafes buzz with a new energy. Warmer days replaced sporadic April showers and there's also a lot of fun local holidays to experience.
France recently celebrated the end of WWII, known in Europe as VE Day. May 19th marks the annual Nuit des Musees when over 1,000 recreational facilities and institutions keep their doors open past midnight for free along with bonus shows and concerts.
Here Are the Best Restaurants In Paris
Most Chic Places to Dine (aka a lot of Michelin Stars)
We're going to start off our list with one of the ritziest places in the city. Go big or go home, right?
1. Le Qinc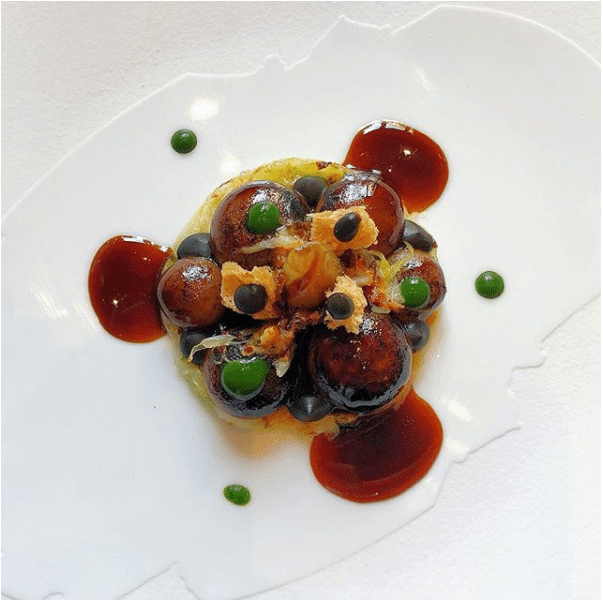 Credit: La Qinc / Facebook
With three Michelin stars awarded from 2016-2018, 5 toques, and a rating of 19.5/20 in the prestigious Gault and Millau Guide, Le Quinc's reviews speak for themselves. In fact, it is the only restaurant in the city to receive all three types of accolades.
Located inside the Four Seasons Hotel, the restaurant features a stunning dining room, exquisitely-dressed in grey and gold. From the tablecloths down to the silverware, the finest details were created specifically for dining in this legendary hotel. The menu draws upon classic French culinary techniques and also embraces some newer cooking styles as well.
Only the finest, freshest ingredients are used. If you are traveling with the family, a children's menu is available upon request. We highly recommend making reservations in advance. After all, this is one of the best restaurants in Paris.
2. Pierre Gagnaire
Credit: Pierre Gagnaire / Facebook
This is truly one of the best restaurants in Paris. "The kitchen is not measured in terms of tradition or modernity. We must read the tenderness of the cook." Located on 6 Rue Balzac inside of the Hotel Balzac, you'll find the lovely Pierre Gagnaire restaurant. This flagship eatery specializing in modern cuisine is a standard bearer for iconic cooking across the globe. In the words of the visionary chef Gagnaire, his ethos is "facing tomorrow but respectful of yesterday."
This combination of embracing the future while giving a nod to the past results in a rare passion and quality. Due to its popular demand, we highly recommend making reservations as early as possible. You can email concierge-balzac@jjwhotels.com or dial +33 1 44 35 18 00 to make an entry. Please keep in mind that the restaurant is closed on Saturdays and Sundays.
3. Epicure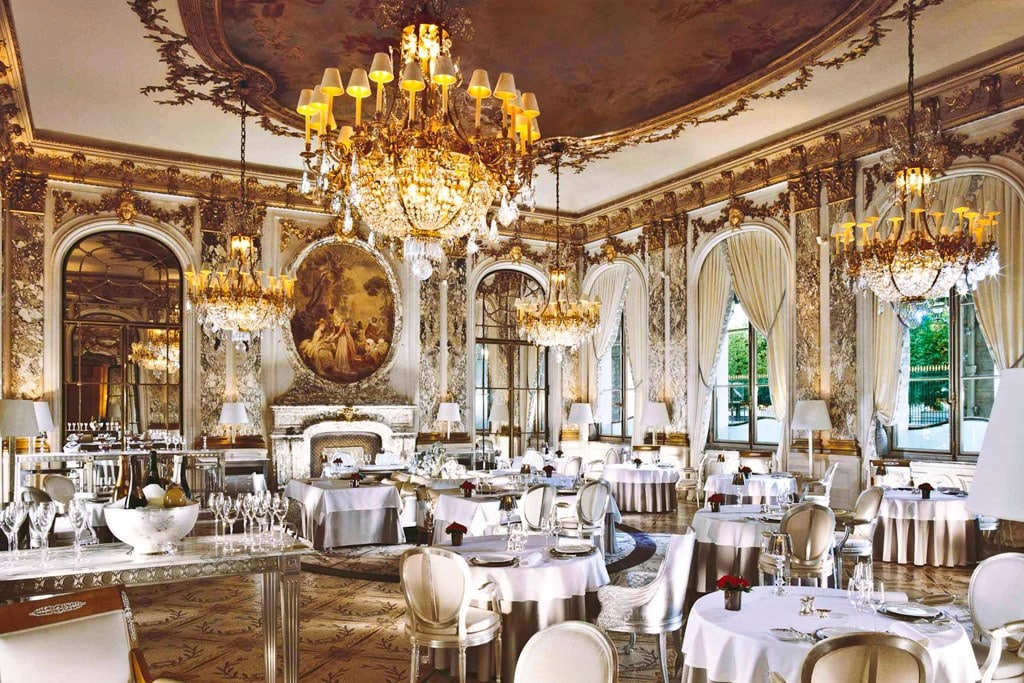 Credit: Epicure Paris
Indulge your foodie cravings at a champion of French cuisine. At the Michelin 3-star restaurant Epicure, the celebrated chef Eric Frechon has created a temple of gastronomy true to the French culture. Take it from us. The macaroni stuffed with black truffle, artichoke, and foie gras topped with aged Parmesan is a culinary wonder integral to your experience. This restaurant can be enjoyed any day of the year, with tables laid out in an exquisite garden setting during the summer. Please visit their website for hours, dress code information, and availability.
4. L'Abeille
Paying homage to Napoleon's favorite emblem (the bee), this French gastronomic restaurant offers guests high-class cuisine in an enchanting setting. Situated next to a lush green garden, it reveals not only new emotions through aesthetics and flavors but also hallmarks of culinary excellence through delicious menu options.
As a two-star Michelin guide restaurant, you know you'll be getting nothing but the best. The seven-course menu includes wonderful a la carte, dessert, and extensive selections of wine from around the world. Information regarding hours, dress, code, and availability can be found on their website. Smoking is not permitted.
5. Le Grand Vefour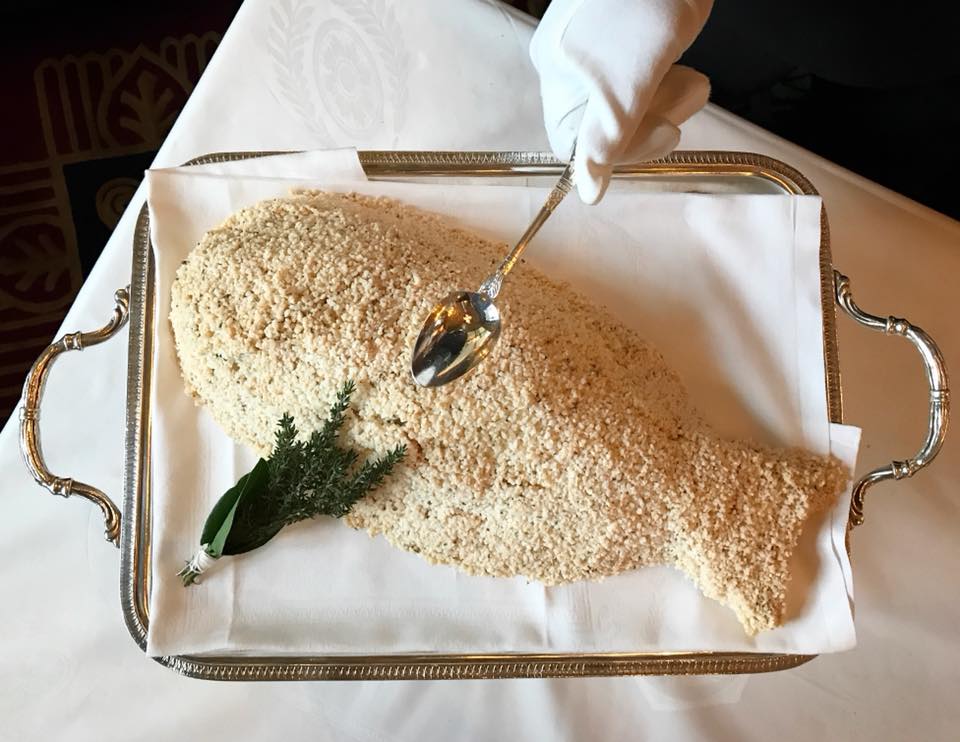 Credit: Le Grand Vefour / Facebook
Indulge yourself at Le Grand Vefour, one of the best restaurants in Paris. This 18th century "art decoratif" has been one of the finest gourmet rendezvous of the Parisian political and literary societies for more than 200 years. Needless to say, it's a trip throughout history. But prepare yourself. The menu is incredibly steep.
Are you ready? If you want to discover the top selections from Guy Martin's cooking, it's going to set you back 315 Euros – per person. Classics like duck foie gras run about 98 Euros. You get the picture. Come with your wallet stacked ready to spend the big bucks. For a full list of prices, booking, and contact information, check out their website for full details.
Coolest Restaurants
6. Astrance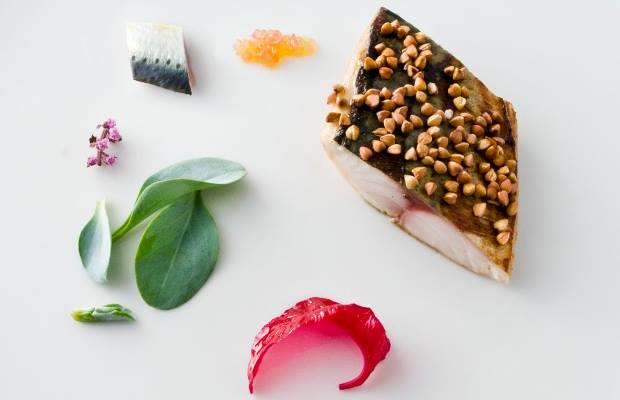 Credit: Astrance / Facebook
Here, the kitchen reinvents itself seemingly every day. House chef Pascal Barbot spent five years working under the renowned Alain Passard at L'Arpege in Paris. But his resume doesn't end there. Some of his stints also include cooking in the South Pacific with the French Navy and heading up the Sydney restaurant Ampersand. It's Barbot's eclectic experience that gives Astrance its unique culture.
Peruse the menu's fascinating array of options. Typical French cream and butter sauces are used in moderation. Instead, most dishes are accented by exotic flavors such as verjus, miso, and Chinese dates. Every plate is served up with the utmost attention to detail and artistry. Sliced tuna is juxtaposed with rows of vegetables, flower petals, and almond milk and bergamot coulis.
The wine is every bit as exquisite as the food. Astrance's manager and co-owner, Christophe Rohat, sources only the finest natural, organic, and dynamic wines from across the country. We're going to be upfront with you. Since this is one of the best restaurants in Paris, it can be very difficult to secure a table. Reservations are only taken over the phone and we highly recommend booking your table at least several months in advance. Yes, we know it's crazy.
7. Breizh Cafe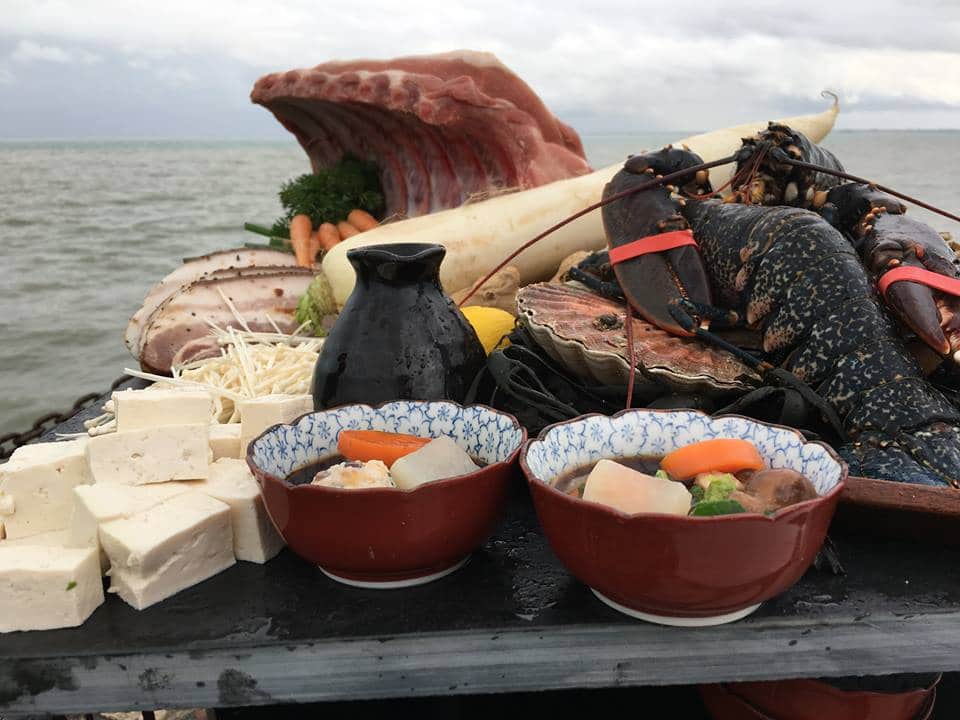 Credit: Breizh Cafe / Facebook
Go here for your sweet and savory French crepes pick. While it's a simple and cozy space, Breizh Cafe is one of the best restaurants in Paris. Breizh brings together the best flavors from Brittany with a unique Japanese refinement. There's no wonder it's packed every day come lunch. For saving savory, we highly recommend ordering the buckwheat crepe with smoked herring and Saint-Malo potatoes. If you're in the mood for something sweet, order the dessert crepe with banana and caramel along with any one of the ciders on the menu.
Be prepared to scramble for a seat though. Or better yet, get there a little early if you can. The line is hectic. Breizh Cafe is beloved by the locals and tourists alike. Check their website for information pertaining to open hours.
8. Maceo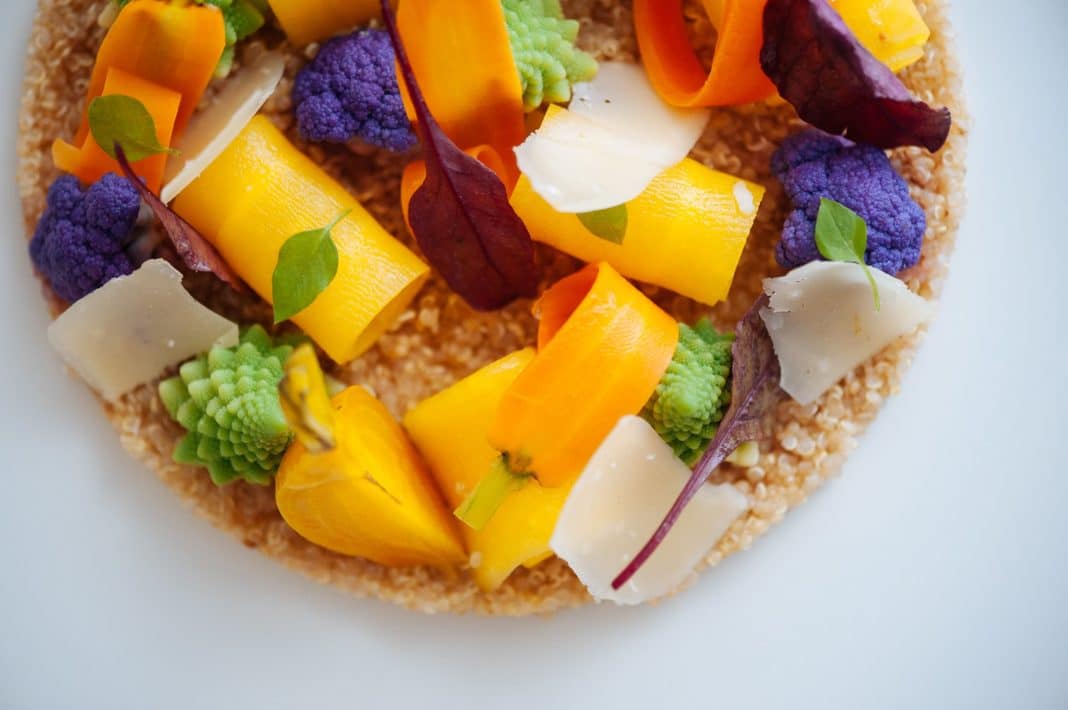 Come and enjoy an inventive and modern cuisine right in the heart of Paris. Located inside the Palais Royal, this elegant and friendly cuisine offers lush garden views and a perfect place for a quiet rendezvous or business lunch. What we love most about this cuisine is how it draws inspiration from seasonal products. No matter what you order off the menu, everything is fresh, spontaneous, and light. The wine selection is just as superb. More than 30 years of varieties of French and other European blends await you in a wine cellar with over 10,000 bottles. Yes, you read that correctly.
9. Astier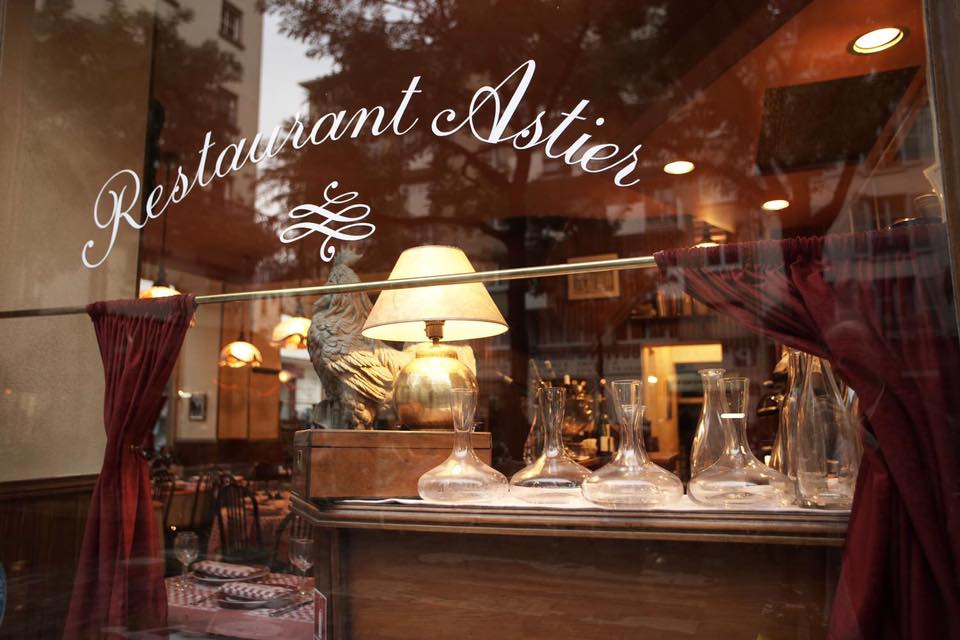 You'll be hard-pressed to find something not to like about Astier. This out of the way bistro tiere keeps the torch alive of French cuisine done right. At 35 Euros, the pre-fixed menu isn't cheap. But you do have four or five selections in each category. For more extensive selections, you can opt for the a la carte options. One of our favorite dishes is the warm brandade (whipped salted fish and potatoes).
Call us crazy but one of our other favorite things on the menu was their massive cheese plate. We mean, come on. Who doesn't want a giant plate of French cheeses all to themselves? Here's a pro tip: Try as best as you can to save room for dessert. The rice pudding is nothing short of mouth-watering.
10. Shakespeare & Company Cafe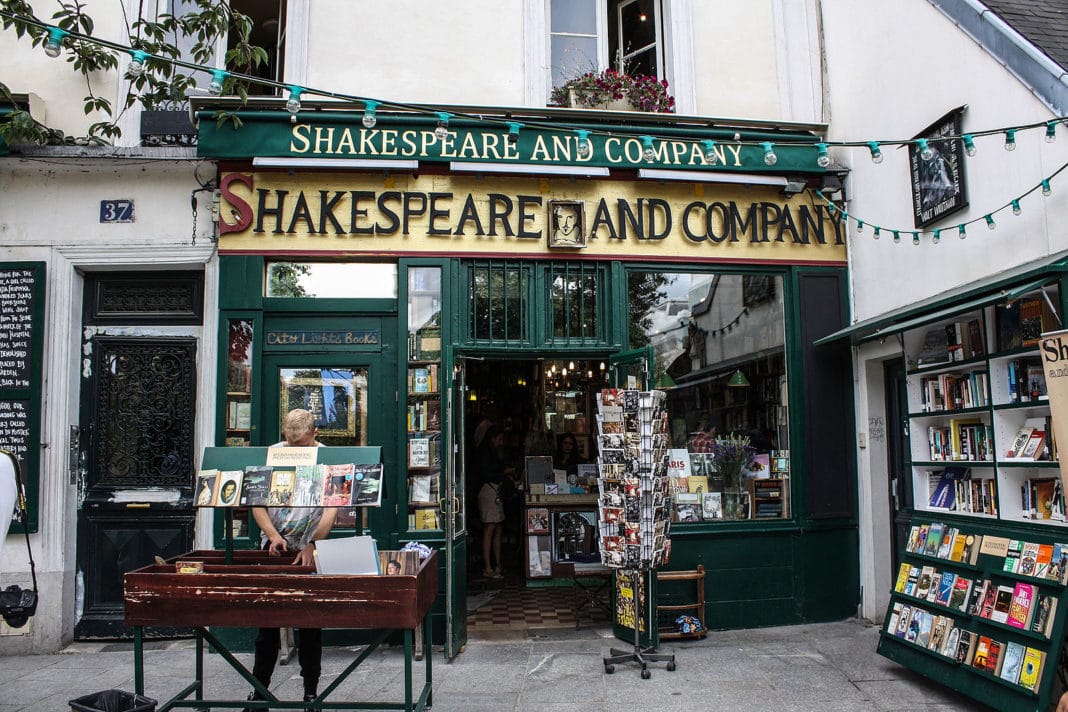 This cafe is connected to one of the city's oldest bookstores, that's been open since the early 1920s. Head up the small wooden staircase to the antique room, where you can grab a window seat and read from some vintage collection novels.
While the cafe opened in 2006, it has quickly become a hit. It's the perfect pit stop for breakfast or an afternoon pick me up. Here, you'll find freshly-baked bagels, croissants, and hearty dishes like veggie stew. The bookshop cafe also offers other special treats including some of the British variety. Think scones topped with butter and jam or a savory crumble fruit pie. Why not pair your pastry with a cup of hot coffee or a chai latte? Just saying. The sticky chai (infused with ginger honey) is the first of its kind in the city.
11. Eat In the Eiffel Tower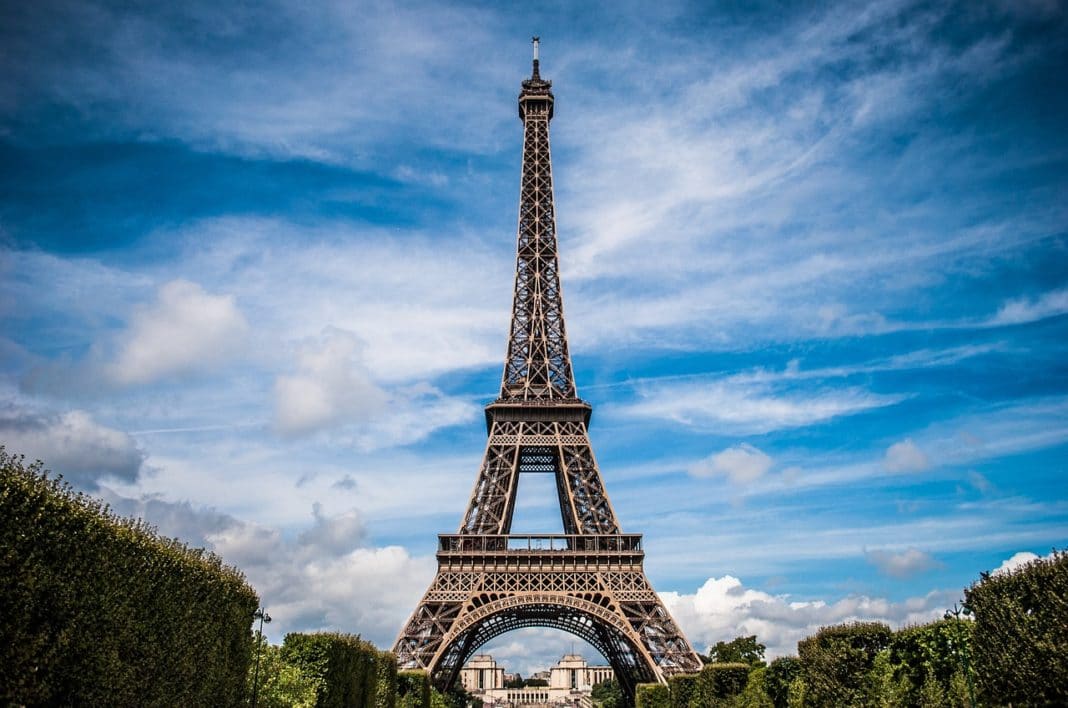 Okay, this is touristy but who cares. Eat in the Eiffel Tower. If you ask us, we'd rather have a bird's eye view of the city than one of the Eiffel Tower itself. Book a reservation for lunch or dinner in one of the iconic landmark's several dining options. Among these include 58 Tour Eiffel, Le Jules Verne, Champagne Bar, Gustave Eiffel Room, and Buffet Tour Eiffel.
12. Derriere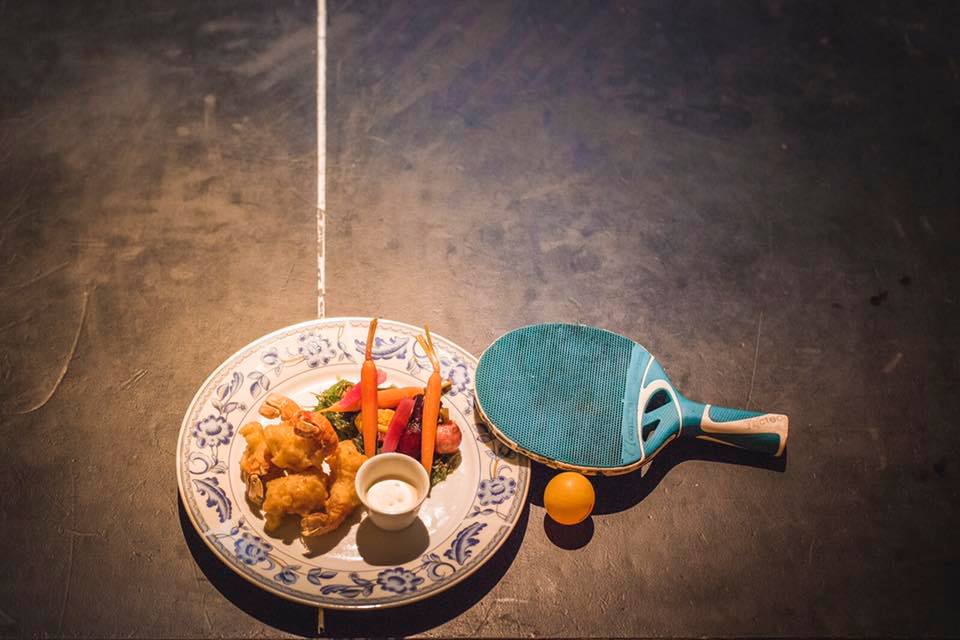 Credit: Derriere / Facebook
This is truly one of the best restaurants in Paris. If it wasn't for the line of people on the sidewalk, you probably wouldn't know this little place exists. The unmarked door lends to a rustic, exclusive feel. Open the door and walk through a courtyard and into Derriere. Dining here feels like you're enjoying a meal at a friend's boho-chic home. Choose to sit in a living room style space next to a ping pong table, a bedroom with a mosaic mirrored ceiling on the edge of a mattress, the den, and a host of other home-style rooms.
Here, Chef Lionel Delage brings traditional French culinary nous to his modern cuisine. The menu offers up simple but delicious eats including fresh salads and hearty eats like beef bourguignon. All in all, we think you're going to love the rich wines, great service, and satisfying eats.
Go On A Culinary Adventure to Visit the Best Restaurants In Paris
We hope you enjoyed reading our list of the best restaurants in Paris. From Michelin star dining to unique hole in the wall eateries, amazing eateries come in all forms and sizes. There are so many great places here to grab a meal. Go on the ultimate culinary adventure and push yourself to try some new types of food. After all, that's what a true culinary experience is all about. Where better to indulge than in the city of love?
Do you have any questions or comments for us? If so, we would love to hear them. Please feel free to leave us a message below. We will be sure to get back with you soon.
Related Article: Best Places to Visit in France: Scenic Beaches to Alpine Towns