With all the places to see and things to do, we thought you could use a little help along your journey. That's why we're here to tell you all about the best places to visit in France. While Paris is a must, let's avoid most of the cliches, shall we?
Did you know that France is the world's most popular tourist destination? For the past twenty years, it has drawn an annual 82 million foreign visitors, flocking to see the Eiffel Tower, Louvre, and Champs-Elysees. People from all walks of life are drawn to its sophisticated culture, iconic landmarks, exquisite wine, and fine dining. While all of these things are lovely, sometimes the hidden treasures are the best. You'll be hard-pressed to find a secluded beach in France. But, we can certainly try. Let's explore the best places to visit in France.
Cobblestone streets, quaint cafes, and gorgeous landscapes await you. Known for its world-class art, architecture, and gestures of romance, there is no shortage of beauty in France. This country's cultural repertoire is nothing short of amazing. Famous landmarks, museums, and history lie around every turn.
Here Are the Best Places to Visit In France
Okay, okay. We know you're waiting. Without further ado, here are our pics for the best places to visit in France.
1. Calanques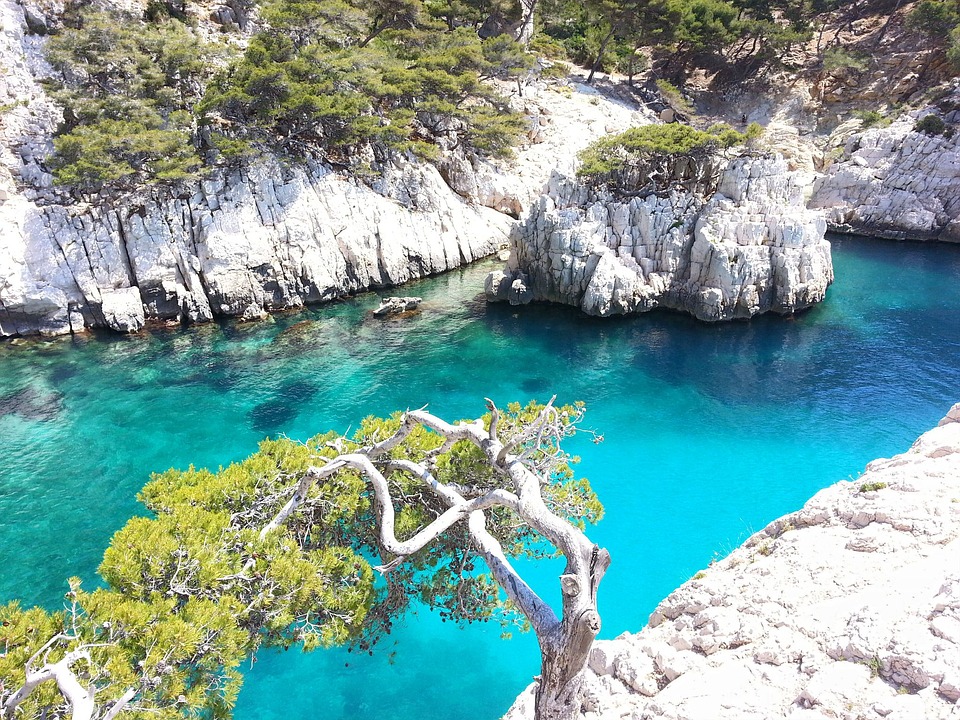 We're convinced this is the most gorgeous spot in all the Mediterranean. From the cosmopolitan city of Marseilles to the pleasant town of Cassis, some 20 kilometers of rugged white cliffs provide a stark contrast to the vibrant turquoise water below. Come soak up the sun and take a hike.
From above, you'll get a bird's eye view of small, idyllic beaches and private sea coves. Make sure you take lots of pictures and keep your eyes open. The promontories have been protected since 1975 and are home to a wealth of fauna and flora, 900 plant species to be exact. The Bonelli's eagle, Europe's largest lizard, and the longest (Montpellier) snake also call this paradise home. Calanques is one of the best places to visit in France. 
If you'd rather explore the waters than see them, consider renting a kayak or canoe from a local shop or just enjoy the water the classic way – taking a dip.
2. Bordeaux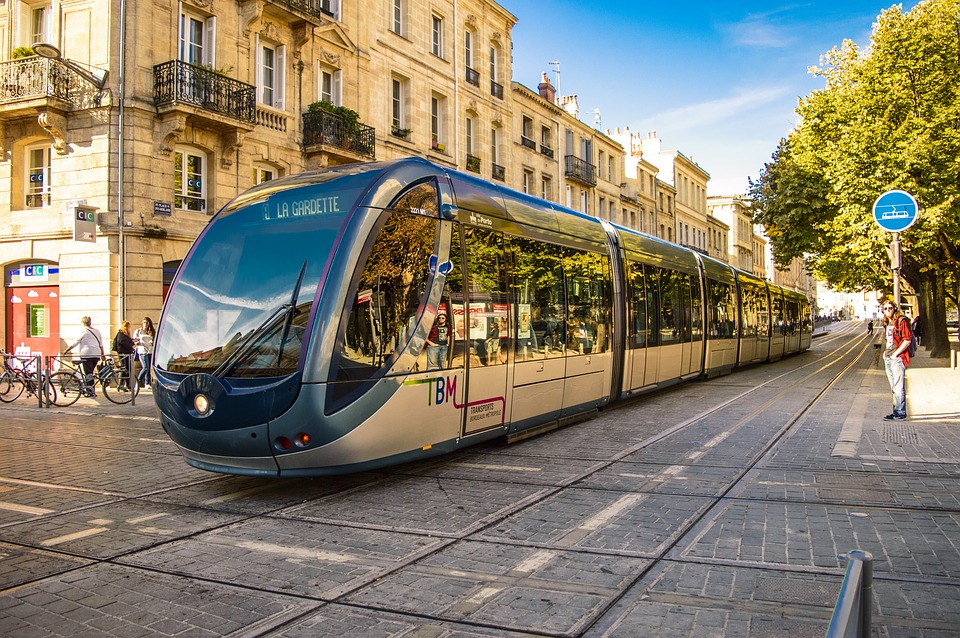 Indulge in a glass of Chardonnay in the world's wine capital. Welcome to Bordeaux, located in the Aquitaine region of southwestern France. Here, the city is teeming with lively bars. You've probably seen Bordeaux written up on all of the travel blogs as one of the best places to visit in France.
Especially popular, is Rue Parlement Saint Pierre, a spot famous to both guests and locals alike looking to treat themselves to a delectable beverage. But before you get drowsy off the local wine, take a stroll along the banks of the Garonne River and dip your feet in the Miroir d'Eau at Place de la Bourse. This is a famous spot among locals for picnicking and catching up on a little Vitamin D.
 Afterward, work your way up to the Pey-Berland Tower, where you can overlook all of the city's colorful houses and gorgeous river canals.
3. Arcachon Bay
Looking to take a day trip? Just a short drive away from Bordeaux lies the charming seaside town of Arcachon Bay. Known for its famous golden beaches and spring oyster harvests, it's been providing an escape for Bordelais locals ever since the 19th century. 
Perhaps the most prominent of its attractions is the Dune of Pilat, Europe's tallest sand dune, stretching a sweeping 1.5 miles along the edge of the bay. Hike to its peak, take in exceptional views of the bay, and if you're feeling adventurous, bring a board. We can't think of anything more epic than spending a day sand boarding in the west of France.
4. Lac de Sainte-Croix
One of the best places to visit in France happened by accident. Have you ever wondered what France was like in the 1970s? This beautiful creation will give you a little glimpse. Created alongside the construction of a dam, this stunning blue lake, and sandy beaches are always popping up on the feeds of social media influencers and travel pages. Framed by the surrounding mountains and linked to gorgeous natural waterways, you'll have a hard time believing you're cruising in a boat in a man-made creation.
5. Villandry Gardens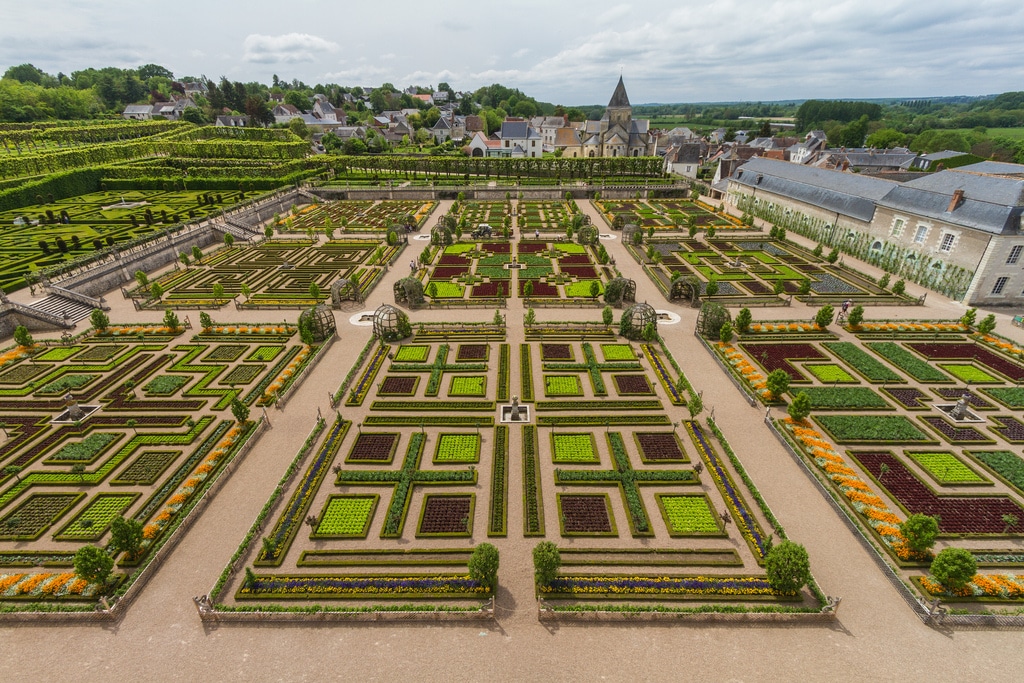 Have you ever heard of the Instagram page Accidentally Wes Anderson? If not, you should definitely check it out; it's one of the best places to visit in France.  The page is filled with epic photos from photographers all around the world and each one has two characteristics in common – a passion for color and symmetry. This garden easily looks like it should have been featured in a Wes Anderson film itself. I mean come on, have you seen anything more aesthetically pleasing? 
Once owned by Napoleon's brother, this historical relic draws more than 300,000 people to visit its lush gardens every year. Its ornate Renaissance style surely is a specimen, at least for those who know a thing or two about gardening. Superb geometric shapes, colorful decorations, and diverse flora have earned it a spot as one of the most beautiful places in all of Loire Valley.
6. Nice
>
Deep blue waters make an elegant backdrop for the paradise that is Nice. Everyone knows this is one of the best places to visit in France. Breathe in the fresh Mediterranean air as you stroll along the Riviera or get an eagle eye view of the city below from atop Castle Hill. At the heart of the city lies the pedestrians-only Place Rossetti, with a grand fountain, colorful buildings, and the beautiful cathedral giving off a provincial feel. 
When you're done exploring, pull up and chair and soak up the sun at one of many pebble beaches. While you're in Nice, don't miss the charm of St. Jean Cap Ferrat, where you can spend a day swimming in the refreshing waters as well as visiting historical monuments.
7. Saint-Malo, Brittany
Come and visit Saint-Malo in Brittany. Built upon a rocky island, sits one of the most famous fortress cities in all of Europe. If you're looking to explore historical sites, this is one of the best places to visit in France. While you're there, you can't miss out on the local delicacies. Indulge in sweet crepes, savory kouign-amann, and rich cups of cappuccino. After you've eaten your fill in baked goods, hop on the ferry to Dinard, a neighborhood with a distinctive atmosphere you have to experience for yourself. Last but certainly not least, the view from Saint-Malo is best you could get to understand the city structure.
8. Annecy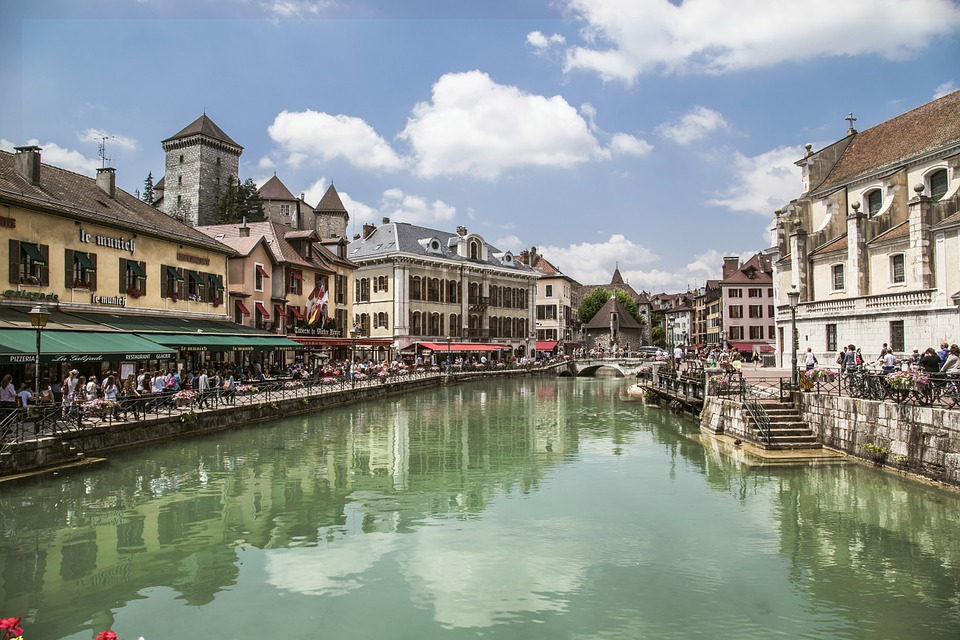 It's no wonder Annecy is called the pearl of the French Alps. While it might not be the first city that comes to mind when you picture France, this hidden gem has yet to disappoint. Nestled away in southeastern France, Annecy sits at the edge of a crystal clear lake overlooking snow-capped mountains. This place is something out of a dream. You'll seriously have to pinch yourself just to believe you're actually there. 
Rent a bike and spend the day cycling around the scenic town or take a nap among the daisy-dotted grass. When you're ready to take a dip, the refreshing lake offers cool, relaxing waters. In the summer, there are plenty of activities to keep you busy. Stroll along the canals, shop at the market and eat plenty of raclettes.
9. Colmar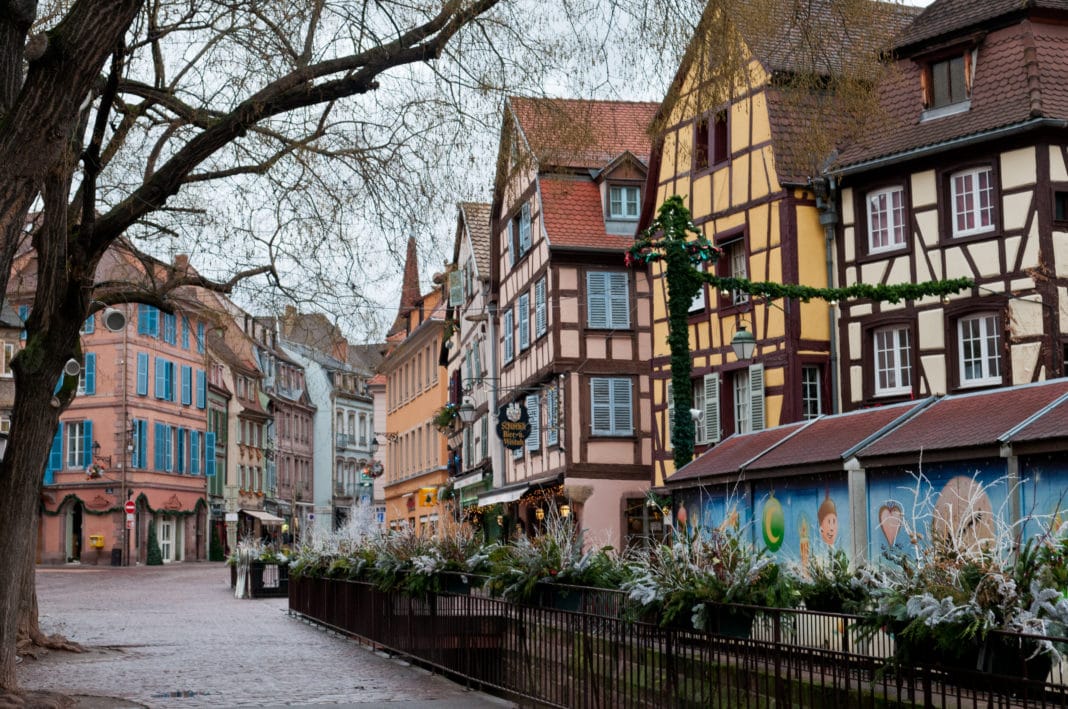 We told you the best places to visit in France would be off the grid. While most tourists flock to Europe in the summer, the prime time to visit Colmar is actually in the winter. Like Strasbourg, Christmas here is very traditional and authentic. The whole town is transformed into a snowy, fairytale village that looks like something straight out of a storybook. Just don't forget to stop by the Maison des Tetes (House of Heads), a quirky creation crafted in German Renaissance style.
History buffs will love the cobblestone streets dotted with timbered medieval and early Renaissance period constructions. On Central Place de la Cathedrale, the Gothic 13th century Eglise Saint Martin Church stands in stark contrast to the rooftops of colorful cafes and cottages. Perhaps the best part of your exploration will be found towards the end of the road. Winding through the town is the Alsace Wine Route where travelers will be pleasantly surprised to find several local vineyards along their way.
10. Chamonix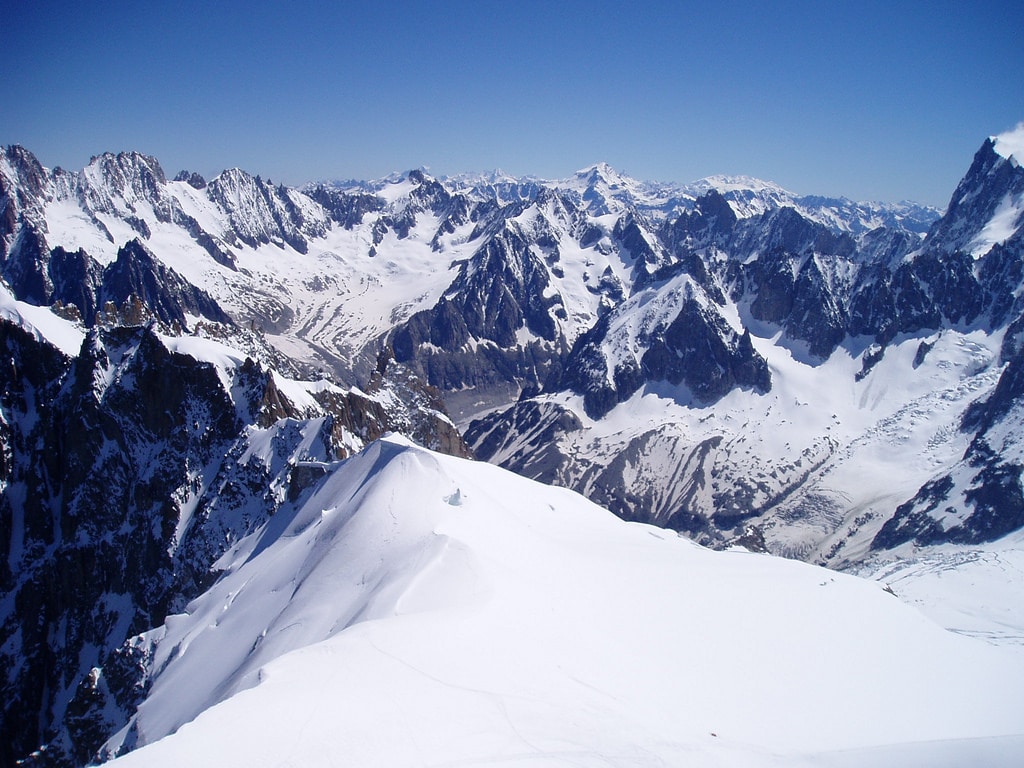 Enjoy a nearly perpetual hot chocolate and sweater season in the mountain town of Chamonix. For avid skiers and outdoor enthusiasts – or simply for nature lovers, this is one of the best places to visit in France. They say once you've visited once, you'll just keep coming back. This is just the destination you need.
Located in the heart of the Rhones alpine region, this town is bustling with life, laughter, and locals who really (really) love their chocolate fondue. We don't know about you, but we'll gladly welcome some sweet snacks and a piping hot cup of mulled wine after a day out on the slopes.
Book Your Dream Vacation and Explore the Best Places to Visit in France
Now that we've let you in on some of our favorite places, you'll have so many things to see when you visit France. Take it from us, while Paris is lovely, you'll experience a more authentic culture and unbelievable sights in the locations that are just a little off the grid. The best treasures are the ones you really have to look for. 
Related Article: The French Riviera: 5 Must-See Places While You're There