Looking to get out of town? Consider taking one of these 15 day trips from Boston.
The city of Boston, Massachusetts is an amazing place to live. As one of the oldest cities in America, Boston is chock-full of fascinating history, beautiful parks and landmarks, baseball, art, delicious food – you name it. There is a never ending amount of culture to explore in Boston. But as with any city, it can be nice to get out of town every once in a while. If you're experiencing a little cabin fever in Beantown, consider shaking things up by taking one of these 15 day trips from Boston.
Boston is just a stone's throw away from some pretty incredible sights and cities along the East Coast. From beaches to mountains to cozy small towns, all of these day trips from Boston have something different to explore. 
Get ready to learn about some of the best day trips from Boston – and some of them are only an hour away.
1. New York City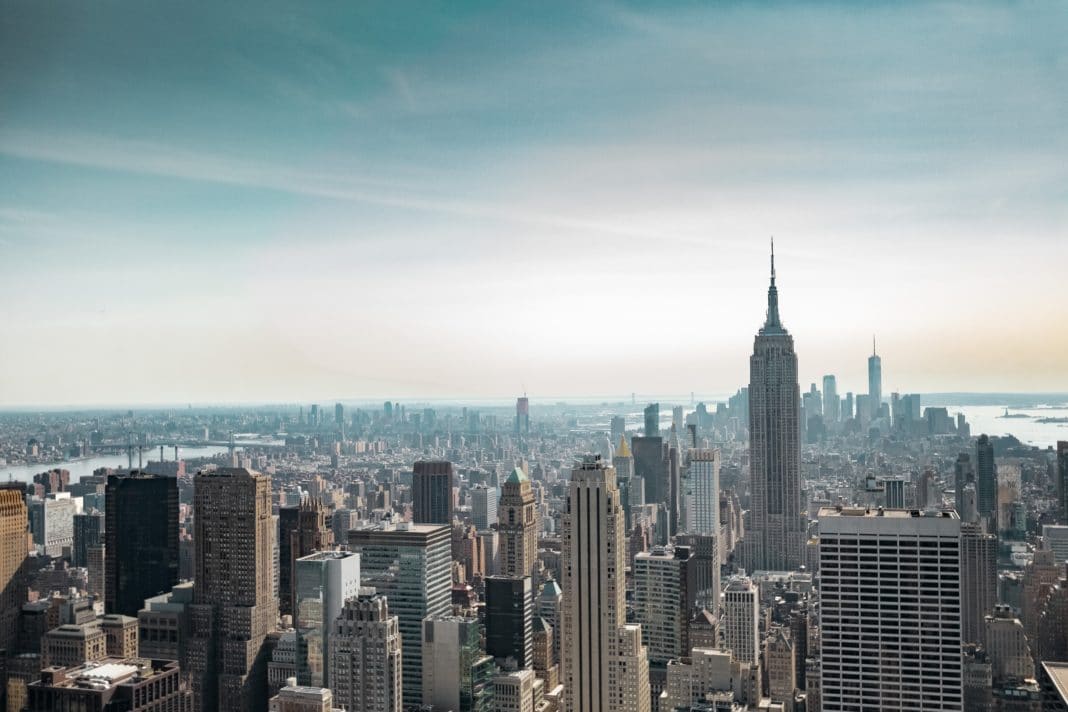 One of the best and most popular day trips from Boston is New York City. It is quite possibly one of the most iconic, lively, and busiest cities in the world. And if you're from Boston, you're only a few hours away by car or train. Which makes New York City one of the top day trips from Boston. 
If you've never been the New York City before, you can easily check everything off your sightseeing bucket list in one day. There's the Empire State Building, the Statue of Liberty, Times Square and, of course, digging in to a slice of New York pizza. Don't forget to grab some New York bagels on your way out! 
If you're already familiar with the city, then you may want to spend your day at a museum. Or seeing a broadway show. It's also never a bad time to just relax with a book and a picnic and Central Park. Whatever you choose to do, you are going to have one of the best day trips from Boston. 
2. Cape Cod, MA
Cape Cod is just over an hour's drive away from Boston. And that makes it one of of the most ideal day trips from Boston, MA. If you aren't into the hustle and bustle of NYC, then Cape Cod is a more relaxing, laid back option to you. Of course, there are the many gorgeous beaches of Cape Cod to choose from. But if you're planning your day trip during cooler weather – or you simply aren't a beach person – there are plenty of other things to do in Cape Cod while you're there. 
You can start your day by touring the Nauset Lighthouse. This little lighthouse is the most famous of all the Cape Cod spots. If you're up for some outdoor activity, you may want to consider the Cape Cod Rail Trail. The 22 miles of trail wind through the peninsula and six of the delightful small towns. Open from sunrise to sunset, you can ride a bike, walk, run, or horseback ride along this trail.
There is also Sandwich, Cape Cod's oldest village, which is always fun to explore. The town is also home to the famous Glass Museum. And you can't take a day trip to Cape Cod without treating yourself to some seafood while you're there!
3. Martha's Vineyard, MA
Credit: Flickr
The great thing about living in Massachusetts is that there are so many day trips from Boston you can take without ever leaving the state. Take Martha's Vineyard, for example. The vineyard is only about a two and a half hour drive away from the city. This makes it one of the most perfect day trips from Boston. And once you reach Falmouth, the ferry to the vineyard takes only about 35 minutes. 
Once you are on land, you can visit the gorgeous historic New England neighborhoods. There are the cozy gingerbread house cottages in Oak Bluffs to see. Not to mention the many gorgeous lighthouses and beaches all across Martha's Vineyard. Did you know that Edgartown is known for whaling? It's another small town in the vineyard that is so worth seeing. 
If you want a little bit of activity during your day trip, you can hike along the Gay Head Cliffs. End your day at the Martha's Vineyard Chowder Company or Larsen's Fish Market before heading back home.  
4. Newport, RI
Newport, Rhode Island is only an hour and a half away from Boston by car. And as the smallest state in the U.S. it only takes 45 minutes to drive from coast to coast! Therefore you could use your entire day trip driving all across Rhode Island, literally. But we suggest making better use of your time than that. Take this opportunity to check out all of the incredible things that Newport, Rhode Island has to offer. 
The Classic Coast has nine quaint, historic towns that all share a historic New England charm. If you're looking for classic Colonial architecture and breathtaking New England landscapes, you can find both in Newport. If you're only in Newport for a day, take advantage of Rhode Island's beautiful coastline. But if you want to see more of the city, kick off your day trip with a tour of the Gilded Age Mansions.  
There is also a slew of museums, cafes, restaurants, and driving tours to check out. So do yourself a favor and carve out a day to visit the great city of Newport, Rhode Island. It will be one of the best day trips from Boston of your life. 
5. Mount Tom State Reservation, MA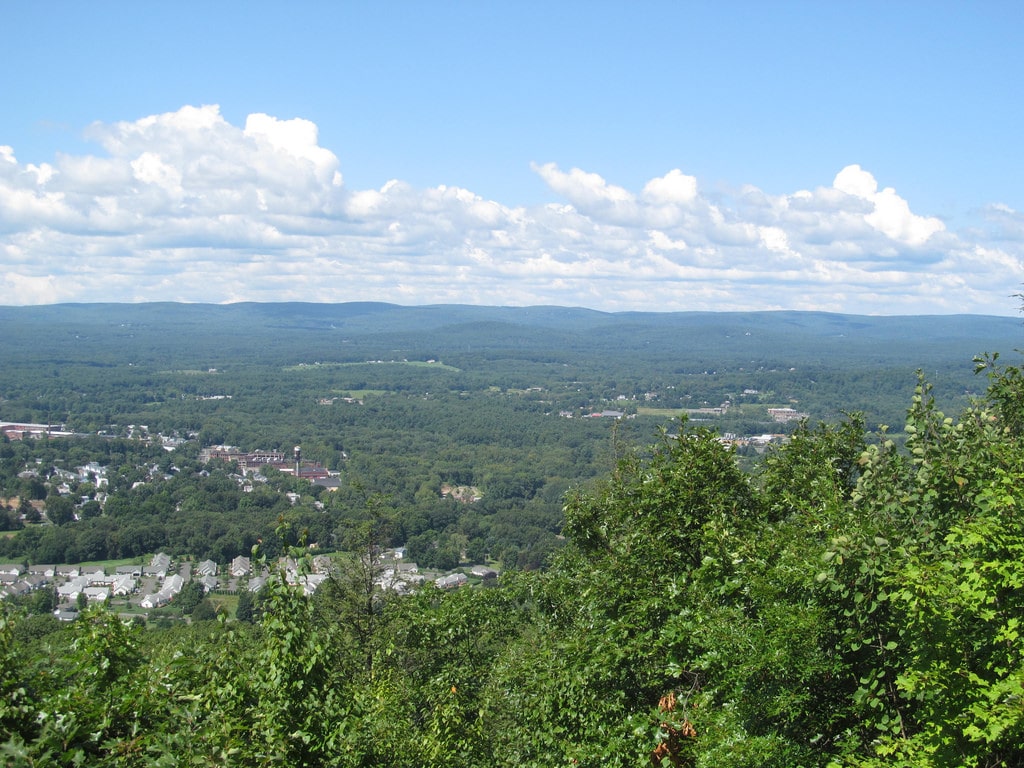 Credit: Flickr
Less than two hours away from the city, Mount Tom State Reservation is another one of the best day trips from Boston to take. It has been a popular getaway from Boston for more than a century now. People visit Mount Tom to escape from the business of city life and breathe in fresh, mountain air. The reservation encompasses the Mount Tome Range and is located in the Connecticut River Valley region of Massachusetts. Visitors often go to Mount Tom to take in its rugged, mountainous scenery made up of high cliffs and opens valleys. 
A day trip to Mount Tom State Reservation will not be a hectic one. People use Mount Tom as a quiet getaway; an escape from the noise of it all. If you are looking for beautiful scenery, quaint small town vibes, and a little time with the great outdoors, then Mount Tom State Reservations is one of the best day trips from Boston that you can take. 
6. Salem, MA
Salem, MA is known for a lot more than its famous witch trials. It's also home to some of the finest beaches, shopping districts, museums, and restaurants in all of New England. And it's only a 40 minutes drive away from Boston. So if you're not looking to drive too far for your little getaway, then Salem is absolutely one of the best day trips from Boston for you to consider taking!
For a little outdoor activity, you can start your day trip at Dead Horse Beach. The beach can be accessed year round and is a great place to go for kayaking. If it's a little too cold to hit the shore, you can always take a hike through Forest River Park. With lots of trees, bike paths, picnic areas, playgrounds, and more, Forest River Park is a great place to spend an afternoon with the family. If you're looking for a bit more arts and culture, you can never go wrong with the Peabody Essex Museum. The museum features art from New England and around the world, including a 200-year-old Chinese House.
Still, you can't go to Salem and not look into the famous witch trials at least a little bit. If you're a brave soul, you may want to embark on one of the Salem Witch Tours. There's also the option to stroll around Witch Village, the Salem Witch Museum, or the famous Witch House, which is Salem's only building with direct ties to the witch trials.
7. Stellwagen Bank National Marine Sanctuary
Credit: Wikicommons
One of the most incredible parts of living in New England is that you are in close proximity to great whale watching sights. Take Stellwagen Bank National Marine Sanctuary, for example. It has one of the world's most biologically productive ocean environments. And that makes it one of the best places to spot whales. In fact, whale sightings tend to be so frequent here that many whale-watch cruises will offer a free trip if no whales appear during the trip!
The most common whales to see on whale-watch cruises are female humpback whales. These whales frequent this area because the Stellwagen Bank is rich in delicious food. Therefore it is a great area to teach their young how to hunt. In addition the humpback whales, tourists also have a good chance of seeing Atlantic white-sided dolphins, harbor porpoises, seals, and many other species. 
Researchers from the Whale Center of New England accompany the three-hour Boston Whale Watching Cruise. They explain to visitors whale habits, conservation status, and how they track the whales in the wild. This is easily one of the most educational day trips from Boston you can take. If you love wildlife, this is a trip for you. 
8. Newburyport, MA
If you love beautiful architecture and towns with rich history, this is one of the best day trips from Boston for you to take. The Newburyport Historic District, which makes up most of downtown Newburyport, is listed in the National Register of Historic Places. The downtown area is full of beautiful Federal period architecture. You will find many famous and notable buildings and sites there, including Cushing House Museum and Garden, which was once home to statesman Caleb Cushing.
For a taste of local history, visit the Custom House Maritime Museum. And if you make your way to Newburyport during the summer months, the Waterfront Park and boardwalk is a great place to go, as you will often find concerts and other events going on in the area. 
If your objective of this day trip is to shop, dine, and relax, then you're in luck. Newburyport is home to some incredible boutiques and shopping districts. If you're a music buff, you'll definitely want to check out Dyno Records on Middle Street. For travelers coming to Newburyport with children, The Dragon's Nest on Market Square is a toy store that can be enjoyed by people of all ages. A great date night could be dinner and drinks before heading to the Firehouse Center for the Arts for a show. Of course, if you're just in town for a relaxing afternoon of boozin' and cruisin', the Newburyport Brewing Company is a great place to relax with friends. 
9. Providence, RI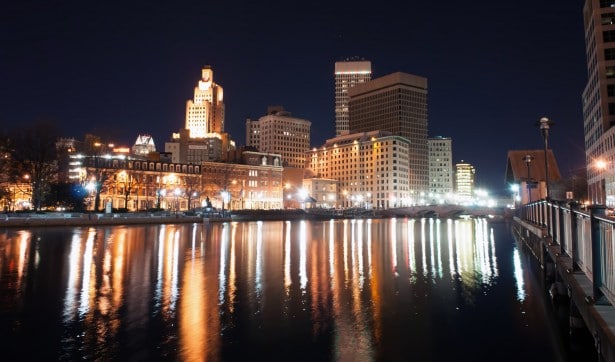 Credit: Public Domain Pictures
It's time to talk about Providence, the beautiful capital of Rhode Island. Providence is just an hour drive from the city, making it one of the easier day trips to take from Boston. There is so much to see, do, and eat in Providence! Consider starting your day at the Benefit Street "Mile of History".  As the "most impressive concentration of original Colonial homes in America," Benefit Street provides visitors and architectural history of Providence RI. At one end of Benefit Street, you will find the more conservative but elegant homes of the Federal period. 
Fun fact: the Providence River flows approximately 8 miles throughout the city. So if your feet get tired from walking around, a Boat Tour is another great way to explore. Of course, there is the RISD Museum of Art, one of Providence, RI's best kept secrets. Spread across five different buildings on the south side of the Rhode Island School of Design (RISD) campus, the museum has curated more than 91,000 works of art, including pieces from Money, Degas, and other French impressionists.
But if you go to Providence and don't take advantage of its delicious cuisine, then you're doing your day trip entirely wrong. You are in the Ocean State, after all. But you can get plenty of seafood in Boston. So consider tasting some other "must try" Providence dishes. That includes pizza strips, doughboys, and the beloved Del's Lemonade, an iconic frozen beverage that is now available in 20 states. Finally, you have to try Rhode Island's official state beverage: coffee milk. A popular drink that has been enjoyed by New England residents since the 1930s, coffee milk is made by mixing coffee syrup and milk together. 
10. Kittery, ME
For foodies looking for a relaxing day of walking and eating, head on over to Kittery, Maine for one of the best day trips from Boston you'll ever take. Your first stop in Kittery has to be Bob's Clam Hut. This rustic, beloved eatery is a sixty-year-old roadside diner with the best fried clams, dishes made from local fish, and the creamiest milkshakes you will ever have. 
Kittery is best known as home to the historic Portsmouth Naval Yard. However, the best part of visiting this small city in Maine are its hole-in-the-wall delicious restaurants. Start with Belle's on Wheel's, the most beloved food truck in Kittery. You will find just about every kind of sandwich at Belle's, from pork belly to crab cake sliders and classic Angus beef patties. You will often find the truck parked outside Tributary Brewing Company, which has a cool tasting room and live music on weekends. Interestingly, there is also Blue Current Brewery, a popular sake brewery in Kittery. 
Other must-try Kittery restaurants include MEat, Robert's Maine Grille, and When Pig's Fly Wood Fired Pizzeria. In fact, Kittery has such a wide selection of restaurants to choose from that you'll probably have to make multiple day trips here to try them all! You are sure to come back from you trip to Kittery happier and fuller than you were before.    
11. Plymouth, MA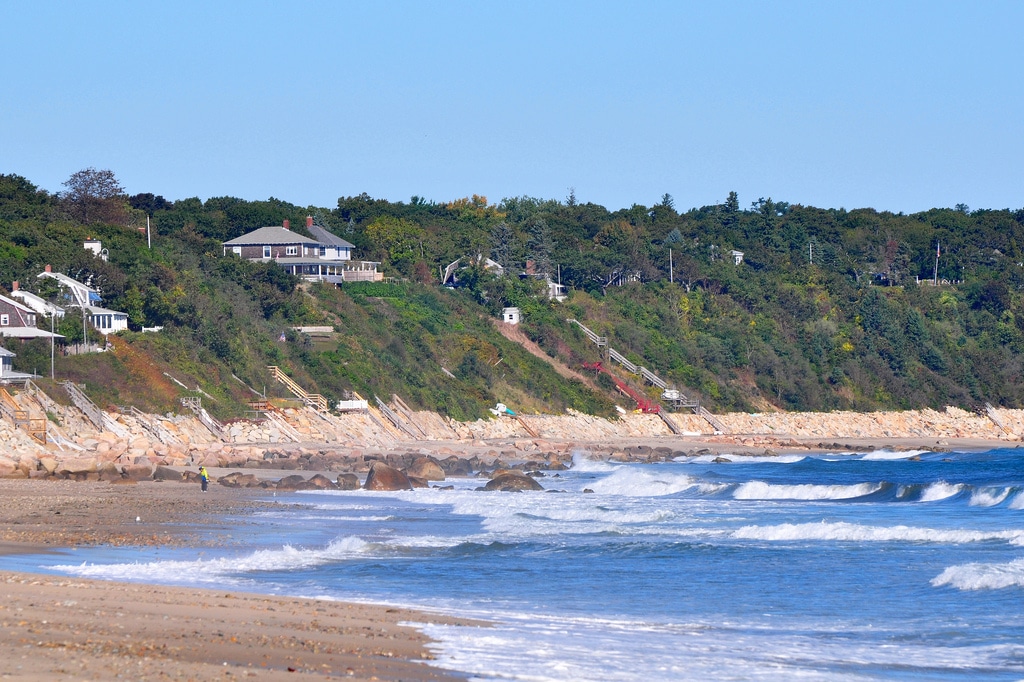 Credit: Flickr
If you're an American history buff, than Plymouth, MA is the perfect day trip destination for you. There you will find the incredible replica of the famous Mayflower floating in the harbor. You can also tour Pilgrim Hall Museum, the oldest continuously operated public museum in the entire country. Permanent exhibits in the museum includes artifacts highlighting the history of the Pilgrim and Native America story up until 1692, when the Plymouth Colony came to an end. Visiting the Pilgrim Hall Museum is one of the best ways to learn about Pilgrim history. 
You can also take a tour of Plimoth Plantation. This historical site is an exact replica of the original Pilgrim village, without sugarcoating the early interactions between the Native Americans and the English. The permanent exhibits at the plantation are dedicated to telling the "complex and interwoven stories of two distinct cultures – English and Native." 
Now let's talk about the best part: where to eat and drink. To start, grab a brew at the Mayflower Brewery, Independent Fermentations Brewery, or the Plymouth Bay Winery, which produces wine from locally-grown native grapes and berries. Get yourself a little bit of everything at the Plymouth Farmer's Market or Wood's Seafood. On your way out, be sure to stop at Bramhall's Country Store. The shop is known for the three culinary staples of Plymouth: lobster rolls, local corn, and Ben and Jerry's ice cream. 
12. New Bedford, MA
Considering it has been designated as a National Historical Park, New Bedford is one of the most history-packed day trips from Boston you can take. The city was once considered the whaling capital of the world. Therefore, don't be surprised is locals recommend you check out the New Bedford Whaling Museum. The museum has a pretty impressive collection of four full-size whale skeletons, a half-scale whaling ship, and many other artifacts on whaling and its history. 
But New Bedford's whaling history is just the tip of the iceberg. This small Massachusetts town is also home to the best scallops in the U.S. If you want to try out a casual, cozy, local spot, check out Destination Soups. Located in the heart of downtown New Bedford, this affordable spot is a great place to go to relax after taking in an afternoon of whaling history. Did we mention New Bedford is also one of the best Portuguese restaurants in the country? 
For a little activity after your meal, head over to the New Bedford Harbor Walk. The path runs along the city's hurricane barrier starting at the Civil War-era Fort Tabor-Fort Rodman.
13. The Berkshires
Credit: Flickr
Of all the day trips from Boston on this list, a trip to The Berkshires is one you may want to extend by a day or two. Located just about two hours away from the city, The Berkshires is a rural region in the mountains of western Massachusetts. The mountainous region is loved for its fall foliage and is a popular destination for apple picking and cider drinking. However, The Berkshires is a great vacation destination throughout all four seasons of the year. 
In summer, the Boston Symphony Orchestra takes up residency at Tanglewood. During the winter, tourists take over The Berkshires for skating, skiing, snowboarding, snowshoeing, and other snowy activities. In the spring you can enjoy seeing the Berkshire Botanical Garden and Bridge of Flowers, which is an old trolley-turned pedestrian bridge, come alive with color. 
Fun fact: The Berkshires region is home to Mount Greylock, the highest peak in all of Massachusetts. Visitors can choose between a wide array of hikes along the summit. There are even paths that run along the Appalachian Trail. And if you're not a fan of outdoor activities, you'l still have plenty to do and see. The Berkshires is also home to the Massachusetts Museum of Contemporary Art, the Clark Art Institute, and the Norman Rockwell Museum. All of them are worth a visit at some point during your stay. 
14. Northampton, MA
Northampton, AKA "Paradise City," is known for its quirky shops, delicious dining scene, and galleries scattered throughout town. It is the former home of historic figures like Calvin Coolidge and Sylvia Plath. So it should come as no surprise that Northampton is an artsy city just under two hours from Boston. The city has earned a lot of nicknames over the years, including the Emerald City, the Happy Valley, the most liberal city in the US, the lesbian capital of America, and the best small arts town in the nation. So if you're looking for a fun, hip little city just a few hours away, Northampton is one of the best day trips from Boston for you. 
Fun fact: the city is home to Smith's College,the top-ranked women's liberal arts college in America. You can also find the Smith College Museum of Art, where you can see both a Picasso and an exquisitely painted restroom. The city has two historic theaters, more bookstores and coffee shops than you can count, delicious breweries and wineries, and one of the best farmer's markets you will even find. If you enjoy outdoor activities, you're in luck. There are plenty of opportunities to hike, boat, bike, swim, climb, and more all throughout Northampton. 
If you can, plan your day trip to Northampton in September during the city's annual Restaurant Week. But if not, Tuesday is a great day of the week to go. Every Tuesday, area farmers and makers sell their fruits, veggies and handcrafted goods in the space behind Thornes Marketplace for the Tuesday Market. For more information, visit northamptontuesdaymarket.com.
15. Coastal Maine
For a relaxed, unplanned day trip, consider driving just 90 minutes to Coastal Maine. This part of New England is easily one of the most picturesque areas in the United States. Once you arrive, don't hesitate to treat yourself to traditional Maine lobster bake. Make sure it's decked out with clams, mussels, baby potatoes, corn on the cob – all the works! And of course, a slice of blueberry pie for dessert. 
Once you're nice and full, walk your meal off with a visit to York Island. There, you will see the iconic Nubble Lighthouse. The Old York Historical Society provides a wonderful living history museum there, including the oldest jail in America, "where history comes alive" for all ages in a school house and tavern. 
From there you can stroll along the sandy beaches all in time to still have dinner back in Boston! With more coastline than California – 3,478 miles, to be exact – it takes time to view the entire Maine Coast. But that doesn't mean you can't make the most of your day trip here and enjoy one of the best day trips from Boston you will ever take. 
Escape city life for a few hours and enjoy one of these beautiful days trips from Boston.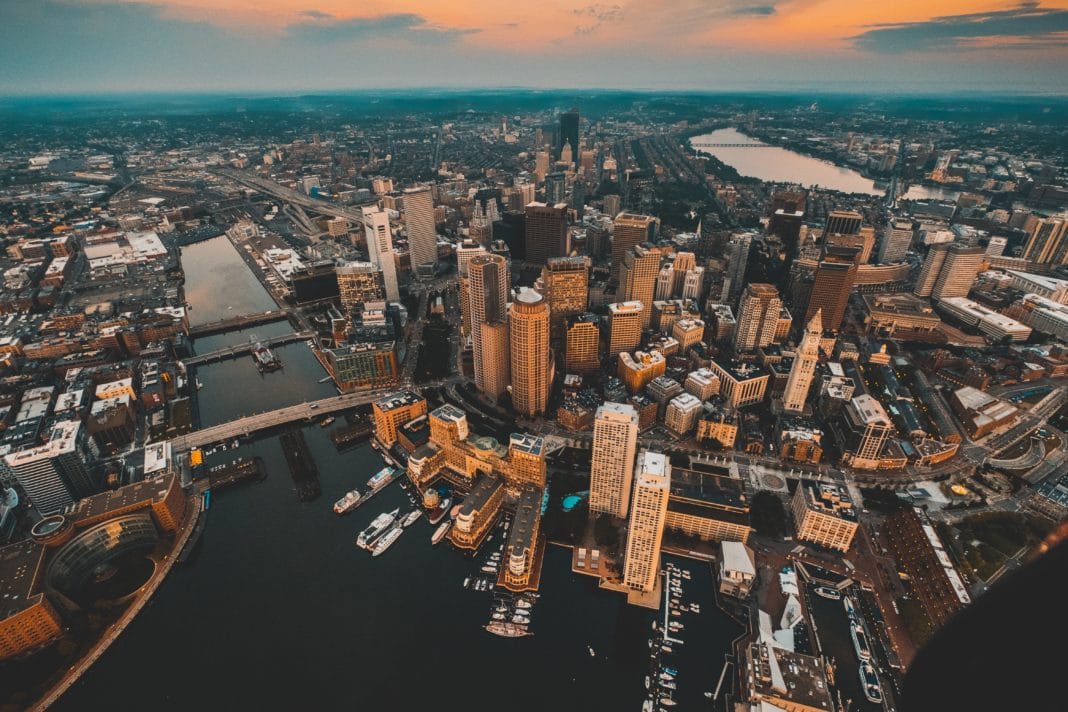 It's always nice to get out of town every once in a while, no matter where you live. And if you reside in the Boston area, you're lucky enough to take advantage of any one of these 15 gorgeous day trips – all within just a few hours of the city! Whether you're looking for mountains, forests, beaches, or more city life, there is a day trip for everyone within a few hours' limit of Beantown. 
Do you have a personal favorite day trip from the Boston area that you would recommend? Leave us a comment and let us know! We're always looking for new adventures to go on. 
Related Article: Best Italian Restaurants in Boston: A Foodie's Guide