It can be hard to find the top-rated restaurants when navigating Boston alone for the first time.
Let's face it: traveling can be stressful. When we're stressed, we get hungry. And there's nothing worse than having a specific craving – say, linguini or fettuccine Alfredo – just to have your dreams crushed by choosing a less-than-satisfactory restaurant. Truth be told, a bad meal or poor restaurant experience can easily ruin your night. Lucky for you, we aren't going to let that happen! We love Boston and would never want your experience there to be anything but the best. That's why we're going to let you in on a little secret and show you where to find the best Italian restaurants in Boston, Massachusetts.
Of course, there are some "must-have" dishes you need to try when visiting Beantown (Boston Cream Pie, Clam Chowder, Fenway Franks… the list goes on!) In-between all your museum tours and sightseeing, treating yourself to a nice meal at one of the best Italian restaurants in Boston is the perfect way to end the day before heading back to your hotel.
Get ready for some of the best risotto and sausage ragù of your life found right here in Boston, MA.
1. Coppa Enoteca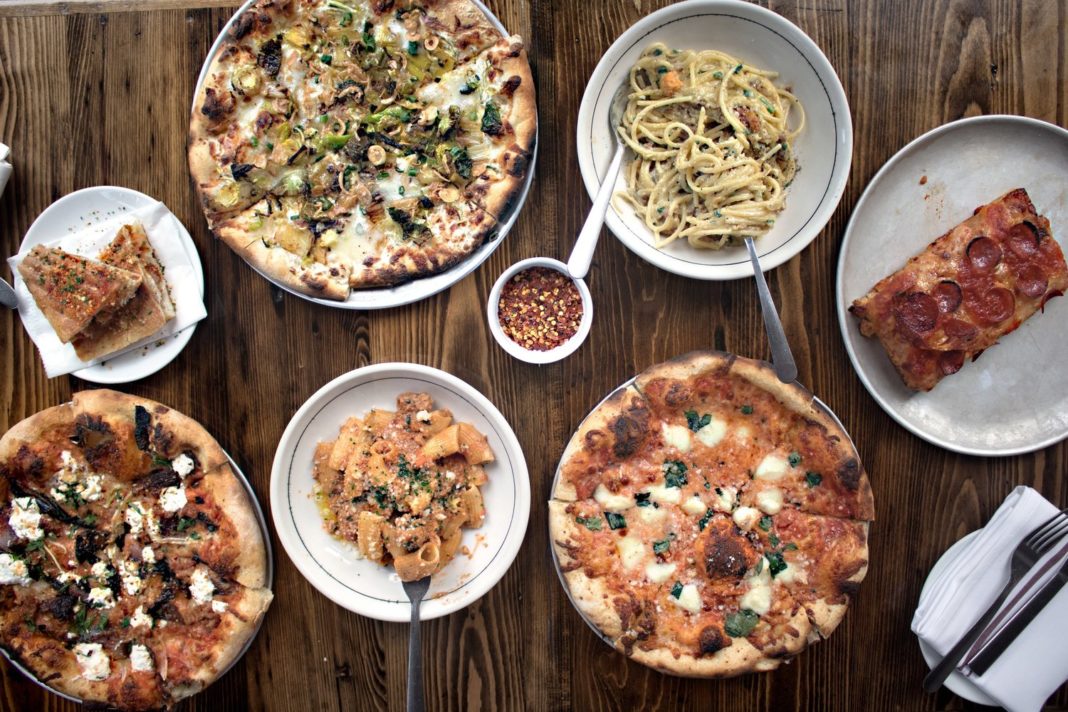 Credit: Coppa Boston
Beloved for its cozy atmosphere and inventive dishes, Coppa Enoteca is a "neighborhood favorite" in the South End. Whether it's a simple dish like a Caesar Salad or the more complex house-made pastas or pizza pies (pulled straight out from their wood burning oven!) Coppa packs incredible amounts of flavor into every bite. Coppa sources its ingredients locally to ensure fresh flavor. Because of this, the restaurant rotates dishes in and out every season. There is always something new to try at Coppa. Its commitment to taste and freshness is why Coppa is one of the best Italian restaurants in Boston.
Coppa is a great place for foodies looking to try a little bit of everything. Rather than piling pounds of pasta onto your table, Coppa's serves small-plate offerings that are perfect for passing around the table. We suggest starting light with the Sedano di Caesar before diving into the Arancini di Fonta (fried risotto and fontal cheese balls, roasted squash crema) or the Gnocchi Piemontese. (potato gnocchi, white truffle, sage, brown butter, cream.) Top off your meal with Coppa's complementary cordial-based cocktail and wine list.
No matter what you order, you can't go wrong at Coppa. We guarantee that you'll go home after your trip bragging to your friends about how you ate at one of the best Italian restaurants in Boston, MA.
2. Giacomo's Ristorante
Dining at Giacomo's Ristorante is an experience to remember. The tiny, cash-only restaurant is always crowded. You'll have a hard time lighting your fork and knife without bumping elbows with the servers passing by. You're likely to be sitting at a large table with people you don't know.And that's part of the fun at eating at Giacomo's. This hole-in-the wall eatery is easily one of the best Italian restaurants in Boston. Once you start digging in to calamari and linguine with mussels and clams, you'll completely forget about the stranger sitting to your left. You'll be too busy slurping spaghetti and guzzling down a buttery glass of Chardonnay.
Though the space is tight, the service is speedy and polite. Giacomo's servers are attentive and ensure you'll have the easiest, most relaxing time possible in their hectic atmosphere! The portions are large, so you may find yourself taking food home (Ha! Like that's a bad thing!) But no matter what you order, you must try Giacomo's Butternut Squash Ravioli. That dish alone is enough to qualify Giacomo's as one of the best Italian restaurants in Boston.
A word of caution: Giacomo's is always packed. It's not unusual to wait two hours before being seated. Consider making a reservation in advance, or finding things to do in the surrounding area in the meantime. We promise you Giacomo's is one of the best Italian restaurants in Boston. It's worth the wait.
3. Carmelina's
Credit: Carmelina's
Nestled in the heart of Little Italy is Carmelina's. Carmelina's is known for being one of the best Italian restaurants in Boston for its "Sicilian comfort food with a Mediterranean twist." Carmelina's became an instant favorite among locals since its opening in 2012. The founders strive to create a family-oriented atmosphere. Accordingly, the chefs have taken their own traditional family dishes and added a modern twist to them. Every dish has equal parts fresh pasta and seafood. The interior of Carmelina's presents an open kitchen space, enhancing the "mother-approved" vibe of the restaurant.
Fan-favorite dishes start with the meatballs. Mimmo's Baked Meatballs and the Mussels Marinara are top-rated appetizers. You then have 14 different pasta dishes to choose from, ranging from a more simple "Crazy Alfredo" to the complex "Tonno con Pesto Siciliano e Fusilli." But don't fill yourself up too much yet – you still have the main course to order! We suggest the Colorado Lamb Shank or the Stuffed Center Cut Pork Rib Chop. But when you're dining at one of the best Italian restaurants in Boston, you won't be disappointed by any dish you order.
Have some fun while you're there and ask the servers to choose your bottle of wine. The serving staff is all extremely knowledgable about their wine's origin and which bottles complement different foods best. When you go to Carmelina's, you're not just paying for great food. You're paying for a memorable experience at one of the best restaurants in Boston, MA.
4. Trattoria Il Panino
Coined as Boston's first "original trattoria," a less formal version of a ristorante, Trattoria II Panimo is the place to go for great Italian food and casual vibes. Trattoria is also where to go for travelers wanting to experience one of the best Italian restaurants in Boston without breaking the bank! In true trattoria form, Trattoria offers fairly low prices and casual, friendly service.
You'll find that despite its low-key atmosphere, Trattoria still serves high-quality food. They never skimp on their dishes, as you'll find if you order the Lobster Ravioli. The ravioli is stuffed to the seams with fresh, mouthwatering lobster. Served over a bed of creamy sauce, you'll find it hard not to slurp every last drop of this dish. Keep in mind that the serving sizes are large, so you may end up carrying a doggie bag with you while sightseeing afterwards. Alternatively, you could just stuff your face and indulge on one of the best Italian restaurants in Boston. Either option works.
In tandem with its casual vibe. Trattoria also have a late-night menu. Night owls and can feast on a truly casual Panino Burger or "The Bomb Sandwich." Both entrees are sure to quench your late-night cravings.
5. Da Vinci Boston
Credit: Da Vinci Boston
The moment you step into Da Vinci Boston, you know you've entered somewhere special. It's even likely a waiter will tell you, "welcome to the family!" if it's your first time there. Named by Zagat as "the best Italian fine dining in Boston," serves fresh, traditional Italian dishes from a menu crafted by Chef Peppino, an Italy native. You won't find anything frozen at Da Vinci as all of the pastas, bread, and desserts and home made daily. Da Vinci is also courteous of dietary restrictions and special diets. You'll find plenty of gluten-free, vegetarian, and vegan options on the menu to choose from. This versatility is yet another reason we believe Da Vinci is one of the best Italian restaurants in Boston.
Da Vinci is committed to creating an "unforgettable experience from start to finish" for its guests. You'll find the warm, dimly lit atmosphere is easy to fall into. The kind and knowledgable serving staff is a pleasure to communicate with. And the food… Well, that's just a dream come true. Chef Peppino invites you to go on a five-course "culinary journey" with him. At $79/person for non-vegetarian dishes and $59/person for vegetarian dishes. this journey is affordable and worth it.
There is a wide range of antipasta appetizers to choose from before diving into your second, third, and fourth courses. Even though you're bound to be full after course number four, try to save at least a little bit of room for the homemade gelato or Vanilla Creme Brulee. There's a good chance Chef Peppino himself will come out and make sure you're having the best dining experience of your life!
This is one of the best Italian restaurants in Boston you're sure to be talking about for years to come.
6. Teatro
Our next stop will be city's famous Theater District. Teatro Boston is one of the best Italian restaurants in Boston for its delicious food and unique dining experience. Its renowned chef Jamie Mammano crafted a menu that takes a contemporary twist on class Italian dishes. Guests will find their favorite Italian staples on the menu, including tortellini, lumache, and ravioli. But don't be fooled by the seemingly simple offerings. The real trick to truly experiencing Teatro is by pairing your meal with one of their specialty cocktails. The experienced bartenders can whip up whatever your heart desire's on the spot. They're also knowledgable on how to pair the best drinks with the best dishes, so don't be afraid to ask for a recommendation.
Though the space is usually quite crowded, it's hard to feel overwhelmed at Teatro. The intimate, dim blue lighting and candlelit centerpieces make you feel like you're the only party in the room. The moment you start tasting the fresh mussels, homemade gnocchi, or gushing over the Mocha Semifreddo with Salted Caramel, you'll forget about the hustle and bustle of the restaurant and the city altogether.
A trip to Teatro is the perfect way to begin or end your night galavanting through Boston's theater district. Locals will be quick to tell you Teatro is one of the best Italian restaurants in Boston, MA. Once you go, we're sure you'll understand why.
Credit: Boston.com
We can't talk about the best Italian restaurants in Boston without telling you where the best pizza joint is. Galleria Umberto has been serving up the best pizza pies in town since 1965. Located in Boston's beloved Little Italy, the family owned pizza place is always packed with customers eagerly waiting for their sizzling slice. Don't be surprised if the line is out the door when you arrive. Galleria Umberto makes the best pizza this city has to offer, which makes it one of the best Italian restaurants in Boston, in our book.
You may be wondering: what makes Galleria Umberto's pizza so special? For starters, each pizza pie is made fresh onsite daily. Rest assured for every slice of pizza you eat, the dough has been hand-rolled, the ingredients were topped on with care, and the cheese has been melted to perfection just for you. You'll find the menu is smaller than most pizza places; don't be put off by this. The menu size is simply in line with Galleria Umberto's no-frill atmosphere. They're just interested in serving the most delicious pizza in Boston. Period. Once you take a bite out of one of the square slices of cheese pizza, you'll forget why you ever wanted toppings on top of your pie in the first place.
If you go to Galleria Umberto's, you of course have to order a slice. However, their paninis and calzones also live up to the hype of this place. Galleria Umberto's is easily one of the best Italian restaurants in Boston for travelers looking for affordable, freshly made, authentic Italian food. If the locals vouch for it, why not give it a try?
8. Scopa
We're going to keep it going with the more laid back Italian restaurants with one of our all time favorites, Scopa. This hole-in-the-wall restaurant is such a hidden gem that if you aren't looking for it, you may walk right by. To start your meal off right, the friendly serving staff brings fresh, homemade bred with three olive oils to dip in: one regular, one with chili flakes, and another with minced garlic. Next you'll want to take a look at that wine list. Scopa has over ten red wines and six white wines to choose from, as well as rose and frizzanti options. If you're at a loss over what to drink, simply ask your server. The genuine and friendly waitstaff is always more than happy to help.
Next, get ready for real good Italian food. And no, we don't mean American-Italian food. We mean authentic, fresh, you-could-be-sitting-in-a-plaza-in-Italy-right-now-this-tastes-so-good Italian food. Keep in mind that Scopa is a place to go to try something new. So if the chef offers you kale and octopus, take him up on it. If seafood isn't in the cards for you, you may enjoy the crispy pancetta or carbonara. If you want to keep it simple and order one of their three pizzas (Margherita, Portobello, or Sweet Bell Pepper) that's a mighty fine option, as well. Let's face it – you're eating at one of the best Italian restaurants in Boston. You really can't go wrong.
If you care for phenomenal, freshly made food, go to Scopa. It will be a restaurant experience you won't regret.
9. La Famiglia Giorgio's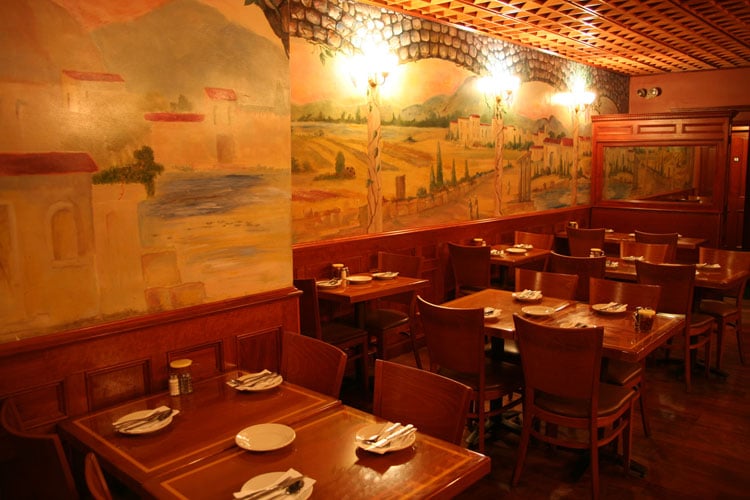 Credit: La Famiglia Giorgio's
You'll be craving to eat at La Famiglia Giorgio's again the moment you walk out the door. Giorgio's is a welcoming, authentic Italian restaurant that recreates "the traditional family style dining atmosphere of Nonna's." To them, customers are family – and family deserves the best! When you eat at Giorgio's expect nothing but the best. You are eating at one of the best Italian restaurants in Boston, after all.
From the calm, dimly lit ambience to the polite, patient service to the deletable food… Giorgio's has it all. A few standout dishes that have made this spot a favorite among locals are the Pumpkin Ravioli (a seasonal treat) and the Eggplant Parmigiana. Throw on some of Giorgio's warm goat cheese dip and you'll be happy eating appetizers all night! The extensive menu has plenty of seafood, chicken, and vegetarian options. Choosing from long list of pasta dishes will be one of the most difficult decisions of your life. If you want some insider's advice, though, we suggest trying out Guisseppe's Special. It's a creamy and delicious concoction of scallops, shrimp, and handmade sauce and noodles that will make you come back wanting more.
Giorgio's is one of the best Italian restaurants in Boston for families and big group functions. Though its intimate low lighting also makes it one of the best date spots in Boston, as well. Regardless of who you go with to Giorgio's, you're all bound to leave happier (and much fuller) than you were when you arrived.
10. SRV Boston
To put it simply: SRV Boston is a cute restaurant in the South End that puts a modern twist on classic Italian dishes in a tapas-like dining experience. SRV, which stands for "Serene Republic of Venice," specializes in "cicchetti," or small bites. The small, cozy restaurant has a welcomingly quaint decor and is nestled on a quieter strip just off Massachusetts Avenue. Therefore this is not only one of the best Italian restaurants in Boston for travelers looking to sample an array of fine food, it's also a good place to go for diners looking for respite from city life.
As with Coppa Enoteca, don't anticipate being served huge servings of pasta and melted cheese. SRV, is not like the Sicilian-American restaurants you may have gone to in the past. You can, however, expect to taste some of the freshest Italian dishes you've ever enjoyed. The pasta at SRV is homemade from house-milled flour and the risotto is made to order, which is why the kitchen staff asks that you allow at least 25 minutes for your risotto dish to be prepared. Though we understand if you can't wait that long. If you're dying to try delicious Venetian food, the Crab Risotto, Squid Ink Bigoli, or Gnocchi con Spezzatino are all good ways to go. You'll also find that your dishes look just as good as they taste. SRV prides itself in beautiful presentation. It's little details like this that make eating at one of the best Italian restaurants in Boston even more fun.
Of course, don't forget about the wine pairings! That's part of the fun of dining at a cicchetti restaurant. All of the servers and sommeliers on staff are readily, and happily, available pair wine with your order. SRV has a wide variety of both U.S. and Italian wines. There will be plenty of vino to go around!
11. Amorino Gelato
Credit: Amorino Facebook
We're going to end our tour of the best Italian restaurants in Boston with something sweet. Besides, what's more Italian that stepping out for homemade gelato for dessert? If you want some of the best gelato in the city, then you better go to Amorino's.  Located right in the heart of Boston on Newbury Street, Amorino's is best known for its delicious gelato and flower-shaped scoops. They also serve macaroons, crepes, waffles, hot beverages and other sweet treats.
What are you waiting for? Go treat yourself to a scoop of something chocolate-y with a side of fresh, hot espresso. After a long day of sightseeing and galavanting through Beantown, you deserve it!
The list of the best Italian restaurants in Boston is so long, you'll find it hard to choose just one…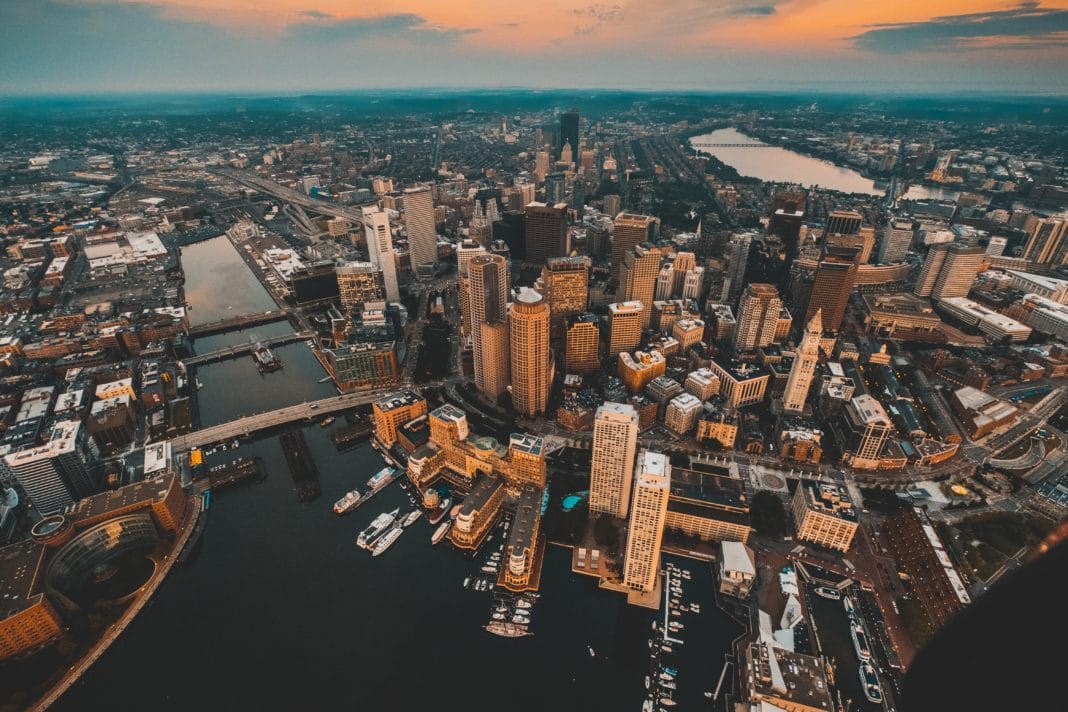 …So why not try them all? Hey, you only live once. There are few things in life more worthy of spending money on while you're traveling than the best food the city has to offer. Besides, you need to carbo-load to prepare for your tours of the Boston Commons, Freedom Trail, the countless Boston museums, Fenway Park… The list never ends.
None of the best Italian restaurants in Boston will let your down. Go make your trip that much better and eat at one of them today!
Related Article: Best Hotels in New Orleans: Your Luxury Guide