See the city that marked the birth of a nation. From history to a rich culture, there's so many places to visit in Boston.
It's arguable that no other city in the U.S. holds as much history and culture. Dubbed the Athens of America,  many sites of the city have become a pilgrimage for travelers who want to get a sense of its past. Today, the old and new are effortlessly juxtaposed, molding a unique city that stands apart from  the rest. While there are so many places to visit in Boston, we narrowed down our picks to a select few. Here's our list of favorites in no particular order.
Here Are the Best Places to Visit in Boston
1. Freedom Trail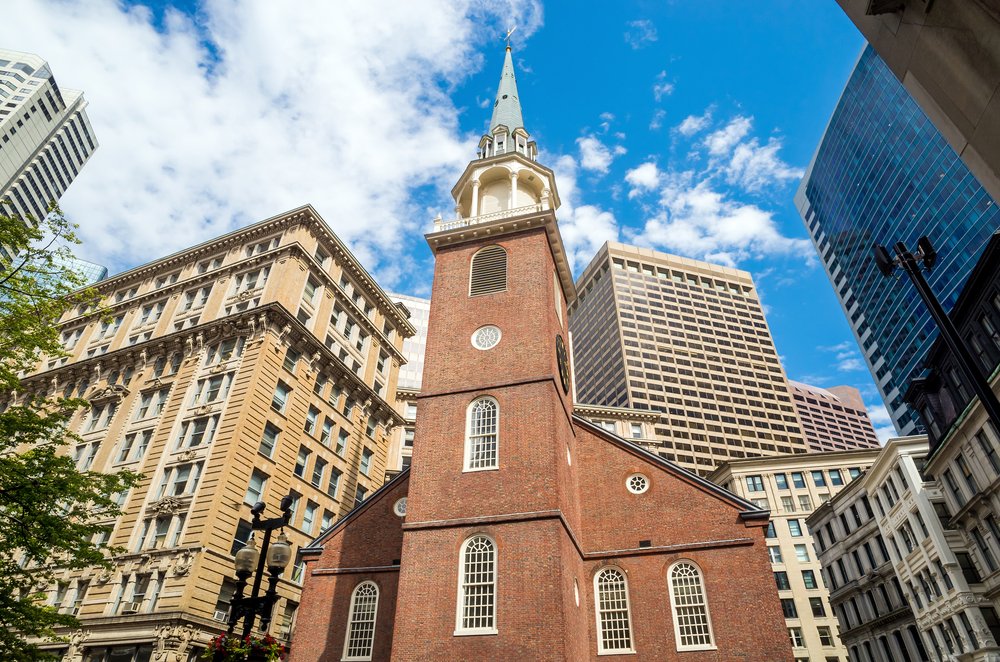 Start off your tour of Boston right with the Freedom Trail. Walk three miles down past some of the city's most important historic monuments and sites. It's super easy to follow. Just walk along the line of red bricks and go by the footprints at street crossings. Your tour begins at the Visitors Center in the Boston Common. Grab some brochures before heading over to the State House.
From there, the trail will take you to Old Granary Burying Ground. Some of the most famous names in history have their resting place here, including Paul Revere, Samuel Adams, and John Hancock. Next, you'll go to King's Chapel Burying Ground where the graves of Governor John Winthrop and two Mayflower passengers are buried. The Old South Meeting House marks the site of the tea tax debates as well as the orations denouncing the Boston Massacre.
The trail runs on through Boston's North End. You'll go past the famous Paul Revere House, Old North Church, and then cross the bridge into Charleston. Your tour wraps up with views of the USS Constitution and the massive 220-foot Bunker Hill Monument. The Freedom Trail should be on the top of must-see places to visit in Boston.
2. Fenway Park
Even if you're not a sports fan, you have to go see 'America's Most Beloved Ballpark.' It should be another one of the top choices for places to see in Boston. Fenway is one of the most storied baseball fields in the country, retaining the same look and charm as it did on opening day in 1912. One of the most famous features are left field's 37-foot-high Green Monster and the hand-operated scoreboard. If you want to catch a game, just know that tickets go fast and seats are scarce. Having the lowest number of seats in the Major Leagues makes it difficult to score a spot at this beloved Boston site.
3. Boston Common and Public Garden Swan Boats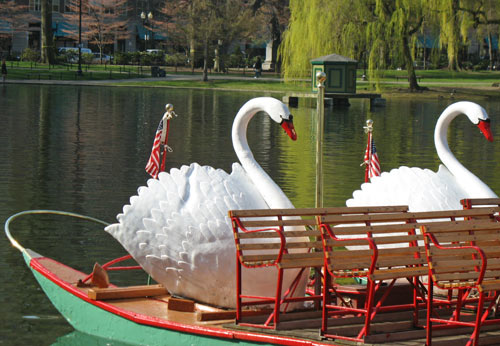 Of all the places to visit in Boston, the Common and Public Garden should be at the top of your list. You'll find America's oldest park right in the heart of the city at the start of the Freedom Trail. Used by locals year-round this expansive space is home to various monuments, most notably the Central Burying Ground of 1756. From November through mid March, you can rent skates and go out on Frog Pond. Spring gives way to gorgeous blooms, summer a blazing heat, and fall, a rainbow of foliage.
Joining the Boston Common west of Charles Street, is the 24-acres Public Garden. As the nation's oldest botanical garden, it features lovely Victorian monuments, an equestrian statue of George Washington, and iconic bronze statues of a family of ducks. Whether you have kids or you're just a kid at heart, one of the best experiences is to ride in one of the famous swan boats.
4. Beacon Hill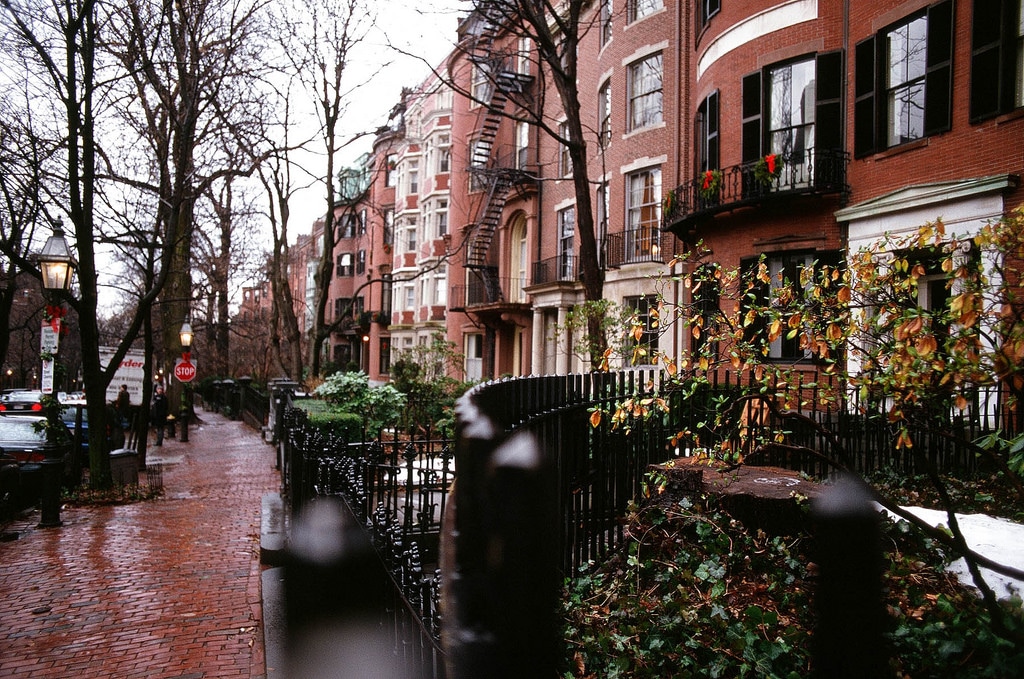 Beacon Hill is one of those musts on our list of places to visit in Boston. Traditionally known for its "old money," it is home to well-kept brick houses on a shady tree-lined street. At the heart of it all, you'll find Louisburg Square full of large houses overlooking a dreamy private park. Even in spite of its beauty, Beacon Hill is more famous for its historical residents. From 1880-88, Louisa May Alcott lived here.
If you're looking to get in on a little bit of history, the Nichols House Museum is a cool place to check out. It shows how members of the upper class lived and is filled with a diverse collection of art, spanning from the 16th to 19th centuries. The north side stands in stark contrast, having been home to a large immigrant community since the early 1800s.
If you're interested, the National Parks Service (NPS) offers guided tours of the Black Heritage Trail from April through November. Or you can opt to follow a self-guided trail that is open year-round. At the nearby Boston African American National Historic Site, you will find 15 pre-Civil War homes, business, churches, schools, and more.
5. Museum of Fine Arts Boston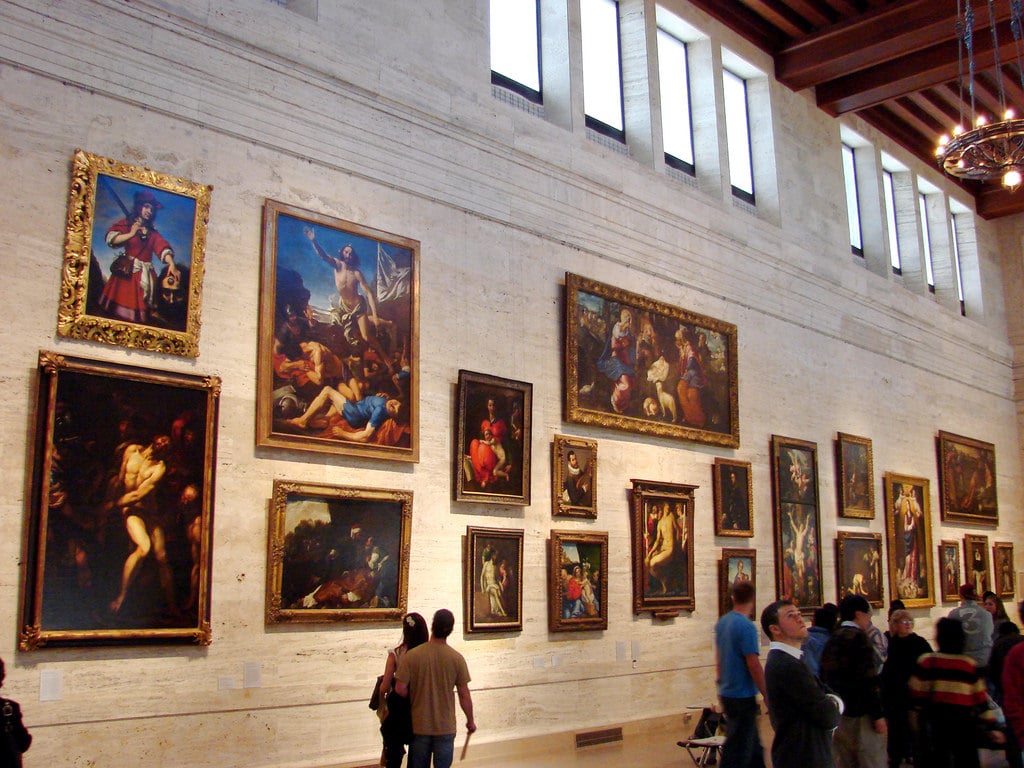 Of all the notable sites on our list, the Museum of Fine Arts is one of the best places to visit in Boston. Here, you will find some of the most impressive collections of art and artifacts in the country. Impressionist paintings, east Asian fine art, Egyptian treasures, works from ancient Greece and the Middle East abound. However, in spite of its impressive global collection, its crown jewel is the American Wing.
This section of the museum has been integrated in chronological order, from outstanding paintings to homeware and designs. The exhibit's pieces date back to the pre-Columbian arts era to Art Deco and Modernist times. Wondering what to see first? We highly recommend stopping by to see the 12th-century wood sculpture of a Buddhist Bodhisattva, statue of the Egyptian pharaoh Mycerinus and his queen from 2548-2530 BC, and a golden statue of the Minoan Snake Goddess from 1500 BC.
6. Museum of Science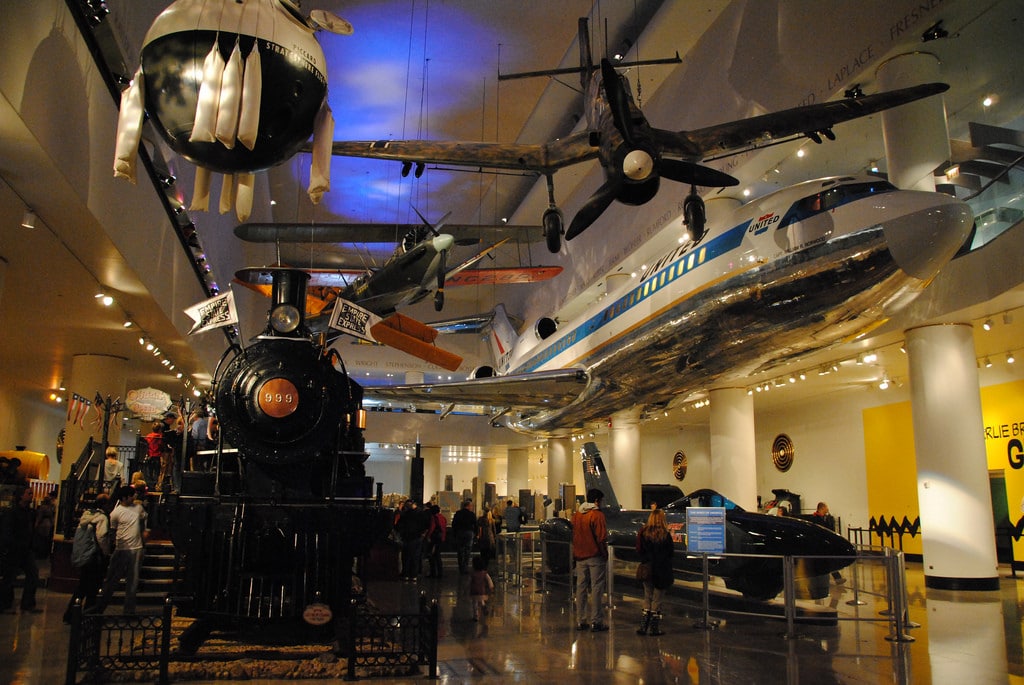 Learn hands on in the Museum of Science. This one's not just for the kids. Information and interactive exhibits are available on all sorts of topics, including physics, biology, ecology, zoology, computers, astronomy, and more. There are 700 permanent features enhanced by in-depth presentations as well as interpreters. Some of the favorite highlights include a 65-million-year-old in the Dakota Badlands. There is also an electricity dome, butterfly garden, planetarium, and more.
7. Old North Church and the North End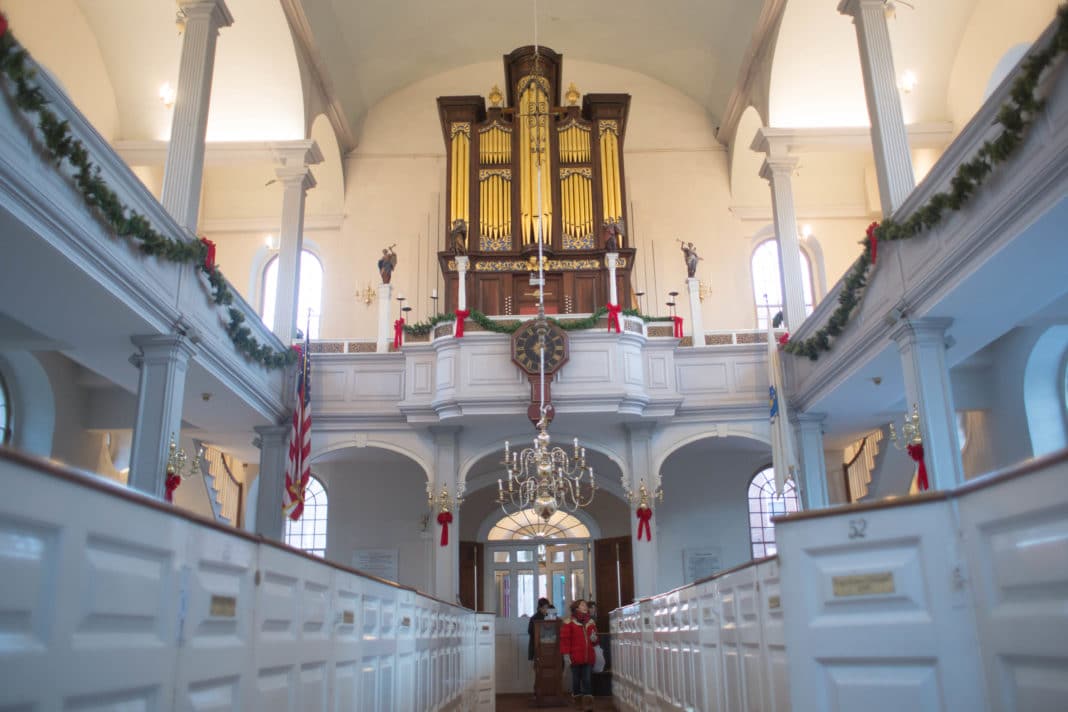 This lively neighborhood is one of the best places to visit in Boston. The North End comes with a rich history too; it was where Paul Revere lived at the time of the American Revolution. In 1770, he made his ride, marking the path for today's Freedom Trail. While you're here, you should also visit the tower at the Old North Church, where lanterns were hung in 1775 to alert Revere that the British were on their way to Lexington.
Today, the North End is a popular spot among travelers and locals alike that go well beyond the historic sites. While this spot has changed a lot since immigrants arrived from Italy, it still retains its flair. Come and visit. You'll find a myriad of Italian restaurants, charming cafes, bakeries, fragrant shops, roasted coffee, and specialty cheeses.
8. Harvard Square and Harvard Art Museums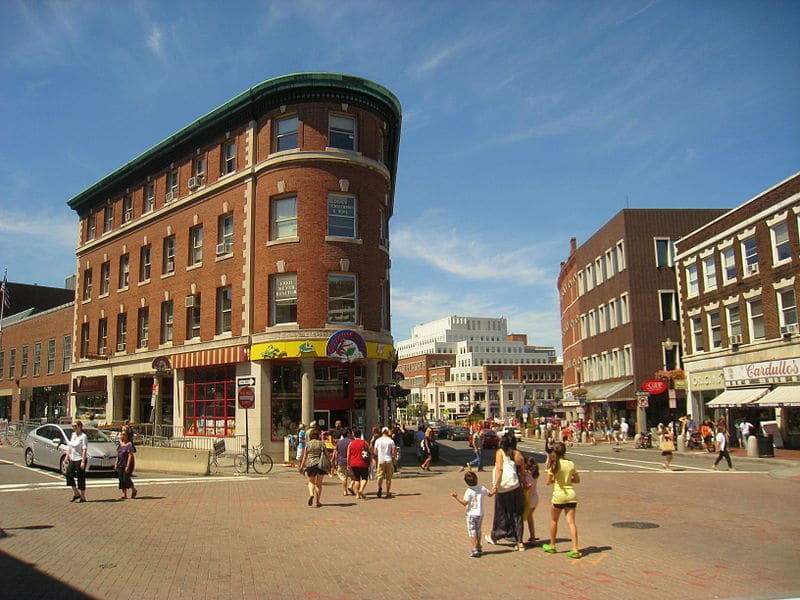 Come and check out one of the world's most prestigious universities. Founded in 1636, Harvard is the oldest institution of higher learning in the country. Head over to the ​Harvard Art Museums where you can take a tour of the campus, guided by an enthusiast student who will share about its history. You can also opt to download a tour from the website.
Take some time to stop and sit in the lovely Harvard Yard sitting right in the center of the Square. This is a lively hub for students, locals, and simply those who love learning and sitting amongst nature. Here, you'll find a myriad of different shops, bookstores, and places to buy ice cream.
Next to the Harvard Yard, you will find the Harvard Art Museums, home to three separate collections. Few universities hold such an enviable collection of art and other enviable collections. Each of the three museums has a separate focus. Fogg Art focuses on Italian early Renaissance.
The Busch-Reisinger focuses on the Expressionism of both central and northern Europe. Last but not least, Arthur M. Sackler hosts some of the world's finest collections of Chinese jade, bronzes, Greco-Roman antiquities, and more.
9. Boston Public Library and Copley Square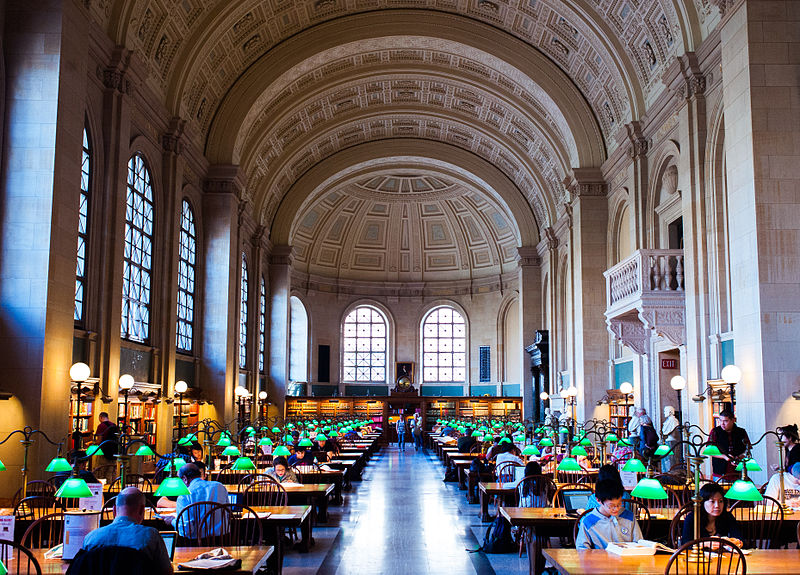 Old and modern buildings come together in Copley Square. Here, you will find the Boston Public Library, the oldest publicly-funded lending library in the nation. While you're there, you can't miss out on seeing the library's Renaissance Revival architecture. In addition, the beautiful works of John Singer Sargent and Edwin Abbey are seen in murals throughout the building.
Just across the way from the library, you'll find the perfect grassy lawn for a picnic. Standing behind it is Trinity Church. This red sandstone building is the finest work of architect Henry Hobson Richardson. Inside, the murals, frescoes, and painted decorations are by John La Farge. Much of the stained glass work can be accredited to William Morris and Edward Burne-Jones.
10. John F. Kennedy Presidential Library and Museum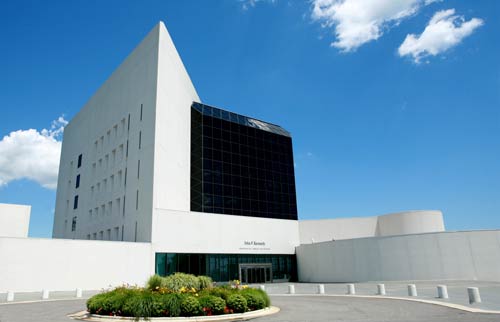 In memory of the 35th U.S. President, this museum stands as a living memorial to John F. Kennedy. Designed by the notable architect I.M. Pei and opened in 1979, this museum stands on the south shores of the city. Inside, you will find three different theaters, exhibits, personal memorabilia, photographs, and historical information that detail JFK's life and accomplishments while in office. You will learn a great deal about his campaign trail, time in the Oval Office, the First Lady Jacqueline Kennedy, and the Kennedy family.
11. Enjoy Evening Drinks at Lookout Rooftop and Bar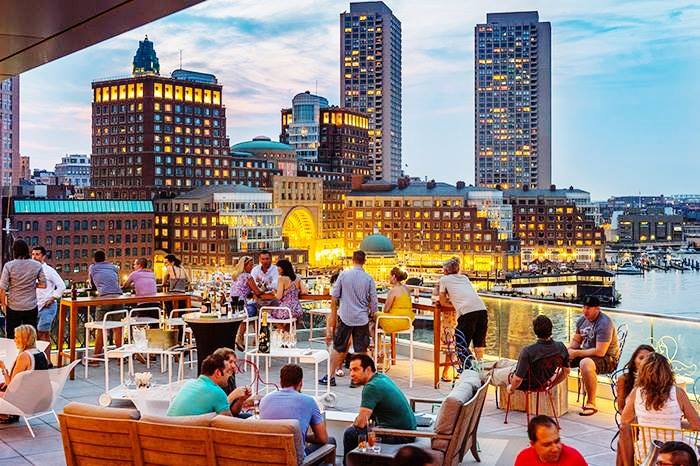 Come and grab some drinks with a view. Lookout Rooftop and Bar is one of the best places to visit in Boston. You'll find it in the Envoy Hotel, offering cocktails, small plates, and sweeping scenery. Just  like the community they serve, Lookout Rooftop and Bar's space is chic and glamorous. Guests enjoy a beautiful view of the city.​​​​
Locals and travelers alike trickle in for the food and drinks. Handcrafted and highly creative, these kitchen concoctions are a pure delight. Drinks from small-batch distillers, rock star breweries, and single vineyard labels all make the list of must-try beverages. The ambiance brings a lively mix of bold spaces and private nooks where friends and lovers alike can spend the evening.
12. Boston Harborwalk and Cruises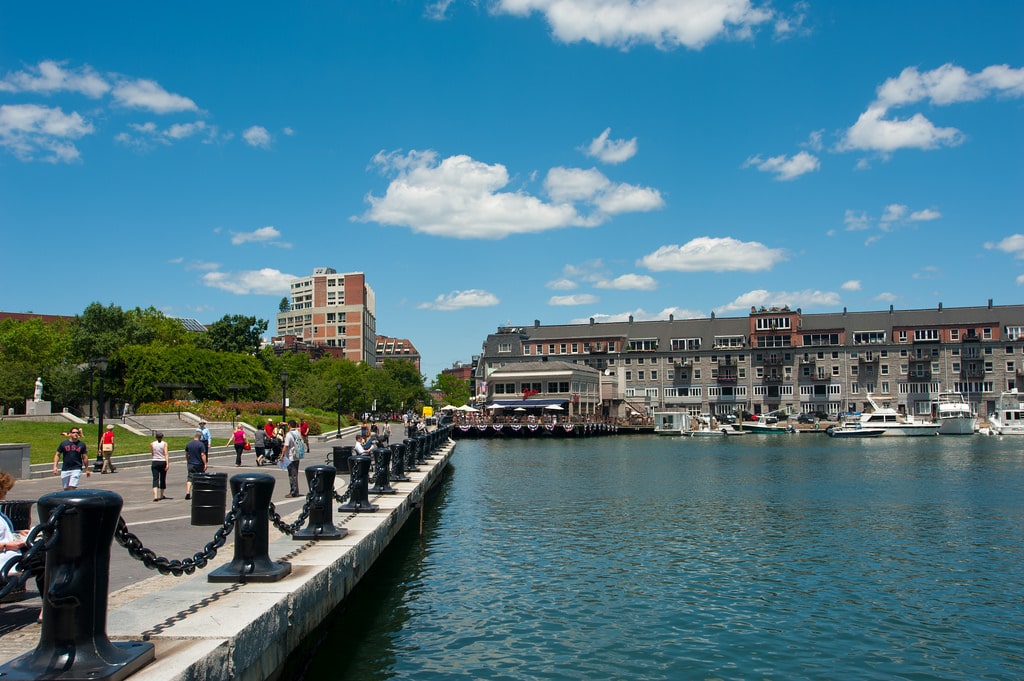 Since its origin as a colonial shipping port, this Boston Harborwalk has undergone many changes. Today, it stands among an interesting blend of residential and commercial space. Connected by the Harborwalk, this attractive waterfront walkway offers lovely parks, public art, benches, interpretive signs, and more. You'll also find some shuttle boats down by the Charlestown Navy Yard.
Extending from Charlestown all the way to South Boston, this Harborwalk offers the best views. Make sure you keep your eyes open for Christopher Columbus Waterfront Park, the Commercial Wharf, India Wharf, Long Wharf, and the Boston Tea Party Ship. The last item mentioned marks the spot where the Sons of Liberty dumped tea overboard on December 3, 1773. There are plenty of local tours that offer a fun reenactment of this historical event.
While you're over at Rowes Wharf, check out the options for an Odyssey Cruise. Did you know that you can take one through Boston Harbor all the way to Castle Island, George's Island, and beyond? You can event have a meal aboard while watching the sunset behind the beautiful skyline. What's a better way to end the day than that? This is one of the best places to visit in Boston.
Check off the Best Places to Visit in Boston from Your List
Dive headfirst into a city filled with history and culture. When you check off the best places to visit in Boston from your list, you're going to be let in on some of our country's rich past. Everywhere you look, there's a piece of history beautifully juxtaposed with an ever changing modern skyline. From relics to art, culture, and an amazing foodie scene, beantown offers a great deal for the adventurous traveler to explore.
Common Questions
Looking for some more fun east coast trip and adventure ideas? Check out these articles below:
Questions and Comments
Do you have any questions or comments for us? If so, we would love to hear them. Feel free to leave a message for us below. We will be sure to get back with you soon.
Related Article: The Top 10 Best Places to Visit in North Carolina