Cape Cod Beaches are known for being the ultimate summer destination for so many northeast travelers.
Cape Cod juts out into the Atlantic Ocean as an extension of Massachusetts. A little over an hour drive from Boston, it is quite the destination. With nearby islands Martha's Vineyard and Nantucket, you'll be surrounded by people who know how to vacation well. Being one of the best east coast beach destinations, you should heading out this way soon. There is a myriad of Cape Cod Beaches to choose from. Are you looking for easy parking a well-known family beach with outdoor showers? Or, are you some college kids looking to throw down one more time before classes start? Whatever you're searching for in a perfect Cape Cod beach, there's one that should fit you well. So, let's jump into our list of the best Cape Cod beaches for every traveler.
1. Cahoon Hollow Beach in Wellfleet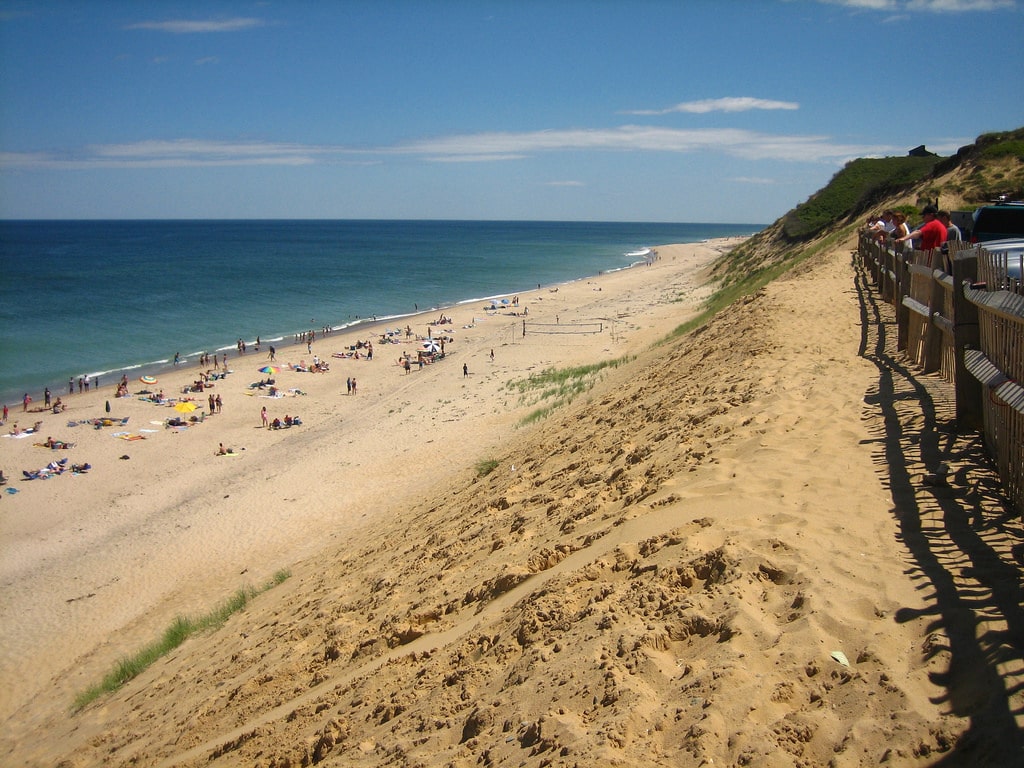 The most popular beach in Wellfleet, Cahoon Hollow is a great choice for just about anyone, although it tends to cater to the younger crowd. With plenty of room for everyone, clean public restrooms, and lifeguards, this beach is just easy. There's a volleyball court as well. However, to get to this favorite of the Cape Cod beaches, you'll have to conquer the dunes. From one of the two gravel parking lots, follow one of the long, steep paths down the eroded 75-foot dune in order to reach the beach. This is what tends to discourage families with young kids from coming here. That being said, if you've made it here, you have to eat at the Wellfleet Beachcomber. A spectacular seaside bar and restaurant, you can enjoy some freshly caught seafood or party well into the night.
2. Skaket Beach in Orleans
Credit: Massachusetts Office of Tourism / Flickr
A large beach with only mediocre amounts of parking, this one provides ample room for everyone. So, to snag your spot, get here before ten AM. Once you've parked, the kids are free to roam. With warm, shallow water and plenty of soft sand, this is nature's playground. During low tide, there are numerous tide pools for the kiddos to explore. When you're ready for more swimming, the tide will ebb back in. This incredibly family friendly beach was a no-brainer to be on our favorite Cape Cod beaches list. If you like boat watching, you can see them coming in and out of Rock Harbor.
There's some beach stands selling standard beach grub, so you don't have to pack a lunch. Finally, this beach is so expansive it gives you a brilliant sunset almost every night. So, for a long, lazy day at one of the best Cape Cod beaches, bring your family over to Skaket Beach in Orleans.
3. Sandy Neck Beach in Sandwich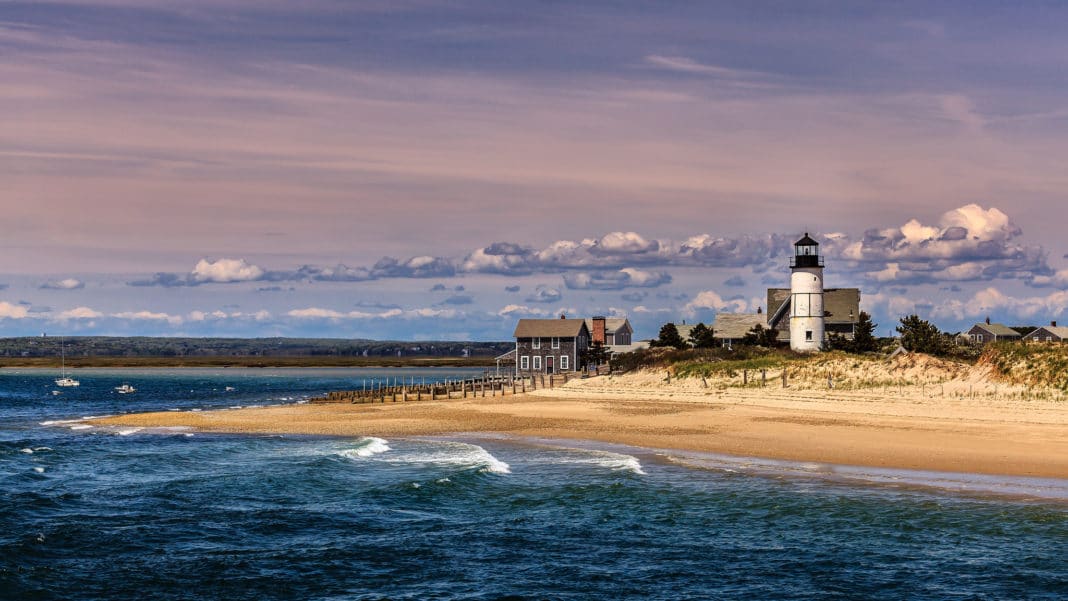 Credit: Chris Martino / Flickr
Think of Sandy Neck Beach as the adventure playground. With off-road vehicles allowed by permit from 8 AM to 9 PM, you can have quite a bit of fun here. There are plenty of trails to take your dirt bike or jeep on, as long as you've been approved at the Sandy Neck gatehouse. The beach is made up of much more pebbles than soft cushy sand, so plan your tires and shoes accordingly. It stretches six miles, being the longest of the Cape Cod beaches. This is a great beach to camp, sunbathe, or throw a bonfire at after the sun, and four-wheelers, are gone. So, if you're looking for a great place for a bachelor party in Cape Cod, check out Sandy Neck Beach in Sandwich.
4. Herring Cove Beach in Provincetown
Think of this as the crown of Cape Cod beaches. Being on the very tip of the cape, it has won quite a few rewards for being the most gorgeous beach around. You'll have your choice of two different parking lots, the closer one being a little bit smaller but better for families. Once you've made your way down to the beach, you'll have plenty of wide open sand to plop down on. There are Hot-dog stand, showers and restrooms here, so don't fret about lunch or facilities. There are lots of rocks around to play on and entertain the littles for a while once they're tuckered out from the ocean. In addition, it's quite a popular beach to go for a long walk or run on. So, if you're looking for a beautiful family beach, check out Herring Cove Beach in Provincetown.
5. Head of the Meadow Beach in Truro
Although Head of the Meadow Beach in Truro may have just had a great white shark sighting, don't let that keep you from heading to one of the best Cape Cod beaches. Why is it so good? Because it tends to be the underdog beach. It almost always has parking spaces and is big enough for anyone who does decide to show up. This may be because it only has a temporary bathhouse that is only open in summer. But, if you can make due with that, you'll have a gorgeous beach without any boats to obstruct your view all to yourself. The larger waves are fun to watch or paddle board around as well. So, if you tend to be a self-sufficient beachgoer who just wants a quiet, relaxing day, check out Head of the Meadow Beach in Truro.
6. Coast Guard Beach, Eastham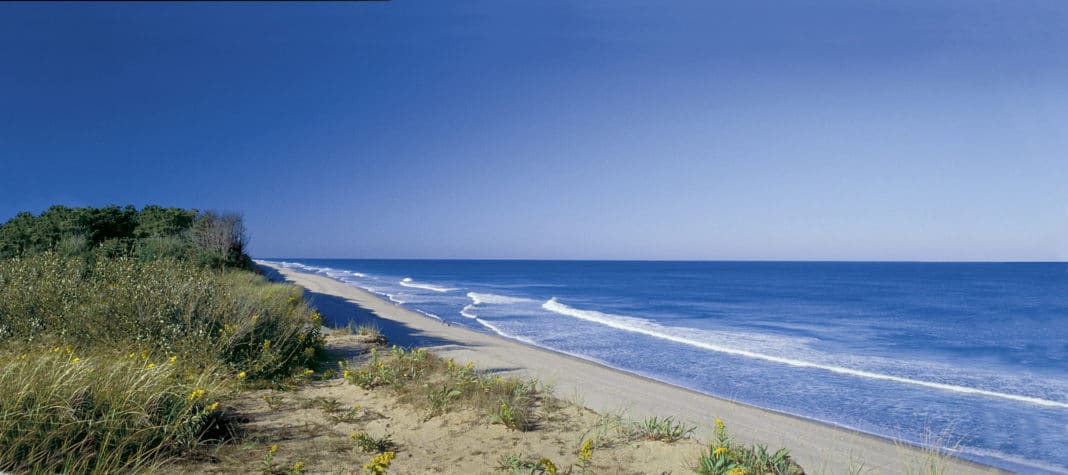 Credit: Massachusetts Office of Tourism / Flickr
Part of the National Seashore, this is easily one of the top Cape Cod beaches. With solid waves, Coast Guard Beach is a spectacular destination for surfers and boogie boarders. One downside to the beach is that you have to park a few minutes away and take a shuttle to the beach. Don't fret, it runs often and it's a simple five to ten-minute ride. Once you arrive, you may hear the call of the seals that are usually not far away. Because of the nice restrooms, volleyball court, boardwalk, and bike rack, this beach tends to have a larger teenage crowd here as well. So, while this beach can get a little busy, it is large enough for everyone to find their own spot. The rolling sand dunes, marshes, and big waves are enough scenery to keep you entertained for quite a while. So, for the most essential Cape Cod beach, check out the Coast Guard Beach in Eastham.
7. Craigville Beach in Barnstable
This easily accessible, wide swath of beach is a favorite for just about everyone. With ample parking and ample space, this is one of the easiest Cape Cod beaches to visit. HAving so much room, this is a great beach for sports, sunbathing, and swimmers alike. You'll have your fair share of beach walkers and runners too. This beach is kept quite clean and has a good few choices of restaurants just across the street if you work up an appetite. In addition, there are lifeguards, bathrooms, and showers for your safety and cleaning needs. You can easily rent chairs and umbrellas here or just bring your own. If you're needing a quick walk, good food, and a beautiful beach with some space, this is it. So, make sure to check out Craigville Beach in Barnstable while you're cruising Cape Cod.
8. Nauset Beach in Orleans
The Nauset Beach parking lot holds up to nine hundred cars. That hopefully gives you a good picture of how many people adore coming here. With ten miles of beach to galavant on, it is quite the attraction. The solid waves call to boogie boarders and surfers alike. There's enough space as well to sneak away from the swimmers and go fishing, too. People often catch bass and blues while here. This beach is also open to permitted four-wheel drive vehicles if staying dry is more your style. At the end of the day, stay for the sunset. You'll see why this is truly the closest to perfect you'll find in all of our Cape Cod beaches. So, for a beach with ample activities and stunning sunsets, head over to Nauset Beach in Orleans.
Whatever type of beachgoer you are, the Cape Cod beaches will call to you with their soft sand, stunning sunsets, and sweet waves. It's just up to you to follow this call.
If you've already spent a few days in Boston, head on down to the coast for some good ol' Cape Cod beaches. From a late night party in Cahoon Hollow to the call of the seals at Coast Guard Beach, you'll enjoy every minute here. It's easy to travel light while here because you won't need much more than sunscreen, a beach towel, and a bathing suit. Everything else, well, is just extra. Once you've conquered all of these beaches, check out the beaches of Santa Monica or Michigan. They will each show you their particular charm and speak to a uniqueness of each ones' geography, especially the beaches of Oregon. But, go ahead and pack your bags now to get ready to understand why so many people travel to Cape Cod beaches every year.
Related Article: Rhode Island Beaches You Need to Visit