Sunbathe on the best beaches in Michigan.
The beach remains a top vacation destination for travelers during the summer. There's nothing better than getting to soak up the sun and dip your toes in warm ocean water. When you think of the most exciting beaches to visit, you might consider places like the Caribbean or Mediterranean. Before you book your next beach adventure, think about traveling to Michigan. This Midwestern state has some amazing coastal locations that make for great places to relax and have fun. Read our article below to discover the best beaches in Michigan to visit during the summer months.
1. Grand Haven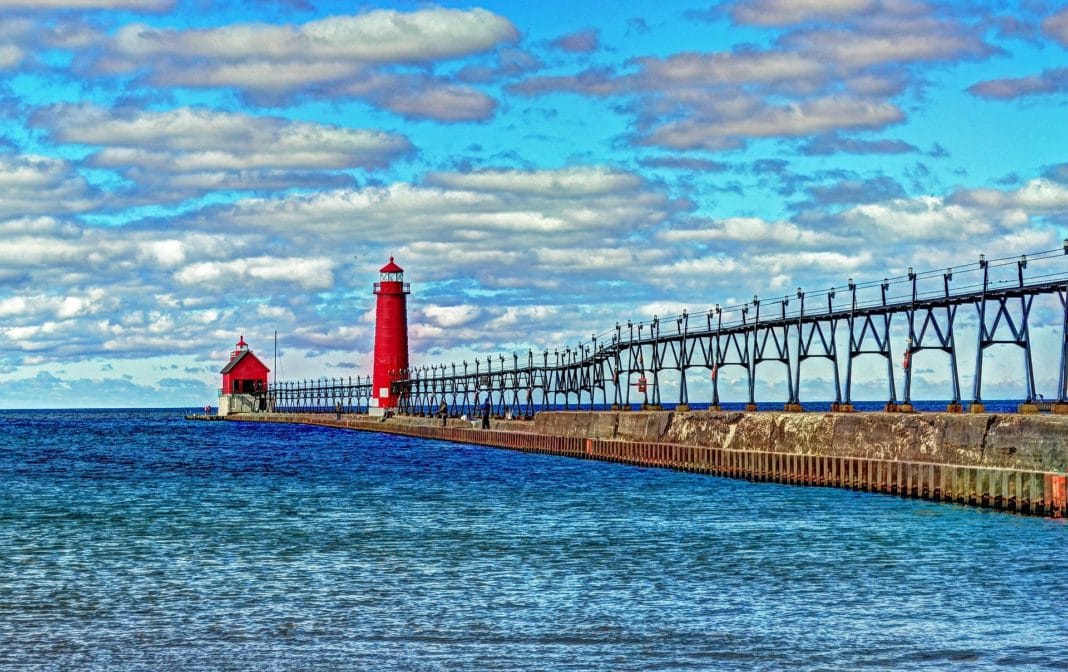 Grand Haven remains one of the most popular Michigan beaches on our list. Countless visitors come to this coastal spot each year, drawn to the gorgeous sands and clear waters. The massive stretch of beach means you won't have to feel claustrophobic while you're surrounded by crowds. There's plenty of room on Grand Haven State Park Beach for travelers to stretch out and sunbathe all they want. The soft sand will feel like clouds under your toes, and you may just want to nap for hours.
Since the miles-long beach stands inside the state park, you'll find more things to do than just sunbathing here. The park encompasses almost 50 acres, so you can explore a huge area of land. Many visitors love to see the quaint, red lighthouse that stands in the middle of the landscape. When you're finished roaming the beach, follow the boardwalk to the center of the town. Once there, you can step inside numerous shops and stop for a bite to eat. As one of the best beaches in Michigan, Grand Haven should be a must-visit spot during your Midwestern journey.
2. Mackinac Island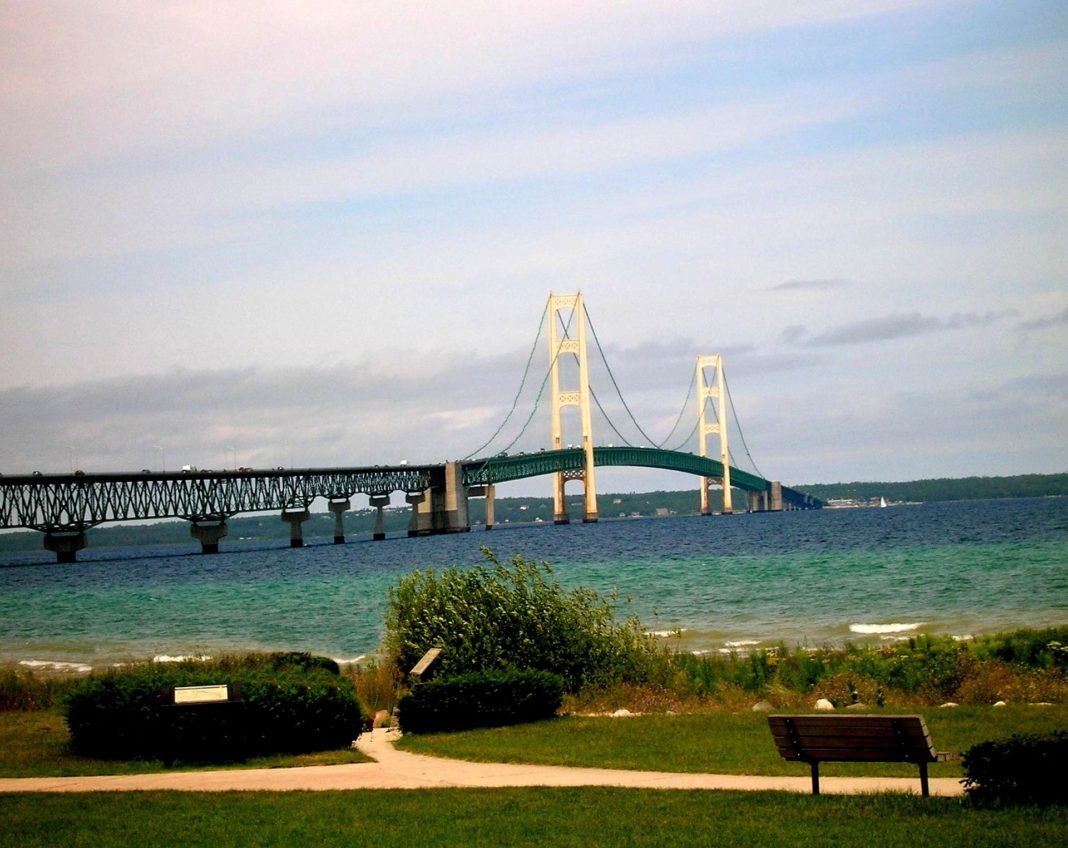 Located near the coasts of Lake Huron, Mackinac Island contains gorgeous environments that every traveler will love. When you come to this location, you might feel as if you've stepped back in time. Everything here feels quaint and maintains a historical, old-world atmosphere. You could even ride a horse-drawn carriage down the street before stopping inside a cute shop. Of course, the main attraction here remains the spectacular stretch of beaches around the island.
As you explore Mackinac Island's shores, you'll understand why it contains some of the best beaches in Michigan. Travelers will find miles upon miles of sandy shores to wander along and look for interesting specimens. Adventurous visitors might enjoy climbing over the numerous dunes found throughout the area. If you enjoy swimming, the waves here provide a more exciting experience than calmer shores. The waves can grow much higher, so you'll get to dive and play in them for hours.
3. Sleeping Bear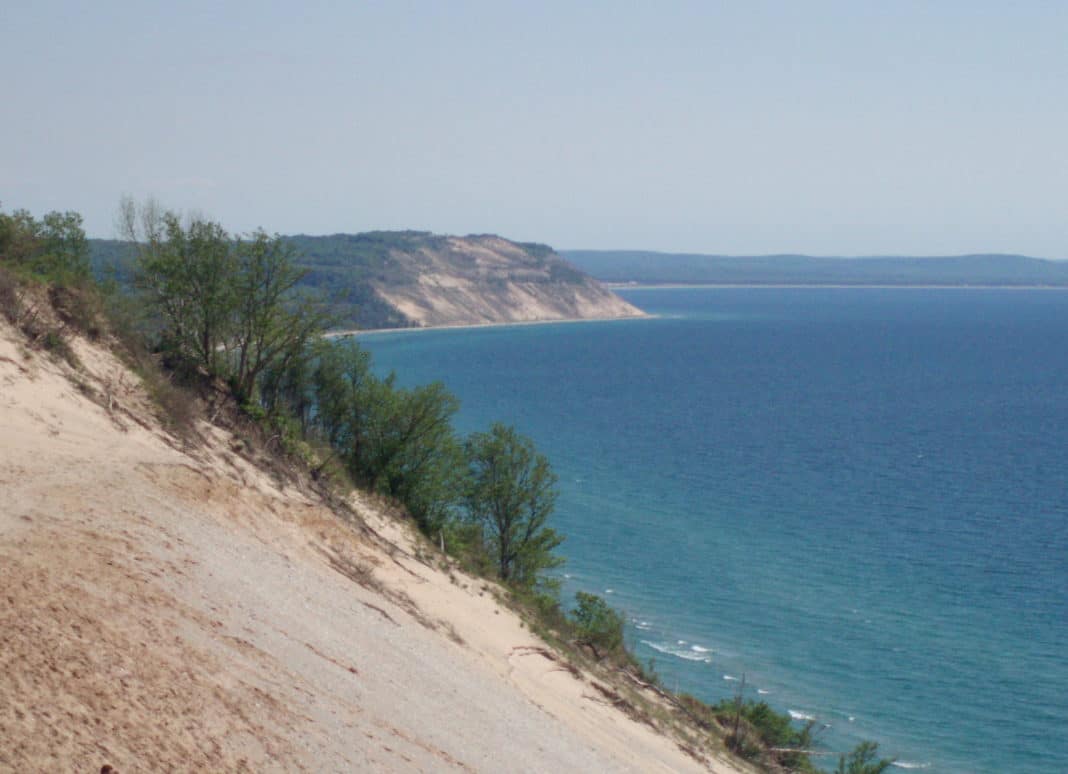 Credit: Wikimedia Commons
Both visitors and Michigan residents alike flock to this sandy spot. At Sleeping Bear Point, you can find beautiful beaches everywhere you look. This location remains one of the best beaches in Michigan, with its stunning sands spreading out for miles. As you stand on the shores, you can look out at Lake Michigan and appreciate the deep blue waters. Depending on the time of year that you visit, the water might not be too cold for a swim. Summer travelers will find the lake temperatures especially comfortable, though it won't feel like bathwater.
This beach location will appeal to travelers who like to wander through nature. The area feels almost untouched by modern life, as it remains filled with wild grasses and few buildings. Kids and adults may enjoy searching for some unique rocks that can be found along the sand. Before arriving at this beach, you'll have to make your way over a few dunes. Despite the long walk, the view of the beach once you get there will be worth the workout.
4. Pere Marquette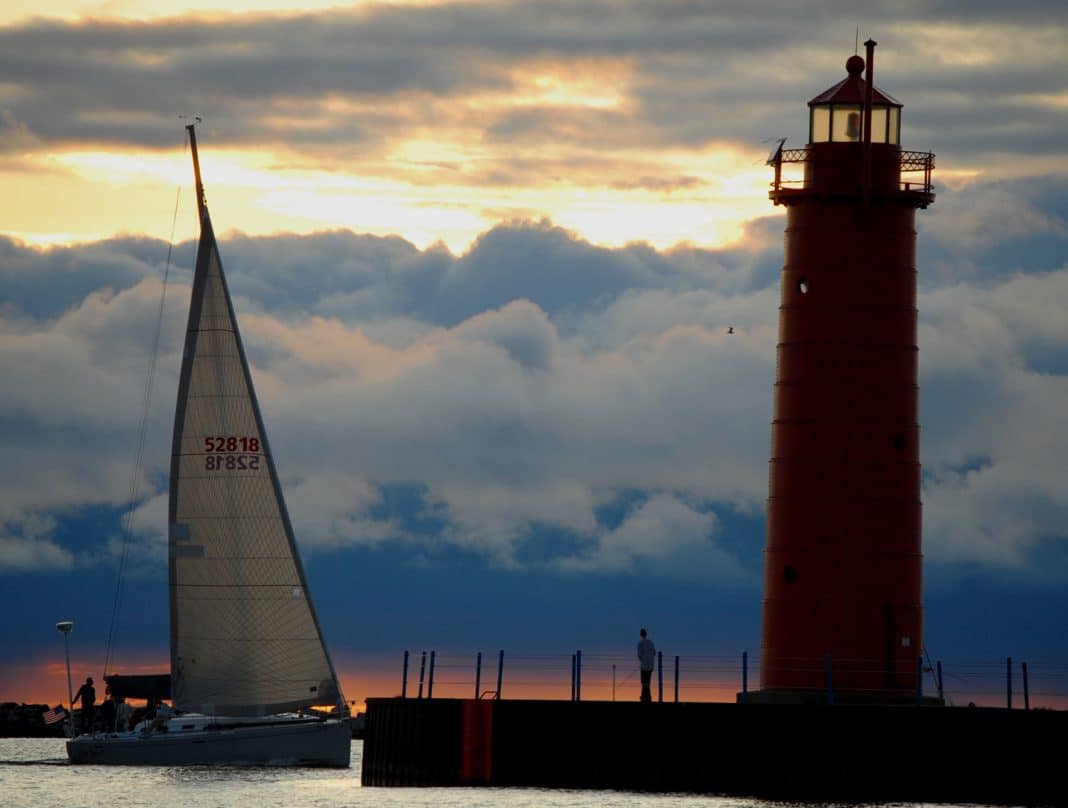 Credit: Krebelo
Any travelers looking to get some exercise should check out Pere Marquette Beach. The coast here remains popular for its volleyball playing, as countless visitors and residents practice the sport on the sands. This site even holds various volleyball tournaments throughout the year, so make sure to stop by if there's one occurring. Almost three miles of beach may be explored here, making it a popular place to wander or go for runs.
If you're an animal lover and you've brought your pet along, take them to the southern end of the beach. This area of Pere Marquette allows animals to roam the sand and water alongside their owners. As one of the best beaches in Michigan, Pere Marquette doesn't disappoint when it comes to beautiful waters. Most Michigan residents come here for a swim through the lake water, enjoying the cool, crisp temperatures.
5. Stearns Park Beach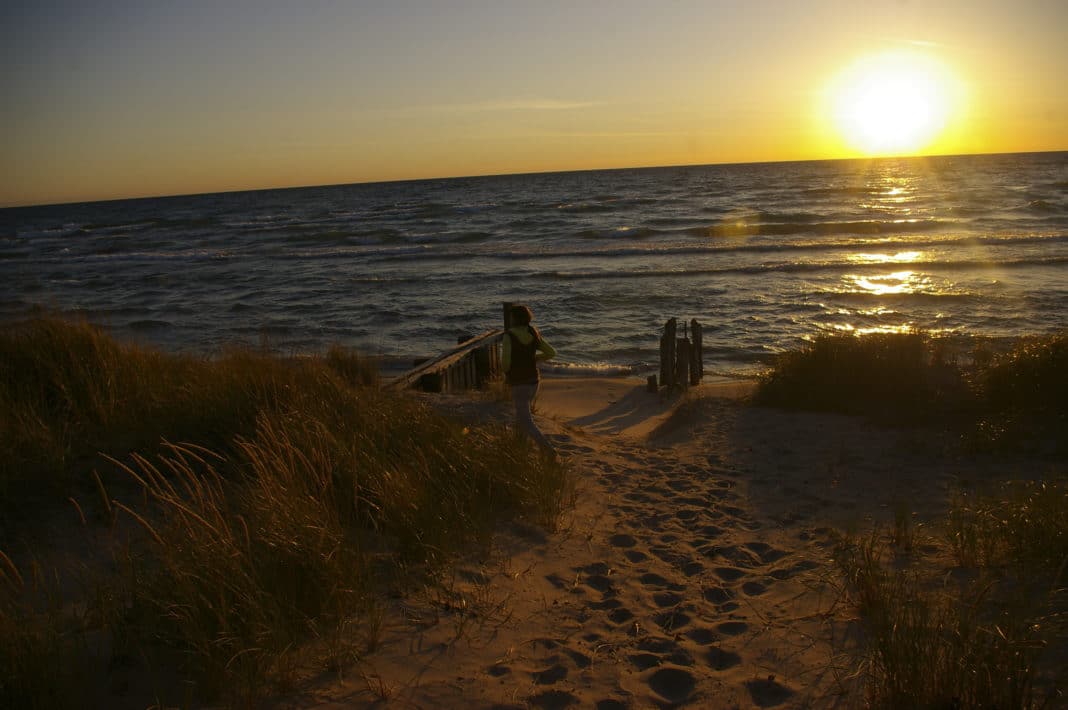 Credit: alaina buzas
Stearns Park Beach, one of the best beaches in Michigan, will entice any travelers looking for romantic places to visit. While here, couples may wander the long stretches of coast and hold hands as they step in the sand. The small beach, only about a half-mile in length, feels intimate in comparison to bigger, more popular coastal sites. Gorgeous, clear lake waters will appear even more beautiful at sunset and sunrise, so you should explore during those times.
Once you're done wandering the beach, you and your partner can walk a few blocks into Ludington. This city contains lots of shops and restaurants to venture inside as you travel. Definitely try to stop by the beach again late at night. The moonlight on the water will appear beautiful and romantic, and you can get an unparalleled view of the stars. Since Stearns Park Beach stays open to the public, you won't even have to pay a fee to get in.
6. Empire Beach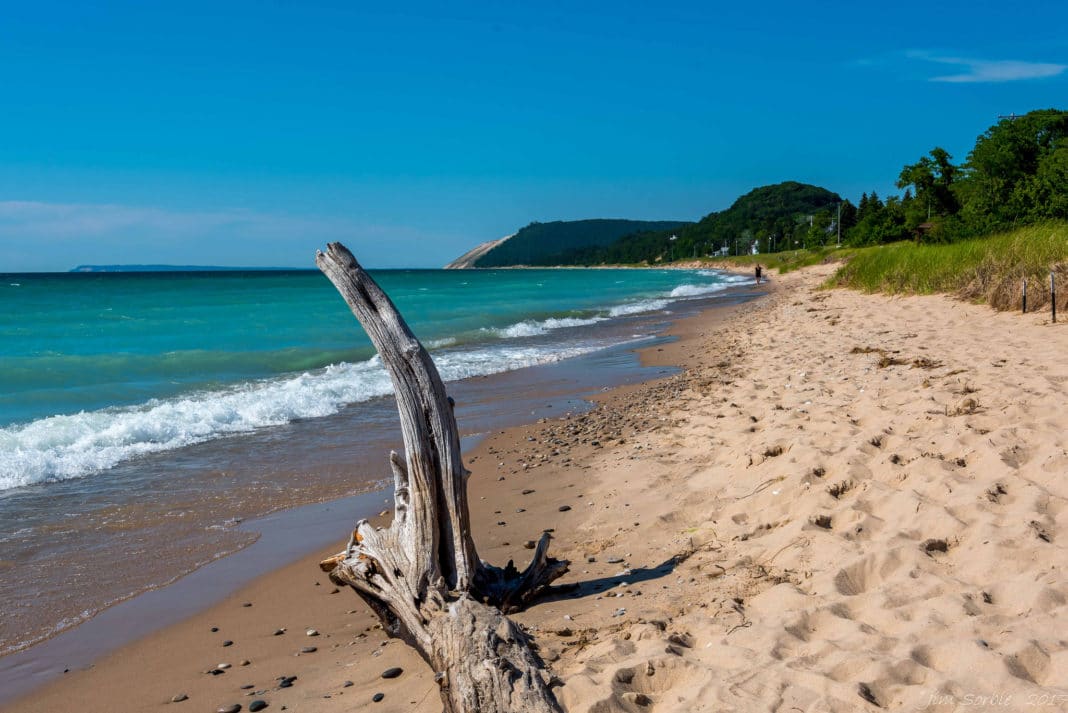 Credit: Jim Sorbie
In the village of Empire, travelers can find the small, but lovely Empire Beach. The public beach invites visitors from all over Michigan, offering pristine sands and a great view. This location should be a priority to visit for those traveling with large families. Youngsters can swim freely in the waters, and parents won't have to worry about big or rough waves. The bluffs of Sleeping Bear National Lakeshore can also be viewed from a seat on the beach.
Empire Beach, one of the best beaches in Michigan, provides travelers with the ideal spot to unwind. The calm waters and breezes will put you to sleep as you lay out under the sun. The five-acre park contains enough area for explorations, with youngsters able to embark on adventures while their parents watch. Consider wandering into the village once you've had enough beach time. This quaint town will feel peaceful in comparison to busier cities.
7. Twelvemile Beach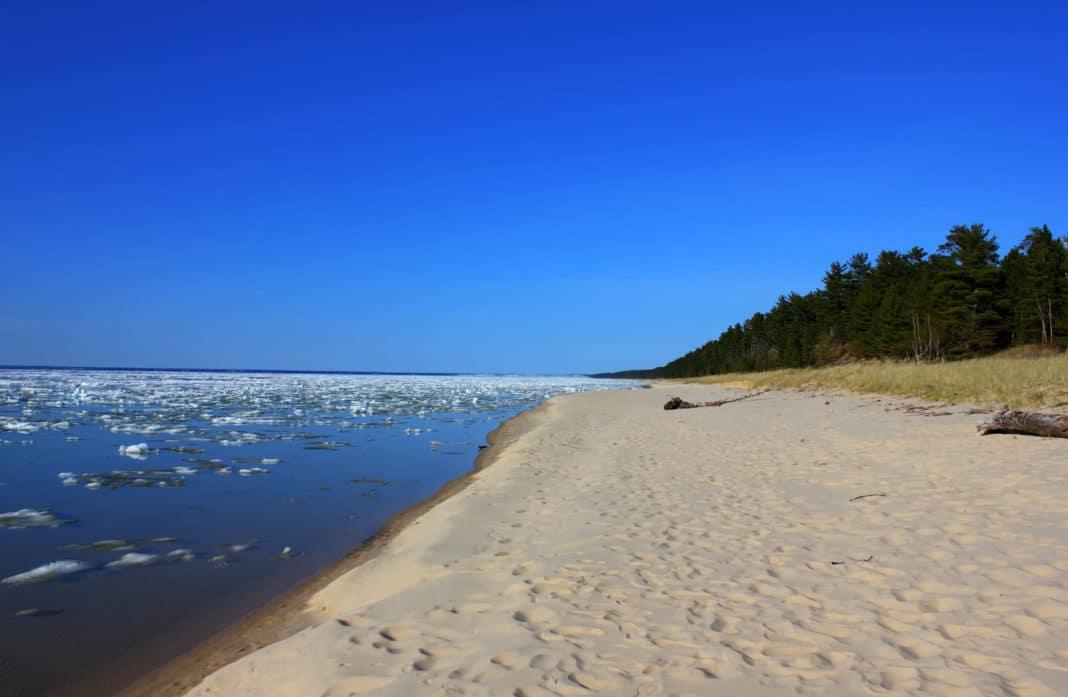 Found on the coast of Lake Superior, Twelvemile Beach represents a lesser known beach on our list. This stretch of sand can be located in between the Pictured Rocks. These natural formations will leave you in awe, as they rise up over the earth. Since Lake Superior tends to be cooler than the other lakes, you may want to visit during the hotter months. In any case, you'll want to pack a few sweaters alongside your bathing suit before traveling here.
As one of the best beaches in Michigan, Twelvemile Beach has more to offer than just sand. Travelers who enjoy camping will love spending a day or two here, exploring the forest landscape. You'll get a clear view of the sky at night, letting you stare at the stars until you fall asleep. Visitors may find places to park and campgrounds in proximity to the beach. Once you visit this coastal spot, you might never want to return home.
8. Belle Isle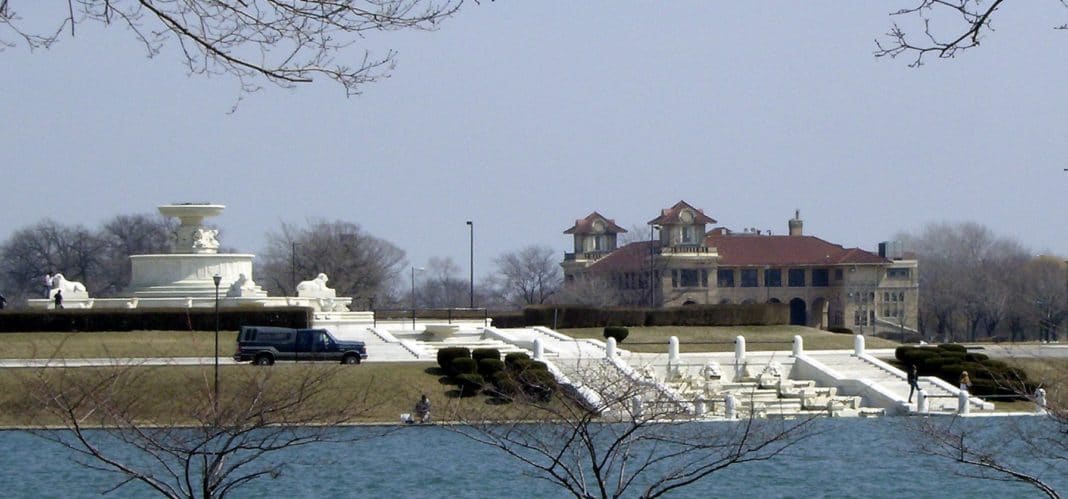 Credit: Mikerussell
This beach location provides more than a just a peaceful view of the sea. While you're sunbathing on Belle Isle Beach, you'll get to see the Detroit skyline as well. The city looms up in the background, beyond the water, and provides a stellar view. You'll get to have a distant connection to an urban setting while enjoying the calming outdoors landscape. As one of the best beaches in Michigan, Belle Isle remains a must-visit location.
Belle Isle remains a unique spot to visit if you're not used to visiting freshwater beach sites. The river that spreads out in front of travelers as they relax on this beach appears blue and fresh. Instead of sitting in front of an ocean, you'll get a change of atmosphere from traditional beachy sites. While the beach here remains somewhat small, the sand feels soft, and you won't struggle to find somewhere to sit. If you get bored of the beach, you can always explore what this well-known island has to offer.
9. Pentwater Beach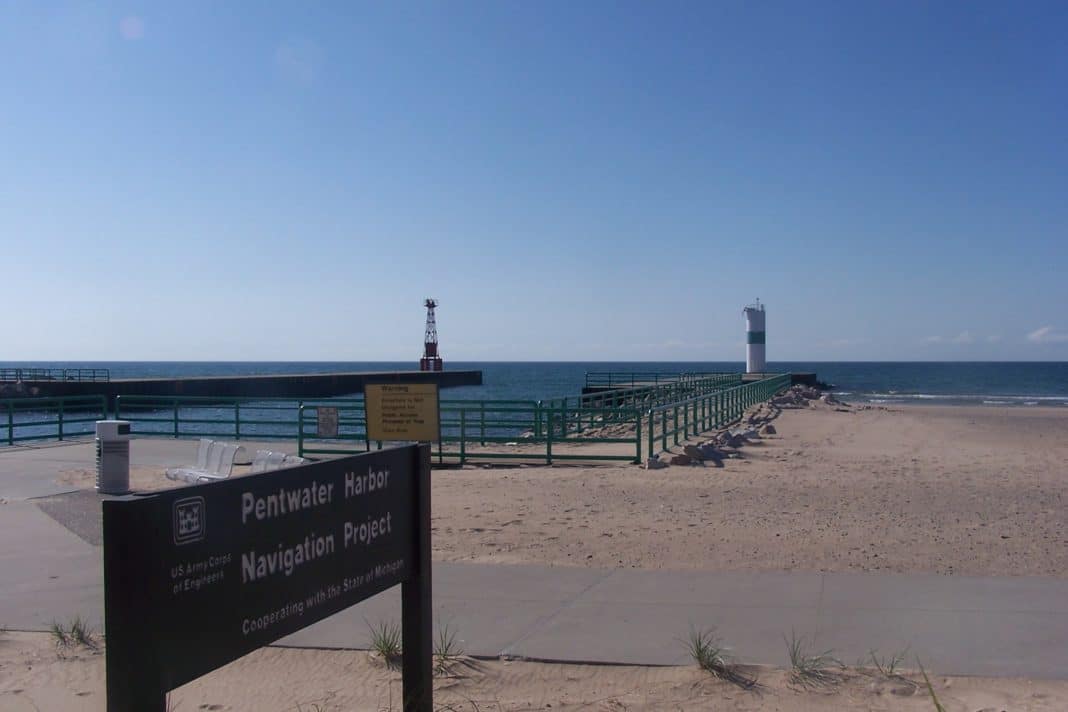 Credit: Wikimedia Commons
Looking for a low-key place to ride bikes and enjoy nature? Pentwater Beach on the shores of Lake Michigan just might be the location for you. The white sands here will feel wonderfully soft beneath your feet and provide the perfect cushion for naps. Many visitors ride bikes along the boardwalk, appreciating the water views and the countless shops and restaurants. If you're more athletic, you might decide to start a game of beach volleyball with a few friends.
Out of the best beaches in Michigan, Pentwater Beach represents a top sandy site. This location allows travelers to ride dune buggies along the sands. You can adventure down the coast, feeling the breeze in your hair and enjoying the natural landscape. The Silver Lake Sand Dunes can also be found nearby, making the site a fun place to explore. After spending hours in the sun, travelers might want to stop by the bars and restaurants on the boardwalk. These dining spots usually play live music throughout the year, and especially during the summer.
10. Ludington State Park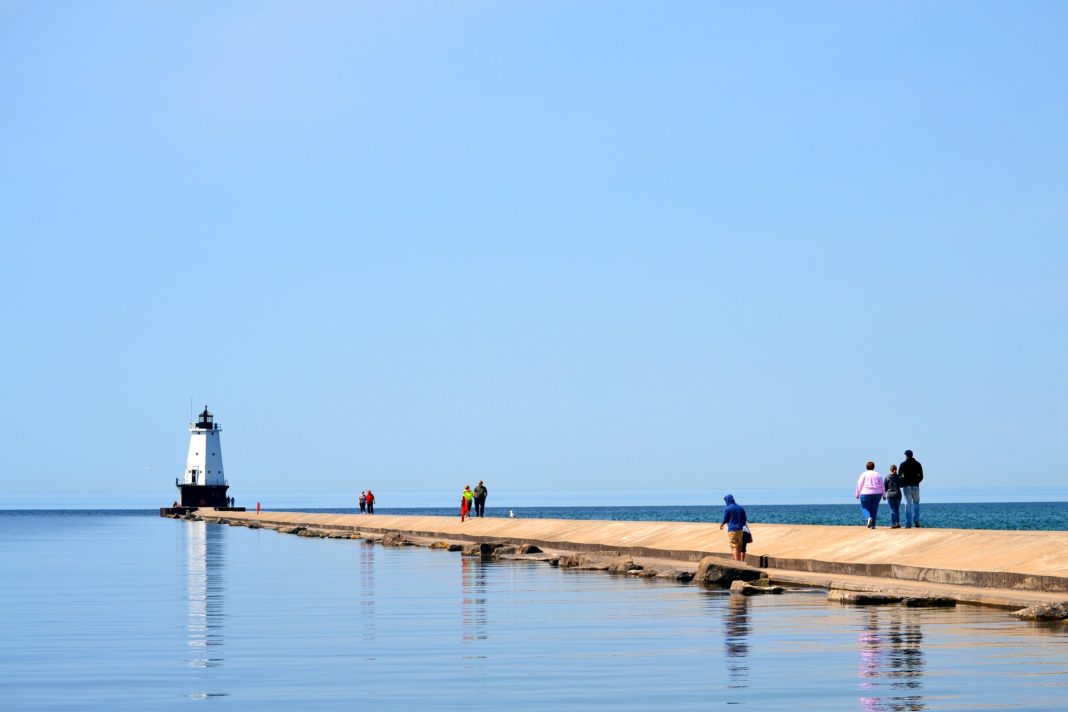 At Ludington State Park, travelers will discover a veritable natural paradise in the middle of the Midwest. Here, you can find over seven miles of sandy coast to roam and make sandcastles on. While in this park, travelers may venture to Hamlin Lake Beach, where they'll find many things to do. The waters in this part remain shallow and warm, perfect for some casual swimming. This location represents one of the top beaches in Michigan, with its comfortable water and great scenery.
North of the Hamlin region, you can find the Nordhouse Dunes Wilderness Area, which contains over 3,000 acres of land. During your time there, travelers may encounter various wildlife and step up the insides of numerous lighthouses. Visitors should also be aware of the $9 entrance fee for getting inside Ludington State Park. However, the beach remains accessible to the public, so you can explore that part for free.
Lay out on the best beaches in Michigan this summer.
Almost every type of traveler enjoys spending sunny afternoons at the beach. If you want to visit a new beachy destination during your next vacation, consider traveling to Michigan. The state has countless coastal beach towns with beautiful beaches and exciting places to visit. You won't run out of places to see and things to do while you explore Michigan. Make sure to check out the best beaches in Michigan this summer, before the weather gets too cold. We hope our article has inspired you to make some plans to travel to the Midwestern location this year.
Related Article: The Eight Best Beaches in San Diego Revealed