Pinewood Social is the Trendy Nashville Hot Spot You Won't Want to Miss.
Although Pinewood Social has been around since 2013, it has not lost any of its flavor or hipster-ness over the years. If anything, the flavor and ambiance of Pinewood Social has only gotten better since its opening day. The place is a neat hybrid of coffee shop meets restaurant & bar meets bowling alley (and more). Upon entrance into Pinewood Social, you will find a Crema Coffee Bar and a main room of dining booths, tables, and a bar. Step in further and you will see a vintage bowling alley inside, which we find to be one of the greatest aspects of Pinewood Social. Should you choose to wander outside, you can play bocce ball on the outdoor patio area when the weather is nice. And when the weather is too hot and you're looking for a cool down, then hop into the refreshing pool.
Today we are breaking down the ins and outs of Pinewood Social to show you just how impressive and unique this place is. Get ready to sit back and relax, or get bowling, because we are diving into all things pertaining to Pinewood Social. Pinewood lives up to the claim on their website that it is the "place to be morning, noon or night." Any time of the day, any day of the week, Pinewood Social is the place to be.
Come to Nashville
Let's talk location and hours. Pinewood Social is located in Nashville, Tennessee. Here, the ambiance is uber hipster, the food comes with flavor and zest, and the activities provided allow for tons of fun. The space is open Monday through Friday 7 AM – 1 AM and Saturday through Sunday 9 AM – 1 AM. Mind you, the airstream and outdoor pools are open daily from 11 AM – 11 PM only. The extended hours show you just how all-around awesome this place is. From morning coffee to evening happy hour and late night drinks, Pinewood Social has it all.
Come Hungry: Breakfast, Lunch, and Dinner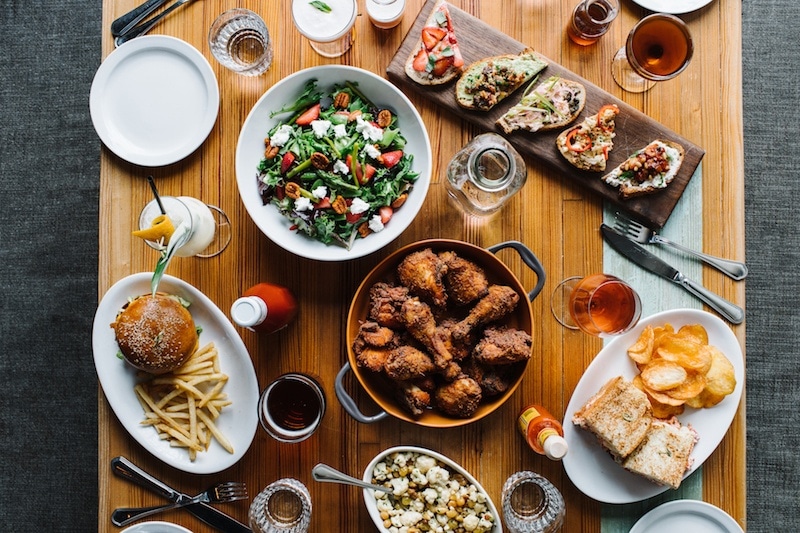 Before we jump into the pool or team up for a game of bowling, we must discuss the food options at Pinewood Social. Whether you come for breakfast, brunch, lunch, midday snacks, or dinner, you will find a delicious menu to order off of. On each of their menus, there are options for the meat lovers, the vegetarians, and the vegans. Everyone will be able to find a scrumptious meal at Pinewood Social.
For breakfast and brunch, guests can order pastries, avocado toast, whole wheat waffles, eggs (however you like them), chicken & biscuits, and more. Some options off of the lunch menu include soups, salads, burgers, club sandwiches, and lobster rolls. Midday, grab an order of the roasted garlic hummus and/or their famous fried broccoli. The dinner menu is certainly the most extensive with appetizers, soups, sandwiches, and entrees. Coming to Pinewood Social in a large group? Order off of the "Large Format" section of their menu to receive a huge amount of fried chicken or lobster mac & cheese that can feed the whole group. There is also a separate menu for the pool/patio area that features an array of tacos, salads, burritos, sandwiches, and beverages.
Last, but certainly not least, is the dessert menu at Pinewood. Pies, a double chocolate chip cookie skillet, vanilla and chocolate soft serve, rocky road ice cream sundaes and coffee cocktails are all available for order. All that to say, there is no shortage of sweet and savory treats at Pinewood Social in Nashville.
Pro tip: Order the fried broccoli appetizer. Seasoned with lemon zest and sea salt, this broccoli app is served with an almond garlic dipping sauce. It is all the rage. Your taste buds will thank you.
Come Thirsty: Coffee and Cocktails
Continuing onto beverages, the bar's drink menu at Pinewood has everything from draft beers to wines to cocktails and mocktails. However, it is important to note that Pinewood Social serves more than alcoholic beverages. There is a separate coffee bar. The coffee area serves, of course, carefully crafted coffee and tea. In addition, the coffee counter is super cute, simple, hip, and aesthetically pleasing (refer to photo above for proof). In the morning, feel free to stop by for your morning cup of joe and a pastry. Eat and drink at the coffee bar, or grab and go. Order a seasonal espresso, a macchiato, a cappuccino, or iced coffee. There is brewed coffee from Costa Rica and Colombia served at Pinewood Social as well. The surplus of drinks will satisfy any coffee, tea, or hot cocoa lover. There are creative drinks to be found within Pinewood Social, including their well-known coffee cocktails that customers can't stop talking about.
Come to Read, Work, or Catch up with Friends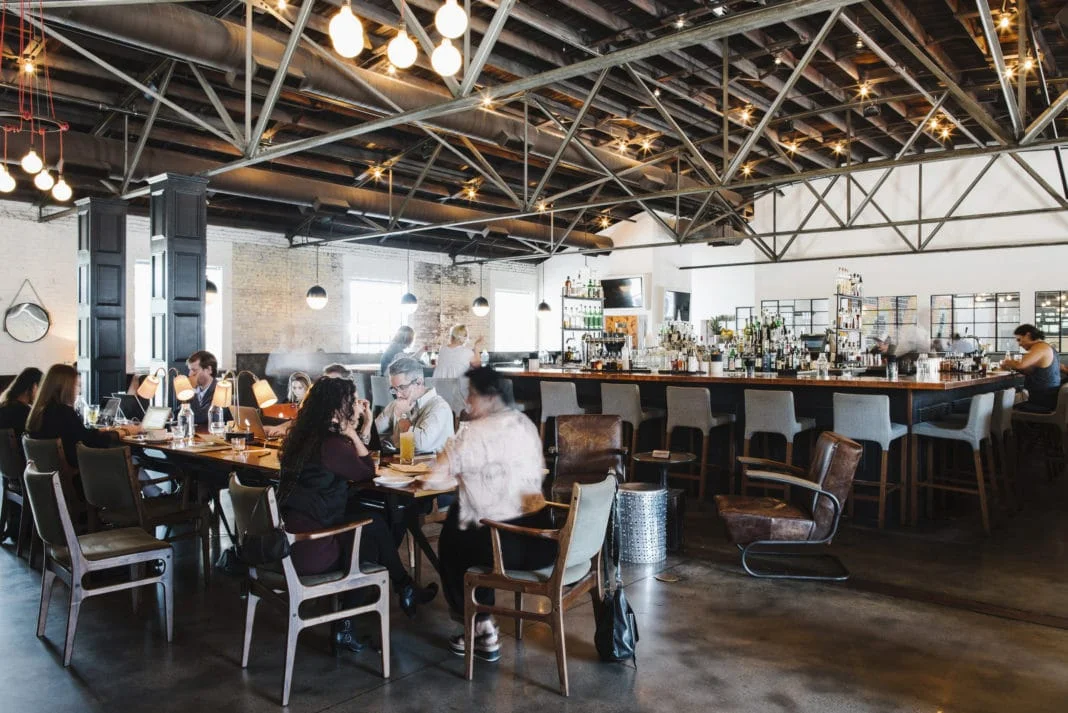 During the day, Pinewood Social creates a great atmosphere for getting work done. Between the friendly ambiance and the chill coffee shop feels, we highly recommend stopping into Pinewood during the day to read, work, or meet up with friends/coworkers. The space has fast internet connection and endless streams of coffee to sip on. Students will find Pinewood to be an ideal location for studying. If you work remotely, step into Pinewood to click away on your laptop while enjoying a pastry of your choice. If you have free time during the week or over the weekend, Pinewood is also the perfect spot to settle in with a book or grab coffee or lunch with a friend.
Come for Happy Hour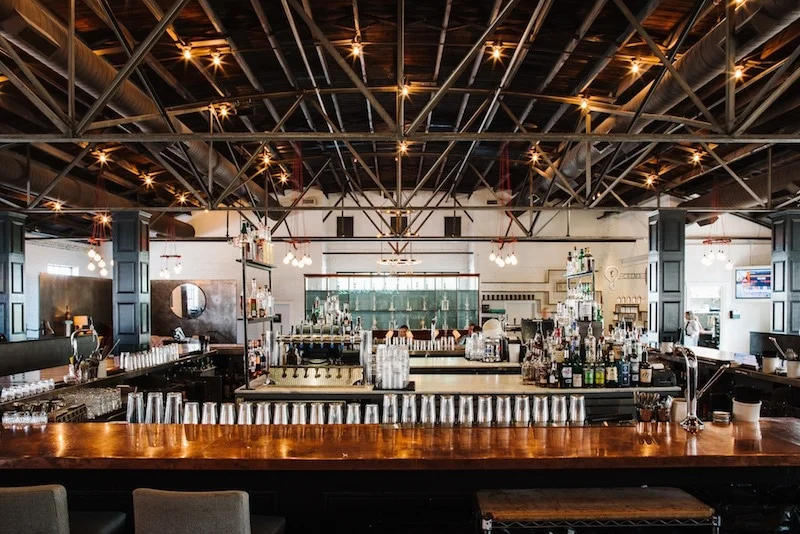 For those who can't work remotely throughout the week, come to Pinewood Social for happy hour after you get off work. Remember, the interior of Pinewood Social is massive. With ample seating, there is a ton of space for you and your coworkers to hang out after a day in the office. Order your favorite non-alcoholic or alcoholic drinks from the bar counter. Sit at one of the 30 bar stools at the counter, or take your drinks to a booth and sit around the table. After a round of drinks and appetizers, lace up your shoes and head to the bowling alley lanes.
Come With Your "A Game"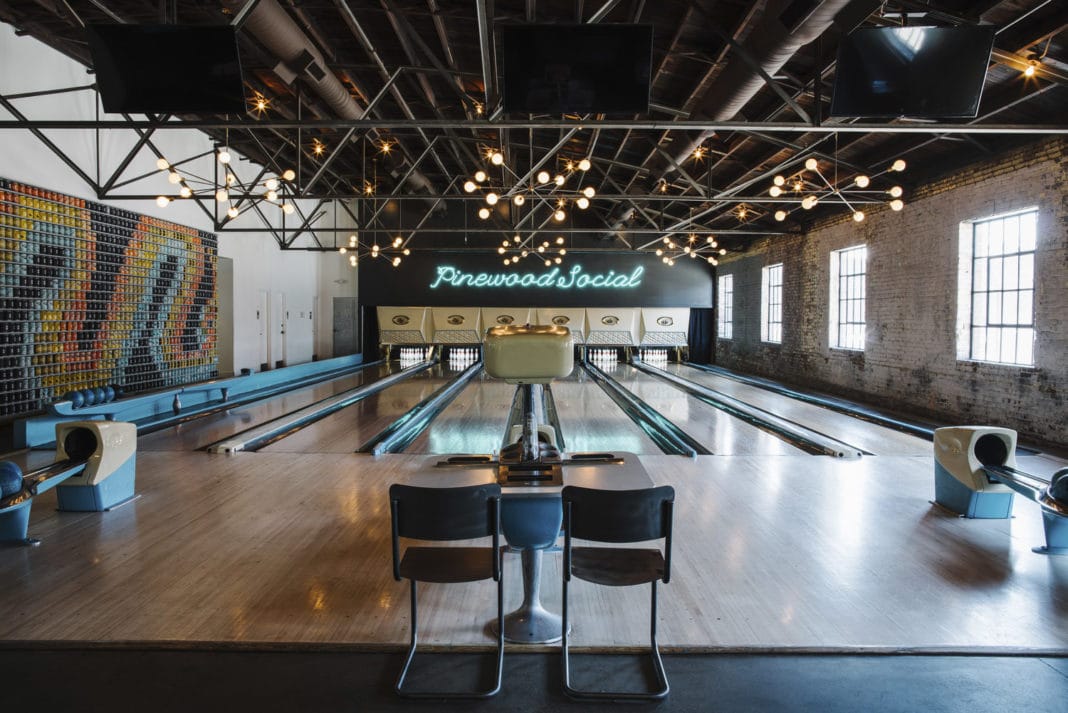 Above all things, you have to come to Pinewood with your A game. In addition to the creative dishes and drinks served at Pinewood Social, there are vintage bowling alley lanes to get your bowl on! Guests can pick up a pair of bowling shoes and a bowling ball for free. As for renting a lane, it will cost you $40 per hour (max 6 people). If playing with 6 people, the split cost is very doable. Plus, the amount of fun you will have playing on these vintage bowling alley lanes, enjoying the company of friends, and munching on delicious appetizers will be entirely worth it. The experience is unique to Pinewood Social and something you can't miss while exploring Nashville. Whether you are a local or a traveler passing through, bowling at Pinewood is completely worth it.
But it doesn't end there, what's more is that Pinewood Social has an outdoor patio with activities as well. There is a bocce ball court, a pool, a ping pong table, and plenty of lounge chairs to relax in. There is something for everyone within the oasis that is Pinewood Social. The only requirement to entering Pinewood Social and participating in these activities? Bringing your A game.
Leave Happy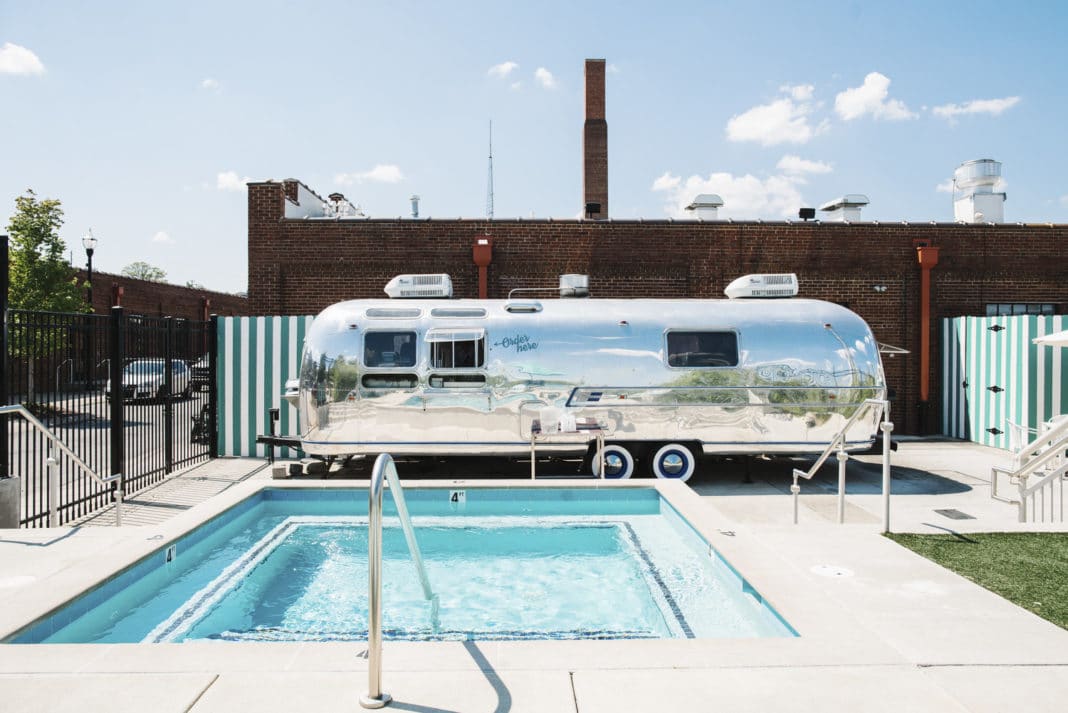 Pinewood Social feels like home. Whatever the reason that gets you to come into Pinewood – be it the food, the drinks, the vibes, the coffee, the bowling, the pool – you are sure to leave happy and with a bucket full of new memories. Pinewood Social is like an old warehouse converted into a coffee shop, restaurant, bar, bowling alley, pool, and play area. It is a mishmash of all things you could want to eat, drink, and do within one space. The menu is superb and the service is friendly and attentive. Though off the beaten path, Pinewood Social is truly a dream bar with non-alcoholic and alcoholic beverages.
Any time of the day, Pinewood Social is a great idea. Come in the morning to pick up coffee and breakfast on your way to work, or bring your work to Pinewood Social and type away on your computer for hours in this hipster atmosphere. When exploring Nashville, do yourself a favor and stop by Pinewood Social for an unforgettable time.
Have you been to Pinewood Social Nashville before? Share with us your favorite meals and memories in the comments below!