Adventure to the best bars in Las Vegas during your next trip.
Las Vegas contains some of the coolest and most exciting bars in the entire U.S. In this city, you'll find a huge variety of bars to explore on a night out with friends. From ritzy locations to more down-to-earth spots, every traveler can find a bar they love in Vegas. If you're planning a trip to the area, but don't know where to go, read our article below. We've curated a list of the best bars in Las Vegas for you to discover. Before embarking on a bar-hopping adventure in Las Vegas, check out our list.
1. The Chandelier
Credit: The Cosmopolitan Las Vegas
As this bar's name suggests, a main focal point at this location remains its gorgeous chandelier. The massive, dangling chandelier appears opulent, and will make any traveler feel in awe of its size. Beyond the impressive décor, The Chandelier encompasses three floors inside its location on the Strip. Found inside the Cosmopolitan, The Chandelier has something to discover on every floor. At the bottom, you'll find lots of visitors mingling and having fun as they try tasty drinks. The middle floor maintains a quirky design inspired by Alice and Wonderland, while the top feels quiet and cozy.
Though The Chandelier maintains an awe-inspiring interior, the bar also offers lots of delicious drinks. If you prefer simple, plain drinks, you may want to head elsewhere. This bar serves complex cocktails that will surprise and satisfy you. Drinks like the Natural Selection contain delicious ingredients, such as coconut cream, lemongrass syrup, peanut butter, and bird's eye chili. The innovative, gourmet drinks served at this bar may leave you stunned and coming back for more. Be sure to head to The Chandelier, one of the best bars in Las Vegas.
2. Atomic Liquors
Credit: Atomic Liquors / Facebook
Atomic Liquors definitely has the "wow" factor that many travelers search for in a bar. As one of the best bars in Las Vegas, the Atomic Liquors remains a must-visit spot. Here, travelers can drink delicious cocktails while getting the chance to experience real history. Atomic Liquors, the oldest freestanding bar in Vegas, recently became a top craft cocktail location. Per the bar's name, Atomic Liquors contains décor documenting Nevada's history with nuclear testing. As you sip on tasty cocktails, you can look back on relics from the state's past.
When you come to Atomic Liquors, you can enjoy a number of craft beers and beers on draft. Accordingly, travelers who love their beer will want to head to this bar. You can sip on sour ales, IPA's, Pilsners, Ciders, and more. Everyone can find a beer that they truly enjoy when they come to Atomic Liquors. If you get a little hungry, you might want to visit The Kitchen at Atomic. This restaurant, on the same property as the bar, serves gourmet meals in the New American style.  
3. Double Down Saloon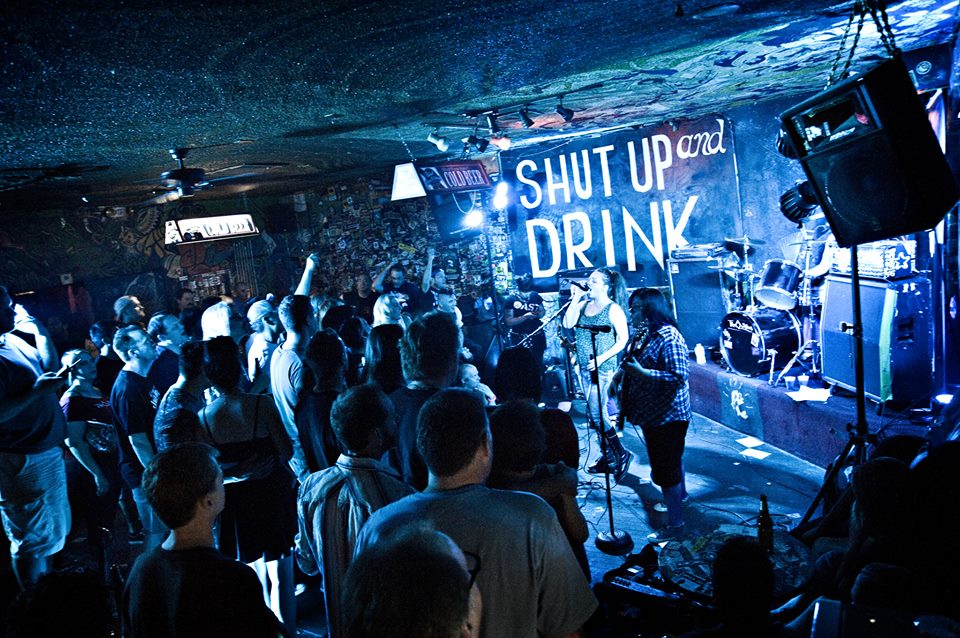 Credit: Double Down / Facebook
In comparison to other bars on this list, Double Down Saloon doesn't feel opulent or glamorous. Rather, this dive bar has a grungy, dark atmosphere that makes for a more down-to-earth drinking experience. However, the less luxurious nature of this bar doesn't mean you won't have an exciting time while here. The Double Down Saloon frequently entertains live punk bands, so you can listen to music as you drink. Instead of going to fancier bars, visit this dive spot, one of the best bars in Las Vegas.
Double Down Saloon might be your go-to bar in Las Vegas if you prefer locations that don't feel pretentious. As you listen to the punk music, or dance to songs played by the jukebox, you can sip tasty drinks. Unique cocktails served at Double Down include the bacon martini, a must-try for those who love bacon. You'll also find most of your favorite classic drinks to try. If you don't want to waste your time at a sophisticated bar, stop by this cool saloon instead.
4. Beerhaus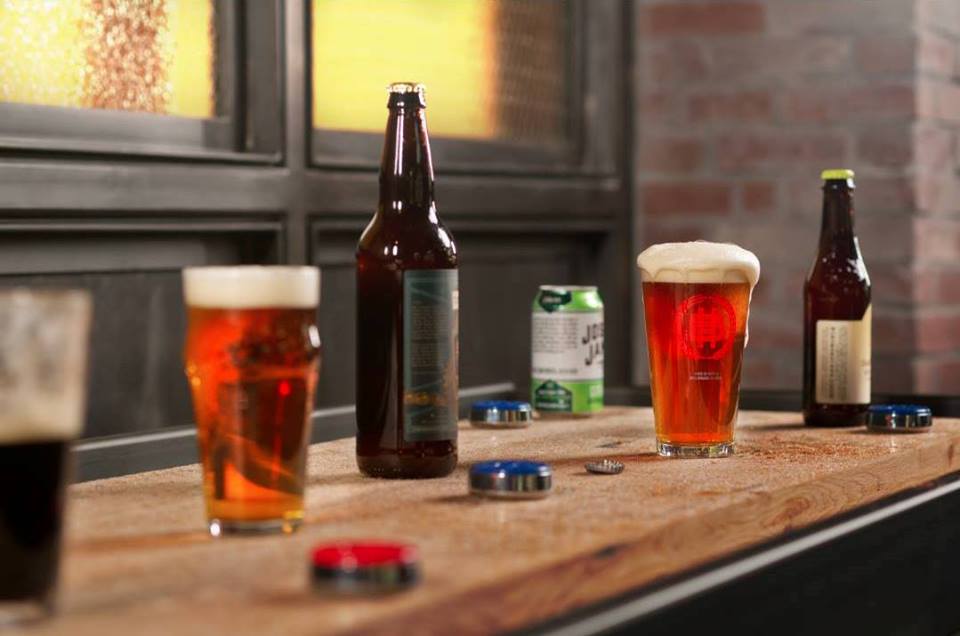 Credit: Beerhaus / Facebook
Travelers who consider themselves beer fans may want to prioritize a visit to Beerhaus. This drinking spot, one of the best bars in Las Vegas, remains a top choice for beer lovers. At Beerhaus, travelers can enjoy a vast array of brews. From IPA's to Pale Ales, you'll find a number of different beers at this location. Unique beers include interesting brews like a Caramel Hazelnut Coffee Kolsch or an Oatmeal Stout. You'll find your favorite brew here, as well as a new favorite to try again and again.
Found on the Strip, Beerhaus remains an exciting place to have a few drinks amongst friends and family. The location grows stimulating when large numbers of visitors come to this bar. You'll get to chat with like-minded drinkers while sipping on tasty beers. Once you get a little hungry, you can order something delectable from the Beerhaus menu. Items to eat include things like roast pork sandwiches, Beerhaus brats, fried pickles, and warm pretzels. If you want something sweet to finish off your meal, try a red velvet whoopie pie.  
5. Velveteen Rabbit
Credit: Bianca Scott
At the Velveteen Rabbit, travelers will have the opportunity to have drinks in an artsy and quirky location. This bar, situated in Downtown Las Vegas, offers seasonal cocktails that taste like nothing you've ever tried. Depending on the time of year, you could sip on drinks with a variety of unique ingredients. Flavors you might find in your drink include turmeric honey, burnt pecan syrup, and pomegranate molasses. As part of their Autumn menu, the bar serves cocktails with ingredients like sweet potato-infused bourbon, rosemary-infused brandy, and more.
The Velveteen Rabbit, one of the best bars in Las Vegas, has a singular interior. Vintage furniture and local artwork fill the space, making it a treat to look at. These pieces of antique and one-of-a-kind décor make the Velveteen Rabbit stand out amongst other typical bars. When you drink the distinctive cocktails at this bar, you'll also get to appreciate the fascinating decorations. Additionally, the bar has an outdoor patio area that contains a stage for performers. On Fridays and Saturdays, travelers will get to listen to music played by DJs as they sip on drinks.
6. Commonwealth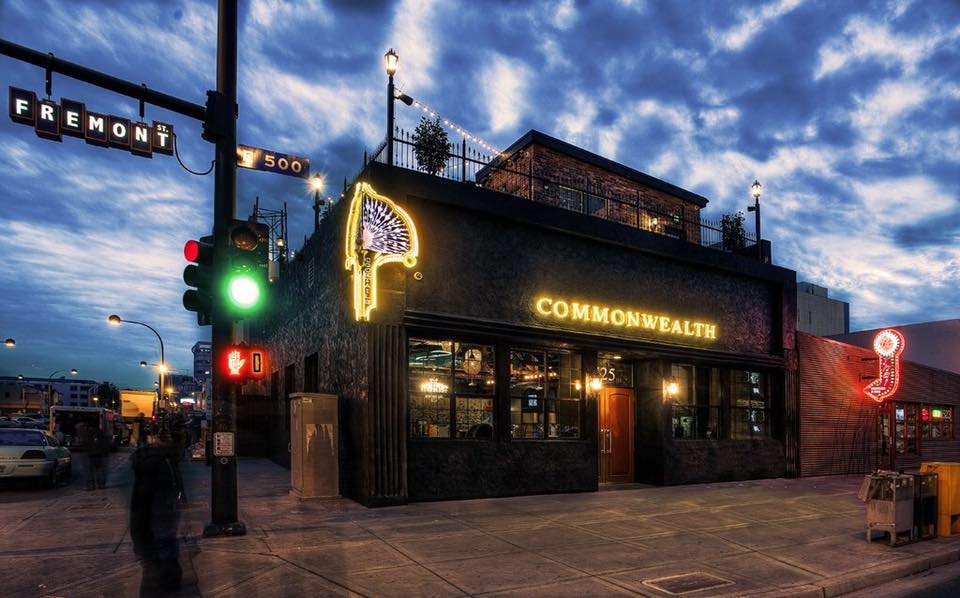 Credit: Commonwealth / Facebook
Commonwealth remains an example of the best bars in Las Vegas. Located in Downtown Las Vegas, this bar contains a rustic appearance, differentiating itself from other modern drinking spots. Crystal chandeliers, bright and delicate, contrast the wooden furnishings found throughout the space. When you enter this space, you'll feel warm and welcomed. Travelers who want to step away from the glamour of the Strip should definitely stop by this bar. If you prefer low-key, cozier drinking locations, you'll consider Commonwealth one of the best bars in Las Vegas.
When you arrive at Commonwealth, you can take a seat at any of the bar's comfy stools or chairs. Once you're situated, you'll want to order some delicious cocktails to try with friends. While this bar offers a variety of drinks, you won't find complex, pretentious mixes here. Instead, drinks served remain simple, yet delicious. Additionally, Commonwealth has a vast number of beers to choose from, including two dozen on tap. The service here also remains friendly, inviting travelers to hang out and chat with the bartenders and employees. Once you come to this bar, you might never want to leave.
7. The Golden Tiki
Credit: Golden Tiki / Facebook
If you're interested in leaving Las Vegas and entering a mini-paradise, visit The Golden Tiki. This bar maintains a tropical appearance, thanks to decorations like conch-shell chairs, leafy plants, and shrunken head dolls. As you enter the bar, you'll feel transported to somewhere warm and breezy, away from the hubbub of the city. Friends and family will love spending time in this tiki bar, chatting over drinks and listening to exciting, tropical-themed music. You won't find many other bars with the same kind of fun-loving atmosphere you'll discover here.
At the Golden Tiki, travelers can enjoy drinks with fresh, fruity tastes. Cocktails on the menu include sweet drinks like the Banana Batida, made of banana liqueur, coconut cream, and pineapple juice. The Zombie Punch Bowl, which contains three types of rum, juice, and spices, remains a top choice for sharing. If you pay a little extra, you can get an upgraded souvenir tiki mug to take home with you. Travelers with a sweet tooth will also love drinks topped with Dole Whip, a frozen pineapple treat. Hang out at The Golden Tiki for a while before going to the nearest restaurant for a bite to eat.
8. The Dorsey
Credit: The Venetian / Facebook
Any travelers who enjoy bars with an elegant and sophisticated atmosphere will appreciate The Dorsey. The glamorous spot contains massive, comfortable couches for lounging, while a library room contains a fireplace, making it extra cozy. Features made of oak, leather, marble, and brass produce a sense of refinement at this bar. You'll love sitting on leather chairs with drink in hand as you take in the style of the drinking spot. Within the dark space, travelers can relax and chat amongst friends or strangers. Consider heading to The Dorsey during your trip, as it remains one of the best bars in Las Vegas.
Complex and gourmet cocktails served here match the elegance of the bar's décor. A talented mixologist has crafted a variety of innovative drinks for its guests to try. Sip on the Penicillin, one of the bar's most famous drinks. The cocktail contains a mix of Scotch, lemon, ginger, honey, and Islay float. You could also order a punch bowl to share, like the Green Street, which includes vodka, lime, and green apple. If you get a little hungry, you could even order a tasty snack from the food menu. Curly French fries, beef sliders, and Kimchi fried rice remain just a few of the items available to eat.
9. Herbs & Rye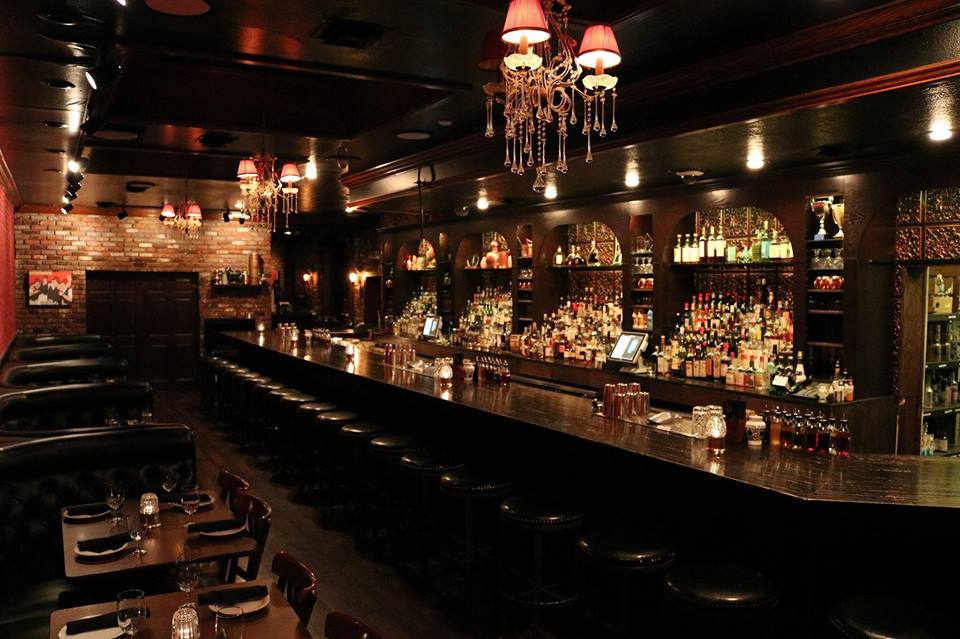 Credit: Herbs & Rye / Facebook
Herbs & Rye remains a popular choice amongst bartenders in Las Vegas. This means the drinks at this bar taste top-notch, according to those who make drinks for a living. The bartenders at Herbs & Rye have been trained to understand the history and artistry involved in making cocktails. On the Cocktails menu, you'll find drinks segmented based on different time periods from America's past. For instance, you can try beverages inspired by the 18th century through the mid-20th century. Accordingly, travelers who appreciate the history of classic cocktails will want to visit this exciting bar.
At the bar in the back of Herbs & Rye, guests can choose from a variety of tasty drinks. Different spirits, mixers, and liqueurs can be found in the bar's repertoire. If you don't find something you truly want, you may even ask a bartender to make a special drink. When you grow hungry, you should order a plate of food from the bar's menu. Things like pasta and steak remain top choices for eating with tasty cocktails.
10. Parasol Up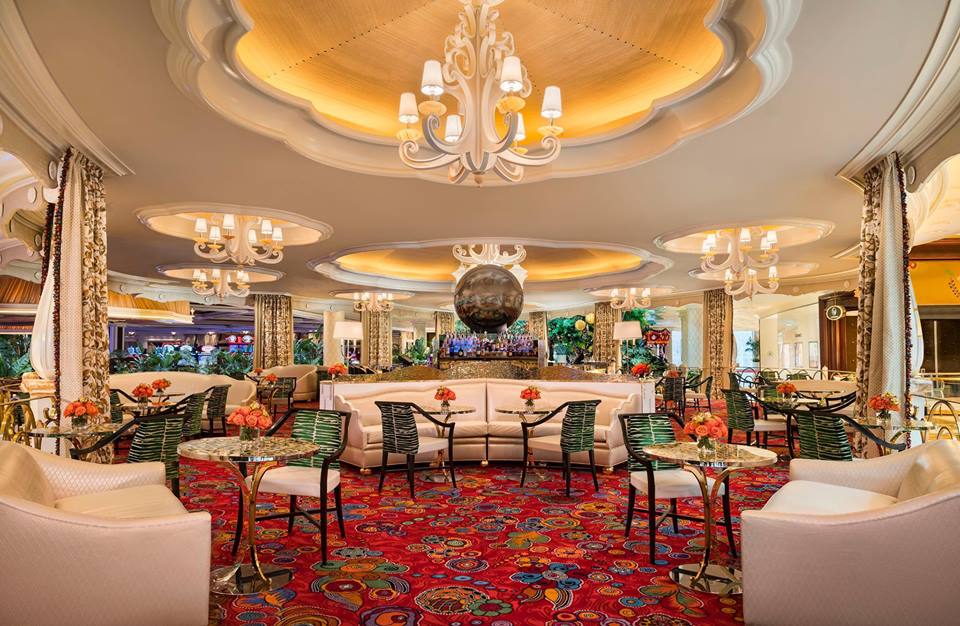 Credit: Wynn Las Vegas
If you want to experience the Strip from up-close, visit Parasol Up. This bar remains central to Wynn Las Vegas, so you'll have the ability to watch the Strip while you drink. As visitors mill inside the floor, directed towards the gambling locations in the casino, you can watch in interest. Of course, the interior has enough to keep you intrigued as well. Parasols and floral decorations make the bar appear vibrant and fun. The 2-level casino lounge provides the perfect place to hang out and sip on delicious cocktails. When you come to the Nevada city, head to this spot, one of the best bars in Las Vegas.
Drinks on the menu at Parasol Up include a variety of delectable cocktails especially crafted for the bar. You can always order your favorite drink here, as the bar offers a ton of choices. Additionally, as the bar looks out over the Lake of Dreams, you can see nightly shows from the bar.
Stop by the best bars in Las Vegas on a bar-hopping night out.
If you're interested in traveling to Las Vegas, you should definitely check out the area's top bars. The Nevada city maintains a reputation for having various innovative and stunning bars to explore. You'll love getting to see the different bars that exist in this vibrant location. All kinds of travelers can find their new favorite bar when they visit Vegas. While planning an amazing night in Las Vegas, make sure to read our list. We hope our article on the best bars in Las Vegas has helped you decide where to go bar-hopping next.
Related Article: Best Bars in LA You Need to Visit