Most people associate Italy with fine dining. But believe it or not, there's some delicious Italian street food out there.
When it comes to cuisine, you just can't beat what the Italians have to offer. From creamy fettuccine alfredo to mouth-watering burrata, these dishes are nothing if not drool-worthy. I've said it before and I'll say it again. One of the best ways to dive into a foreign culture is through their culinary scene. Today, we're going to do something a little less typical. Instead of taking you on a tour of chic restaurants and cozy cafes, we're going to sample various types of Italian street food during our visit to Italy. Are you ready?
Here Are the 12 Best Types of Italian Street Food to Try
Sure gelato and pizza are amazing. But we're looking to go beyond the typical tourist's diet. Italy has a rich and vibrant food scene. It's only right that we explore it. Whether it's your first time visiting Italy or you're a seasoned traveler, there are probably plenty of delicious dishes you've yet to try. As if there weren't enough reasons to dream about visiting Rome, Florence, Venice, and the like, here's some more. Without further adieu, here some of the best types of Italian street food you need to try.
1. Arancini
Credit: Flickr
If you're in the mood for something savory, look no further. These deep-fried stuffed rice balls are the things dreams are made of. The most common fillings are al ragu or al sugo. I'm convinced that anything filled with ragu, mozzarella, and ham is a dish worth having. You'll often find arancini sold in local markets and small Sicilian cafes. This is one of my favorite types of Italian street food.
2. Pesce Fritto Al Cono
Ice cream isn't the only food you can eat from a cone, you know. Have you ever tried pesce fritto al cono? This fried seafood is a popular treat in many Italian coastal towns. And get this. It's always fresh. The seafood is delivered daily from fishermen in the morning, tossed in a flour mix, and then deep fried right before you. The types of pesce offered all depend on the catch of the day. Want to eat it like the locals? Squeeze some fresh lemon juice on it and eat it with the small spear provided to you as you wander the cobblestone streets. Enjoy one of the best types of Italian street food.
3. Zeppole
Credit: Flickr
Have you ever gone to an Italian bakery? If you haven't tried one of these delicious bites, you are really missing out. Yes, these are yet another delicious deep fried ball of dough. Rumored to have originated in Naples, you can now find them at street corner stalls and food fairs scattered across the country. So what's inside this delicious type of Italian street food? Think custards, jellies, creams, and sometimes chocolate. But if you're looking for something authentic, nothing beats the original style ones. For your first taste of zeppole, I highly recommend trying out the good old classic – lightly fried and topped with sugar. Yum.
4. Stigghiola
Are you looking for something with a little more substance? When it comes to Italian street food, you won't get much better than stigghiola. This isn't your ordinary meat on a stick. Quite to the contrary, this beloved Sicilian dish is well, exotic. If you're feeling a little adventurous, try it. Stigghiola is salted sheep intestine served on a skewer. While you might squirm at the thought of it, variations of this dish are also popular in Argentina, Turkey, and Beijing.
5. Porchetta Romana
Meat lovers, when it comes to Italian street food, this will be your kryptonite. What's in a classic porchetta romana? Only the finest ingredients, of course. This pork meat is stuffed with rosemary, garlic, and a host of other herbs before it is slow-cooked. If you're wondering how it could possibly get any better than this, there is one way. You could eat it in the classic panino con porchetta style.
6. Panica Muesa
Have you ever been to Palermo? If so, chances are, you've seen this food around. Panica muesa is a traditional Sicilian sandwich – with a twist. The meat is made from veal's lung and spleen eaten with bread. If you can forget what you are eating, it tastes a lot better than it sounds. The meat paired with caciocavallo cheese makes for a satisfying dish. Squeeze some fresh lemon juice on it for the best overall flavor.
7. Panzerotti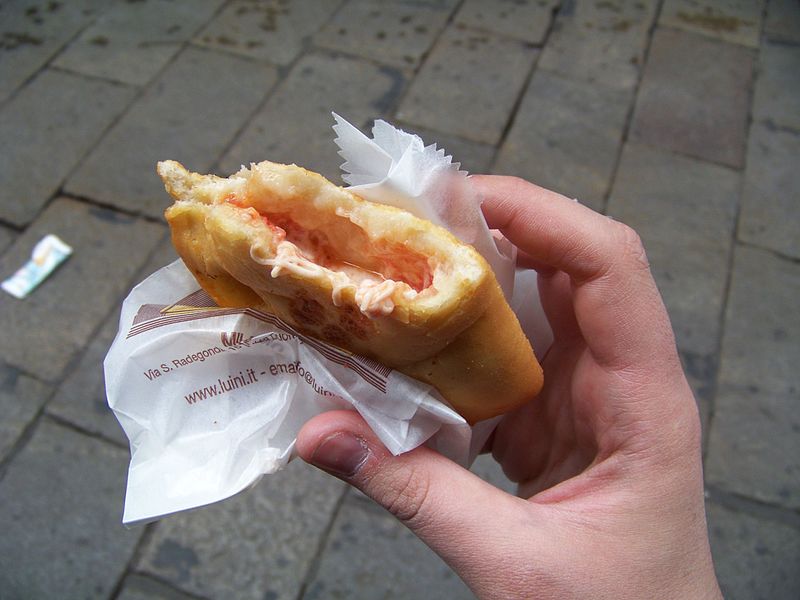 Credit: Wikimedia Commons
If a few of the other options were too much for your palette, then try panzerotti. These half-moon-shaped pastries are similar to a calzone. These soft dough pastries are filled with a combination of cheeses and tomato and fried until they're crispy on the outside. Over time, these treats have moved beyond the Italian street food scene to restaurants around the world. With this said, I still prefer the good old fashioned foods. I'll take my greasy treat by the hand in a cart off the street, please.
8. Panino con Porchetta
This is arguably one of the most widespread types of Italian street food. If you're interested in trying some, make your way over to the cities of Tuscany, Lazio, and Umbria. Panino con porchetta is made from deboned pork, stuffed with salt and herbs, rolled up, and slow cooked. After it is roasted, the pork is placed between slices of crusty bread. The result is a tender and flavorful dish good enough to excite even the pickiest of eaters.
9. Panelle
Credit: Wikimedia Commons
This is the simplest yet arguably one of the most delicious forms of Italian street food. Want to know what's in it? In short, it's basically thick slices of polenta fried in olive oil. While it is so simple that it's considered poor man's food, it's delicious enough that I don't care. Eat these fritters alone, served with croquettes, and eaten like a sandwich. This is another one of those foods that taste even better with a little bit of lemon juice drizzled on it.
10. Crema Fritta
During the summer months, the sweet smell of crema fritta wafts through every street market. It's only fair that I give you a warning here. This stuff is incredibly addictive. Crema frittas are gold diamond pastries filled with a thick custard cream, breaded, and deep fried (a theme here). I'm convinced that the best (and only) way to eat yours is hot off the fryer and stuffed into a paper cone. How else are you going to carry your gooey deliciousness around the streets as you explore?
11. Piadina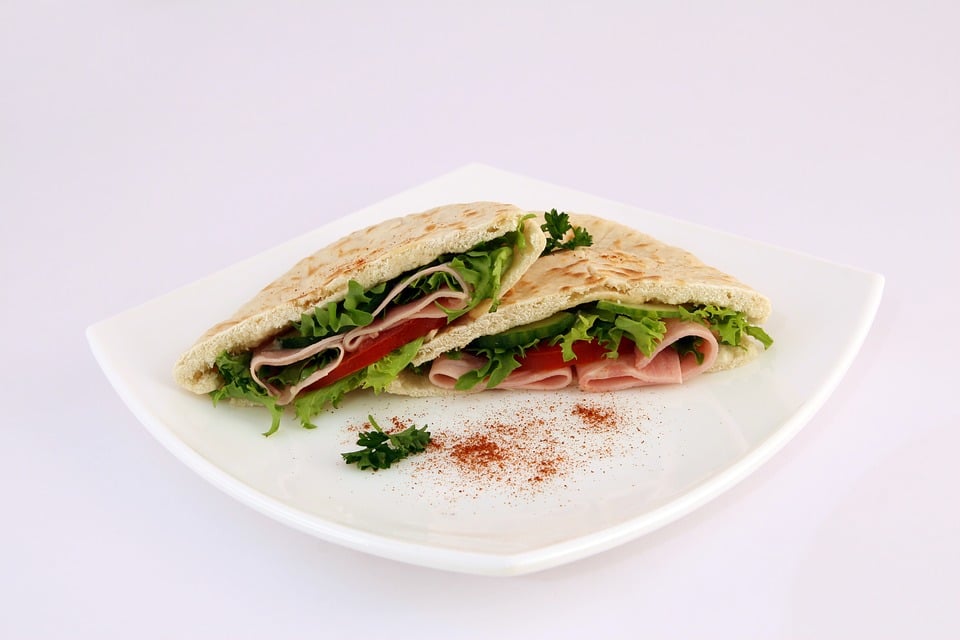 Vegetarians, this one's for you. We all know there are very few meat-free items on the Italian street food market. This specialty is one of the best, though. Piadina is made from flour, salt, olive oil, and water. You'll know you have found the real traditional good stuff when it is cooked in front of you on a terracotta plate.
Eat this dish in multiple ways. It can either be served alone or stuffed with anything you might like. While it's easy to get overwhelmed with options (I know I do), it's best when you keep it simple. One of my favorite fillings to put in the piadina is with chicory and mozzarella. It's simple and fairly healthy to eat.
12. Lampredotto
As we wind down our list, I'm guessing you've realized two things. As diverse as Italian street food is, there are themes. First, there is a lot of deep fried goodness. Second, they are more adventurous than Americans when it comes to their meat. With this said, Lampredotto is another one of those meals that are not for the faint of heart. This type of classic street food consists of cow stomach boiled in tomato broth and herbs and served up on a bun.
Plan Your Trip and Indulge in the Best Italian Street Food
Italian street food is incredibly diverse. With so many tasty dishes and drinks to choose from, it was hard to narrow down my list to the top picks. While you're there, make sure to sample as many dishes as you can. Seek out authentic places to try the dishes. Ask for the local's recommendations. Or when you're feeling creative, put your culinary abilities to the test and try to cook up some Italian street food recipes on your own. If you're looking for more places to visit, check out our picks for the best places to travel in Europe.
We hope you enjoyed reading our article of the best Italian street food to try. Now, it's time for a taste test. While you can certainly try your hand at these recipes at home, we recommend the real deal. Even from this simple list, it's easy to see that cuisine is incredibly diverse. This food is incredibly diverse. Did you know that December is a great time to visit Italy? Just saying.
Related Article: Bucket List Places to Visit in Southern Italy