Come experience a thriving farm to table scene among the best restaurants in Grand Rapids.
Twice voted as Beer City USA, this thriving metropolis is the place to be when it comes to craft brews and bites. Grand Rapids is home to plenty of trendy breweries, micropubs, and cafes springing up on what seems to be every corner. While Michigan probably isn't the first place you'd think of on a foodie's vacation bucket list, we're here to tell you why it should be. So what's in store when it comes to taste testing at the best restaurants in Grand Rapids? Come along and we'll show you.
A Little Bit About Grand Rapids, Michigan
This city is known for its beautiful landscapes and thriving craft brewery scene. As the second largest city in the state of Michigan, it offers plenty of things to do for the curious traveler. For those seeking a unique vacation, this isn't a tourist's typical destination. A great place to visit in any season, the forests and Great Lakes will take your breath away. The city life shouldn't be missed either.
If you haven't been to Michigan before, this Midwest state that's full of surprises. From the Great Lakes to sprawling cities and dense wilderness, there's no denying this is a prime vacation destination. Half of the state is covered by forest. Breaks in groves of maple trees give way to the pristine shoreline, historic villages, and a flourishing craft drink scene.
While locales like Mackinac Island are a big draw in the summer, there's something to be said for visiting resorts in Michigan in the fall and winter too.Autumn offers a scene plucked straight off a postcard, a kaleidoscope of colors you'd swear is unreal. Go apple picking on a farm, make your own cider, and revel in the magic of the season.
Come winter, the landscape is covered in a thick white blanket of snow. Locals and travelers alike gather together to warm up their hands with a cup of hot chocolate and hit the slopes at nearby ski spots. As you can see, the best resorts in Michigan offer something for every type of traveler.
You'll soon find that this lovely metropolis is full of restaurants, museums, concerts, and so many breweries, it's earned the nickname "Beer City USA." Grand Rapids is the perfect place to take a weekend trip or maybe a little bit of an extended stay. This is why we've rounded up the top places to eat while you're there. It's time to make the most of your experience.
Here Are Our Picks for the Best Restaurants in Grand Rapids, Michigan
1. Bistro Bella Vita
Credit: Bistro Bella Vita
Open and airy, this cozy spot offers healthy farm to table meals with a Mediterranean influence. The rustic interior and lovely patio seating will make you feel right at home. Their specialty is modern French and Italian cuisine made from scratch. We appreciate that they try to use as many sustainably-sourced ingredients as possible.
So what's on the menu? Let's just say we hope you came hungry. Enjoy homemade pasta, mouth-watering brick-oven pizzas, roasted to perfection meats, and big leafy green salads. Here, you can taste the difference in the quality of the cuisine. Bistro Bella Vita is open for lunch and dinner. Personally, we prefer the menu after dark. Indulge in tasty appetizers like tomato bruschetta, charcuterie plates, and spicy pork meatballs.
When it comes to the main dishes, you'll find options galore. We're big fans of the beef brisket bourguignon and saffron risotto. If you can manage to save some room for dessert, the house-made tiramisu is to die for. There's no doubt about it. Bistro Bella Vita is one of the best restaurants in Grand Rapids.
2. Grove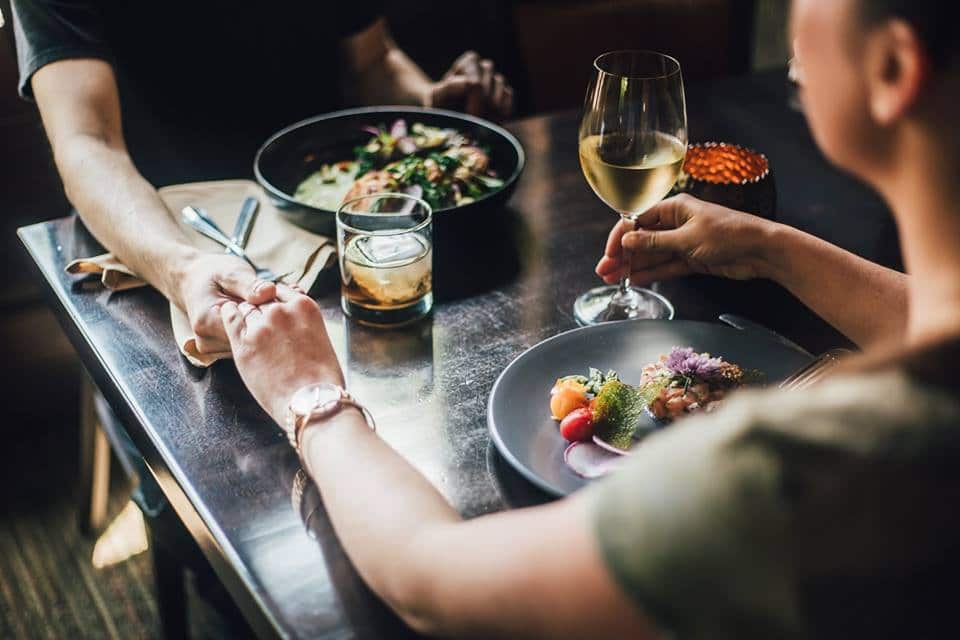 Credit: Grove / Facebook
Are you in the mood for classic American fare? Grove has just what you need to satisfy your cravings. After all, it's one of the best restaurants in Grand Rapids. Their fresh earth to table cuisine is truly unique. Come and enjoy amazing service, intimate dining, and a focus on community. Like Bistro Bella Vita, they utilize their connections to source the freshest ingredients in a sustainable way. You might be thinking – all this is great but what about the food?
If you're in the mood for some good hearty eating, you have come to just the right place. Choose from vegetables and grains or meat and seafood. For the first part of the menu, you can enjoy options such as root vegetable bisque, tomato tart, and Chinese buns. Meat lovers will appreciate the beef tartare, country pork terrine, and seafood linguine.
3. The Green Well Gastro Pub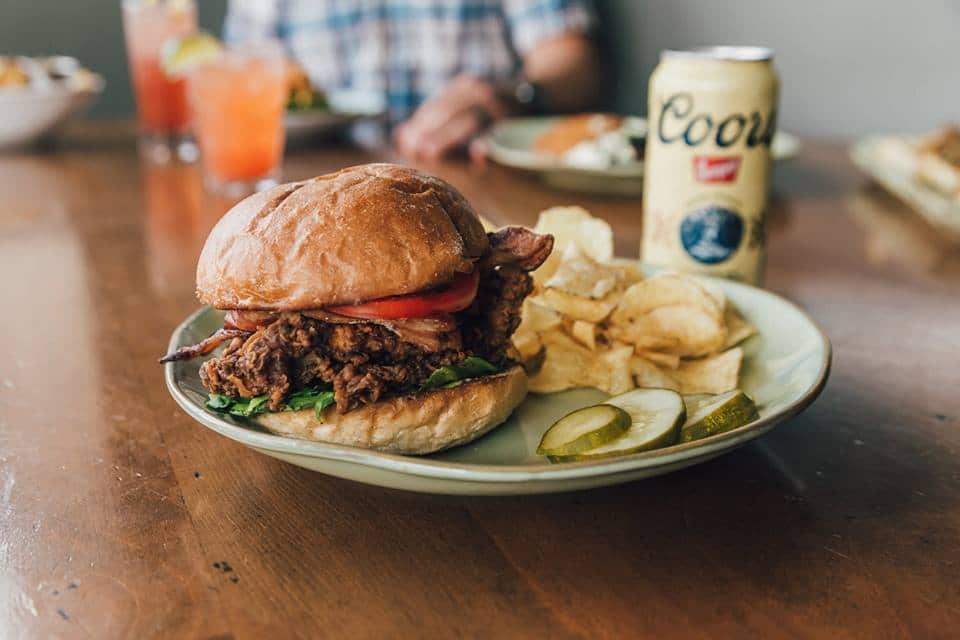 Credit: The Green Well Gastro Pub / Facebook
This fun little joint serves up an eclectic menu along with local and European beers. This is just the right place to enjoy fun fare with a local flare. You'll find The Green Well Gastro Pub located in the East Hills neighborhood. Word around the block is that this is one of the best restaurants in Grand Rapids. The folks who run this place a big emphasis on giving back and staying green. So, the building is LEED certified inside and out. Their menu is also prepared according to sustainable, eco-friendly practices. You can feel good about what you are eating.
Did you know that the word 'gastropub'is a British term referring to a public-house specializing in high-quality food? We couldn't have said it better ourselves. Whether you're coming for draughts, flights, or cocktails, they have a great selection of all of the above. All of their dynamic drinks pair well with the menu. We don't know about you but a Cuban sandwich and an IPA sounds pretty good right about now.
4. Terra GR Restaurant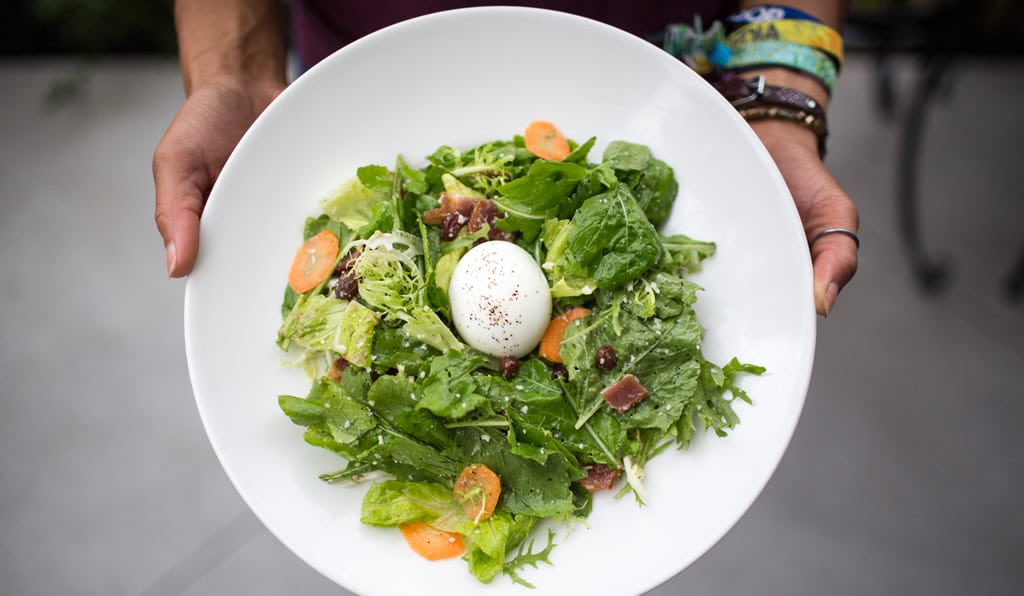 Credit: Terra GR Restaurant
A stylish, rustic space, Terra GR is one of the best restaurants in Grand Rapids, Michigan. Here, inspired handcrafted foods to nurture both the body and community. The folks here follow their passion for pursuing healthy ingredients from the region's top growers. While these have become buzzwords among the locals here, this eatery really sticks out from the rest. This joint walks the talk by offering some of the best food we have ever tried. Buffalo cauliflower, seared duck breast, and wood-fired pizzas are just a few of the delectable options on the table. Yum.
5. Brewery Vivant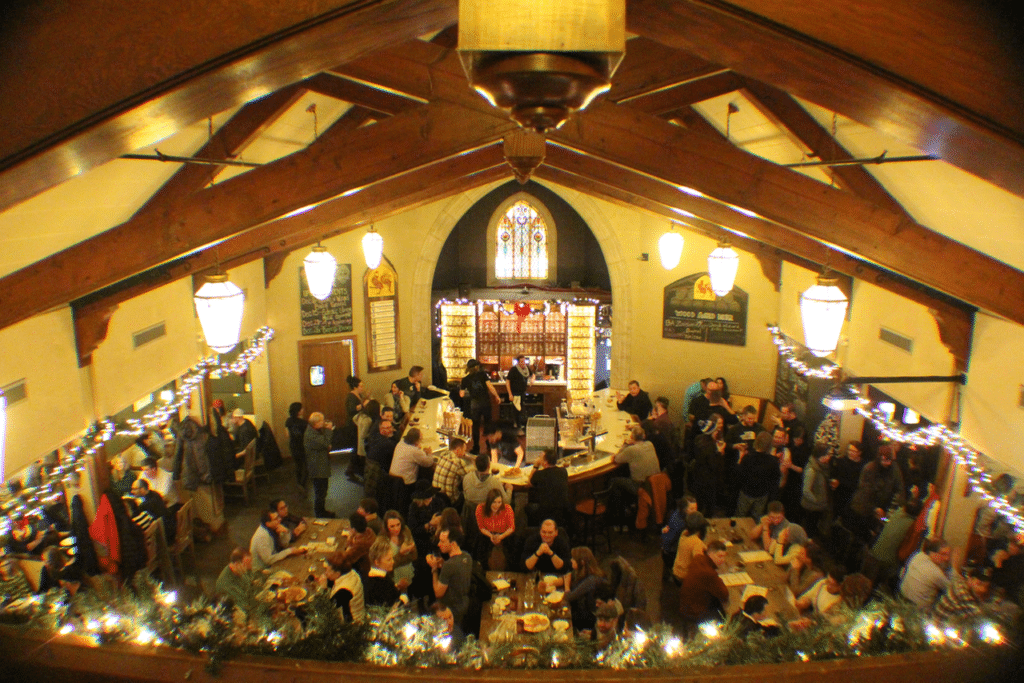 Credit: Brewery Vivant
You're going to fall in love with this space. This evocative brewery is housed in a former chapel with some of the best pub offerings around. Craft beers and French fare, anyone? Neighbors, brewers, and yes, even monks enjoy dining in this rustic interior. European style dishes are cooked up from scratch inside their kitchen.
It's clear that they're as excited to share their passion for beer and food as we are to consume it. Much of the inspiration from Brewery Vivant is derived from the authentic, small-scale breweries along the countryside in southern Belgium and northern France. As true artisans, they play a vital role in bringing together the local community. Sourcing their ingredients locally means that whatever drink on the menu you pick, it's sure to pair well with the selection of meats, cheeses, and produce offered up. Come and enjoy the good life. It really doesn't get any better than this.
6. The Winchester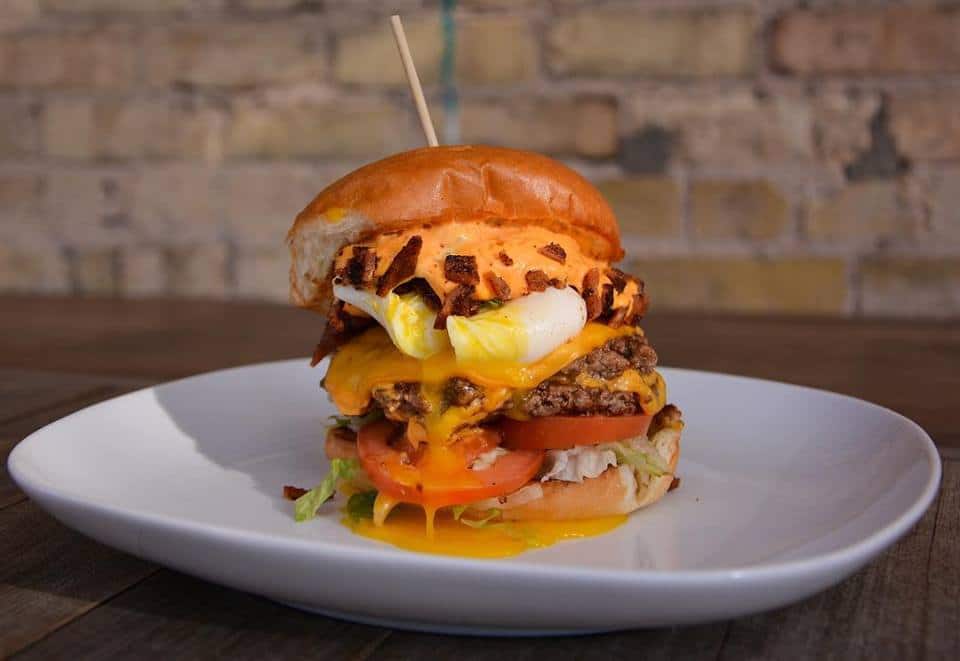 Credit: The Winchester / Facebook
Welcome to the city's favorite Gastropub. What do we love about it? Well, in short, everything. Gourmet bar food is served up in a trendy space with exposed-brick walls, a weekend Bloody Mary bar, and live jazz. The vision of The Winchester is to change the way customers think about food. That's why gourmet dishes are combined with classic flavors at every meal. Why not enjoy the best of both possible worlds? You'll love their hand-crafted cocktails and craft beer selection.
Some of our favorite menu items include their ramen bowl, fish and chips, and pad thai. We swear whatever you're in the mood for, there is something on the menu to satisfy your craving. You'll walk away feeling great about your experience. What is better than healthy, delicious food? And since you're eating healthy, you might as well treat yourself to a sangria (or two). Just saying.
7. Reserve Wine & Food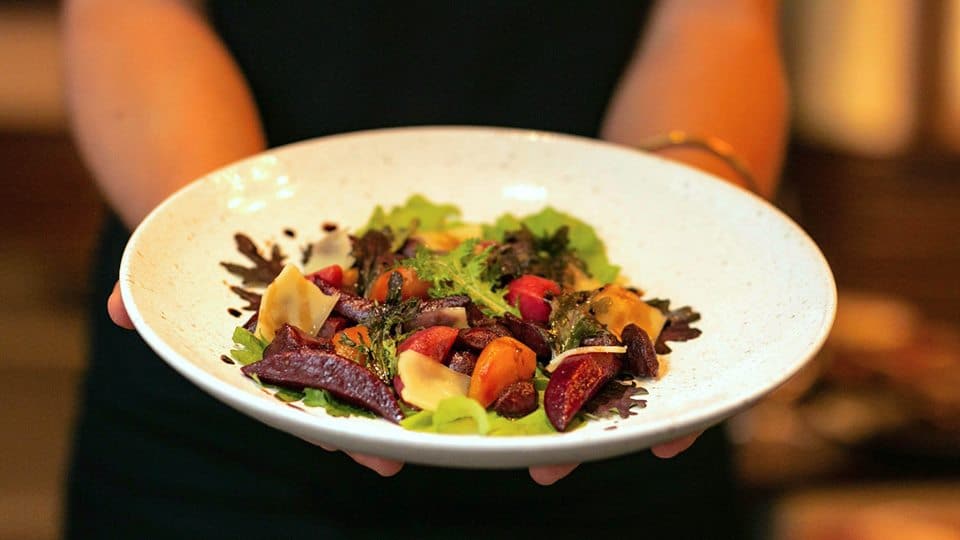 Credit: Reserve Wine & Food
It's all in the name. Simple yet elegant, this hip space highlights farm to table eating in its regional dishes along with a long and notable wine list. When it comes to dining at the best restaurants in Grand Rapids, the focus is definitely on beer. That's one of the main reasons why we appreciate Reserve Wine & Food. They're mixing it up a bit. Don't get us wrong. We like a good craft brew as much as the next guy. But every now and then, it's refreshing to kick back with a glass of pinot noir.
You won't need to go anywhere else to experience the most extensive wine list in the entire state. There are more than enough combinations here to suit the tastes of even the pickiest of palates. While the menu here does focus on fine dining, it's still very unique to Michigan. If you're not familiar with the state's dominant cuisine, let's just say there are plenty of options for carnivores. Steak and heirloom bred beef from Michigan's LEA-White Farms make an appearance on the menu. We have to say though, we're bigger fans of the house-made charcuterie platters. What's better than sampling a little bit of salumi, pates, and terrines?
Plan Your Trip to Visit the Best Restaurants in Grand Rapids, Michigan
We hope you enjoyed reading our picks of the best restaurants in Grand Rapids, Michigan to grab a bite and brew. As you can see, this gem offers a variety of places to choose from. From casual food to fancy dining and international cuisine, there's surely something here for all tastes. There are so many things to do in Michigan for the curious traveler.
While you're there, why not take a little road trip and see the state? From the natural beauty of the landscape to burgeoning metropolises, this state is not short in the adventure department. Regardless of what kind of vacation you are seeking, there is truly something here for every type of traveler.Are you ready to visit the best restaurants in Grand Rapids, Michigan? From exploring the top things to do to scoping out the foodie scene, or catching up on some much-needed R&R at a great hotel, you'll find it all here.
If you've been to Grand Rapids before and have some recommendations for us on where to eat, let us know. We always enjoy learning about new places and your favorite spots – even if they didn't make the list.Which one of the restaurants on our list would you like to visit the most? Feel free to let us know some of your favorite stops and hidden gems you found along the way. We'd love to hear them.
Related Article: 11 Fun Things to Do in Grand Rapids, Michigan