Looking for fun, free things to do in Milwaukee?
When you are traveling, finding budget-friendly activities isn't easy. That's why we're here to help. While you might not think of Wisconsin as a place to book your next trip, you should. This place is so much more than just the cheese state. Whether you are traveling with the whole family, that special someone, or solo, there are enough activities here for all types of travelers and interests. Since we know that it can be difficult to find budget-friendly fun stuff, we've decided to make your trip planning a little easier. We've done you one better. On this list, you will find our picks for the top free things to do in Milwaukee.
Here Are Our Picks for the Top Free Things to Do in Milwaukee
Sure, there are some things you have to pay for. Flights, resorts and hotels, and eating out can all add up. So, why not save a little money where you can. These fun, free things to do are a good place to start your adventures.
1. Take a Tour of the Basilica of Josaphat
Credit: Wikimedia Commons
What is the Basilica of Josaphat? Pope Pius XI commissioned this beautiful building in 1929, making it the third basilica in the United States at that time. One of our favorite features here are the beautiful stained glass windows imported from Austria. There's something mesmerizing about watching the first morning light pour through and illuminate the interior.
Since this is an active church, you do need to be mindful of visiting hours. If you are interested, the visitor's center is open every day except for Sunday. On Sunday, tours are offered at 10 a.m. after mass. Can you tell this is one of our favorite free things to do in Milwaukee?
2. Go See the Milwaukee Central Library
This rotunda structure is so beautiful. Constructed from Bedford limestone, the Milwaukee Central Library combines both French and Italian Renaissance architecture. Since renovations and additions to the original structure from 1898, the building now spans an entire block. So why should you visit? Besides its beautiful architecture, it is listed on the National Register of Historic Places. Bring your kids for story time or peruse the on-site used bookstore. You never know what treasures you could find. There are plenty of amazing free things to do in Milwaukee.
3. Make a Trip to the Milwaukee County Zoo
Credit: Flickr
Okay, don't get us wrong. The Milwaukee County Zoo is not free year-round. But there are certain Family Free Days you can take advantage of each year. These days are held January – March and October – December for one weekend day each month. In addition, Milwaukee residents with I.D. can get in for free on Thanksgiving, Christmas Day, and New Year's Day. Did you know that this zoo has more than 3,100 animals on-site spanning more than 400 different species? See, you'll never run out of fun free things to do in Milwaukee.
4. Check Out the St. Joan of Arc Chapel
We bet you didn't know there is a 15th-century chapel located on the Marquette University campus. While it is a sacred place for students, staff, and faculty today, it wasn't always sitting here. A while back, the chapel was taken apart and shipped to Long Island, New York before it was gifted to the university. Its doors opened in 1966 and visitors have been flooding in ever since. You can tour the St. Joan of Arc Chapel for free and mass is held while university lectures are in session.
5. Get Out and Enjoy the Fresh Air on the Oak Leaf Trail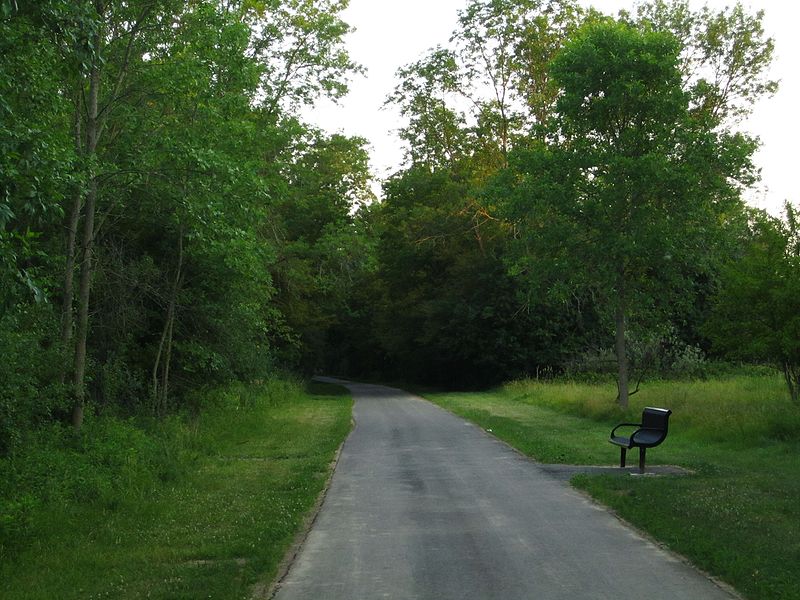 Credit: Wikimedia Commons
If you're looking to get outside and enjoy the crisp, fresh air, there's no better place to be in the city. Oak Leaf Trail is a great place to take your bike, skate, or go for a walk. When the trail first opened up in 1939, it spanned an impressive 64 miles. Today, it runs for more than 100 miles, connecting an impressive 55 miles of off the grid paths. Getting out on Oak Leaf Trail is one of the most fun free things to do in Milwaukee.
6. Lay Out on the Beach
Okay, maybe you should wait for summer for this one. While Milwaukee might not be the first place you think of when it comes to sun and sand, you'll be pleasantly surprised. The shores of Lake Michigan's Bradford Beach make for some pretty sweet spots to post up and work on your tan. It's also a favorite place among the locals for swimming and volleyball. During the warmer months, this place runs the gamut for activities, including hot dog eating and sand sculpting contests. Let the games begin!
7. Stroll the Milwaukee Riverwalk
Credit: Wikimedia Commons
Looking for fun, free things to do in Milwaukee? Stroll the Riverwalk. Here, you'll find plenty of fun shops, restaurants, and bars lining the waterway. Take your pick of places to eat for lunch and grab a cold (or hot) drink. Are you in the mood to try out some of the city's best brews? This three-mile-long walk has some of the best breweries around. Another fun thing to keep an eye out for is the art installations. The most famous one is the bronze "The Fonz" (aka the leather jacket wearing guy) from the popular sitcom "Happy Days."
8. Take the Miller Brewery Tour
Have you ever wanted to tour a brewery? Well, now's your chance. This is one of the most fun free things to do in Milwaukee. Come and experience over 160 years of brewing history with a modern day twist. Visitors and locals alike flock to come and try out the Miller Brewery Tour.
At the end of your exploration, you have the option to get commemorative photos and check out the gift shop keepsakes. While you're here, you can relax and enjoy yourself in the Visitor Center, Bavarian-style Miller Inn, or walk around the Beer Garden (seasonal) with your friends and family. Most importantly, everyone on the tour (21+, of course) will get to taste some free ice cold beer. Now, that's what we're talking about.
9. Visit Milwaukee City Hall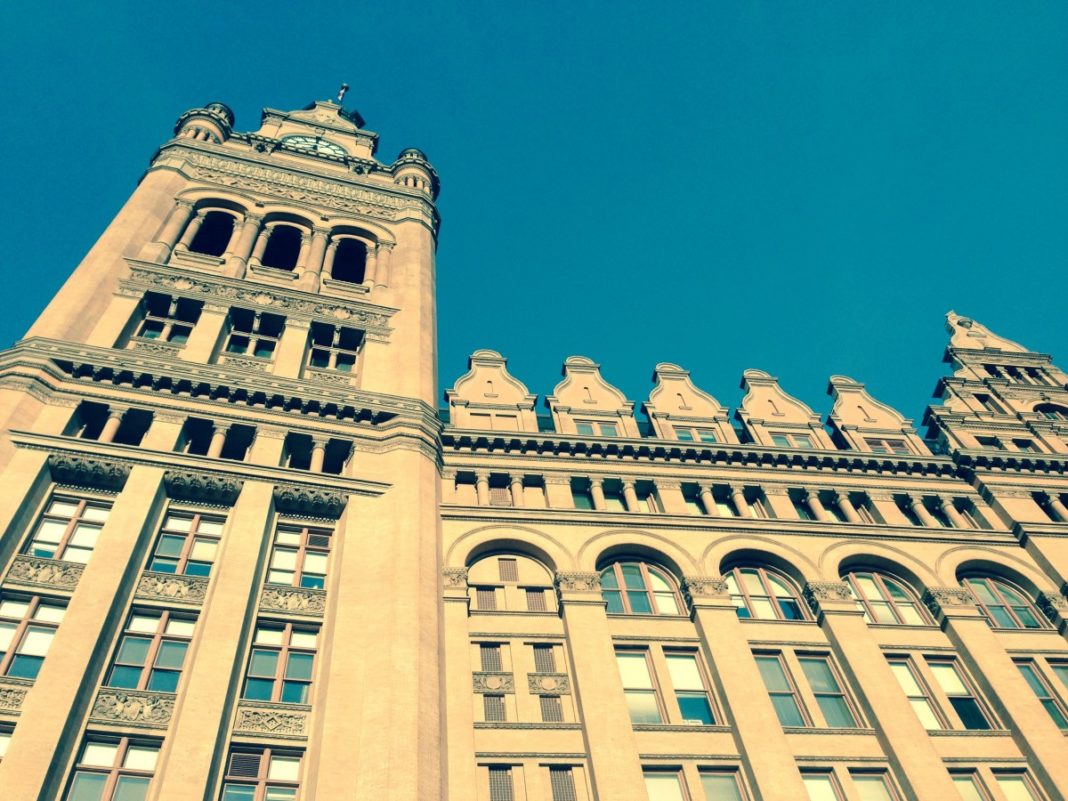 You have to admit it. This building is both beautiful and impressive. When construction finished back in 1895, the Milwaukee City Hall was the tallest habitable building in the country. The budget ran around $1 million and it is composed of somewhere around eight million bricks. If you are interested in taking a tour of the building, we highly recommend it. Visit between Monday and Friday to soak up some information on the town's history, culture, and learn a little (or a lot) along the way. This is one of the coolest free things to do in Milwaukee – if you're a history buff, that is.
10. Enjoy a Day and Night of Art
Have you heard of Gallery Night and Day? Every season, the Third Ward historic neighborhood hosts a two -day art event. Choose whether you'd like to attend during the day, night, or what the heck – why not even both? Art aficionados will love this opportunity to see how the locals showcase their works.
Most of the galleries are within walking distance from downtown, which makes it easy to see them all. More than thirty galleries participate in the activity, making this a fun way to explore the city as well as expand your refined sensibilities. This is one of our favorite free things to do in Milwaukee.
11. Check "the Domes" off Your List of Must-See Things
Have you ever heard Milwaukee residents talking about "the Domes" and wondered what the heck they were talking about? Well, now's your chance to find out. Here's a heads up. They are talking about the lovely Mitchell Park Horticultural Conservatory. As the world's only conical-shaped glasshouses, they each contain different climates and flora. How cool is that? One has a desert, another a tropical jungle, and the final one has a Floral Show. The Domes are open every day of the year. Admission is free for Milwaukee residents on Mondays from 9 a.m. to 12 p.m.
12. Listen to Jazz Music
For the past twenty-five years, locals have been enjoying live jazz in Cathedral Square Park. Come out on a cool summer evening and join them. This outdoor concert series runs all the way from May through August. The concerts are held on Thursday evenings. While the lineup might change, you can expect a diverse set. Performances run the gamut of everything from jazz to blues and funk. This is one of the best free things to do in Milwaukee hands down.
13. Dive into Milwaukee's History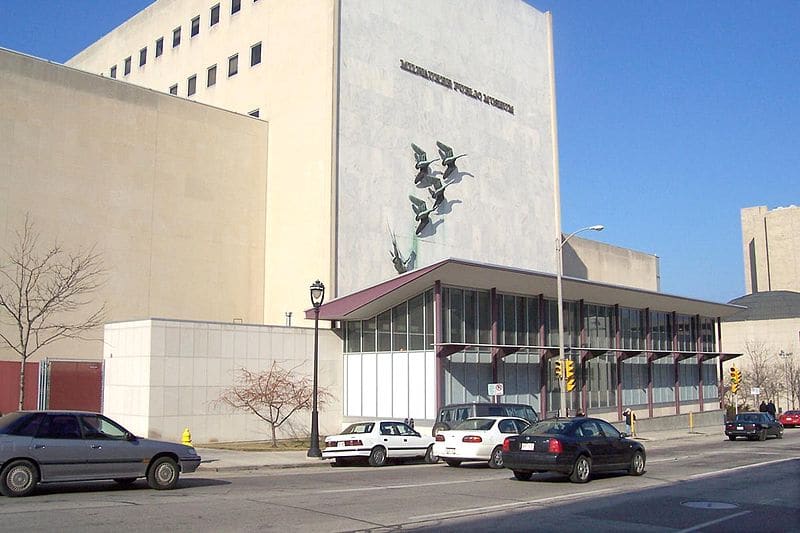 Credit: Wikimedia Commons
Haven't gotten enough history in just yet? Well, that just means it's time to visit the Milwaukee Public Museum. Here, you'll get to see amazing exhibits and learn about topics including anthropology, zoology, geology, and history. The planetarium is amazing too. Make sure to carve out enough time in your schedule to make the most of your visit. All in all, there are some four million objects in the museum's collection. Needless to say, if you want to see a lot, this isn't your average afternoon pit stop.
14. Enjoy the Wonders of the Milwaukee Art Museum
You can never really get enough art and culture in, right? This stunning museum space contains over 25,000 works of art from around the world. If you're looking for free things to do in Milwaukee, visiting the city's art museum is at the top of our list. The Milwaukee Art Museum is widely known for its strong collection of American decorative style arts, German Expressionist works, folk art, and Haitian art.
Make sure you know when to come for free admission; it's not free every day! On the first Thursday of each month, you'll be able to visit without paying for admission. Children ages twelve and under always receive free admission, as do members, and K-12 teachers with a valid school I.D.
15. Pack a Picnic and Watch the Milwaukee River Challenge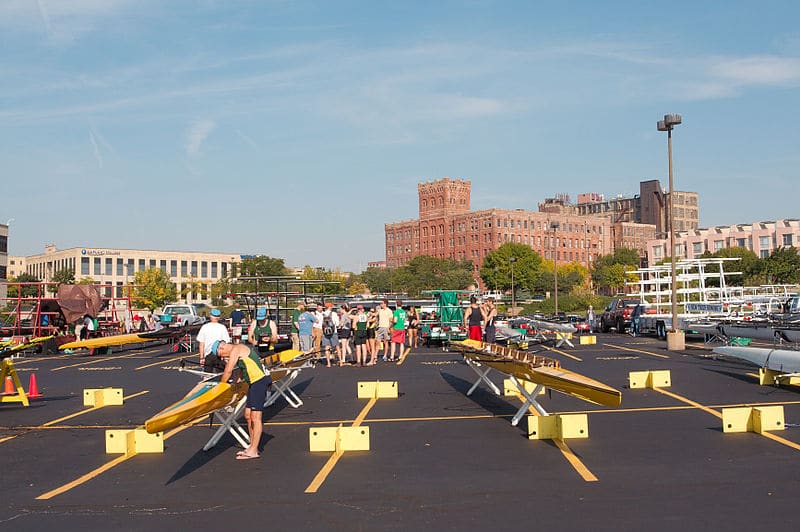 Credit: Wikimedia Commons
If you are planning on visiting here in September, you have to see the River Challenge. Boats and yachts line up to race along the Menomonee and Milwaukee Rivers, bringing with them a host of eager spectators. Get there early and post up. Come race time, the grass gets crowded and you'll want to get a good view. One of our favorite things to do is a pack the cooler and picnic baskets, bring some blankets, and make a day of it. You can watch from the Riverwalk, bridges, or grassy knolls over at Schlitz Park.
Go and Enjoy all the Fun, Free Things to Do in Milwaukee
We hoped that we helped to make your trip planning a little bit easier. There are so many fun, free things to do in Milwaukee for people of all ages and those with varying interests too. From museum visits to boat races, historic church tours, zoo days, and walkable art exhibits, there is no shortage of entertainment to be had.
Have you been to any of these places before? Or maybe you've been to Milwaukee before and have some favorite free activities that didn't make it onto our list. There are so many things to do in Wisconsin. If you have any questions or comments for us, we'd love to hear from you. Feel free to drop us a message in the comment section below.
Related Article: The 9 Best Restaurants in Milwaukee