This Midwestern state never fails to disappoint. Escape city life with the most beautiful resorts in Wisconsin.
From the landscape to the diversity of culture, Wisconsin is an appealing destination. Given the comfort of your stay and all the adventures that await, you may never want to leave. Towering pines dot the hills to the northeast. Moving on to the southeast, you'll find a fun, quirky culture. And woven throughout it all, run rivers and sit crystalline lakes. We're here to take you on a tour of the most beautiful resorts in Wisconsin. Take advantage of all that this state has to offer and make memories to last a lifetime. Rugged seaside escapes run all the way to dense woods and burgeoning metropolises. There is something here to satisfy the needs of any traveler.
Here Are Our Picks for the Most Beautiful Resorts in Wisconsin
1. The Edgewater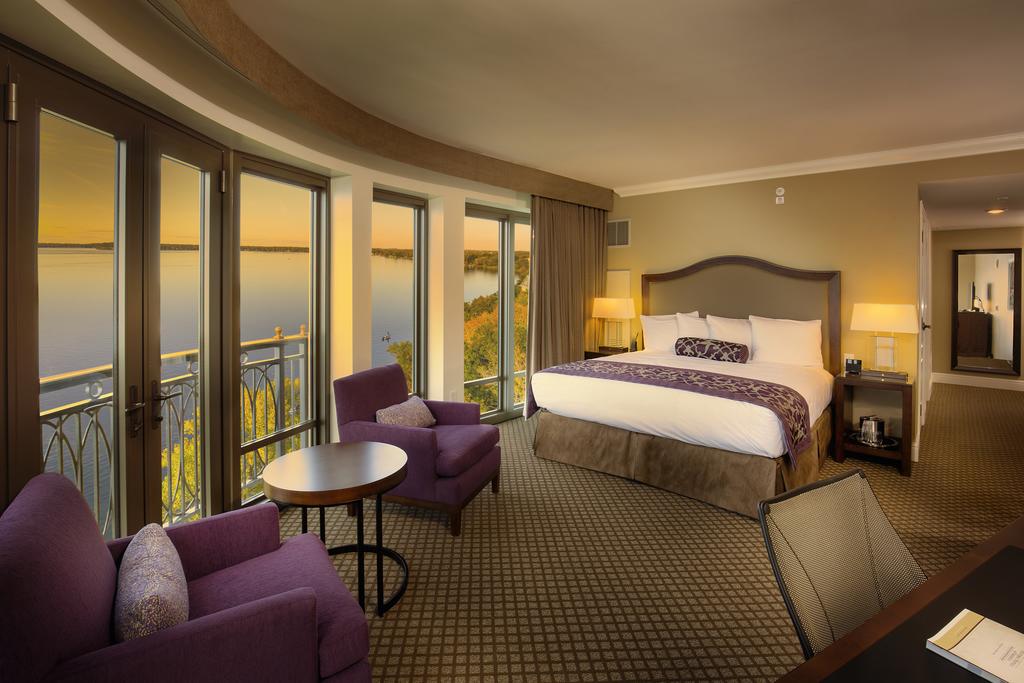 Credit: The Edgewater
Get away from it all at The Edgewater in Madison. Basking near the beauty of Lake Mendota, you will find elegantly appointed rooms. Floor to ceiling French doors opens up to the lovely outdoors. Here, luxurious amenities abound. From the soft terry bathrobes to the 90-minute therapeutic massages offered on-site, it's clear that the traveler's experience is championed here. Five restaurants offer nothing but the finest in dining.
You'll have options for everything from casual to elegant fare. In the summer, come and enjoy outdoor movies in the most epic setting. During the winter, the scene transforms into a magical setting like something out of a snowglobe. Ice skating, anyone? The Edgewater is one of the most beautiful resorts in Wisconsin.
2. Grand Geneva Resort & Spa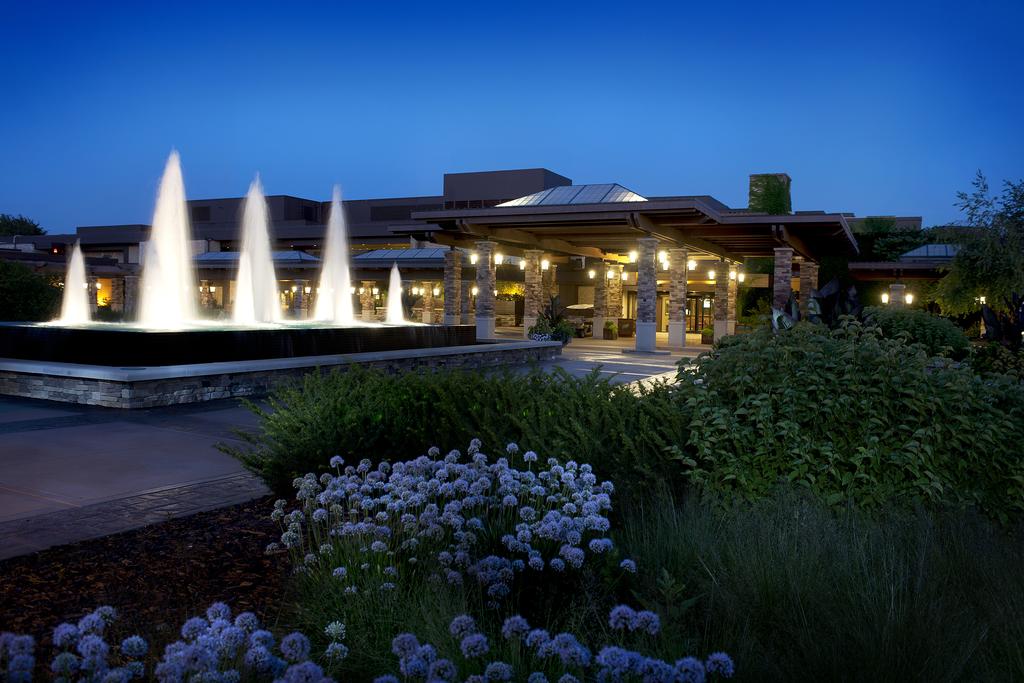 Credit: Grand Geneva Resort & Spa
Sitting on some 1,300 acres of property, you'll find the Grand Geneva Resort & Spa. Enjoy large suites, guest rooms, and lovely villas. With a prime location, you'll be halfway in between Chicago and Milwaukee. Needless to say, there are plenty of things to do. Hit up a zumba class or unwind with a little bit of yoga. There's also a state of the art fitness center, epic winter ski slopes, two on-site golf courses, and a world-class spa. Six restaurants on site spoil you with options ranging from steak to seafood. It really doesn't get any better than this. Grand Geneva is one of our favorite resorts in Wisconsin.
3. Osthoff Resort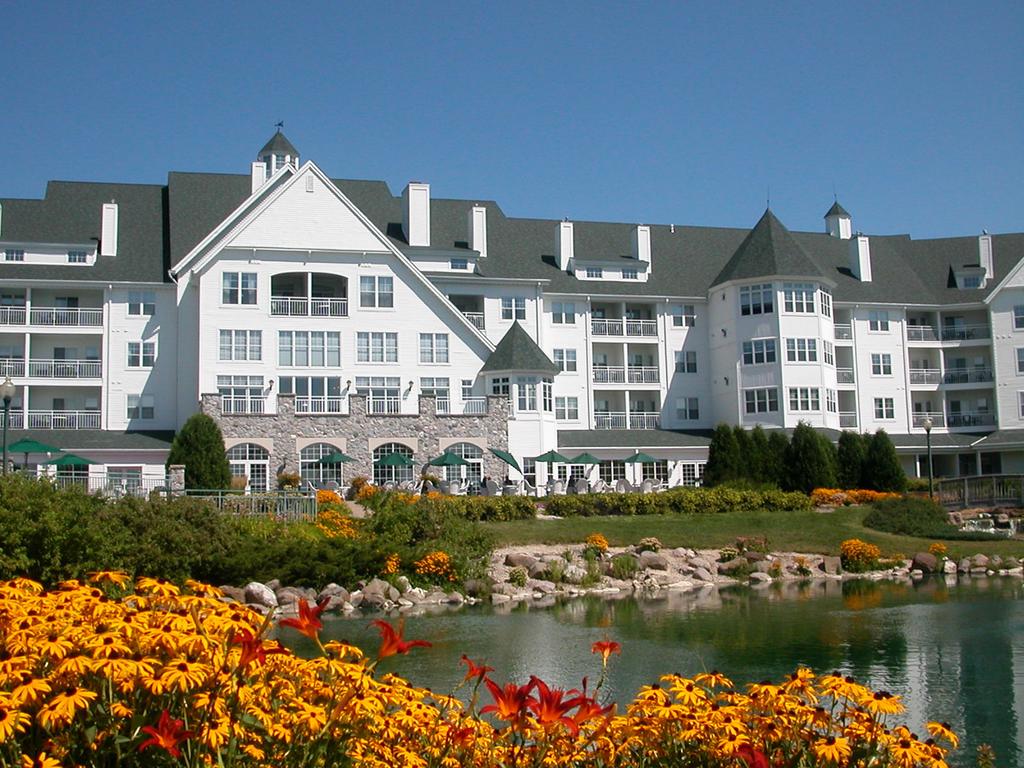 Credit: Osthoff Resort
Our list of the most beautiful resorts in Wisconsin wouldn't be complete with the Osthoff Resort. Experience the luxury of lakeside living. Inside, your spacious suites offer panoramic views of the water. On-site, fun activities like cooking classes and fine dining await you. It gets even better. Five hundred acres of property offers a myriad of recreational options.
Whether you're traveling with friends, that special someone, or the whole family, there is something for everyone to enjoy. Recreational options like tennis, kayaking, volleyball, sailing, fishing, and paddle boarding abound for adventurous guests. End your perfect day with bonfires on the beach, some good old-fashioned s'mores, and a spay day.
4. Blue Harbor Resort & Spa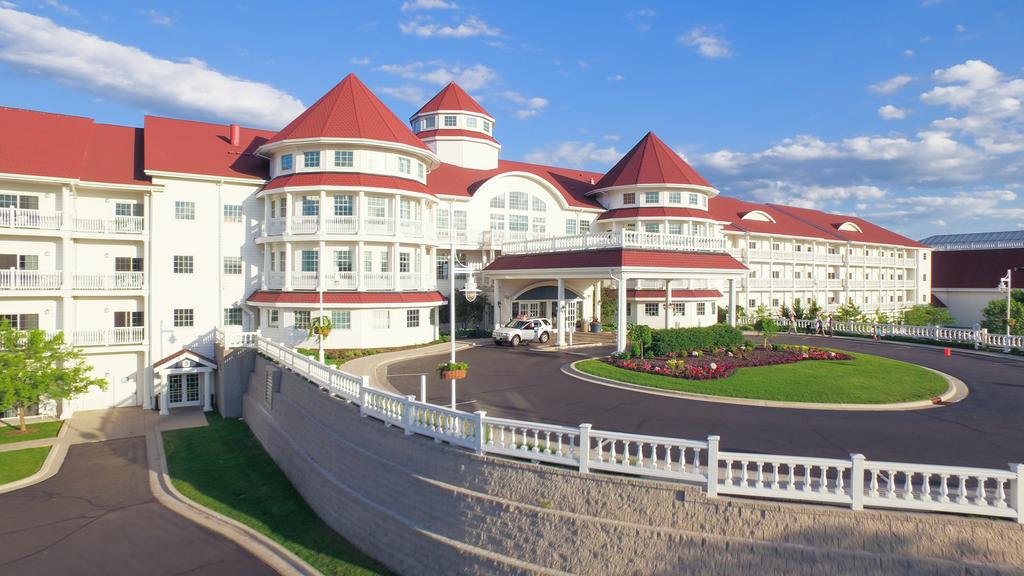 Credit: Blue Harbor Resort & Spa
Life is better at the Blue. Welcome to a lakeside paradise. Tucked away on the shores of Lake Michigan, this picturesque resort offers everything you need for a home away from home. Offering 180 rooms and 64 villas to guests, there is plenty of space for you to enjoy the privacy, rest and relaxation you need. Are you seeking a family-oriented vacation? How about a romantic escape? There are options here to satisfy the needs of all types of travelers.
You'll find the opportunities for recreation are every bit as diverse as the types of accommodation here. Whether you're bringing the kids to their year-round open waterpark, playing a few rounds of mini golf, or taking a scenic stroll along one of Blue Harbor's lakeside trails. Here, you'll find the perfect combination of fun and relaxation. Take a walk or go for a drive. Shopping, gorgeous golf courses, and water sports are just a short distance away. You're an easy trip away from the cities of Chicago, Milwaukee, Green Bay, and Madison. This is one of our favorite resorts in Wisconsin.
5. The Pfister Hotel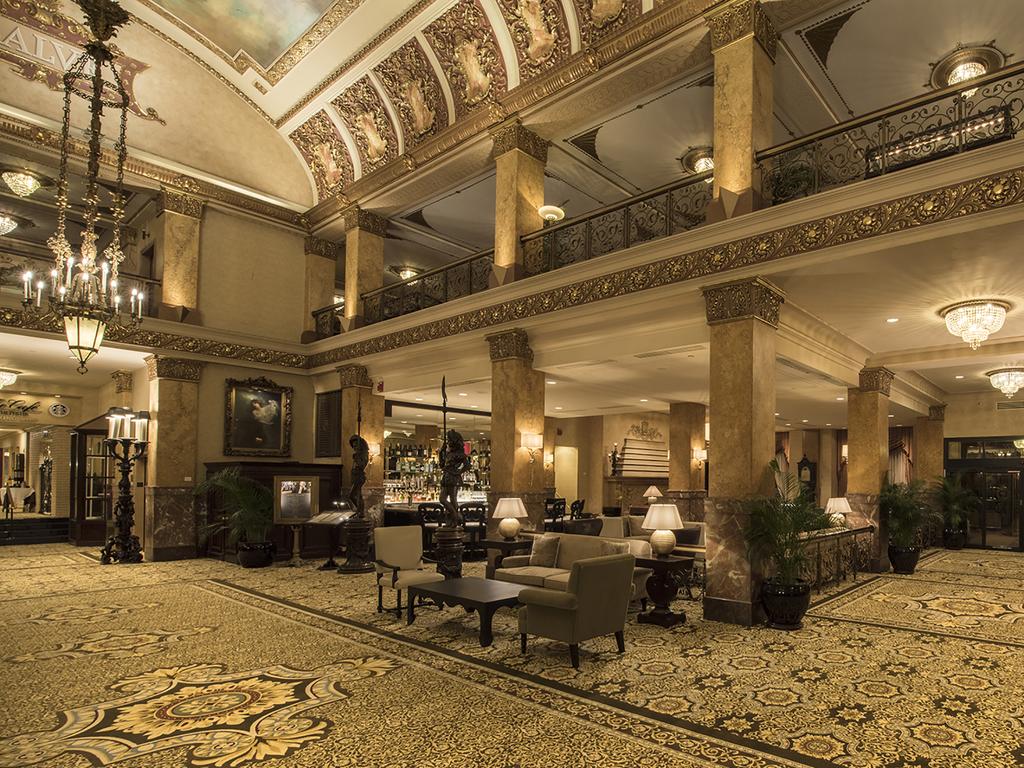 Credit: The Pfister Hotel
Welcome to one of the most lovely resorts in Wisconsin. 2018 marks one hundred and twenty-five years of the Pfister Hotel standing proudly in downtown Milwaukee. Often called the Jewel of Milwaukee, this elegant structure stands as a beacon of hope for weary travelers on Wisconsin Avenue. Towering three stories above passing cars below, a grand marble staircase winds throughout. On-site, you will find a nourishing spa and various wellness services. On the twenty-third floor, an open lounge offers spectacular views of both the city and Lake Michigan. Come enjoy a cocktail and soak up the lovely sights of the moonlit water.
6. The Charmant Hotel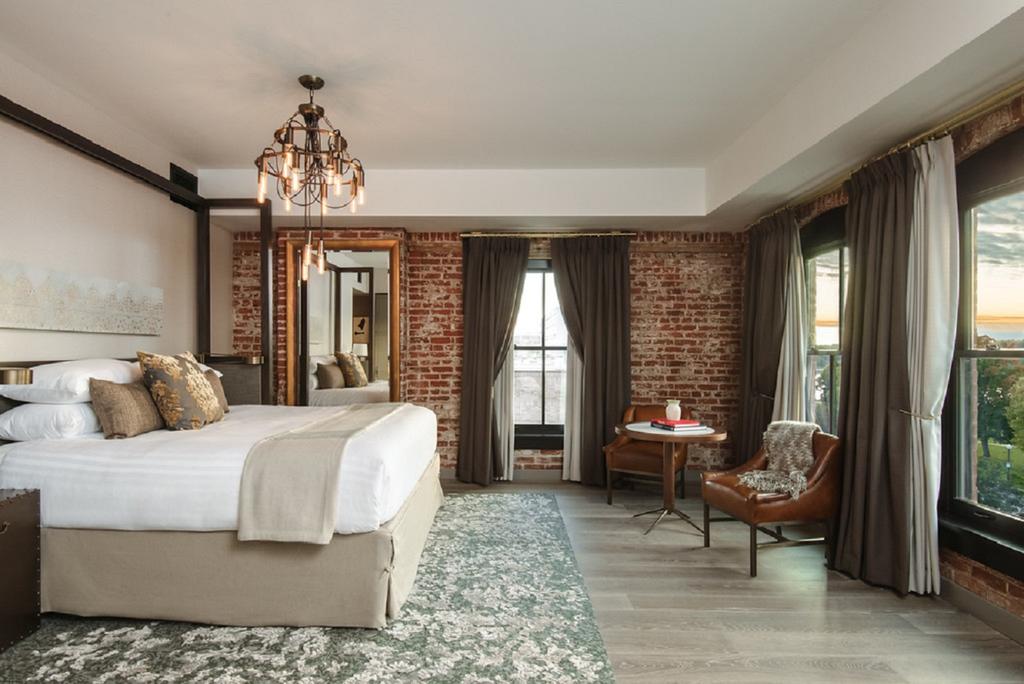 Credit: The Charmant Hotel
Experience the luxury of this four-star boutique hotel in downtown La Crosse. Housed in a converted candy factory from 1898, this building holds a special spot in the heart of the town. Here, rustic features meet modern amenities in a way unique to The Charmant. Every space you step into is inviting, from the charming lobby all the way up to your spacious guest suites. The architectural details from the original building have been retained – maple wood flooring, wood beams, and exposed brick. Some swear that they can still smell the sweet scent of candy.
The hotel gained its name from the Charmant, a special line of chocolates produced by the native candy company. Furthermore, Charmant is also French for "charming," reflecting the hotel's rustic appearance, natural elegance, and unique character. Gathering locals and travelers alike, it is the heart of the city's hospitality. Come and enjoy lovely rooms, fine dining, and catch up on that much-needed rest and relaxation.
7. Heidel House Resort & Spa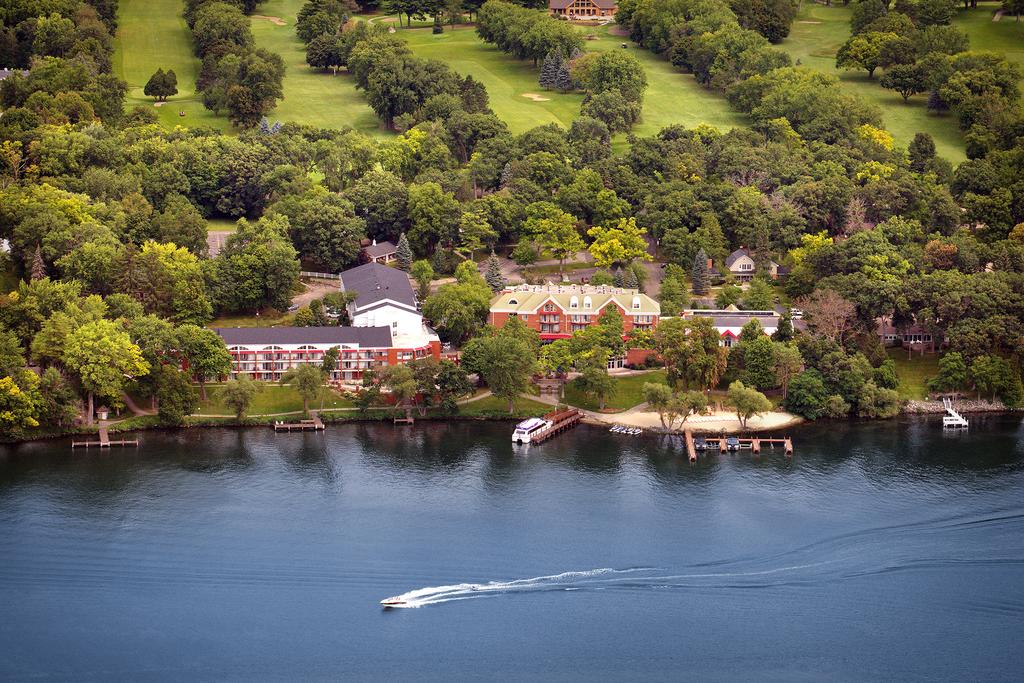 Credit: Heidel House Resort & Spa
Nestled amongst the beauty of Green Lake, Heidel House Resort & Spa is a lovely year-round escape. Come unwind at this full-service resort. Miles of shoreline and lake views are just what you need. Get back to nature and why not treat yourself a little too? This Midwest getaway has it all and then a little more.
8. The Abbey Resort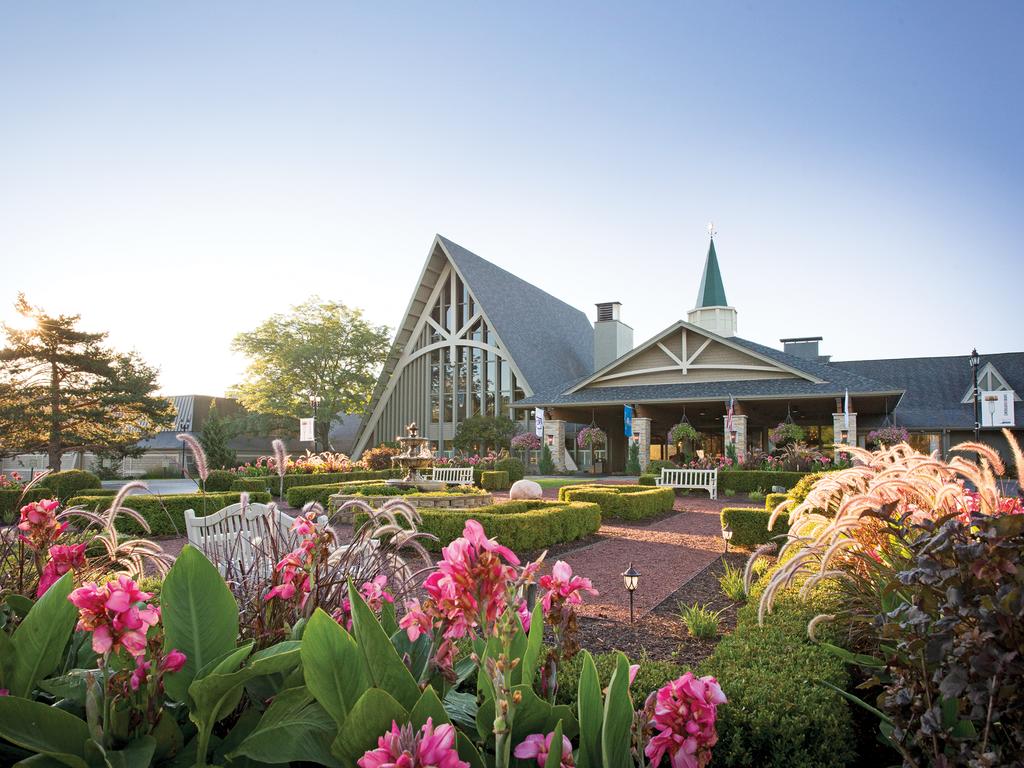 Credit: The Abbey Resort
Sitting on 90 luscious acres, The Abbey is the only full-service resort on the shores of Lake Geneva. With 334 guest rooms and 13 villas, there is enough space for you to enjoy your privacy. This is so much more than just a resort. Unique activities await guests for an experience highly customizable to your needs. From lakeside dining and boat rentals to a virtual reality entertainment center, indoor and outdoor pools, and more – you have it all.
Rent out a bicycle and explore the village. Explore the Lake Shore Path. During winter months, try your hand — or should we say feet — at snow showing across the grounds or gliding along the on-site, harbor-side iceskating rink. The options are endless. After spending a day roaming around the grounds and out on the water, unwind the right way at the Avani atrium pool. Surrounded by nature, you'll soak up all of the gorgeous views from floor to ceiling windows.
9. Lake Lawn Resort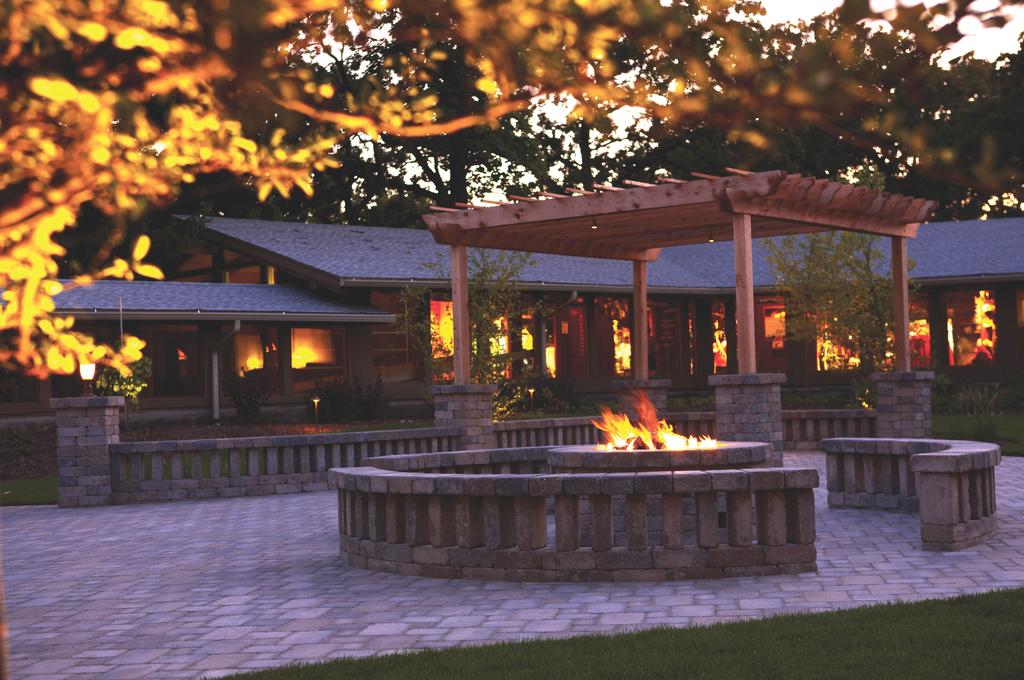 Credit: Lake Lawn Resort
This resort is deeply entrenched in the local's hearts. Lake Lawn Resort has been a place of gathering in Delavan for more than 130 years now. Offering luxury loft rooms, suites, and a private lake house on the water, guests enjoy spectacular views of nature. Some of the most popular activities include biking and kayaking. Guests can rent out all the equipment they want – everything from kayaks to WaveRunners, and boats.
Their impressive lineup of offerings doesn't end there though. You can also play on an 18-hole championship golf course, take advantage of the resort's many indoor and outdoor pools, and unwind in the lovely Calladora Spa. Three on-site restaurants offer everything from casual eats and your Starbucks fix to more a wine and dine experience at the Frontier Restaurant and Fireside Lounge. Lake Lawn is just 90 minutes from Chicago, a few minutes from Milwaukee, and just outside of Lake Geneva.
Book Your Trip to Enjoy the Most Beautiful Resorts in Wisconsin
If you choose one of these beautiful resorts in Wisconsin, we guarantee they won't disappoint. Check out one of these amazing spots and let us know what you think. We're also going to leave you with some fun tips. While you're in Wisconsin, you might as well see the top things to do. This state is a delightful destination for travelers year-round.
These resorts offer close proximity to cities like Chicago, Milwaukee, Green Bay, and Madison. Whether you're traveling solo, seeking out a romantic getaway, or taking a family vacation, these beautiful resorts in Wisconsin have it all. For the ultimate vacation, you can't beat the Badger State. Happy travels!
Related Article: 5 Best All Inclusive Resorts for Families This Year