Fall colors and cooler temperatures will draw you in at each of these best places to camp in the fall.
We can't help but get excited about everything that fall brings. The cooling off from the sweltering summer heat, corn mazes, pumpkin patches, and the new vibrancy that comes with the back to school season. But, will all of this happening and changing, sometimes it's a great time to get away. Camping can be just the right escape, especially when you have somewhere beautiful to go. So, we've put together a list of the best places to camp in the fall. All across America, there is a plethora of state and national parks, as well as national forests that are just waiting to tantalize you. From their mountainous skylines to rolling rivers, these are truly the best places to camp in the fall.
1. The Adirondacks, New York
Six million acres of luscious green forests, stunning lakes, and quaint towns await you in the the Adirondacks. Having been established in 1892, this park has been cultivated into a natural playground. From great kayaking spots to forty-six high peaks to be climbed, there is plenty to do on a camping trip up here. There are also an abundance of spectacular small town to explore, such as Lake Placid. As one of the best places to camp in the fall, there are specific things you should take advantage of. 
First off, there are plenty of RV and tent campgrounds if that is your style. It's the perfect spot to try out some campfire recipes. But, if you're hoping for a more backcountry camping experience, this is a great spot. There are lean-tos scattered throughout the park, some easily accessible and other more secluded. These lean-tos are free to use and are often nestled on one of the many lakes in the region. So, escape to the Adirondacks for one of the best places to camp in the fall.
2. Shenandoah National Park, Virginia
Our next pick for the best places to camp in the fall is my old stomping grounds. But the Blue Ridge Mountains are known for having some of the best fall foliage on the east coast. Just seventy-five miles west of Washington DC, Shenandoah National Park is an incredibly accessible spot for anyone to visit. The 200,000 acres of protected land will wander you through some of Virginia's greatest treasures. There is ample hiking, and it is one of the few national parks that allows your furry friends on all the hiking trails. So, feel free to bring Fido along as he is more than welcome to join. In addition, you can cruise along Skyline Drive. It is a 105 miles lone scenic byway that will give you the best highlights of the park. It is truly a treasure, so make sure to picnic along it at least once.
As far as camping goes, there are plenty of reservable spots in the park. It made it on our list of the best places to camp in the fall also for its ample backcountry camping too. Make sure you are prepared, as there is plenty of wildlife like black bears around, but you'll enjoy being even more secluded in nature here. Look at the rules and regulations of backcountry camping on their website, and you'll be all set. But, we know you'll fall in love with the rolling hills and expansive colors that adorn the mountains here in the fall. 
3. Ozark National Forest, Arkansas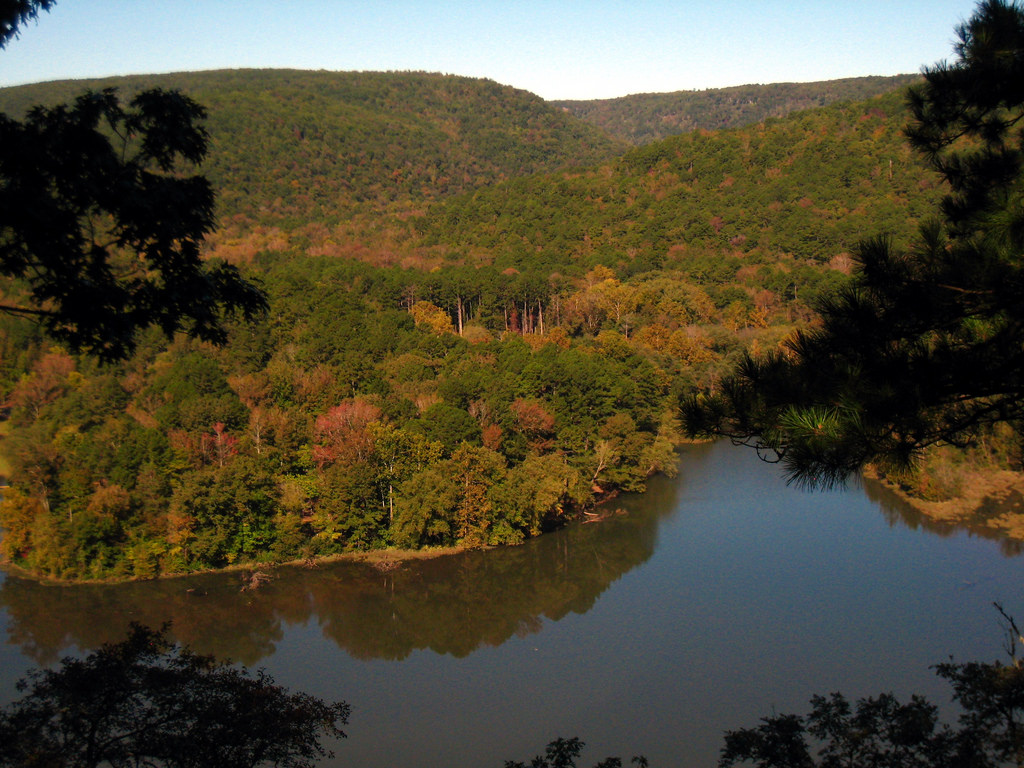 Credit: Marco Bacerra
What is there to do in Arkansas, you ask? Well, it is home to one of the most stunning national forests that our country has. The Ozark National Forest easily is one of the best places to camp in the fall. It is a less well-known spot, allowing you, even more, peace and tranquility when you're here. The 1.2 million acres of forest boast an abundance of biodiversity, caves, trees, rivers, and wildlife. Coming out here is the perfect spot to rent a cabin for a few days, which we still totally qualify as camping. You can rent one atop White Rock or next to Lake Wedington. If you do want to be tent or car camping, there are plenty of developed spots for that as well. Fees are incredibly low, ranging from four to ten dollars per night. 
On top of this, there are some unique spots worth visiting here. Blanchard Springs Cavern is located in Stone County and is one of the most spectacular caves today. It is still flowing and changing daily, so it is referred to as a 'living' cave. You can choose between a well-developed cave tour or go exploring with a guide through small, muddy tunnels into the undeveloped spots deep underground. Either way, this is a great option to explore at one of the best places to camp in the fall. 
4. Grand Canyon National Park, Arizona
As temperatures begin to wane, the thought of hiking in the Grand Canyon is beginning to sound bearable again. With soaring temperatures, it is often incredibly dangerous to go hiking here. So, the Grand Canyon National Park is one of the best places to camp in the fall. There are four established camping sites in the park, two reservable, one for RVs, and one which operates on a first come, first serve basis. When deciding where to go, know the south rim of the park is more popular and developed. Closer to Flagstaff and other cities, this is where you'll find many sites easily accessible. If you want a quieter Grand Canyon experience, head to the North Rim. This is the Utah side and is usually only open for camping through October 15th. This makes the North Rim perfect for our best places to camp in the fall list.
One of the campgrounds is on the North Rim, but you can also get a backcountry camping permit ahead of time. Starting November 1, you can get permits for anywhere on the North Rim, but there's ample space before that as well. On top of all the sites to see, there are also great activities aside from hiking. We would highly recommend at least one river trip through the park. You can hop on a raft with a guide and take on some gnarly whitewater for a trip of a lifetime. So, between the infamous canyon, backcountry opportunities, and thrilling activities, Grand Canyon National Park easily is one of the best places to camp in the fall.
5. Grand Tetons National Park, Wyoming
It's in the name; these mountains are grand. The Grand Teton National Park in Wyoming is one of the most stunning regions in all of the United States. A spectacular and captivating mixture of mountains, lakes, alpine terrain, wildlife, and culture, it is truly one of the best places to camp in the fall. Each campground runs on a first-come, first-serve basis, so you truly have to go with the flow here. But, that's all part of the charm of this National Park. 
You can spend up to two weeks at any of the campgrounds, giving you an ample home base for exploring the surrounding land. There are plenty of hiking and biking trails to get you moving. If you have been thinking about learning to rock climb, this is a beautiful place to start. Make sure to hire a local guide to show you the ropes. Fishing and horseback riding are two incredibly popular activities as well. They're both a great way to relax and see the local wildlife and birds. On top of this, you can go for a float in the Snake River and see plenty of scenery without having to do much work. So, whatever you want to do while at one of the best places to camp in the fall, you can probably find it here. What are you waiting for? This is one of the best things to do in Wyoming.  
6. Acadia National Park, Maine
This park is busting at the seems every summer between June and September. So, as cooler temperatures blow in this fall, it's the perfect time to visit Acadia National Park in Maine. Known for its stunning peaks, gorgeous shores, extensive hiking trails, and beautiful covered bridges, it is a no-brainer for our list of the best places to camp in the fall. Just five miles south of Bar Harbor is the popular Blackwoods Campground where you can spend a few days. It is open all year. Through the end of September, you can reserve a spot at the Seawall Campground and enjoy some time exploring the tidepools. 
While there are other spots as well, perhaps the best places to camp in the fall are found on the Isle Au Haut. A rugged island off the coast, you can grab a spot at the Duck Harbor Campground. But, as you can't drive there, you'll have to figure out another mode of transportation. But, for a stunningly secluded spot in Acadia National Park, that's definitely the place to go. Wherever you end up here, you will fall in love with the spectacular seafood and brilliant landscape as autumn rolls in.
From corner to corner, this country has some of the best places to camp in the fall.
Our state and national parks have been set aside and protected for you to get out and explore. So, make time for you to escape and recharge at any of these best places to camp in the fall. You will be glad you did. Remember, it's about making memories and getting outside. So, keep these handy tricks to stay warm as the cooler temperatures press on your tent and you'll be all set. Happy camping!
Related Article: The 6 Best Tent Heaters for Your Next Fall Camping Trip