There are so many unique and fun things to do in Lake Placid for any adventurer, big or small.
The Adirondack State Park in northeastern New York is an adventure lovers dream. With over six million acres to explore, there are thousands of miles of rivers, lakes, and hiking trails. From Olympic Training Centers to secluded lean-tos in the woods, you can find something for just about anyone here. The town of Lake Placid is full of delectable food, great shopping, five-star hospitality, and stunning scenery. So, if you're looking for a fantastic spot to make your home base while in the Adirondacks, this is it. We've put a little list together for you of the best things to do in Lake Placid. From exploring nature to the history of the park, you'll want to come back every season to truly understand everything the Adirondack State Park and Lake Placid has to offer.
1. Shop Your Way Around Main Street
Credit: Lake Placid ADK / Facebook
One of the most quintessential Adirondack streets is Main Street in Lake Placid. With a stellar mixture of restaurants, candy stores, outfitters, boutique shops, and more, there's a little spot for everyone here. One of our favorites is Saratoga Olive Oil. Have you ever tasted fresh, unique, and fun olive oil? Well, Saratoga Olive Oil has curated and developed some spectacular options to taste and take home. So, if you want to have some good salad dressing, stop in here. But, if you're into gorgeous paper, stationery, and everything that goes along with that, head into Mary Ballou Designs. Crafting handmade, Adirondack inspired stationary, you will be blown away with the attention to detail and quality she delivers.
There are a variety of stores supplying all your great Adirondack gear, so keep your eyes out for high-quality souvenirs. But, when you've enjoyed your stroll of Main Street, keep going for the three-mile loop around Mirror Lake. When you've worked up your appetite, stop into the applauded Smoke Signals for spectacular Barbeque, or grab the world's best brunch at The Breakfast Club. If you want to follow the local crowd, though, head on over to Lisa G's for some homegrown goodness. Lastly, whether you're looking for things to do in Lake Placid for breakfast or an afternoon cocktail, Base Camp Cafe & Cocktails will deliver. A delightfully homemade menu will keep things fresh and unique for all your caffeine and snacking needs. Overall, Main Street in Lake Placid is just dying to have you walk its brick sidewalks and soak in all it has to offer.
2. Eat Exceptional Food and Fresh Brews at Big Slide
Credit: Big Slide Brewery & Public House / Facebook
Nestled on the outskirts of Lake Placid by the old Olympic Ski Jumps is Big Slide Brewery & Public House. Owned by the same people as the beloved Lake Placid Pub in town, this restaurant wants to be a fresh change of scenery to the foodie scene here. The modern vibe is affirmed with the massive glass walls that let you see the entire brewing process happen. You'll see the vats and barrels that every single one of their home brews is made in. The open concept kitchen gives you an eye to see exactly how their chefs work and gives you confirmation that they truly used the best ingredients and methods.
As far as what grub to grab here, we'd highly recommend having a full flight to try as many of their unique brews as you can. The Big Slide IPA is a local favorite, having won quite a few local awards. For food, the portion sizes are a decent size for the price, perfect for after a long hike or bike ride. Customers love their brick oven pizza with local selections, as well as the burger and poutine. The Thai Cobb Salad and Falafel are also well renowned in reviews. So, for a place to fuel up after a long day of exploring the things to do in Lake Placid, make sure to get your fill at Big Slide.
3. Hike a 46er
There are forty-six major peaks in the Adirondacks, all mostly over four thousand feet tall. These mountains pose an endurance challenge and thigh work out to anyone who ventures near. For over one hundred years, avid hikers and trekkers have been climbing each of these mountains to become a "46er". That being said, climbing these mountains can be done over years or in a stretch of a few weeks. When you turn in your registered sheet showing when you climbed each mountain, you will receive a patch and an invitation to the annual dinner. But, being a 46er is more than just bagging peaks. It is about taking full advantage of the stunning scenery that is the Adirondacks, as well as taking care of it.
So, if you're ready to hike some of the most beloved mountains in the Adirondack State Park, head to the list of the 46ers. If you're looking for things to do in Lake Placid, two close options are Whiteface and Esther. You can hike them both the same day if you bring along enough water and are physically fit. So, strap on the best hiking boots you have and get ready to follow in the footsteps of thousands before you. You'll be rewarded with stunning, 360-degree views and that feeling of being on top of the world.
4. Hike a Non-46er
So, you can imagine how popular the 46ers are getting. From Mount Marcy to Haystack, people are flocking to these mountains to become a part of history. So, keep that in mind as you consider where to park and how secluded you want to be. Saturdays and Sundays will be incredibly busy at these trailheads, so maybe pick something else on those days from our list of things to do in Lake Placid. We would highly recommend choosing a few non-46er hikes to do as well. If you need something flat, the Brewster Peninsula Nature Trails are a beautiful spot to explore the lake and woods around Lake Placid. If you want a nearby hike with an unparalleled view, check out Indian Head and Fish Hawk Cliffs.
The trails to these stunning views are near the Ausable Club near Keene, NY. This is about a half hour drive from Lake Placid, but more than worth it. If you do both of these, you'll cap about above eleven miles of hiking. You can also see some beautiful waterfalls and whatnot along the way. Bring a great picnic for the top to refuel, and of course, plenty of water. But, you'll see why you shouldn't stick to just the 46ers after this hike. There is stunning beauty hiding just about everywhere in this gorgeous state park.
5. Visit the Lake Placid Olympic Museum
Credit: Lake Placid Olympic Museum / Facebook
Lake Placid has been home to two Winter Olympic Games in the past. This has instilled a multitude of things to do in Lake Placid. From visiting the Olympic training center and the old ski jumps to the Lake Placid Olympic Museum, you'll see how much pride this town has in its history. The museum itself is located next to the Herb Brooks Arena, where the infamous 1980 "Miracle on Ice" game happened. As you peruse the different exhibits, you will see memorabilia from the various different countries that came and watch videos of the best moments of the Olympic games. You'll be walked through the history of Whiteface Mountain and curling, as well as given a deep dive into the sledding sports of luge, bobsledding, and skeleton. So, if you're a winter sports enthusiast, this is a must do of all the things to do in Lake Placid.
6. Kayak or Paddleboard Mirror Lake
Often, you can gain a new perspective of a place by checking out a different point of view. To enjoy the town of Lake Placid just a little more, rent a kayak or stand up paddle board and cruise around Mirror Lake. If you're here for the summer, our favorite of the things to do in Lake Placid is to grab a boat and cruise over to the music pavilion to watch a show from the water. Rather than being crammed in on shore, you can float along at your own pace and enjoy an up close and personal music experience while on the lake. So, if you're fond of the water, make sure to include this in your list of things to do in Lake Placid!
7. Run, Swim, and Bike the Ironman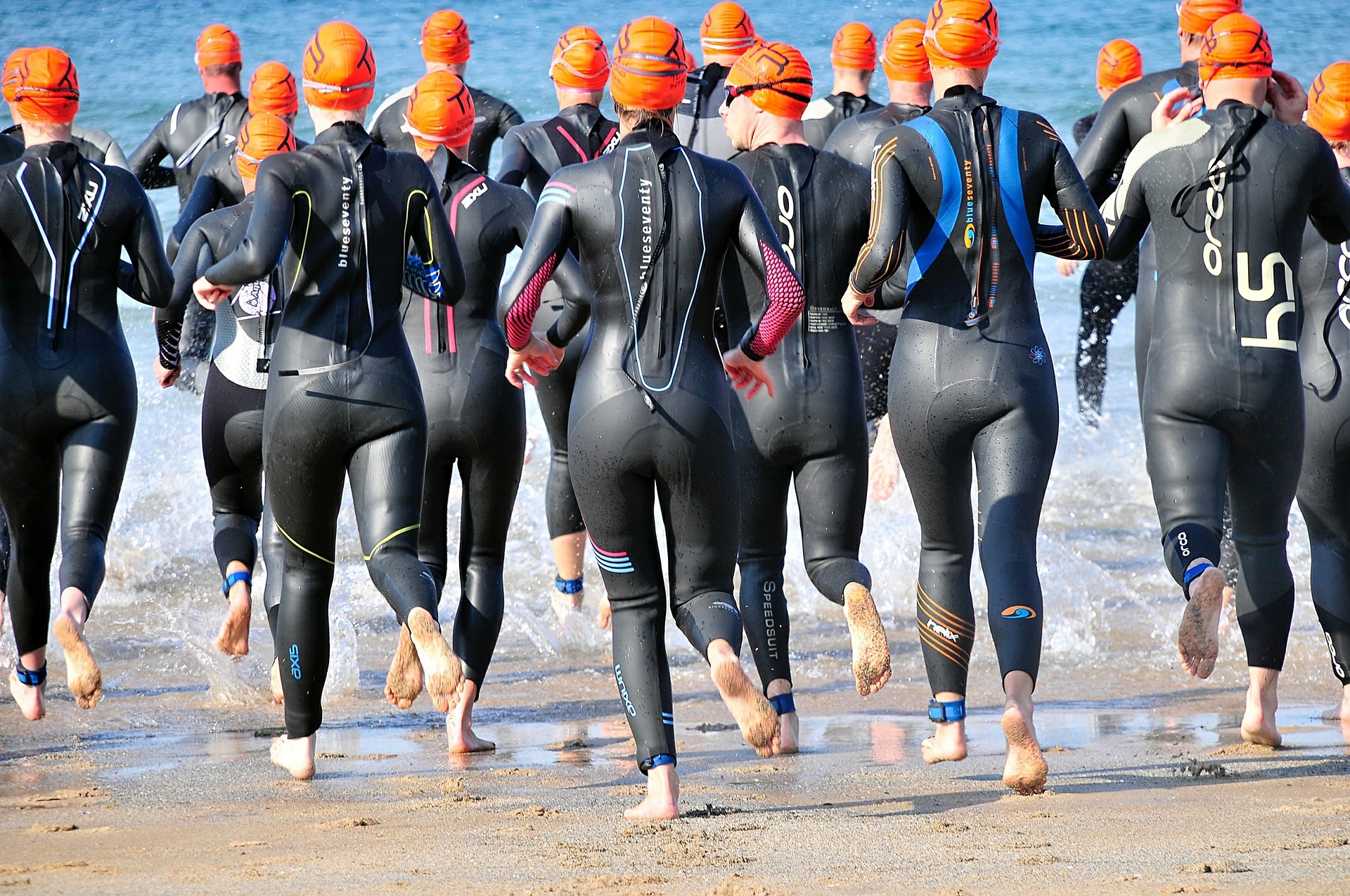 So, you're up for a real challenge? Well, every September, Lake Placid hosts an Ironman. This stunning yet incredibly challenging course will have you swimming two miles in Mirror Lake, running a marathon through the High Peaks Region, then biking to and fro from the mountain biking capital of Wilmington. You will be challenged beyond belief, but also be alongside some of the best athletes of our time. So, if you're up for a challenge, start training and book a spot for the 2019 Ironman. If it sounds like a bit much, it is more than an adventure to watch or volunteer at this race. You get all of the joy of participating without any of the pain! A fair warning, lodging is booked out incredibly far in advance for Ironman Sunday, so plan accordingly.
With all the things to do in Lake Placid, it can be hard to pick and choose exactly what to do.
The Adirondack State Park boasts so much room to explore, it's near impossible to do it all, even in a lifetime. So, start small. Lake Placid is the perfect spot to ease your way into exploring the high peaks region, as well as getting accustomed to the lakes. The food is some of the best in the whole park, so a little splurging will make this a perfect getaway destination for you and your family. This is a great spot to start as you're exploring more and more of what upstate New York has to offer. But, of all the things to do in Lake Placid, make sure to take more than a few moments to simply soak in the views that are here.
Related Article: ​8 Best U.S. National Parks to Backpack