Care to Visit One of the Largest Cities in the World?
When we say "largest cities in the world," we are talking millions upon millions. There are 31 megacities in this planet, meaning 31 cities with over 10 million inhabitants. Of those 31 megacities, we are counting down the top 10. The population listed under each city is drawn from the United Nations' World's Cities Data Booklet. These cities are all known for hustle and bustle and major traffic, but also delicious food, rich history, and thriving culture and art scenes. If you don't mind cramped corridors, we highly recommend traveling to one (or all) of the largest cities in the world during your lifetime.
If you have a thing for cities, a thing for meeting new people, and a thing for immersing yourself in a culture vastly different than your own, then you won't want to miss traveling to these most populated cities in the world. Each one provides diverse things to do, sights to see, local cuisine to try, people to interact with, and a new culture to navigate through. And on that note, enjoy your travels to the most crowded, largest cities in the world!
Let the countdown begin . . .
10. New York-Newark, USA
18.6 Million People
The "City that Never Sleeps," the Big Apple, NYC. New York City itself has only 8.6 million people, but the greater New York metropolitan area inhabits 18.6 million individuals. This metropolitan area includes NYC's surrounding counties in New Jersey, Pennsylvania, and Connecticut. Those wishing to travel to the New York City area will have to check out Times Square, Central Park, maybe even take in a Broadway Musical while in town.
Take a tour of the city, or hop on the subway and try to navigate the city on your own (we know this will thrill any of you adventurous explorers out there). When looking for places to grab food, there are plenty of restaurants and bars to dine in. From Chinatown to Little Italy, the scrumptious flavor in NYC is not lacking. If traveling to Brooklyn during your stay in NYC, you will need to swing by Brooklyn's Smorgasburg Food Festival. All we can say is, prepare your taste buds for your travels to New York. There is so much to taste, do, and see in this populated area.
9. Cairo, Egypt
19.1 Million People
Cairo, Egypt is another city that never sleeps. A trip through the bazaars and monuments will be necessary during your trip to Cairo. The beautiful and well-preserved culture woven through this city will excite any traveler who hungers to be immersed in a new culture. The hospitality of Egyptians is unmatched and you will be welcomed in right away. If you have been pondering about taking a trip to the breathtaking city of Cairo, we say go for it!
We love the mixture of modern, high rise buildings and ancient pyramids in and around Cairo. From the city, you can often see the pyramids shooting up in the distance (if morning fog isn't blocking your view). Since the Great Pyramids of Giza are only 45 minutes from the city, a day trip to the pyramids has to be on your list of things to do when visiting Cairo. These wonders cannot be missed and are awe-striking when viewed in person. Travelers can also journey down the Nile when the populated city streets of Cairo become too much for them.
8. Osaka, Japan
20.3 Million People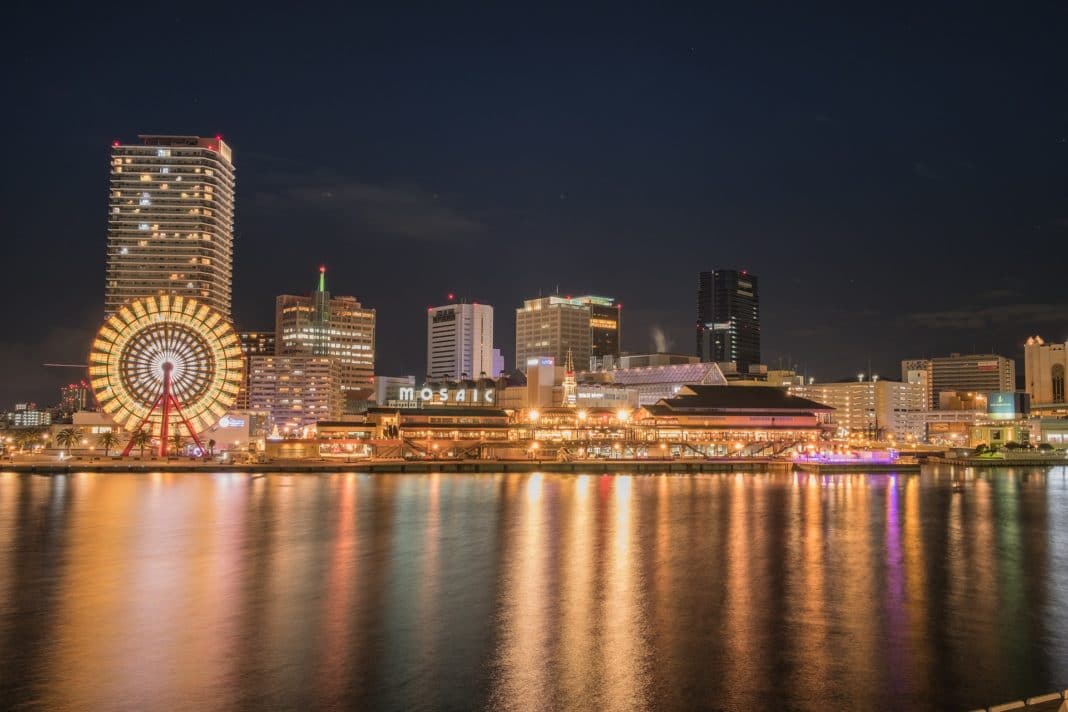 Osako is the second largest metropolitan area in Japan, and number 8 on our countdown of the largest cities in the world. With over 20 million people, this city is packed with people, places to see, nightlife to explore, and shopping to do. Some of the best things to do in Osako, Japan include a trip to Universal Studios, Minami (Osaka's southern downtown area), Osaka Castle, the Museum of History, and the National Art Museum. The Osaka Bay Area is another wonderful place to visit when in the city. This collection of man-made water-front islands and peninsulas were built to accommodate the rapid population growth. Shopping, museums, theme parks, and delicious food can be found in the Bay Area, in addition to domestic and international ports.
Those wishing to see more trees and fewer skyscrapers during their visit to Osaka can journey to the outskirts of the city and visit Minoo Park. Travelers planning a trip in the fall will be amazed by the transforming autumn colors at Minoo Park. The main hiking trail at the park leads to the Minno Waterfall. Rushing water drops from 108 feet to create this stunning natural attraction.
7. Mexico City, Mexico
21.2 Million People
Mexico is beautiful. However, beauty isn't the only reason why so many travelers flock to Mexico every year. Mexico City, in particular, is a densely populated area and lands at number 7 in our countdown of the largest cities in the world. A few major attractions that visitors much check out in Mexico City include Museo Casa Luis Barragan, Catedral Metropolitana, Bosque de Chapultepec, Plaza de la Constitucion, and Teotihuacan.
By far, the place in Mexico City that needs to be at the top of your list is stopping by Palacio de Bellas Artes. Palacio de Bellas Artes, translated to "Palace of Fine Arts," is known as the cultural center of Mexico City. Featuring wondrous art and architecture, and hosting a vast array of cultural events, Palacio de Ballas Artes is a must-visit when journeying to this populated city in Mexico.
6. Beijing, China
21.2 Million People
Not only is Beijing one of the largest cities in the world, but it is also home to the largest public square in the world and the largest palace in the world. Those being Tiananmen Square and the Forbidden City, respectively. Beijing features many attractions that travelers must see when on a trip to the city. Some of those places to visit include Summer Palace, Beihai Park, Olympic Park, and Bell and Drum Towers. Certainly, a trip to Beijing is not complete without a stop by the famous Tiananmen Square, the Forbidden City, and last but not least, the Great Wall of China. The Great Wall of China is one of the 7 wonders of the world. So come, visit, and be left in awe and wonder.
5. São Paulo, Brazil
21.3 Million People
São Paulo is situated on the Piratininga plateau of Brazil and is surrounded by rivers. The rivers are the extent of São Paulo natural beauty. However, where São Paulo, Brazil may lack natural, scenic beauty, it makes up for it in others areas such as having a lively nightlife, mouthwatering meals, and rich culture. Immigrants from all over the world add to the rich, diverse culture of the city. Portuguese, Spanish, Jewish, Japanese, German, and Arab cultural influence can be seen in São Paulo.
Concerning things to do in the city, we recommend a stop by the São Paulo Museum of Art, the Teatro Municipal (the City Theater), the Contemporary Art Museum, and Ibirapuera Park. There is much to do in São Paulo and we suggest taking a tour of the city to get the lay of the land and survey which spots you have a particular interest in exploring. São Paulo is also known to cook up some of the best meals in the country. With top restaurants and scrumptious street food, you must travel to the city with an appetite.
4. Mumbai, India
21.4 Million People
Take a walk down the streets of Mumbai (also known as Bombay) and you will smell a new spice every few feet, see dazzling colors around each corner, and hear the constant honking of horns. Scooters will weave in and out of traffic and you may find yourself in sensory overload – in the best way. Mumbai is packed, with a population that reaches over 21 million people. There is no shortage of flavorful – and we mean flavorful – food in the city of Mumbai. Therefore, foodies are going to love the authentic Indian cuisine waiting to be eaten in Mumbai. We hope you aren't afraid of spice. As the home of Bollywood, we also highly recommend checking out some films while you are traveling in Mumbai. There are also many art and history museums to explore in the city.
3. Shanghai, China
24.5 Million People
In addition to being number 3 on our countdown of the largest cities in the world, Shanghai also has the largest shopping district in the world. That is, Nanjing Road. At 3.5-miles long, Nanjing Road is often compared to New York City's Fifth Avenue. If you have money to spend, head to this shopping district. Even if you don't have the money to spend, a trip to Nanjing Road is worth it for the experience of seeing the hustle and bustle alone. Other spots that travelers must visit when in Shanghai include Oriental Pearl TV Tower and also Shanghai Maglev, which is one of the speediest passenger trains in the world.
The photographers in the group will want to stop by the waterfront, also known as "the Bund," to capture memorable photos of their Shanghai adventures. Finally, Zhujiajiao has to be on your list of places to visit in Shanghai. Numerous canals, adorable bridges, narrow streets, and lovely cafes make up this town. Because of its charm and beauty, we recommend spending an afternoon walking through this water town on your trip to Shanghai.
2. Delhi, India
26.5 Million People
As the second largest city in the world, Delhi is packed with people, history, culture, color, and marvelous cuisine. There are numerous temples, mosques, and monuments to visit when in this populated Indian city. The Red Fort in Delhi and the National Museum of New Delhi are other top attractions to see. The food in North India is extremely rich, flavorful, and filling. With a variety of vegetarian and non-vegetarian options, all those traveling with you will be left satisfied.
Given Delhi's proximity to Agra, where the Taj Mahal is located, we highly recommend taking a day trip to visiting this wonder of the world. Though the trip is a few hours from the city of Delhi, it is a can't-miss when in the area. Take the train or hire a driver to bring you there and back. It will be a day of adventure taking in the beauty of the Taj Mahal. However, remember that the Taj Mahal is closed for tourists on Fridays. We wouldn't want you to plan a trip to Agra only to miss seeing the Taj Mahal!
1. Tokyo, Japan
38.1 Million People
Drumroll, please. Taking the number 1 spot on our countdown of the largest cities in the world is none other than Tokyo, Japan. Housing a massive 38.1 million people, Tokyo steals the 1st place spot by a landslide. If you enjoy seafood, then a trip to Tsukiji Market needs to be on your list of things to do in Tokyo. Tsukiji is the largest and oldest fish market in the world. Did you know that over 500 different types of seafood can be purchased here? Yes, this is paradise for the seafood lover.
As far as other must-do things in Tokyo, we suggest going to the Tokyo National Museum, Imperial Palace, the National Museum of Emerging Science and Innovation, Shinjuku Gyoen National Garden, and Tokyo Tower. Those with money to spend can head to Ginza, which is a major shopping district in Tokyo. We also recommend visiting Odaiba during your stay in this densely populated city. Odaiba is situated on the Tokyo Bay and has all things pertaining to entertainment and shopping. From this area, travelers can see Rainbow Bridge which connects Odaiba with the rest of Tokyo. At night, with the bridge illuminated, travelers are sure to enjoy the view.
Because you are in Tokyo, you cannot leave without trying the sushi. When on the quest for the most authentic sushi in the city, ask a local. The locals always know best.
Which of these largest cities in the world have you visited or hope to visit? Share in the comments below!
Related Article: Best Countries to Live in: Let the Countdown Begin