Four Seasons Resort Bora Bora Is Truly A Paradise Away From Home
Located in what are known as the French Polynesian islands is the beautiful Four Seasons Resort  Bora Bora. Four Seasons has already made a name for itself with its wonderful hotels and resorts all over the globe. Pair this with a tropical secluded getaway, and you're in paradise!
Location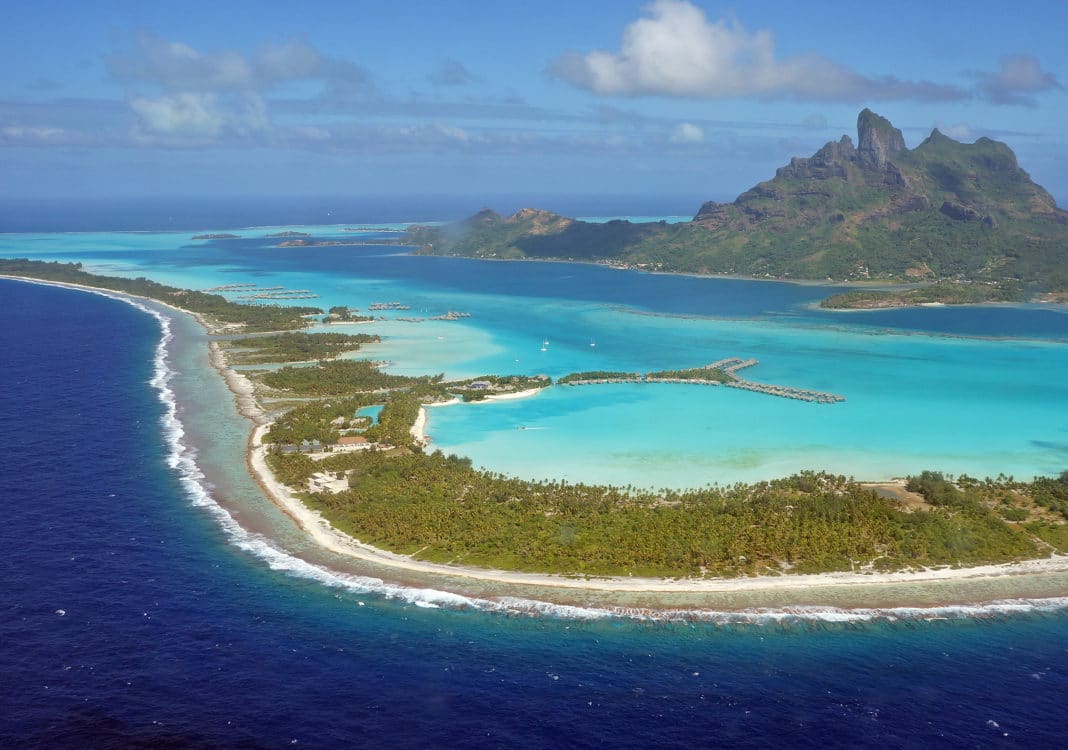 Credit: Flickr
The French Polynesian Islands are a group of beautiful islands down by Australia and New Zealand. These include islands like Tahiti, Moorea, and Rurutu. There are approximately 118 islands divided into 5 groups. Bora Bora is one of these beauties. Bora Bora is what you see when you look at a desktop background. It is amazing in every way. It has that crystal clear blue water, soft white sand, and that tropical architecture to give you that island feel.
Bora Bora is also extremely close to other tropical islands. If you're planning on taking an extended vacation, why not try and explore some other areas? Island hopping is a fun and relatively cost-efficient way to see multiple places! You are able to get a few vacations all in 1. It is a great experience to see different cultures and scenery as well as try different types of food. With multiple passes through travel agencies, you can hop to five different islands for about 120 USD per island. This all depends on the season and exchange rate as well.
Welcome To Paradise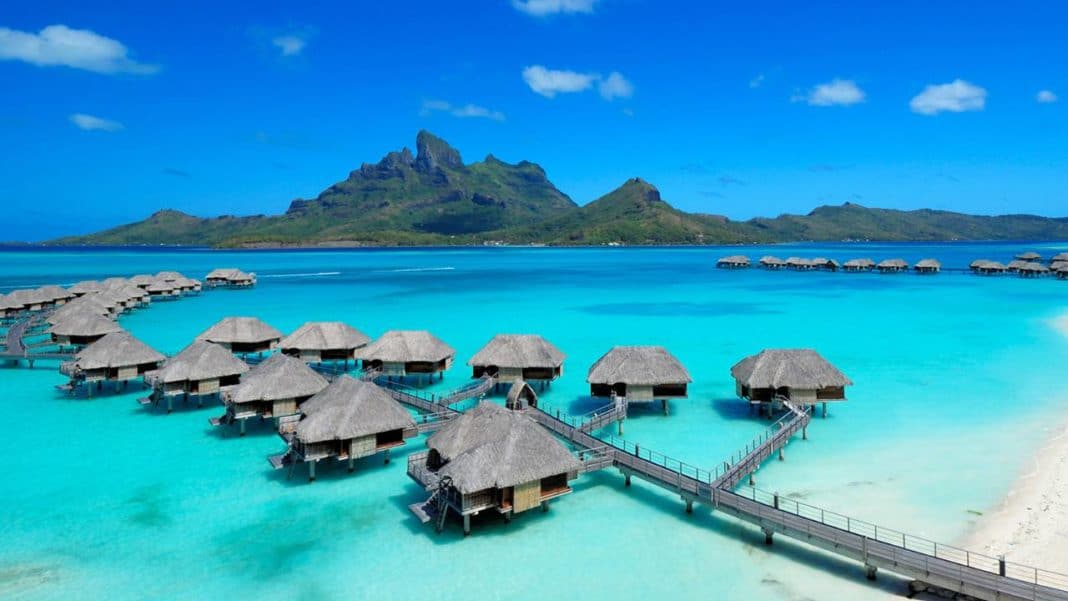 Credit: Four Seasons Resort Bora Bora
Four Seasons Resort Bora Bora is ranked as one of the top 25 hotels in the world. This is because it has everything you could ask for. The scenery, food, service, and privacy are the core of what Four Seasons Resort Bora Bora is all about. While you have your stay, you will be impressed by not only how beautiful the resort is, but by how much there is to do! So, try some new things, relax, and enjoy yourself. You are officially in vacation mode.
Your Living Quarters Await
The resort offers beachfront villas and over-the-water bungalow-style quarters. Yes, this means you are sleeping on the water! How awesome would it be to wake up and just take a dip in that clear beautiful water? The water temperature averages around 80 degrees. This is one of the many luxuries you will have when staying here. Four Seasons Resort Bora Bora also lies in its own secluded lagoon. This lagoon is protected by colorful corals to keep it staying immaculate year round. The colors and sea life make this lagoon a perfect oasis!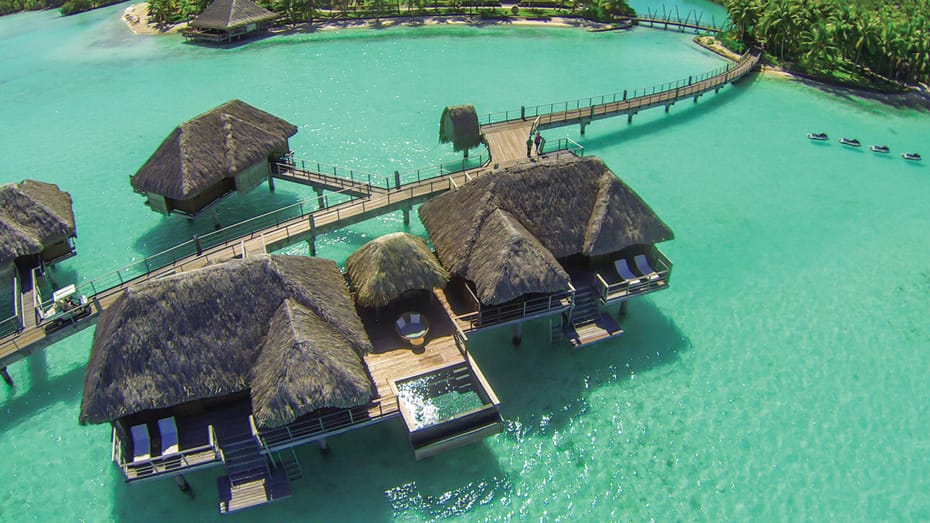 Credit: Flickr
Overwater Bungalows
The Water Bungalows come with a regular option or a specialty option. The regular Bungalows are all 1,080 square feet and can fit 3 adults or 2 adults and 2 children under the age of 13 years old. The regular Bungalows all come with the same layout. They come with three different views as well; a gorgeous mountain view, a view of the colorful lagoon, or a beach view! 
The Special Bungalows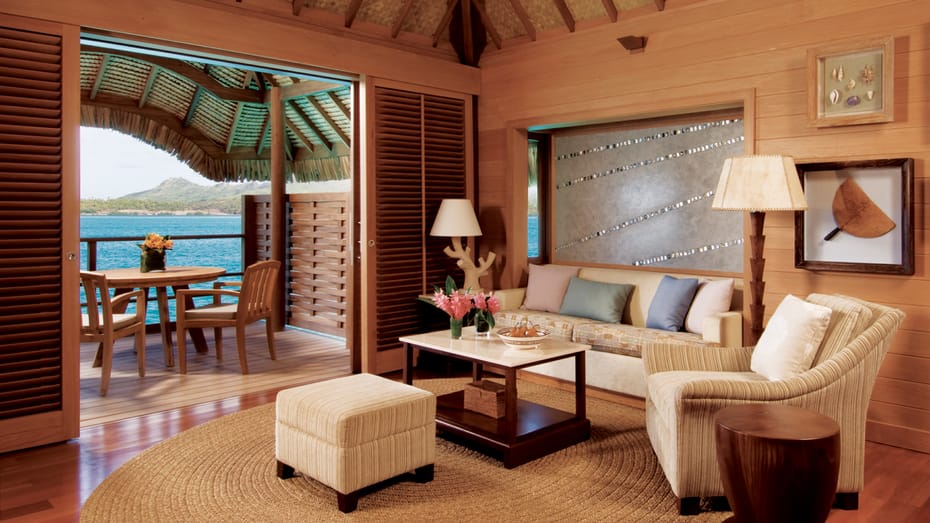 Credit: Four Seasons
The Special Bungalows are a jaw dropper. These Bungalows range from 1,120 square feet to 2,228 square feet. These come with one or two bedrooms and a plunge pool off the side. You have a pool and the ocean in your own suite! It is hard to imagine anything better than this. The capacity ranges from 3 to 6 adults and 2 to 4 children depending on the layout. Each Bungalow will have either King, Queen, or sofa couches for sleeping. 1 to 2 gorgeous bathrooms are also in the living space. The Bungalows are top notch and you would be hard-pressed to find anything better. Each one is beautiful in its own right, so take your pick!
Overwater Special Suite
Poerava Two Bedroom Overwater Bungalow Suite
Herenui Two Bedroom Overwater Bungalow Suite
Otemanu One Bedroom
Plunge Pool One Bedroom
The Beach Villa Estates
Credit: Four Seasons
The resort also offers beachfront villas. These are for bigger groups of people. Don't worry though, they do offer the privacy you are looking for as well. These offer indoor-outdoor floor plans with a private pool. You get beachfront views of everything with the space to include everyone! Also, the villa estates give you multiple perks for your stay. These include meals, beach activities, private shows, airport transfer access, and even a one-time bar stocking. The villas are massive starting at 2,722 square feet all the way to 5,380 square feet. Talk about a home away from home!
One Bedroom Villa
Two Bedroom Deluxe- Private garden patio with Beach and Lagoon view.
Two bedroom Premier- Private garden patio with Lagoon and Mountain view. Patio furniture and hammock.
Three Bedroom Villa
Amenities
Four Seasons Bora Bora Resorts offers lavish amenities. These are available to make your stay and experience that much more enjoyable. These activities will keep you coming back for more.
Shaded Sanctuary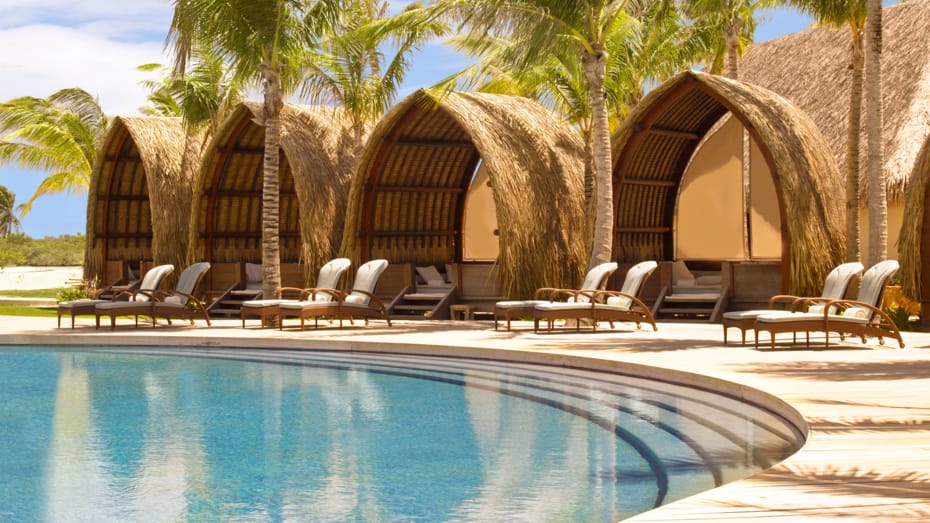 Credit: Four Seasons
There is a shaded sanctuary for shaded comfort near the pool. These cabana style lounging areas provide beautiful views of the lagoon as well as chilled towels. Your pool attendants will also top off your ice-cold water while you relax.
Spa
Credit: Four Seasons
A spa is on campus! The suite is catered towards couples. With glass tables, so you can admire the clear water, you will not want to be anywhere else during your session.
Fitness
While you're on your vacation, the last thing you probably think about is working out. However, with the available gym, fitness classes, and private instruction, you may change your mind. The gym is full of fitness equipment to meet any of your needs. Also, multiple classes, including yoga, are set up right by the lagoon. This gives you the paradise feel while you're exercising. Working out at the Four Seasons Resort Bora Bora may not be that bad!
Breakfast In Bed
Wake up and enjoy a breakfast you will never forget. Without even having to move, a Polynesian style canoe will bring breakfast over to your Overwater Bungalow suite. This is truly a one-of-a-kind experience you wont get anywhere else. Enjoy!
Water Activities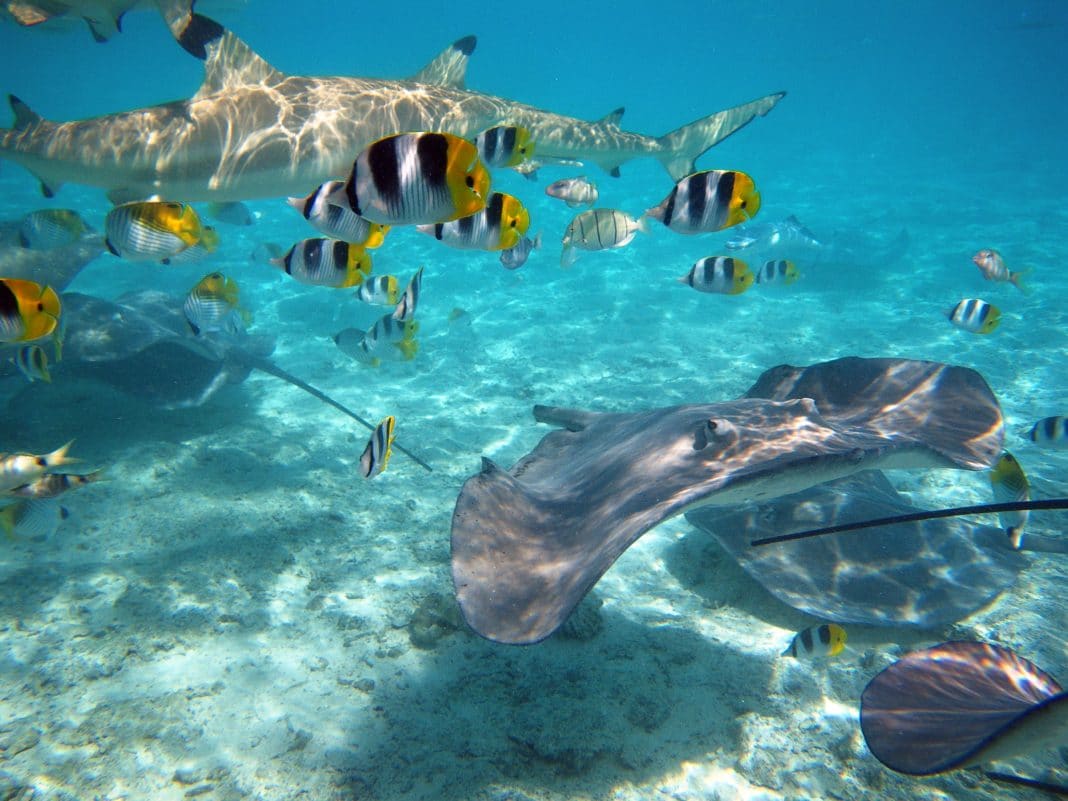 Credit: Flickr
Going to a place like Bora Bora has to include some type of water activity. Luckily Four Seasons Resort Bora Bora  has you covered. Besides the beautiful lagoon that resides here, multiple water activities are available within it! From shark and ray excursions to jet skies, water floats, and catamaran rides, you will have plenty to keep you busy. Take a dip and go see some of the amazing aquatic life while snorkeling. There is even a deep sea fishing adventure with one of the resort chefs! Make sure to take an underwater camera to keep and share these memories for a lifetime! The water is absolutely beautiful so take full advantage of it! The resort also has a huge infinity pool for you to swim in if you prefer that. If for some reason you want to take a break from the water, the soft white sandy beaches are always a fun thing to walk along to catch a view!
Weddings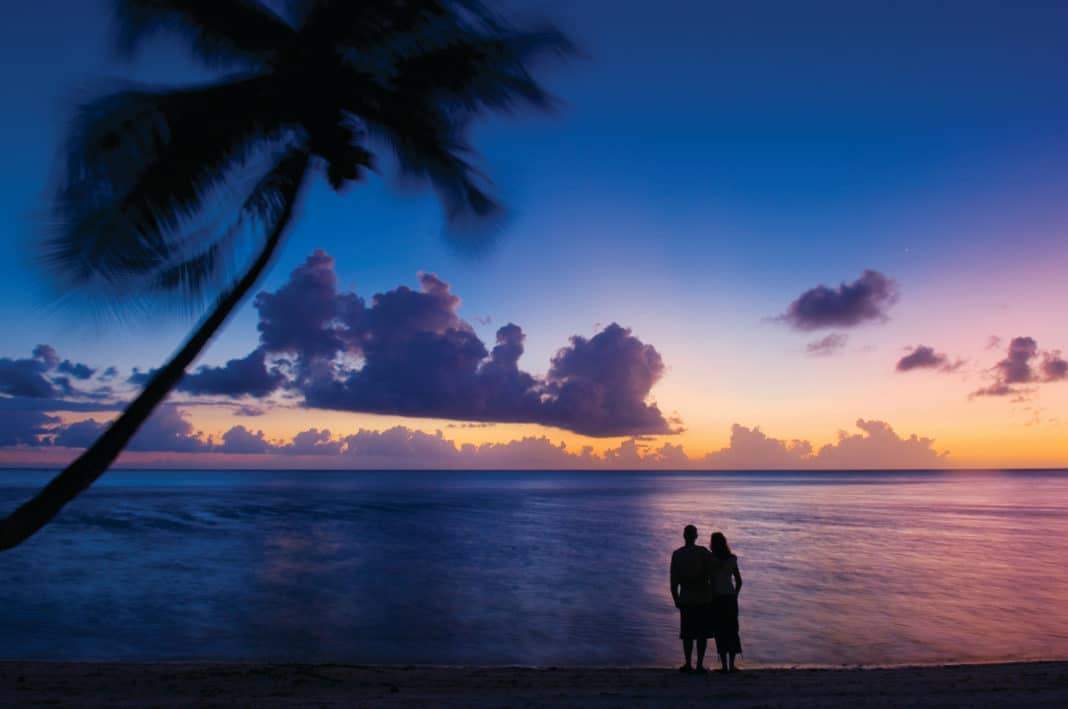 Credit Flickr
Having a wedding at this beautiful location would be a once in a lifetime event. With stunning 360 degree views, a wedding won't get much more beautiful. Four Seasons Resort Bora Bora offers multiple types of wedding packages as well as honeymoon packages. The resort has a few different options for venues including a chapel, beautiful beaches, and a terrace. How wonderful would it be to have your wedding in Bora Bora? With everything this resort has to offer, it would be a life changing experience. It doesn't get much more romantic than this place.
The Food
Four Seasons Resort Bora Bora offers high-quality food and dining experiences. Known for their food, Four Seasons will not disappoint. Being in a tropical area, you can expect some amazing island food as well as extremely fresh fish. There is definitely going to be an abundance of seafood choices to satisfy your appetite. Dine in one of the four amazing restaurants offered or just have a meal prepared for your secluded bungalow and enjoy the views!
Arii Moana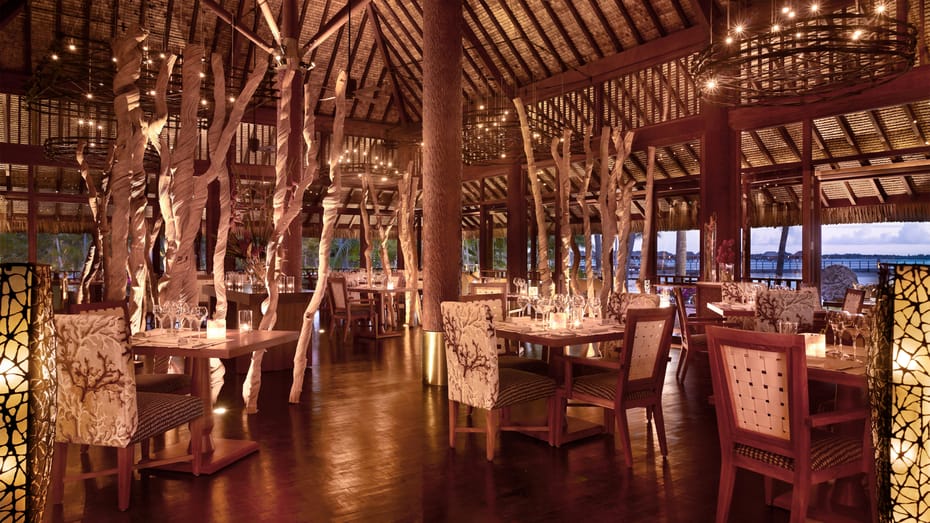 Credit: Four Seasons
The first thing you will notice about this place is the absolutely stunning decor. Arii Moana is truly an amazing dining experience. With its Polynesian and French style cuisine, you may experience some indecisiveness when looking over the menu. From spiny lobster salad, to a line-hooked yellow fin tuna course, or the confit pork belly, everything sounds and tastes nothing short of spectacular. This restaurant would be a perfect place to have a romantic date!
Fare Hoa Beach Bar And Grill
For a more casual option, look into Fare Hoa Beach Bar and Grill. With an all day dining-type menu, this restaurant is an easy place to munch on some food and relax. The menu has options like sandwiches, tacos, shrimp skewers, and many other items. Go have some tropical cocktails while listening to some tunes because Fare Hoa has nightly live music and a bar!
Tere Nui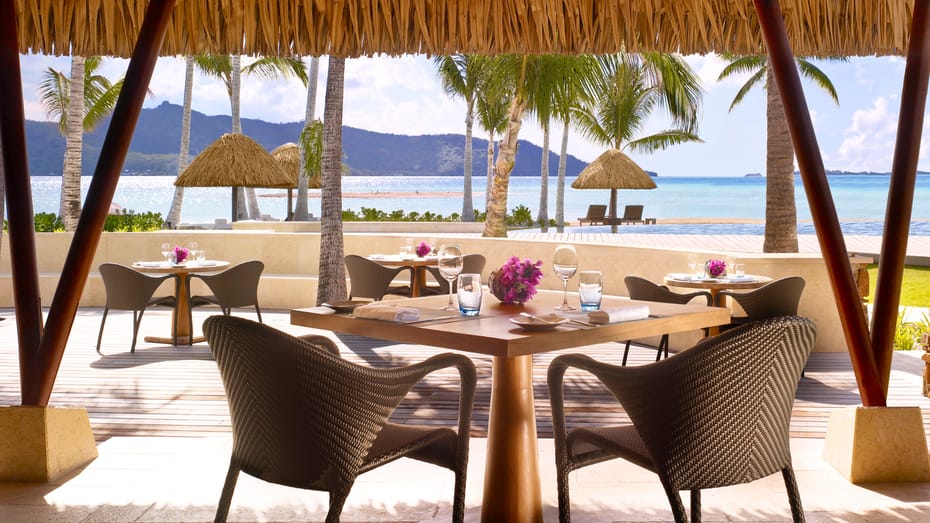 Credit: Four Seasons
For that "day-after" breakfast, Tere Nui has everything you would crave. Make sure to experience that morning breeze from the lagoon while having some poached eggs or an omelet! Other menu options include french toast, pancakes, waffles, Eggs Benedict, and an assortment of juices! Make sure to get there between 6:30 and 11:30 am.
Sunset Restaurant and Bar
If you're in the mood for some sushi or Asian styles cuisine, then head over to Sunset Restaurant and Bar. With a great vibe throughout and awesome sunset views, this restaurant is a fantastic dining option. You won't get fresher fish options anywhere else. With menu options that include lobster pot stickers, soups, Japanese style fried rice, a variety of skewers, and tons of sushi and nigri, you will be enjoying yourself for hours. While you're there, why not try one of the chef's specials on the menu? After all, this is a once in a lifetime experience! 
Bungalow Dining/Room Service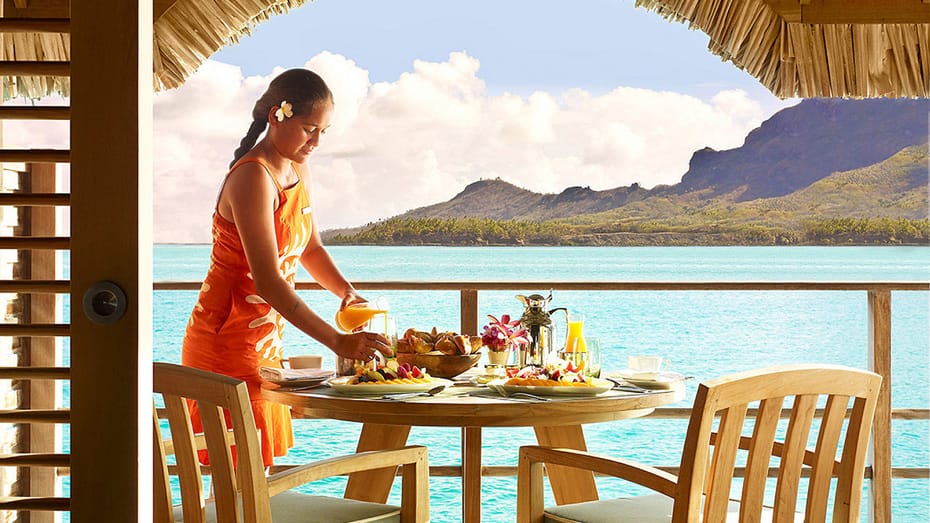 Credit: Four Seasons
Your room is in paradise, so why not dine there? With breakfast, lunch, dinner, and even midnight snacks at your doorstep, take full advantage of this! Specific menus are available for your bungalow dining experience. I mean, who wouldn't want to chow down on some lobster or mahi-mahi while looking over the ocean?
When Should I Go?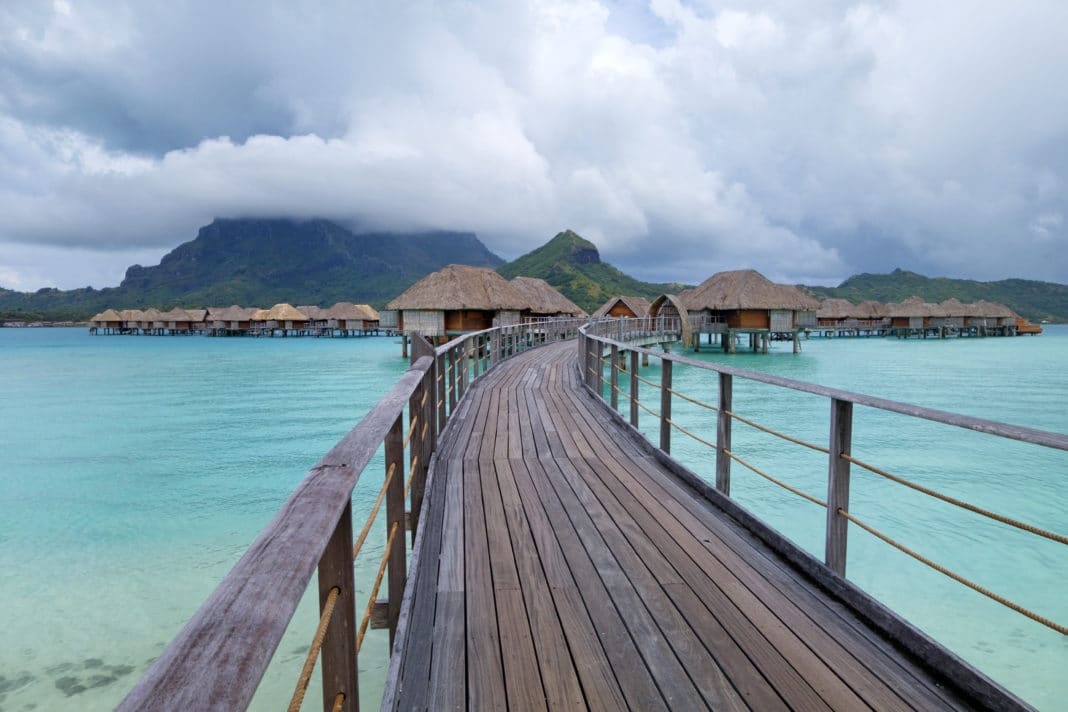 Credit: Flickr
It is recommended that you visit Four Seasons Resort Bora Bora between October and April. Price wise, this is the cheaper time of year to go. There are also fewer tourists during this time. Temperature is wonderful at an average temp between 70-80 degrees. Prices increase from May to October. There is less rain during this time but the tourist amount increases.
Visitor Comments
Almost everyone has nothing but stellar reviews for the Four Seasons Resort Bora Bora. From around-the-clock service to perfect living quarters, the visitors rave about this place. Everyone really enjoys the lagoon water and all of the fish that swim there. Being able to experience something out of the norm is the reason why. The food is always talked about; the restaurants receive many compliments. The humidity to some visitors is an issue, but this is normal for Bora Bora considering where it is geographically. Overall, you are getting everything you could ask for by staying at the resort.
Check In Soon
Credit: Flickr
Four Seasons Resort Bora Bora has one of the best tropical paradises you can imagine. From the privacy and seclusion to the phenomenal Bungalows and Suites, your stay shouldn't be anything less than spectacular. You will enjoy your time at Four Seasons Resort Bora Bora. After all, you're on a vacation!
Related Article:Couples Resorts