Jamaican food is loved by so many for its island flavor and bold spices. You've probably heard of meals like jerk chicken, or drinks such as coconut water. But what do Jamaicans eat? What are the traditional Jamaican dishes that are cherished by authentic Jamaicans themselves? Below are some of the most common Jamaican food that is worth trying next time you're in Jamaica!
Jamaican Jerk Chicken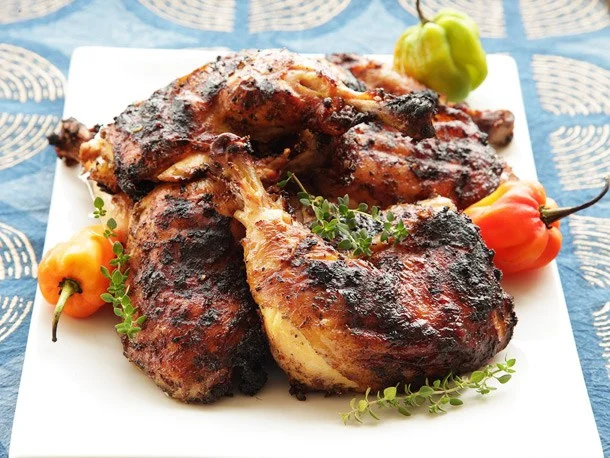 This is by far the most famous Jamaican food known by people around the world. Jerk refers both to the way one marinates the chicken as well as the jerk spice that's used. The key to this amazing recipe is letting the chicken sit overnight either in the jerk spice. The jerk can either be made in a marinade form or a dry-rub form. Either way, Jamaican jerk chicken is absolutely to die for—and it's even better when you get it in Jamaica!
Curried Goat
If you didn't like goat before, you've got a new thing coming. Jamaican curried goat will absolutely blow your mind. It's all in the seasoning and marinating, guys. This meal is more like a curried goat "stew," generally including curry powder, garlic, potatoes, and the native Scotch bonnet peppers. Do not leave Jamaica before trying this delicious Jamaican food!
Rice and Peas
This Jamaican dish may be simple, but it's a must eat nonetheless. The "peas" in this dish are actually referring to red kidney beans, one of the star ingredients. But what makes this traditional Jamaican side so unique is the coconut milk that's incorporated. Your idea of delicious rice and beans will never be the same after giving this recipe a try.
Callaloo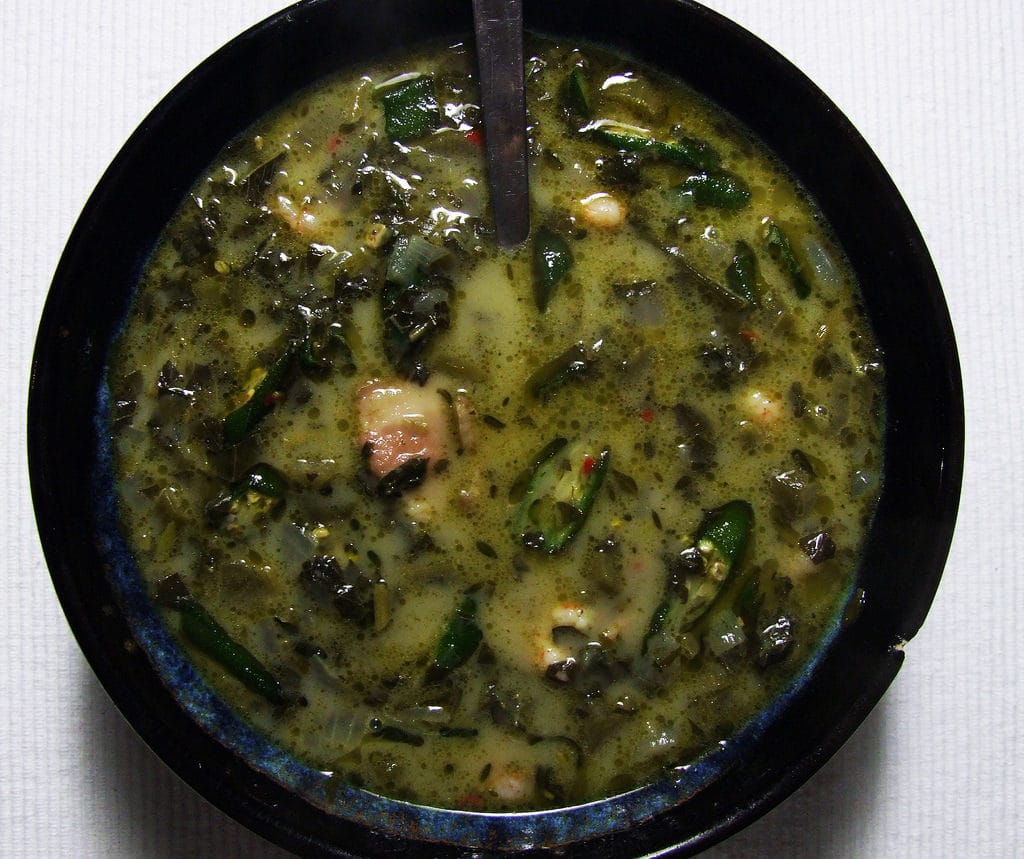 We can't lie—this doesn't seem like the most appealing Jamaican dish out there, but we promise you'll love it. Callaloo is a type of stew that's eaten for breakfast and is made with amaranth, an edible leaf native to Jamaica. It can be cooked with all kinds of other foods, but traditional Jamaican callaloo incorporates saltfish, scotch bonnet peppers, tomatoes, and onions. Would you be adventurous and give this Jamaican food a try?
Stamp and Go
You've probably had an apple fritter, or even a potato fritter before, but what about a saltfish fritter? This is what Jamaicans call Stamp and Go. This meal is often eaten as breakfast in Jamaica but also makes a great appetizer. The star ingredients salted codfish, scotch bonnet peppers, and onions are fried in oil to make for a deliciously crispy fritter. An absolute must-eat Jamaican food.
Ackee and Saltfish
This is Jamaica's national dish, so there it's no question that you have got to try it when you visit. Typically eaten as a breakfast meal, this recipe features salted cod as one of its main ingredients as well as Jamaican's national fruit, ackee. The fruit is originally from West Africa but was brought to Jamaica in the early 1700s, and as you can see—Jamaica loves it. Preparing this dish involves sautéing the ackee and salted cod with onions, thyme, scotch bonnet peppers, and other tasty ingredients.
Jamaican Patties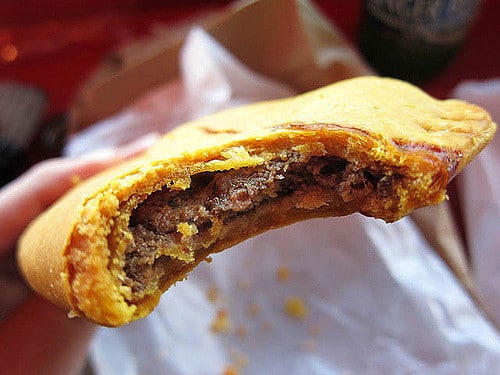 These may be one of our absolute favorites, and we guarantee you it will become one of yours as well. Sometimes called Jamaican beef patties, this Jamaican turnover features a delicious pastry crust and ground beef that's been seasoned to perfection. Just thinking about this dish makes our mouths water. The pastry is typically made with turmeric or curry powder, so you could eat the shell all by itself. The filling is beef cooked with garlic, onions, salt and pepper, and paprika. Can you say spice heaven? Do not leave Jamaica without trying these patties—that's a command.
Fried Plantains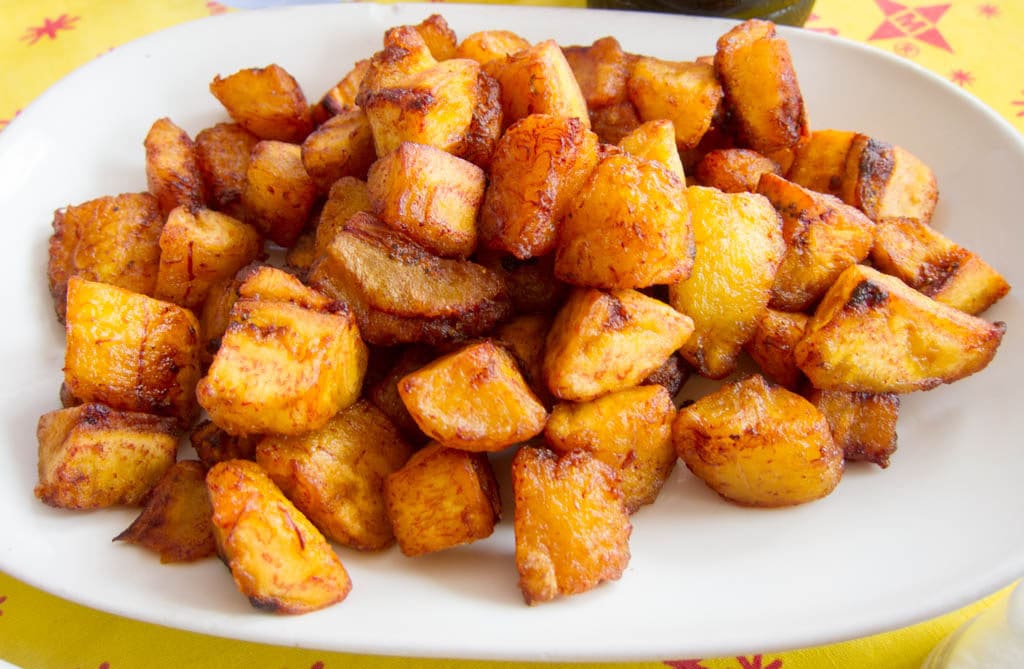 If you have a sweet tooth but also a desire to eat (semi) healthily, then trying this delicious Jamaican food is a requirement. Despite its simplicity, this recipe has a sweet flavor that will absolutely blow your mind. Since plantains are always in season in Jamaica, they are considered a central staple food. This means you can eat this mouthwatering meal all the time. Fried plantains are made with two ingredients: oil and plantains. The plantains are simply sliced and then fried in a pan with a flavorless oil (like vegetable oil), et voila! You have the easiest, most flavorful dessert (er—side dish) in Jamaica.
Gizzada
While we're on the topic of sweet Jamaican food, let us introduce you to Gizzada—another pastry that'll make you cry tears of joy. This dish is a delectable tart with a flaky pastry shell and a perfect sugary filling. The main ingredients include coconut, butter, nutmeg, and brown sugar, which are combined to make a savory syrup-like filling. Talk about sweetness galore.
Soursop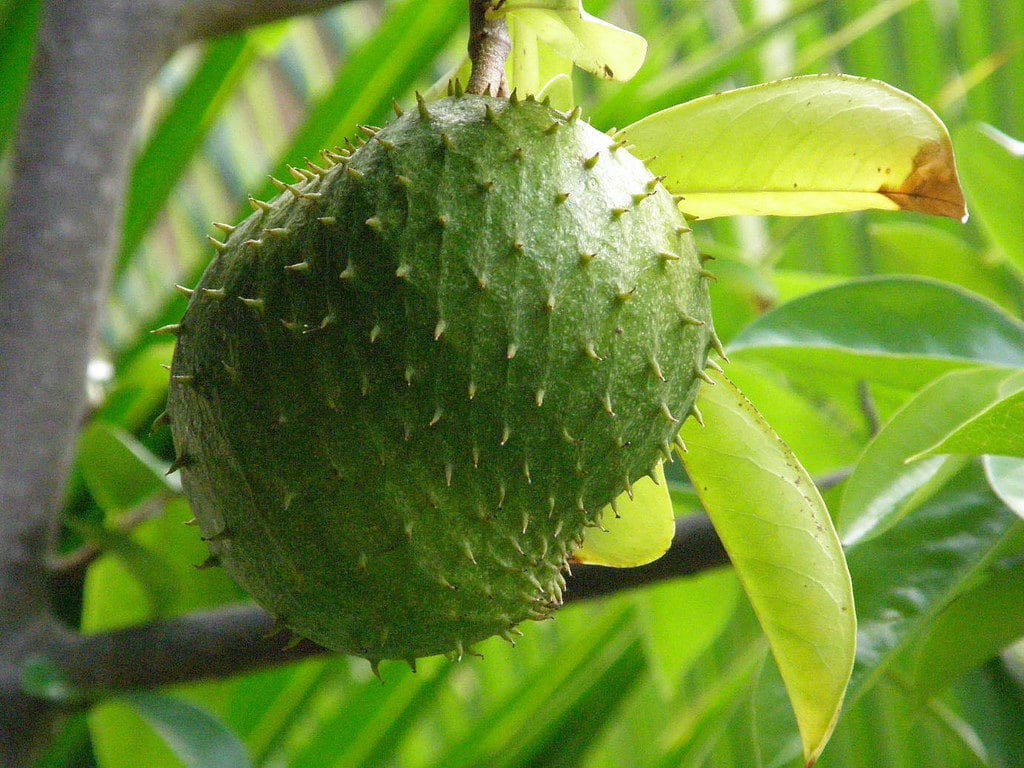 This unique fruit in Jamaica is an experience in and of itself. Soursop doesn't look edible from its bright green and spiky external, but its amazing flavor will shock you in the best way. The inside of the fruit is soft and creamy with a taste that is similar to pineapple, coconut, strawberry, and banana. Even better? There are many health benefits credited to the soursop, ranging from fever to cancer. To be fair, none of these health claims have yet to be proven, but we know one thing: it can't hurt, and it tastes amazing.
Blue Mountain Coffee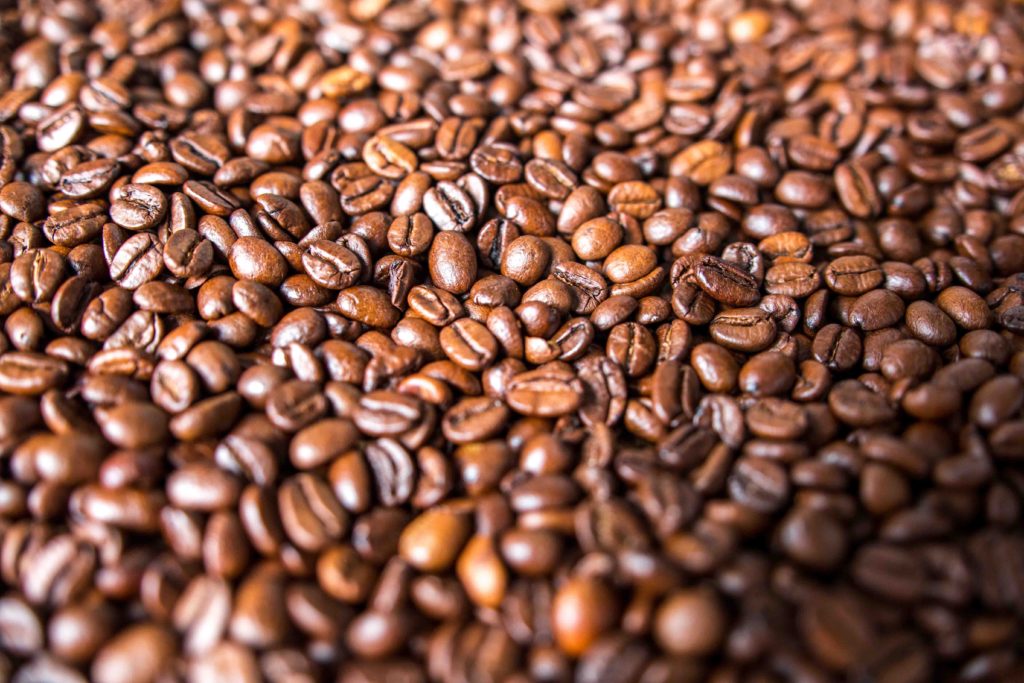 If you're a coffee lover, then Blue Mountain Coffee is worth a taste. In fact, you should probably bring as many bags home with you as possible, because this stuff is to die for. Grown in the unique climate of the Blue Mountains of Jamaica, this coffee has a bold and distinctive flavor that you have got to try for yourself. Blue Mountain Coffee belongs both on your Jamaica bucket list and your coffee to-taste list.
Jamaican Festival
Calling all doughnut lovers: this is your number one must-eat when traveling in Jamaica. Some like to refer to these as dumplings or bread, but we like to call it like it is: these are Jamaica's to-die-for doughnuts. This mouthwatering treat is whipped together by creating a dough that features cornmeal, sugar, and vanilla and deep frying it in oil. Need we say more?
Bammy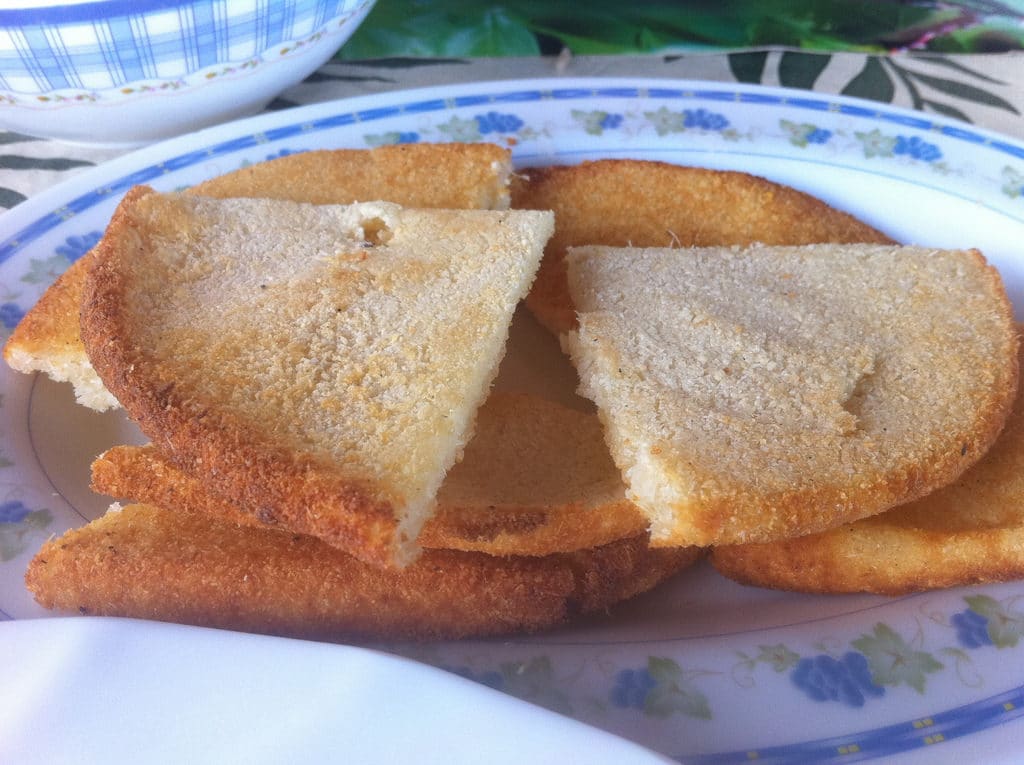 You've never had a flatbread like this, and no one does it better than Jamaicans themselves. A big part of what makes this dish so special is that it takes so much work to make from scratch. Bammy is made from grated cassava, which is then soaked in coconut milk and fried in oil. Sound delicious? You'd be correct.
Don't get us wrong, all Jamaican food is worth writing trying, but these are the top 13 on our list if you want our two cents.
Are there any other recipes that you've tried in Jamaica that blew your mind? Share them in the comments below.
Related Article: Korean Food: 20 Mouthwatering Meals