In New York City, there is no shortage of nightlife and certainly no shortage of bars and lounges to visit. It is, of course, the city that never sleeps. During your stay in the Big Apple, we are assuming that once hear about the best bars in NYC you will be sleeping very little as well. From sports bars to hidden speakeasies to rooftop cocktail bars with stunning views of the city's skyline, New York City has it all.
With bars lined up and down nearly every street, we know it can be an overwhelming task to sift through and find the perfect fit for you. That's why we have done the sifting for you. Now you can navigate the vast bar scene in NYC with ease. Whether you're in search for inexpensive drinks or fine wine, a calm ambiance or a music-thumping environment, we have it all covered in this top 40 list of the best bars in NYC, the city that never sleeps.
1. Amor y Amargo | East Village
The atmosphere of Amor y Amargo is one of a prohibition-era speakeasy, making it an easy pick for our list of the best bars in NYC. Once inside the tiny cocktail bar, you'll immediately feel thrown back in time. Though the space is small with only five barstools at the counter and standing room for about ten, this bar is a must-try especially for those who love bitters. Amor y Amargo (or for the non-Spanish speakers, "Love and Bitters") is rightly known for its large selection of different bitters. Settle into this teeny cocktail bar, converse with friendly bartenders who care about their craft, and discover the world of bitters if you haven't already. Amor y Amaro is the tiny bar with big character and rich flavor.
2. 169 Bar | Chinatown
In terms of dive bars, there is nothing quite like 169 Bar with its New Orleans themed menu and peculiar décor. Multicolored lights line the walls and there is a pool table clothed in cheetah-print fabric in the back, which is free to use. 169 Bar is an eccentric, funky dive bar that serves inexpensive drinks and loud music, one of the best bars in NYC for those who want something a little more out there. You also don't even have to leave your table to get another round of drinks. You can text in your order and like magic, your drinks will be brought right to you. Dangerous or genius? We will let you decide.
3. Angel's Share | East Village
Angel's Share is a hidden speakeasy-style bar, with an emphasis on hidden. You will enter up a staircase into a Japanese restaurant and look questionably at the friend who brought you here as to say do you know where we are going? Have no fear, you are in the right place, and it is indeed one of the best bars in NYC. Nestled behind an unmarked, mysterious door is the entrance into Angel's Share. Right away you will fall in love with the elegant, old-age atmosphere. But this place is more than an enjoyable atmosphere, it also serves creative cocktails that are all the rave. This dark, softly-lighted intimate space is a truly unique speakeasy experience in Manhattan. We highly advise visiting and ordering one of their many fun cocktails. If you can find the door…
4. Attaboy | Lower East Side
This friendly speakeasy is another one of the best bars in NYC that's located on the Lower East Side of New York City. The coolest thing about Attaboy? There are no menus. Yes, you read that correctly. Zero menus. Turns out the bartenders here are just as creative as they are friendly. Tell them the drinks you typically like and the flavors you prefer and they will whip up a personalized concoction just for you. The drinks are expensive, but well worth the price for the taste and experience you are served at Attaboy.
5. TØRST | Greenpoint
The interior of TØRST is a minimalist design with white countertops, wooden tables and rustic walls. While the design may be simple, the craft beer selection is not. In a good way. The menu is extensive, which makes this the spot to be for all the craft beer enthusiasts visiting NYC or local to the area. Here, there really is a beer for everyone. One of the coolest aspects of TØRST is that all of their beers are served in classy, pattern-painted wine glasses.
TØRST is ideal for those who enjoy the sophistication of holding a glass of wine, but prefer the taste of beer. The draft beers come in various sizes of 5oz, 8oz, and 14oz, so you can sample a number of drinks and your wallet will not hate you by the end of the night. We like to think of TØRST as the place for practical beer tastings with the poise of a wine tasting.
6. Bemelmans Bar | Upper East Side
Bemelmans Bar is a classy and classic spot in New York City. This sophisticated hotel bar is located at the Carlyle Hotel, where your hand will be served excellent drinks and your ears will be served excellent live jazz music. The interior of the bar is dimly lit and beautiful murals dress the walls. Within Bemelmans Bar, you will feel transported back to old New York. On any given Friday afternoon you can find people both young and old enjoying happy hour at the bar. We love Bemelmans Bar because it is the place for everyone.
7. Blacktail | Battery Park
Everything from the décor, to the music, to the food, to the staff's attire will remind you to 20th century Cuba. Blacktail is truly the complete old-age Cuban experience. The Cuban/American mashup food menu is delicious, as are their cocktails. Looking to be transferred into another time period and another country for a few hours? This historic Cuban, prohibition era bar is your place to go.
8. Blind Tiger Ale House | West Village
If you're a beer person, then Blind Tiger Ale House is a must for you. Here you will find unique draft and bottle selections that you won't find elsewhere in the city. The atmosphere is laid-back and the large window at the front of the bar makes for great people-watching of the NYC street scene. In the winter, we suggest snagging a spot up close to their fireplace and sipping down a nice, cold craft beer in front of the flames. Blind Tiger Ale House is one of the best bars in NYC to visit if you're searching for a home feel with great brews.
9. Clover Club | Brooklyn
With comfy leather booths, vintage sofas, and a working fireplace, Clover Club is a restaurant & bar with character. The setting is cozy and intimate, and the place gives off an old-age feel with its dim, but warm lighting. The service at Clover Club is notably friendly and attentive and the bartenders know their stuff–an aspect that makes it one of the best bars in NYC. We suggest ordering a well-crafted cocktail from off of their extensive menu and trying a few of appetizers. Enjoy your drinks and apps while listening to delightful music and taking in the beautifully romantic atmosphere that is Clover Club.
10. Death & Co | East Village
A classic speakeasy with a vintage atmosphere that is totally worth the wait. Death & Co is one of the best bars in NYC, and it's popularity proves it. The place is dimly lit with candles and you can actually have a conversation without losing your voice. If you go on a particularly busy night, you can leave your name and number with the doorman and go to one of nearly a dozen bars in the neighborhood while you wait.
11. King Cole Bar | Midtown East
In 1934 the bartender at King Cole Bar, Fernand Petiot, created a new drink called the Bloody Mary. Yes everyone, this is the place where it all began. King Cole Bar is a sophisticated lounge that is a treat for most of us with its rather expensive drink menu. Yet, for the price, the drinks are top-notch. Of course, we recommend trying their signature Bloody Mary. So if you've got the dough and are looking for high-quality beer, this is one of the best NYC bars for you to try next.
12. Bohemian Hall & Beer Garden | Astoria
Bohemian Hall & Beer Garden is New York City's oldest beer garden and an amazing venue for summer gatherings. On a summer afternoon when the weather is warm, meet up wth some friends and grab drinks in the outdoor area. There is ample seating both inside and outside, which we love a lot and think you will too. The prices are great and the atmosphere is casual and spacious. It's the perfect place to kick back and relax with great friends on the weekends. You are sure to have a memorable and enjoyable time at Bohemian Hall & Beer Garden.
13. Dutch Kills | Long Island City
Located in Queens, Dutch Kills is perhaps one of best bars in NYC that specializes in exquisite cocktails. And unlike its surrounding bars, the drinks here are relatively inexpensive, but taste high quality. Even their ice is cool (pun intended). In addition to the bar, the owners own a custom ice business. Depending on the cocktail you order, you may receive one of their specialty ice cubes that are unique to Dutch Kills.
14. Employees Only | West Village
Unless you know it is there, you won't know it is there. Employees Only is a real speakeasy in not only its hiddenness, but the fact that it serves cocktails that actually taste great. And for a speakeasy, the food will take you by surprise. It is a lesser-known fact that Employees Only serves excellent food in addition to excellent drinks. Can you say win-win? Employees Only is crowded on the weekends, but on a weeknight, you'll typically be able to grab a seat. No question why this one desreves a spot on the list of the best bars in NYC.
15. The Grayson | East Village
In NYC of all places, sports bars are a must. The Grayson is the spot to be to cheer on your favorite sports teams with a beer in one hand and fries in another. Televisions wrap around the walls to display all of the live games. The bar can get crowded depending on the teams that are playing (and if it's playoff season), but that is typical for any sports bar. More people = more friends to be made. And possibly more rivals too. The environment at the Grayson is relaxed and inviting and there are televisions broadcasting the games every place you turn. Come with a group of friends or come alone and make new ones.
16. Dead Rabbit | Financial District
Dead Rabbit seems to be on many people's radar as a popular hot-spot in the NYC area. It is on our radar too for its delicious cocktails and design. The downstairs area is laid back and casual, whereas the upstairs holds a more upscale parlor area. Best of both worlds? We think so. There is an array of drink options to satisfy everyone's preferences. Because of its popularity, Dead Rabbit is a busy place. But don't let the crowd deter you. You won't want to miss stopping by the Dead Rabbit on your visit to NYC. Go on a Wednesday night and you'll find live jazz music playing.
17. Little Branch | West Village
This dark, speakeasy-style basement bar is located in a quiet West Village neighborhood. Upon entrance, you'll find live jazz music, people having fun, and an overall 1920s feel. The bartenders are knowledgeable and also wear suspenders, which makes them fit right in with the prohibition era ambiance of Little Branch. Most of the old rules apply here, so no yelling or misbehaving, and only cash is accepted. Be sure to swing by an ATM on your way over to Little Branch.
18. Luckydog | Williamsburg
Calling all dog lovers, I think we found your new favorite spot in NYC. One goes to Luckydog for the outdoor garden patio, the beer, and the dogs. Yes, dogs are allowed to meander within the bar's indoor and outdoor areas. Depending on the day, there may be dogs everywhere. We mean everywhere. Both inside the bar and in the backyard, dogs are permitted to run free. The back patio is especially charming and a neat place to retreat on a nice day when you want to feel a breeze. There is no place quite like Luckydog where you can drink and be surrounded by so many pups (clearly deserving of being ranked among the best bars in NYC). While your dog makes new friends, so will you at Luckydog.
19. Kingston Hall | East Village
Looking for a Jamaican-themed bar in NYC? Look no further. Drink Caribbean classics at Kingston Hall, including their signature Drunken Coconut, which is a mix of coconut, rum, and pineapple juice all served in a coconut shell. You will like Kingston Hall for more than their tropical drinks, beer selection, and Caribbean inspired food menu. The bar also has fitting, detailed décor, stained-glass windows, and a free pool table, making it the perfect bar for a casual night out. Go out for a low-key night with friends, or for drinks after dinner. And remember to order the Drunken Coconut. You won't regret it.
20. Grand Banks | Hudson River Park
This bar is on a boat. Do you need any more convincing? This oyster bar is quite removed from the hustle and bustle of NYC nightlife, so it will feel like an oasis of sorts. If you need some breathing room and want a getaway from the indoor bar scene, venture outdoors for this one-of-a-kind experience on the water. Grand Banks is the best place to spend your summer happy hour in New York. Come on a warm summer evening and enjoy the surroundings with great company and great drinks. If you are wanting to sit for dinner, we recommend making a reservation online, by phone, or through OpenTable. It's not hard to see why Grand Banks is among the best bars in NYC.
21. Mad Tropical | Brooklyn
Think tropical meets disco. Think Mad Tropical. The epitome of chill vibes. We know, we know, you're wondering if there is an actual disco ball. The answer is yes. Here you can drink, eat, and dance in any order you prefer. We recommend going for happy hour and ordering their chips & guac because chips & guac are always a good idea. After you eat, hit the dance floor and show off your dance moves.
22. Mother's Ruin | Lower Manhattan
Mother's Ruin serves interesting and scrumptious cocktails in an exciting atmosphere that has pop/hip-hop music pouring out of the speakers. It is a place where the locals love to gather, so you are likely to make new NYC friends which is always a great experience when traveling to new cities. The drinks are reasonably priced and the food is served until 4 am every day. If you're aspiring to feel less like a tourist and more like a local, then we suggest trying to blend in with the NYC locals here at Mother's Ruin. And while there, order the waffle fries. They are seasoned with Old Bay.
23. Mr. Fong's | Chinatown
Tucked away on a sleepy street corner in the depths of Chinatown is Mr. Fong's. If you weren't looking, you wouldn't know it is there, which makes this the best-kept secret spot. Unfortunately, the secret is slowly getting out so on the weekends this bar can become crowded due to its small space. If you don't want to wait, we recommend going to Mr. Fong's on a week night. The bar serves delicious drinks and provides great all around vibes. Mr. Fong's is one of the best bars in NYC you'll find in Chinatown.
24. Maison Premiere | Williamsburg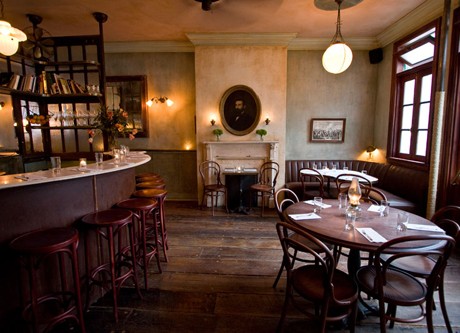 A speakeasy-style cocktail and oyster bar that is a portal to New Orleans. Maison Premiere is the gem of Brooklyn. In addition to the well decorated indoor bar, there is a back garden that holds hanging greenery and has ivy climbing up walls. The quaint patio area is open and welcoming – ideal for when you are in need of a breath of fresh air. Between the two atmospheres of indoor and outdoor space, this is the perfect bar to grab drinks with friends and enjoy a meal together. Love oysters? Maison Premiere will quickly become one of the best bars in NYC in your book.
25. Mulholland's | Williamsburg
Mulholland's is a solid sports bar with solid American burgers. Indoors there is a fireplace to cozy up next to during cool, winter months, and outdoors there is a backyard space for warmer spring and summer days. Since Mulholland's typically gets crowded with die-hard fans wanting to watch the game with friends, we suggest arriving before kickoff to ensure you have a table. Each television is labeled, so if you decide to come early you can try to sit in the optimal spot to view the big game. On Sundays when all you want is friends, football, and food, Mulholland's has you covered.
26. Neir's Tavern | Woodhaven
For over 180 years Neir's Tavern has been serving its local customers of Woodhaven and beyond. Come in and soon all of the regulars will share with you the rich history of the place over a cold beer and a meal of choice off of the bar's American style menu. If the interior looks familiar to you, you may recognize Neir's from its appearance in the film Tower Heist. There are many neat historical facts about this tavern and fun events always taking place. Before you go, check out their website and see what events are happening that week. Trivia Tuesday, karaoke nights, and free comedy shows are all frequent are Neir's Tavern.
27. Parklife | Brooklyn
Parklife is the new outdoor bar in Brooklyn that serves drinks and tacos. Both the inside and outside areas provide ample seating for you to stay a while and catch up with close friends or meet new ones. The outdoor section has benches and tables under string lights that make this a charming spot for evenings with friends or a special someone. The patches of greenery on walls also add a natural delight to the area. Parklife is not your typical Mexican restaurant and bar. It one of the best bars in NYC is to visit when you have a craving for nachos, tacos, a refreshing drink, and a cool breeze.
28. Please Don't Tell | East Village
How you arrive at PDT is half the fun, so let us tell you how you get there. Walk down a staircase into Crif Dogs restaurant. Search for the old-fashioned phone booth. Step inside the old-fashioned phone booth. Pick up the red phone. Dial 1 to ring the doorbell. Wait for the host to open the door in the wall and let you inside. Into wonderland you go. PDT is a place to visit for the entrance experience alone. It is memorable and worthwhile in every way. Plus, once inside you will be served fantastic cocktails. Because Please Don't Tell is a teeny, intimate bar setting and has limited seating, we recommend calling to make a reservation the day of.
29. Pegu Club | Soho
This casual bar and lounge in Soho has smooth drinks that are mixed and served to perfection. The environment at Pegu Club is trendy and gives off a great laid-back vibe. With comfortable seating, nice lighting, quality cocktails, and attentive service, what more could you ask? If you happen to be in Soho, this bar and lounge is your evening must. Even for the NYC locals, Pegu Club is worth checking out.
30. Ramona | Brooklyn
In Greenpoint, we know there are no shortage of bars. So why bring up a new one? Because Ramona deserves attention for its beautiful space in Brooklyn serving well-made cocktails and top-notch liquor and alcohol. The bar is roomy enough to come with a crowd and the atmosphere is chic and intimate enough to enjoy one another's company. At Ramona the ceilings are high and the prices are low (come during happy hour). The service here is prompt and happy to answer questions or provide suggests if you're wanting to be ambitious and try a new drink. We say be ambitious and try a new drink. Pretty clear why this one belongs on our list of the best bars in NYC!
31. Rusty Knot | West Village
Rusty Knot is a nautical dive bar complete with fitting décor of anchors and life preservers, should you need them. The drink menu is simple and straightforward and there is a free-of-charge jukebox for you to play your favorite boating tunes. Though you haven't left New York City, you will feel as though you have stepped right into an old beach town. Try their well-known pretzel dog, their signature Rusty Knot or another tropical drink of choice, play a game of pool, and put Jimmy Buffet on the jukebox for a relaxing time at Rusty Knot. You will be roped in and loving this place in no time. Come in the summer or come in the winter. There is no off season for this tiki bar getaway.
32. Penthouse 808 | Long Island City
Penthouse 808 is an indoor/outdoor rooftop restaurant and lounge with a Hawaiian/Asian inspired food & drink menu. Their cocktail selection and Pacific Rim dishes are sure to satisfy, as are their breathtaking views. Penthouse 808 offers spectacular views of the Manhattan skyline and Queensboro bridge. You will not want to miss catching the sunset from this rooftop lounge. And if you have been dreaming of getting married while overlooking Manhattan we may have found the place for you. Penthouse 808 is capable of hosting everything from private parties and weddings to everyday diners looking for a unique spot with a unique flavor.
33. The Heights | Morningside Heights
The Heights is an American rooftop bar and grill serving cheese fries, wings, cheap drinks, and a cool, modern scene. This awesome bar in Morningside Heights provides a space for you to enjoy time with friends, listen to music on the rooftop, be refreshed with a drink, and eat tasty food. During the days when the weather does not want to cooperate, there is an indoor area in addition to the rooftop deck, making the Heights the place to be rain or shine. We suggest visiting on Wednesday night between 4 pm – 11 pm where you can pick up a burger, fries, and a draft beer for just $12.
34. The Rum House | Times Square
Located within the lively and eventful Times Square, The Rum House will feel like an escape in the middle of chaos. The atmosphere is a fusion of relaxed and trendy, and the dimly lit bar serves exceptional and refreshing drinks. The live band of musicians is sure to impress, as are their well-made and creative drinks. If you are in Times Square and want a slightly less noisy oasis to step into, try the Rum House. It's a local spot in the midst of tourist central. Oh, and try the soft pretzel with your drink of choice.
35. The Wayland | East Village
The Wayland is a lovely spot for a casual date or a low-key gathering with friends. This small space has big windows, white walls, a chic ambiance, and tunes that change by the day. Music ranges from hip-hop oldies on the weekends, to bluegrass and indie rock during the week. You will never know quite what to expect with the music selection, but as far as drinks, you can always expect smooth and noteworthy cocktails. Come on the weekends and there is a good chance you'll be singing along to great past-hits.
36. Post Office | Williamsburg
Once a post office… always a post office? Well, sort of. While this quaint and charming whiskey bar was formerly an active U.S. post office, it has since turned into a go-to bar for many locals and tourists alike. Somehow the name stuck and Post Office is now a place where you feel you could hang out all day long, flipping through their lengthy list of whiskeys and bourbons. Old-timey music and décor makes the Post Office atmosphere homey and chill. Sit on velvet chairs or wooden barstool, listen to Jazz music spills out of speakers, and pick from the pages upon pages of drink options.
37. The Westlight | Williamsburg
The Westlight is a rooftop bar and lounge located on the 22nd floor of The William Vale Hotel that has unbelievable views of Manhattan and Brooklyn. Seriously, these views. Sit indoors and look out from their floor to ceiling windows, or step outside to witness the beauty without a glass of separation. The New York City skyline will leave you in awe up from the Westlight and the sunset will leave you speechless. Outdoors there are marble tables and plush sofas that make for comfortable seating. Indoors there are candlelit tables, modern décor, and a fun crowd. Drinks at the Westlight are plentiful, but the food menu is not so abundant. There are small plates you can order, but we recommend grabbing dinner beforehand and finishing your night on the Westlight's rooftop as the NYC skyline lights up before your eyes.
38. The Skylark | Midtown West
This one is yet another rooftop bar. The Skylark stands out among the other best bars in NYC for its blend of a speakeasy-feel with a view. Especially with an up-close view of the Empire State Building. After a quiet elevator ride up to the 39th floor, you will enter the bar that provides a spectacular view of the city and classy music to fit the mood. The Skylark is an upscale environment and drink prices on the more expensive side, but between the striking views, the pool room, and the overall sleek and elegant design of the bar, this is a place you will not want to pass up.
39. Tanner Smiths | Midtown West
A lively cocktail bar that offers a wide rand of drink options. Tanner Smiths is an ideal meet up place or date night spot. Known for their great cocktails and beer selections, their full food menu is just as important to write home about. And a wonderful plus is that neither the food nor the drinks are overpriced. Come for brunch on Saturday or Sunday and you'll have the chance to order cocktails served in teapots. Tipsy Tea Themed Brunch is what they call it. For all those who love the elegance of tea parties with their stylish cups and kettles, but want the taste of their favorite cocktail, this is one of the best bars in NYC for you. You won't find the ability to sip cocktails in this way from any other place in New York City.
40. Barcade | Williamsburg
First things first, bring plenty of quarters. Quarters are the last thing you want to forget when going to Barcade for drinks. Why? Old-school arcade games fill the walls and are calling for you to play them (you know, Pac-Man and Pinball and all the blasts from the past). Barcade is one of the best bars in NYC to chill with friends and meet new people between games (inexpensively, at that). Come and enjoy a beer while playing all the video games you haven't played in years. Or, maybe you never stopped playing them. In that case, you will love this bar even more.
From Times Square to the Lower East Side, you'll find some of the best bars in NYC along with lounges, clubs, and restaurants that you have to try, whether you are a visitor or a local.
Bars, bars, and more bars. New York City's nightlife is rich and never dwindling. Famous for their speakeasies in particular and well-known for their rooftop bars with picturesque views we love surveying the bar scene in NYC. If we forgot to add your favorite NYC bar in our top 40 list, let us know in the comments! We are always in search of the best bars in NYC to visit when traveling through the Big Apple.
Related Article: The Best Pizza in NYC Money Can Buy