Share your travel adventures with friends and followers: we'll show you how to start a vlog!
If pictures are worth a thousand words, vlogs are triple that! While your Instagram account can show off the beauty of wherever you are, a video is way better. Combine that with your narrations, and you practically allow people to experience the journey with you! A travel vlog is a great way to keep friends, followers and family updated on your adventures. It is a simple way to draw attention to cultures, cuisines, and even the simple beauties you discover around you. Additionally, you don't even need to be on the top of a volcano in Hawaii or standing in front of the Taj Mahal. The great thing about a travel vlog is that you get to introduce your followers to the neat things you've discovered, whether that's an awesome food truck near your Airbnb, an urban park, or a hiking trail in the Great Smokies. Read on for how to start a vlog!
Starting a vlog doesn't have to be a daunting task. You don't have to be an expert traveler or head out on extreme adventures to know what to blog about on Youtube. Plus, you'll find that gathering followers for your travels creates a shared experience. Help bring others into your adventures, and inspire others to travel! It's not hard to know how to become a vlogger. We'll show you how to start a vlog, so you can inspire the travel community, or just record memories for yourself.
How To Start A Vlog
Decide on Your Vlog's Focus, Theme or Topic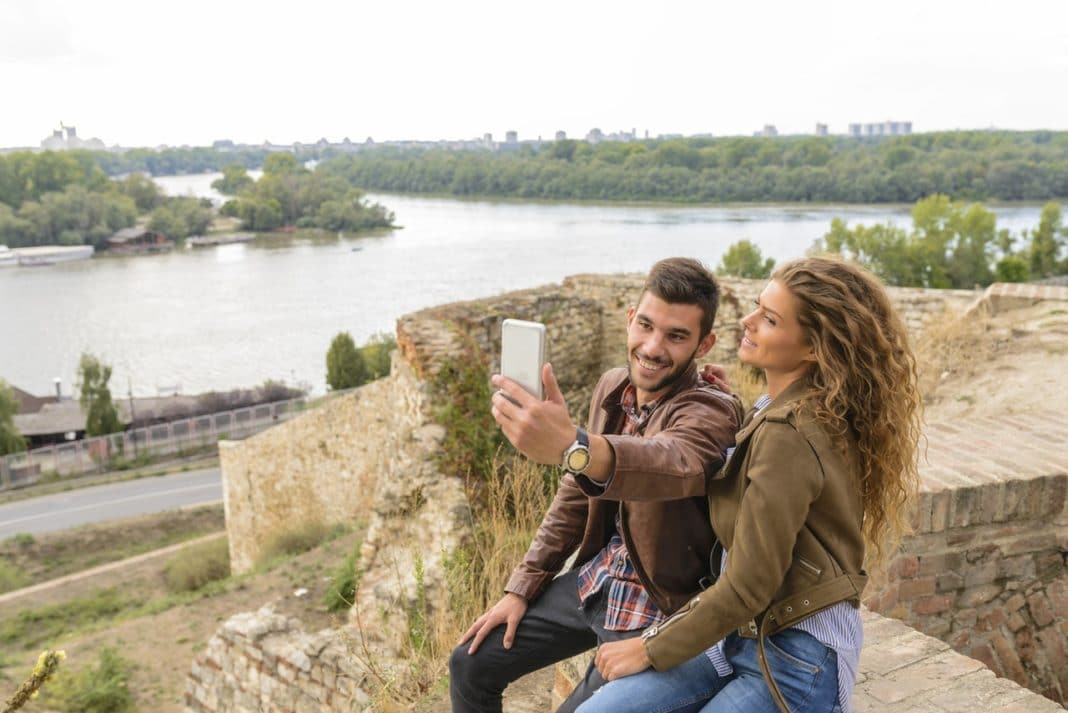 If you're an avid adventurer, then your content will be clear: show off your adventures. However, here's the key point when figuring out how to start a vlog: you simply have to start somewhere. If you want it to be travel-oriented, you can even start in your own town. Suggest best spots in your town to visit, and orient your vlog around "must-see" destinations in various places. Starting a vlog means that you'll have to simply pay attention to what you like, notice, or focus on in your travels.
Your broad topic can be "travel," but you may want to consider narrowing your focus even more. Perhaps your vlog will focus on food, and you can even combine food and travel! Furthermore, you could create an even narrower topic. Perhaps you like old churches or gardens that you discover in your travels! A focus for your blog helps to let your followers know what to expect. Topics, or categories for the information you'll cover may even help you find freedom in knowing where to start your vlog. Once you have your topic, or focused ideas, you're ready for step two of "how to start a vlog."
Gather Ideas From Other Vloggers on Youtube
When considering how to start a vlog, it's important to recognize that perhaps the most difficult step is the first one you take: actually starting a vlog. We find it helpful to gather ideas and find inspiration from some well-seasoned travel vloggers. We'll suggest some here for you. However, it's important to keep in mind that you don't have to start out totally awesome. Use these videos as inspiration, but don't compare! You don't need to be on a safari in South Africa to start a vlog! Use the ideas in these vlogs on Youtube to notice the various categories of travel the speaker is showing off. Additionally, notice the speaker's expression, and how he/she engages the viewers, to help decide what your style will be.
Youtube Inspiration For Travel Vlogging
Don't Invest in Expensive Gear, Use What You Have!
Purchasing equipment often requires you to roll out lots of Benjamins, but it doesn't have to be that way! Especially at first, plan on using your phone, assuming you have one from the past few years. Alternatively, you can set up your vlog using a front-facing camera which comes with many laptops. This might mean that you can't bring it along with you when you're out exploring the day, but you could recap your day by talking in the camera. We personally prefer the cell phone video option, then uploading it and editing it on a computer. A cell phone allows you the freedom to capture the surprise, in-the-moment events that you might want to vlog about.
Furthermore, if you do want to purchase an item for starting your vlog, a microphone would be a good investment. The sound quality is often okay on cell phones, but the microphone will help pick up your voice closer to you. Check out these options for microphones for cell phones that would be good options for vlogging. Such microphones help the audio sound a bit more clear and professional, and often won't cost you an arm and a leg.
Use These Simple Techniques For Filming Yourself
When you talk into the camera, make sure it's appropriately eye level. (It's always weird to stare up someone's nose from a camera that is angled too low). Additionally, the volume, speed, and inflection of your voice matters. Spend some time getting used to either talking into the microphone, or adjusting your volume to be picked up by the phone's microphone. When you watch practiced videos of yourself, pay attention to the speed of your voice. And lastly, use your voice to ensure audience engagement. Move into a whisper occasionally, or become louder and slower to emphasize points.
Additionally, make sure your facial expressions aren't distracting, but rather help with your message. Exaggerate the excitement, or pause for dramatic effect when telling stories. Engage the audience by using these variations to avoid a monotone vlog.
Edit Your Video With These App Options
It's always better to make more video, and then trim parts out. Keep in mind that you want the video to be engaging for your audience. Therefore, editing gives you the ability to trim your videos or cut out any slow parts, or mess-ups. Additionally, there are options to add some extra bonuses to your videos as well. The following editing tools are apps available for your Android phone. Some give you a chance to try them for free, or access some limited options, and then you may want to consider spending the few bucks on them. Alternatively, the Movie Maker Filmmaker is free (with ads), and works pretty well. Additionally, this website on video editing apps provides information on more movie editing apps for iPhone users, too.
Customize Your Youtube Channel for your Vlogs
Credit: Youtube/Flying The Nest
If you don't already have a Youtube account, it's pretty simple because it's connected with Google and Google+. Log in with those accounts and you'll be ready to go!
Once in Youtube, you can click on your photo or icon on the top right and access the drop-down menu and get to your channel. From there, you can click on "customize channel" to add some personal design.
After customizing your channel, click on your photo or icon in the top right again and access the "creator studio." Here, you'll find data on the views of your videos, as well as some options for creating. Under the "Create" category of the creator studio, notice that there's a whole audio library. Here you can download free music to add to your videos!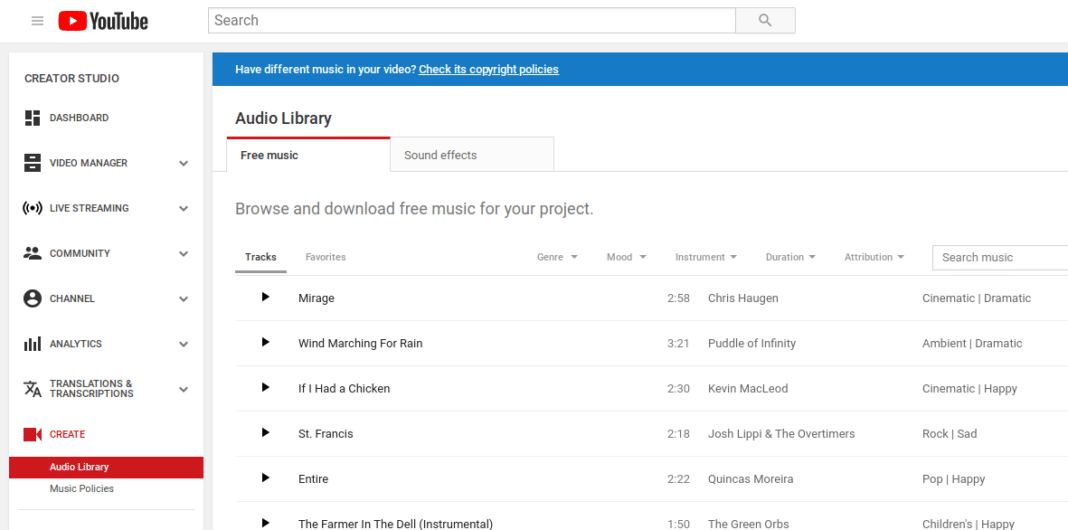 Promote Your Vlog
It's sometimes uncomfortable for people to "advertise" their own work. That's perhaps the most difficult thing to overcome when promoting yourself: simply doing it. Therefore, rest assured that even though it may feel uncomfortable, it's worth it! (And it's a necessary thing). We bet you'll be surprised by how you can inspire your viewers and friends. Send updates to your social media accounts, and make sure to get the link to your vlog out. Accompany it with a catch phrase or picture to get people's attention, and point them towards your vlog on Youtube. Find more information about promoting your content on social media here.
There's What You'll Need to Start Vlogging; Now Just Keep It Rolling!
If you've ever thought to yourself, "I want to start vlogging," now's your chance. Perhaps you're worried about how to become a successful vlogger or what to vlog about. We'd say the hardest part is getting started. It seems hard to decide what to vlog about, but you can begin with a simple idea. Reveal the travel secrets of your own town! The first steps of how to start a blog aren't too complicated. Once you have your vlog's focus, and your vlog on Youtube set up, you're done perhaps the hardest steps Starting a vlog means you get to join the communities of other vloggers. Keep in mind that you DO have something unique to offer the vlogging world, so jump in now! If you're ready to take the next step and upgrade equipment, check out our related article for camera suggestions.
Related Article: ​Travelers, Are You Looking for the Best Camera for Vlogging?​​​