Fit, function, comfort, and quality come together in the men's Chaco Z/2 Unaweep.
With a focus on forefoot control, the Z/2 features a wrap-around toe loop that keeps your feet locked to the footbed. Our Custom Adjust'em Fit adjustable straps feature soft polyester webbing that dries fast and maintains a consistent fit, making the Z/2 an ideal choice for the most demanding endeavors.
Since 1989, Chaco has been creating great fitting product that outlast the competition – footwear that can be repaired rather than pitched into a landfill. Chaco focuses on fit, function, comfort and quality with a full line of footwear, including hiking and river sandals, free-heel casual sandals, flips and new for 2007 a children's collection.
All Chaco footwear features a biocentric footbed and has received the APMA Seal of Acceptance. Chaco maintains a triple bottom line of people, planet and profit, donating 3% of after-tax profits to organizations dedicated to caring for people and the planet.
Men's Chaco Z/2 Unaweep Sandals Features and Benefits
Forefoot control and the added support of a double-strap design make this style immensely popular with long distance hikers and river runners. Equipped with the Chaco pull through strap system and Biocentric footbed, the Men's Chaco Z/2 Unaweep is all about fit. Whether you're embarking on steep mountain hikes or deep river crossings, you'll be hard pressed to find a performance sandal that sticks to your feet this well.
All vulcanized construction offers a secure bond between upper and outsole for years of wear. A high quality canvas upper and EVA cushioned midsole offer all day comfort and non-marking rubber outsole with razor cut wave-siping.
Tech Specs:
Textile

Imported

Synthetic sole

check

Heel measures approximately 1.25″

check

Sporty sandal featuring contoured footbed, crisscross straps with adjustable buckle, and toe strap for extra stability

check

Logo at midsole
Comfort
We're going to be completely honest with you here. Picking up another pair of shoes makes you think "Dang, that's one dense shoe." It also feels this way the first time – or couple times that you wear them. While Chaco did cut the weight down from two pounds per pair to one and a half pounds per pair. Even so, the shoe will begin to conform to your feet and you'll end up falling for these durable shoes. We have even better news. The comfort benefits increase not only increase with the number of days you wear them but even the hours too.
Stability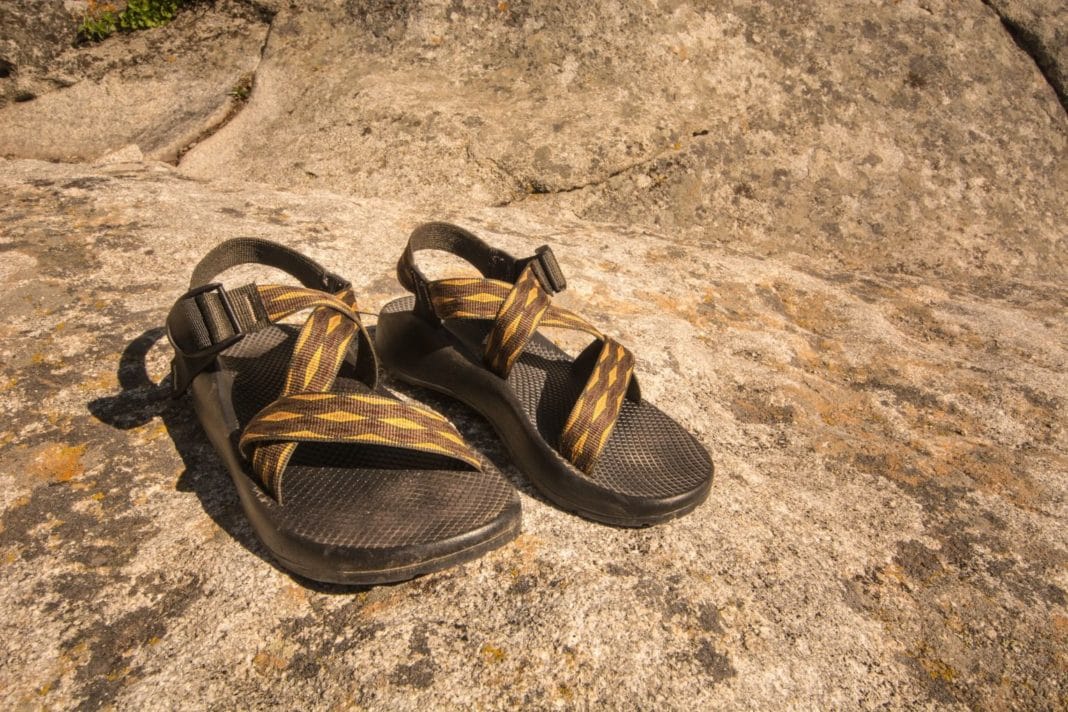 The Men's Chaco Z/2 Unaweep Sandals offer a wide stance and high profile footbed. They offer tons of stability for an open shoe. In addition, the firm material used in the midsole offers substantial support where other more material-based shoes fall short. Even better, the treads will hold up in a variety of conditions, even on slippery surfaces.
Fit and Design
Chaco offers a bold and noticeable design. Recognizable webbing routing allows for tons of precise adjustment. This removes the need for any additional buckles, Velcro straps, or other types of fasteners.
The single cinch fastener is faster and easier to use than any other system we've come across. However, it isn't immediately intuitive. While the webbing might require some of the box directions like a manual for fancy tech, once you get your fit, they remain secure. So, you won't need to worry about it again.
With this said, the Men's Chaco Z/2 Unaweep Sandals do have its flaws. You can't change the length of the heel strap. Some people may not have issues with this but for those with larger feet, it's easy for them to slide toward the back of the shoe.
Best Applications
Men's Chaco Z/2 Unaweep Sandals are a great choice for anyone with feet problems and pain. They're also great for various types of terrain. Take them hiking, to cross a river, cliff diving, roaming through the jungle, or virtually anywhere.
Value
We can't hype up the durability of the Men's Chaco Z/2 Unaweep Sandals enough. These are one tough pair of shoes that will serve your travel needs for years to come. Like any purchase, it's important to weigh the product against the cost. Are the shoes worth it? In a word, yes.
The Perfect Pair of Go-To Sandals
Whether you're hiking, kayaking, or river rafting, the Men's Chaco Z/2 Unaweep are the perfect pair of go-to sandals. You'll end up wearing them all the time – even around town in the summer. Unlike the Z/1, the Men's Chaco Z/2 Unaweep offers a toe strap for a more comfortable overall fit. There are lots of different colors and sizes.
Nice polyester straps and a slip-resistant footbed make these shoes great for any kind of water activity. What makes them even better is they have vibram soles. You know they're going to be really nice when they have a sole made from such high quality. The first time you get a pair, you're definitely going to want to follow the packaged instructions on the box of the shoe on how to adjust the straps. There's a certain way you're supposed to loosen and tighten them. After a few times of wearing them to break it in, they should feel great. To get them on and off, there is a special buckle to loosen.
What Travelers Are Saying About the Men's Chaco Z/2 Unaweep Sandals
We honestly can't say enough good things about the Men's Chaco Z/2 Unaweep Sandals. They run true to size and width, they're comfortable, have good arch support, breathe well, and are durable. When reading through traveler's reviews and asking around, we came across many reviewers who had their favorite pair last for a few years before they had to give them up. Think about how you wore that one pair of Toms into the ground before you gave them up.
Well, expect the same from the Men's Chaco Z/2 Unaweep Sandals. They're made to last. Only after a few years will the straps wear thin. Travelers have used these from guiding whitewater rafting expeditions, hiking the backcountry, and everything in between. Want to know the best part? You can use them for every single trip. They'll still be going strong.
Some users were apprehensive about the toe loop at first. If you've never worn shoes with a toe loop before, it might take some getting used to. However, once you get the straps adjusted to your fit, you'll never want to go back. These shoes come highly suggested by park guides – pick up a pair. You'll be glad you did.
These are simply the most stable sandals for work and play – hands down. Yes, there are other shoes that might offer a little more structure but they won't offer everything the Men's Chaco Z/2 Unaweep Sandals do. As with pretty much any sandals, they'll require a little bit of maintenance for cleaning. Nobody wants stinky summer shoes. Otherwise, they're the most breathable shoes you will have in your closet.
What We Love About the Men's Chaco Z/2 Unaweep Sandals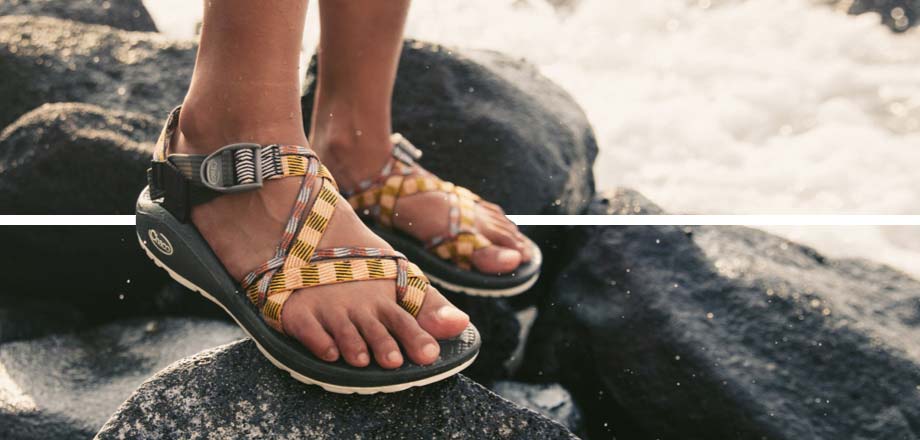 Slip into a pair of the best adventure shoes. Guides, hikers, photographers, and filmmakers wear them on the daily. These shoes are especially useful in wet and humid environments (*cough cough – Florida*). Wear them on the land, in the water, for cliff diving, wherever.
The only thing we can say is they're not the best shoes to wear on the beach. Sand gets in the footbed, in the straps, and can cause abrasion if it's not emptied out of your shoes properly. Once you get in the water though, you can rinse them out and you should be fine. Move the straps around a little as well.
If you ask us, we would take the Men's Chaco Z/2 Unaweep Sandals over traditional hiking boots and shoes any day. With this said though, these shoes are best for lighter trips – e.g. camping, day hikes, etc. If you're going on a longer trip with heavy gear, you're going to need a rugged pair of boots. As for sheer distance though, you'll never have a problem. To prevent chafing, simply adjust them and break them in before going on any longer trips.
There is one con though. They can be pretty heavy for people who aren't used to them. However, this is a decent tradeoff for a super tough pair of sandals that will take pretty much anything you can throw at them. All in all though, one of the biggest things we love about the Men's Chaco Z/2 Unaweep Sandals is that you can send them back to have them resoled or restrapped in the event of a mishap. Even if they're just worn out, you can still do this.
Here's the Bottom Line
From casual to commercial use, these are great sandals. As we mentioned earlier, the footbed is very supportive and will accommodate just about any foot type if you pick the right size and width shoe. Chacos have a cult-like following with good reason. They make a great product. The shoes are tough as nails, comfortable, and stylish. Plus, the tan lines you'll get on your feet make for great bragging rights.
New Outsole: It's clear to see that the new Men's Chaco Z/2 Unaweep Sandals features a more proprietary ChacoGrip outsole in comparison to its competitors.

New Look: Chaco recently added new patterns and colors to its listings. We love the solid black option. It's versatile and goes with nearly everything.
Alternative Hiking Sandals That Might Be More Your Style
When looking for the right pair of hiking sandals, it's important to shop around and compare your options. Fit, comfortability, price, and style should all come into play. In the spirit of the search, we've listed some alternative hiking sandals that might be more your style. Check out these pairs.
Teva Original Universal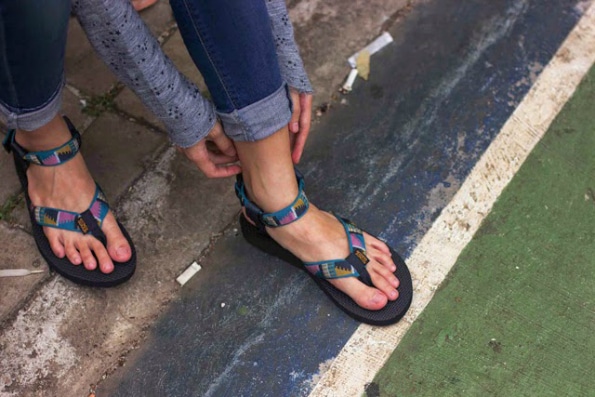 Okay, so you probably know by now that Teva is one of our favorite brands of all time. If you've been looking for a great pair of unisex hiking sandals, you've found them here. So what makes the Teva Original Universal so great? Well for starters, they have such a comfortable design. If you spend a lot of time on your feet, you need shoes that provide maximum comfort. When you're on an adventure seeking out fun, you don't want your time to be ruined by wearing uncomfortable shoes. The Teva Original Universal shoes offer maximum padding, a cushy EVA foam footbed, and a universal strapping system for easy adjustment when you put on the sandals.
Second, like the Men's Chaco Z/2 Unaweep Sandals, these shoes are durable. Travelers can wear them for years without worrying about them falling apart after taking a few trips. If you want shoes that will last after intensive wear, the Teva Original Universals are for you. The durabrasion rubber sole has been designed with adventurers like yourself in mind.
Last but certainly not least, these shoes are incredibly versatile. If you're budgeting for trips abroad, chances are, you're looking for some quality multi-purpose footwear. The best types of shoes should be wearable in various types of conditions, weather patterns, and terrains.
Teva Original Universal Sandals aren't just created for the summer months of the year. When the weather gets cooler, simply slip on a pair of merino wool socks and keep your feet comfy and toasty. When you do want to wear them in the summer though, these shoes will keep your feet cool and breezy all season long.
Teva Men's Omnium Closed Toe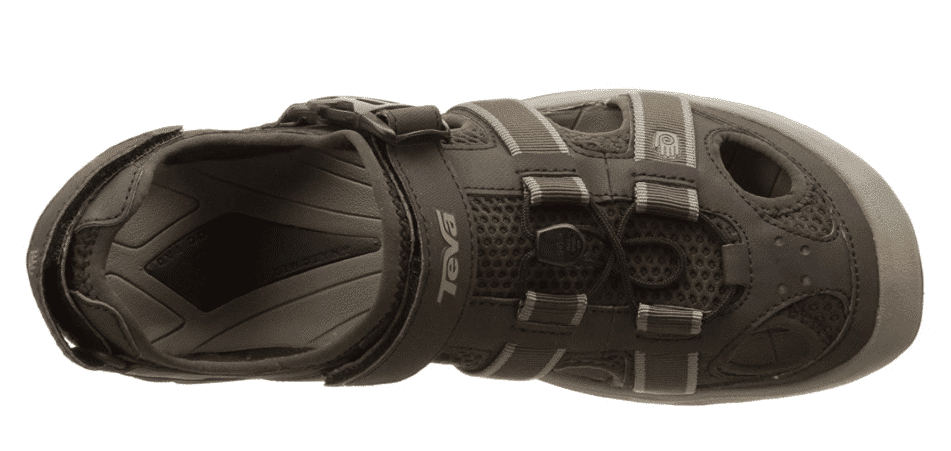 Men's Teva Omnium A quick drying sports sandal perfect for all of your favorite outdoor adventures. This sandal is great for water activities such as canoeing, river rafting or hiking near water All of the coolness of a sandal with added coverage for foot protection quick-drying upper is treated with microban antimicrobial solution to prevent odor and the growth of bacteria ShocPad in the heel cup evenly transfers the stress of impact through the footbed and away from the heel Spider rubber outsole is durable, non-marking and gives excellent traction on wet or dry surfaces.
Teva's Omnium hiking shoe brings the best of both worlds. This part-sandal, part-shoe hybrid has the lightweight and breathability of a sandal, along with the added foot protection of a shoe. It also features three points of adjustability for enhanced fit and comfort.
Ecco Men's Cheja Athletic
Why do we love the Ecco Men's Cheja Shoes so much? These amphibious shoes are synonymous with flexibility. Thanks to a rugged outsole, these shoes have great grip and traction for outdoor use and slippery surfaces. With a direct-injected midsole, the wearer also has shock protection, a cushioned microfiber footbed, and receptor technology.
While conventional shoes fit across your feet near the toes, the Ecco Chejas sandals offer a completely different type of fit. You'll enjoy a roomy toe box and a good medium fit from the heel to the instep. This allows your toes to spread out naturally. Your weight is supported evenly for good fit. Enjoy comfort straight out of the box.
With a 4.6 out of 5 star rating, these shoes speak for themselves. Travelers absolutely loved the build. Through all the reviews we found, users praise these shoes as being great for hiking and easy to slip on and off. Customers who tried various brands of sandals in comparison found these sandals not only met but also exceeded their expectations.
Northside Men's Burke II Sport Athletic Sandal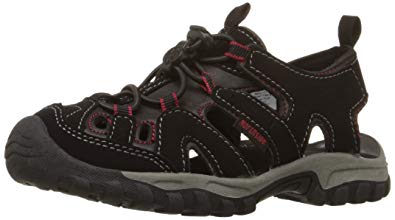 The best-selling Burke II closed toe outdoor sandal has all the features/comfort and benefits of other sandals and will leave more money in your pocket. The Burke II is constructed of all waterproof synthetic materials/built on the foundation of a one pie
The Northside Men's Burke II is the perfect hybrid of sandal and gym shoe. Made for fun in the sun and everywhere else, this leather-like find feature multiple cutouts to catch every breeze, and to drain and dry out quickly. Adjustable bungee cord lacing is perfect for speedy dressing, while tractioned lugs ensure no slipping on any surface.
Built for the outdoors and designed in the Pacific Northwest, it offers a comfortable, durable and water resistant fit. A lightweight breathable upper with EVA backing makes this close-toed shoe the right type for any adventure. From hiking to boating to you name it, they're built for a day of whatevering.
Last but not least, they've got the traction your need to go places your maps app can't. A durable multi directional sole ensures reliable traction and cushioned brushed EVA insole provides shock absorption.
Xero Shoes Z-Trail Lightweight Sandal
Live life feet first. So what can you do in your Xero Shoes Z-Trail Lightweight Sandal shoes? The answer is practically anything. Enjoy a run, go off road, with just the right amount of protection and flexibility, you'll practically feel barefoot. Going to a yoga class? Well, the grippy soles make the trail like you have a cushy mat under your feet the entire time.
Take a walk anywhere you'd like – from a mountain trail to a concrete jungle. The comfort of the Z-trail will truly surprise you. Want to know more reasons you'll love them? For one, they offer a natural fit. Wide toe boxes let your toes spread and relax.
A "zero drop" elevated heel helps you achieve proper posture. Furthermore, flexible soles allow your feet to bend and flex naturally. A low to the ground design helps with balance and agility. The patented soles allow you to safely feel the world while having the adventures you dream of. Protect your feet while you explore around you – even on the most rugged terrain.
Invest In the Best Hiking Sandals for Your Next Great Adventure
We hope you enjoyed reading our article on the Men's Chaco Z/2 Unaweep Sandals. They are such a great pair of adventure shoes. Take them from the streets to the trail. They hold up absolutely great and we guarantee they will be your favorite go-to pair for years to come.
Have you tried any of the shoes on our alternative list? Perhaps you have some suggestions for us. We always love learning about the best new clothing, accessories, or gear on the market. Let us know what brands and styles you enjoy using and we will be sure to go and check them out.
Questions and Comments
Do you have any questions or comments for us? If so, we would love to hear them. Feel free to leave us a message below and we will be sure to get back with you soon. Thanks for choosing Trekbible for all things adventure.
Related Article: Best Hiking Sandals For Your Adventures