Men's Teva Omnium Sandals are great for travel; they're a perfect hybrid between a sturdy hiking shoe and sandal.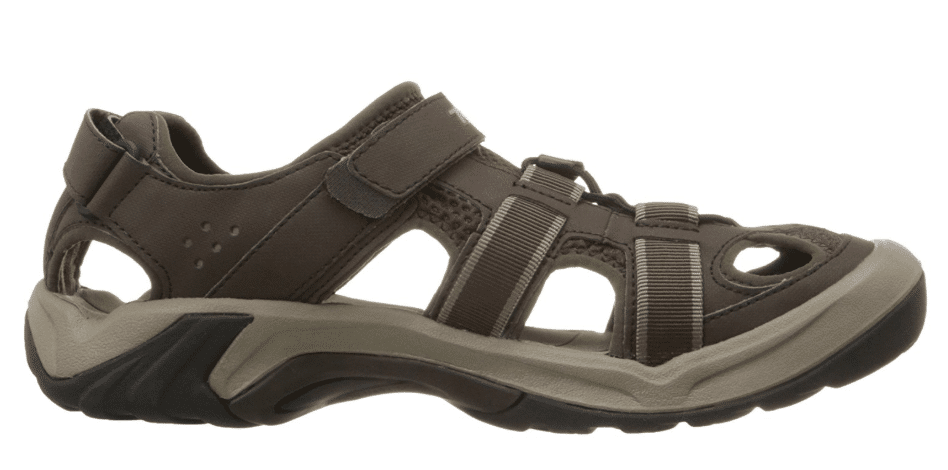 Credit: Amazon
We love Teva products for many reasons. To start, we've personally experienced the longevity of the products, and so have many others! Notice some Teva sandals on someone and they'll likely brag how they've had them for ten years! Their products are designed to be durable, comfortable and functional. With years of outdoor experience, Teva originated as a solution to a problem with outdoor shoes. In the Grand Canyon, a river guide strapped Velcro bands to flip-flops to prevent them from floating away. Today, the famous Teva sandals have evolved into an excellent outdoor shoe that's rugged, breathable, incredibly comfortable, and impressively durable. The Men's Teva Omnium Sandal is no exception. This souped-up sandal provides great support, covers your toes, keeps your heels and arches cushioned, and allows your feet to breathe!
There's currently a Men's Teva Omnium Sandal and a Men's Teva Omnium 2 Sandal. What's the difference between the Teva Omnium 1 and 2? Well, honestly, there's not much. The biggest is that the Omnium 2 is slightly more breathable, with more mesh. For our review of Men's Teva Omnium Sandals, we'll discuss the Teva Omnium, but keep in mind that the Omnium 2, though more pricey, is said to be more breathable.
Men's Teva Omnium Sandals Features & Benefits
Plenty of Support and Protection… but It's Still a Sandal!
Credit: Amazon
The Teva Omnium Sandal is a great balance between a rugged hiking shoe and a casual sandal. First, let's consider the support and comfort here in the Teva Omnium. There's shock-absorbing ShocPad technology along the base, and especially thick on the heel. The whole sole is substantially cushioned, yet it still offers support that is lightweight. Additionally, there is some great protection in this shoe. Your toes are covered and protected against roots, rocks and any toe-stubs out in the wilderness (or your backyard!) The rubber sole provides this extra protection up front with your toes. And lastly, you'll have this support and protection while still enjoying the benefits of the sandal style. The Teva Omnium is easy to slip on, cool because of the openings and mesh. Plus, it's easier to size because it's a sandal; just draw the straps in to be snugger.
Practical for the Great Outdoors
Credit: Amazon
Let's consider the outdoor terrain that these Teva Omnium Sandals have been designed for. There might be uneven terrain, rocks, roots, etc. There's likely rivers or at least puddles. You're likely working up a sweat. This sandal's ready for that. To keep your feet protected, and the sandal securely on your feet, Teva's nylon shank stabilizes and hugs your feet on uneven terrain. Additionally, the elastic helps maintain a snug fit all around. The thick sole protects against the sharp rocks underneath. Furthermore, the sole offers some great traction. It's also quick-drying for when you walk through rivers, or even accidentally step in that puddle. To help keep the whole shoe lightweight, Teva has used an EVA-foam midsole for cushioning that won't drag your feet down. Lastly, the Teva Omnium Sandal has Microban; antimicrobial technology that'll help with the sweat-stink while you're out hiking.
Ensures a Comfortable Fit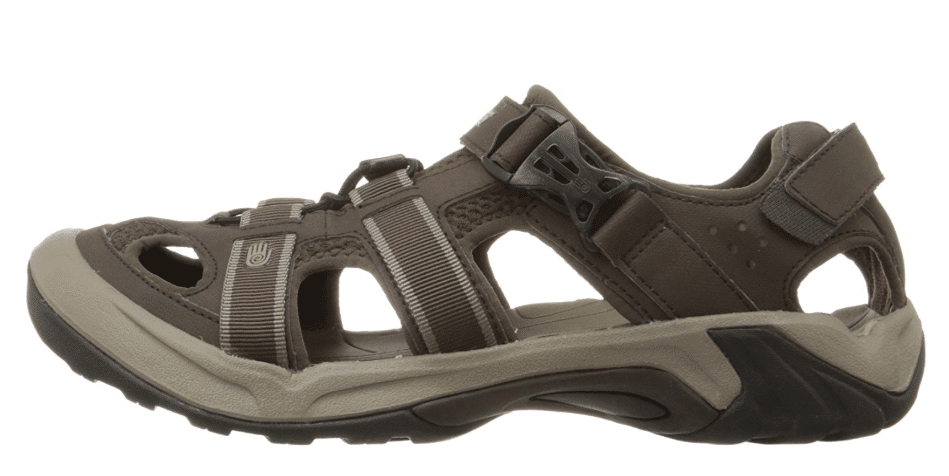 Credit: Amazon
The fact that this is a sandal rather than a full shoe is one factor for allowing a better fit. But that's not all. There is a total of three adjustment points for the Men's Teva Omnium Sandal. To start, this sandal comes with size options for wider feet. Furthermore, there is some built-in help for getting just the right fit, and ensuring an easy on and off. The buckle is slightly off to the side and protected by some lightly padded material underneath, so you won't have to deal with the plastic against your feet. That buckle is great for an easy on and off. 
The elastic gore means that the sandal hugs your feet, but it is also easy to slide in and out of. You can even pull the shoe in tighter with the lacing across the top. Lastly, the fact that the shoe is lightweight means that it won't drag and the sole won't heavily hang from your foot.
Durability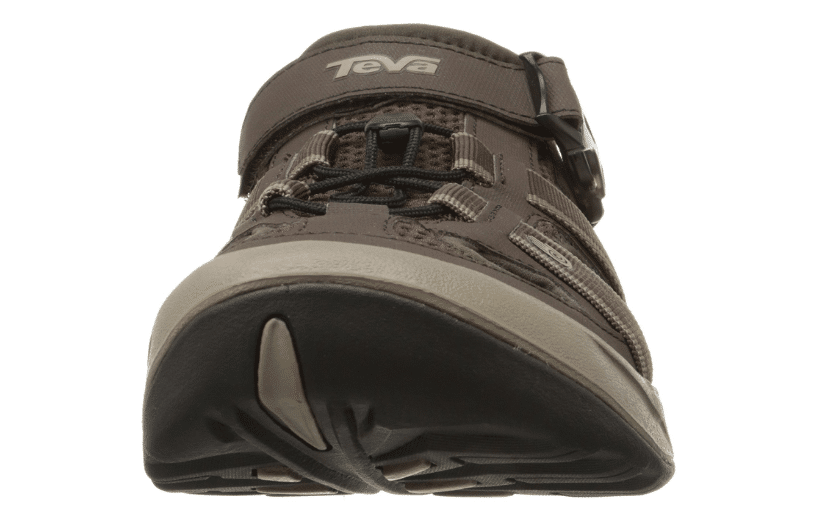 Credit: Amazon
You are paying a good bit for your Teva sandal, but it's so much easier to do when you can reap the benefits for so many years. The Teva Omnium Sandal lasts for a while. That's thanks to the sturdy Spider Rubber outsole. Additionally, there's no point of weakness here on the Men's Teva Omnium Sandal, so there doesn't tend to be a specific area which breaks. Many people describe the sandal as "disintegrating" after years and years of wear, rather than a specific breakage.
What Travelers Are Saying About the Men's Teva Omnium Sandals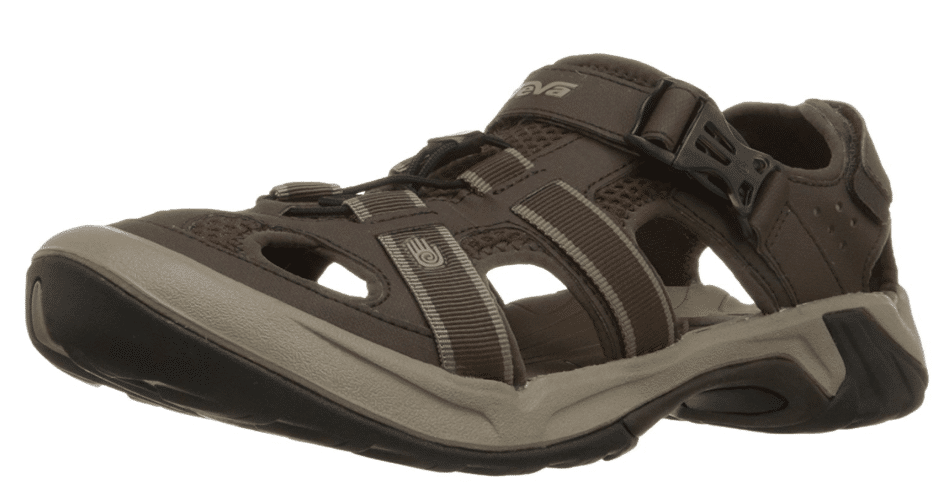 Credit: Amazon
Ask many Teva owners, and they'll tell you the wears of wear they've put on their Teva Sandals. Many wear the Men's Teva Omnium Sandals for years over rugged terrain and are certainly pleased. The Teva Sandals are great for travel since they're comfortable to walk around sightseeing and so versatile! Walk through the city, then head out to the mountains in these great travel sandals.
Many find that at first there is a wear-in period. You may need to spend some time in them before you get to totally forget they're on. Alternatively, some find that they fit their feet perfectly on the first wear. Additionally, the shoe seems to cater to those with high arches. That's likely because there is some substantial arch support. Some find that the shoe does not actually dry quickly. There is a substantial amount of material to the shoe, so perhaps the expectations for "drying quickly" can vary here. Many suggest finding a store rather than purchasing online to ensure that the sizing is correct and comfortable for your feet.
People appreciate the fact that these Teva sandals dry quickly, and are comfortable. Many other travelers like the closed toe box, yet the coolness of the sandal style. Other travelers find that this is a great shoe for everyday wear in addition to camping or hiking. Many buy multiple pairs or styles of Teva sandals because they find them to be just right!
Alternative Hiking Sandals That Might Be More Your Style
Men's Chaco Z/2 Unsweep Sandals Review
If you are looking for a men's outdoor sandal with a little less coverage up top, these Chacos might be for you. There's no closed toe box, but still plenty of substantial sole support in these Chaco Z/2 Sandals. The toe strap, which straps around your big toe provides some extra stability, as opposed to other styles of Chacos that wrap across the front of your foot. The single, adjustable buckle allows you to ensure a snug fit. Many find these to be really comfortable, and great for activities such as kayaking, hiking, or everyday wear. There's a good amount of traction on the bottom of the sole. Plus, the thick sole is both sturdy and flexible. The soft, polyester webbing dries quickly. With the extra toe loop to keep your foot against the sole, this shoe is a great choice if you want to remain cool while outdoor adventuring. Check out this review of men's Chacos, too. 
Keen Men's Newport Sandal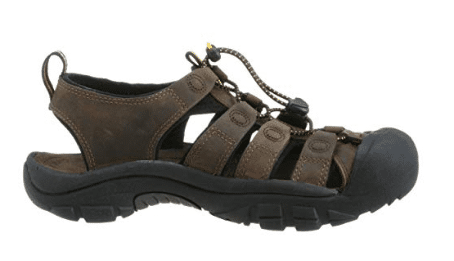 Here's a great choice if you prefer a leather sandal as opposed to the synthetic materials of many other sandals (including the Men's Teva Omnium Sandals). Pull these sandals on easily with the two helpful tabs. A bit of elastic and the lacing across the top helps to keep these sandals snug on your feet. This hybrid shoe features the great benefits of both hiking shoes and sandals. They're cooler and easier to get wet, but they provide lots of protection for your toes and a really supportive sole. The rubber sole has great traction for slippery rocks. The foot bed is comfortable for many shapes of feet, and the nubuck leather is washable!
Camel Leather Sandals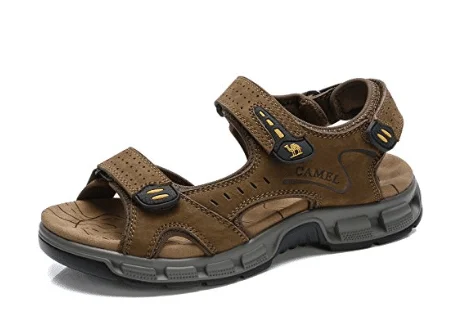 Here's an excellent alternative to the Keen, Chaco, or Teva style sandal listed above. The shape is a bit different; toes are still open, but they're a bit more substantial on the top than the Chacos.  If you find the Chacos to be a bit too minimal, and the Tevas to be enclosed, these may be the men's hiking sandal you're looking for. Your feet will have plenty of room to breathe, but you feet will remain snug against the durable sole. The leather and synthetic material is comfortable against your foot, and the Velcro ensures just the right fit. We also appreciate that the lining of the sole, the part your foot will be in contact with, is soft rather than slippery. The bottom sole has lots of cushy shock absorption. There's great arch support, and anti-skid, solid traction soles. 
The Men's Teva Omnium Sandals keep your feet cool, comfortable and protected!
Thanks to the thick sole with extra traction, these men's sandals make climbing over rocks and pebbles easy. The Teva Omnium sandals are long-lasting and comfortable. They're likely to fit your feet well with their three different points of adjustment. Overall, the Men's Teva Omnium Sandal are durable, versatile, and comfortable. Head out to do some sightseeing, slip them on to stroll around the neighborhood, or hike in the Rockies with these great hybrid sandals.  
Related Article: ​Best Hiking Sandals for Your Adventures​​​