Keep your tech safe and sound with the AmazonBasics 15.6-Inch Laptop and Tablet Bag.
Sometimes it can be hard to choose the right travel gear. Lucky for you, we took the guesswork out of it with and found the AmazonBasics 15.6-Inch Laptop and Tablet Bag. When it comes to finding the best laptop bags, we admit it isn't easy. There are thousands of options out there on the market. How do you narrow it down?
Well, after doing some research, we decided to test out the AmazonBasics 15.6-Inch Laptop and Tablet Bag. During our search, we kept several key things in mind. The best laptop backpacks are durable, made of good material, offer plenty of space, and have extra compartments for storage. Style goes a long way too. We're happy to say that this little bag checked all of the boxes.
AmazonBasics 15.6-Inch Laptop and Tablet Bag Features & Benefits
Padded Laptop Compartment for Safe Keeping
When it comes down to choosing a laptop case, this is the most important feature to consider. Does the case offer enough padding and support for your devices? The AmazonBasics 15.6-Inch Laptop and Tablet Bag checks all of the boxes. The internal dimensions measure 14.7″ x 2.2″ x 11.2."
We love that this product has multiple sizing options to purchase, ranging from 7-10 inches to a 17.3 inch case. In the event that you need to switch computers and devices, you can store what you would like in here and it will be safe. All in all, you can trust the case to get your expensive equipment where you need it to go without damage. In addition, the multi compartment can hold cables, phones, pens, and any other items you might need on hand too.
Nylon Material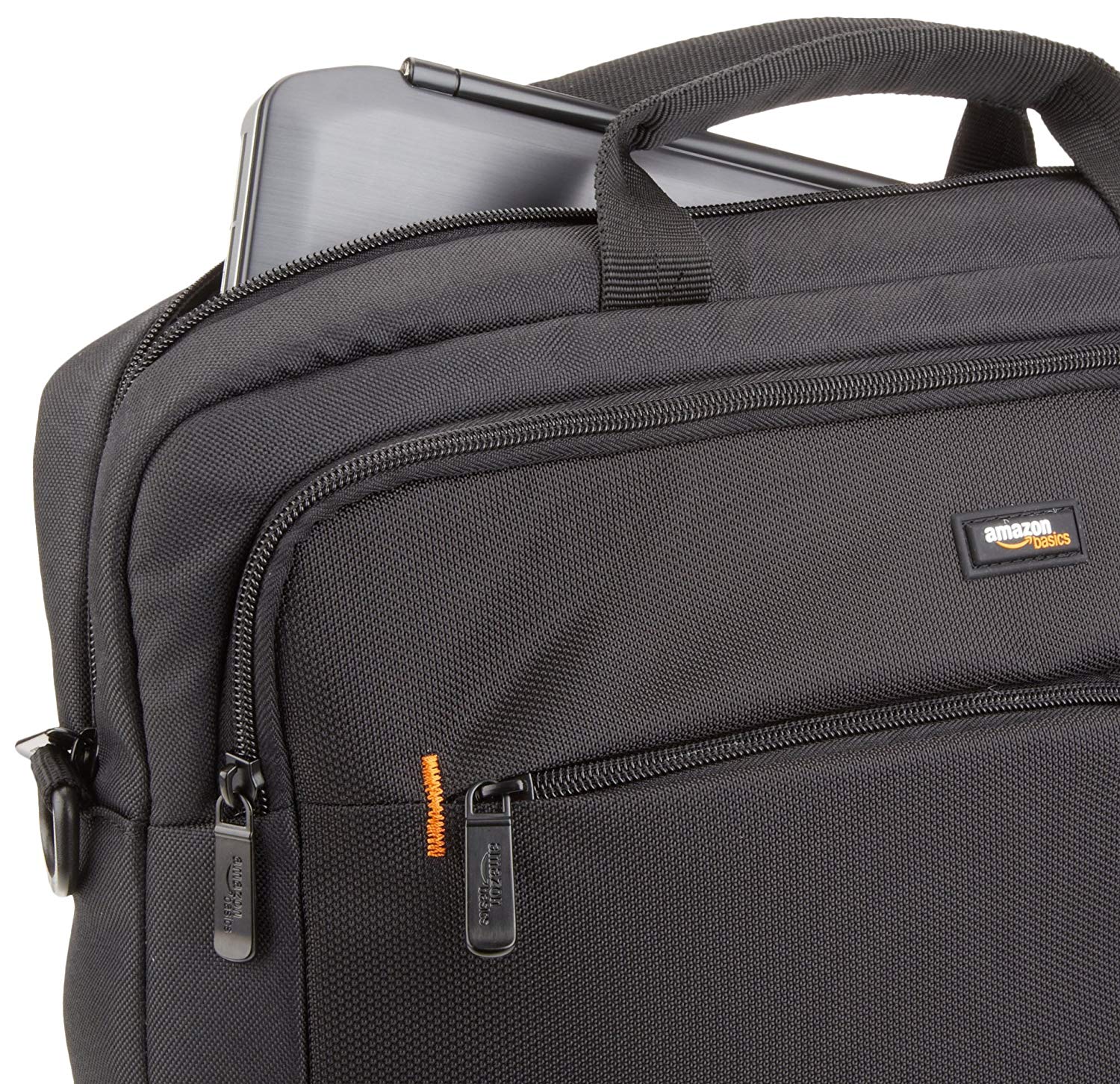 If you are really looking for gear to protect your laptop, nylon is the way to go. Lucky for you, that's exactly what the AmazonBasics 15.6-Inch Laptop and Tablet Bag is made from. This water resistant material is just what you need to keep your gear safe from the elements. It's rugged and durable without sticking out and having too obvious or bulky of a design. If you accidentally spill something on it, you can clean it easily. Overall, the material is incredibly well built. This is why Amazon feels confident backing the bag up with a one year warranty.
Adjustable and Padded Shoulder Straps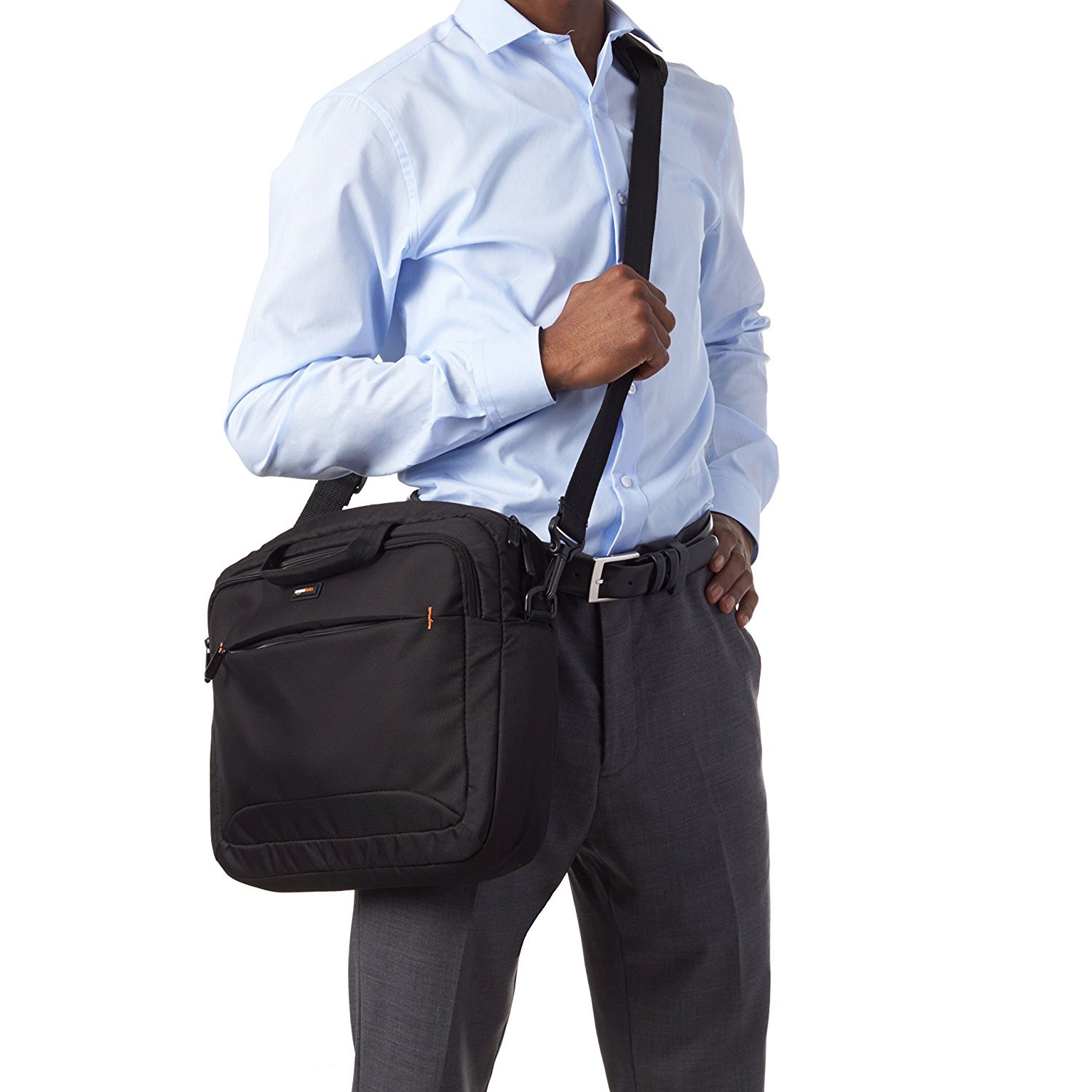 If you've ever carried a heavy laptop bag or backpack before, you know the straps can make or break the bag. The AmazonBasics 15.6-Inch Laptop and Tablet Bag saves your back and shoulders from pain with both adjustable and padded shoulder straps. This means the weight distribution will be even and the straps won't cut into your shoulders. So load up and rest easy, knowing your gear is safe and you have a comfortable way to carry it around.
Slim and Compact
This slim, compact case is the perfect size for carrying around your laptop. Designed with durability in mind, the Amazon brand is synonymous with quality. A multi-pocket and zipper format allow its organization to be used to the fullest. In addition to the main compartment, there are three sections where you can store accessories. These three sections are all accessible from outside the bag. So, you can organize on the go and grab things when you need them.
You will also find a side zipper pocket. Here, you can store extra items like your ID cards, pens and paper, headphones, etc. The zippered pocket forms a straight line on the exterior of the bag for a sleek looking design. Carry this bag anywhere. It's comfortable to wear on your shoulder and compact enough to take as your personal item on the plane.
The internal dimensions measure 14.7″ in length by 2.2″ in width and 11.2″ in height. External dimensions measure 15.5″ in length by 2.8″ in width and 12″ in height. You won't be lacking in space when it comes to the AmazonBasics 15.6-Inch Laptop and Tablet Bag. This is the perfect bag for frequent travelers. Whether you're traveling for business or pleasure, you can rest easy knowing your laptop will arrive at its destination safe and secure.
Tech Specs:
Can carry laptops up to 15.6"

No unnecessary bulk

Accessory storage pockets

check

Padded shoulder strap

check

Inside dimensions: 14.7″ x 2.2″ x 11.2″ (LxWxH)

check

Outside dimensions: 15.5″ x 2.8″ x 12″ (LxWxH)
What Travelers Are Saying About the AmazonBasics 15.6-Inch Laptop and Tablet Bag
There's no doubt about it. The AmazonBasics 15.6-Inch Laptop and Tablet Bag offers a fantastic option. With 4.5 out of 5 stars and over 12,500 reviews, you can see it is great quality. One of the features most listed is that it can hold a large laptop – up to 15.6 inches to be exact. Other reviewers were impressed with the minimalist style and padded shoulder strap. You can pack it full of your tech and other gear without it looking too bulky. All in all, travelers love the bag and it's a great investment for people who live life on the go.
Other Laptop Backpacks You May Like
Peak Design Everyday Backpack 20L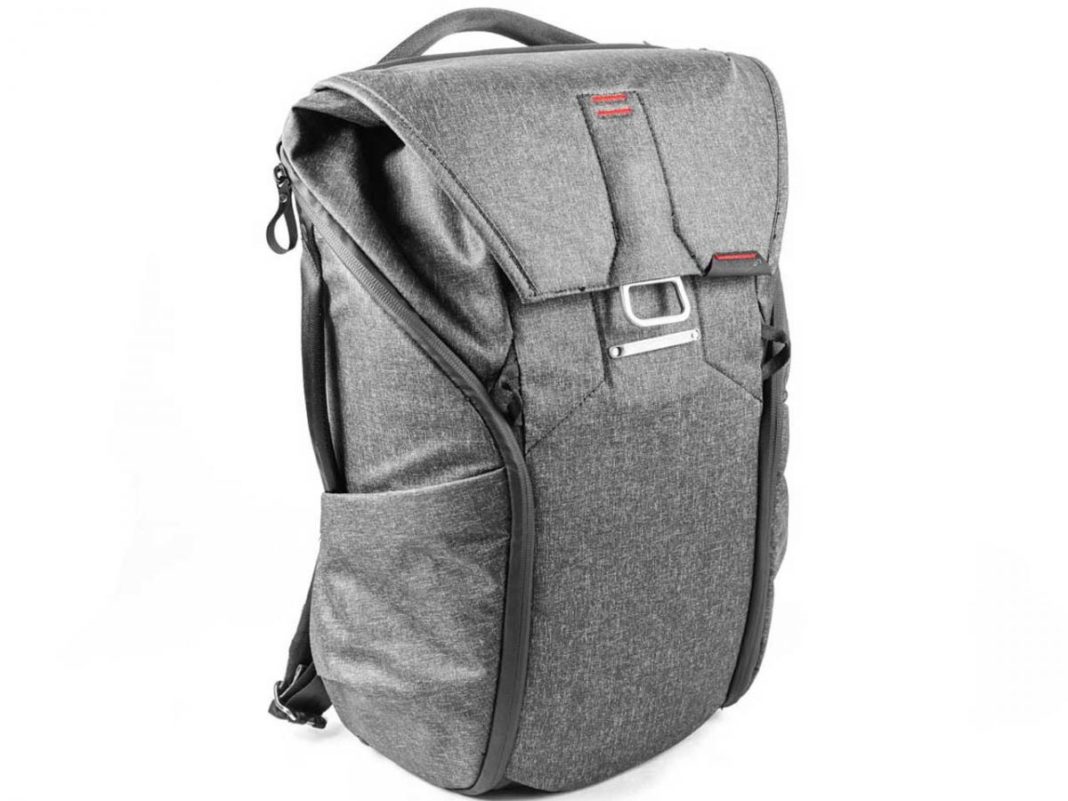 Are you looking for the best laptop backpacks? Well, you've found one here from Peak Design. The Everyday Backpack is just that – perfect for the on-the-go lifestyle. Designed by a team of designers, engineers, and photographers, its purpose is to meet the needs of creative, adventurous people. With it, you'll experience unrivaled accessibility and organization.
Thanks to a patented MagLatch design, you can enjoy quick access to your personal items. Two weatherproof side zips keep your items safe, even if you have to run to catch that taxi in the rain. Inside, you'll find dividers to keep your gear organized and protected. Internally padded accessory pockets will keep your small items in check. Store your laptop away in the dedicated sleeve, built for 15" laptops and tablets.
Tech Specs:
Can hold full frame DSLR & 3-4 lenses

15″ laptop sleeve

Three dividers protect gear

check

Built-in expansion with maglatch system

check

Exterior & sub-divided interior pockets
KROSER Laptop Backpack 15.6 Inch Laptop Bag
The Kroser Laptop Backpack is designed to keep your laptop and gear safe and dry. Even in the case of accidental water spills or light rain, the material won't absorb it. The main compartment offers a good padded sleeve and enough space for your 15.6" laptop or tablet. You can also easily fit some clothes, a camera, or books inside. There's no doubt this is one of the best laptop backpacks.
Thanks to several functional front pockets, you can hold small items perfectly. Store your laptop accessories, cell phone, keys and pens inside. A padded back panel and shoulder strap provide a comfortable carrying experience. Two side pockets offer easy access to your water bottle and umbrella. Here's our favorite part – the built-in USB port makes for easy cell-phone charging. Simply connect your power bank and go. You don't even have to open up your backpack.
Tech Specs:
Water repellent PU leather and nylon fabric

Built-in USB port to charge your phone on the go with a power bank

Power bank is not included

check

Spacious interior with plenty of compartments

check

Reinforced edges

check

1 year manufacturer warranty
Mobile Edge ECO Laptop Messenger
Designed with an all-natural cotton canvas fabric, this messenger was made to pack a lot of style, function and features into one compact bag. Even better, true to the name, it's eco-friendly, with a minimal carbon footprint. Mobile Edge's ECO Messengers offer a modern, contemporary styling that incorporates all the features you need when you're on the move.
A padded computer compartment keeps your laptop protected, while separate sections for files, folders, magazines and accessories will keep your gear organized and at your fingertips! There are also multiple locations for the removable ID Holder to provide quick access to your ID cards. Rugged molded clips hold the front flap in place, keeping your gear safe and secure. Protect your laptop and the environment with the Mobile Edge e-collection.
Tech Specs:
Cotton canvas exterior

Padded computer compartment

Removable ID holder with multiple anchor locations

check

Padded back panel

check

Rubberized handle

check

Full-size back pocket

check

Padded shoulder strap

check

Fits laptops up to 17.3-inches

check

Dimensions : 16.8 x 2 x 11-inches
Invest in a Great Travel Accessory – aka the AmazonBasics 15.6-Inch Laptop and Tablet Bag
We hope you enjoyed reading our feature on the AmazonBasics 15.6-Inch Laptop and Tablet Bag . As you can see, it is a great option to help you stay organized and stylish while you're on the go. Features like durable material, spacious compartments, and padded shoulder straps take the stress out of travel and help give you ease of mind while you're on the go. Use these bags for whatever season; they won't go out of style.
Related Article: 12 Best Laptop Backpacks And Messenger Bags For The Efficient Traveler