With loading convenience and organization, the Osprey Stratos 24 is just what you need for a day hike.
Adjustable torso lengths offer new and improved comfort with updated aesthetics. Panel loading means packing will be easy on days in wet and hot environments. After all, staying dry and keeping your cool matter most. Even when the weather takes a turn for the worst, you don't have to sweat it. Thanks to the integrated rain cover, your gear will stay safe and dry. Intelligent design and smart storage help to keep your gear where you need it when you need it most.
Osprey Stratos 24 Daypack Features and Benefits
This ventilated daypack is the perfect fix for hot weather and sweaty backs. Since it was updated in the spring of 2017, the Osprey Stratos 24 Daypack allows you to adjust the torso length of the bag and the hip belt seams have been removed. The ultimate goal of these updates was to improve the comfort of the pack. We're happy to say that it has.
Curved Back and Airspeed Suspension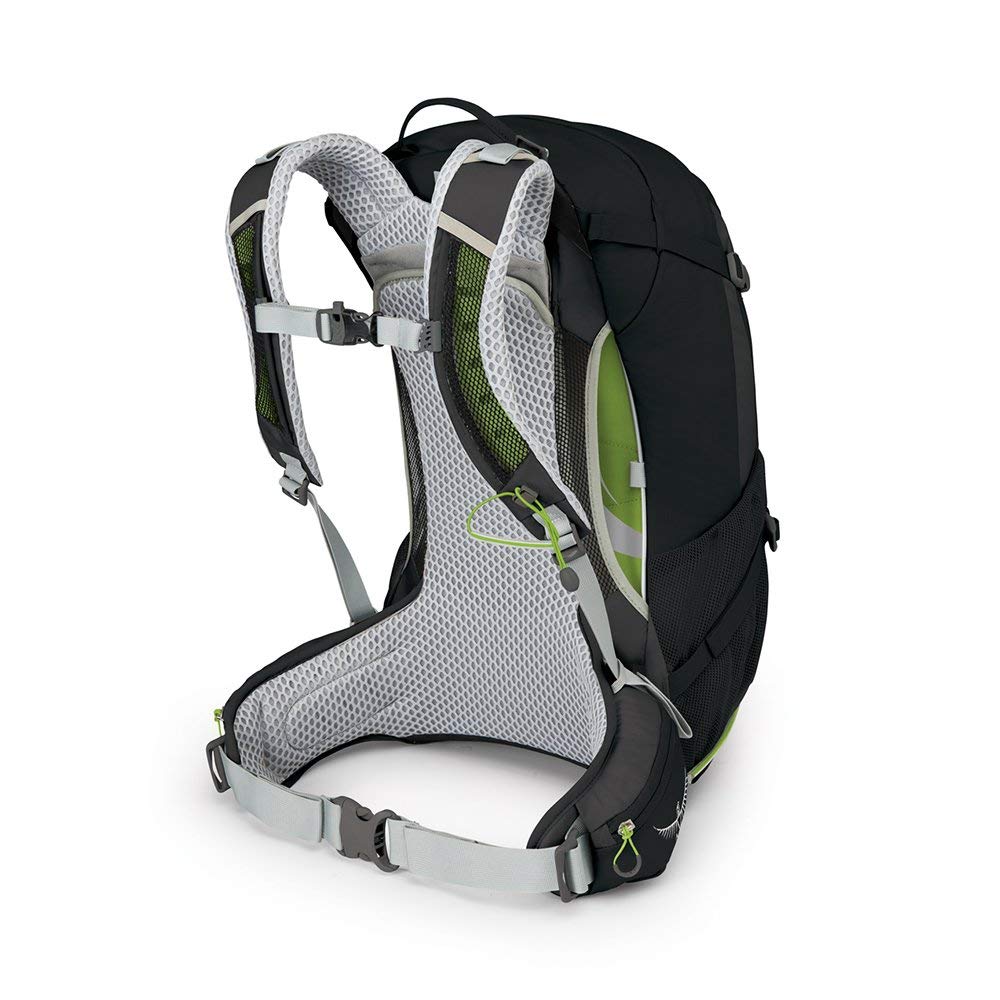 Credit: Amazon
In addition to those improvements, the Stratos also offers other convenient features for hikers and backpackers. It comes with an ice ax carry as well as an easy to use trekking pole stashing space. Clearly, this bag was designed to face the elements. A curved back panel makes it easy to keep the weight of the main compartment off your back (aka Airspeed Suspension). It's one of the most curved and breathable designs we have seen on a daypack. You will be hard-pressed to find a bag that offers as much air circulation as the Osprey Stratos 24 Daypack does.
Besides shifting the weight off your back and offering improved circulation, you won't have to deal with sharper items poking you through the pack. The only downside to having such a curved pack is that it cannot stand on its own when you set it down.
Side Compression Straps, Rain Cover, and Internal Hydration Sleeve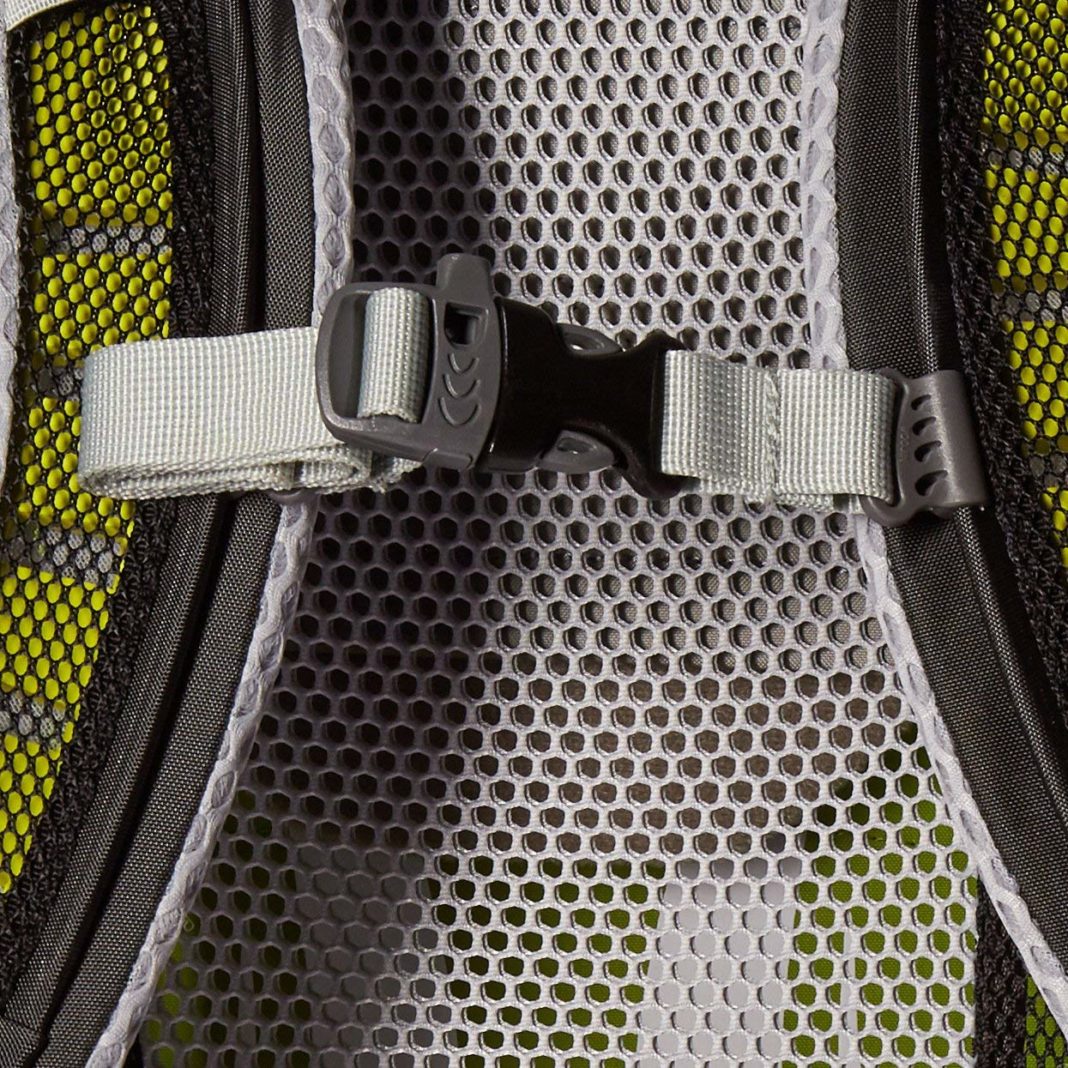 Credit: Amazon
Here are two pretty handy features. The side compression straps can either be routed over or underneath the mesh side pocket. This handy feature allows you to compress the bag down to make it not only more portable but packable too. You will still have access to the side water bottle holder or other items you've stowed in the mesh pockets.
In addition, the Osprey Stratos 24 Daypack also comes with a rain cover that stashes into its own pocket. Since you never know when you'll get caught in a shower, this is a great addition to the pack. The pocket itself is ventilated, meaning you can store it without getting the rest of your contents wet and it will dry out on its own after use. Last but certainly not least, it has an internal hydration sleeve. This specific pocket allows for easy accessing and stable standing of your hydration pack.
Weight
Weighing in at 2 pounds, 8 ounces, this is one heavy pack. The primary feature that adds weight is the back panel. Since this is only a 24L small capacity pack, it adds a lot to the bulk. If you're trying to stay as lightweight as possible in your packing for the mountains, this is not the bag for you. However, if you are going on a hike or day trip and want a sturdy bag with great storage options, the Osprey Stratos 24 Daypack presents a solid option.
Comfort
We touched on it a little bit earlier but the comfortable features of this bag are worth exploring a bit more. Thanks to the ventilated back panel, this is by far the most breathable daypack on the market. If you plan on exploring in warm and humid climates, the Osprey Stratos 24 Daypack is a dream. The main thing to consider when it comes to comfort here is that it can carry weight uncomfortably far back when it is overloaded. So, be conscientious of how much equipment you are packing in and how it is placed.
Durability
This bag is made to last. When you purchase an Osprey bag, you know you will enjoy it for years to come. While it looks fragile at first glance, this pack is anything but. Even so, make sure to take good care of it and keep it away from sharp objects.
Tech Specs:
24L of storage space

Trekking pole attachment

Integrated rain cover

Zippered hip belt pockets

Internal hydration sleeve

Top panel stash zipper pocket

Front panel vertical zipper pocket

Ice tool loop

Side mesh stretch pockets

Weight: 2 pounds, 8 ounces

Side compression straps

Curved back design and airspeed suspension
What Travelers Are Saying About the Osprey Stratos 24 Daypack
Travelers simply love the Osprey Stratos 24 Daypack. It has enough space to carry a DSLR camera, snacks, water, rain jacket, headlamp, GPS, spare batteries and a few other small items. As far as space goes, you need to know what you are buying, this is not for backpacking, if that's what you want, you should be going bigger. This is a day pack, it doesn't hold a lot, but it is not designed to. It does, however, hold everything you need it to, with plenty of attachments on the outside to hold a rod tube, hiking poles, or whatever you need.
The two pockets on the waistband probably wouldn't hold a smartphone, but are perfect for holding fly boxes. There are two small pockets that are good for keeping little items easily accessible. Side pockets are great for water bottles. The bottom pocket holds an included rain fly which is a handy accessory. It's a well thought out design for a day pack.
In addition, users really appreciate the suspension system that keeps the weight off of your back as well as the mesh panel for ventilation. Even when you are hiking in winter, moisture management is key. You don't want to sweat and you don't want a pack riding on your back making you sweat! Take it wherever you would like whenever you would like to. Besides working as an outdoor bag, it is also a great carry-on piece for domestic and international flights. The only time users had trouble bringing it on board a plane was when they tried to carry it on with the water bladder filled in it. Then, it was too large. Osprey makes different packs for different activities. If you're after a day pack for hiking based activities, this is a good choice that most travelers are very happy they made.
Alternative Daypacks That Might Work Better for You
Osprey Escapist 32 Daypack
Looking for another great day pack? Check out this larger one from Osprey. With 32L, you will get much more storage room. But don't worry. That doesn't mean you need to be weighed down. Anchored by a bio-stretch harness and hip belt, this low-profile pack is made to keep you balanced with a heavy load – even when descending the roughest terrain. Thanks to the airscape mesh back panel, you'll stay cool and dry even when you're grinding up a mountain pass.
How do you access your gear? The main compartment has a convenient zippered front panel, so you can see all of your gear at once. In addition, a zippered divider at the base of the pack provides optimal storage. There are plenty of external storage options. Three handy stretch mesh pockets offer ample room for snacks and your electronics. The hip belt also offers twin zippered pockets. You'll never run out of storage room with this bag. That's not all. A zippered external front pocket is designed especially to keep valuables secure. You don't have to worry about scuffing up that favorite pair of sunglasses anymore.
While Osprey offers several Escapist models in varying sizes, we're convinced 32 liters of storage is the way to go. It's large enough for you to easily fit your sleeping bag, a bivy sack, a spare set of clothes, reusable water bottles, a large hydration bladder, energy bars, accessories, and electronics in it. And there's still ample space leftover.
When it comes to choosing a daypack, size matters. But it's not everything. A good pack should help you carry your essentials but you also need to know what qualities you're looking for. I'm happy to say that the Osprey Escapist 32 Daypack fares well in my book. There's a nice mid-sized compartment with multiple pockets for tools, bike pumps, and everything in between.
Tech Specs:
Durable nylon material

32L of storage space

Plenty of external storage compartments

Airscape back panel

Sleeping bag compartment

Lidlock helmet attachment

Blinker light attachment

Scratch-free pocket

Zippered harness pocket
Travel in Ease with the Osprey Stratos 24 Daypack
It's clear to see that Osprey makes great-quality products. The Osprey Stratos 24 Daypack is no different. With a good amount of space for hiking and a carry-on, it will fit all of your gear comfortably. There are so many features that go into making it a worthy purchase. With it, you get comfort, convenience, style, and great storage.
All in all, the Osprey Stratos 24 Daypack is a great buy for your next trip. Offering a durable design, 24 liters of storage space, and plenty of internal pockets for organization, you will have no problem fitting in all of your gear. Even if you pack the bag to the fullest capacity, you won't have to worry about it hurting your back. It's equipped with lumbar support and highly breathable fabric to keep you cool and comfortable while you're on the trail. You're set. You know you will have a bag that will last for plenty of years and adventures to come. It's time to travel in ease.
Related Article: Top 8: The Best Daypacks To Try Out This Season