S'well Water Bottles Make Swell Gifts for Everyone, Especially the Travelers in Your Life.
What's the occasion for a S'well Water Bottle? There are so many holidays where we get the opportunity to make the people we love feel special, and doing so with gifting them something special. Some may try to find the perfect item to show their partner they care on Valentine's Day. Others may even question if great, useful Mother's Day gifts still exist. What about a BPA-free, stainless steel water bottle? S'well water bottles are a great way to show someone you care and even more about their health and hydration.
Your S'well water bottle will not only travel abroad with you on trips. It will also go with you to the office, in the classroom, at the gym, or anywhere else you find yourself. On hot and humid days, of course your water will stay icy cold within your easily carried companion. During frigid winter days, your coffee, tea, or hot chocolate will remain steamy hot. All that to say, S'well bottles make a pretty swell bottle. With the trips and plans approaching, consider purchasing one for the traveler (or travelers) in your life– or even yourself. A capable and durable water bottle is a necessity on every adventure; whether a person ventures out to the mountains, to the city, or anywhere in between.
About S'well Water Bottles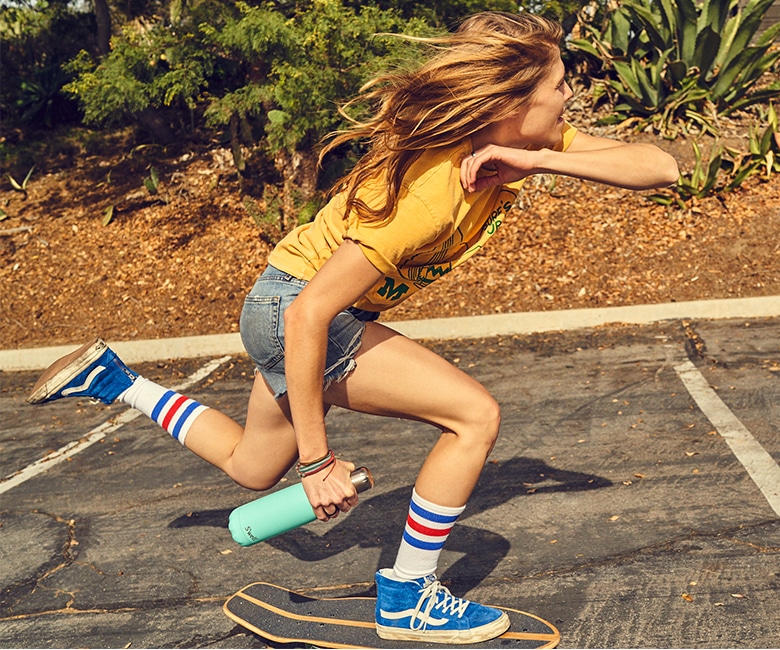 Credit: S'well
These S'well water bottles do more than provide travelers with water whenever and wherever. Environmentally, what's the big deal about drinking bottled water? S'well designed their water bottles to be eco-friendly through their BPA-free makeup. Their CEO, Sarah Kauss, launched S'well with the mission in mind to "rid the world of plastic water bottles." Their fan base exploded out of a desire to reduce single-use plastic consumption. They speak on how most of it pollutes our planet in landfills or the ocean.
Currently, you can pledge to their "One Million Bottle Project." Through joining their pledge, one participates in hoping to prevent 100 million plastic water bottles from going into other places that they don't belong. Statistics show, one person uses 167 plastic bottles a year with less than a third being recycled; this inspired their sustainability program. You can pledge to help accomplish their goal by the year 2020 on their website. They even have a hashtag (#reducetheuse) connected to a community forum where people can stay up to date on S'well stories.
More on S'well Water Bottles
Out of S'well water bottles came reusable, functional, and aesthetically pleasing containers. Feminists gained another large organization owned by a woman. They went even further by continuing to ask themselves, "what can we do to reduce the amount of water or water bottles used every day?" S'well's company pushed for more and became partners with UNICEF USA. Together, they provide clean and safe drinking water for the world's most in-need communities. They also support organizations like the Breast Cancer Research Foundation and (RED), an organization that promotes the fight against AIDS and HIV. More than doing good for you, S'well water bottles are doing good around the world by helping the world build support and education on topics relating to water. The heartbeat behind the company moves to create everlasting change.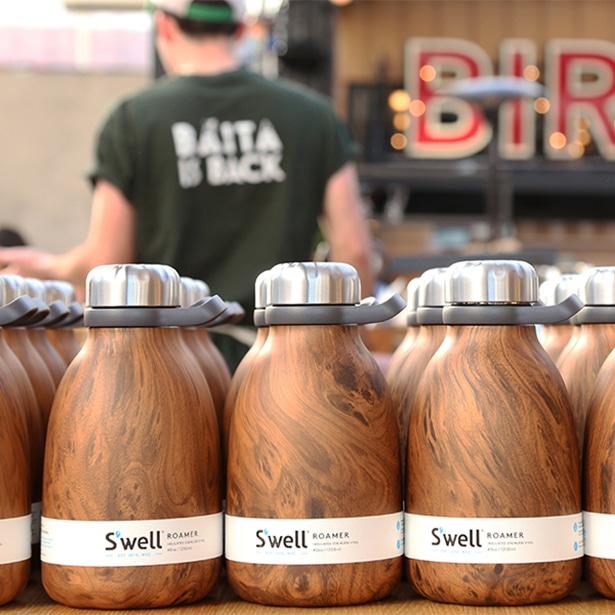 Credit: S'well
In terms of design, S'well water bottles come in various sizes, styles, and colors/patterns. The company continues to launch new types of S'well water bottles! They even offer personalized options. Businesses can find a specific S'well water bottle decal, or they can customize bottles to their wants and needs. The commonalities among all S'well products pertains to their triple-walled Therma-S'well technology. Between this and the vacuum insulated stainless steel, beverages remain icy cold for 24 hours and piping hot for 12.
Also, S'well water bottle products have a condensation-free exterior. Say goodbye to inconvenient sweat dropping down your water bottle! Most of all, S'well water bottles are sleek, portable, and get the job done. They even thought of the smaller details, including an entryway that fits regular sized ice cubes. The 9 or 17-ounce sizes fit standard cup holders, and 25-ounce bottles can hold a bottle of wine. Say hello to refreshing happy hour picnics! To quench your thirst and do your part in helping the environment, consider purchasing a S'well water bottle product for you or someone you know.
Features & Benefits
Shapes & Sizes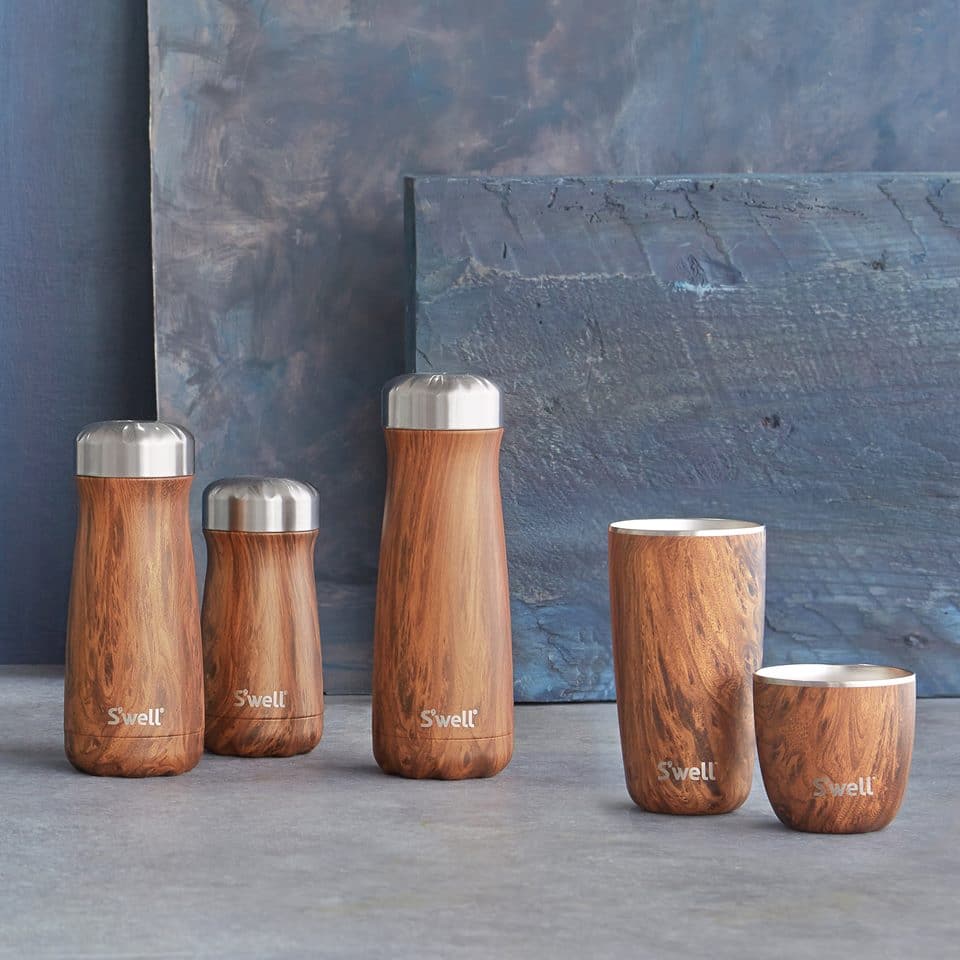 Credit: S'well
The classic S'well water bottle comes in three sizes−9-ounces, 17-ounces, and 25-ounces. The shape of S'well water bottles are sleek and slim. Whatever size you get, the comfortable mouthpiece remains the same. We all have come across water bottles where they splash our entire face mid-drink (okay, maybe I am exaggerating a bit). However, some aren't the most convenient, because more full mouthpieces increase the likelihood of spilling. Picture, you are trying to walk and sip your drink at the same time; when all of a sudden, something stops you in your tracks! Then- your beverage lands on your shirt? Yikes. The mouth of the S'well water bottle provides the perfect size to prevent this scenario from occurring. S'well users will feel refreshed with the controlled comfort of drinking out of their bottles.
In addition to the classic S'well water bottle, S'well has a Traveler Collection. These bottles come in 12-ounce, 16-ounce, and 20-ounce sizes. Traveler bottles are set apart due to how great they are for drinking on-the-go. Whether your group goes cross-country skiing or cruising to a local hiking spot, you'll want to make sure you packed your S'well water bottle. The mouths in the collection are vast, but not too broad. This design allows for optimal stirring. Ice cubes are dunked easier into the container. The S'well Traveler bottles are nicely contoured to fit comfortably in your hand.
More on Shapes & Sizes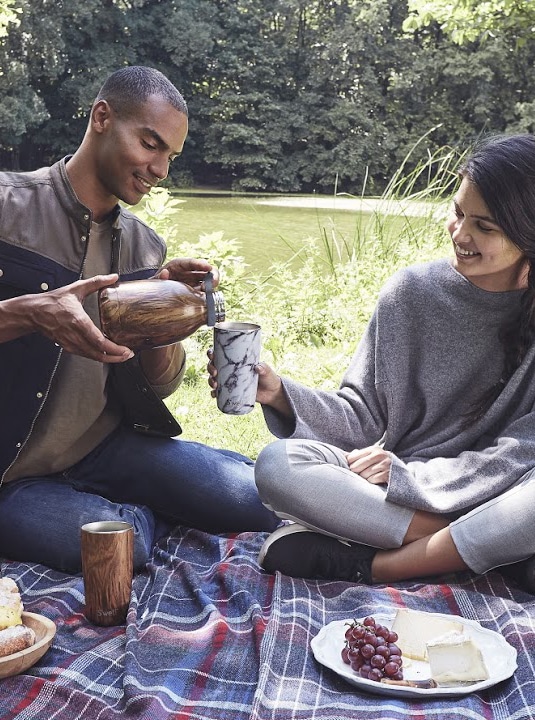 Credit: S'well
S'well water bottle also features a Tumbler Collection. Tumblers come in 10-ounce and 18-ounce sizes. Reminder: the bottle doesn't sweat so you can place the Tumbler down on any surface–including wood– and not have to worry about finding a coaster. Stainless steel lids are also available for purchase. These pop-on lids are designed to fit S'well Tumblers, and they keep drinks warm/cold for an extended period of time. S'well Tumblers are ideal for coffee, tea, and hot cocoa drinkers.
The newest S'well water bottle models are the Roamers. Also called the on-the-go pitcher. These S'well water bottles are ready for tailgates and intense training sessions alike. These guys come in two sizes, a 64-ounce, and a 40-ounce. It might seem a little excessive, but trust and believe these models do not sacrifice convenience and style. Both sizes maintain a sleek shape, and Roamers even come with a sturdy handle to keep things travel-friendly. Sized-to-share bottles hold the smart designs of their smaller counterparts. Wherever you are going, S'well Water Bottles, Travelers, Tumblers, and Roamers are a few of the great ways to hydrate.
Colors & Patterns
Credit: S'well
In addition to the style and size options, S'well water bottles come in many, many, many colors/patterns. You name it, S'well most likely has it. You can even find some S'well bottles available in men's clothing and women's clothing stores since most designs match the aesthetic of particular companies. There are pastel colors, floral prints, marble patterns, abstract designs, and metallic colors. It goes on with ombre bottles, bright colors, dark shades, a wood collection, and more. The S'well water bottle in Purple Garnet and Calacatta Gold patterns from their collections became a massive hit on Instagram Twitter platforms. Whether one sits on a modern workspace or attached to kids' bikes; people tweet, post, and tag their S'well water bottles.
This specific bottle company wanted to include people of all types and preferences intentionally. You could choose a camo-style S'well water bottle or a classic black bottle. S'well has you covered. The Traveler, Tumbler, and Roamer Collections also have a wide range of colors/patterns to choose from. No matter what your preference is, there is a S'well water Bottle, Traveler, Tumbler, and Roamer to match your style. Of all water bottle brands out there, no other company has a more extensive selection of colors/patterns than S'well.
Specs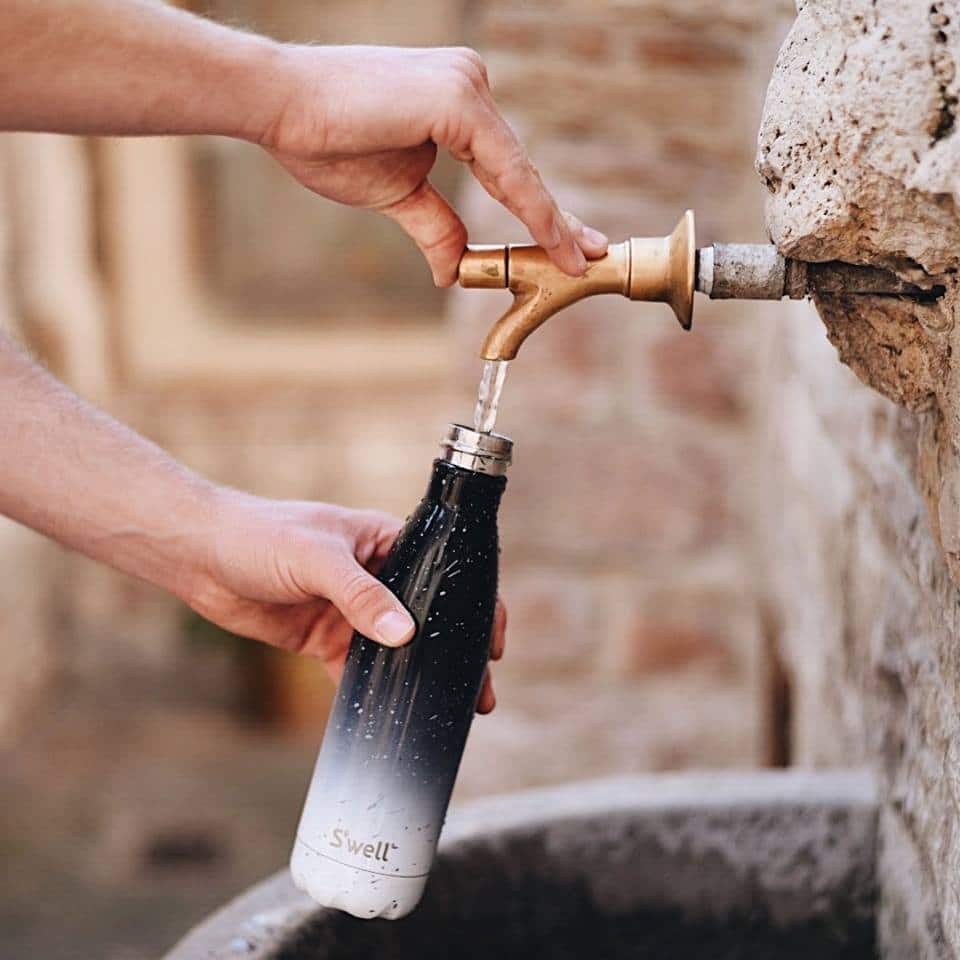 Credit: S'well
Let's go over a simple recap of what the S'well can do for you. These water bottles claim to keep cold beverages chilled for 24 hours. The same technology keeps hot drinks high temp for 12 hours. S'well does this with their triple-walled Therma-S'well technology, where you'll find a layer of copper. Having a triple-walled design also creates a condensation-free exterior. That means no more sweat on your hands, and no more sweat dampening the things in your bag.
S'well did not cut short on quality so you will know this thing should last you. Each bottle is made of vacuum insulated, high-grade 18/8 stainless steel. This hard-working beverage companion does its part for the planet. S'well is BPA-free and eco-friendly (through its company and its product). The sizes for all models mesh well into any occasion you may come across. Designed for all, you may end up bringing this everywhere you go.
What People Are Saying About S'well Water Bottles
S'well is becoming a huge name in the water bottle industry, and the many reviews of s'well water bottles are proof. Customers appreciate how lightweight these bottles are, despite being made of stainless steel. This differs from say, Hydro Flask, whose bottles are much more substantial in weight. Customers also really favor the narrow mouth on the S'well water bottles, because it decreases the likelihood of spilling everywhere. The color options are found to be very impressive too.
While S'well claims to keep beverages cold for 24 hours, customers did a bit of testing themselves. Some reviews of swell water bottles note that it doesn't quite keep drinks cold for that length of time. However, it sure does keep beverages icy cold for a while. Still impressive! There are also some color options that scratch easily. This does not appeal to people who work and play in rough environments. We advise for you to pay detailed attention and mind this when selecting a color. If you take care of your S'well bottle, it will most definitely take care of you and last a good while.
Alternative Water Bottles
Hydro Flask

The Hydro Flask name is becoming more and more popular (and rightfully so). Hydro Flask water bottles are easily S'well's most significant competitor. These competing companies each make water bottles with stainless steel. That means that both Hydro Flask and S'well bottles keep cold drinks cold and hot beverages hot for an extended period of time. Essentially, the differences between these brands come primarily in design.
Hydro Flask has Kids Bottles (12-ounce wide mouth and standard mouth options), Standard Mouth Bottles (18-ounce, 21-ounce, and 24-ounce), and Wide Mouth Bottles (18-ounce, 32-ounce, 40-ounce, and 64-ounce). There are also a number of caps to purchase. There are flip caps, straw lids, caps with a carry strap, and more. Of course, there are favorite colors to choose from with Hydro Flask too. You can also decide to customize your items with 183,456 unique combos. We like options!
Hydro Flask Continued
Hydro Flask makes Tumbler bottles that come in 10 oz., 22 oz., and 32 oz. For coffee lovers (or tea lovers) there is a separate Coffee bottle that comes in 12 oz., 16 oz., and 20 oz. These Coffee canisters have Hydro Flip caps and look like standard to-go mugs. The only difference is that they will keep your coffee or chai tea hot for up to 6 hours. While competitive, Hydro Flask definitely stays in its lane with innovation.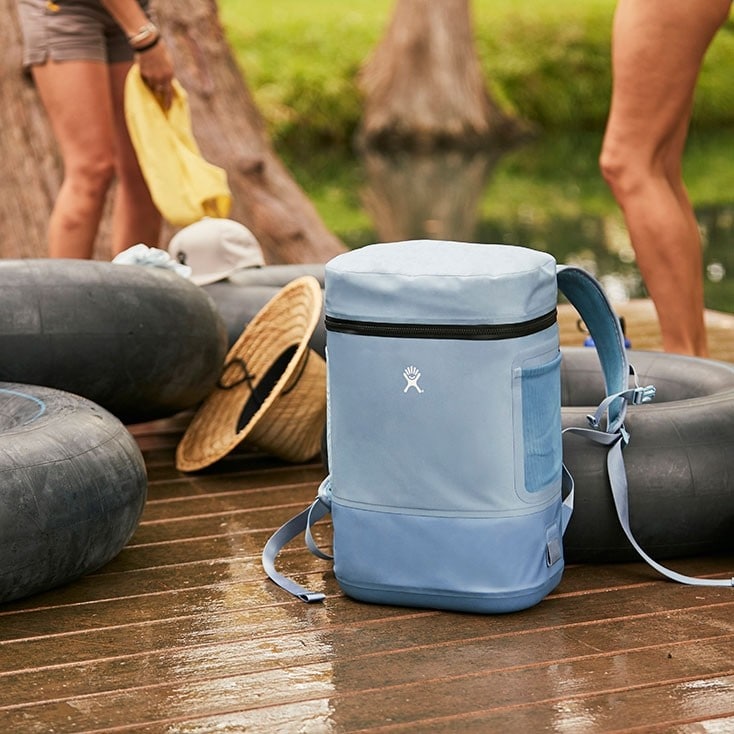 Credit: Hydro Flask
When you are traveling and want to carry hot food, consider investing in the 12 oz. or 18 oz. Food Flask. No more reheating food at the office microwave! These containers claim to not transfer or retain food flavors like standard containers. The signature powder coat also commits to comfortable grips when holding these flasks. Hydro Flask truly wants to make traveling meals easy.
Finally, Hydro Flask's new Unbound series features Soft Coolers. These carriers want to go with you to the farmer's market, beach, and next camping trip. Soft Coolers feature smart insulation that keeps contents cold for an estimated 48 hours. The True Access feature makes them easy to clean, and the Aquaseal zipper keeps things leak-proof. Another cool feature of Hydro Flasks are their variety of warranties. Talk about putting your money where your mouth is.
Grayl Ultralight Purifier Water Bottle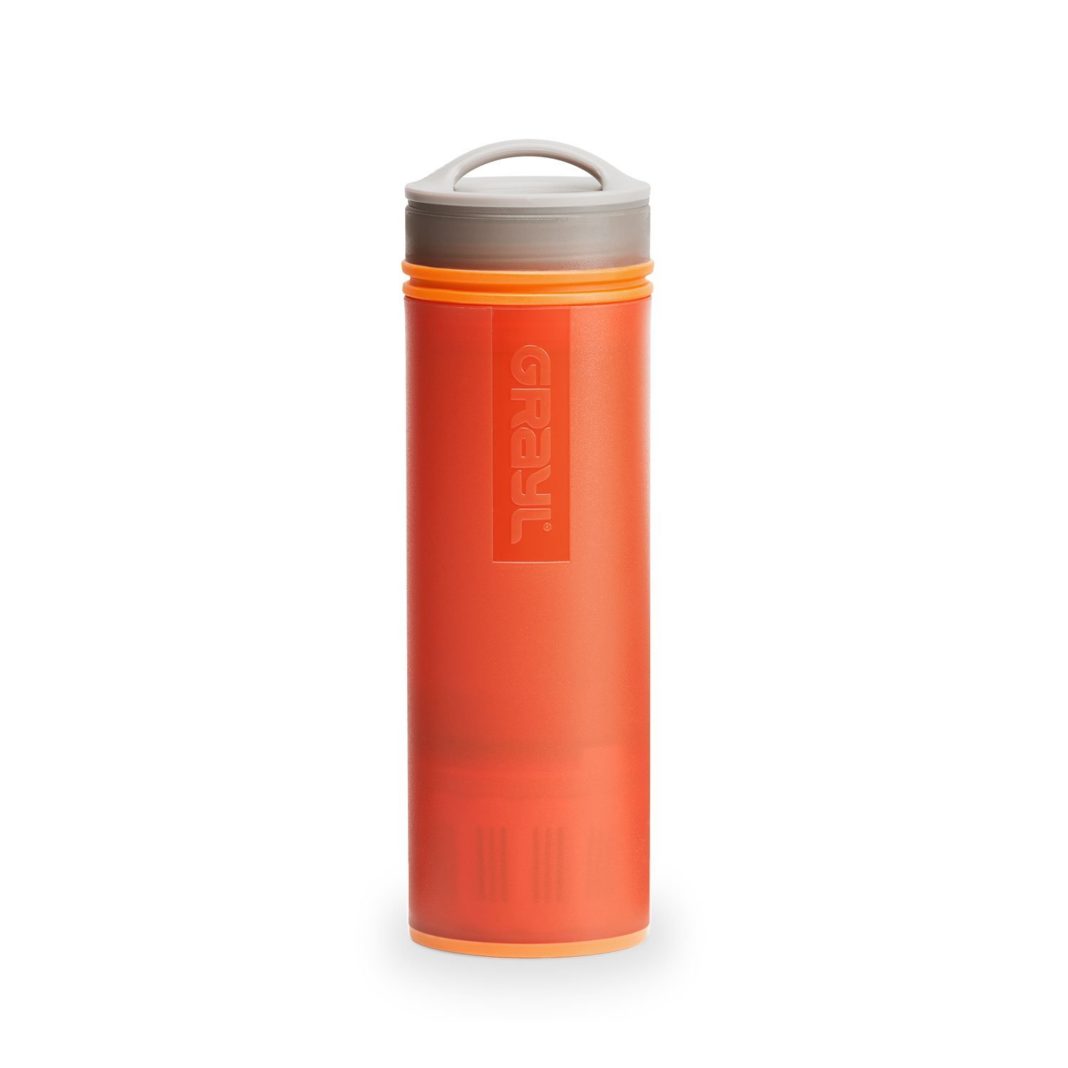 Do you need a water bottle that can purify and filter water? S'well water bottles cannot do this, but the Grayl Ultralight can. The Ultralight can filter and purify any fresh water source. From creeks, rivers, and lakes to sketchy sinks, the Grayl Ultralight makes water clean and safe to drink. You may be wondering; how long does it take to purify and filter the water? Only 15 seconds. In 15 seconds you can have access to clean and safe drinking water.
You don't have to be the seriously outdoorsy type to purchase the Ultralight. Do not get us wrong! If you are a big camper, hiker, or backpacking, the Grayl Ultralight is undoubtedly for you. That goes without saying. However, if you are more of a casual traveler, the Ultralight should still be a water bottle you consider.
When you are traveling to any country, this water bottle can purify and filter water from the sink. The Grayl Ultralight, also known as the minimalist adventure tool, will also serve as a useful water bottle to have on hand when natural disasters strike. Water systems are, after all, the first to go in disaster situations. The Flint water crisis and other hurricane tragedies have significantly benefited from water bottles like the Garyl Ultralight Water Purifier. For more optimum preparedness, the Grayl Ultralight is the water bottle to consider for people who may find themselves in more sensitive situations.
Is the S'well Water Bottle for You?

Credit: S'well
There are plenty of phenomenal, creative water bottle models out there. S'well definitely paved its way to becoming a household name. These water bottles are taking over the industry for their smooth and sleek design, high-quality, and ability to keep beverages cold and hot for extended periods of time. Plus, have you seen all the patterns and colors you can choose from? Their models fit all types of life situations. S'well can transition from a workspace to work out without interrupting style or function.
Travelers appreciate S'well bottles for many reasons, and we think you will too. Investing in a durable water bottle is necessary for any traveler. Any of their products put people on a great start to quitting plastic and owning a personal drinking container. When on the go, you want to make sure you have water on hand. If you want a top of the line water bottle, S'well is undoubtedly a brand to consider.
If you wish to be more conscious about sustainable travel, the first step is to purchase a water bottle to take with you on your trips. Is S'well the brand for you? What are your thoughts on S'well water bottles? We want to hear your feedback in the comments section below!
Related Article: ​8 Cool Water Bottles For Your Next Adventure​​​