You can ensure that your camping adventure is perfect with these camping hacks.
Even if you have the absolute best camping packing list, it can be easy to forget essential items. It is also daunting to search for camping equipment and find extensive and expensive lists to choose from. If you like to think outside the box and get a little creative, then consider trying these camping tips and tricks. Try any of these useful do-it-yourself camping hacks and enjoy the satisfaction of a useful self-made innovation. We have a few of our favorite camping creations to use on your next trip.
Check out these 6 camping hacks to make your time outdoors stress free.
1. Freeze gallon jugs of water for your cooler.
If you don't have a long way to hike to your destination, you can bring a cooler along for food. Freeze a few gallon jugs of water before you go for a built-in ice pack, and extra water to drink later. This helps keep your other perishable foods cold and your drinking water tasting refreshing.
2. Make your own lantern.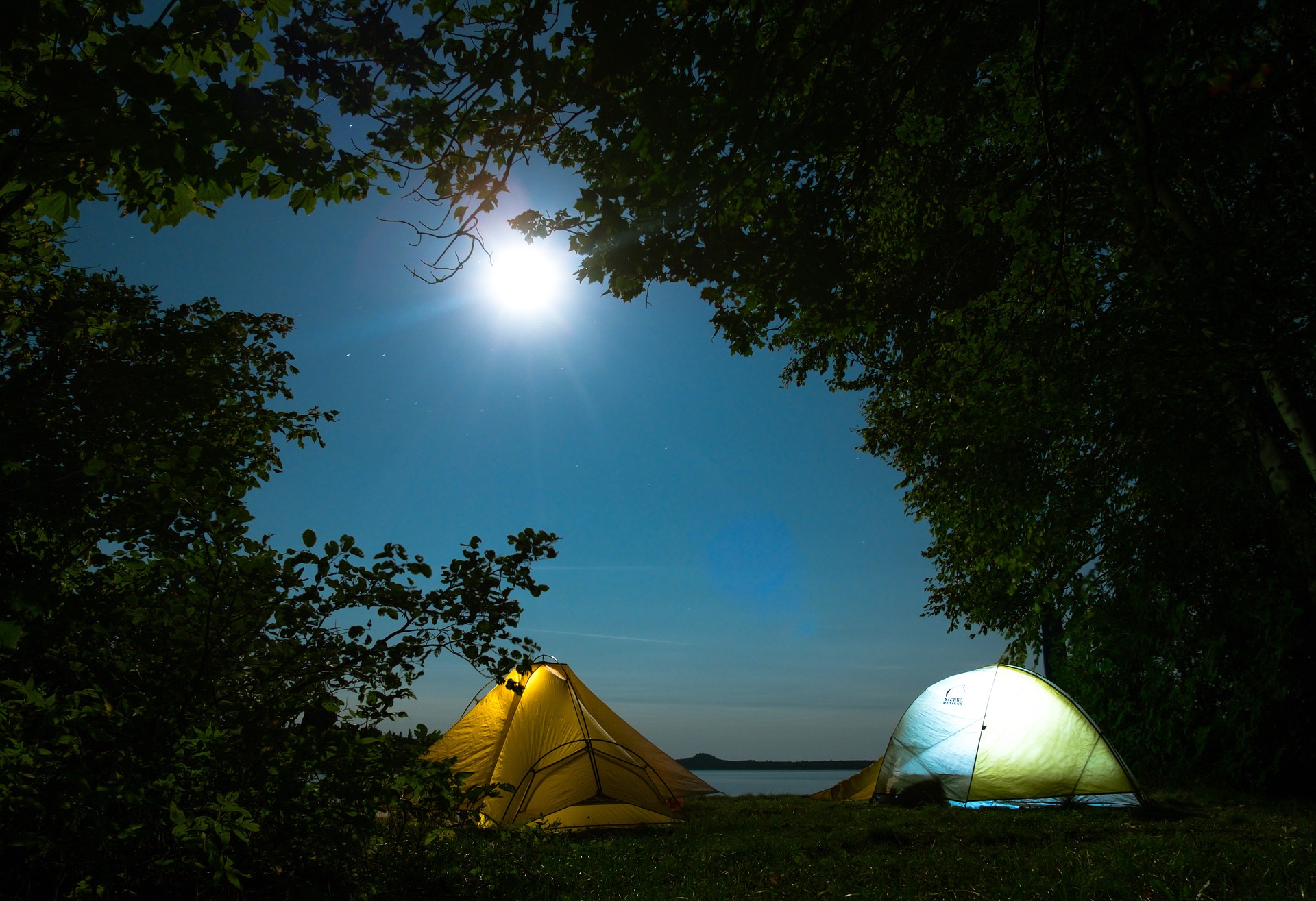 When it comes to lighting up the night, there are many ways to get creative. If you don't have tent lights, no worries, you can make your own lantern. Certainly one of the brightest camping hacks around, your gallon jug lantern is easy and helpful. Point a headlamp into a plastic gallon jug of water and wrap the strap around the outside for an easy lighting option inside your tent.
3. Purchase a two person sleeping bag.
Extra warmth is always nice when camping, especially on those cold nights. Do yourself a favor if you are camping with your significant other and purchase a two-person sleeping bag. The extra room is cozy and makes for a more comfortable overnight experience.
4. Easy trick to start a fire.
I don't know if you have ever been in the middle of the forest attempting to start a campfire the old-fashioned way. As you crouch over your pile of poorly stacked sticks and smash two rocks together, you begin to question your choice to go outside. If you are lucky, it starts to rain a little too. Just for good measure, of course. Save yourself the stress (and embarrassment) of tricky fire starting and pack a few essentials before you go. Fire starters are a good idea to have on hand, as well as a good lighter. When in doubt, use Doritos. If your average kindling isn't cutting it, toss a few of these bad boys into the fire pit to get a jump start. They are extra flammable and will surely get your fire going in no time. Makes you wonder what's really in these things.
5. Natural means to repel mosquitoes and ticks.
If you dread stepping foot outdoors without a substantial layer of protection against insects, then it is a good idea to come prepared. Bring some sage with you to use for repelling mosquitoes. This natural preventative can be tossed right into your Dorito-fueled campfire, and it gives off a particular odor that deters mosquitoes. Plus it smells great to the human nose. As for ticks, use liquid soap and a cotton ball for those stubborn bugs.
6. Pack eggs for your camping meals.
If you love the taste of freshly scrambled eggs for breakfast, but hate dealing with fragile eggs while hiking, then use this camping hack. By breaking eggs beforehand into a plastic water bottle, you can easily transport it to your campsite, shell free. One water bottle holds eight eggs, and you can pour it right on the frying pan in the morning.
Now that you have these camping hacks under your belt, tackling the great outdoors should be a breeze.
Use any of these helpful camping hacks to conquer the outdoor experience. There is no need to spend copious amounts of money on camping tools when you think outside the box. The next time you step outside, try any of these clever ideas out for yourself.
Related Article: ​​Camping Checklist: The Essential Packing List​​​