Travel Blanket Picks
Travel blankets are very important when it comes to the quality of your trips. Regardless of if you are flying, driving, or commuting in some other way, you may need to keep warm. For camping, traveling with your dog, or having a picnic, blankets can be helpful. We will walk through all types of blankets for every occasion. Whether heating blankets, camping blankets, blankets with carriers, fleece, throw, sets, or lightweight, there is a travel blanket out there for your individual travel needs.
Heated Travel Blanket
12-Volt Heated Travel Blanket in Navy Blue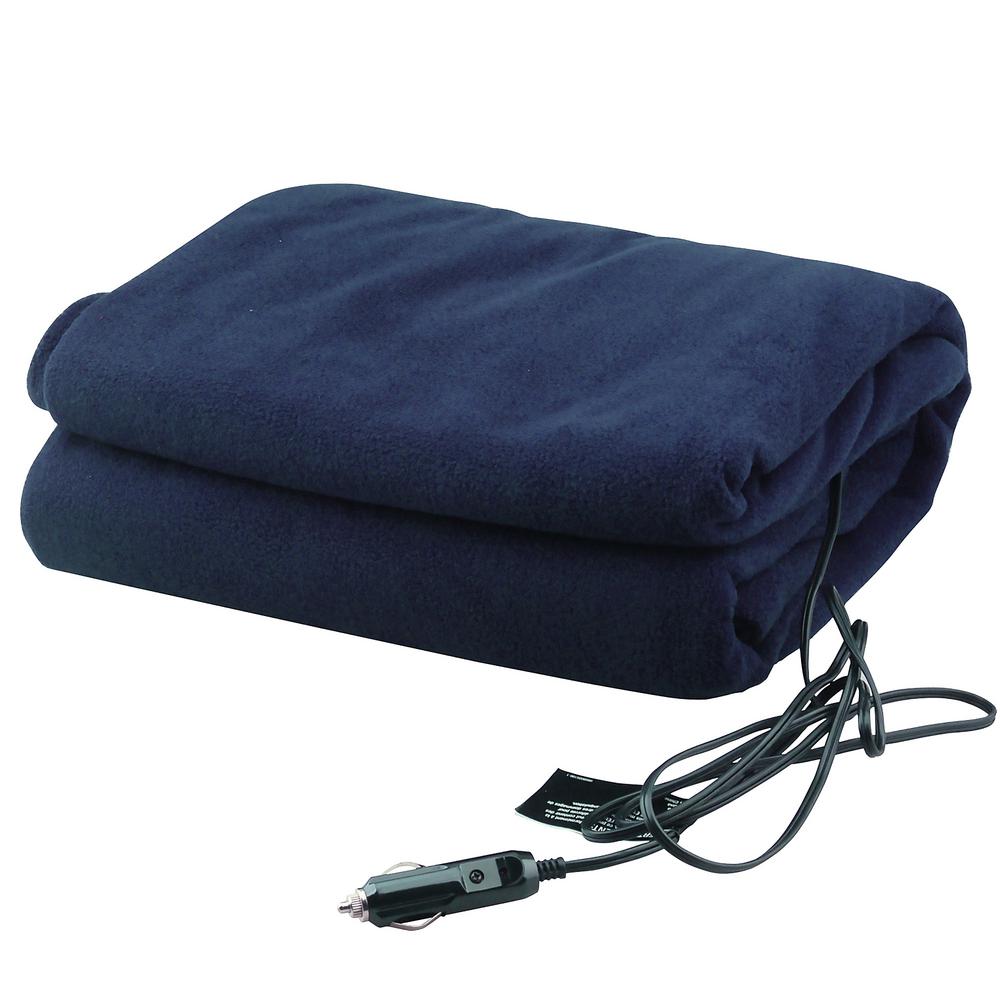 12-Volt Heated Travel Blanket in Navy Blue
This 12-Volt Heated Travel Blanket (in navy blue), made of polar fleece, is both practical and comfortable. Not only does it have these things going for it, but this blanket also keeps you at the perfect temperature for your body. It is a great size for you to use as you travel. It is also affordable, which is a great perk. Many places sell these travel blankets at a discounted rate.
This blanket can be heated to a 149-degree maximum, though do not fear. It has a shutdown protection feature if it does happen to overheat. The power chord is 7 feet long, making it easy to reach outlets. This blanket folds without up a hitch and can be easily put under a car seat or airplane overhead. The 12-Volt Heated Travel Blanket is a great tool for a travel emergency when cold hits and you need a quick fix! I know I have no doubt been in situations where this could've been a useful tool on my travels.
Zone Tech Car Heated Travel Blanket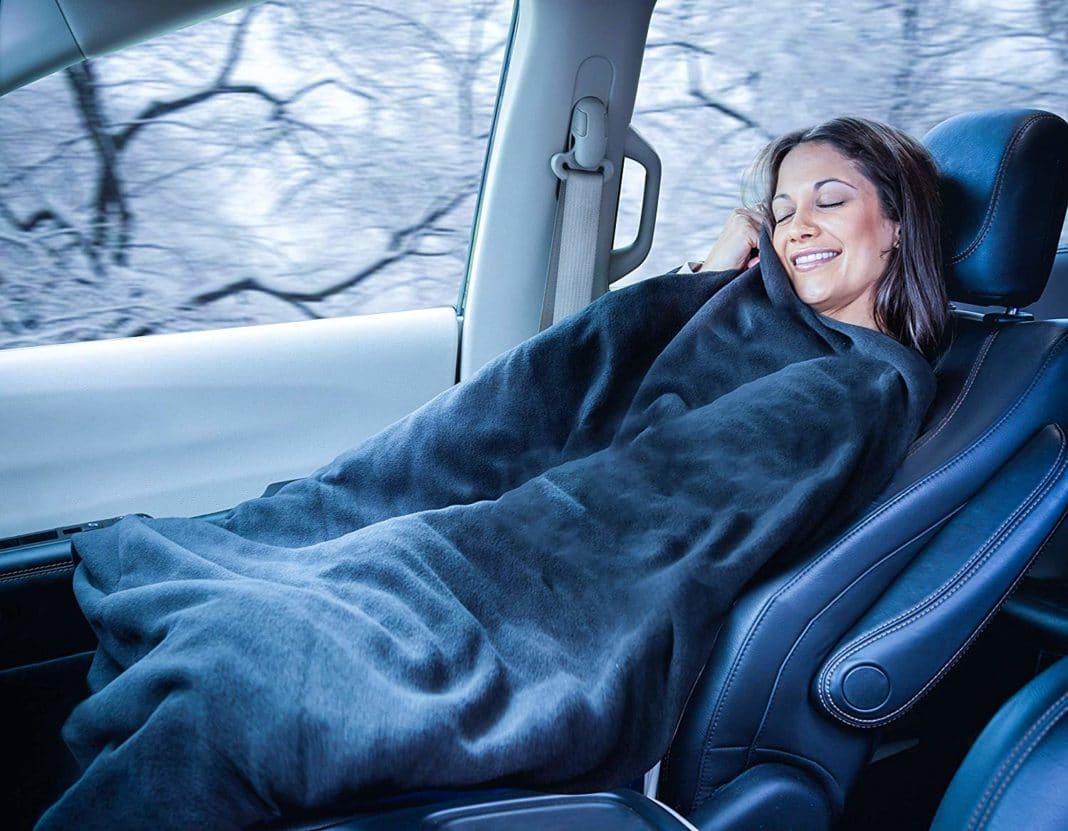 Zone Tech Car Heated Travel Blanket
The Zone Tech Car Heated Travel Blanket has incredible technology. It is fireproof, which is an understandably good added feature. It is good for both cold and hot weather, as it keeps you comfortable in both with the adjustments you can make with this blanket. It is easily folded and stored, and can even be folded into a pillow! Talk about a blanket that is versatile.
This blanket is great quality, made of polyester which is known for having a longstanding and strong material makeup. Once plugged into an outlet, the 12 volts heat your blanket up. The fabric itself is made to heat up, so you won't have to deal with wires or cords in the blanket as you snuggle into it. This blanket is good for every type of travel. From camping to emergency situations, to airplanes and road trips. This blanket has top notch technology and comfiness you'll love.
Picnic Blanket
All Purpose Picnic Blanket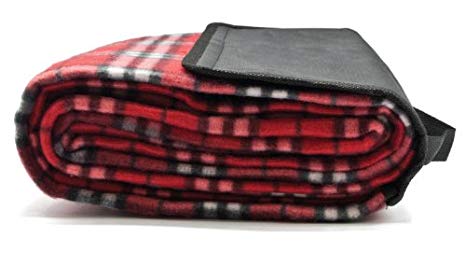 All Purpose Picnic Blanket
This comfortable blanket is made up of 80% fleece, meaning you can expect top-notch softness and warmth! It is great for picnics, yes, but it also works for everything in between. This includes beach trips, camping, or outdoor concerts (plus anything else you can think to use it for!). It is water resistant and plush, the best of both worlds. One of the best perks of this blanket is the way it folds compactly for perfect storage. When it folds, you can close it with Velcro.
This blanket even has a pop out handle for easy carrying abilities. The bottom surface is great for laying on the grass, as it resists stains and does not attach itself to grass. Since the top is fleece, it is a comfortable fit for you to sit on or put over you for a cat nap. Many reviewers are a fan of this blanket because of it's multi-purpose use and good resistance to water and dirt.
Airplane Emergency Blanket
FLIGHT 001 Travel Emergency Blanket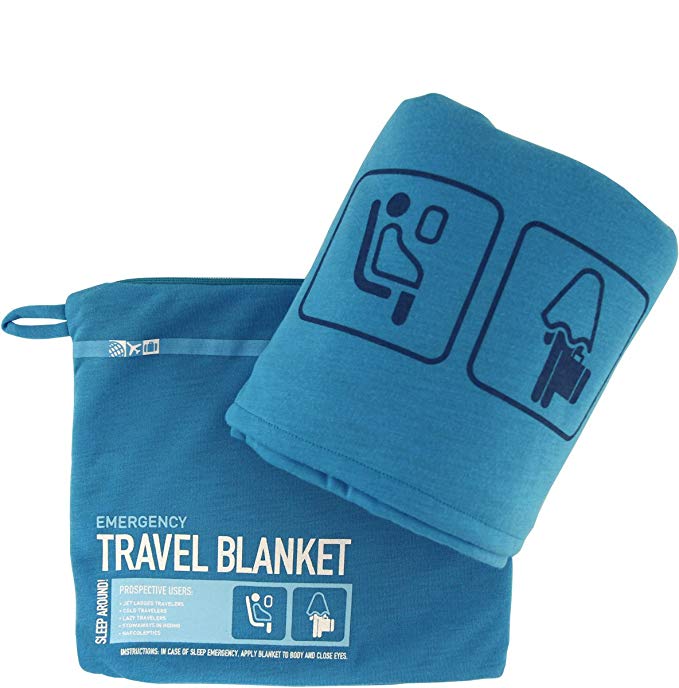 FLIGHT 001 Travel Emergency Blanket
This next blanket, the FLIGHT 001 Travel Emergency Blanket, is for exactly what it says in the title. An emergency! Made of polyester, this blanket comes in a package with a zip on the pouch and is easy to store. When the blanket is in the zip pouch it also turns into a pillow, the pouch becoming a case. This emergency blanket is extremely lightweight and comfortable. It is the perfect airplane blanket for long flights with its small package and easily potable abilities. It is very thin but also warm for the thinness. It does not pretend to be fleece-like, so be prepared for a small sheet type blanket.
Camping Travel Blanket
REI Co-op Camp Blanket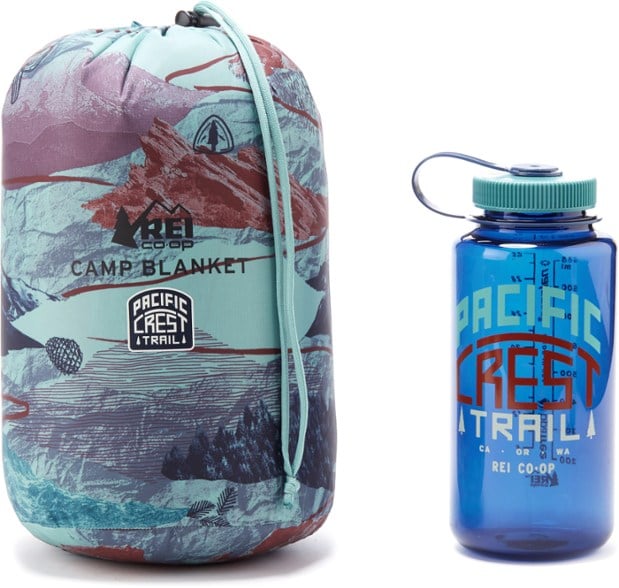 REI Co-op Camp Blanket
REI Co-op is the perfect camping blanket. It is wind resistant and warm. It can be taken anyplace you'd like on your travels as well, since it comes with a stuff sack with a string closed bag. This blanket repels water as well as all other things that can attach itself to it in nature such as dirt and pet hair. As a camping blanket, it comes in many patterns that will fit right into nature! It is easy to pack into the car or RV camper and it can be machine washed. Can you ask for more?
Many reviews say this is soft and easy to pack camp blanket. It can be used for things beyond camping like reading in a hammock or road tripping as well. This is a great blanket to keep in your car for those just in case occasions of spontaneity. For those taller people, this 7×9 blanket is fit to cover their whole body. Because it is a great thickness (not too thick but just right) and long enough, many reviewers claim to sleep with this REI Co-op Camp Blanket every night! If you are looking for comfort, easy packing, and fun patterns, this is your blanket.
Carrier Travel Blanket
Pendleton Blanket Carrier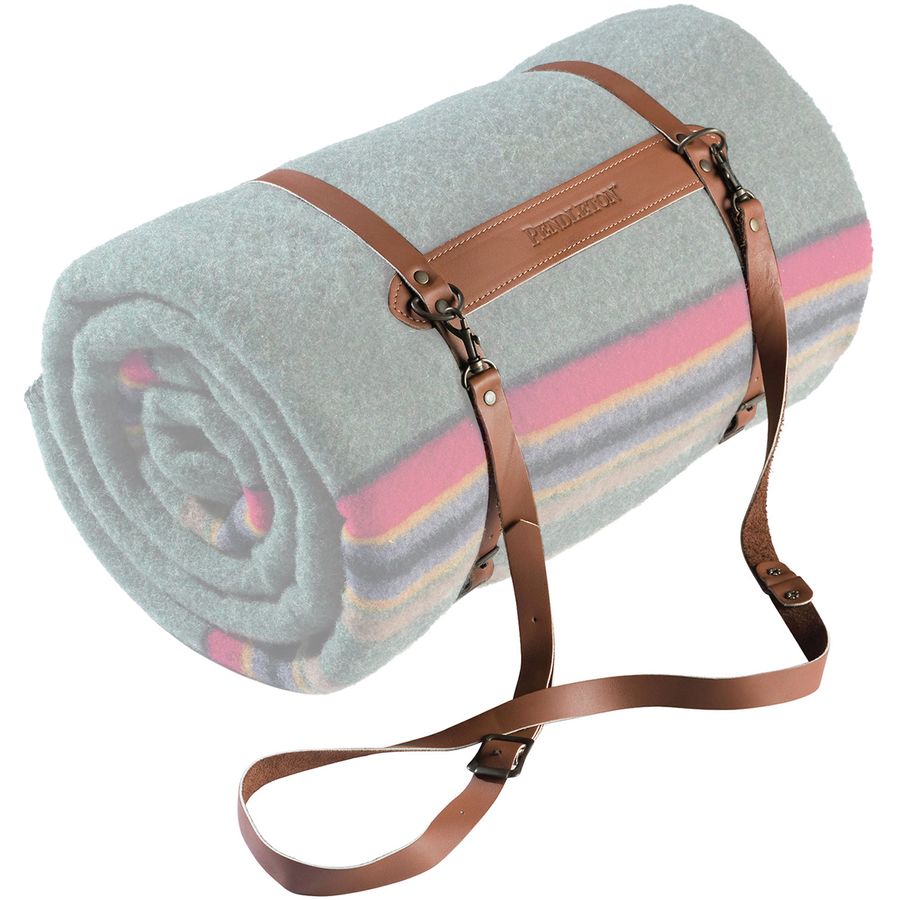 Pendleton Blanket Carrier
With this travel blanket carrier, there is no longer a need to have blanket chaos when traveling. There is now a way to carry it with leather straps securing your planet. The quality is great and these leather straps will be sure to keep your blanket secure. This is a good blanket tool for a concert or a picnic. The Pendleton Blanket Carrier is able to carry many types of blankets. The reason this carrier can secure many different kinds of blankets in it is because the straps are adjustable.
Just think, instead of getting to your destination with a dirty blanket that has been touched by dirt, sand, water, or any other environmental elements, you will be able to keep it clean in this carrier. The worst thing is having sand, dirt, or water on your blanket because it has fallen or been drug across dirty surfaces. This is a great tool to make whatever blanket you own or purchase a good travel blanket.
Therm-a-Rest Travel Blanket
Therm-a-Rest Stellar
Therm-a-Rest Stellar Blanket
This blanket is great for a sleepover, a beach trip, camping, or staying in. It is warm and insulated, keeping you comfortable on your travels. It's hard to get this one wet for long with the fabric that repels moisture. This blanket has been marked down many times, so it is also an affordable find. If you are looking for dog friendly restaurants to bring your furry friend to, checkout this article!
Therm-a-Rest values utility. This means it is easy to pack, dries fast, and is insulated. Combating the elements and keeping you warm while it works it's magic is what this blanket is all about! Some of the features this blanket has that are not included in this purchase are perimeter snap loops that can link other Therm-a-Rest products with this one. Another is the drawcord that keeps your blanket in place. Be sure to check these two add-ons out when you purchase your Therm-a-Rest!
Dog Travel Blanket
Rugged Travel Dog Blanket
Rugged Travel Dog Blanket
If you are bringing your dog along with you, you'll want a travel blanket for him or her! This travel blanket is great for car, plane, train or bus rides if you have a service animal. This is even good for the crate or doggy bed at home. You can machine wash and dry this doggy blanket too. It is a part fleece, part polyester for a comfortable blanket for your best friend. The inside is filled with a cushion that makes this as comfy as possible.
If you are anything like me, you enjoy bringing your dog along for rides and trips, but don't enjoy cleaning up the fur afterward. This is your perfect solution! It helps that this travel dog blanket is so comfortable, your pup will never want to move. It is a sturdy and good quality make and it is easy to install on many surfaces. This blanket is the best fit for small dogs based on it's dimensions, but you can always purchase additional pads for your larger best friend.
Blanket/Pillow Duos
Vera Bradley Fleece Travel Blanket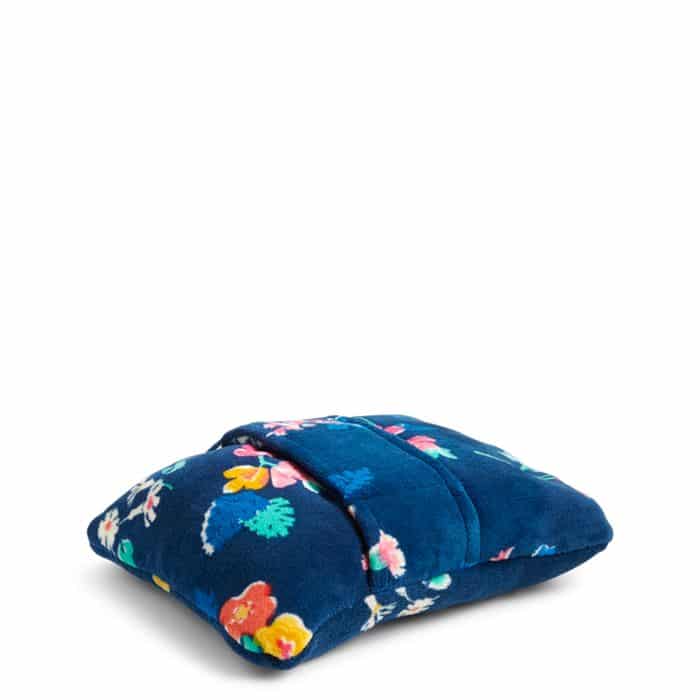 Fleece Travel Blanket
This travel blanket folds up into a pillow which allows for great transportation. It is a decent size but definitely small enough to carry with you comfortably. You will even get a nicely patterned sleeve to hold your item, allowing you to take it wherever you travel easily (and hygienically.) One of the best parts about this Vera Bradley blanket is how pretty the patterns come in! Vera Bradley's Fleece Travel Blanket is the perfect minimalist packing item.
If you have flown recently, you know it can be hard to find an airline that still offers blankets. With this blanket, you can have an easily portable solution. There is a how-to fold tutorial that teaches you how to turn the blanket into a pillow. Thankfully, most users comment on how easy it is to fold this back up. Once folded, it can easily on the handle of your suitcase or fit into small spaces. If you are looking for a pretty, easy fit, dual-purpose blanket, this is your best bet.
Tech Throw Travel Blanket
Grand Trunk Hooded Tech Throw Travel Blanket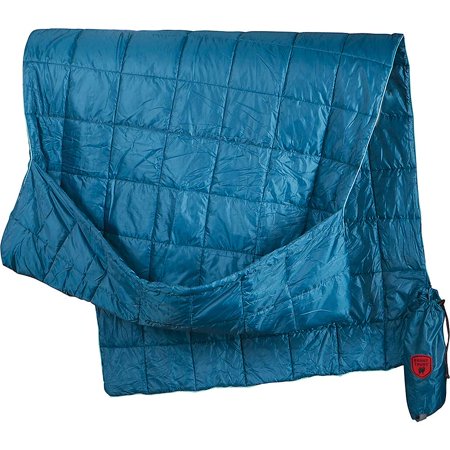 Grand Trunk Hooded Tech Throw Travel Blanket
This travel blanket is not only the most comfortable blanket you can imagine, but it also comes in great packaging. It weighs one pound and is a great size for travel and packing. A great additional feature to this blanket is the foot pocket inside which keeps your feet protected and warm. The stuff sack to pack this blanket in has a strap as well as a pocket on the side. This is a great investment travel blanket for your travels.
Travel Pillow & Blanket Set
Bon Voyage Travel Pillow & Blanket Set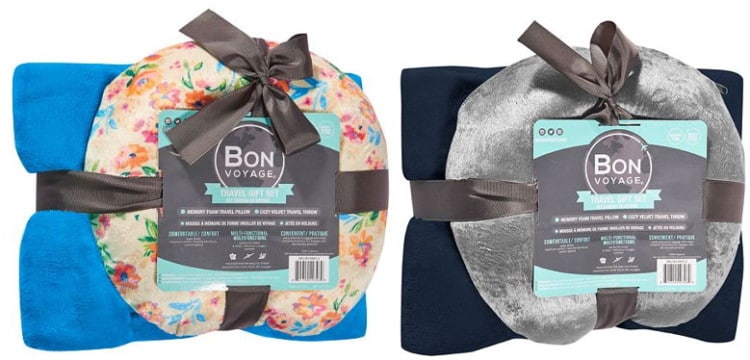 Bon Voyage Travel Pillow & Blanket Set
This travel set is actually a wonderful gift for your travel buddy, or yourself! The pillow comes with memory foam and the blanket is incredibly comfortable. This duo allows you to nap on the beach, airplane, or in the car easily. The pillow and blanket are both made out of 100% polyester. The pillow has a removable top layer, allowing you to wash the pillow of sand or airport germs (machine washable!). This is a great purchase since it is the same price you would normally pay for a decent quality blanket alone.
In case you were wondering, this pillow is not your regular flat pillow. It is a neck pillow that will entice you to lay back and completely relax without far of your pillow slipping off. This pillow and blanket set is ready to take off and travel with you anywhere. The proof is in the name. Bon Voyage!
Lightweight Travel Blanket
Cocoon Travel Blanket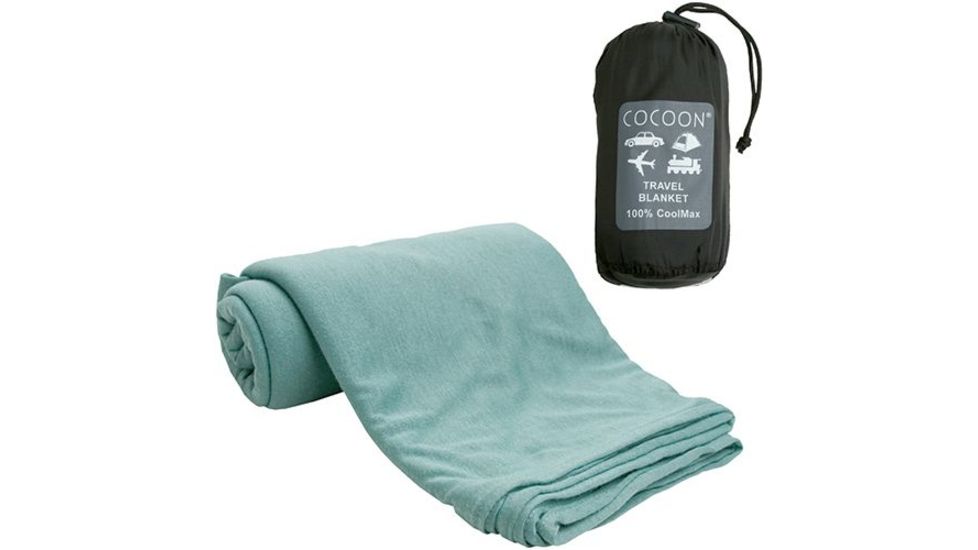 Cocoon Travel Blanket
This travel blanket is very affordable, especially since it has been constantly marked down. It is made up completely of polyester. This is the perfect size and has a great bag to keep it in, in order to make traveling easy. This blanket comes in the pretty color of sage. Cocoon Travel Blanket will allow you to breathe but also keep you warm.
Many reviewers who use this blanket say it is great at keeping them warm, even though it is thin. Many take it on plains, daily work commutes on buses and trains. If you are staying in a hotel or motel and don't want to use their covers, this will keep you warm throughout the night. Even for those with larger builds, this blanket has been said to cover from head to toe. Operating as a versatile tool, this blanket can also be used as a scarf or wrap. Because it is so thin, it can be quickly and easily stuffed into a bag without having to be folded up flawlessly.
4 in 1 Travel Blanket
Natico 4 in 1 Blanket
Natico 4 in 1 Blanket
This travel blanket is good for many uses. It is fleece like and very soft as well as water resistant. This blanket can be converted into so many things such as a poncho at a game, a picnic surface in the grass, a blanket on the beach, or just a travel blanket on your trips. It comes in both black and blue. This is an extremely versatile blanket that truly does it all. A blanket for a picnic, poncho with a hood, or a pillow even.
Many buyers use this for ball games or theme parks. There are also the options of beach trips as well as picnic layouts. Many retailers sell this 4-in-1, and those similar to it such as Wayfair, Walmart, and Amazon. It is sold for an affordable price and is made of good quality, meaning it will last long doing all the functions you could ever hope for in a travel blanket!
Consider the Perfect Travel Blanket
What could you use a perfect travel blanket for? We can think of dozens of ways. If you are planning on sleeping on your travels, consider a blanket that fits your specific needs. They can be an affordable and worthwhile item to add to your packing list.
Regardless of if you need a blanket that heats. One that is good for picnics or airplanes emergencies. For camping or just a carrier that will keep any blanket you purchase or own clean. A dog blanket for your traveling pup to ride with you. Or even a duo set of a blanket and a pillow together. No matter what you need in your travel blanket, there is one on this list for you!
Related Article: The 6 Best Nylon Tote Bags: From Gym Styles to Carry-On