With such a vast amount to visit, it has been a feat narrowing down the nine best restaurants in Durham, North Carolina.
Home to Duke University, Durham is a southern city with an impressive amount of charm, history, architecture, but most importantly, food. It has taken a little bit of searching to find the best restaurants in Durham. But, we truly believe these restaurants are set apart. Whether it's because of their fine attention to detail, atmosphere, superb ingredients, or simply because they're the best donuts on earth, we love these spots. Before you go zipping around North Carolina to find the best beaches or the best places to go, check out Durham. Spectacular food, service, and ambiance await you as you eat your way through our list of the best restaurants in Durham.
1. Monuts Donuts
Credit: Monuts / Facebook
Donuts we can get behind. Monuts Donuts serves delectable salads, sandwiches, pastries, coffees, and, of course, donuts. But, they do more than just serve these up. Through their living wage standards and fresh, local ingredients, they've developed a fantastic spot for more than just sweets. They made our list of the best restaurants in Durham not only for their food but also for their heart. One of the favorite sustainable options includes the Chicken and Pickle Biscuit. Ranch, bread & butter pickles, chili-infused honey, and crispy fried chicken create this undeniably delicious combination. Many people stop by for the donuts but stay for the spectacular and wide array of other options. So, if Turkish eggs with local tomatoes strike your fancy, then stop by Monuts Donuts next time you're in the Triangle.
2. Pizzeria Toro
No list of the best restaurants of any city is complete without a phenomenal spot for homemade pizza and pasta. The wood-fired pizza oven here makes all the difference at Pizzeria Toro, crisping these hand-tossed pizzas just so. With a few choices of either red or white pizzas, there are enough options to keep you intrigued without being overwhelming. One of the local favorites it the sweet fennel sausage and roasted pepper pizza. Grab one of those and split some ricotta dumplings with onion, corn, and truffles and you'll be blown away. If you're enticed by spectacular wine lists, you will find an extensive one here, as well as Italian espresso and cocktails. So, if you need a restaurant for a date night, family celebration, or just a nice evening out on the town, Pizzeria Toro should be a staple in your rotation.
3. True Flavors Diner
Credit: True Flavors Diner / Facebook
Born from a renowned catering company, True Flavors Diner has stepped into the Durham food scene with bold and beautiful flavors. Started in 2014 by Chef Sidney Coves, this casual and welcoming spot has been delivering flavorful, southern cuisine from locally sourced ingredients. The service is impeccable, as is the attention to detail of both the food and the front of house. As for what to get, the Southern Fried Chicken is one of the house specials. The secret batter recipe and chipotle honey hot sauce compliment it perfectly. This will be paired with creamy baked mac & cheese and seasoned collard greens.
For the most scrumptious southern meal at any of the best restaurants in Durham, come here. But, if you're hoping for something a little different, there is a variety of fresh salads, burgers, "un"-burgers, dinner plates, and a large, all-day breakfast menu. If any of this has even slightly piqued your interest, you won't be disappointed by coming here. We would truly say it is every southern foodie lovers dream spot.
4. Littler
The darling waitstaff and romantic glow of Littler will make you want to stay here forever. You can start your dining experience at one of the best restaurants in Durham with beef heart tartare or griddled octopus. The latter comes with fingerling, feta, roasted red pepper, and fried lemon. For supper, indulge in some North Carolina Tuna paired with salt roasted potato, green beans, saracena, and cured egg. If that's not quite your style, you can always grab first class lamb burger or the petit tender steak. Top it all off with a triple layer chocolate mousse brownie or the hand-crafted nectarine almond tart.
Granted, this menu may sway with the seasons, keeping only the freshest things in rotation. Personal touches from the chef may sneak into your dinner while you're here because of Chef Amanda's incredible heart and attention to detail. So, if you've been looking for some of the best food in the state, well, it can be found at Littler.
5. M Sushi
Credit: M Sushi / Facebook
Anyone who has experienced M Sushi would easily suggest it for our list of the best restaurants in Durham. Chef and Owner Michael Lee has curated this authentic spot into a true Omakase dining experience. Using only the freshest seafood from Japan, Korea, and America, the menu rotates quickly with what they have on hand. Chef Lee attributes much of the flavor to the fresh ingredients. However, we can't help but love the attention to detail and authenticity that he puts into everything.
From the real grated wasabi to the special blend of Koshihikari rice and Shiragiku Japanese rice vinegar, the flavors are all here. Whether you're in the mood for sushi or something off the hot menu, each will be prepared to order with the finest detail. If you want to get the grand overview of all Chef Michael Lee can do, we recommend getting the Grand Omakase. It will walk you through all the best they have on hand, from sashimi and crudo to squid ink pasta and dessert. So, if you're hoping for a truly spectacular sushi experience, go to M Sushi.
6. Cucciolo Osteria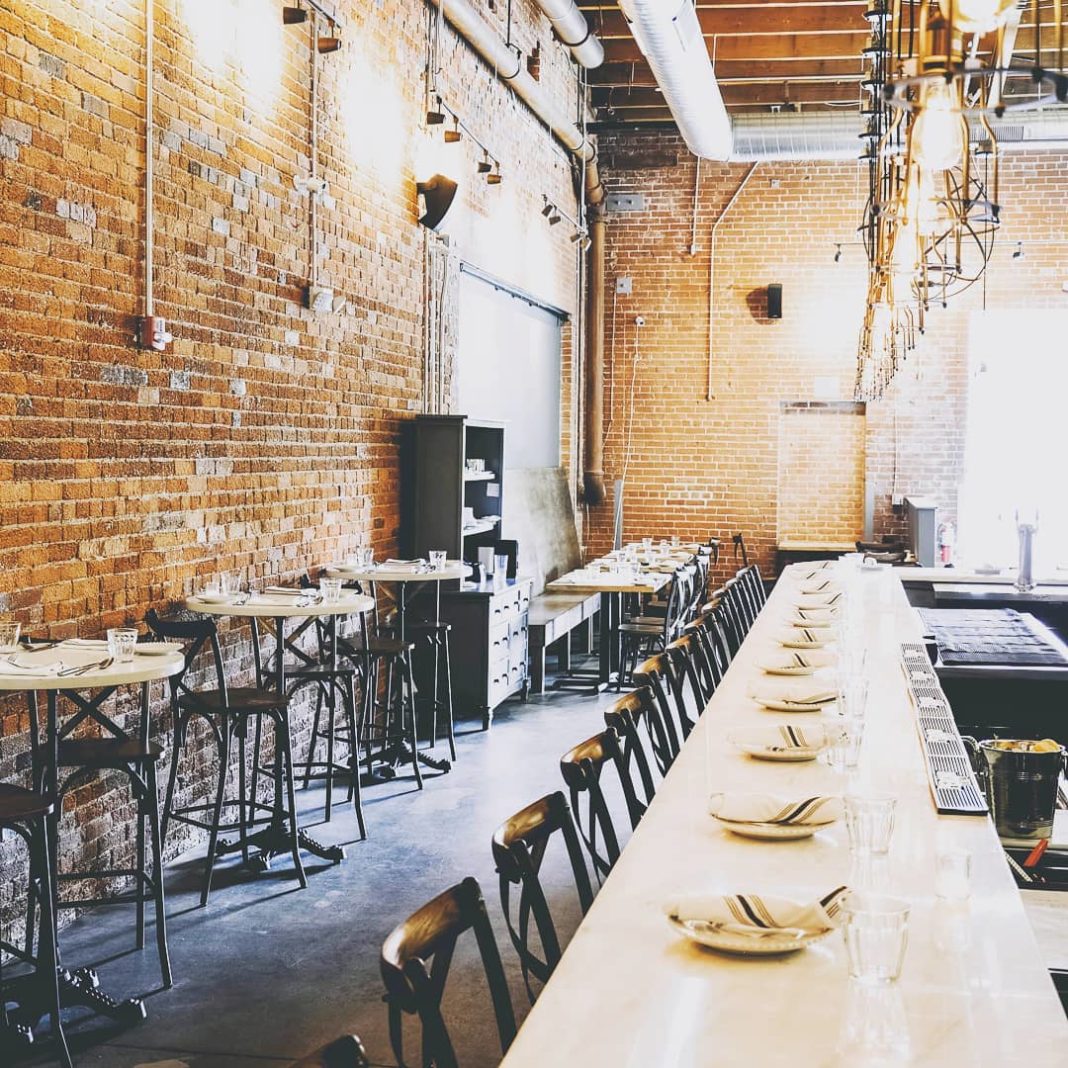 Credit: Cucciolo Osteria / Facebook
Having been open for only a little over a month, we might be going out on a limb giving Cucciolo Osteria a spot on our list of the best restaurants in Durham. That being said, we are sure that the staff here will not let us down. Cousins Julian and Jimmy Kim have already pioneered a sister restaurant in Seoul, and they've brought every ounce of Italian magic to Durham. With handmade pasta and immaculately prepared bruschetta and main dishes, we wish we could go every night of the week. Customers have been raving about the fig and prosciutto bruschetta with stracciatella and truffle honey. If that doesn't entice you, how about three kinds of creamed mushroom antipasti? It is strengthened with cognac and porcini stock and has multigrain bread on the side to mop it up every last ounce.
So, whether you grab the spicy vodka tomato cream rigatoni or the festival porchetta, you will be impressed with the handcrafted care that goes into each item. We anticipate the menu expanding, but at this point, we don't even need it to. The spectacular dishes that come out of this kitchen are to die for. So, come here with friends, for a date, or by yourself because the most important thing is just to get here. We believe that Cucciolo Osteria will be the on every list of the best restaurants in Durham in no time at all.
7. Bar Virgile
Credit: Bar Virgile / Facebook
For unparalleled drinks and darn good food, head to Bar Virgile. We'll start with the fact they have two mixologists, not just bartenders, working the bar. This means your hand-crafted drinks will be made to order with the most genuine attention to detail. If you're having trouble deciding what to get, feel free to describe what you like. They can even create a concoction just for you. Granted, finding a space at the bar may be a little difficult as this is quite the popular spot.
While you can be assured they only use the best local ingredients, you will be able to observe that firsthand through the open kitchen. You can watch them prepare the house-made bread and desserts while snacking on a charcuterie board. So, grab some Pimento Mac n' Cheese or PEI Mussels along with your Duck Leg Cassoulet or Grilled Swordfish. They will each dance on your taste buds for a truly marvelous dining experience. Pair all of these with the spectacular drinks and you'll have an unforgettable evening as one of the best restaurants in Durham.
8. Fullsteam Brewery
You won't find a better brewery in Durham than Fullsteam Brewery. They are committed to fostering community pride, creating wealth through a living wage, and encouraging entrepreneurship. This is more than just a local hangout. It is a community centerpiece that delivers uncompromised, hand-crafted beer for locals to be proud of. By buying and brewing local, Fullsteam Brewery is pioneering a Southern Beer economy, slowly but surely. They do an incredible job at bringing new flavors all the time while keeping consistent favorites on tap for you to enjoy all year round.
If you'd like to make this an even more exciting night out, come on the third Tuesday of every month. It's comedy night with Bull Town Comedy, and perfect for a date or get together with friends. They also have an arcade room as well as plenty of room outside to hang out. So, grab one of their Carver beers and some snacks while you're here. You'll quickly see why this is one of the best restaurants in Durham.
9. Namu
Credit: Namu / Facebook
Don't let the fact that you order at the counter and grab your own seat here fool you. Namu made our list of the best restaurants in Durham for its delectable Korean food. However, what truly put it high on the list is its vast amounts of space to hang out. If you're searching for a spot to grab a snack, meal, or coffee and spend a few hours reading or hanging out with friends, check out Namu. It has a large garden and patio space as well as ample tables indoors that are perfect for studying. If you want to bring friends, grab multiple things off the menu and enjoy the evening outside.
Favorite dishes here are the Bibimbap and Joe's Special which is a combination of barbeque, japchae, rice, and mixed greens. Finish off the evening sipping on a matcha latte and you can't go wrong. So, while we adore the price point and quality of the food, this is really a fantastic spot to spend hours doing whatever you so desire.
All in all, the best restaurants in Durham are tucked all around the city. They each help boost this marvelous city to claiming the title of the Foodie Capital of the South.
Whether you're on the search for pizza and pasta or some out of this world sushi, we've put options on this list. We truly can get behind the philosophy, food, atmosphere, and love that each of these restaurants breathes into their food and culture. But, don't take our word for it. Before you go doing the best things to do in North Carolina, try out these restaurants. Let us know if you think they each deserve to be on the list of the best restaurants in Durham.
Related Article: The 10 Best Restaurants in Richmond, Virginia