With gorgeous city views and a location along the eastern seaboard, the best hotels in Providence have a lot to offer travelers.
The best hotels in Providence gather everything we love about the city. Some have an old Victorian feel and rich historical traditions while others embrace the modern, artistic, and burgeoning hipster scene. If you're looking for a quaint, peaceful getaway along the east coast, Rhode Island is a little piece of magic.
Literally – you can drive across the width of the entire state in under an hour. That's a shorter time than it takes to grab coffee and fight for parking in LA. While that might sound like a joke, the parking game sure isn't. But we digress. There's something to be said about escaping to a small town and getting a little off the grid. Sometimes those are the very best types of vacations. Sure it's small but don't underestimate it; there are plenty of incredible things to do in Rhode Island.
The landscape leaves nothing to be desired. Dramatic vistas give way to smooth, sandy beaches, lush green hills are dotted with farmland, and narrow juts of land perch over the Atlantic with classic red and white lighthouses on their shores. If this doesn't sound picture perfect to you, we don't know what will.
A Little Bit About Providence Rhode Island
Cruise the coastline where lighthouses dot gentle strands of sand before you head inland to Providence. After all, the beach is only thirty-five minutes away. Historic resorts, quaint Colonial-era villages, and lavish mansions give way to vineyards, berry farms, and wide open fields. Head further in and you'll find the two main cities – Providence and Newport. When you're talking city life, the best things to do in Rhode Island happen right here.
Providence has great public art, museums, award-winning theater, and cool music. Plus, everything is affordable and easy to get to. When you're looking for things to do in Rhode Island, it would be crazy to pass up on exploring Providence.
Some of our favorite Providence attractions include the RISD Museum (a famed part of the Rhode Island School of Design), Museum of Natural History and Planetarium, and the Roger Williams Park Zoo and Carousel Village. Theaters, galleries, outdoor adventures and more make this city a great place to explore.
Both Providence and Newport are brimming with fantastic museums, fascinating historic homes, and top-notch urban restaurants and bars. It's no wonder wealthy upstate New Yorkers continue to flock here for summer fun. So where are the best hotels in Providence, Rhode Island? Come on, we'll show you. We like to think that our list has a little bit of everything on it. Without further adieu, here are our top picks.
Here Are Our Picks for the Best Hotels in Providence, Rhode Island
1. Hotel Providence
Credit: Hotel Providence
Located in the heart of downtown, the landmark Hotel Providence offers European and New England charm with history dating back to the 19th century. Step inside and enjoy personalized service, luxurious amenities, and a beautiful place to rest your head. As the only AAA Four Diamond Luxury hotel in Providence, it's safe to say the folks at this hotel know a thing or two about hospitality.
Right outside the lobby doors, you'll find the Theater District. A place of culture and the arts, there are plenty of places to explore at only a stone's throw away. The hotel's interior reflects a passion for the arts as well. From vintage furnishings, to classic novels placed throughout the hotel and oil paintings, it offers a subtle sophistication.
When you're in the mood for a drink and a bite, head over to the on-site restaurant, Backstage Kitchen + Bar. Here, you'll find delicious New England fare served up with a twist. If you'd like, you can also order from their theater menu before going to see a show at the Providence Performing Arts Center just a few steps away.
But that's not all. The hotel also features superior guest amenities including a fitness studio, complimentary WiFi, versatile meeting and event spaces, and packages for romantic weddings. Whatever you are looking for the Hotel Providence has got you covered.
2. Christopher Dodge House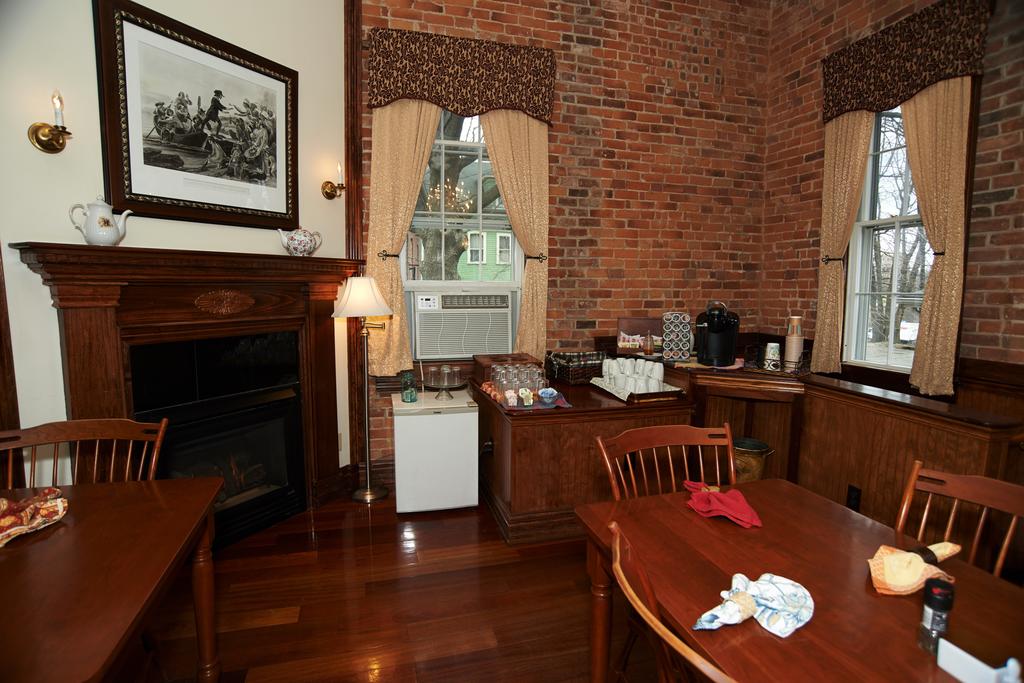 Credit: ​Christopher Dodge House
A cozy bed and breakfast, Christopher Dodge House is just a short walk away from the Rhode Island State House. It is housed inside a red brick Italian mansion dating back to 1858. Listed on the National Register of Historic Places, it has since been restored into a charming boutique stay. Even in spite of these restorations, it has managed to retain its old world allure. Marble fireplaces, decorative plaster moldings, and handcrafted wooden furniture all lend to a unique ambiance.
In-room luxuries include a heated bathroom, complimentary WiFi, and signature toiletries. We highly recommend requesting a room with a fireplace. There's something about coming back to your room after a cold day and being able to cozy up next to a warm fire with a cup of tea and a good book. In the morning, you can treat yourself to a delicious hot breakfast and sample the hotel's gourmet cookie and pastry offerings. To pick up your energy level before you start the day, guests are also eligible to receive passes to a local gym just five minutes away.
Did we mention you are also in a prime location? During your stay, you will be just a ten-minute walk from the Providence Waterfire, an award-winning sculpture installation on the three rivers downtown. You'll soon find that this area is the hub for art, culture, shopping, and entertainment in Providence. This is hands down one of the best hotels in Providence.
3. Providence Biltmore Curio Collection by Hilton
Credit: Providence Biltmore Curio Collection by Hilton
This is the perfect spot for a romantic weekend getaway. Did you know that this hotel was designed by the same architects as New York's Grand Central Terminal? Deeply tucked within the heart of downtown, its 1920s styles seamlessly blends with glamor and comfort. As the only hotel in the city with a full-service spa, you can treat yourself and a loved one to the pampering you deserve. Tis the season.
When it comes to the rooms, you'll find the perfect place to relax after a long day. Custom made king-size beds, a large TV, and signature Biltmore toiletries are all nice touches. If you're wondering which room to pick, we highly recommend The Grand Suite, which comes with a lovely freestanding marble tub. For dinner, you don't even have to go off-site. Enjoy a romantic meal for two over at McCormick's & Schmick's Seafood & Steaks Restaurant. The Biltmore Curio Collection by Hilton is one of the best hotels in Providence.
4. The Deal Hotel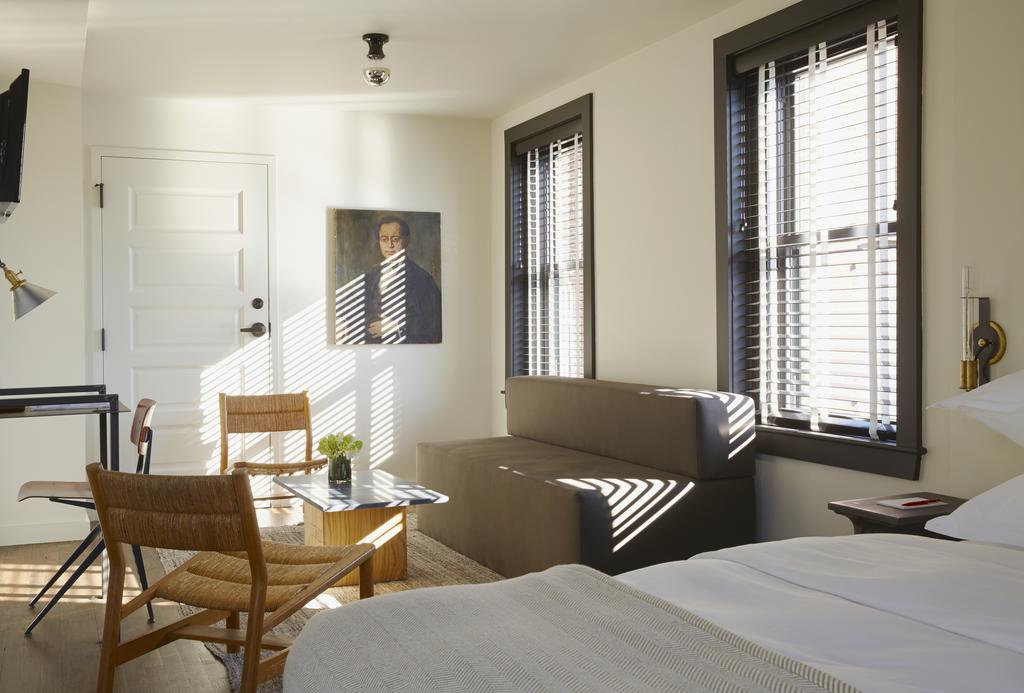 Credit: The Dean Hotel
Seeking out something a little more artsy? The Dean Hotel offers a memorable stay in the city. While it's not the ocean-facing suites you'd think of in Rhode Island, that's part of the reason why it's so refreshing. This sleek brick facade features a traditional-style German beer hall, communal lobby with retro neon signs, and a (not so) secret karaoke bar.
The rooms are especially chic. The rooms are decorated with stylish leather furniture, a sleek minimalist aesthetic, and the bathrooms have black-tile showers. The overall theme is simple but has a lot of character too. Choose from eight different styles of rooms (52 in total). Each offer a unique theme incorporating art history, custom furniture, and European craftsmanship.
5. Renaissance Providence Downtown Hotel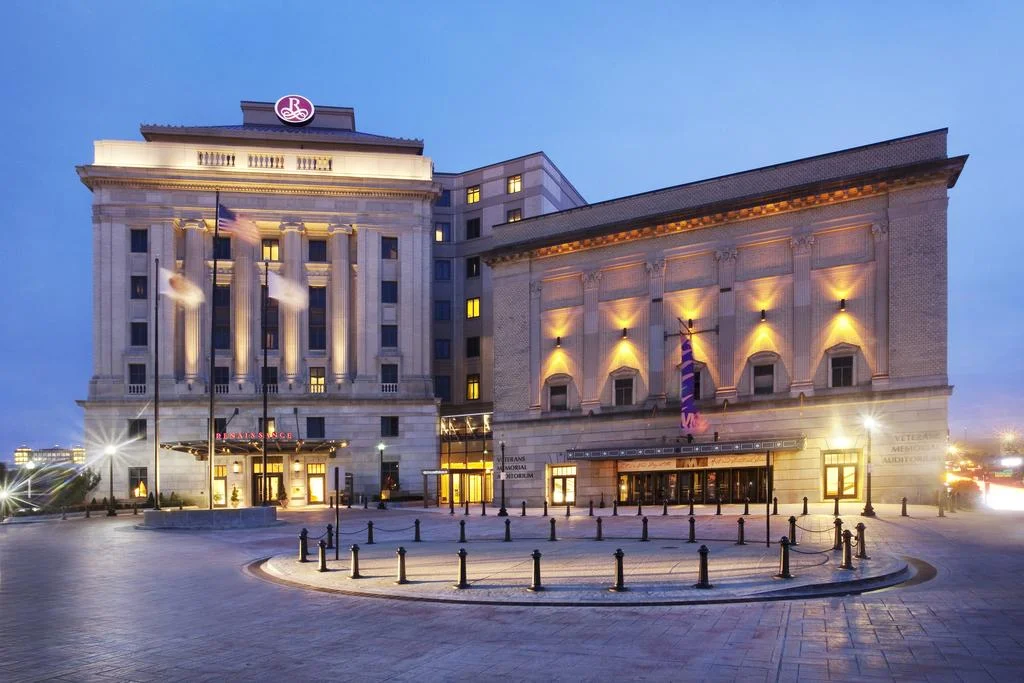 Credit: Renaissance Providence Downtown Hotel
Travel in style at the Renaissance Providence Downtown Hotel. Housed in a Masonic Temple dating back to the 1920s, it offers a unique blend of historical structure and modern touches. Enjoy close proximity to Brown University, Providence College, and the Providence Performing Arts Center. When you're ready to unwind after a long day of exploring the town, head upstairs to unwind in the upscale rooms and suites.
Inside, you will find sophisticated decor, luxurious amenities, and nice touches like complimentary WiFi and a flat screen TV for your relaxation. Choose from ordering room service or eating downstairs at Public Kitchen & Bar for some delicious American fare and refreshing cocktails. Are you looking to splurge a little? Stay in the Presidential Suite and enjoy a sweeping space, stunning State Capitol views, and a study, separate dining, and living space rooms.
6. Omni Providence Hotel
Credit: Omni Providence Hotel
Connected to the Rhode Island Convention Center, the Omni Providence Hotel is convenient for business travelers. Equipped with twenty large conference rooms, it offers state of the art equipment. Freelancers and remote workers will appreciate the layout of the guest rooms and suites. Every aspect is designed to make working on the go easier. If you're someone who lives out of your suitcase and off a laptop, you'll appreciate that.
A large desk, high-speed WiFi, and a coffee maker (aka the essentials) offer just what you need for a productive morning. After your meetings, wind down in the yoga and fitness studio or swim a few few laps in the hotel's heated indoor pool. You'll also find three on-site restaurants, ideal spots for celebrating a new deal or sharing a meal with co-workers. Since you'll be located in the premier section of downtown, you have close proximity to the city's historic attractions, main college campuses, high-end shopping, entertainment, and more.
7. Down City Inn
Credit: Down City Inn
Located in downtown Providence, you'll find Down City Inn on the corner of Washington and Matheson Streets above the famous Blake's Tavern. Whether you're traveling for business, on vacation, or just passing through, this is the perfect place to call home base. The close proximity to some of the city's top attractions means you can easily explore by bike or on foot. Most of the city's festivities take place on Washington Street.
When it comes to accommodations, all of the rooms offer unique layouts. All of their full-size apartment suites feature beautiful rustic interiors. Hardwood floors give way to exposed brick walls, and sweeping 8 foot windows. Each unit comes equipped with memory foam beds, LED smart tvs, a coffee maker, signature toiletries, and well-appointed kitchens.
Book Your Stay At One of the Best Hotels In Providence, Rhode Island
We hope you enjoyed reading our article on the best hotels in Providence, Rhode Island. As you can see, this city is such a unique place to visit, offering some of the most spectacular historical sites in the country; the scenery will leave you in awe. Whether you're seeking adventure, urban exploration coffee shop hopping, or simply some R&R, this city offers it all and more. Providence, RI is one of our favorite places to explore both the metropolis feel and get back to good old nature. The best time to visit all depends on what you want to see.
Rhode Island isn't usually the first place that pops in most people's heads when they think of a summer vacation. But that's what makes it so perfect. Unlike popular picks like Orange County, CA or some Mexican beaches, it's not packed with party-seekers or overflowing with tourists.
While those places certainly have an allure, there's something serene and perfect about the simplistic scene of Rhode Island and its island offshoots. Besides, what other state could you travel to and see so much in a week or two? If you're looking for a unique, relaxing summer vacation destination, Rhode Island is the place to be.
The best hotels in Providence, Rhode Island are right in the middle of it all, offering close proximity to either downtown or all the cultural attractions. Each one is truly unique and equipped with luxury amenities, sure to satisfy the needs of any traveler. Do you have any favorite hotels in Providence that were not featured on our list? Perhaps, you have some questions or comments for us. Whatever's on your mind, we'd like to hear it. Let us know your thoughts in the comment section below.
Related Article: Top 9: The Best Things To Do In Providence RI