Taking a tour of Vietnamese street food is one of the must-do things when you visit.
Is there a better way to dive into a country's culture than through its culinary scene? We don't' think so. Vietnamese food in the west is vastly different from the authentic stuff. While we're sure that old school spot in your neighborhood serves good pho, there's nothing quite like the real deal. Today, some of the ritzier restaurants in Vietnam have started catering to tourists. Some of the best dining you'll find all around is actually Vietnamese street food.
A Little Bit of a Back Story: Vietnamese Street Food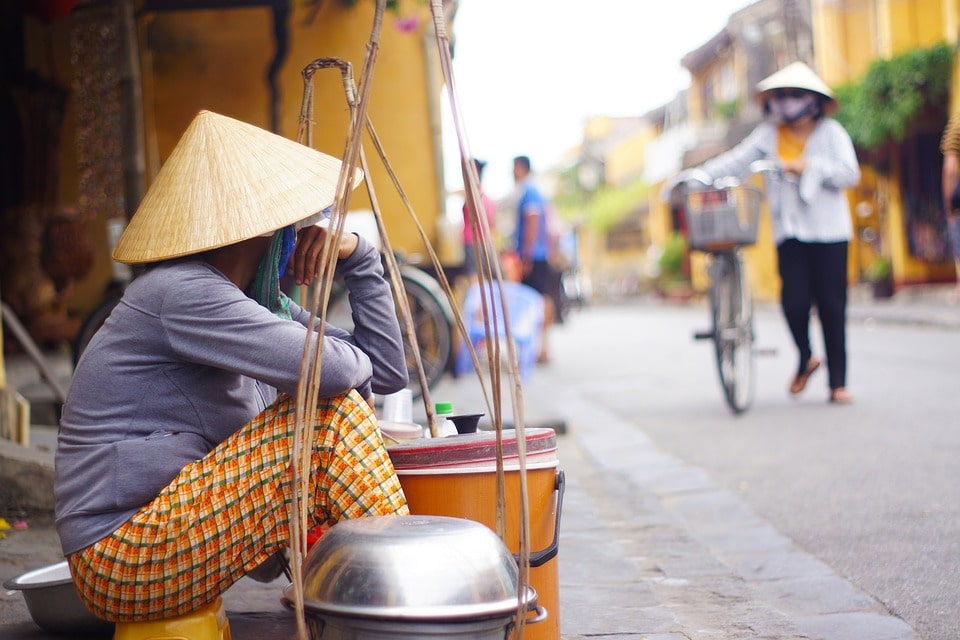 Do you know that types of Vietnamese street food varies vastly by region and city? For example, the north birthed some of the country's most iconic foods, the central region is known for its spicy flavors (especially in the imperial city of Hue), and the south for its French techniques. All in all though, many shared foods have become national treasures (sorry, you can't steal these Nicholas Cage) and bring everyone to the table. Whether you're in the mood to save or splurge, we're going to show you the best types of Vietnamese street food you need to try when you travel.
Here, dining is communal. One of the things we love most about eating a meal in Vietnam is that the focus is on social interactions. It's not uncommon to have a three-hour dinner meal with a cold beer in hand. Similarly to the intent of shared dining, there are also a few other popular ingredients and rules of thumb when it comes to Vietnamese dining. If you're a solo traveler, checking out the dining scene is a great way to meet people – travelers and locals alike. Make sure to check out our backpacking tips.
Most types of food can and are eaten with your hands. Second, sauces are a special part of the culinary scene. Have you ever tried a delicious Vietnamese fish sauce and wondered what was in it? It's most likely made of water, sugar, limes, vinegar, and some sort of chili peppers. Meals are often garnished with herbs like fresh mint, cilantro, basil, and more. Are you ready to learn about the best types of Vietnamese street food? From mouth-watering soups to quirky treats, and the essentials, we're here to show you a little bit of everything. Are you ready? Let's go.
Here Are Our Picks for the Best Types of Vietnamese Street Food
1. Banh Cuon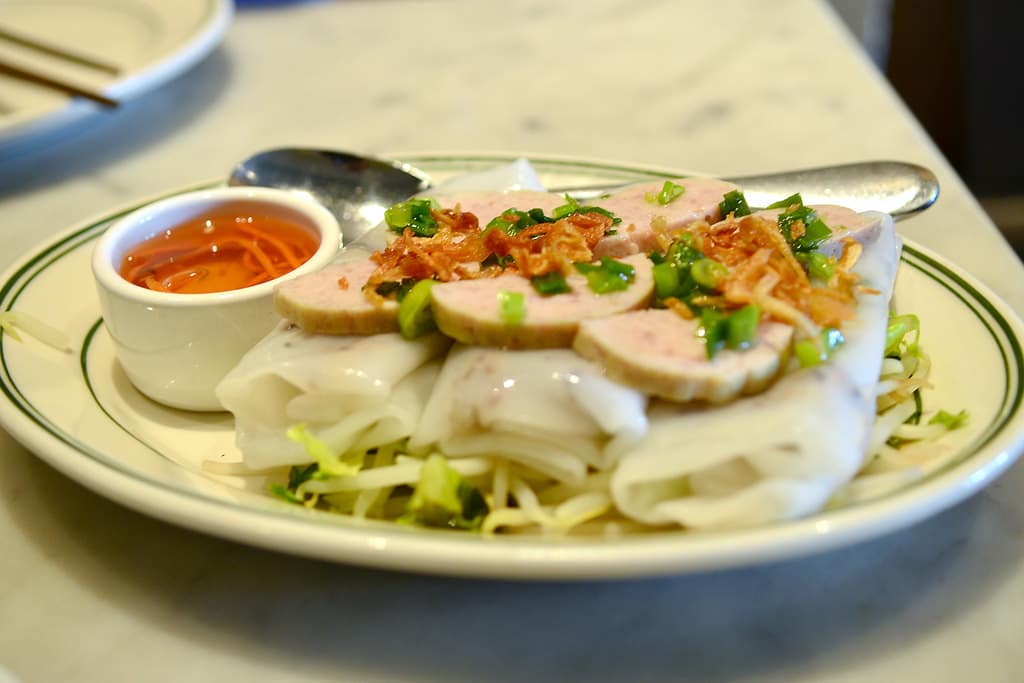 Credit: Flickr
Have you ever tried this delicious Vietnamese street food specialty? If not, you're really missing out. The dish starts out with large, flattened sheets of fermented rice flour. To make this, the chefs pour batter over a hot surface. It's typically eaten for breakfast and served up with pork, mushrooms, and topped with lettuce cucumbers, and more pork sausage. While it is a simple style meal, it is hands down one of our favorites. You really couldn't go wrong with banh cuon if you tried.
2. Pho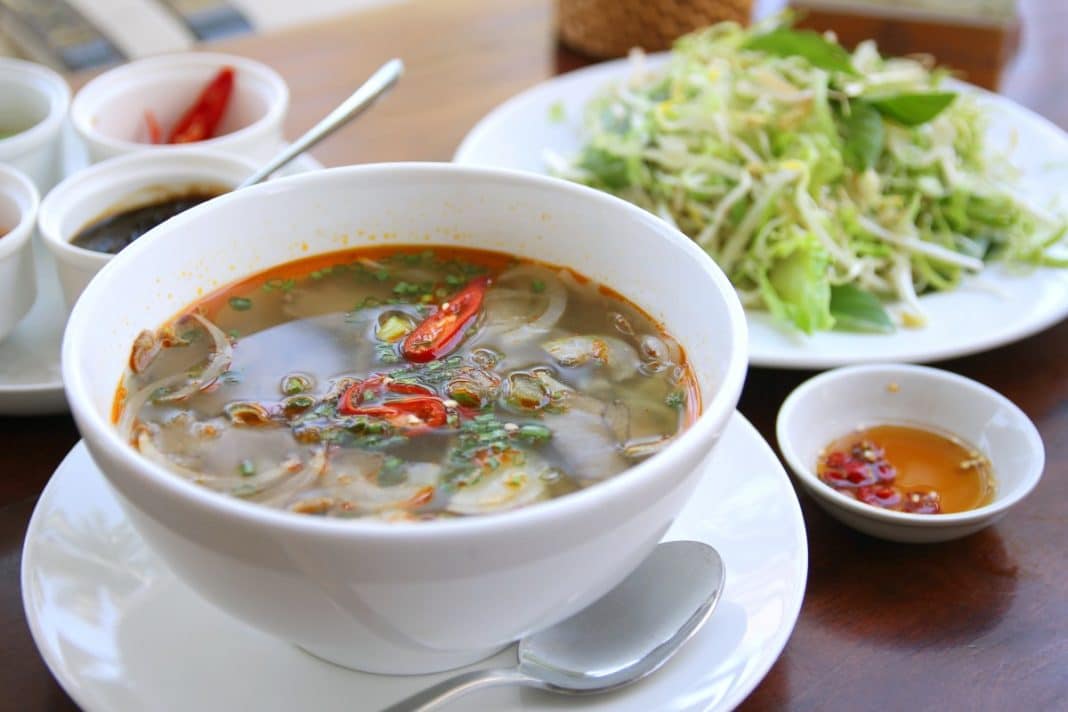 Here's a dish that everyone knows and loves. Like we said earlier, pho is popular in the states but nothing comes close to touching the real stuff. Pho in Vietnam is the stuff of foodie dreams and legends. Walking the crowded streets, it's impossible not to pass by a street cart selling some or a cafe with tantalizing smells, drawing you in.
In short, pho is everywhere. A simple staple, it's another one of our favorites. Made from a salty broth, it incorporates fresh noodles made from rice, herbs, and either chicken or beef. People enjoy this affordable, tasty dish at all hours. Come on. We can't be the only ones who've had a craving for pho at 2 am.
3. Bun cha
Credit: Wikimedia Commons
This name might sound like the opening line to a pun but it's one of the best delicious types of Vietnamese street food. But if you can make a pun with a food name, that just makes it even better, right? When it comes to lunch in the country's capital, bun cha is the meal of choice. So what exactly is it? Think charred, marinated slices of pork belly served up with a fishy broth, vegetables, and a large helping of rice noodles. Here's our favorite part though. This dish is served up with fried crab rolls. Yum.
4. Xoi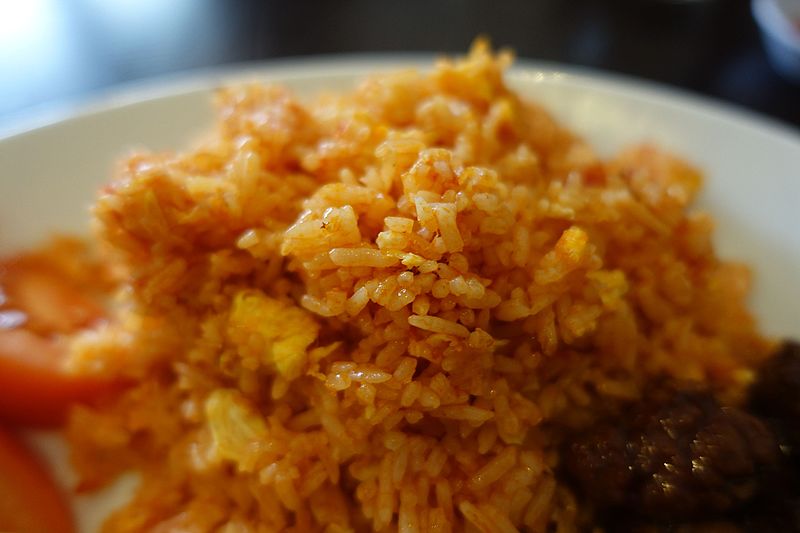 Credit: Wikimedia Commons
Do you want something savory? Opt for xoi. This sticky rice is a must-have on the menu. Whether you're opting for the street cart or enjoying Vietnamese style street food in a cafe, it's worth ordering. While it sounds like a side, xoi is a meal in itself. This staple comes with many options to add on. What sounds good to you? Chicken? Pork? How about some fried eggs? The options are seemingly endless. But we've got to say that you can't go wrong with dried shallots on top. Give us some xoi and we'll be happy campers.
5. Banh xeo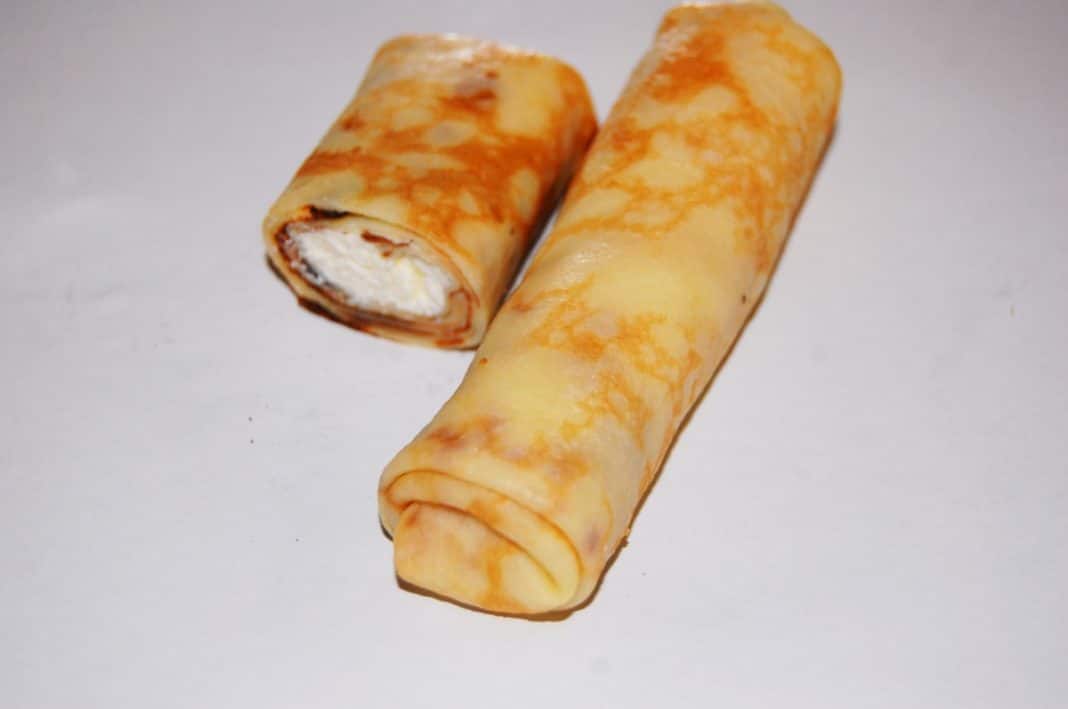 What makes a good banh xeo? Look for the ones cooked until they're crispy and golden brown. On the inside, these savory crepes are loaded up with pork, shrimp, bean sprouts, and herbs. While this might sound like an odd combination to westerners, we swear it's one of the best treats we have tried. If you really want to eat it like a local, cut up the ban xeo into small, manageable bites, and roll it up in rice paper to eat. What's in the sauce? Whatever the chef has prepared for you.
6. Goi cuon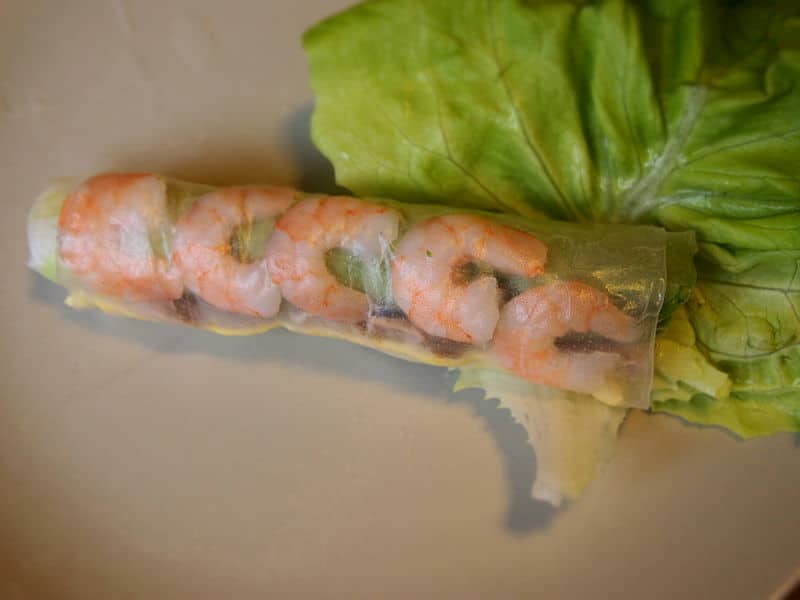 Credit: Wikimedia Commons
Light and fresh, goi cuon is a good appetizer to balance out all of the fried food you've consumed your first couple of days in Vietnam. It's okay. It happens to all of us. These clear rolls are chock full of leafy greens, healthy fat in the form of seafood, and are dunked in Vietnam's favorite dip – fish sauce. If you're not quite ready to give up the fried food yet, know that the northern part of the country serves up goi cuon in this method. Here, the shell is crispy, framing a soft vegetable and meat filling.
7. Bun bo nam bo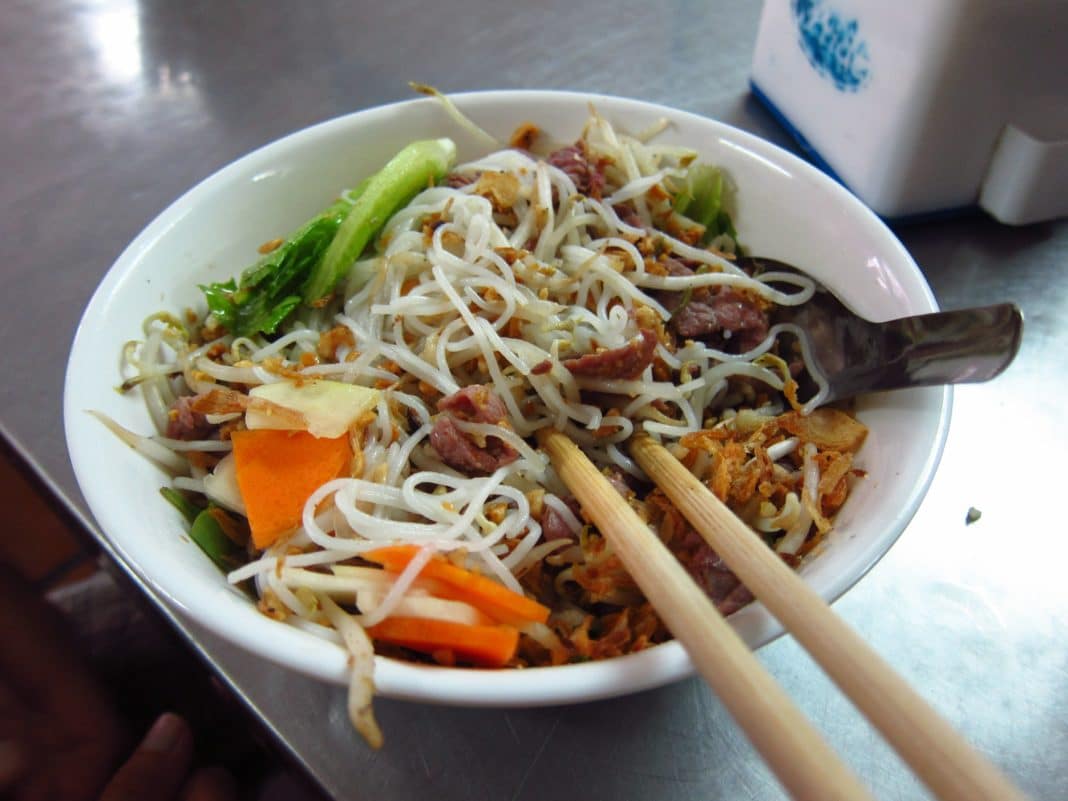 Credit: Wikimedia Commons
Bun nam bo is a delicious Vietnamese street food to try while you are on your travels. Most dishes of bun bo nam bo are made vermicelli noodles. It comes without broth to keep all of the textures a special way. In this meal, slices of beef are mixed with bean sprouts, fresh herbs, fish sauce, and spicy chili powder. This is one of the best types of Vietnamese street food we have tried, hands down.
8. Banh mi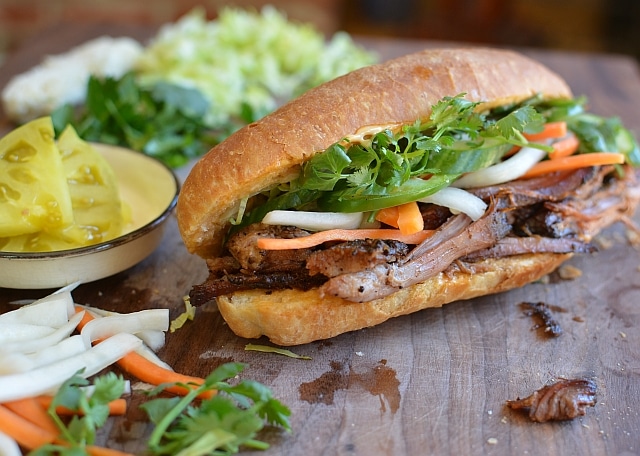 Credit: Flickr
This is our go-to order. While Americans like to play it safe and stick to pho and banh mi, there are some really good types out there. Don't get us wrong. Sometimes the most simple foods are the best ones. We're all learning as we go, right? The French might have introduced the baguette to Vietnam but the country's culinary scene takes it to a new level. The kind of food you eat all depends on how creative and adventurous you are feeling.
9. Bot chien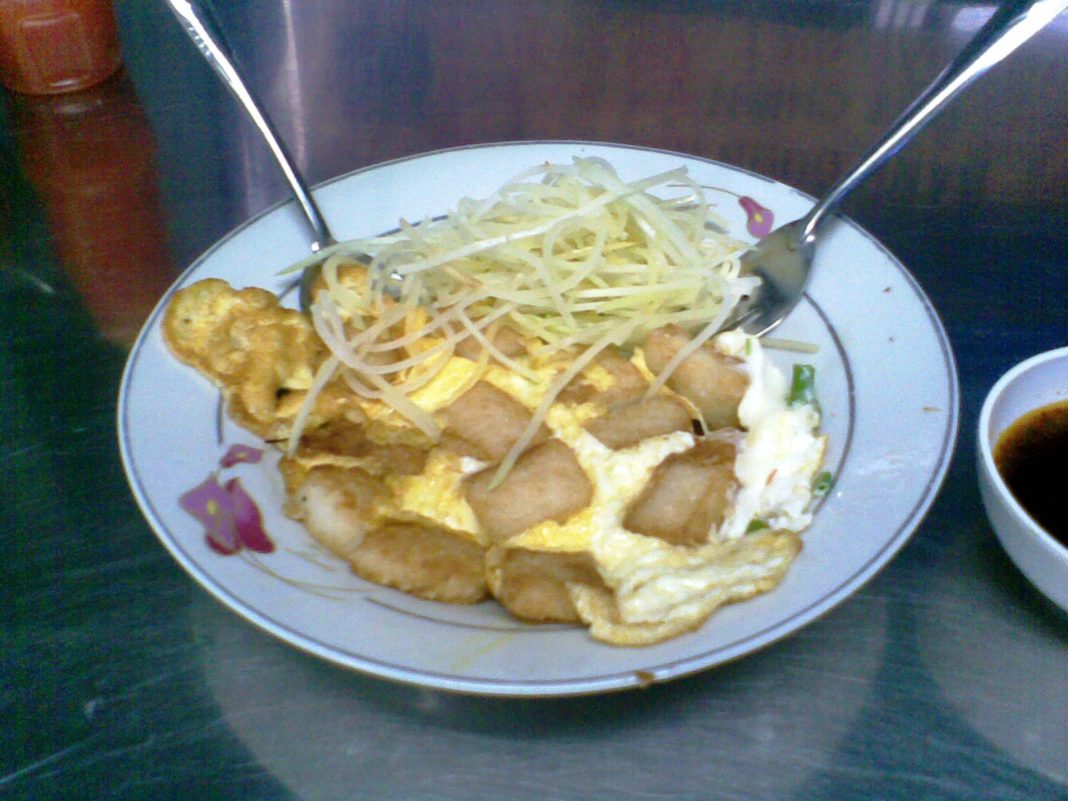 Credit: Wikimedia Commons
Have you ever heard of bot chien before? It's the favorite snack of locals in Ho Chi Minh City. This treat is made from chunks of rice flour deep fried in a wok until they are crispy along with an egg. Once everything is cooked, bot chien is served up with sweet fruits like papaya, along with vegetables like onions. Finally, chili sauce and vinegar are added for the final touches of flavor.
10. Ca phe trung
Okay, so this is technically a kind of coffee. Well, sort of. This Vietnamese egg coffee is a must-try on your travels. Even if you don't consider yourself a cup of joe morning person, you've got to try it for the experience. The beverage itself is more dense than your average cup of hot coffee. But that's not all. Floating on top, you'll sip through a layer of creamy egg white foam. So what's actually in it? Egg yolks, sugar, condensed milk, and robusta coffee. Consider it liquid heaven.
11. Nom Hua Chuoi
Not into the meaty dishes? That's okay. We've got you covered. Vegetarians can delight in the delicious dish nom hua chuoi. The name translates to mean banana flower salad. But oddly enough, you won't find bananas in it. The banana flowers mentioned are actually the purple flowers hanging at the end of a banana blossom. While they make a unique treat, the key ingredients to this refreshing vegetarian blend are actually lime and chili. Even if you're not a vegetarian, this very well could become your go-to dish.
12. Vietnamese Coffee
Consider this a bonus. We're hooked on Vietnamese coffee and chances are, you will be too. While it may not be a meal, this is more than noteworthy. We're happy to say that the coffee culture is thriving in Vietnam. For the locals, an espresso isn't worthy of being called a good cup of coffee. Here, it's all about satisfying your sweet tooth. And that's a motto we can get behind.
Remember we mentioned their dense robusta coffee? It's made from robusta beans and is so thick, you could almost scoop it up with a spoon instead of drink it. Condensed milk is often added to the coffee blends to bring out the flavor and give just the right amount of creaminess. It's typically served up chilled as a dessert following a good meal. But why wait? Treat yourself whenever you'd like.
Plan Your Trip and Indulge in the Best Types of Vietnamese Street Food
Vietnamese street food is incredibly diverse. With so many tasty dishes and drinks to choose from, it was hard to narrow down my list to the top picks. While you're there, make sure to sample as many dishes as you can. Seek out authentic places to try the dishes. Ask for the local's recommendations. Or when you're feeling creative, put your culinary abilities to the test and try to cook up some Vietnamese street food recipes on your own. If you're looking for more places to visit, check out our picks for the best places to travel.
We hope you enjoyed reading our article of the best Vietnamese street food to try. Now, it's time for a taste test. While you can certainly try your hand at these recipes at home, we recommend the real deal. Even from this simple list, it's easy to see that cuisine is incredibly diverse. This food is incredibly diverse. It's time to visit Vietnam. Make sure to read up before your trip and travel smart.
Related Article: Vietnam is an Affordable Travel Destination