Guys, when you're traveling, you need multipurpose shoes you can use both casually and formally. The productive features of the Rockport Men's Eureka Walking Shoe allow you to save a good amount of money and skip buying a second pair of shoes you don't need.
A quality pair of shoes can make all the difference when it comes to style, comfort, and a comfortable walking experience. When you're in need of shoes that don't kill your feet and tie an outfit together, the Rockport Men's Eureka Walking Shoe is a solid choice. Sure there are lots of shoes out there but honestly, we're really happy with this pair.
Description
Look like you're dressed for the weekend all week long. The Rockport Men's Eureka Walking Shoe combines comfort with the sleek sophistication of an everyday walking shoe. Extra padding provide stability and comfort to the feet through the midsole, collars, and tongue of the shoe. In addition, these shoes come with a detachable inner sole for the utmost flexibility. Even after walking around the city for several hours, foot fatigue is at a bare minimum. Take them from the streets to a fancy dinner with ease.
Features and Benefits of the Rockport Men's Eureka Walking Shoe
Leather material

Sleek and stylish design

Synthetic premium sole

check

Flexible upper

check

Extra padding for stability in midsole, collars, and tongue of the shoes

check

Breathable mesh lining

check

Foam footbed made from latex

check

Heel stability ensured by San Crispino construction
Appearance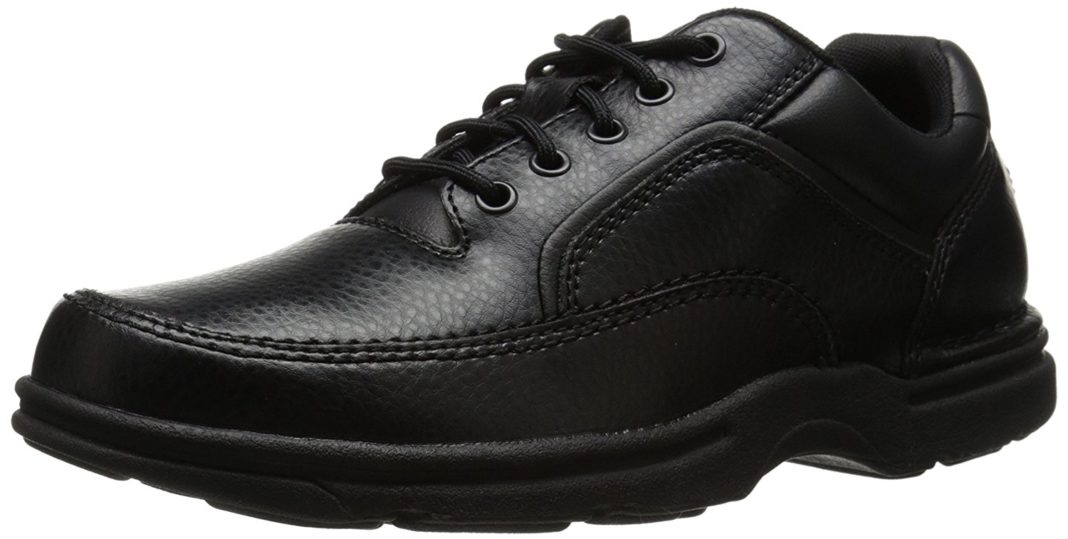 Credit: Amazon
Look it over. The Rockport Men's Eureka Walking Shoe is somehow both durable and attractive. Imported materials lend to a solid construction and give it a well-balanced look. The lace-up vamp provides a customized adjustment facility along with a heavily padded tongue so your feet feel nothing short of cozy. Additionally important to note, the shoes come in four different colors, including black, brown, chocolate, and chocolate nubuck.
Outer Sole
Credit: Amazon
Rockport Men's Eureka Walking Shoe was designed for you to walk comfortably. Due to the flexible rubber sole, they are capable of gripping the ground on various types of terrain. Expect a non-slip walk without any trouble.
Soft and Stable
Credit: Amazon
Premium materials provide for an easy slip-on, glove-like fit. Biomechanically designed outsoles support your natural walking motion while providing the stability you need without limited freedom of movement. Stable for all life's unexpected movements.
Extended Sizes and Widths
Credit: Amazon
The Rockport Men's Eureka Walking Shoe is now available in extended sizes. Enjoy traditional comfort that will feel good all day long, available in wides.
What Travelers Have to Say About the Rockport Men's Eureka Walking Shoe
If you travel a lot, especially carry-on only, you're going to love these shoes. You can save yourself tons of space in your bag, since they serve a double duty as both sturdy walking and dress shoes. They're also very sturdy and come at a good price. When you're pounding the pavement in a foreign city trying to hit up all the sites, these shoes will keep your feet comfy all day. The extra oomph of style never hurts either.
Other Comfortable Shoes That Are Perfect for Traveling
When you're traveling and walking long distances, it's important to have a sturdy, durable pair of walking shoes. The Brooks Addiction Walker offer just that. However, if you want to look around a little bit longer before you make your purchase, we've added in a few other top-rated shoe styles that are perfect for travel. Don't sweat it. We've got you covered. Check out these picks for some of our other favorite men's travel shoes.
Brooks Addiction Walker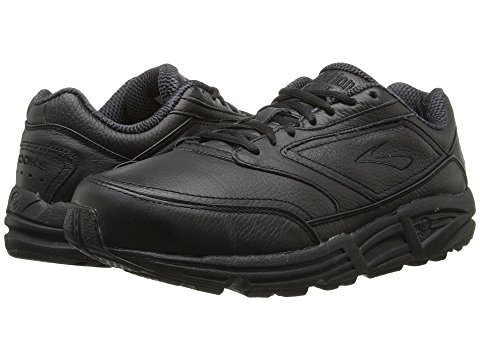 If you're looking for another solid walking shoe that can cross over into the dressy sector, the Brooks Addiction Walker should be your style of choice. Designed to support your low arches and control for your overpronation, this casual yet contemporary walking shoe feels great whenever and wherever your everyday takes you! Supple full-grain leather or velvety nubuck upper affords durability and comfort. Fabric lining with removable sock liner for your convenience.
Quality
Brooks has always been associated with its high-tech footwear. This is also true for the Brooks Addiction Walker. Putting aside the leather upper, two other notable features include the skid resistant and eco-friendly HPR Green Outsole. In addition, this shoe is also well known for its durable and adaptable BioMoGo DNA MoGo midsole.
Let's Take A Look At the Tech
The engineered MC Pod Configuration enables the midsole and outsole to set the foot up in an efficient and balanced position offering maximum motion control and flexibility from heel strike through toe-off. Last but not least ,the durable HPR Green™ outsole is comprised of environment-friendly silica compound and offers premium wet-dry traction for skid-resistance.
Other Important Info
With a four and a half out of five-star rating, the Brooks Addiction Walker shoes speak for themselves. In the reviews, travelers praised the durable construction, arch support, and shock absorption. What particularly stood out to us was the number of reviewers who said the shoes helped to alleviate symptoms of plantar fasciitis.
HydroFlow Technology
Have you heard of HydroFlow® technology? It enhances midsole cushioning and shock absorption with the added placement of dynamic gooey fluid units in the heel and forefoot. Full-length innovative MoGo midsole compound provides a soft yet stable cushy feel that offers increased cushioning and energy return. Extended Progressive Diagonal Rollbar (PDRB®) presents a robust, dual density.
Mio Marino Men's Dress Shoes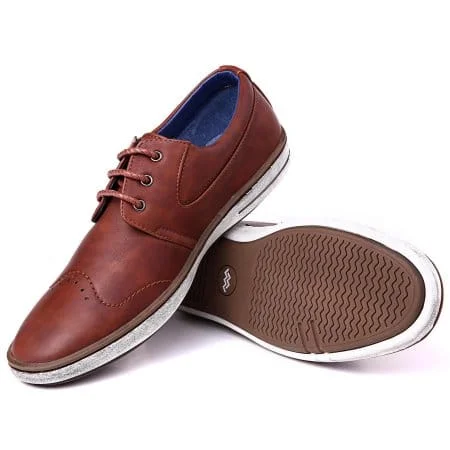 Enter a third pair of excellent men's walking and dress shoes. The Mio Marino style really does offer it all. The Mio Marino Men's Dress Shoes are designed for both style and comfort. First off, they're super comfy. You get to pamper your feet with an amazing pair of men's oxford shoes. The construction offers the utmost comfort, the sole is made from an oh so good high-quality rubber and best of all – there's a sweat-free breathable insole.
From the Streets to Fancy Eats
You can easily take these shoes from exploring the streets to a fancy Italian dinner. It's the new dress code. This is the modern makeover of stiff dressy shoes that need to "break in" while suffering, match these business casual shoes for men with your formal attire and party wear.
They're Great for Walking In All Day
Furthermore, walking around all day in these shoes won't kill your feet. They're custom tailored. The Mio Marino Men's Dress Shoe is constructed with man-made leather material. There are a variety of colors to accommodate your style. Last but not least the Mio Marinos is made in half size to ensure a perfect fit. Please keep in mind that Marino shoes run just a bit larger than usual.
Mio Marinos make a great travel gift for that special someone. They're presented with care. Gift lovingly with the men's casual dress shoes! All shoes are mailed in a reusable travel bag, so you can travel with ease and explore 'places' – a signature gifting experience.
Money-Back Guarantee
It's a risk-free purchase. Mio Marino's mission is for you to be fully satisfied with your purchase. That's why they offer 45 days for free exchange and returns. In addition, all our their items have 180 days warranty.
Nike Men's Tanjun Sneakers
Okay, so these aren't nearly as fancy as the other three but you can definitely still dress them up. The athleisure trend is still alive and well people. Pair these sleek black Nikes with tailored dark jeans, a nice shirt, and coat and you can wear them just about anywhere.
Style and Leisure
Style and leisure come together with the simplicity of the NIKE Men's Tanjun Sneakers. Fans of the Nike Roshe will love these. The lace-up front and Swoosh branding hold true to the classic style. A sleek minimal look makes it easily transferable from the streets to more formal settings, and the coloring makes it easy for styling.
A padded collar and tongue prevent ankle rubbing while the textile lining and cushioning insole bring shock absorption and cushioning for your arches into the mix. Travel reviewers described them as light, cool, comfortable, and maybe even flawless.
Go Buy A Great Pair of Travel Shoes For Your Next Adventure
This is important people, listen up. Investing in a great pair of travel shoes is critical for being comfortable on your trip. This article covered details about the Brooks Addiction Walker shoes and also provided some information about alternative men's travel shoes on the market.
We hope you enjoyed reading about the Rockport Men's Eureka Walking Shoe and our alternative style recommendations. If you are interested in more travel shoes, check out the Nike Air Max 97 Ultra 17.
Questions and Comments
Do you have any questions or comments for us? If so, we'd love to hear them. Perhaps you have a favorite travel shoe brand you'd love to share. Feel free to leave us a message in the comment section below. We love hearing from you.
Related Article: Most Comfortable Sneakers For Fashion-Conscious Travelers