Hawks Cay Resort is the Florida Keys Destination that Will Be the Key To Unlock Your Heart
Aquamarine water, boat rides, awe-striking sunrises and sunsets, snorkeling, and paddleboarding can all be found within this Florida resort. And oh does the list go on. Dolphins will be waiting expectantly outside your door. Vibrant color reefs will be waiting just as expectantly in the water below. The entire Hawks Cay Resort is eager for your arrival.
Situated on the island of Duck Key in Florida is Hawks Cay Resort. Hawks Cay provides everything a traveler could desire in a Florida vacation. There are activities for travelers of all ages and skill levels on the property. We know kids will love it here, as will adults. The resort is accessible by land, sea, and air, so there shouldn't be any difficulty arriving at Hawks Cay. There is much to do on the island (or not do if travelers wish to do nothing at all and only relax during their stay). We encourage you to check out this resort in the Florida Keys for a memorable vacation.
Accommodations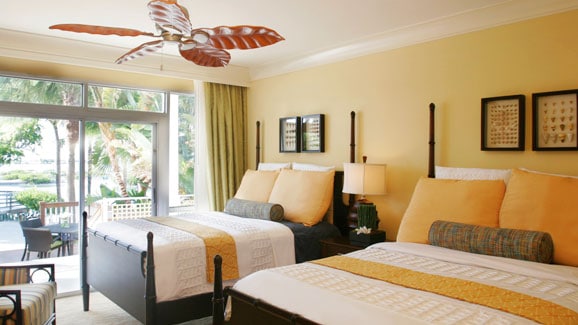 At Hawks Cay Resort, guests can choose from several guest room and villa options. Within each, classic Caribbean décor and design fill the space. Rooms and villas are relaxing, comfortable, have complimentary internet access, and offer beautiful views just outside their windows. Hawks Cay Resort also offers penthouse suites and specialty villas for guests who prefer more spacious and luxurious accommodations.
Depending on what part of the island you stay on, you could be looking out onto the harbor, the marina, or a clear view of the setting sun. On the resort property, there are a number of villages to choose from. These include Harbor Village, Marina Village, Sanctuary Village, and Sunset Village. Each one provides special and memorable views from that part of the island.
If you foresee yourself spending a lot of time fishing, at the boardwalk, and meandering around the quiet canals, then book a room in Harbor Village. This village is but a short walk from the main resort's amenities and activities. Another option for fishermen is the Marina Village. Here, guests can watch as fishing boats set off on voyages and return with a catch. At the marina, there is also a quaint water-front promenade for guests to wander about in.
The villas within Sanctuary Village are the perfect pick for travelers seeking refuge. Within this tucked away village there is a secluded garden area, a private pool, and more. Travelers in need of recharge can relish in the silent space provided at Sanctuary Village. Finally, the Sunset Village provides – can you guess? – unmatched views of the sunset. Watch blue skies turn into burnt orange and creamy pink as the sun descends upon the Pacific.
Amenities at Hawks Cay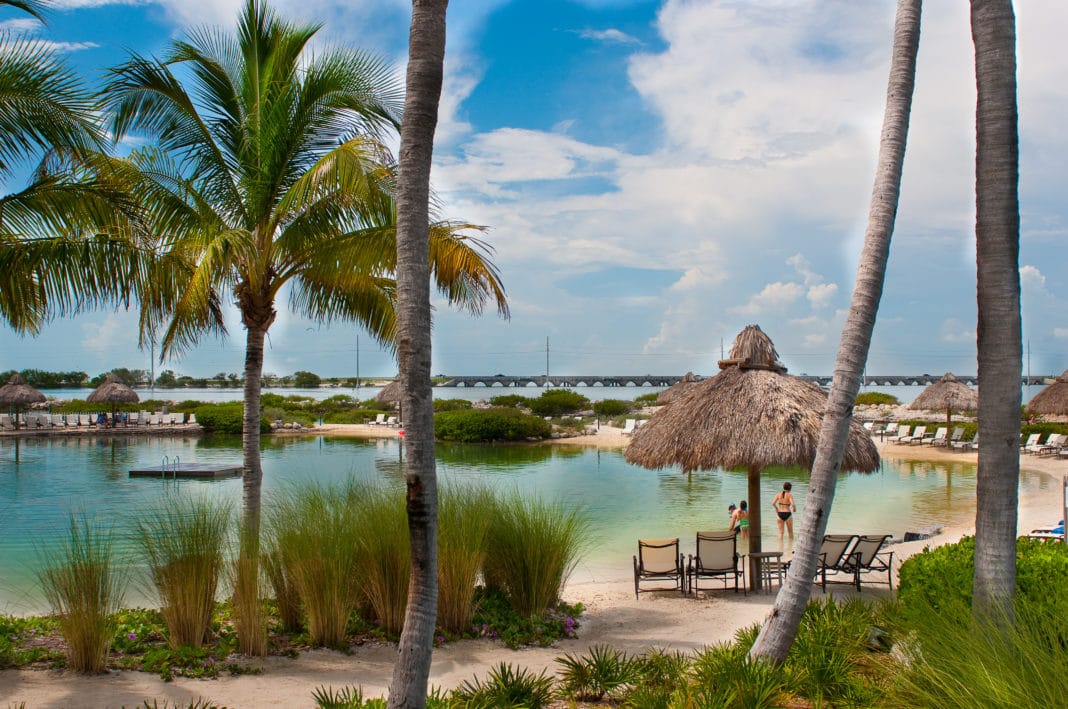 Feel like relaxing? There is no better place than at Calm Waters Spa at Hawks Cay Resort. Calm Waters Spa creates the soothing atmosphere that guests are looking for. There are traditional and locally-influenced spa treatments at Clear Waters for guests to enjoy. When the family goes out boating, fishing, or to the beach, come breathe at this rejuvenating spa. Hawks Cay also has a Fitness Center that all guests have complimentary access to. The Fitness Center supplies all of your favorite fitness equipment, as well as personal training and group fitness classes. Just note that the Rise & Shine Boot Camp, the Afternoon Boot Camp, and the Personal Training Sessions will all cost you extra.
At Hawks Cay Resort, guests will also find five breezy and beautiful swimming pools to visit. However, these are not your ordinary swimming pools. Each pool brings its own style and uniqueness to the resort. Families will be blessed by the music, entrainment, games, and food & beverage services at the main Resort Pool. On the opposite end of the spectrum is the adults-only Tranquility Pool. Should you be seeking extra shade and solitude, Tranquility Pool will provide you with just that. Private Ship Pool is one that features slides and games for all of the little swimmers you are traveling with. Coral Cay Pool is a pool nestled within tropical gardens that is an oasis for travelers. Sunset Pool provides a front-row seat to the changing sky in the evening. Above all, the Saltwater Lagoon is really where travelers need to be when at Hawks Key Resort. Why? We will tell you…
Activities on the Island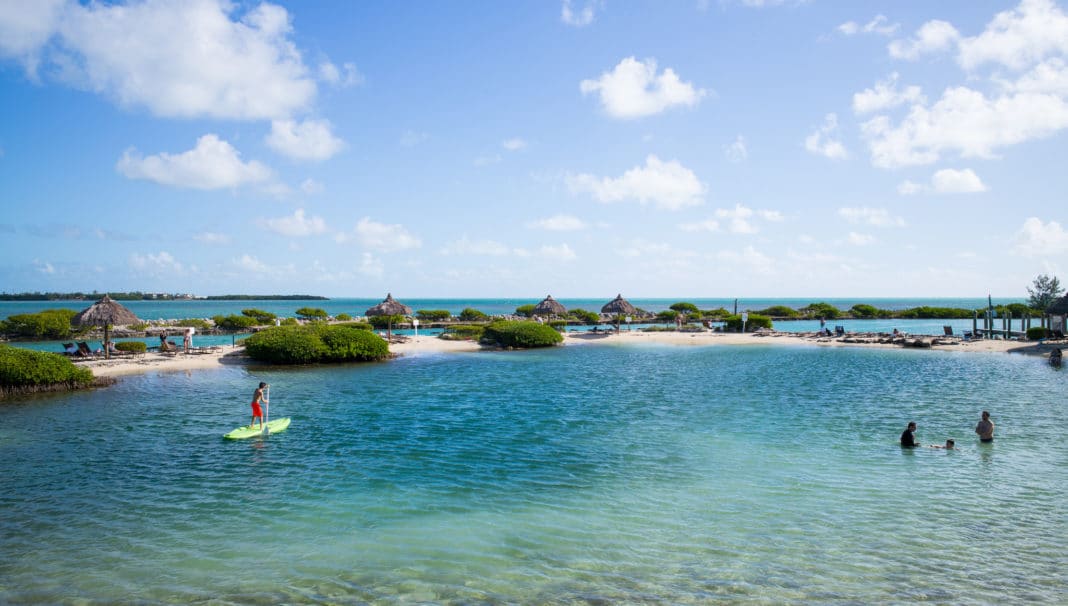 The Saltwater Lagoon is more than a place to dive into when the sun is blazing. Here, guests can choose to paddleboard, watch dolphins, sit on the sandy shore, and more. At the Lagoon, kids can enjoy setting sail on tiki boats too! There is also snorkeling for those hoping to investigate the tropical underwater world of the Florida Keys. At the Lagoon, guests may even find sea turtles swimming up to greet them. There are plenty of activities for travelers to participate in while staying at Hawks Key Resort. Fishing, jet skiing, kiteboarding, yoga, tennis, and scuba diving are all available for the active travelers. And that is just scratching the surface of all that is offered!
One of the resort's main attractions is the Dolphin Connection program. This on-site marine conservation program is where education and excitement meet. Guests can learn how to train dolphins and even get up close to one of these bottlenose dolphins. Zip up your wetsuit and take a swim with dolphins, or admire these magnificent animals from the dock. Reservations will be required for any of these dolphin experiences. However, they are easy to schedule before you arrive at the resort, or while you are on the property.
Families traveling with kiddos, we know your young travelers will be pleased to discover the many activities for kids and teens. The Coral Cay Activities & Adventure is a kid's club that offers yummy food, sports venues, swimming pools, and more! Kids will have many opportunities to meet fellow kids their age at Hawks Cay. The resort even provides full day camps for guests ages 5 to 12.
Dining Options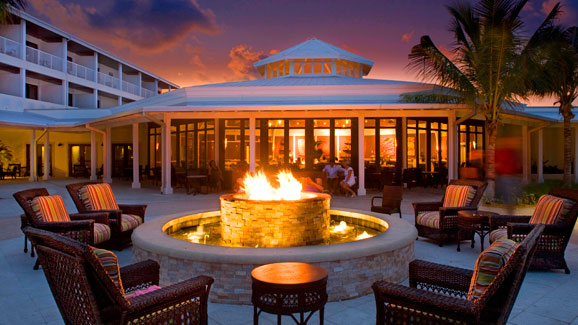 The restaurants at Hawks Cay Florida serve fresh, tasty cuisine with impeccable service. Each of the restaurants on the property provide a diverse menu and setting for guests to dine in. For breakfast, dive into the endless buffet at Ocean Restaurant. After lounging on the beach watching snorkelers swim through the waters and boats glide by, grab lunch from Beach Grill. Guests wanting an intimate setting can head to Alma Restaurant for dinner. Couples will enjoy the intimate atmosphere as well at the flavorful meals served at Alma.
Angler & Ale is the best restaurant for families to dine in, as well as the best place for a large gathering of friends to hang out in. Another family friendly dining spot at Hawks Cay is Coral Grill. All of the quick and casual meals of sandwiches, wraps, burgers, fries, and PB&Js will delight your taste buds after a busy day in the sun. Finally, when you are in the mood for a quick snack during the day, check out Dockside Snack Shop or the Island Time Coffee Bar.
Weddings, Meetings, and Special Events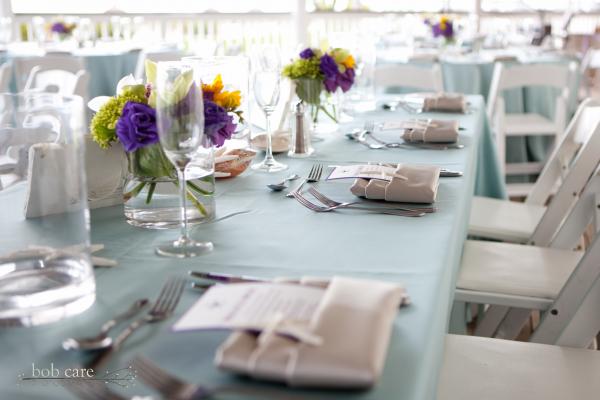 Dreaming of getting married in a tropical paradise right next to this clear blue water? Make your dream a reality! Hawks Cay is an ideal destination for Florida weddings where couples can tie the knot amid beautiful, romantic surroundings. Couples can hold their ceremony on the property as well as host their reception in one of the indoor or outdoor venues. Not only is Hawks Cay Resort the perfect spot for weddings, but it is also the perfect place for reunions, meetings, and conferences. Between the beach, the dolphins, the fresh seafood, and all the activates available on the resort, travelers coming to Hawks Cay for a wedding, a family reunion, or a business conference will all quickly fall in love with the Keys.
Ready for your trip to this Florida Keys Destination? We are sure you will enjoy your time at Hawks Cay Resort. Those wanting solitude and rest will find that here. Also, those wanting to stay active will find that here as well. We love the diverse options at Hawks Cay and think you will too. On your trip, be sure to stop by the Dolphin Connection program and also take advantage of the snorkeling and scuba diving activities that are available!
Who is interested in journeying to this resort as their next vacation destination? Share in the comments about how you would spend your time at Hawks Cay.
Related Article: Top 11 Florida Beaches for Your Next Vacation