Seeking stylish, durable luggage? Enter the Hartmann Luggage Tweed Legend Journey Expandable Spinner.
So what makes this suitcase a great pick for the road? Clearly, it's more than just an attractive travel accessory. We understand that you need to get from point A to point B. But you don't have to sacrifice aesthetics for function. The Hartmann Luggage Tweed Legend Journey Expandable Spinner is made from stain and water resistant fabric to protect it while you're in route. Why shouldn't it get praise for both its classic style and functionality? Let's take a look at the features and benefits it has to offer and see if it is the right fit for you.
About Hartmann
Ever since their founding in 1877, Hartmann has been a leader in the travel accessories industry. Today, they are widely known to produce some of the best luggage on the market. Fine quality leather and luggage are here to meet your ever-changing travel needs. For the folks over at Hartmann, luggage should be both practical and a fashion accessory. Their beautiful yet ergonomic designs are the choice of discerning travelers everywhere. The finest materials and functionality come together in a way that truly reflects travel needs and the brand's American heritage.
Hartmann Luggage Tweed Legend Journey Expandable Spinner Features & Benefits
Material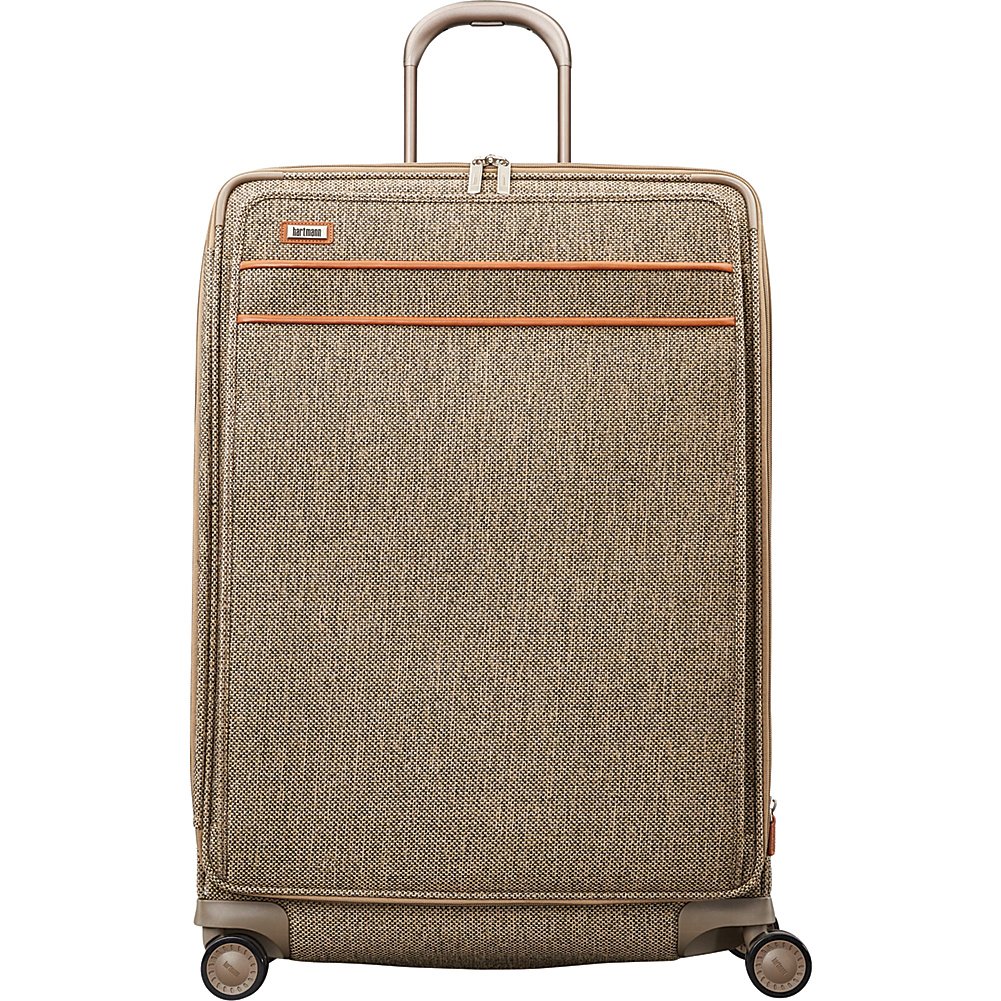 Credit: Amazon
As we mentioned earlier, the Hartmann Luggage Tweed Legend Journey Expandable Spinner is made from nylon tweed fabric. Not only is the material water resistant but it is stain resistant as well. That means when you're rolling your bag down dirty streets in Europe or rushing to catch your flight in the airport and spill a little bit of coffee, you'll be okay. In addition, the signature figure 8 handle and trim are made from the finest rich, top quality leather. At the back of the bag, you will find a small leather slot for your luggage card.
Suiter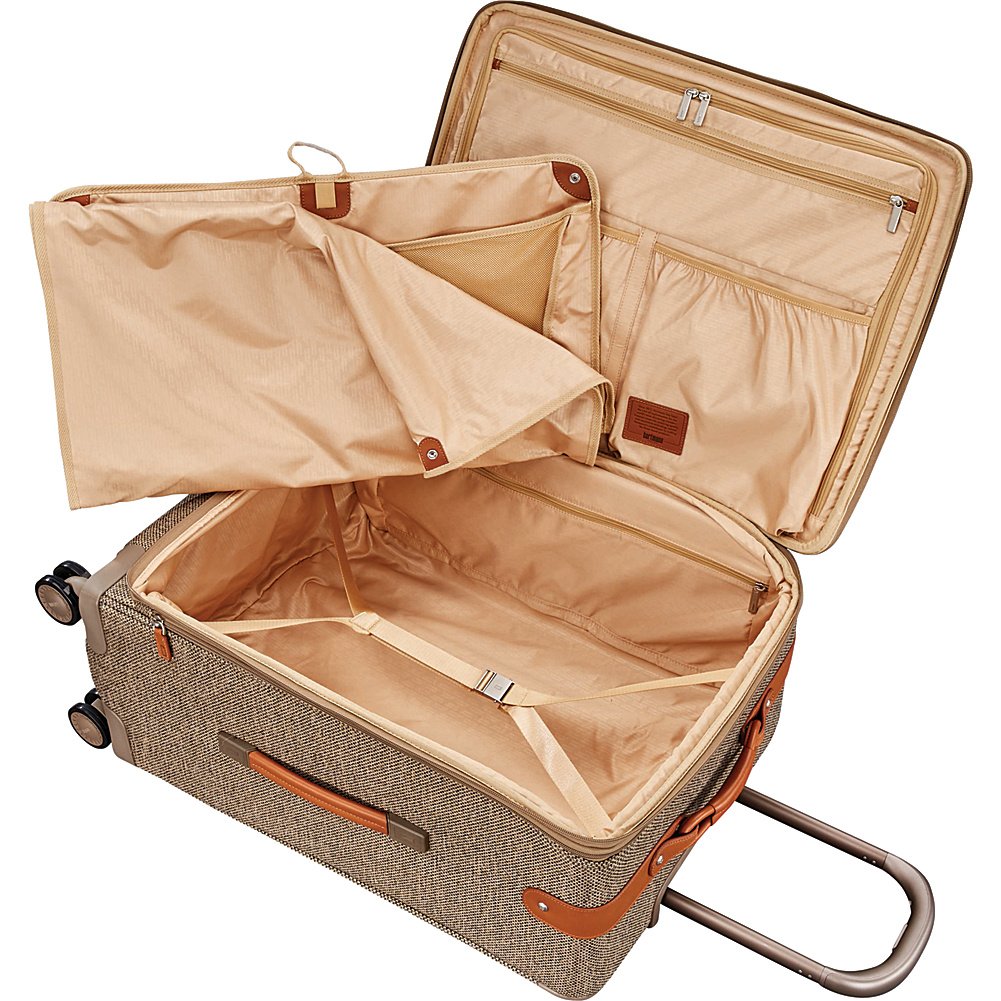 Credit: Amazon
If you're traveling with garments you'd like to keep wrinkle free, you're in luck. Inside the bag, you will find a trifold, padded suiter. Keep the hangers on your clothes if you'd like and then pull it out for easy access. When you remove the suiter, you can also use it as an additional storage or organizational compartment.
Wheel Design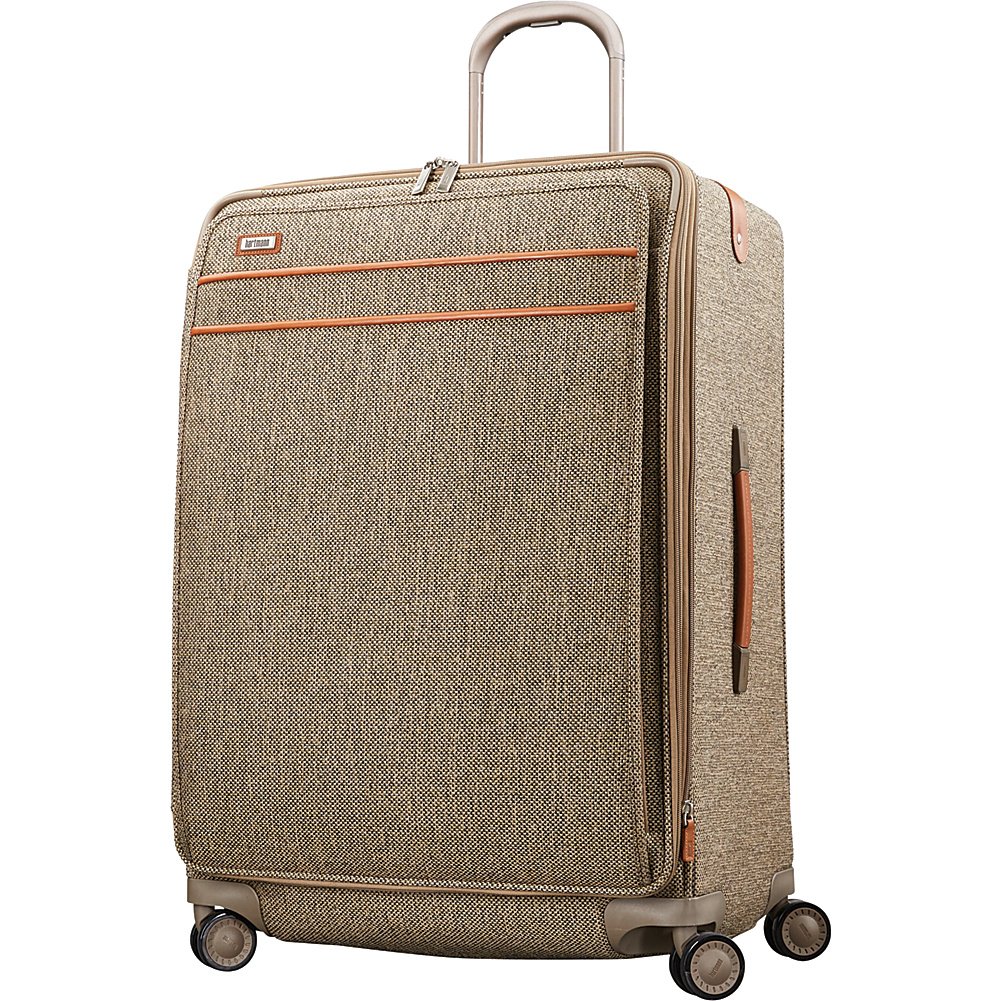 Credit: Amazon
Have you seen the revolutionary wheel design on the Hartmann Luggage Tweed Legend Journey Expandable Spinner? Hardened steel wheels provide the utmost in both stability and maneuverability. The four wheels can rotate around 360-degrees, providing an easy way to roll your luggage along wherever you go. We're big fans of spinner luggage.
Ergonomic Handle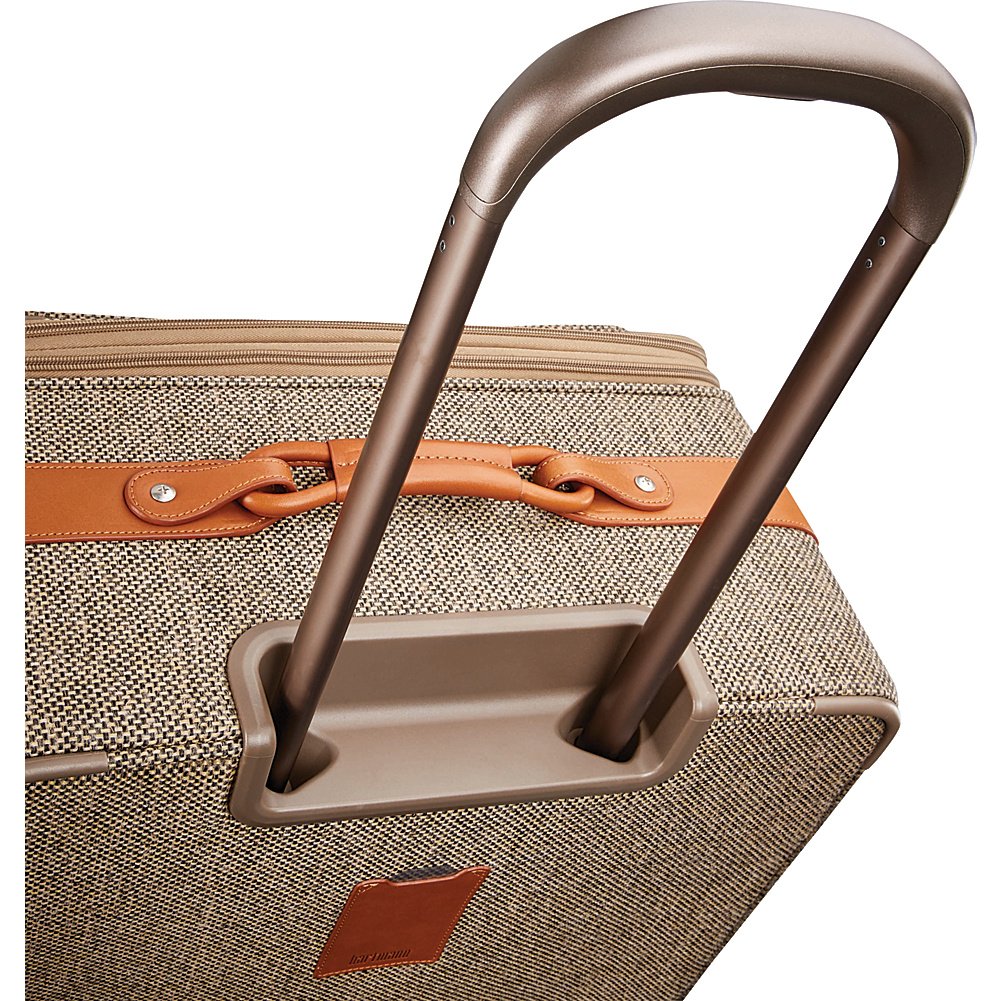 Credit: Amazon
Have you ever bought a piece of luggage that you had to bend over to pull along? After a while, your back can hurt. Thankfully, you won't have that problem here. This handle offers 12 different lock positions to accommodate different heights. The contoured pull handle ensures a comfortable, customized grip every time. The top of the bag and the side also have carry handles for convenience. This is helpful for when you need to hoist your bag into the plane's overhead compartment.
Spacious Interior
When it comes to the interior of the Hartmann Luggage Tweed Legend Journey Expandable Spinner, you will have plenty of space. With packing dimensions of 29.5″ x 20.5″ x 14.5″, you will be able to pack up to one week's worth of clothing inside with ease. Just remember, there are tips to maximize your space and stay organized. If you're looking to fit as much in your bag as possible, compression bags are the way to go. However, if organization is your top priority, then you may want to consider investing in a good set of packing cubes.
At the top of the bag, you will find one large zippered compartment and two small pouches. The middle of the bag offers a divider in the form of the removable suiter as well as non-elastic compression straps. While these might not seem super helpful from the outset, they help to keep your bag from being lumpy and hold your items in place during transit.
Tech Specs:
100% nylon tweed fabric

Signature-8 figure handle and trim are made from full-grain leather

Packing Dimensions: 29.5″ x 20.5″ x 14.5″

Weight: 13.4 lbs

Interior dimension: 29.5 inches x 20.5 inches x 14.5 inches

Exterior dimension: 31.0 inches x 21.0 inches x 14.5 inches

Overall Dimensions: 31″ x 21″ x 14.5″

Convenient carry handles on top and sides of the bag

Compression straps inside

One interior zipper compartment and two pouches

Luggage tag holder at the back
What Travelers Are Saying About the Hartmann Luggage Tweed Legend Journey Expandable Spinner
If you're looking for a simple, classic style, the Hartmann Luggage Tweed Legend Journey Expandable Spinner is just what you need. Besides offering a timeless aesthetic, it also offers the durability to get the job done. As a mid-sized luggage piece, you can pack a decent amount of clothes, accessories, and toiletries inside and still have plenty of space left over. The features that travelers seemed to appreciate the most are the removable suiter and the overall strength of the fabric. What's more convenient than having a water-resistant, stain resistant, bag?
While this bag is a bit pricey, it's a good investment. If you travel frequently, it's worthwhile. With such a durable construction and Hartmann's legacy for craftsmanship, you can rest easy knowing it will serve you well in the years to come.
Alternative Spinner Luggage That Might Be More Your Style
Samsonite Omni Hardside Spinner 20″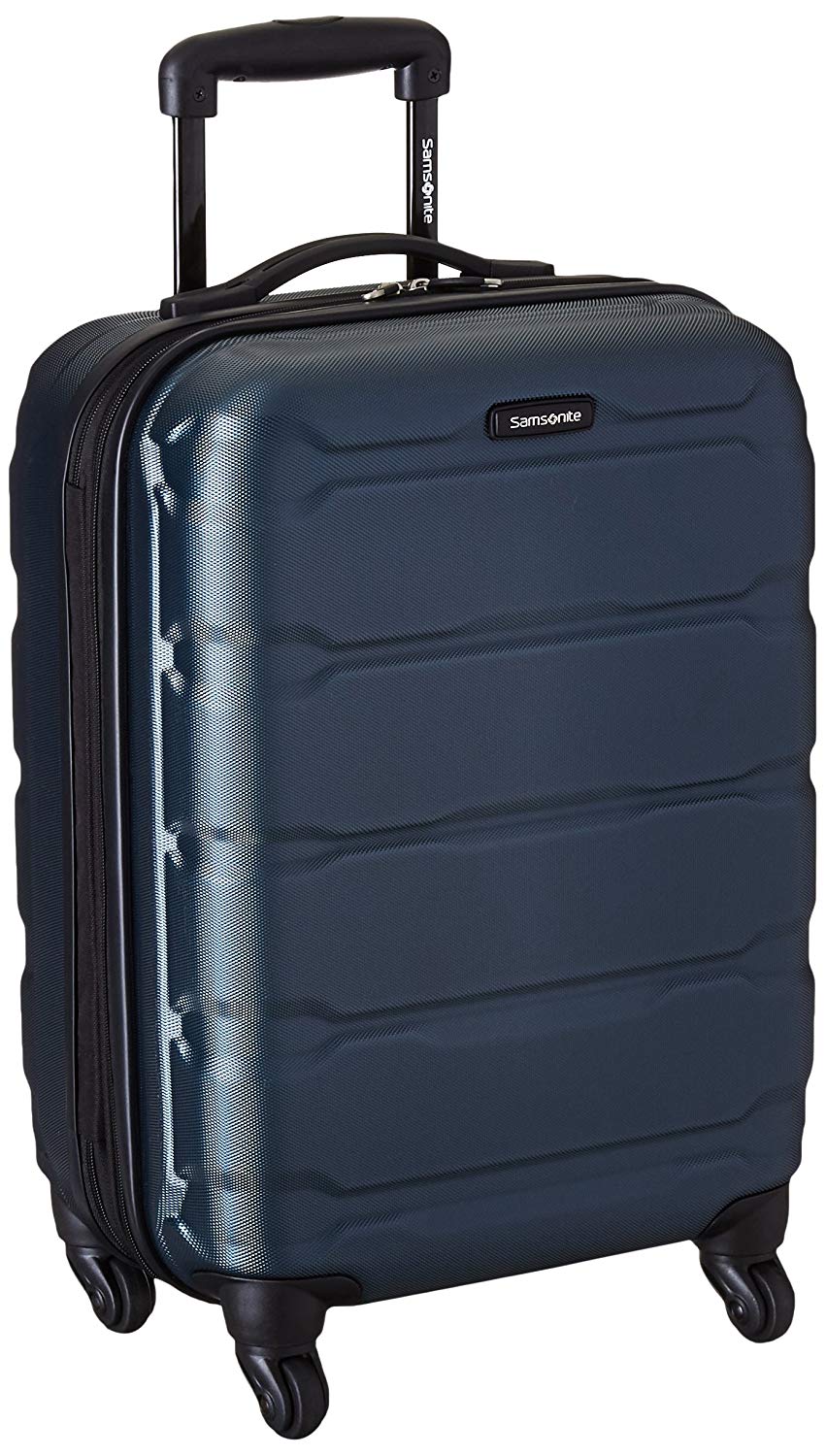 Do you know this perfectly organized travelers you see in line in front of you at the airport when you're ready to board the plane? You know, the ones who have it all together with one easy carry on, coffee in hand, and look put together? Well, you can be one of them. The Samsonite Omni Hardside Spinner 20" is just the piece of luggage you need. Instead of loading up and squishing your items into a backpack, take an easy carry on.
In addition to its ergonomic size, there are several other standout features we love about this luggage piece. First and foremost, it is made from 100% polycarbonate, offering a scratch resistant exterior. You won't have to worry about dinging up your newly purchased luggage the first time you take it out for a spin.
Second, there is plenty of room for organization inside. You will find a full-zip interior in addition to a divider and cross straps. On the outside of the bag, the TSA lock gives you peace of mind that your belongings are safe and sound. Airport security can still check your bag like a breeze. It's a win-win situation.
Re-engineered and lightweight, it's a breeze to take on your travels. Besides being the perfect size to fit into those pesky overhead bins, it also offers plenty of room inside. Measuring 22.0" x 15.0" x 9.5", you'll have plenty of space inside for the things you want most. Samsonite isn't just in the business of making luggage. Samsonite is giving you the gear you need to travel with confidence.
Tech Specs:
Scratch resistant exterior; 100% polycarbonate

Retractable handle

Lightweight spinner wheels

Full-zip interior, divider, and cross straps

TSA lock

360 spinner wheels

Expansion for extra capacity when needed

Push button handle
Victorinox Spectra 2.0 Medium Expandable Spinner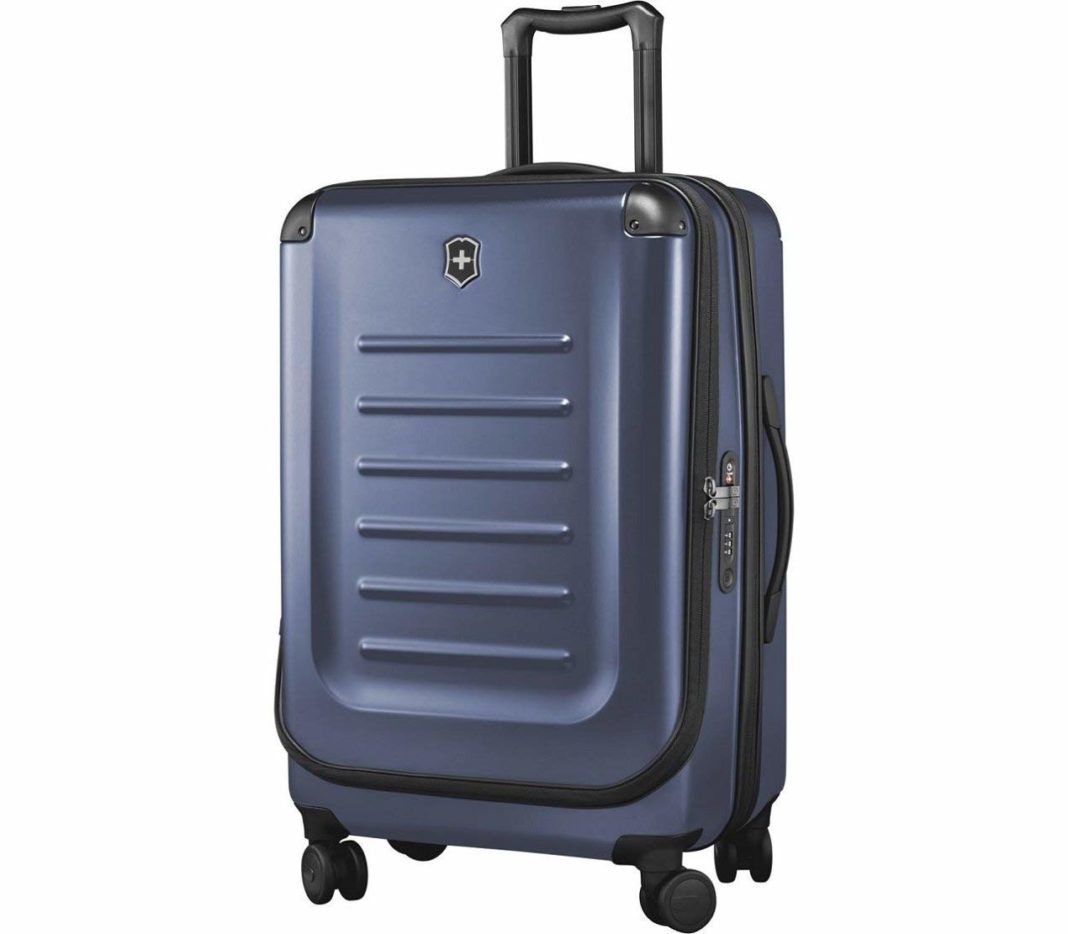 Here is another good medium-sized spinner you should consider. If you're on the market for durable compression luggage, this could be just what you need. The Victorinox Spectra 2.0 Medium Spinner can expand by up to 47%. Whether you're an over-packer or just want to cram some souvenirs in your bag for the trip home, this bag has got you covered. You don't have to stress about which items to leave at home or whether or not you'll have enough room in your bag for the goodies that you want.
Furthermore, it's lightweight and easy to carry around. Even if you pack this bag pretty full, it's still easy to maneuver. The comfortable, adjustable handle offers three different heights for travelers. Since the luggage is made from 100% Bayer polycarbonate, it's not only scratch resistant but puncture resistant too. Strategically-placed corner guards and zipper bumpers provide an extra layer of protection to areas that could otherwise be vulnerable to wear and tear.
Tech Specs:
47% expansion capacity (4.3")

Exterior compression straps

Extra durable material

Water resistant

Break and scratch resistant polycarbonate shell

Dual caster wheels for easy rolling and maneuverability

Interior zippered mesh divider walls

Access Lock Combination Recovery Program

TSA-approved combination lock

Victorinox warranty program

Swiss Tracker Bag Tracking Program
Invest in the Hartmann Luggage Tweed Legend Journey Expandable Spinner for Your Next Trip
When you're ready for your next trip, invest in a good piece of luggage like the Hartmann Luggage Tweed Legend Journey Expandable Spinner. Not only will you travel in style but in comfort too. You can rest assured knowing that this bag will hold up for all the bumps in the road that come with travel and protect your belongings. Consider us your luggage guide for all your travel needs.
Related Article: 8 Best Spinner Luggage Styles For Frequent Travelers