Gift the travelers in your life the Uni-Yeap 11000 mAh External Battery Charger Power Bank.
Or just gift yourself. We can't sing the praises of portable chargers enough. When you're on the go, it's nice to know that you can power up your phone whenever you need to. Now, you don't to worry about your phone dying when you need directions or want to capture memories with friends. The Uni-Yeap 11000 mAh External Battery Charger Power Bank is a gem.
While portable travel chargers used to be big and bulky in recent years, brands have really stepped up their game. One of the biggest things that travelers are looking for in a portable charger is portability. We love that the Uni-Yeap 11000 mAh is slim and doesn't weigh too much. After all, the last thing you want as a backpacker is unnecessary bulk in your bag.
The Uni-Yeap 11000 mAh External Battery Charger Power Bank Features & Benefits
Before diving into the features and benefits, it is important to know how much you want to spend on a charger. If you need a starting place, then it will help you to begin by considering a question. When looking for the best portable phone charger here is a question to ask yourself. It will point you in the right direction.
How much do you want to spend? Knowing your budget will be key to finding the best portable phone charger. Whether you are looking for a small, simple gift one or something that packs a punch, knowing your budget will help narrow down your options. We suggest approaching this list with a price limit in mind. That way, you will be able to knock off all the items that are out of your price range much faster and, subsequently, locate the best portable phone charger that much faster as well.
Design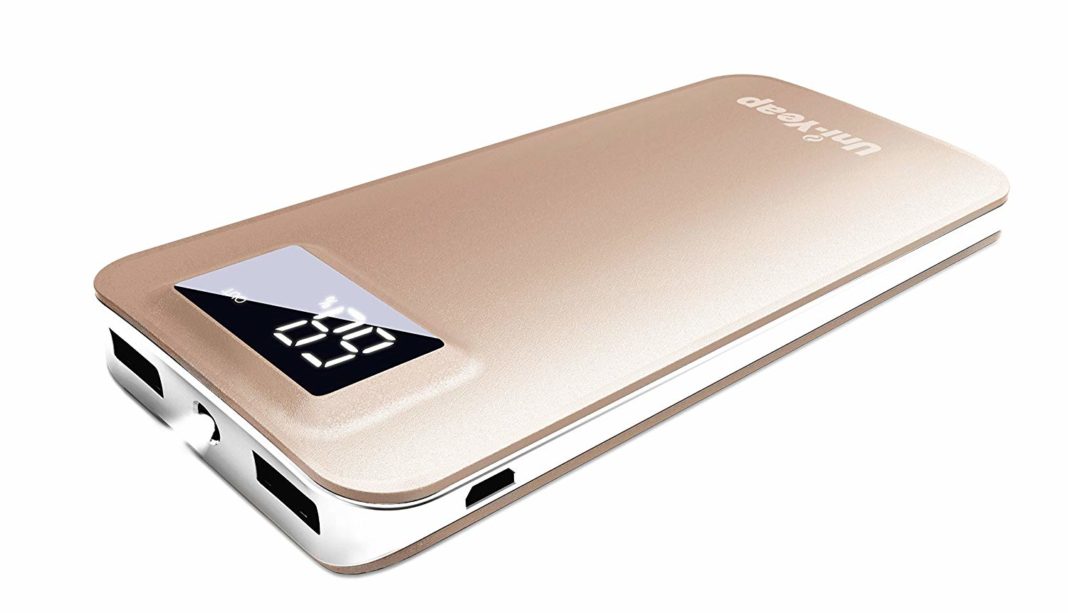 Credit: Amazon
Sleek and stylish, the Uni-Yeap 11000 mAh External Battery Charger Power Bank checks all the boxes. This power bank comes in black, gray, and gold. With a charging capacity of 11000mAh, it is well equipped to handle your charging needs whether you're on the road or off the grid. For only $17.99, this is a fantastic deal.
Power up with a smart, reliable device. Here, you'll find the best performance and battery life in a power bank. We love the handy built-in LED display. It's never been easier to see the percentage of charge.
Power Capacity and Charging Speed
Credit: Amazon
This little charger is great for your on the go needs. With its power capacity the Uni-Yeap 11000 mAh External Battery Charger Power Bank can charge an iPhone 7 about five times. It can charge the Samsung S6 about four times. Or if you're still stuck in the Pokemon Go phase, the Uni-Yeap can provide up to thirty hours of additional play time.
When it comes to charging speed, the Uni-Yeap checks yet another box. Thanks to the fast recharge time, you can skip sitting for hours at a cafe to recharge. Instead, you'll be able to power up while you're on the go. You'll never have to miss out on exploring while you're waiting to charge up again. And thanks to a dual USB port, you can charge two devices simultaneously. P.S, We have tips on how to charge your phone faster.
With the kind of quality that Uni-Yeap demonstrates, you can expect to get a lot of use out of this power bank. As a traveler, dependability in your products goes a long way. Having the right gear on a trip not only reduces stress but makes the trip more enjoyable overall. You can rest easy knowing you can charge up whenever you would like.
Look, Feel, and More
Credit: Amazon
We love that with the Uni-Yeap 11000 mAh External Battery Charger Power Bank, you get both style and function. This extremely lightweight, slim design packs a punch. Despite its minimalist appearance, a power bank of this capacity will get you far. This device is so lightweight that you can slip it in your bag and forget it's there. Overall, it's only twenty percent of the size and thirty percent of the weight of a typical lithium battery. So all in all, it's only half of the weight of other power banks of the same capacity. This is revolutionary.
Durability
Credit: Amazon
This large capacity charger goes a long way. Constructed with a durable outer shell, the Uni-Yeap 11000 mAh External Battery Charger Power Bank is made to withstand the ups and downs of travel. Equipped with surge protection and high performance charging IC, you reap the benefits of fast battery replenishment with safe use.
Tech Specs:
High-capacity charging; it's powerful; enough to charge your iPhone 7 about five times

Built-in LCD screen display

Universal compatibility

check

Extremely light and thin

check

Comes with a Micro USB cable and instruction manual

check

12 months warranty
Alternative Portable Phone Chargers You May Like
Power Jak 13000 mAh Dual USB
Is your phone battery always running out of power when you need it the most? Here's the solution. This top 10-rated dual USB charger provides durable, superior quality and won't fry your device. With faster charging and long-lasting quality, it's worth every penny. You can rest secure, knowing you have a backup battery in the event of an emergency.
P.S. If you're ever looking for tips on how to conserve your phone battery, we've got them. One of them involves using an app. Believe it or not, even the type of phone you are using matters too.
The PowerJak portable charger is a top-notch device, providing hours of backup on the go. Charge your mobile device three to five times if you need to. If you're looking for the best portable phone charger, you've found it here. This company delivers nothing short of top-notch tech.
Tech Specs:
20% more energy efficient than the average battery

Under 9.5 oz

Lifetime replacement warranty

check

Rapid charge

check

Patented IC safety technology; no short circuits
RavPower Portable Charger 22000mAh External Battery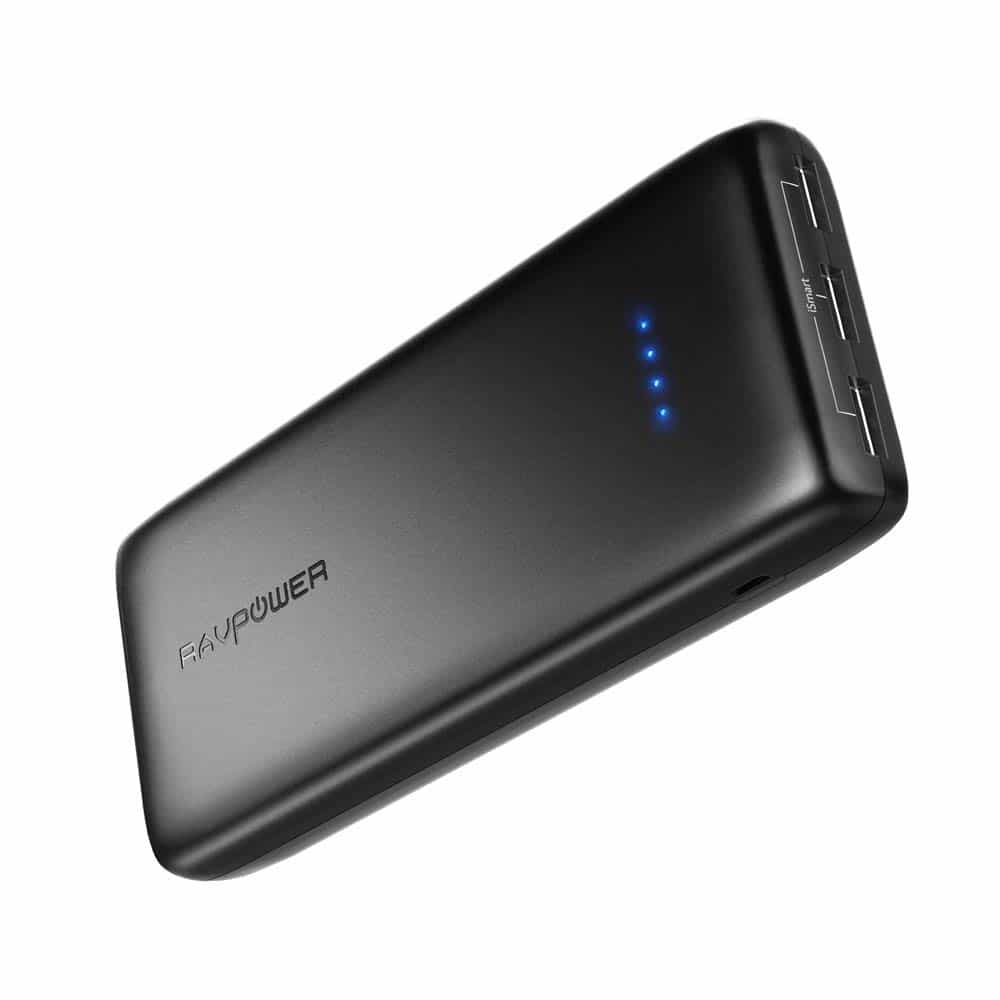 Stop worrying about your mobile charging needs. RavPower has got you covered. Enjoy ease of mind thanks to a mobile charging solution trusted by millions of travelers just like yourself. The power capacity in this device is massive – it's 22000mAh! In a nutshell, this means that it is capable of charging your iPhone 8 seven times over and your Galaxy S8 4.4 times. And with NTC protection, you won't have to worry about your phone or the device overheating. This power bank from RavPower both monitors and self-regulates its battery temperature.
The safer battery is made to last for over 1,000 charging cycles. So, needless to say, you won't have to worry about replacing the RavPower for a long time. Rest easy on your travels knowing that your phone will never run out of juice when you need it most. Surge protection adjusts the input voltage accordingly and provides circuit protection.
With a li-polymer battery, the device retains 70-80% of its full capacity even after going through more than 500 charging cycles. A fire-resistant shell is composed of the same alloy used in a Mercedes-Benz and other luxury vehicles. You can count on this quality. It comes with the same battery and controls as your iPhone.
Tech Specs:
Used in over 60 countries

Triple device charging

220000 mAh capacity

check

Li-Polymer battery retains 70-80% of charging capacity after 500 + uses

check

Lifetime warranty
Anker PowerCore 13000
Have you been looking for a good mid-capacity portable charger? Consider the Anker PowerCore 13000. With the PowerIQ, this power bank delivers an optimum high-speed charge to your devices. We love that it's not only compatible with Apple and Android phones but with tablets, cameras, and gaming consoles as well.
Thanks to its 13000mAh capacity, it has enough juice to keep you going for days. In fact, by charging your PowerCore up once, you can charge your iPhone five times over if you really want to. You'll not only have freedom from your wall charger but it's pocket friendly. Slip it into your jacket and pull it out only when you need it.
Last but certainly not least, the MultiProtect system brings 10 different safety features to the table, ensuring you have the ultimate protection for your devices. Last but certainly not least, you have superior portability.This 13000 mAh charger can be brought anywhere on the go. It's the best portable charger for your on the go needs. Take advantage of it. Anker is a company you can count on.
Tech Specs:
30 million + users powered by Anker technology

Upgraded capacity

Charges an iPhone 8 up to five times

check

Lightweight and compact

check

High-speed charging

check

18-month warranty
Invest in the Uni-Yeap 11000 mAh External Battery Charger Power Bank for Your Next Trip
We hope you enjoyed reading our article. As you can see, the Uni-Yeap 11000 mAh External Battery Charger Power Bank offers a great option for travelers in need of a phone charge. With 13000 mAh and a durable construction, you can power up throughout the day.
Throw the power bank in your backpack without thinking twice. Our alternate power bank options run the spectrum of lightweight quick fixes when you need a charge to heavier, more durable ones for when you need to refill more often. It's time to extend your battery life.
Related Article: Best Portable Phone Charger: A Travel Accessory For Your On The Go Lifestyle