Frequent travelers, you know the importance of having the best travel toiletry bag. We've all been there. You're rushing to get to the airport, double checking to make sure you have everything you need. It's been a stressful morning getting the kids ready, trying to beat traffic, and then realizing you have to print out boarding passes too. After you finally catch your flight and make it to your destination, you're wiped. As you open your bag at the hotel room to pull out your pajamas, you find your travel shampoo has leaked out all over your clothes. After one time (or maybe a few), you learn to invest in the best travel toiletry bag.
Some travelers have their morning routines down to a science and know their makeup essentials. When it comes time to travel though, toting everything you need can be a challenge. If you're taking a carry-on only, you can only fly with liquids under 3.5 fluid oz. Sure, checking a bag is different but that will cost you extra on most airlines. You need a toiletry bag that not only fits what you need but prevents spills and leaks. Luckily for you, we've found just what you need. There's something on this list for every type of traveler.
| Image | Product | Rating | Prices |
| --- | --- | --- | --- |
| | | 4.5 out of 5 | |
| | | 4 out of 5 | |
| | | 4 out of 5 | |
| | | 4.5 out of 5 | |
| | | 4.5 out of 5 | |
QUICK NAVIGATION
Why You Actually Need A Travel Toiletry Bag
We've said it before and we'll say it again. Messes stink. There's nothing worse than realizing your shampoo and conditioner leaked out all over that favorite outfit you had planned for Friday evening. When you're a backpacker and pack only the bare bones minimum, this can be really difficult. You've just landed. What do you wear? Luckily, by keeping your toiletries separated and investing in the best travel toiletry bag, you don't need to worry about spills.
Common Features of a Travel Toiletry Bag
Waterproof material

Easy to clean lining

Grab handle from exterior

check

Mesh pockets

check

Portability

check

Multiple compartments

check

Mirror inside

check

Hanging handle for shower or bathroom

check

Stylish design

check

Durable fabric material (e.g. nylon)

check

High quality construction
Things to Consider Before You Begin Your Search
What type or organization are you looking for in the best travel toiletry bag? For some travelers, it is important to be able to compartmentalize items like shampoo and conditioner in one section and makeup in another. For others, you're primarily looking for something leak-proof to protect your clothing and other items as you travel. Others yet want a waterproof fabric so they can hang their toiletry bag in the shower without worrying about the fabric soaking through. All of the bags on our list have helpful features like the ones mentioned above. Consider which features are most important to you while you narrow down your picks.
Do I Need a Travel Toiletry Kit That it Waterproof?
Let's just say that it can't hurt. It is pretty convenient to be able to take your travel toiletry kit in the shower or wherever you would like without worrying about soaking the bag through. Hang hooks make it easy to hook up the bag in the shower or hang it on the towel rack. It's a great way to make sure you have everything you need with you to get ready in the morning. That way, you won't have to go back and forth from the bathroom to your hostel room for the conditioner, shaver, and everything else you forgot.
How Many Compartments Do I Need to Stay Organized?
The answer depends on how many items you are bringing and how you want them categorized. We find that it is easier to divide up your toiletry items by their purpose and group them that way. It makes finding what you need in the morning and at night so much simpler. For example, you would put shampoo and conditioner together in one section along with your travel soap or body wash and shaver. In another section, you could store your cosmetics and lotions. And in another, you could keep your toothbrush, toothpaste, dental floss, and mouthwash.
The best travel toiletry bags will offer enough compartmentalization to make finding what you need a breeze. You shouldn't have to go fish in your bag for that one necessary travel item. Make sure you take the time to think about which features are the most important to you. Mesh dividers and individual zipper compartments go a long way in making sure you stay organized. It is also helpful to invest in a bag with an easy to clean liner. Spills can still happen inside the best travel toiletry bag, you know. Plastic liners are always easy to rinse off and wipe down. Plus, they do not stain as easily.
Here Are Our Picks for the Best Toiletry Bag
eBags Pack-it-Flat Hanging Toiletry Kit for Travel
Make the most of your luggage space with this hanging toiletry kit from eBags. The eBags Pack-it-Flat Hanging Toiletry Kit is made from a dynamic nylon fabric and features a slim style that separates into four compartments. The exterior webbing grab handle is great for those times when you need to grab it and go. There is also a center section with a mesh retainer.
This is useful to keep your items in place while the kit is hanging. To the left, you'll find a clear section made to hold those prone to leak items. The right section holds your dental care items. Finally, there are two zippered mesh pockets and an elastic pocket made for storing all sorts of small items. The overall product dimensions are as follows: 2.2″ x 14″ x 9.2″ and the four separate compartments each measure 2.25″ x 9.25″. The center section is 7.75″ wide. This is easily one of the top picks for the best travel toiletry bag.
Tech Specs:
TechLite Diamond Nylon Fabric

check

Superior quality build

check

Self-healing zippers with corded pulls

check

Slim silhouette build

check

Wear-resistant

check

Web grabbing handle

check

Removable pocket mirror

Hanging hook

Four separate compartments, center mesh retainer, left section lined with clear material
Pros
plus

Wear resistant fabric

plus

Easy to grab handle

plus

Removable pocket mirror
Cons
Briggs & Riley Baseline Expandable Toiletry Kit
You've heard of expanding luggage but have you heard of an expanding toiletry kit? That's right. With the Briggs & Riley Baseline Expandable Toiletry Kit, you get 33% more space. Designed to match your Baseline luggage, it's not only stylish but efficient too. The 2520D nylon outer fabric is tear resistant and water repellent. Twill-lined waterproof pockets keep leaks from coming.
If you have any smaller toiletries, they would fit well in the flat front zipper pocket. The webbing top handle makes it easy to carry and rubber feet keep the kit off of wet surfaces. Taking a look at the interior, you will find water-resistant lining, an expandable main compartment, and a mesh lid zipper pocket for small toiletries.
Tech Specs:
Front flat zipper pocket to store small toiletries

Expandable interior main compartment (up to 33% more space)

2520D nylon outer fabric (tear resistant and water repellent)

check

Twill-lined waterproof pockets

check

Webbing top handle

check

Water resistant interior lining

Mesh lid zipper pocket for small toiletries

Rubber feet
Pros
plus

Water resistant

plus

High quality fabric

plus

Webbing top handle

plus

Rubber feet
Cons
Bago Hanging Toiletry Bag
You've found the ultimate travel accessory organizer in the Bago Hanging Toiletry Bag. Have you been on the hunt for a way to keep all of your cosmetics, toiletries, and personal items organized and spill-free? Do you hate having to dump everything out of your bag to find that one item you really need? Well, you're in luck. Bago has got you covered. This bag is the smart solution to your traveling burdens.
This organizer will make your life so much more simple. You won't have to bring your own faulty ziplock bags for toiletries anymore or worry about leaks in your bag. There is a place for each and every one of your travel items. This bag features spacious compartments and zippered pockets. If you're looking for a good, functional gift idea for a friend or family member, stop here. This could very well be the best travel toiletry bag. This accessory organizer is perfect for a man or woman of any age who loves travel but hates the inconveniences it often brings.
Tech Specs:
Waterproof fabric

Spacious, easy to clean interior

Compact design

check

Strong stitching and zippers

check

Hanging handle

check

Mesh pockets

check

7 color options
Pros
plus

Waterproof

plus

Spacious interior

plus

Easy to carry

plus

Hanging handle

plus

Plenty of color options
Cons
4. Freegrace Hanging Toiletry Bag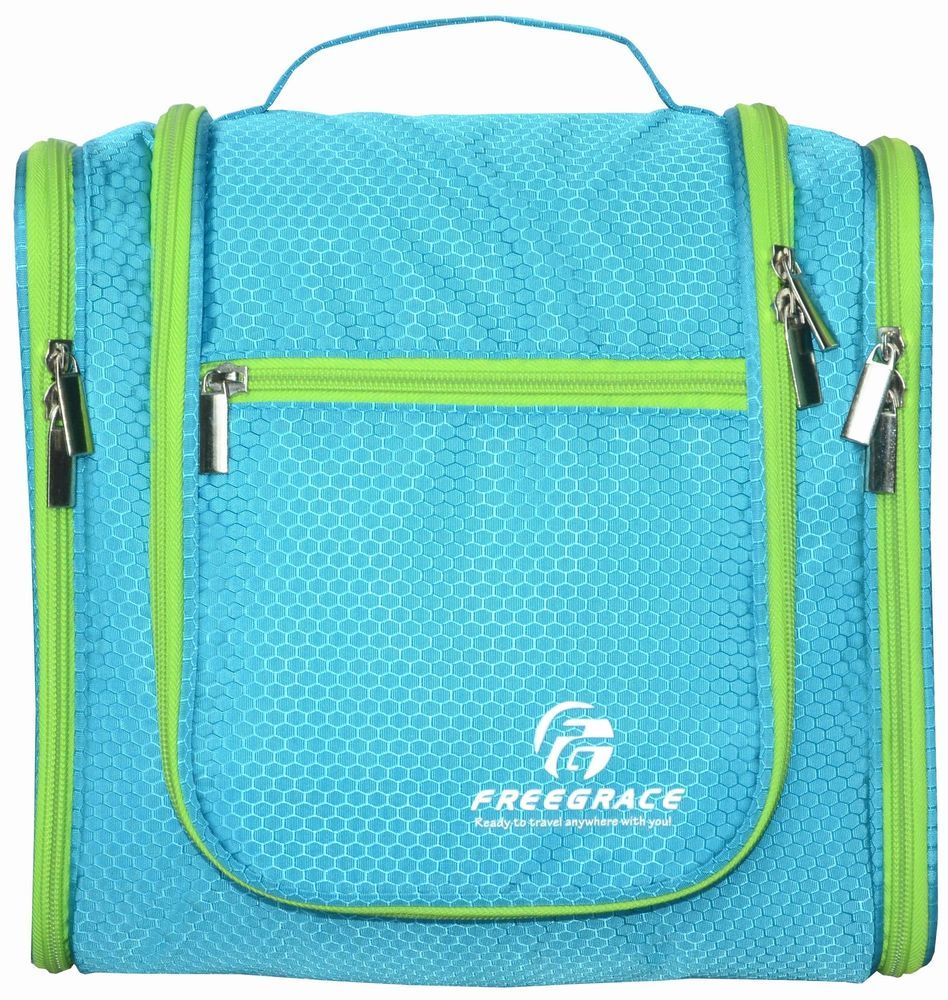 Keep all your small, messy toiletry items neatly organized and easily accessible with the Freegrace Hanging Toiletry Bag. Unlike one-unit compartment bags, this style provides multiple storage compartments. Finding what you want has never been so easy.
This bag is great for long term travel, summer vacations, and those little fun trips just because. Heck, you could even get it for your college kid's dorm room. It offers plenty of space and can also be folded down to an easily packable size. It's space-saving, stylish, and efficient. Need we say more?
Tech Specs:
Compact, lightweight body

Easy to store

Intuitive design

check

Made from honeycomb nylon fabric

90-day money back guarantee

Waterproof

Tear resistant

Top notch quality
Pros
plus

Compact and lightweight

plus

Nylon material

plus

Tear resistant

plus

Water resistant
Cons
5. AmazonBasics Hanging Toiletry Bag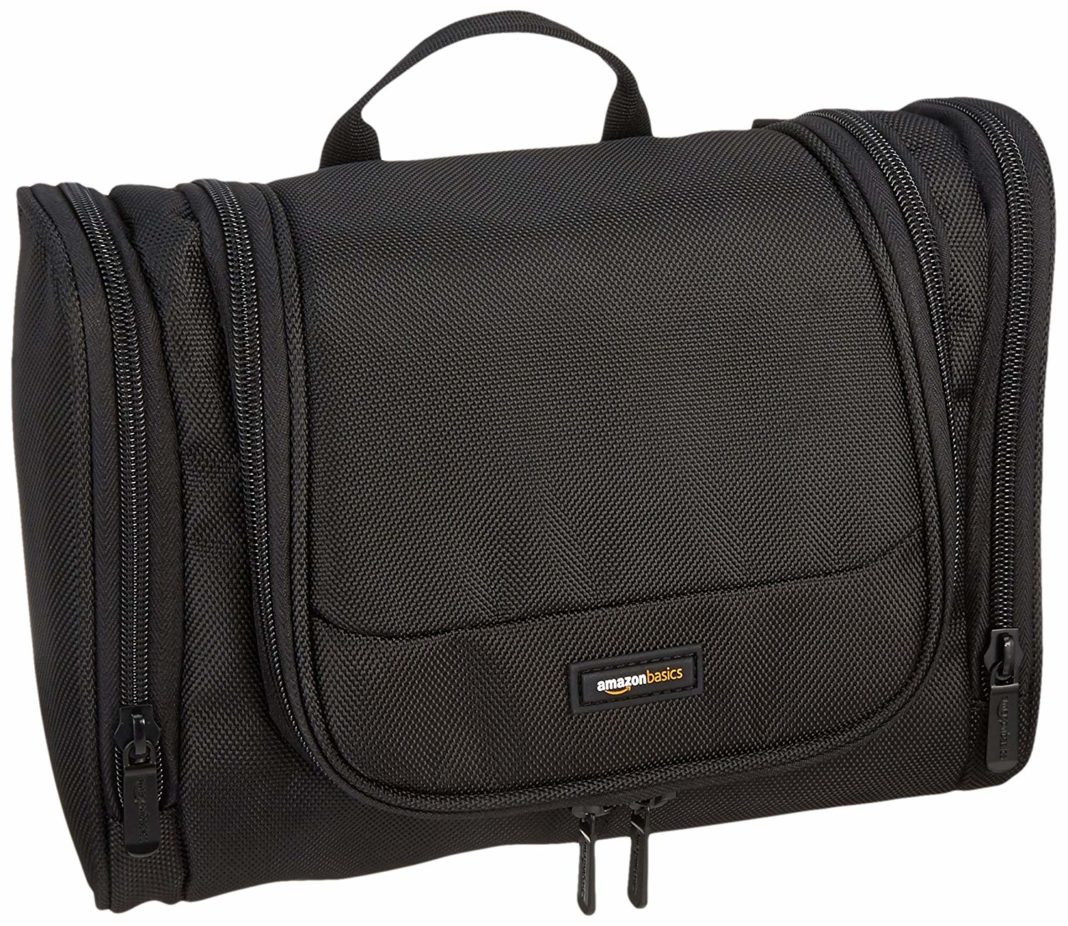 Take the time to keep your items organized. This style from Amazon is not only stylish but affordable too. Unlike those single compartment bags, this toiletry kit offers multiple pockets for you to compartmentalize as needed. It makes a great choice for all types of trips. Being portable and easy to pack, it doesn't take up much space at all but saves you so much stress in the way of messes and organization. Keep your personal items close on hand and your more important items easily accessible.
Taking a look at the interior, the mesh and zippered compartments offer much in the way of storing your everyday essentials. A large main compartment keeps your items well-sorted. It is a perfect bag to keep small and large items in alike. The internal lining makes it a good place to store liquids and gels – products prone to leak.
Finally, the hook and reliable loop handle make it easy to take this kit in the bathroom and hang it where you need it. Since it is constructed from durable 1680D polyester, you won't have to worry about it getting damaged easily. It also features a wipe-clean surface. So it won't get all moist and soggy from steamy bathrooms.
Tech Specs:
Affordable

Easy to clean

1680D polyester

Large main compartment with dividers

Top hook for shower

Top handle for easy carrying

Mesh divide and internal storage
Pros
plus

Easy to clean interior

plus

Affordable

plus

1680D polyester

plus

Top handle for easy carrying
Cons
Common Questions
Check out these other travel products and tips for winter travel:
Choose the Best Travel Toiletry Bag for You
As you can see, investing in the best travel toiletry bag is a big part of staying organized on the go. Sometimes, it's the simple things that make your travels go much more seamlessly. If you can save yourself some stress on the road, why not do it? These little travel items will keep your toiletries safe and sound and help avoid those leaks and spills.
Related Article: Tips and Tricks: How to Organize Makeup for Travel
Danielle Dougall
Danielle Dougall is a photographer, avid writer, and traveler. Hailing from the rainy city of Seattle, WA she now lives in southern California where she enjoys longboarding, hiking, coffee shop hopping, and dreaming up destinations for her next international trip.