Enjoy the versatility of two in one with the Briggs & Riley Baseline Expandable Toiletry Kit.
Those seeking a sleeker style and a little more space will love this dynamic travel accessory. Briggs & Riley have really outdone themselves with this one. Offering 33% more packing space, the Briggs & Riley Baseline Expandable Toiletry Kit is set to fit all of your products. Did we mention that it's also designed to match your luggage? Regardless of whether you have the company's matching bags, it will go with everything. After all, great design and minimal aesthetic go a long way.
A Little Bit about Briggs & Riley
A premier luggage manufacturer, Briggs & Riley are well known in the travel world for their high-quality, classy luggage and accessory pieces. The company is based in New York and founded in 1933 by Richard Costa. Their motto "simple as that" refers to their lifetime guarantee, covering even damages caused by an airline. This promise ensures that your luggage won't just stand the test of time but will be there to enrich your journey every step of the way.
Briggs & Riley Baseline Expandable Toiletry Kit Features and Benefits
Versatility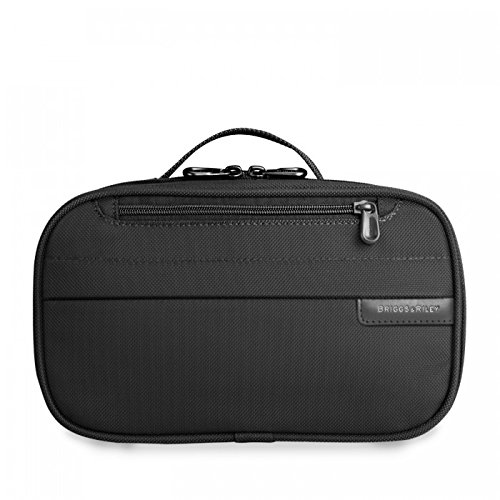 Credit: Amazon
We mentioned that the Briggs & Riley Baseline Expandable Toiletry Kit is versatile but it's worth expanding on. What exactly do we mean that this bag is a 2-in-1 kind of deal? Since it's expandable, you'll have so much more space to store your items. Now, you won't have to worry about whether to leave out that extra shaving kit or sacrifice your bottle of mini dry shampoo. Take what you need and don't worry about the rest.
Durable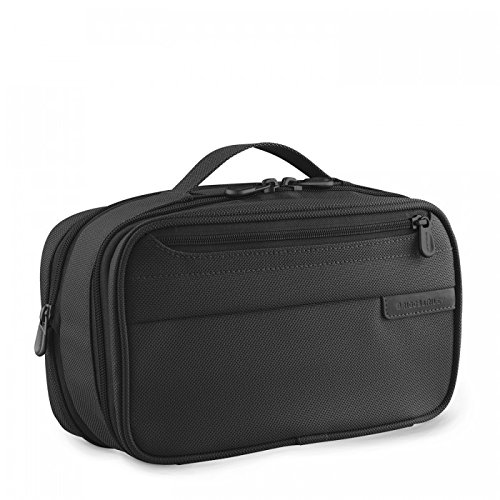 Credit: Amazon
Not only is this bag stylish and spacious but it's durable too. The material is made from 2520D ballistic nylon, one of the strongest fabrics used in the travel luggage and accessory market. This means that it is way less likely to get snags, rips, and small tears like other toiletry kits would. An abrasion resistant, water repellent case really goes a long way. Last but certainly not least, the self-healing twill-lined waterproof pockets will keep leaks from spreading. There are truly so many things to love about the Briggs & Riley Baseline Expandable Toiletry Kit.
Interior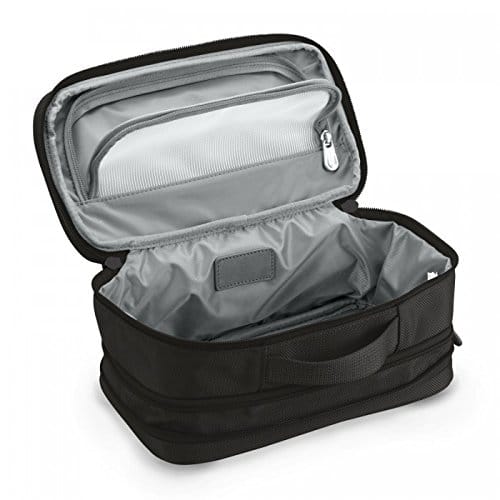 Credit: Amazon
Taking a look at the interior, you will also find a water-resistant lining. Not only is this helpful to prevent leaks and spills from spreading but it also makes the Briggs & Riley Baseline Expandable Toiletry Kit super easy to clean. All you have to do is get a wet cloth and wipe it out. Cleaning your kit has never been easier.
When it comes to storage, you will have plenty of options. We appreciate the way that the design offers compartmentalization. Instead of treating your kit like a go-fish grab bag, you can stay organized on the road thanks to easy access compartments. For example, the expandable main compartment provides additional depth for packing space. The mesh lid zippered pocket is perfect for holding smaller toiletries and items you would want immediate access to like mints, dental floss, or chewing gum.
Price Point
Since Briggs & Riley is a higher end brand, you can expect to pay $75 for the Briggs & Riley Baseline Expandable Toiletry Kit. While this is a bit expensive, we're big believers that you get what you pay for. This bag is truly an investment. Not only does it offer quality design and materials but the lifetime warranty protects your purchase for years to come – even if the airline is at fault for damaging or losing your piece. You won't find that kind of commitment to customer satisfaction just anywhere. Travelers who have purchased the Briggs & Riley Baseline Expandable Toiletry Kit can't say enough good things about it.
Tech Specs:
Front flat zipper pocket to store small toiletries

Expandable interior main compartment (up to 33% more space)

2520D nylon outer fabric (tear resistant and water repellent)

Twill-lined waterproof pockets

Webbing top handle

Water resistant interior lining

Mesh lid zipper pocket for small toiletries

Rubber feet
What Travelers Have to Say About the Briggs & Riley Baseline Expandable Toiletry Kit
With a 4.6 out of 5-star rating, the Briggs & Riley Baseline Expandable Toiletry Kit speaks for itself. We're so happy with this find; it truly is such a great travel accessory. Taking it out on the road, it not only held up well but was able to fit all of the products we needed to take along. Travelers really appreciate the durable fabric, water repellent quality, and interior mesh pocket for easy access.
The only thing travelers noted that they wish the kit had was a hanging hook. A small plastic hanger would go a long way. If you wanted to hang it on a doorknob or shower rack this is a little bit of an inconvenience. Other than that, reviews show that purchasers are very satisfied with this product. Travelers highly recommend it.
Alternative Travel Toiletry Bags You May Like More
eBags Pack-it-Flat Hanging Toiletry Kit for Travel
For those seeking to make the most of their packing space, consider the eBags Pack-it-Flat Hanging Toiletry Kit for Travel. If you haven't heard of eBags before, we're here to change that. This dynamic company is revolutionizing the luggage and travel accessory industry. So what's so special about this bag. First, it is made from dynamic nylon fabric and features a slim style that separates into four compartments. The exterior webbing grab handle is great for those times when you need to grab it and go. There is also a center section with a mesh retainer.
If an external hanger is a make it or break it feature for you, you'll be happy to know that it has one. This is useful to keep your items in place while the kit is hanging. To the left, you'll find a clear section made to hold those prone to leak items. The right section holds your dental care items. Finally, there are two zippered mesh pockets and an elastic pocket made for storing all sorts of small items. The product dimensions are as follows: 2.2″ x 14″ x 9.2″ and the four separate compartments each measure 2.25″ x 9.25″. The center section is 7.75″ wide. This is easily one of the top picks for the best travel toiletry bag.
Tech Specs:
TechLite Diamond Nylon Fabric

Superior quality build

Self-healing zippers with corded pulls

Slim silhouette build

Wear-resistant

Web grabbing handle

Removable pocket mirror

Hanging hook

Four separate compartments, center mesh retainer, left section lined with clear material
Freegrace Hanging Toiletry Bag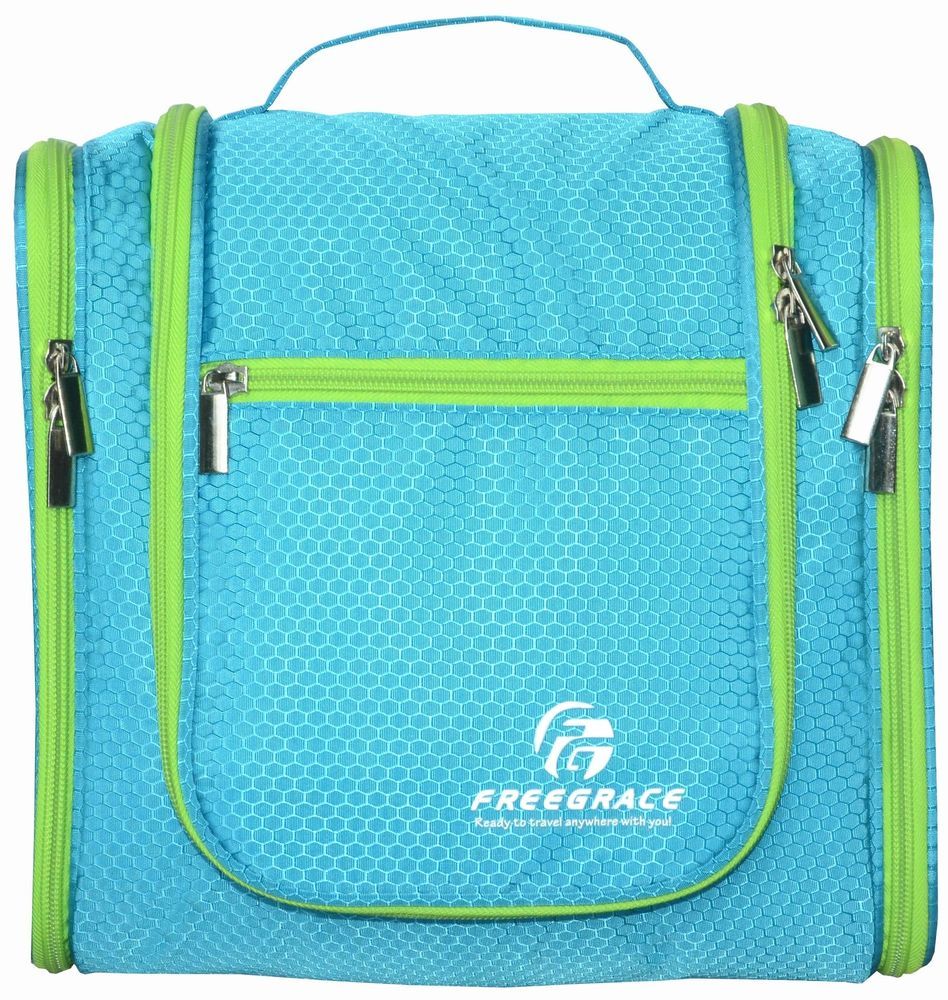 Isn't this bag cute and colorful? It's much more affordable than the swankier Briggs & Riley Baseline Expandable Toiletry Kit too. While it doesn't come with a lifetime warranty guarantee, it's perfect for travelers on a budget. This bag makes it easy to keep all your small, messy toiletry items neatly organized and accessible. You'll owe your peace of mind to the Freegrace Hanging Toiletry Bag.
How does it stand apart from other styles on the market? We'll tell you. Unlike one-unit compartment bags, this style provides multiple storage compartments. Finding what you want has never been so easy. This bag is great for long-term travel, summer vacations, and those little fun trips just because. You could even get it for your college kid's dorm room. It offers plenty of space and can also be folded down to an easily packable size. It's space-saving, stylish, and efficient. Need we say more?
Tech Specs:
Compact, lightweight body

Easy to store

Intuitive design

Made from honeycomb nylon fabric

90-day money back guarantee

Waterproof

Tear resistant

Top notch quality
AmazonBasics Hanging Toiletry Bag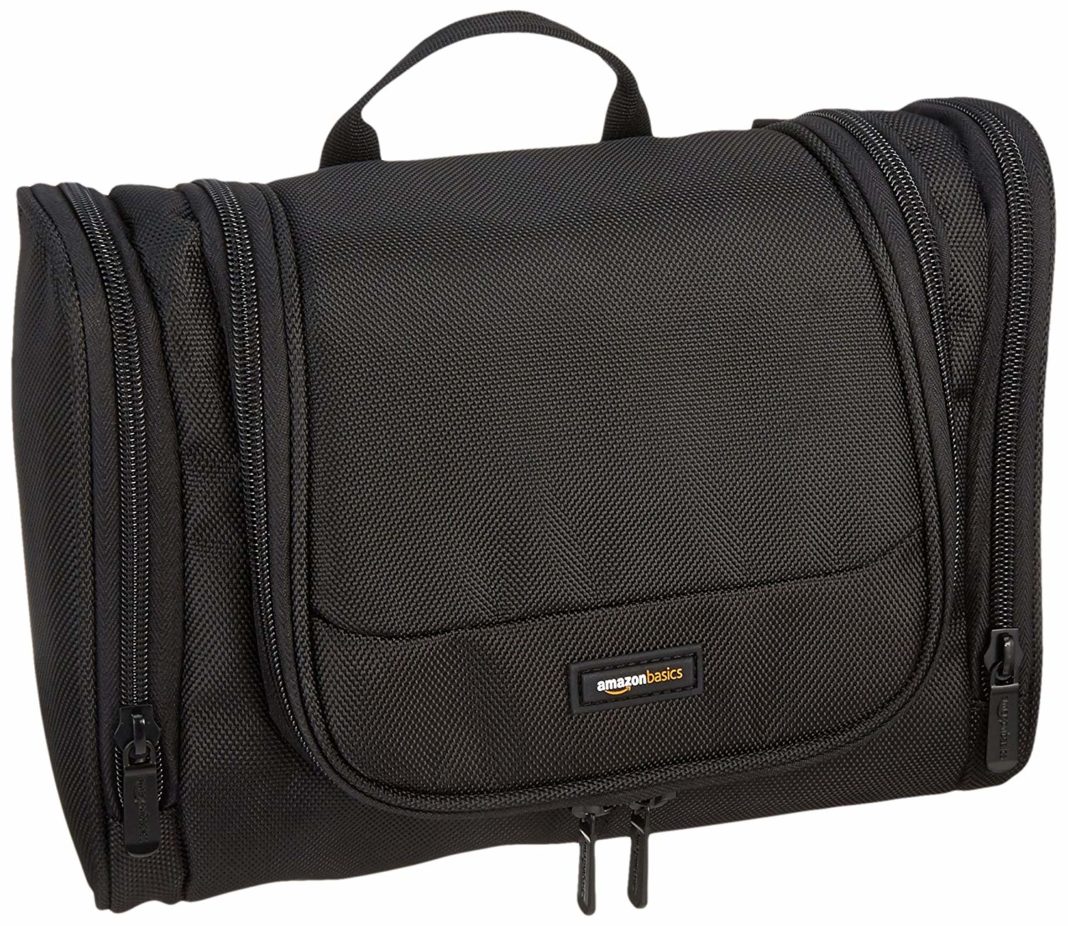 Amazon has everything. We swear. Simple, stylish, and affordable, you can't go wrong with the AmazonBasics Hanging Toiletry Bag. This toiletry kit offers multiple pockets for you to compartmentalize as needed. It makes a great choice for all types of trips. Being portable and easy to pack, it doesn't take up much space at all but saves you so much stress in the way of messes and organization. Keep your personal items close on hand and your more important items easily accessible.
Let's move on and take look at the interior. Here, you will find that the mesh and zippered compartments offer much in the way of storing your everyday essentials. A large main compartment keeps your items well-sorted. It is a perfect bag to keep small and large items in alike. The internal lining makes it a good place to store liquids and gels – products prone to leak.
Last but certainly not least, the hook and reliable loop handle make it easy to take this kit in the bathroom and hang it where you need it. Since it is constructed from durable 1680D polyester, you won't have to worry about it getting damaged easily. It also features a wipe-clean surface. So it won't get all moist and soggy from steamy bathrooms.
Tech Specs:
Affordable

Easy to clean

1680D polyester

Large main compartment with dividers

Top hook for shower

Top handle for easy carrying

Mesh divider and internal storage
Make an Investment: The Briggs & Riley Baseline Expandable Toiletry Kit is Perfect for All Your Trips to Come
Is the Briggs & Riley Baseline Expandable Toiletry Kit a bit pricey? Sure. But for the quality you get and lifetime warranty, it will pay for itself in no time. We've said it before and we will say it again. One of the biggest parts about reducing travel-related stress is staying organized on the go.
The Briggs & Riley Baseline Expandable Toiletry Kit is durable, water-resistant (even in the interior), and offers just the right amount of compartmentalization for your items. Sometimes, it's the simple things that make your travels go much more seamlessly. If you can save yourself some stress on the road, why not do it? These little travel items will keep your toiletries safe and sound and help avoid those leaks and spills.
Related Article: Best Travel Toiletry Bag: Top Picks