So Much Excitement in Pensacola
There are so many things to do in Pensacola as you vacation there. You probably considered Pensacola for its beaches and nature, but there is so much more. Museums and art are a huge aspect of what makes this community what it is.  There are also festivals all year long to attend, many of them free. And all this is topped off with great restaurants to eat at. You can also get a home for sale in Pensacola Florida so you never miss a thing. For sure there is something for everyone to enjoy in Pensacola.
Museums & Art in Pensacola:
1. Voices of Pensacola
Voices of Pensacola opened in 2014 and exists to fulfill the purpose of displaying diversity and culture taking place in Pensacola throughout it's past. They have a voice room where oral stories are told of the past. The room on the first floor has a collection of over 1000,000 portraits of various items and historical archives. They have historical newspapers, scrapbooks, messages, maps, and so much more dating back to as early as 1834.
The star of the show is their Haunted House Walking & Trolley Tours. They are open Tuesday through Friday from 10am-4pm, and closed Monday through Sunday. This is a fun thing to learn about, the ghost stories found in Pensacola. These tours only happen twice a year, so be sure to check out the schedule and plan your trip around it! There is so much multicultural diversity and so many stories that don't get a chance to be shared. Voices of Pensacola is trying to change this.
2. Pensacola Little Theatre
For over 80 years, the Pensacola Little Theatre has been putting on shows for the community. It has brought joy in hard times such as around the great depression. Their goal still stands to bring entertainment and happiness to the community through a non-profit theatre. They put on all kinds of shows such as musicals, dramas, shows for children, and comedies. They have volunteer opportunities and classes to bring the community in.
The Pensacola Little Theatre has been the community's rock and go to when it comes to theatre productions because of how involved it has been in the community and how long it has been in operation. There are always shows going on, so check out their site to see what production is happening during your trip to Pensacola, then buy your tickets online! You will be catching a show and sitting in the seats where so much history has taken place at the same time.
3. Pensacola Museum of Art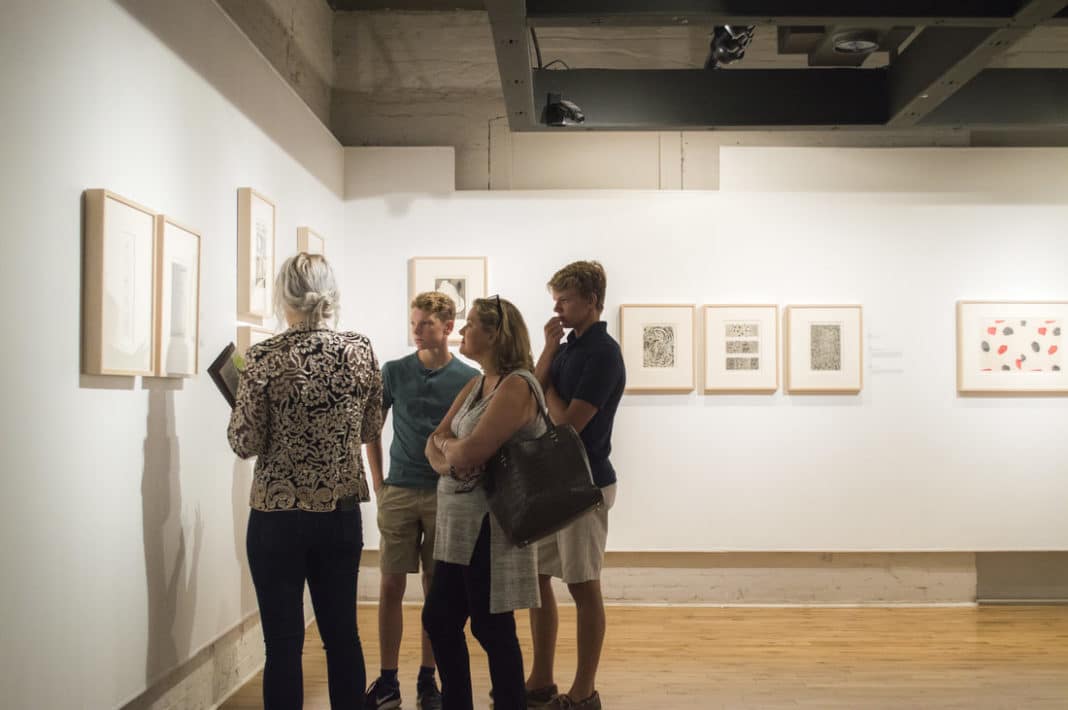 Pensacola Art Museum
This art museum is an extension of a university (the University of West Florida, Pensacola Museum of Art), so their main goals are to educate visitors. They want to join together the community as well as the university in displaying art and culture from the nineteenth century until now. The location of the art museum was once a jail, dating back to construction in 1906. To say this museum has a lot of history on it's back is an understatement.
It turned into what it is today and stopped operating as a jail in 1954. The purpose and vision was for this to be a place where people of all ages could participate in art classes and have a meeting space for cultural information to be given, as well as for art exhibits to be displayed. They have been able to accomplish this exact vision. Check out their site for prices and well as times of open operation!
4. National Naval Aviation Museum
This is the world's largest Naval Aviation museum and known for being one of the museums most visited in Florida. There are over 150 restored aircrafts from the marine corps and the coast guard. Admission here is FREE and their hours are all week, 9am-5pm, closed on major holidays. Some of their attractions and exhibits in addition to their multitudes of aircrafts, are the Naval Aviation Memorial Giant Screen Theater which truly will make you feel as if you are there in person viewing these shows. 
They also have Flight Simulators which are great for kids and adults and people of all ages to experience a rollercoaster type activity. There is also a virtual flight deck where the sights and sounds will make you feel as if you are actually participating in an onboarding. There is a kiddy area, a store to pick up items to remember your trip by, and a café where the menu is named after fun keywords matching the museum, and many more attractions. This is a great trip for lovers of all things aircraft as well as for kids to have fun.
Beaches & Parks:
5. Tarkiln Bayou Preserve
The Tarklin Bayou Preserve has been frequented since the 1800s. This preserve opens every day of the year from 8am until sundown. They charge very low fees to get your vehicles or other modes of transportation in. Here you have the opportunity to do birding, the beauty of this is that there are so many different species that frequent this park. Fishing is allowed here too, but make sure to have a fishing license! 
There are two hiking trails available as well. The Tarkiln Bayou trail has a sidewalk, boardwalk, and benches along your hike for a very comfortable and fun experience of only half a mile. This is a great thing for families with young children or those who want to see the views without going on a full-blown hike. On the other hand, the Perdido Bay trail is 6.5 miles of muddy trail and stream crossing. This is for those who are up for a difficult and involved hike. Stop under a nice sheltered pavilion for a picnic at any time. There is also the option to view wildlife. So many different animals live here so it is truly a treat to sit and watch, no telling what animal you may see!
6. Pensacola Beach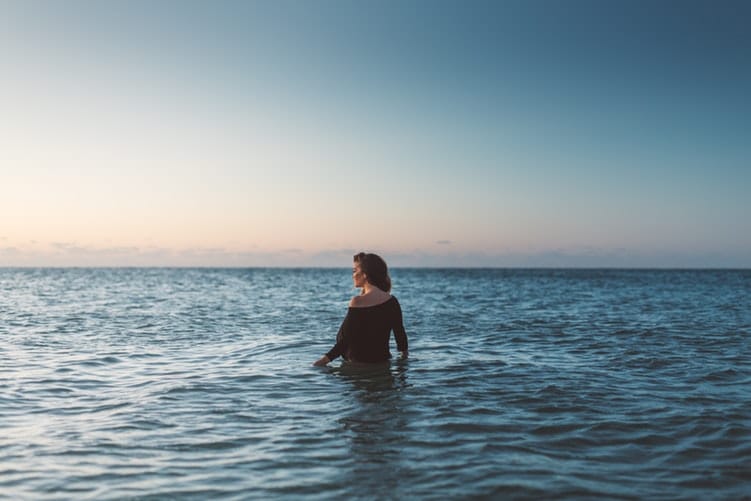 Pensacola Beach
This beach is the true star and may even be your entire reason for coming to Pensacola to begin with. Known all over the world for having white sand and deep green and blue, clear waters, this is the perfect place for a relaxing time from the craziness of life. An opportunity to lay out by the beach and read a good book in solitude, take a romantic walk down the beach, or splash in the ocean with your kiddos. 
Read through their Footprints in the Sand Eco Trail on their site where you will learn all the ways this beach is kept in beautiful condition and how to treat it kindly. The beach has been awarded by the USA today, Readers Choice, and Trip Advisor just to name a few. Make sure you are branching out and experiencing all this beach has to offer. There are endless water activities such as snorkeling, diving, and sailing for you and your family to partake in. Take note of the many vendors in this area to help you enjoy water fun and also train you to master the seas Make sure to take advantage of all that's available!
7. Perdido Key Dog Park
If you're anything like me, the prospect of bringing your dog along with you on vacation is a dream. Your pup needs to relax sometimes too, right? Well thankfully places like Perdido Key Dog Park welcome pets! This park has an entire acre to enjoy the outdoors with your pet. There is also beach access in an enclosed area so they can swim or run to their heart's content. The biggest lifesavers are the wash stations available to clean your puppy off. There is a covered pavilion for you to watch your dog play while being covered. This is not the only place to enjoy time with your dog. There are dog parks all over Pensacola. No matter where in the area you find yourself, there is a good place to walk and spend time with your dog.
8. Big Lagoon State Park
This park's enjoyment is two-fold. Not only are the so many activities to partake in, but the park is also a gateway to the Birding  & Wildlife Trail. This famous trail a large variety of birds and ducks and is so much fun to take a trip through to observe the beauty of these animals. Some of the activities to enjoy here are bicycling on the 2 and a half mile road. Camping is another fun availability. You will be surrounded by beauty and also electricity, water,  grill, complete restrooms,  and a picnic table for the most comfortable time. You can bring your pets here too! Canoeing and kayaking is another fun excursion to take at this state park. There are rentals at the ranger station for you to use. 
There are also fishing and crabbing, but be sure to have the proper license and adhere to Florida's specific laws. There are hiking trails where you can view nature for 5 miles long. There is also stargazing offered, so be sure to check out the events on their website if you'd like to participate in that, along with the designated beaches for you to swim in. Another fun activity is Geo-seeking, where geography is learned on a hunt using a handheld GPS. This is a fun activity to get your kiddos engaged in nature and learning all it has to offer. This is a great getaway for the whole family. There is also a crawfish eating contest for people of all ages who are wanting to participate.
Festivals:
9. Crawfish Festival

Pensacola Crawfish Festival
Though this festival is called the crawfish festival, there is truly something for everyone. If you are not a fan of crawfish (which as more than 16,000 pounds served every year) There is also the option of eating other Cajun food. There are also traditional festival foods such as hot dogs, hamburgers, and fried sweets. The crawfish is made in a bowl with spices and potatoes and it stands as the voice of this festival. 
While at the festival, enjoy the children's area where kids can partake in popular festival activities such as a variety of crafts, balloons, games, and other activities. The most popular for the kids is the "NASCRAW crawfish races. Be sure to check out their site to find the specific dates and times they host this event. Admission is very reasonably priced and this is fun for the whole family, as well as a great time,  to take your trip to Pensacola.
10. Taste of the Beach
This event is different than the crawfish festival in that the chefs cooking this food are famous. They have chef presentations, and give fans the chance to get up close and personal with their favorite chefs, watching them do what they do best. This event focuses on seafood, southern food, and many culinary surprises. The menu is never the same.
This is a chance for these beloved chefs to display their creative sides and do things they don't normally do when it comes to food. The festival kicks off at 11am and then goes nonstop until 9:30. There are children's activities here as well to keep them occupied and entertained while the parents enjoy the food and the food demonstrations. Thousands of people come to this festival every year. Admission is free! Make sure to check out the website for specific dates and times.
11. Bands on the Beach
The best part about bands on the beach is the fact that it is not just a one day or one-weekend event per year, but it happens every Tuesday for months out of the year. This is the perfect mix of live music to enjoy as well as a beautiful scenery to overlook. This is a mixture of local bands and well as regional artists and it is yet another event that brings in thousands of tourists each year, but this is a favorite among locals as well.. There are food stands and cocktails available, but many people set up with their families and enjoy a picnic while the show is happening.
You will definitely want to plan your trip to come on one of these Tuesdays to see your favorite band, or maybe a new band play. Regardless of if you are a music lover or a beach lover, or maybe just a good time seeker. There is something for you to enjoy at this summer concert series. Bands on the Beach is on the top of the list of things to do in Pensacola.
12. Greek Festival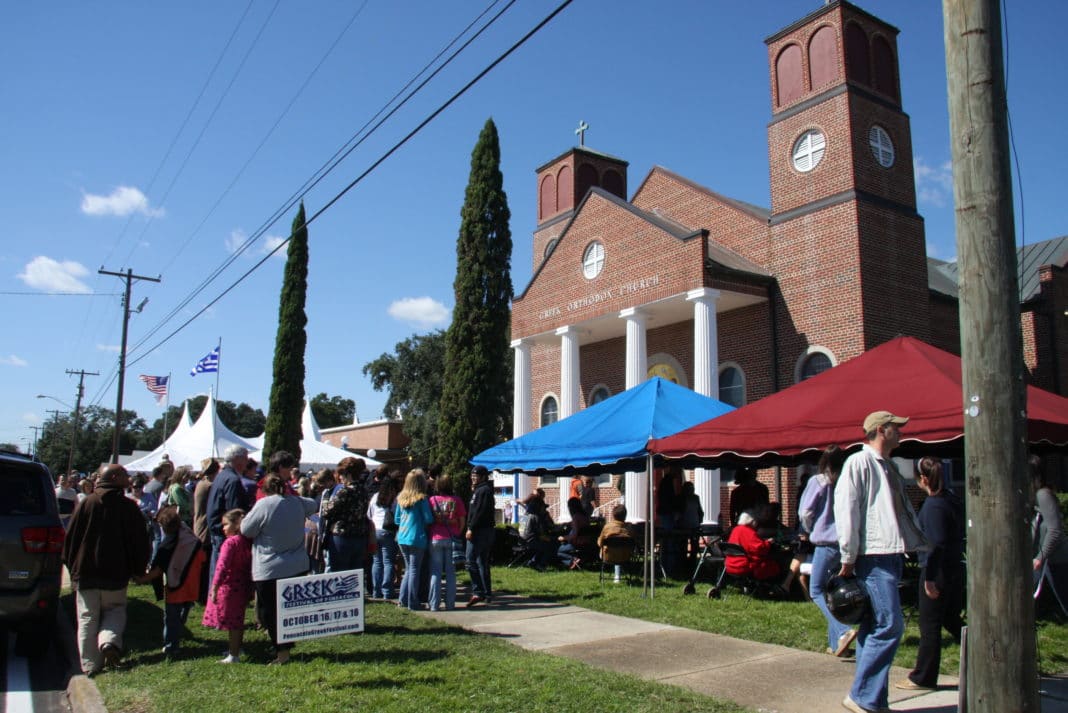 Pensacola Greek Festival
For the past 59 years, the Greek Festival has been taking place in Pensacola and thriving. They are proud to say that the donations they receive go to good causes. In 2018, that cause was disaster relief for hurricanes that rocked the US hard this year. This festival is known as a staple of Pensacola and it started with humble beginnings as a luncheon. More than 20,000 visitors attend this festival and it is hosted y the Annunciation Greek Orthodox Church. There is all kinds of cultural music, dancing, and food tasting. They invite you to come to experience the hospitality of Greek culture.
Admission is free, but donations are more than welcome! Be sure to check on their site for their extensive food menu. This is a three-day event and the schedule looks a bit different each day. The first two days are generally from 11am-9pm. The third is a bit shorter from about noon until 5pm. Some of the activities available during this festival include live music from Greek bands, a tour of the church to see the beauty of the structure and history in it which is only about twenty minutes, and an opportunity to learn Greek dancing. Whether you have Greek roots are not, this is a fun and exciting festival you won't want to miss.
Good Eats:
13. Drowsy Poet
The Drowsy Poet Coffee Company are amazing at creating coffee. They focus on making fair trade and environmentally friendly products, so you can be sure they are only getting the best to you. They handcraft their coffee and roast small batches of coffee beans daily. If you are interested in a good cup of joe or need a boost to your travel day, this is the place to go. 
Their menu serves regular roasted coffee, espresso drinks, signature coffee drinks, and "poetchinos", frozen flavored espressos with a list of flavors for your choosing, children drinks such as hot cocoa and milk with whipped cream, and smoothies and Italian sodas for those who don't love coffee. This is a great place to stop for a small snack along with a pick me up coffee. They serve baked goods, quiches, salads, and sandwiches. They also have Live Jazz on Saturday mornings from 9:30am until 12pm if you are wanting to put this in your itinerary.
14. Atlas Oyster House
Atlas Oyster House has waterfront dining, which is one of the best parts about eating here. They are all about oysters, but they also serve burgers, steaks, and beer. They are serious about their craft beers with 16 beer taps. They offer a Sunday brunch menu which makes this a perfect spot to put on your trip itinerary, especially if you're traveling on a weekend. They have other special events you can catch while you're here such as half-price sushi, ladies night, and Monday night oysters. This is a nice but still casual place to go enjoy views and great food.
15. Lillians Pizza
This is a favorite eatery for locals and tourists. The dining area overlooks the Perdido Key beach, which is an amazing perk. The dough for the pizza here is handmade each morning, so it is fresh when you get to it. When they say they have amazing pizza, they are not just self-promoting falsely. They have been awarded and featured in various magazine publications.
They also serve other foods such as pasta, salads, and sandwiches, quesadillas, and a variety of appetizers to choose from. There is also an option to create your own pizza, which is a great option for those who like to choose exactly what goes on their pizza, or for those who enjoy a lot of toppings. In order to save some time, you have the option to order online! This is a great place to go with the whole family for good food, a great view, and a good time.
16. Al Fresco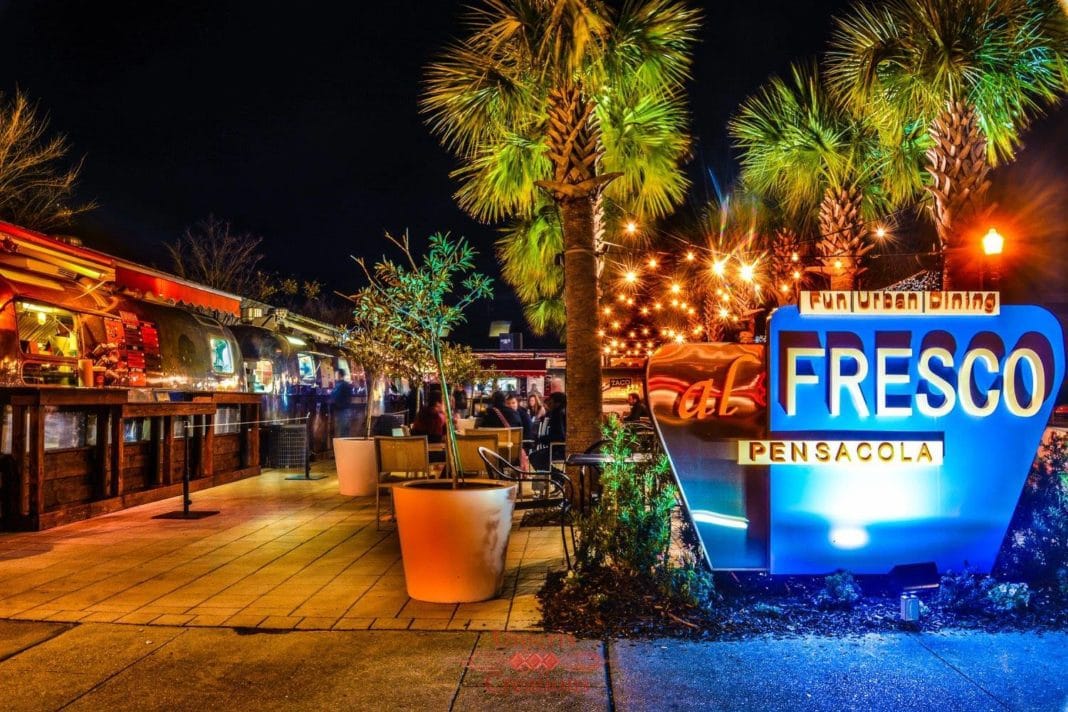 Al Fresco
Al Fresco is a special place. It is located in Downtown Pensacola and it has five different restaurants to eat a meal at. These five restaurants are Southpaw Cajun Express, which serves amazing Cajun food. Next up is Calavera Tacos, which was voted the best food truck in 2016 by Best of the Bay. This restaurant opens at 4pm. They specialize in tacos, of course, but they also offer strange and creative Mexican foods such as fried avocados.  
The third restaurant is Slimz: A Philly Experience. They serve huge Philly cheesesteaks as well as other sandwiches. The next is Shux Oyster Bar which serves up oysters in a variety of different ways. They also serve alcohol, specializing in beer and a draft selection. Lastly, there is fusion which is a culinary combination of various Asian specialties.
There's Something for Everyone in Pensacola
We have covered everything from specific museums to visit and beautiful state parks and preserves to enjoy. We have only just begun to scratch the surface of the number of festivals that take place here. And the restaurants with amazing food and even better foods will make your trip here a memorable one. Come experience all the things to do in Pensacola!
Related Article: 9 Incredibly Romantic Getaways in Florida