Offering a rich culture, stunning landscapes, and a myriad of historical attractions, there are so many amazing sights in Cape Town.
The water is sweet this side of the Atlantic. Known as the "Tavern of the Seas," this port city on South Africa's southwestern coast rises from beneath the shadow of the impressive Table Mountain. The crown jewel of the city, this national park is the main draw from travelers around the world seeking adventure within its extensive boundaries. Follow in the footsteps of the locals and take full advantage of the beauty of nature. Learn to surf, go for a hike, or paraglide off of Lion's Head. These are just a few of the many sights in Cape Town. Let's explore all the things to do.
Here Are Our Picks for the Sights in Cape Town, South Africa
If you can manage to pull yourself away from the Cape Peninsula, within an hour's drive you can arrive at charming villages, scenic vineyards, and prime whale-watching locations. If you're feeling up for it, there is also a great base from where you can go shark cage diving. Take a thrilling drive along the ocean road, explore mountain passes, and prepare for the adventure of a lifetime. It's time to start exploring Cape Town and the Garden Route.
1. Visit Kirstenbosch National Botanical Garden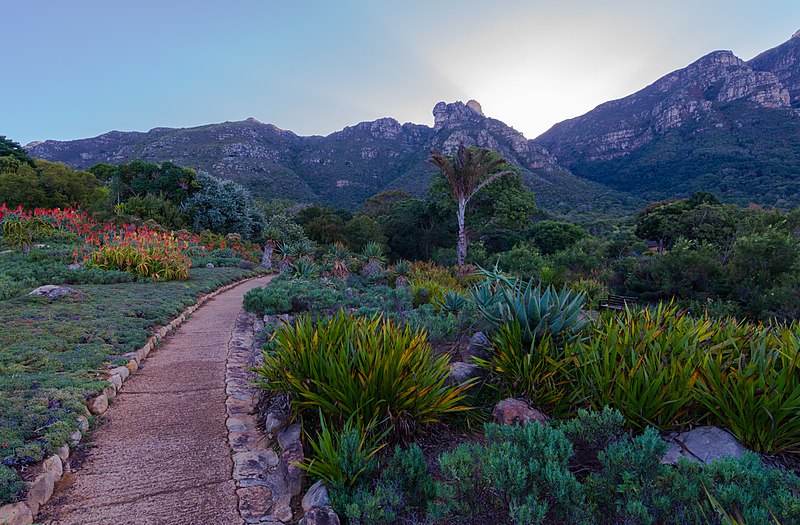 Credit: Wikimedia Commons
Noted as one of the great botanical gardens in the world, you'll find Kirstenbosch nestled at the eastern foot of Table Mountain in Cape Town. It's one of ten National Botanical Gardens spanning five of South Africa's six different biomes. This magnificent landscape brings with it a unique combination of flora and fauna. Visiting here is one of our favorite sights in Cape Town.
It all comes together to create the perfect backdrop for art. The Gardens have a variety of beautiful exhibits on display as well as indoor art shows in various venues. While you're there, make sure to take pictures of the famous Tree Canopy Walkway. Known as 'Boomslang,' this curved steel and timber bridge rises above the treeline and provides travelers with spectacular panoramic views of their surroundings.
What do dinosaurs, extinction, and cycads have in common? One of Kirstenbosch's exhibits by David Huni features five life-sized dinosaur statues made from tin and set among the cycads in the Cycad Amphitheater. This installation draws attention to the threats faced cycads and increases public participation for research and support.
2. Explore the Cape of Good Hope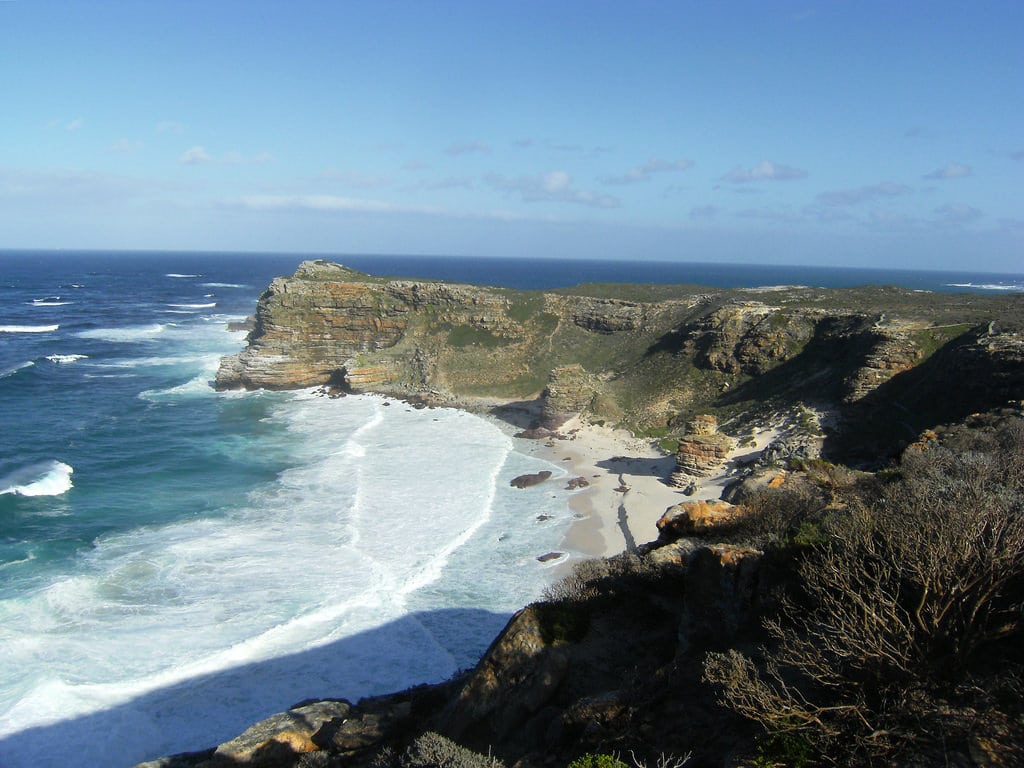 Credit: Flickr
We're sure you've heard of Bartolomeu Dias circumnavigating the Cape of Good Hope. Now, it's your turn to get in on a little piece of history. While Vasco de Gama was the first to mark this location on the world map, Dias was the first to arrive. It is also known as El Cabo de Esperanza (the Cape of Good Hope and Cape of Storms), since the sea has caused over 60 shipwrecks along the coast.
To get the best view, head to the Nature Reserve in Simon's Town and Southern Peninsula. Spanning 48 miles of Table Mountain National Park, this section of the coast offers spectacular scenery, great hiking spots, and often, empty beaches. Are you are interested in traversing the two-day Cape of Good Hope Trail? You will need to book a reservation. Additional information can be found through the Buffelsfontein Visitor Centre.
3. Hike Table Mountain
Looking for amazing sights in Cape Town? Explore the iconic Table Mountain. You don't have to be an expert at recognizing fauna to appreciate its biodiversity. This twenty-two-mile area is home to more than 1,470 different species of flowers alone. It's easy to see why it was voted as one of the New Wonders of the World in 2011.
While it's hard to picture, the flat plateau was once a fertile river valley. Whether it's enveloped in a blanket of clouds or contrasted against an azure sky, the views are always spectacular. According to local legend, the clouds pass over the mountain during a smoking contest between the devil and a retired sea captain named Jan Van Hunks.
So how do you get to the top of the mountain? The easiest way to get up is to take the cable car. Redesigned in 1997, it can now carry up to 65 passengers per trip. The ride only takes five minutes and the cars rotate a full 365-degrees, giving spectacular views of the landscape below. However, if you're more of the adventurous type, you'll get a more fulfilling experience by hiking up and down the mountain. While the hikes are steep, the pathways are clear and the ascent is straightforward. Depending on your fitness level, the trip should take one to three hours each way.
For those who enjoy a challenge, take India Venster, which will require you to do a bit of scrambling. This route can take two to four hours and should only be attempted by those who are physically fit and know the course. An easier route with great views of Camps Bay is Kasteelspoort on the Atlantic side of Table Mountain.
4. Take a Day Trip to Robben Island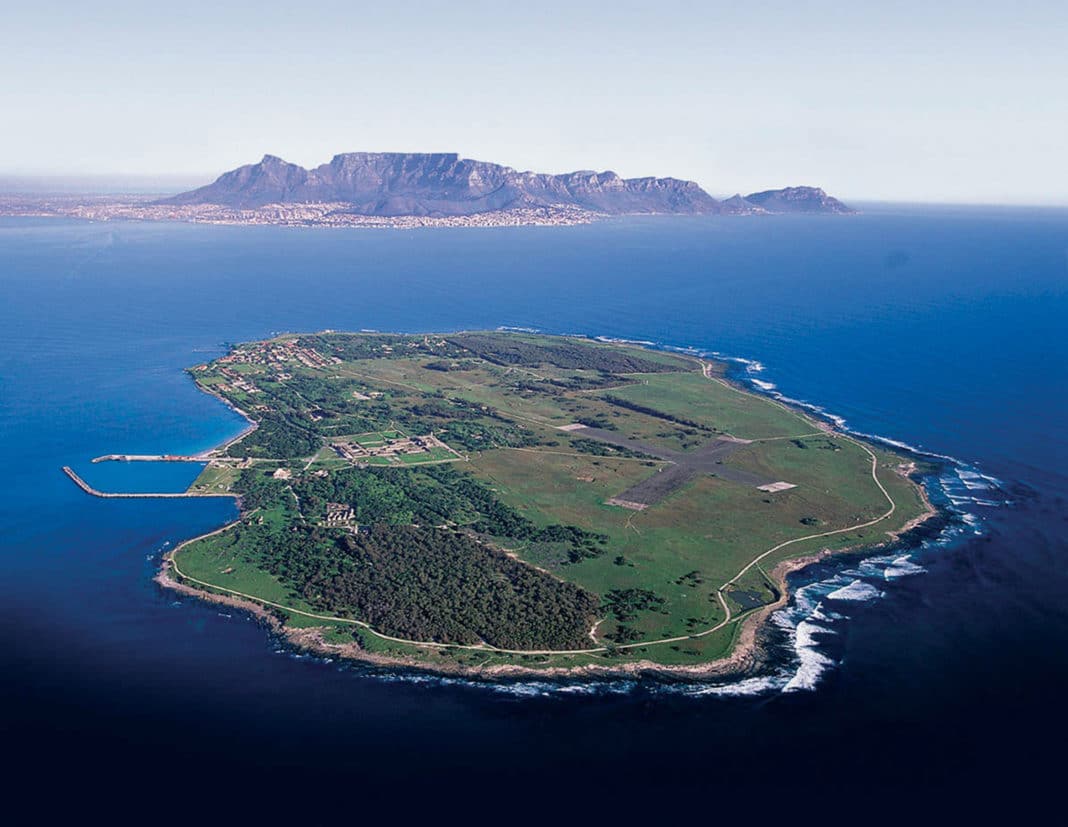 Credit: Flickr
A UNESCO World Heritage Site, Robben Island is a must-do on the list of anyone visiting Cape Town. From the early days of the Dutch East India Company, it was used as a prison until 1996. Today, it is preserved as a memorial to those (including Nelson Mandela) who spent many years imprisoned here. To get here, you will have to book a tour, which lasts around four hours and includes a ferry ride. Tours depart from the Nelson Mandela Gateway by the Clock Tower at the Waterfront. We highly recommend booking online in advance of your trip as tours can sell out. After all, it's one of the best sights in Cape Town. You can book your tour here.
5. Get to Know the Penguins at Boulder Beach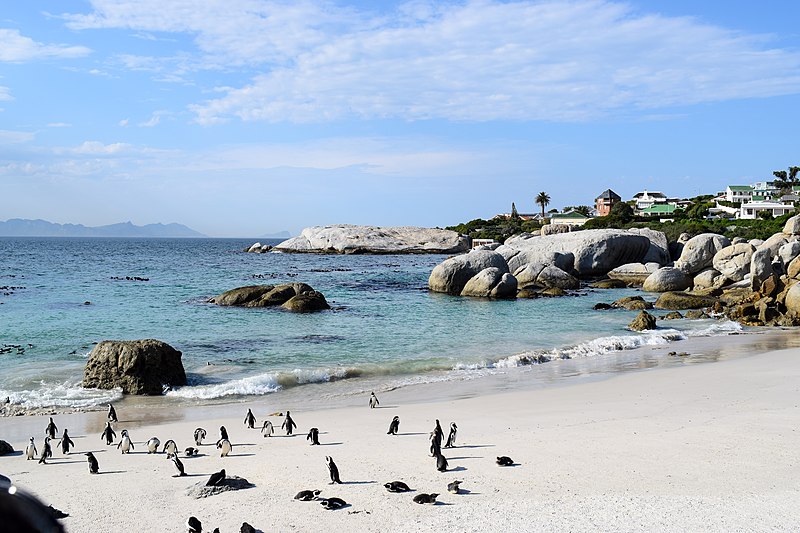 Credit: Wikimedia Commons
Cape Town has many picture-perfect beaches but Boulder is in a category of its own. Why? It's home to a large colony of penguins. Ancient granite boulders shield the beach from the wind and waves, creating a secluded world of its own. It's no wonder that 60,000 visitors come from around the world to visit here each year.
Due to the sheltered coves, the waves are gentle and the water is perfect for swimming. If you've ever had swimming with penguins on your bucket list, now's your chance to check it off. And if you haven't, it's time to add it. From the Boulder Visitor Centre, a boardwalk runs all the way down to Foxy Beach.
This part of Table Mountain National Park offers the best way to get up close with aquatic, flightless birds. Summer (mid October through February in the southern hemisphere) is the best time to come out and view them. During this time, the weather is characterized by the beating afternoon sun and scattered thunderstorms that evoke a warm, earthy scent.
6. Get in on Some Culture at Zeitz MOCAA Museum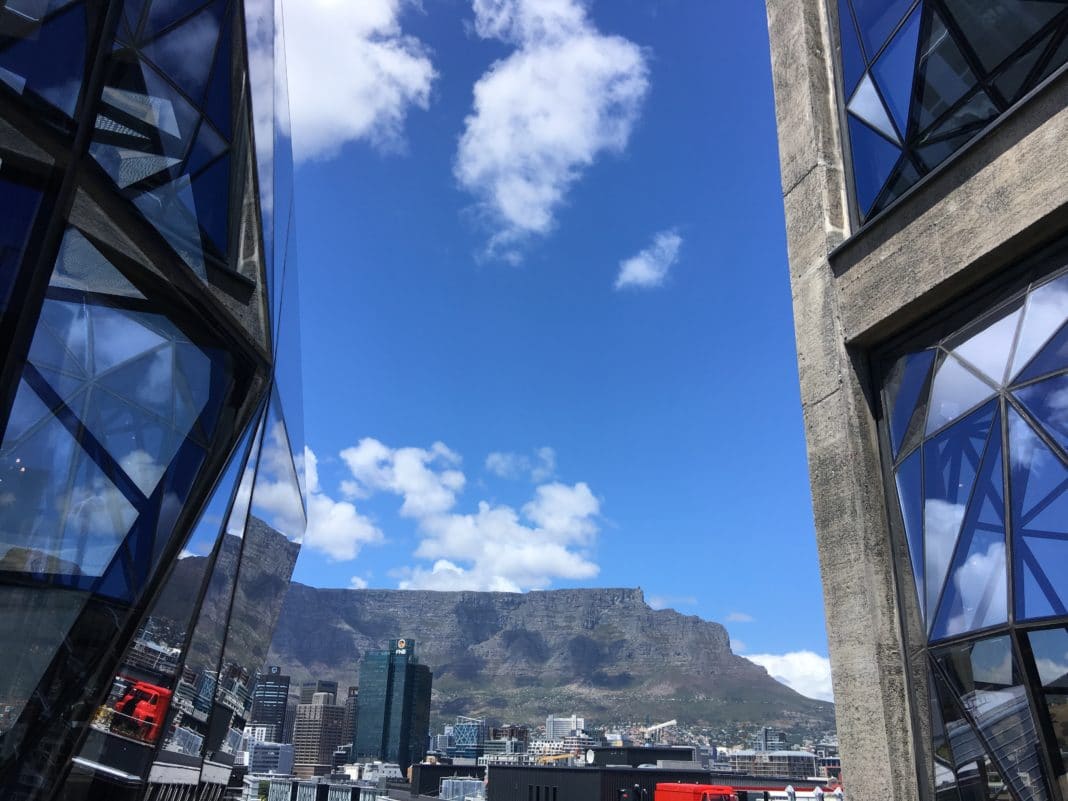 Credit: Wikimedia Commons
As the largest museum of contemporary African art in the world, the Zeitz MOCAA is a worthy stop for any traveler. Not only has it preserved the strutural integrity of South Africa's building but it also serves as a non-profit public cultural institution that protects and enhances creativity. London-based Heatherwick Studio and local South African architects took on the challenge to transform this structure from a 1921 grain silo into a cutting-edge contemporary masterpiece of design.
Over 3,000 square feet of space is divided into 80+ galleries. While this can make it tricky to navigate, it does build up anticipation for a great sense of discovery. This is one of many spectacular sights in Cape Town. Stop and let yourself take it all in.
Book Your Trip and Enjoy the Best Sights in Cape Town
South Africa has everything. Cape Town is a wondrous coming together of people, culture, language, and cuisines. The result is a unique coastal city quite unlike any other. Crowned by the magnificent Table Mountain National Park, the city offers the perfect place to call home base while being close to nature. From mountain hikes to stunning beach scenes and coastal drives, we can't get enough of what this landscape has to offer.
Here, you will see creativity in many forms. From the colorful faces of the Bo-Kaap buildings to Afro-chic cafes and striking street art, this is one fascinating metropolis. Explore the townships and make the most of your stay.
Related Article: Africa's Cape Verde Islands are a Rising Vacation Destination